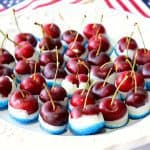 With only three ingredients and about 10 minutes of time, these Patriotic Red, White & Blue Sugared Cherries will be the hit of any Memorial Day or 4th of July celebration! Make some today!
Course:
Dessert, Snacks and Munchies
Keyword:
sugared cherries
In a small microwave bowl, melt the chocolate chips on medium/low power for 40 seconds.

Remove the bowl, stir the chips and continue the process until the chocolate is smooth and creamy.

Dip the cherries part way into the melted chocolate and then into the blue sanding sugar.

Set on a parchment lined baking sheet until dry OR on a baking sheet that has been lightly sprayed with cooking oil.

Serve chilled or at room temperature.
Tools and equipment:
parchment paper (optional)
1 medium microwave safe bowl
1 small bowl