When an occasion is special you want a meal that is extraordinary and memorable. Braised leg of lamb with wine, lemon, and oregano is easy yet impressive to serve, and everyone loves the delicious Greek flavors.
This boneless leg of lamb recipe is truly one of the simplest meals to prepare because once it's ready for the oven you can basically go about your business while the oven does all the work.
**Please Note – The printable recipe card with detailed instructions, complete ingredient measurements, and nutritional information for making today's roast lamb recipe is available at the end of this post. OR you can hit the "jump to recipe" button (shown above) to be taken directly to the recipe.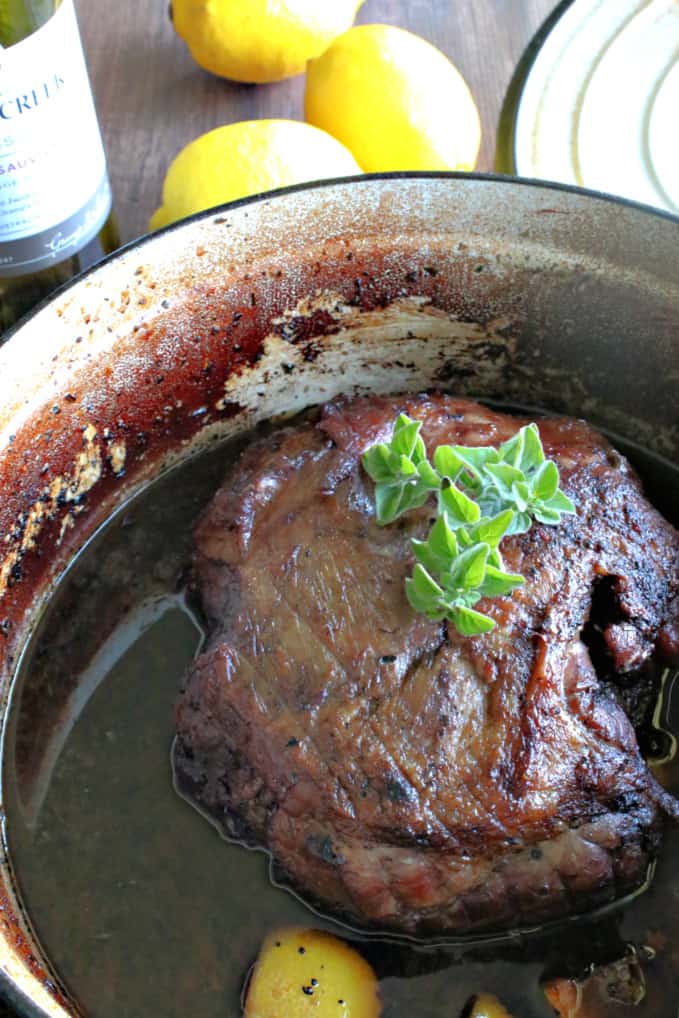 The ingredient list:
**Note – The following lists of ingredients plus kitchen tools and equipment contain affiliate links (highlighted in blue) for your consideration and shopping convenience. #CommissionsEarned
5½ – 6 pound boneless leg of lamb (or bone-in leg of lamb may be used)
dry red wine (I used a cabernet sauvignon)
lemons (zest and juice)
fresh oregano (optional, for garnish)
Kitchen tools and equipment needed: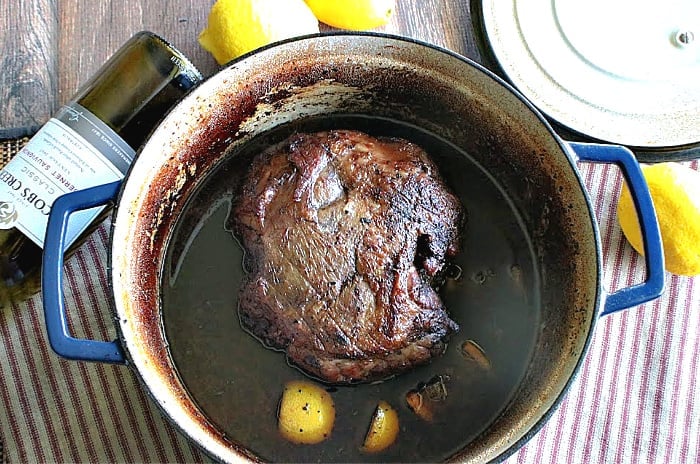 What is braising?
Braising is a cooking technique of first searing a protein on all sides to lock in the natural juices and caramelize (deeply brown) the surface of the meat.
After the meat is seared, a braising liquid is added (water, stock, wine, etc.) to the pan or pot in order to cover the meat (in this case, the leg of lamb) halfway with the liquid.
The pot or pan is then covered, and the braising can begin.
Braising can be done either on top of the stove over in a low oven and typically takes several hours.
For the purposes of this recipe, I braised this particular leg of lamb in the oven.
What is the proper internal temperature for cooked lamb?
An internal temperature of 145-degrees Fahrenheit means that a leg of lamb will be at medium-well doneness. This is the official safe temperature as recommended by the USDA.
Since there is always carry-over cooking once a protein is removed from the oven, I recommend taking the leg of lamb out the oven once the internal temperature reaches 135-138 degrees Fahrenheit, if you're looking for medium-well doneness.
Once the lamb is removed from the oven cover it immediately with aluminum foil and allow it to rest for at least 10-15 minutes before slicing.
By slicing the meat before it's had a chance to rest will make the juices run out and will ultimately leave the meat dry.
That said, I prefer my lamb to be more medium to well-done so I like to cook my boneless leg of lamb to an internal temperature of between 150-155-degrees Fahrenheit. I allow the carry-over cooking to bring it to an internal temperature of 160-170-degrees Fahrenheit.
How long will this lamb recipe take from start to finish?
For a 5-6 pound boneless leg of lamb it will take the following:
It will take approximately 15 minutes to sear the meat all sides over medium-high heat.
Approximately 4 hours in a 325-degree oven to reach an internal temperature of 1135-degrees Fahrenheit.
And approximately 15 minutes of rest time before slicing.
Total time 4½ hours.
Please note that for a bone-in leg of lamb, the cooking time will be longer!
How to make a braised leg of lamb with wine, lemon, and oregano:
Preheat oven to 325-degrees Fahrenheit.
In a large Dutch oven, sear (deeply brown) the lamb (seasoned with salt, pepper, and dried oregano) on all sides over medium-high heat in olive oil.
Turn off the heat and add enough wine to the pot to come halfway up the side of the seared roast, adding water if needed.
Add fresh lemon juice and the lemon rinds to the pot along with the bay leaves.
Cover the pot and place it in a preheated 325-degree oven for 4 hours.
After four hours, if needed, snip off the mesh string wrapper (discard).
Squeeze additional fresh lemon juice over the lamb and remove the bay leaves.
Check the internal temperature with an instant-read thermometer.
135-140 Fahrenheit for medium-rare, 150-155 degrees Fahrenheit for medium-well to well-done.
Remove the lamb and cover with aluminum foil for 10-15 minutes to allow for carry-over cooking, and before slicing.
Slice and serve with the strained braising liquid, if desired.
Delicious side dishes to serve alongside this main course lamb:
*Roasted Baby Potatoes with Garlic and Herbs (pictured below and showcased in the featured video) from (yours truly) Kudos Kitchen.
"These roasted baby potatoes are creamy in the center, and golden brown and crispy on the outside. Pair all that deliciousness with a dipping sauce made of mustard, horseradish, and mayonnaise and you have the perfect side dish for any meal."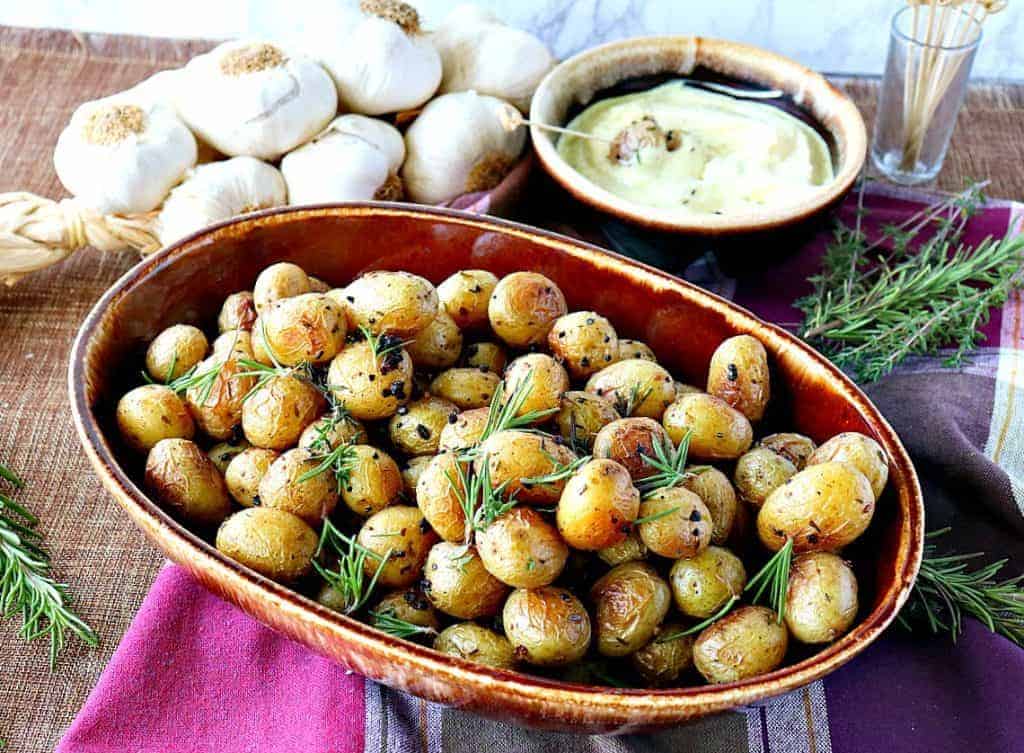 *Lemon Picatta Potato Salad from Spabetti
*Sauteed Mushrooms with Balsamic Glaze from Sugar and Soul
*Roasted Asparagus with Avocado Hollandaise (pictured below) from (yours truly) Kudos Kitchen
"Contrary to popular belief it is very easy being green (and healthy) with this delicious oven-roasted asparagus with avocado hollandaise!"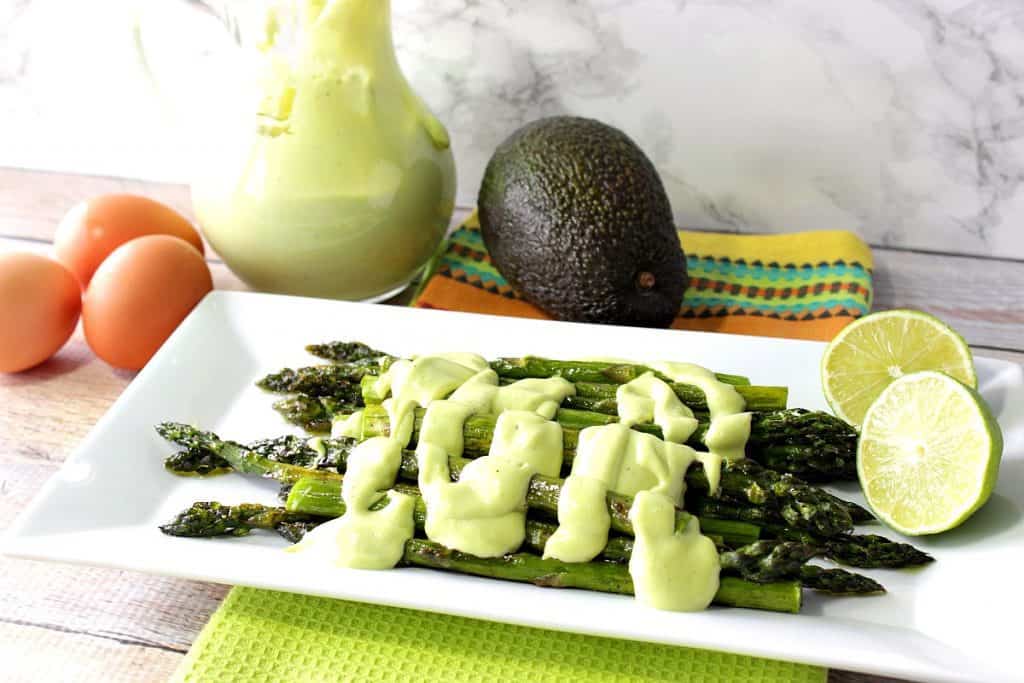 *Blistered Green Beans from Two Healthy Kitchens
*Eggplant Gratin with Feta Cheese from Lavender and Macarons
*Oatmeal Honey Bread with Sunflower Seeds (pictured below) from (yours truly) Kudos Kitchen
"If you're looking for homemade bread with a lot of body, and a touch of sweetness, then this Oatmeal Honey Bread with Sunflower Seeds is just the ticket!"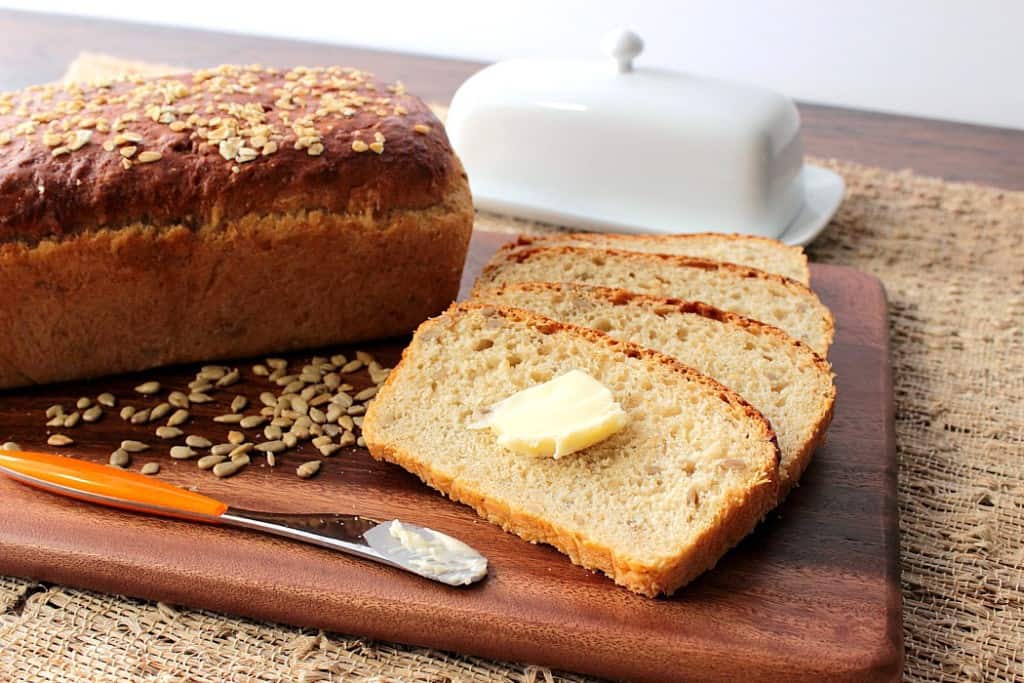 *Dill Scalloped Potatoes from The Toasty Kitchen
*Ginger Ale Glazed Carrots from The Soccer Mom
*Braised Leg of Lamb with Wine, Lemon, and Oregano (pictured below) THIS IS THE PLACE!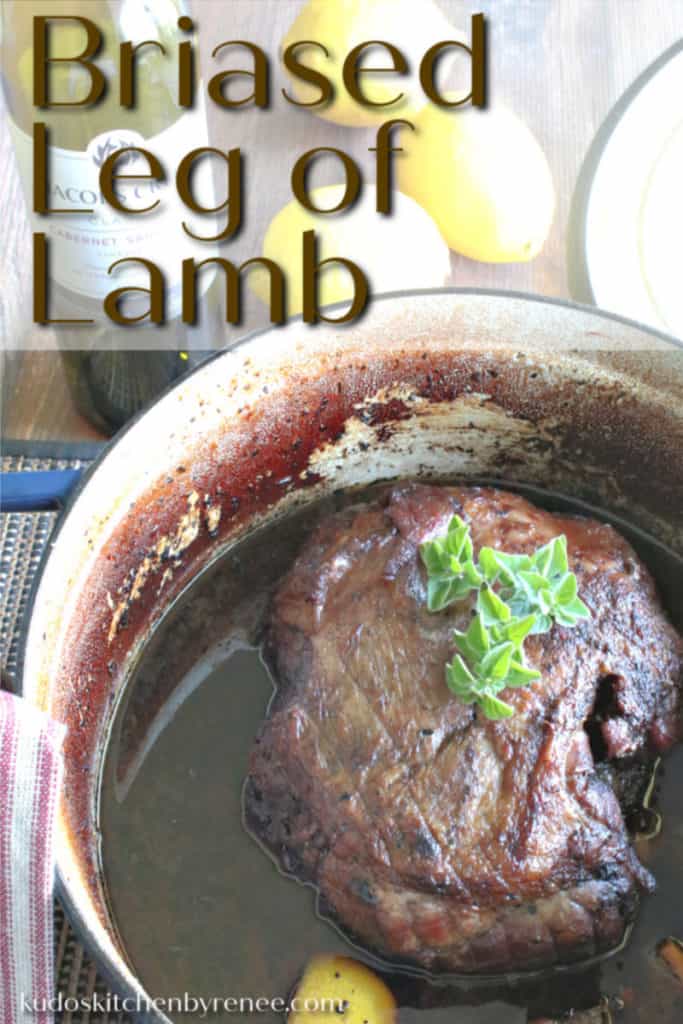 What is the best wine to use for this recipe?
I used a cabernet sauvignon for its full robust flavor. However, feel free to use whatever wine is your favorite.
While I always prefer a dry red wine for braising beef and lamb, white wine will also work.
Just make sure to use a wine you'd like to drink from a glass, and not a wine specifically made for cooking as those are loaded with sodium and not good for braising.
Can another liquid be used in place of the wine for this recipe?
Yes. Beef stock will work perfectly well.
If using beef stock alone, I suggest adding a few tablespoons of lemon juice or apple cider vinegar to the stock to give the liquid a tad more acidity and bump up the flavor.
Below is the printable recipe card along with the exact ingredient measurements and nutritional information for making today's Greek braised leg of lamb with wine, lemon, and oregano.
Yield: Serves 12
Braised Leg of Lamb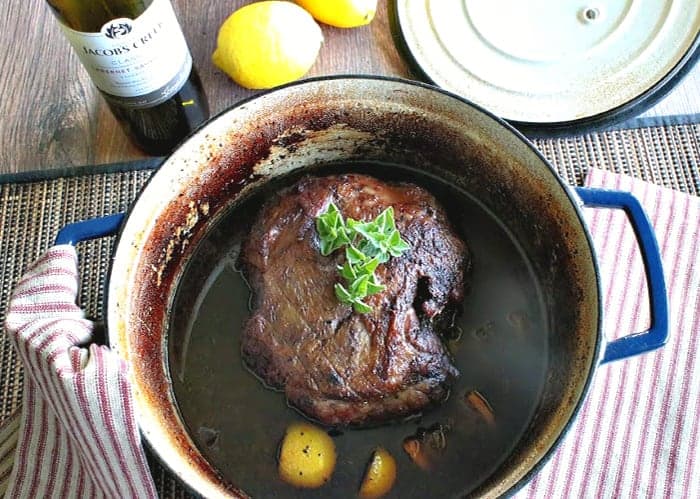 Additional Time
15 minutes
Total Time
4 hours
30 minutes
Ingredients
2 tablespoons olive oil
5½ pound boneless leg of lamb
3 tablespoons kosher salt
1 tablespoon coarse black pepper
1 tablespoon dried oregano
4 cups dry red wine
3 lemons, zested and juiced. (approximately 3 tablespoons lemon juice, and 1 tablespoon lemon zest) Reserve the rinds for the pot.
2 bay leaves
fresh oregano for garnish, if desired
Instructions
Preheat oven to 325-degrees.
Season the lamb all over with salt, pepper, and dried oregano.
Add the oil to a large Dutch oven and heat over medium-high heat.
Sear the lamb very well on all sides until deep brown in color.
Reduce the heat to low and add the wine, 2 tablespoons lemon juice, lemon zest, and bay leaves to the pot with the leg of lamb.
Add the cover to the Dutch oven and cook in the preheated oven for 4 hours, or until a meat thermometer reaches your desired doneness. Don't forget to account for carry-over cooking so plan accordingly and remove the lamb from the oven when the instant-read thermometer reaches 135-140-degrees if you prefer medium-rare lamb.
If needed, carefully snip and remove the string webbing from around the lamb.
Add the remaining lemon juice over the lamb and remove the bay leaves from the pot.
Remove the lamb to a carving platter. Cover the roast with foil and allow the meat to rest for 10-15 minutes before slicing.
Garnish with fresh oregano (if desired) and serve.
Nutrition Information
Yield
12 servings
Serving Size
6 ounces
Amount Per Serving
Calories

632
Total Fat

37g
Saturated Fat

15g
Trans Fat

0g
Unsaturated Fat

19g
Cholesterol

193mg
Sodium

1727mg
Carbohydrates

5g
Fiber

1g
Sugar

1g
Protein

53g
The nutritional information and calorie count provided is intended as a guideline only and has been provided by third-party software.
Whether you're working all day on a blue screen device, or in the kitchen, the following affiliate products are ones I can highly recommend to save your eyesight and your sanity.
Below is a photo of my blue blocker computer glasses in action! I swear by them! I work at the computer for what feels like all-day, every-day, and these glasses have relieved a great deal of eye-stress and migraine problems for me.
A neurologist was the one who recommended I get myself some, and it was the best thing he could have told me to do, so now I pass that information on to you!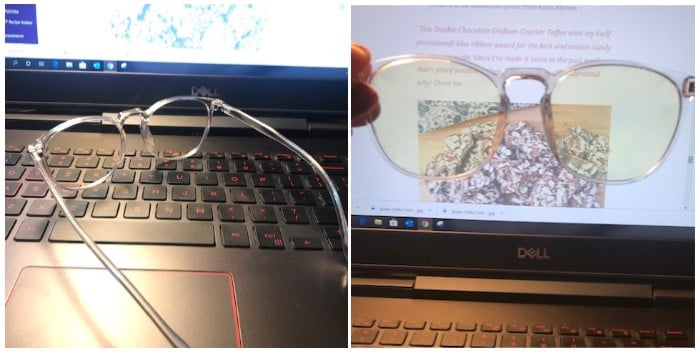 I sincerely hope you've enjoyed today's braised lamb recipe as much as I've enjoyed bringing it to you!
**Note – The post above includes affiliate links. As always, I truly thank you for your support!
As an Amazon Associate, I earn from qualifying purchases. When I find a great product or service I like to share it with my readers. For additional information please view my privacy policy.