Part of the fun of eating a Fried Rosette Snowflake Cookie is the dusting of confectioners sugar that will inevitably snow down the front of your shirt as you crunch into these crispy little holiday treats.
There's no way around it, so just give in and let it snow!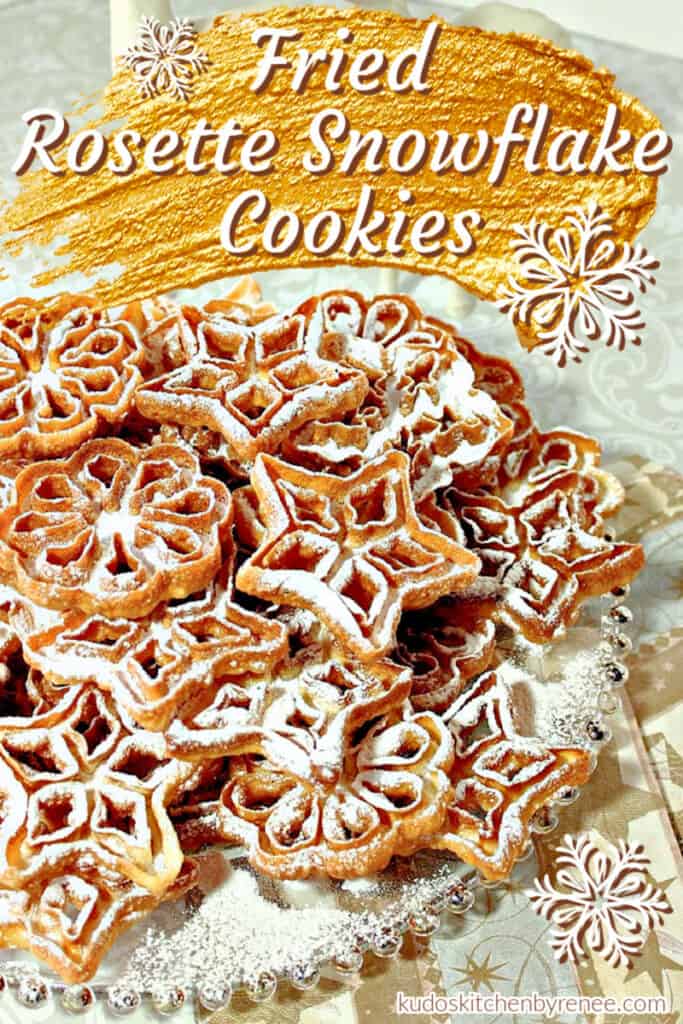 For me, this recipe for fried rosettes brings back fond memories of when I was growing up. My mom used to always make them at Christmas when I was a young girl.
Making fried rosette snowflakes has now become a holiday tradition in my Kudos Kitchen, and maybe they'll become a tradition at yours too!
Jump to: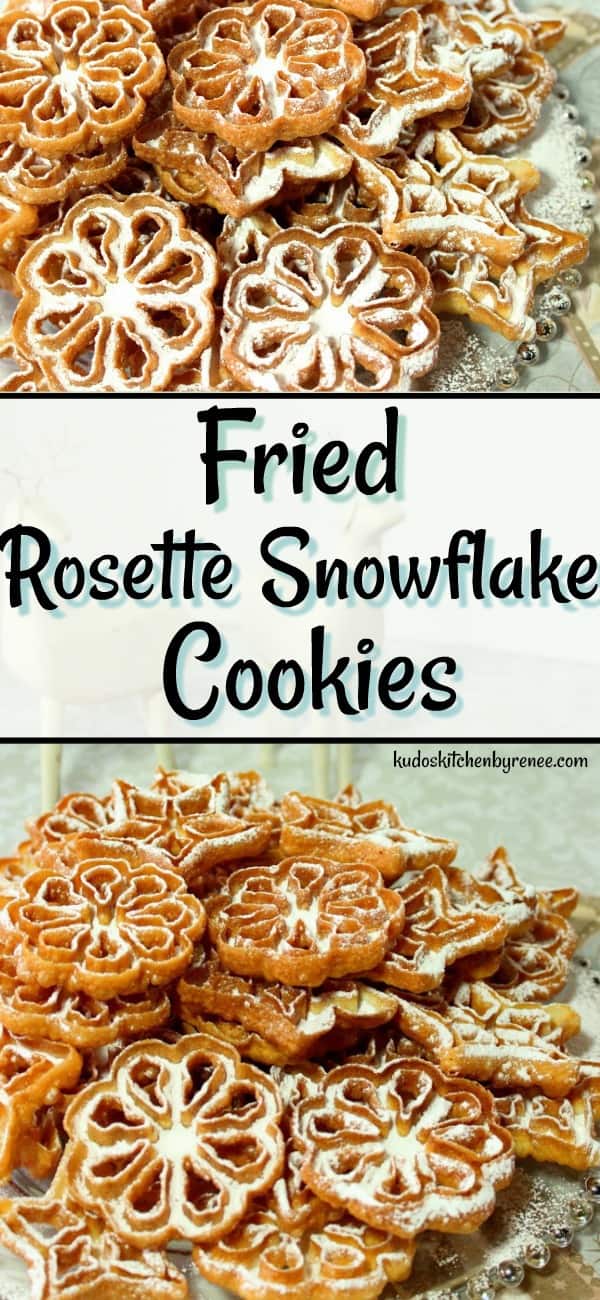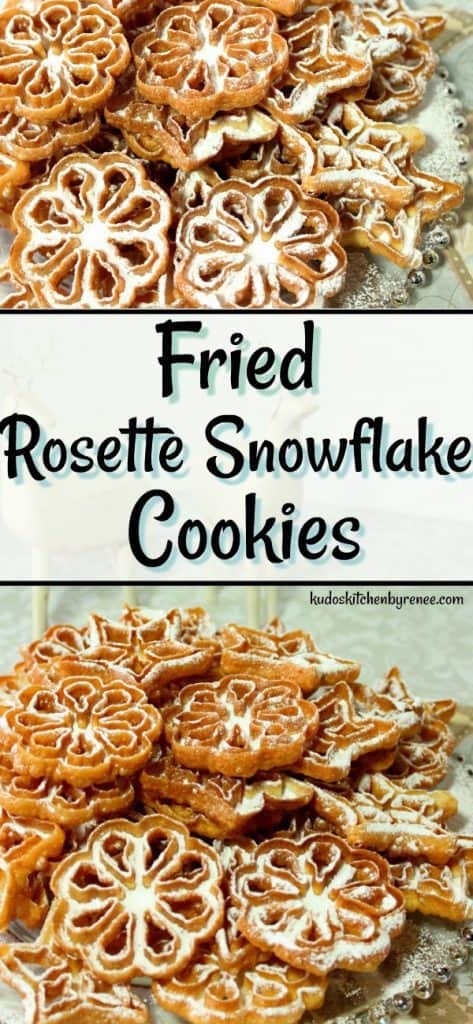 The ingredient list:
**Note - The following lists of ingredients plus kitchen tools and equipment contain affiliate links (highlighted in blue) for your consideration and shopping convenience. #CommissionsEarned
Kitchen tools and equipment needed:
What are fried rosette cookies?
Rosette cookies are of Scandinavian origin and are traditionally made during Christmas time.
They're made from a light batter of very few ingredients and then fried until crispy and golden.
They are made using special cast-aluminum rosette irons, of which you can find many different designs.
What makes a fried rosette cookie (aka a rosette waffle) so special?
Fried Rosette Snowflake Cookies are always a huge hit when they're on a cookie platter!
They never fail to leave a telltale dusting of confectioners sugar on faces and clothing as the crispy fried cookies brake on the first, light bite but that's part of their holiday charm!
They have a light almond taste, and they pack a big punch of crunch in every single bite!
A few tips and pointers for making fried rosette cookies:
A Fried Rosette Snowflake Cookie is made with a thin batter that uses minimal ingredients and reminds me of a very thin pancake or crepe batter.

Hot canola oil (or other light oil such as coconut or peanut) is brought to frying temperature and is first used to heat the irons.

The irons are then dipped into the batter and carefully submerged into the oil for a minute or two until the cookies loosen themselves from the iron and float freely away, frying up to a crispy golden brown.

I have found that

using a shallow pie pan works best for coating the rosette irons in the thin batter, as opposed to using a deep bowl.

*Note - It only takes a matter of minutes to fry the rosettes so make sure you don't stray from the pan during this process. Rosettes are delicate and will need your undivided attention, so please plan accordingly.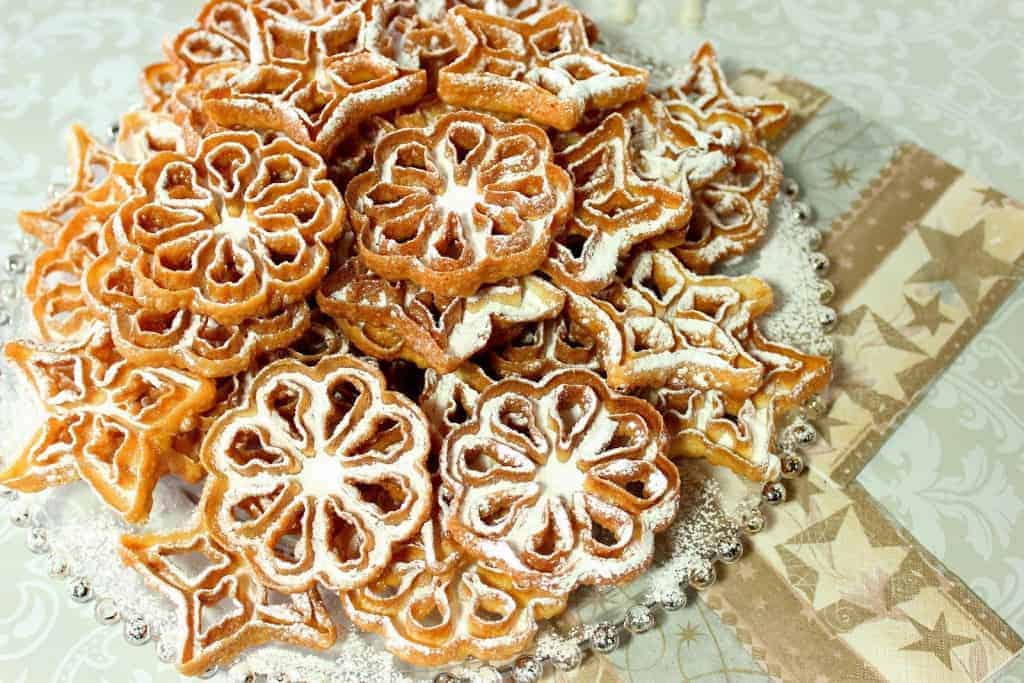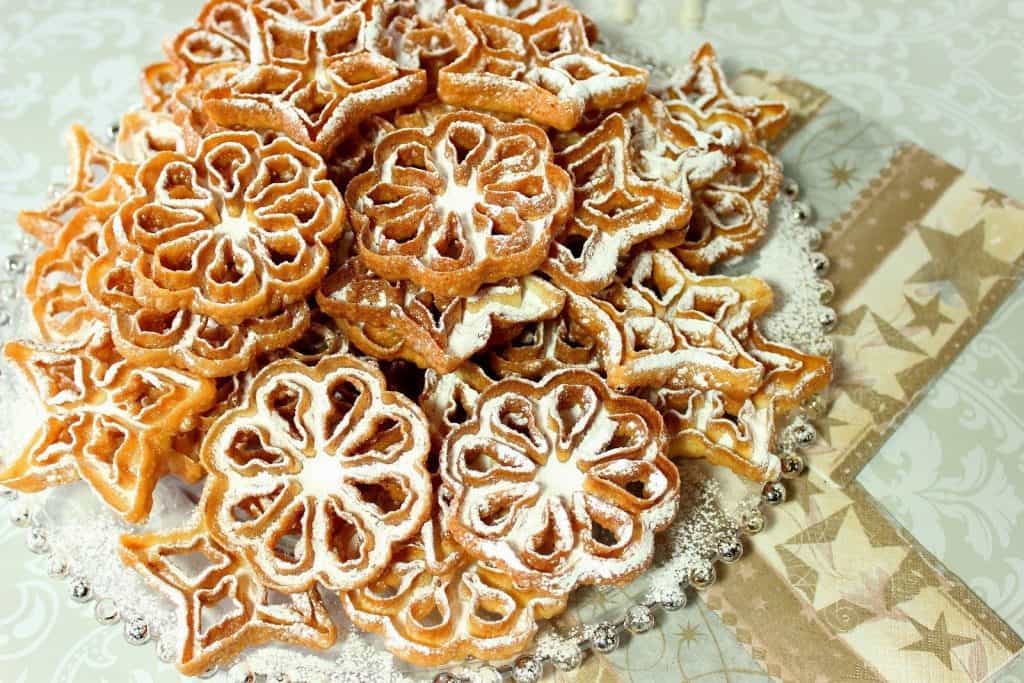 What is the proper oil temperature for making fried rosettes?
375-degrees.
Is a cooking thermometer completely necessary for making this recipe?
Yes, and no.
While using a cooking thermometer is the best and most accurate way to get the reading on the temperature of the oil, I have another method that doesn't require a cooking thermometer.
By dipping the handle of a wooden spoon into the hot oil, if tiny, rapid bubbles surround the handle of the spoon, (like bubbles in a glass of champagne), you know the oil is hot and ready for frying.
If the bubbles are slow and few, the oil is not yet at the proper temperature and will need to be heated longer.
ALWAYS USE THE UTMOST CAUTION WHEN COOKING WITH HOT OIL!
For tons of great stress-free holiday recipes, check out Stress-Free Christmas, and plan to stay awhile. You'll find some amazing recipes for all your Christmas celebrations!
How to make fried rosettes:
Heat approximately 2 inches of oil to 375-degrees in a large, high-sided skillet.

Dip the rosette iron into the hot oil to prime the iron before dipping the iron into the batter.

Whisk together the eggs, sugar, flour, milk almond extract and salt to form a thin batter.

Dip the hot iron into the batter,

making sure NOT to totally submerge it under the batter

or it will adhere to the iron and you'll never get it off.

Carefully place the batter coated iron into the hot oil and fry until the cookies are lightly golden.

As the cookies fry, they'll self-release from the iron.
Continue frying until the rosettes are golden brown.
You can carefully flip the cookies in the oil, but that shouldn't be necessary.
Occasionally you'll need to gently prod the fried cookie off the rosette iron, and this can be accomplished by gently and carefully nudging it from the iron using a fork or spoon.



After making a few rosettes using a deep bowl, I decided that I'd better transfer my batter to a shallow dish to make the dipping easier as the batter got used up.

*Note - It's best to start with a shallow dish in the first place so you won't have extra dishes to wash. Do as I say, not as I do 🙂


Use a slotted spoon to remove the cooked rosettes to some brown paper bags or paper towels in order to drain off the excess oil.

Once the rosettes are completely cool, sprinkle them with confectioners sugar and serve.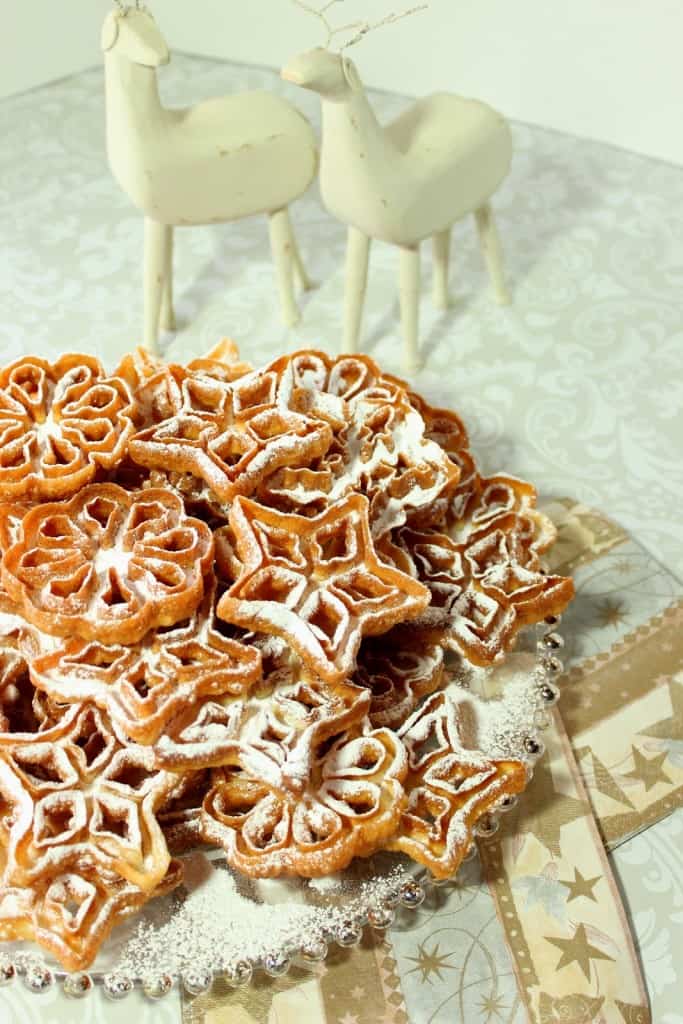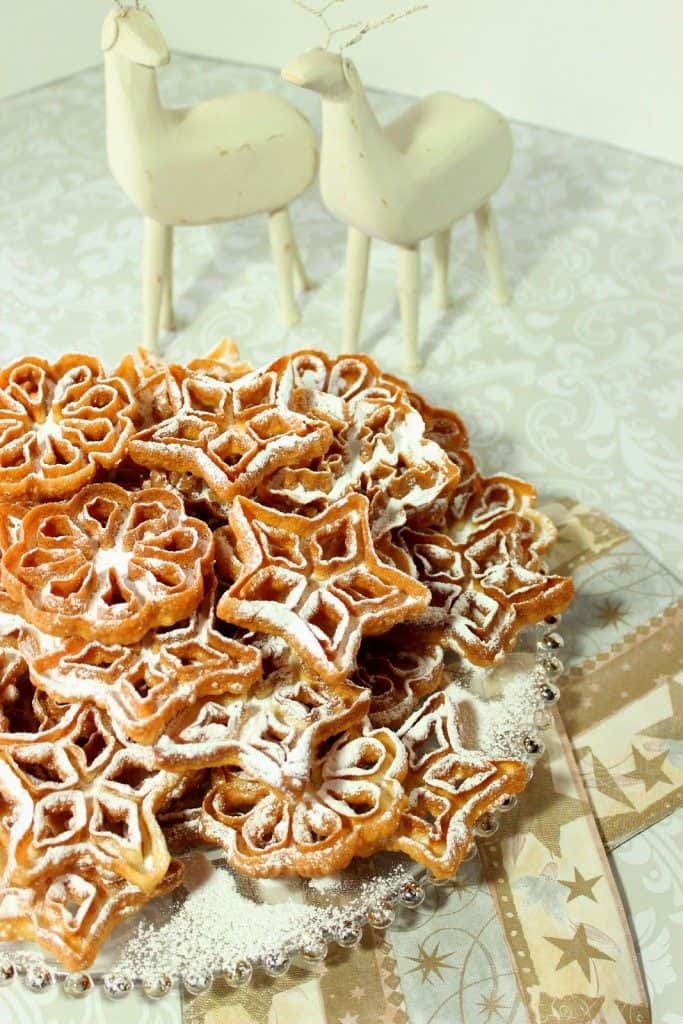 For additional holiday cookie recipes:
"Christmas Cream Cheese Sprinkle Cookies are tender on the inside and crunchy on the outside, thanks to the fun and colorful sprinkles."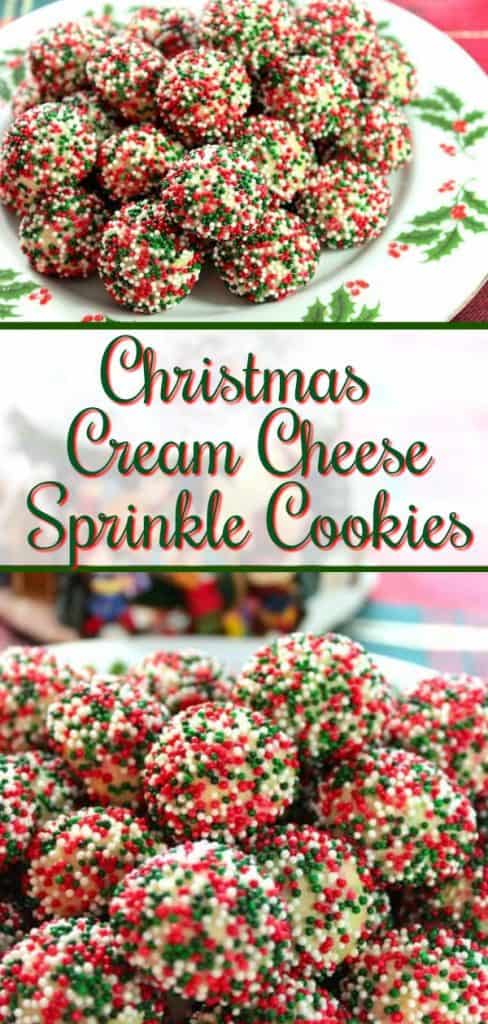 "Today's colossal Christmas cookies recipe roundup will keep your house smelling delicious every day of the month… and then some!"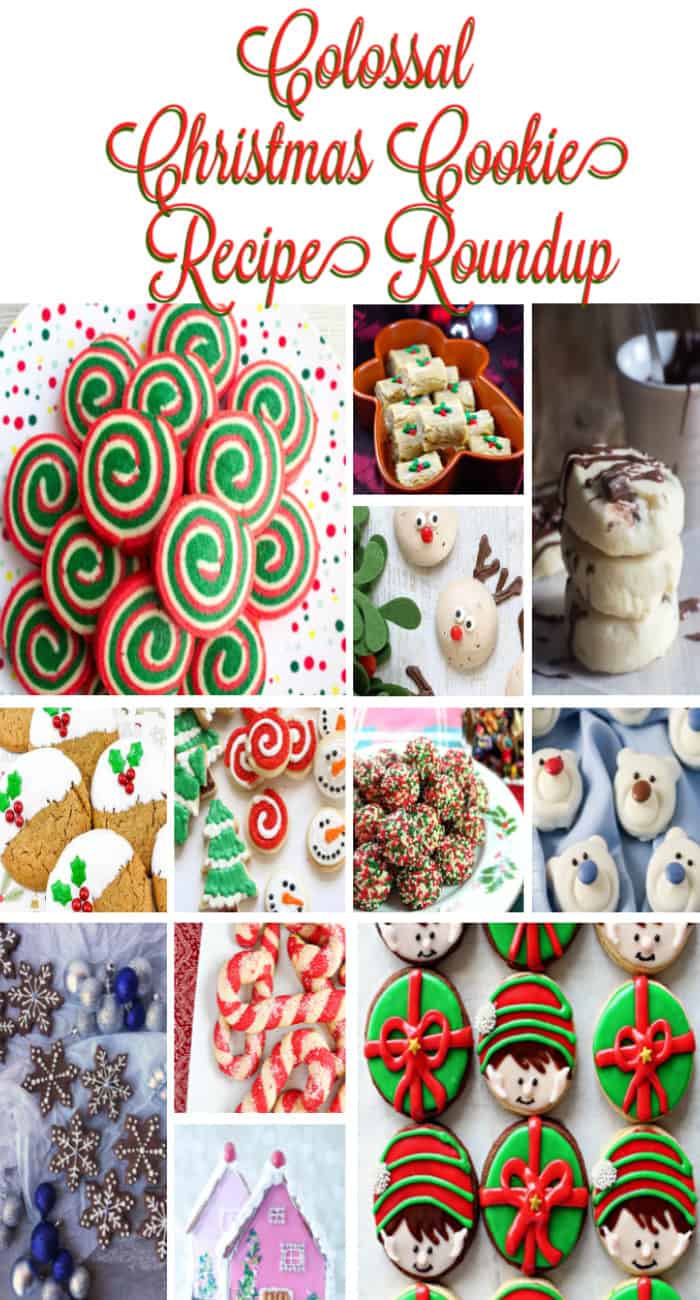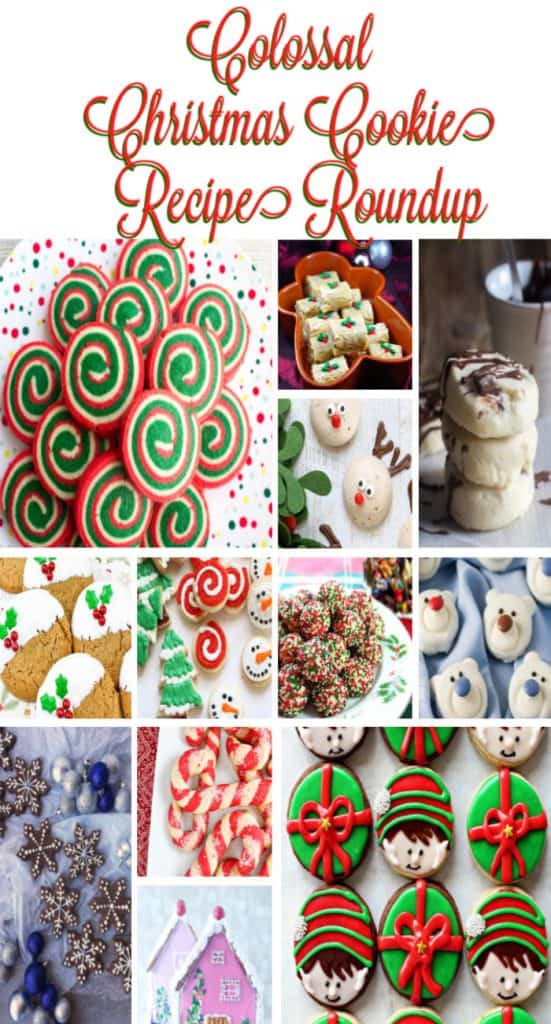 "Treat Santa to one of the best tasting cookies he'll have all year, and make baking Sant's Favorite Sugar Cookie a family tradition while you're at it!"


"These Peppermint Shortbread Cookies will be the star of any cookie platter. They're all dressed up and ready to party!"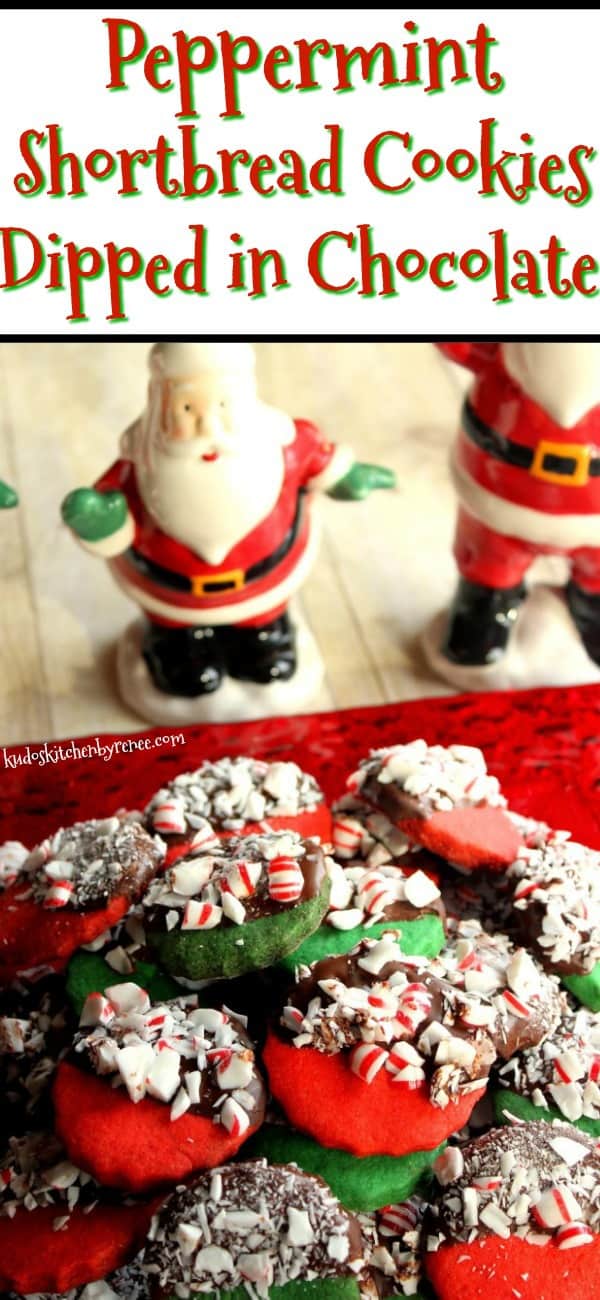 Fried Rosette Snowflake Cookies (pictured below) THIS IS THE PLACE!!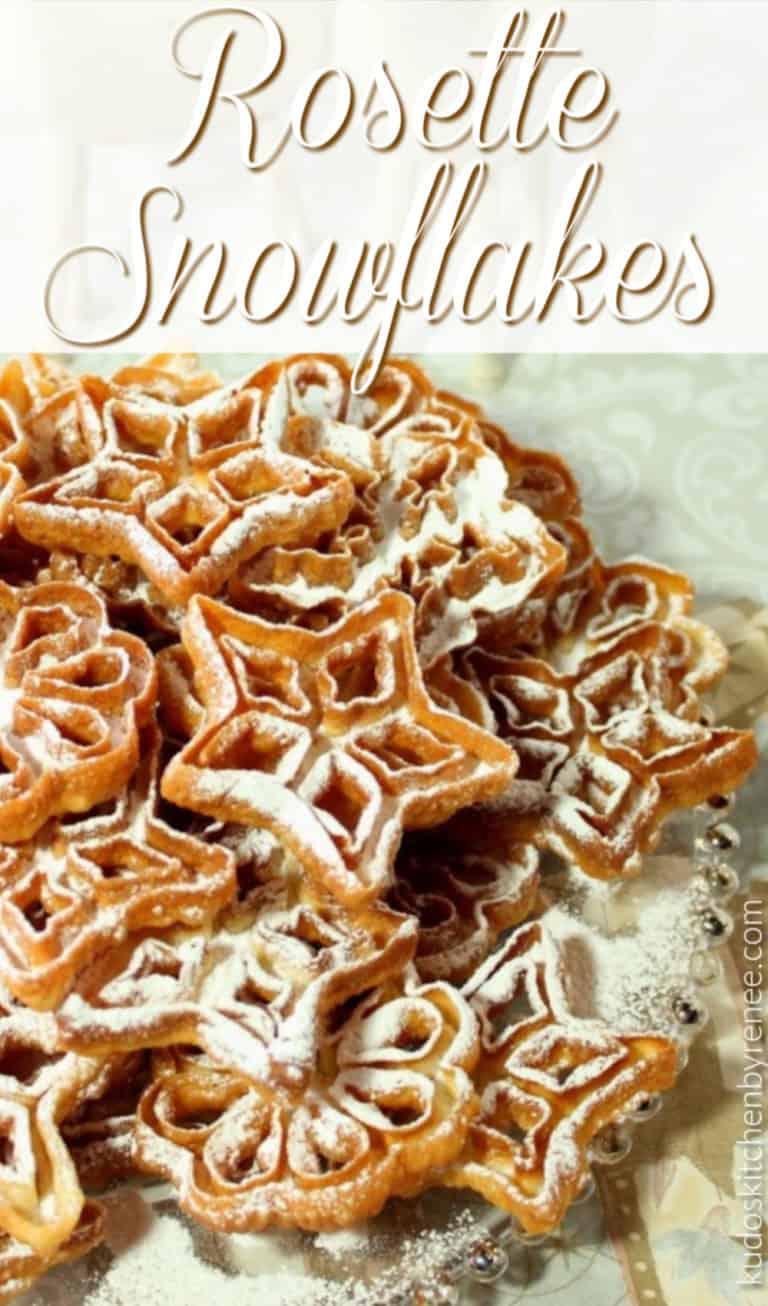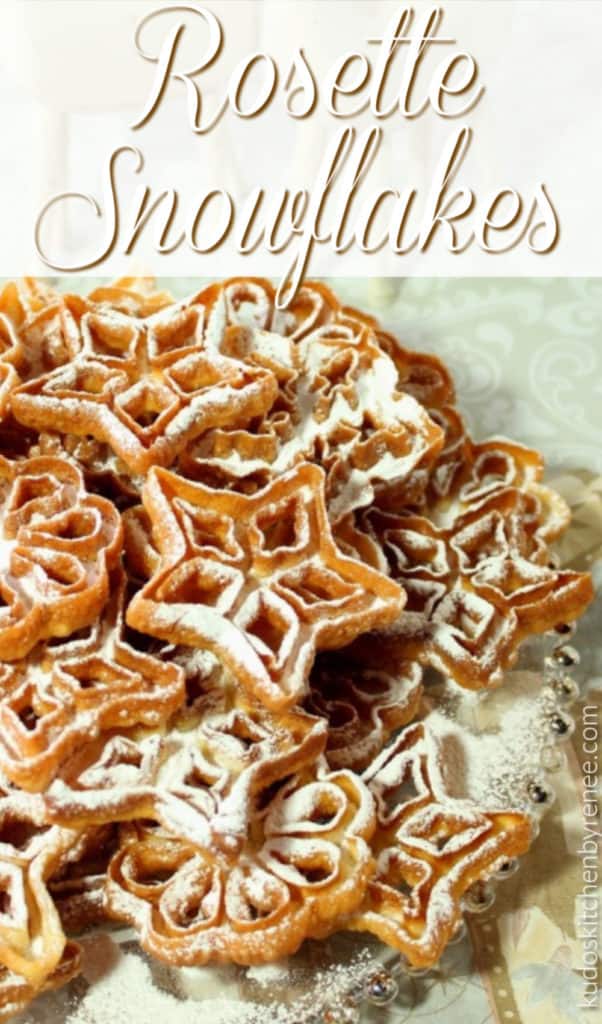 Additional fried foods recipes:
Homemade Glazed Apple Cider Donuts are every bit as good as what you get at an apple orchard or bakery, except that you make them fresh at home!
Chicken and waffles get a picnic-ready upgrade with this recipe for Waffle Batter Fried Chicken! Now you can pack up this classic treat, and easily take it wherever you want to go.
Even if you're not a huge mushroom fan, I'll bet you're going to flip over these Beer Battered Fried Mushrooms!
Hungry for a Friday night fish fry but don't want to pay restaurant prices? My Homemade Fried Tilapia recipe is crispy, crunchy, and utterly delicious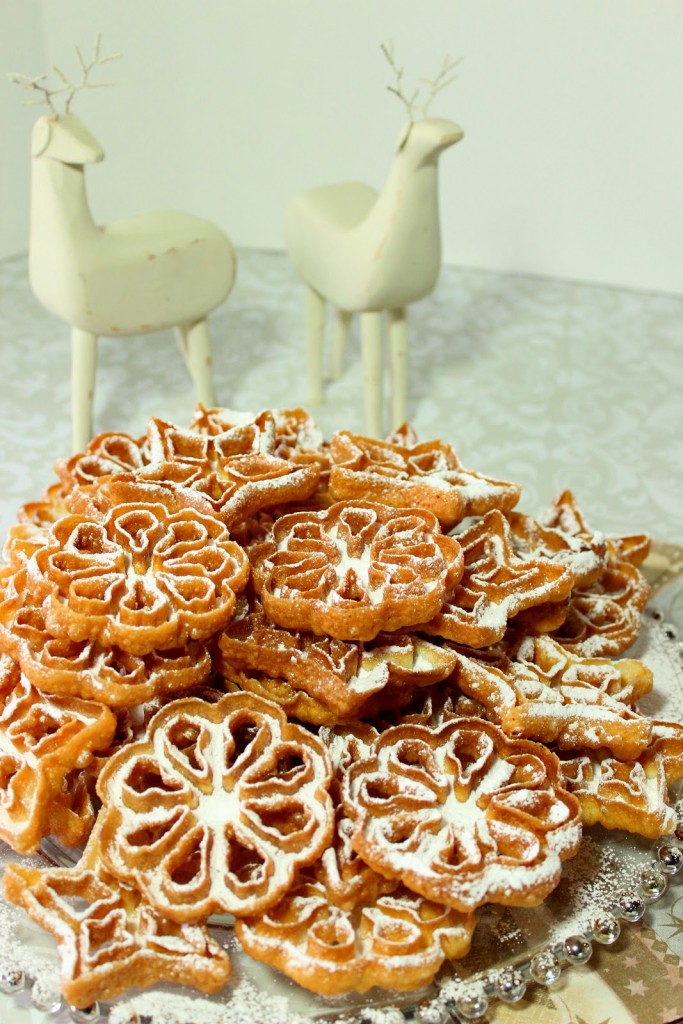 When you make this recipe, and I hope you do, I'd appreciate it if you'd take a moment to leave a star rating on the recipe card and briefly comment on why you rated it as you did. FYI - Google appreciates recipe ratings and, in turn, will share my recipes with more people. Thank you so much!!
Printable Recipe Card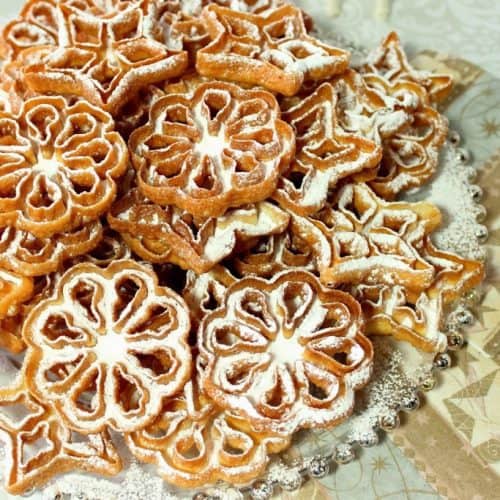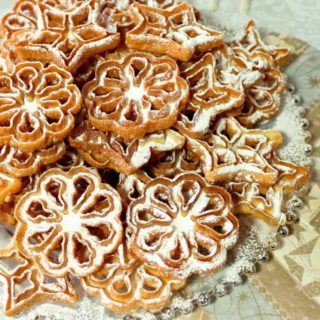 Fried Rosette Snowflake Cookies with Confectioners Sugar Dusting
Part of the fun of eating a Rosette Snowflake Cookie is the dusting of confectioners sugar that will snow down the front of your shirt as you crunch into these crispy little holiday treats. There's no way around it so just give in and let it snow!
Ingredients
2

large eggs

1

tablespoon

granulated sugar

1¼

cups

all-purpose flour

1

cup

milk

1

teaspoon

pure almond extract

¼

teaspoon

salt

4

cups

canola oil

or other light, high-temperature oil

1

cup

confectioners sugar
Instructions
Heat 2" of canola oil in a high sided pan to a temperature of 375 degrees.

In a shallow dish, whisk the eggs and sugar; beat well. Add in the flour, milk, almond extract, and salt and whisk until smooth.

Heat a rosette iron in the oil for 1-2 minutes.

Drain the excess oil from the iron. Dip the iron into the batter just to the top of the iron but DO NOT to cover the top or the rosette won't release from the iron.

Place the iron carefully and immediately into the hot oil until it gently frees itself from the iron. *Note - If needed you can use a butter knife to gently and carefully coax the cookie off the iron.

Fry the rosette turning once until golden. This happens quickly so do not divert your attention frying.

Using a slotted spoon, carefully lift the cookie upside down out of the oil to drain and place the fried cookie on brown bags or paper towels to drain.

Reheat the iron in the oil, and continue the same steps until all the batter is used.

Once completely cooled sprinkle the rosettes with confectioners' sugar and serve.
Notes
Store in a cool dry place in a covered container for up to 3 days.
Nutrition
Serving:
1
grams
Calories:
89
kcal
Carbohydrates:
10
g
Protein:
1
g
Fat:
4
g
Cholesterol:
16
mg
Sodium:
35
mg
Sugar:
5
g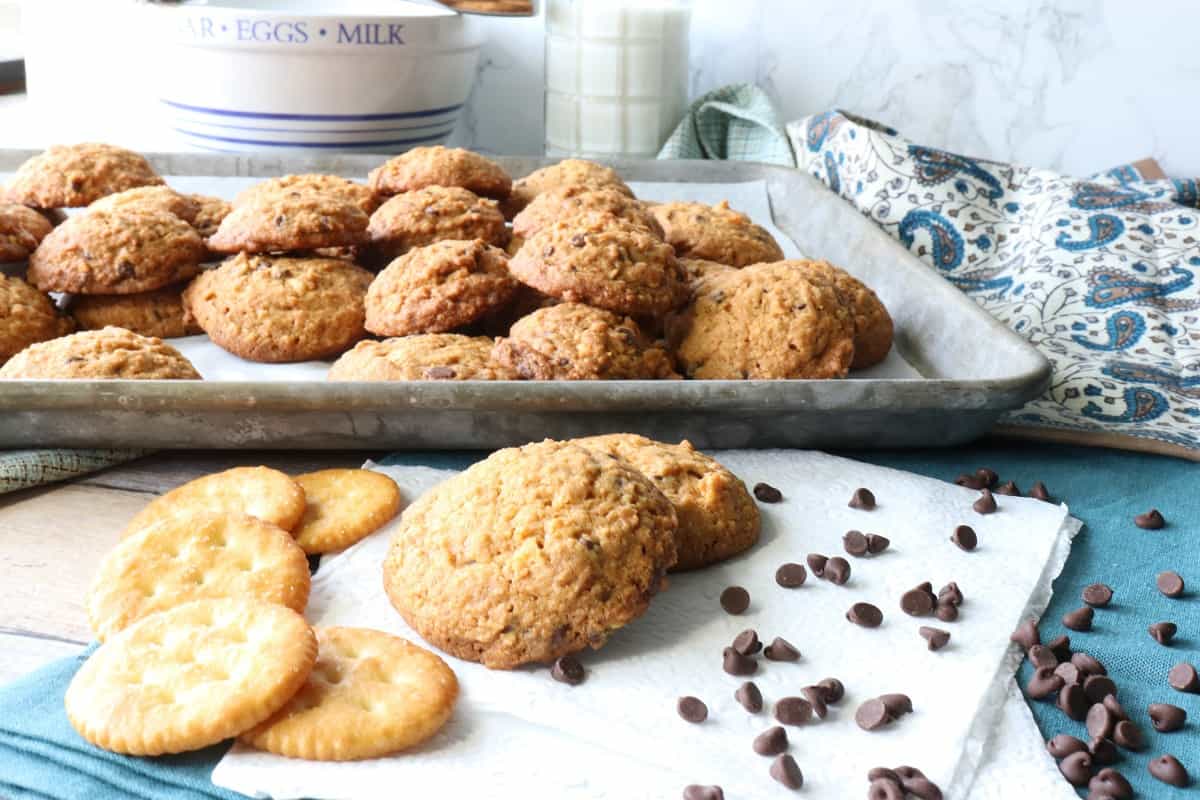 Follow me across my social media platforms and join in on the conversation: FACEBOOK, INSTAGRAM, PINTEREST, TIKTOK, AND YOUTUBE.
Thank you so much for visiting me today in my Kudos Kitchen. I hope you found something you'll love and that you'll come back and visit me often. There is always room for you around my table!
Should you have any questions or comments regarding anything you've seen here on my blog, please don't hesitate to reach out to me. It is always my distinct pleasure to respond to you just as soon as I possibly can.
Until we eat again, I hope you have a delicious day!!