If you're looking for a coleslaw recipe you can make in advance that tastes amazing and can remain outdoors without running for cover during summer's hottest weather, look no further. This No Mayo Sweet Sour Coleslaw will be your backyard BBQ's best friend!!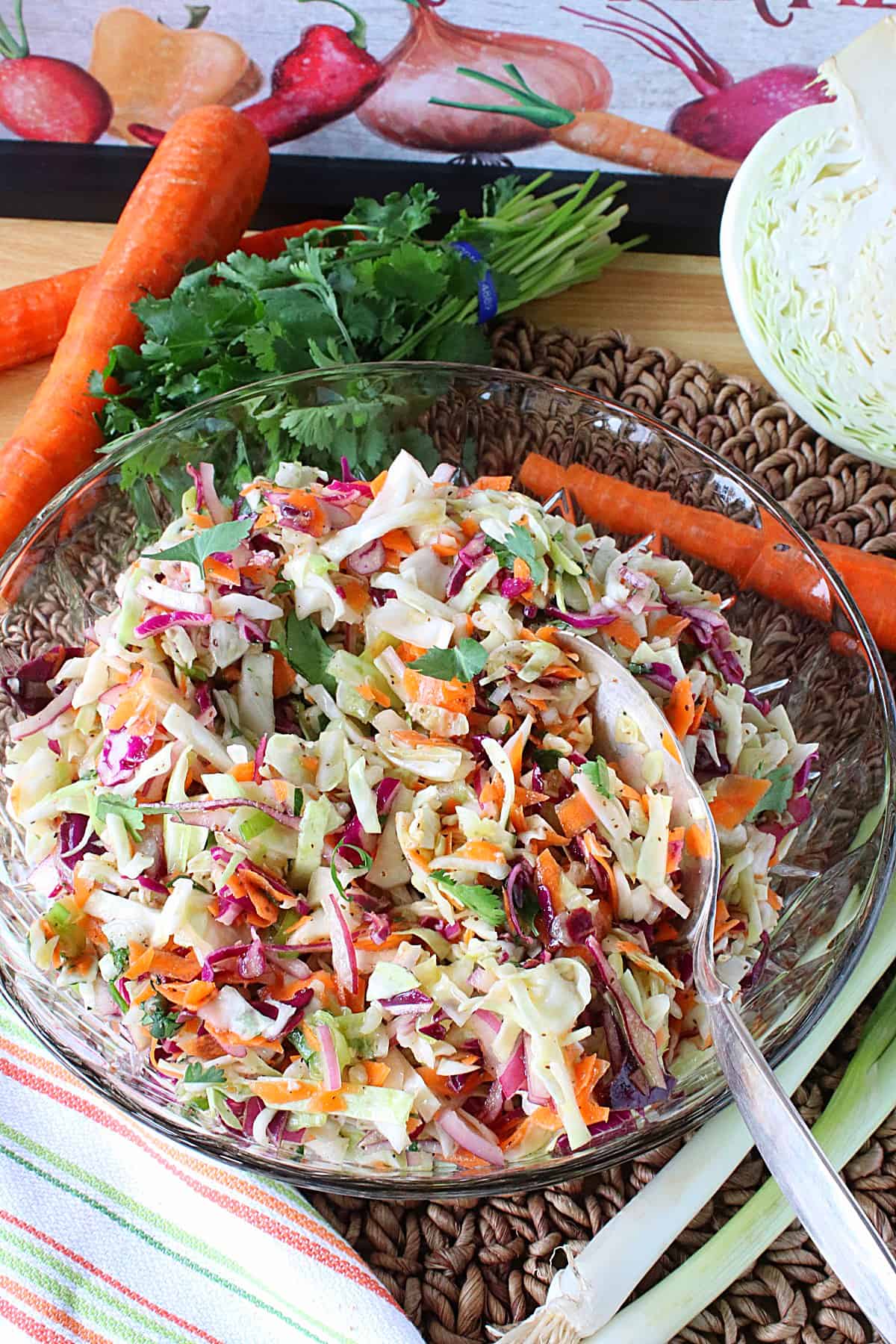 Today's chilled side dish recipe is lightly based on my most popular recipe for Copycat Sunflower Crunch Kale and Cabbage Salad. I wanted to create an additional coleslaw recipe but minus the mayonnaise.
I'm delighted with this mayonnaise-free coleslaw recipe's result, and I trust you will be, too, when you make it at home!
Jump to:
The ingredient list:
*Please note that the exact measurements along with a new "shop the recipe" feature from Instacart is available in the printable recipe card.

Ingredient information and substitution suggestions:
GREEN CABBAGE - I find something so satisfying about slicing cabbage by hand. It's the beautiful crunch it makes as the knife cuts through the green, leafy sphere. I know I'm weird, but it may be my all-time favorite thing to chop in the kitchen. That said, if you're not into the same entertainment, by all means, use the pre-shredded cabbage (or slaw mix) you can readily find in the produce section. It all works.
You can also use a different variety of cabbage if you like. Napa or Savoy would both be wonderful choices.
RED CABBAGE - I like to add red (purple) cabbage for its eye-catching color and slightly peppery flavor. This ingredient may be omitted if desired. Please be aware, however, that if red cabbage is added, the longer the slaw sits in the fridge (i.e., days), the more the slaw will turn pinkish in color because of the bleeding pigment of the red cabbage.
RED ONION - If you're worried that adding raw red onion may have a bitter or overpowering flavor to this coleslaw, don't be. Of course, you can leave the onion out entirely or cut back on the amount in the recipe, should you choose to do so.
OR you can soak red onion slices in icy ice water for 30 minutes (making sure to drain and completely dry the onions) before adding them to slaw? This process removes some of the onion's harsh oniony flavor, leaving a much less powerful presence.
GREEN ONION - More onion? You bet!! But don't worry, there's not much in this slaw, but the flavor the green onions (scallions) provide makes this no-mayo sweet, sour slaw a standout from all the rest. Slice the scallions thinly and use both the white and green bits. I urge you to keep these in the recipe, but the choice is yours.
CARROTS - What self-respecting coleslaw doesn't include carrots, I ask you? Carrots add a bit of sweetness, not to mention a bright pop of color that is a non-negotiable ingredient this slaw must include.
At first, I was going to use the box grater to grate the carrots, but then I decided to try something different. Instead, I used a vegetable peeler to first peel thin carrot strips. Then, when I had a healthy pile (or two) of carrot strips, I ran my knife through the mound for a nice, albeit it, uneven rough chop. It was a speedy process, cutting down on the extra dishwashing. Yay!! See the video below.
CILANTRO - Cilantro is such a polarizing ingredient. People either hate it or love it. I fall in the love-it category because (to me) it has a bright, citrusy flavor that nothing compares to. If you're not a fan, leave it out, or feel free to substitute fresh parsley. The choice is yours.
APPLE CIDER VINEGAR - Any type of vinegar may be used in this recipe. I always gravitate towards apple cider vinegar (with the mother) for making sauces and dressings. Even an aged, thick, balsamic vinegar would work in this recipe because of its sweetness.
AVOCADO OIL - Here, too, you can choose any type of oil you have on hand or prefer. I chose avocado oil because of the healthy fat and beneficial nutrients it provides. Because this is a no-cook dressing, a good quality extra virgin olive oil would also be an excellent choice.
GROUND CORIANDER - Ground coriander provides an extra brightness and depth of flavor to the coleslaw that will be hard to detect but trust me when I say it is a vital element to the dressing. A substitution of celery seed may be used in place of the ground coriander or in addition.
SUGAR - Considering how much slaw this recipe makes, 3 tablespoons of granulated sugar isn't excessive. However, if you prefer not to use it, organic honey is a good substitute, or even a good quality pure maple syrup would work in this recipe. Start with a tablespoon or two (of either), taste, and go from there.
DIJON MUSTARD - This ingredient balances the flavor of the dressing nicely. You can substitute any variety of mustard you like, but go lightly at first, taste, and add more if you prefer.
SALT AND PEPPER - Kosher salt and fresh cracked black pepper are always my choices for cooking. Add them to the vegetables before dressing and the dressing itself for the optimal flavor of the completed dish.
Shredding carrots the easy way:
Renee's product recommendation:
My very favorite vegetable peeler is shown in the video above. It has a 5-star rating with over 34,000 ratings! It works like no other I've found and makes very quick work of peeling and shredding. I love it!
No-mayo coleslaw for the win!!
Coleslaw is always the first things I'm drawn to at a BBQ or picnic. I love all the colors, crunch, texture, and freshness it provides to a meal. If you feel the same way, then this fresh and fabulous vinegar-based coleslaw recipe is one you'll adore.
Don't get me wrong, I also love a good mayonnaise-based coleslaw because, well, coleslaw is my jam! However, there are times in the summer when you obviously don't want a mayonnaise-forward side dish sitting out in the hot summer temperatures.
What is the "mother" in apple cider vinegar?
The mother is the good bacteria (probiotics) that you'll find settled to the bottom of some apple cider vinegar bottles. Don't be bothered by the cloudy appearance of the vinegar with the mother. Although it may look a little off-putting, the mother within the apple cider vinegar is actually the healthiest part. The mother is great for gut digestion and for promoting a healthy immune system.
The benefits of avocado oil:
Did you know that avocado oil reduces cholesterol and improves heart health by reducing blood pressure?
For more of the benefits of avocado oil, check out article in healthline.com
Top tips for recipe success:
Using a food processor to slice the cabbages and shred the carrots will make quick work of assembling this coleslaw.
Once the slaw is made, cover and allow it to sit in the fridge for at least 4 hours for all the flavors to marry and for the salad to chill completely.
Stir well before serving.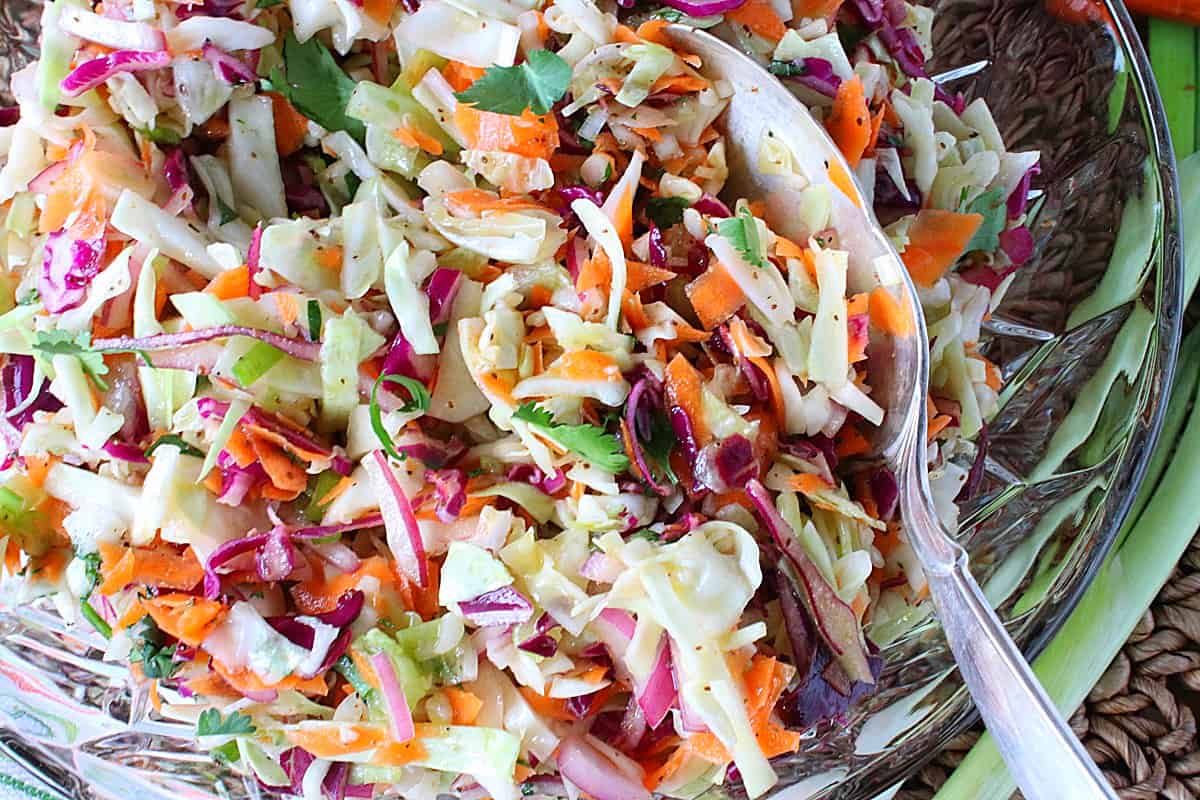 FAQs
How long will this salad keep in the fridge?
Store it covered, or in an airtight container, for up to 7 days. Be aware that the longer it sits, the more pink (due to the red cabbage) in color it will become. It's still perfectly fine to eat, it will just be a bit more colorful.
Can you freeze coleslaw?
No. The texture will be mushy once thawed.
How many servings will this recipe make?
As written, this recipe will make approximately twelve 1 cup servings.
How long can this mayonnaise-free coleslaw remain unrefrigerated?
Hours and hours. You can serve it on the hottest of summer days and not be worried about it going bad or spoiling. Of course, slaw is meant to be a chilled side dish, but it will still be delicious even if it's warm.
Can this slaw be used as a burger or hot dog topper?
You bet!! Go crazy and add it to all the things, and then don't forget to report back to me and let me know how much you loved it!! 🙂
Add-in suggestions for your consideration:
dried cranberries
cooked and crumbled bacon
cooked chilled shrimp (chopped)
lightly blanched broccoli
sugar snap peas (chopped)
green peas
shaved brussels sprouts
diced apple
diced pear
finely chopped celery
celery seed
poppy seed
Make it a complete meal:
Cooking these Slow-Roasted Baby Back Ribs in the oven, or on the outdoor BBQ, you can achieve maximum flavor with minimum ingredients that will ensure great meaty flavor, and quality tenderness.
French Onion Mac and Cheese has got your name written ALL over it, and I'm happily handing it to you! You're welcome! 🙂
Roasted Garlic Cheese Bread with Rosemary and smoked mozzarella works equally well as a delicious appetizer, a side dish for a BBQ or family meal, or even a meatless entrée. It's utterly delicious no matter how to plan to serve it!
Chocolate and cherry lovers will go crazy for this creamy and delicious no-churn recipe for Chocolate Cherry Kahlua Ice Cream.
When you make this recipe, and I hope you do, I'd appreciate it if you'd take a moment to leave a star rating on the recipe card and briefly comment on why you rated it as you did. FYI - Google appreciates recipe ratings and, in turn, will share my recipes with more people. Thank you so much!!
Printable Recipe Card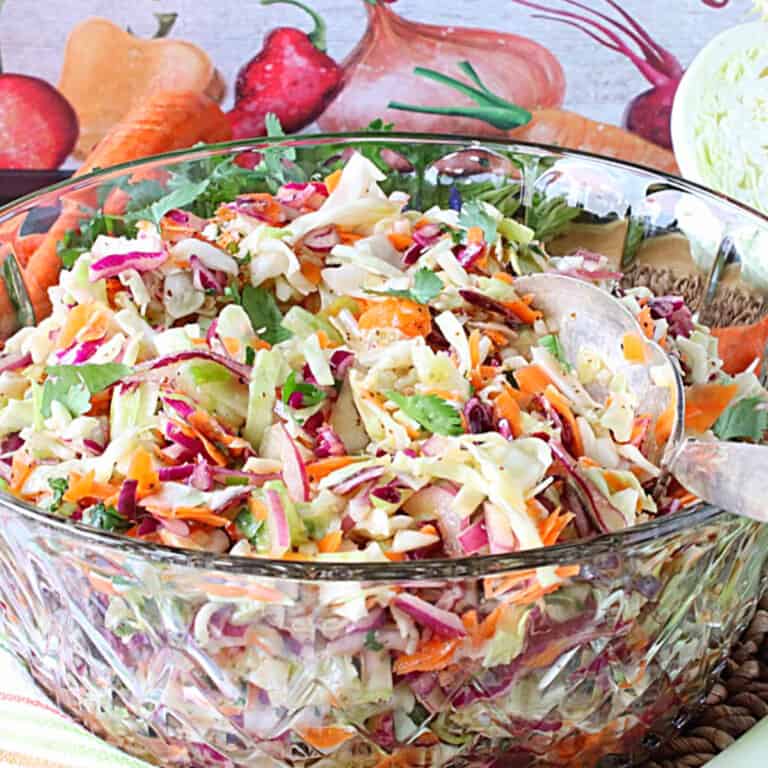 No Mayo Sweet Sour Coleslaw
If you're looking for a coleslaw recipe you can make in advance that tastes amazing and can remain outdoors without running for cover during summer's hottest weather, look no further. This No-Mayo Sweet Sour Coleslaw will be your backyard BBQ's best friend!!
Ingredients
6

cups

shredded green cabbage

thinly sliced

2

cups

shredded red cabbage

1

small (about ½ cup)

red onion

thinly sliced

¾

cup

chopped scallions

white and green parts

½

cup

roughly chopped cilantro

2

cups

shredded carrots

1

teaspoon

kosher salt

½

teaspoon

black pepper
For the dressing:
⅓

cup

apple cider vinegar

½

cup

avocado oil

1

teaspoon

ground coriander

3

tablespoons

granulated sugar

2

teaspoons

Dijon mustard

½

teaspoon

kosher salt

¼

teaspoon

black pepper
Instructions
Combine the first 8 ingredients in a large bowl and stir well to combine. Set aside.

Combine the dressing ingredients in a jar with a tight fitting lid and shake vigorously to combine.

Pour the dressing over the cabbage mix and stir well to completely coat the slaw with the dressing.

Cover the slaw with plastic wrap and chill in the refrigerator at least 4 hours before serving.

Stir again before serving and enjoy!
Video
Notes
May be stored in the refrigerator for up to 7 days.
Nutrition
Serving:
1
serving
Calories:
118
kcal
Carbohydrates:
9
g
Protein:
1
g
Fat:
9
g
Saturated Fat:
1
g
Polyunsaturated Fat:
1
g
Monounsaturated Fat:
6
g
Sodium:
327
mg
Potassium:
193
mg
Fiber:
2
g
Sugar:
6
g
Vitamin A:
3873
IU
Vitamin C:
24
mg
Calcium:
35
mg
Iron:
0.5
mg
I sincerely hope you've enjoyed today's recipe for make ahead coleslaw without mayonnaise as much as I've enjoyed bringing it to you!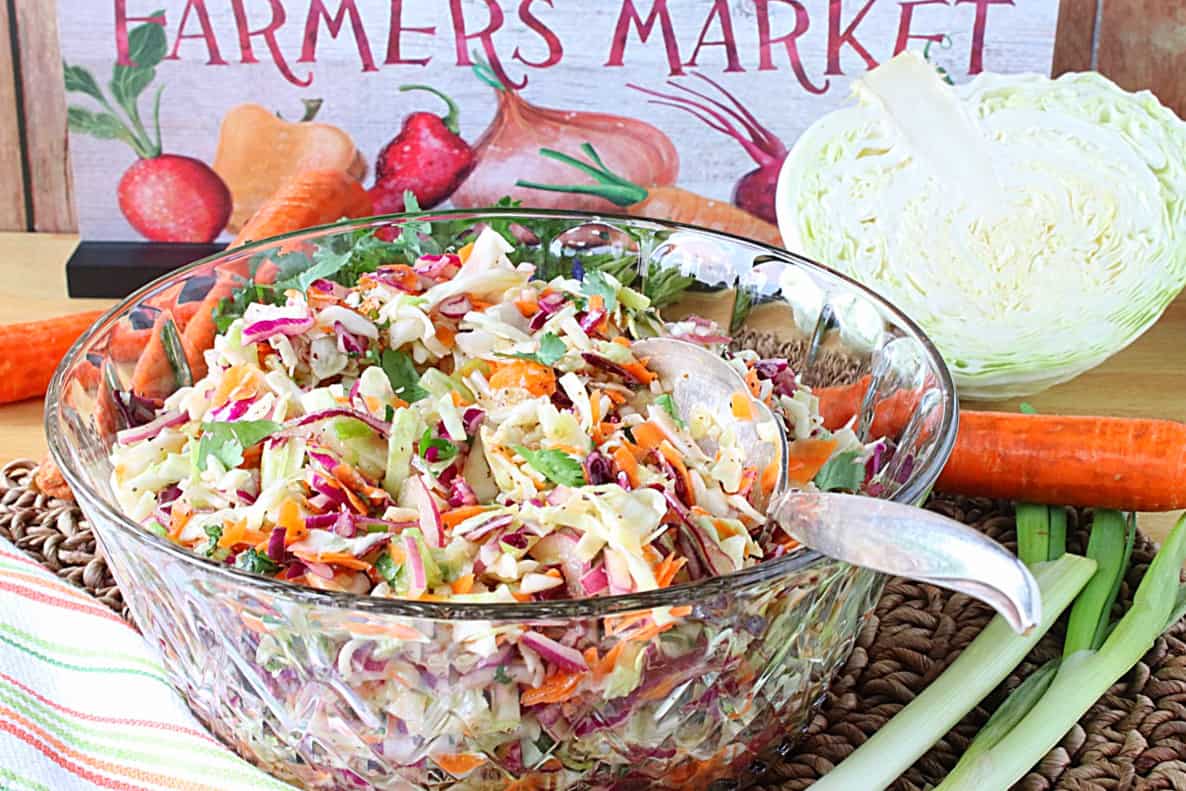 Follow me across my social media platforms and join in on the conversation: FACEBOOK, INSTAGRAM, PINTEREST, TIKTOK, AND YOUTUBE.
Thank you so much for visiting me today in my Kudos Kitchen. I hope you found something you'll love and that you'll come back and visit me often. There is always room for you around my table!
Should you have any questions or comments regarding anything you've seen here on my blog, please don't hesitate to reach out to me. It is always my distinct pleasure to respond to you just as soon as I possibly can.
Until we eat again, I hope you have a delicious day!!