Whether you choose to serve these easy to make deviled Dijon ham and eggs for breakfast, brunch, appetizers, or a hearty snack, you just can't go wrong!
They're utterly scrumptious no matter how, or when, you eat them!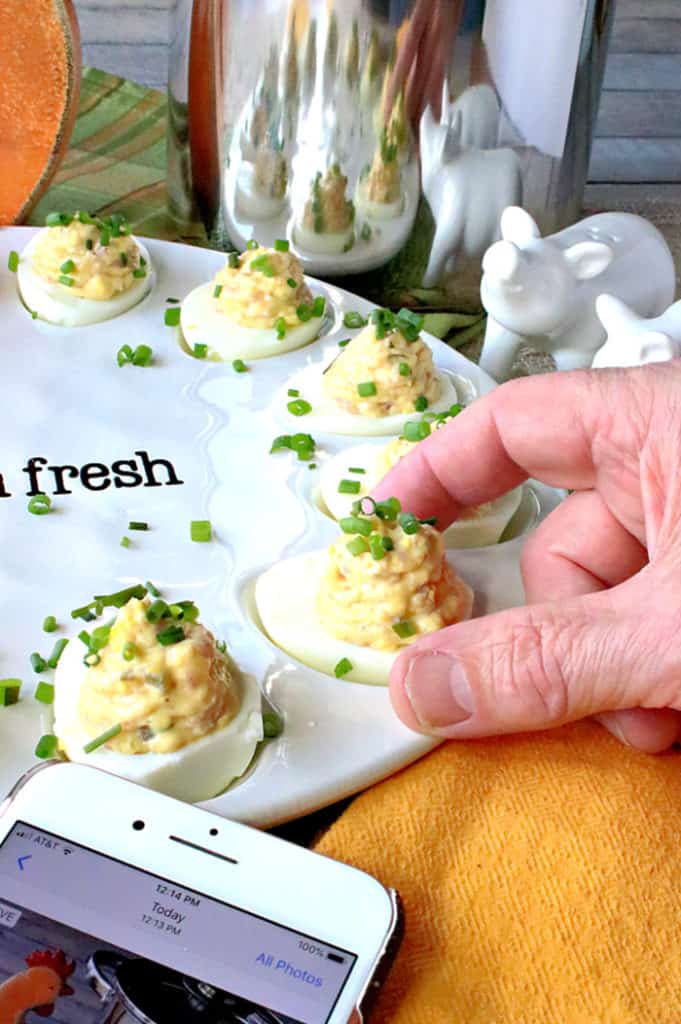 This delicious deviled egg recipe works great with leftover ham! However, if you don't have leftover ham, deli ham also works great.
**Please Note - The printable recipe card with detailed instructions, complete ingredient measurements, and nutritional information for making deviled ham and eggs is available at the end of this post. OR you can hit the "jump to recipe" button (found above) to be taken directly to the recipe.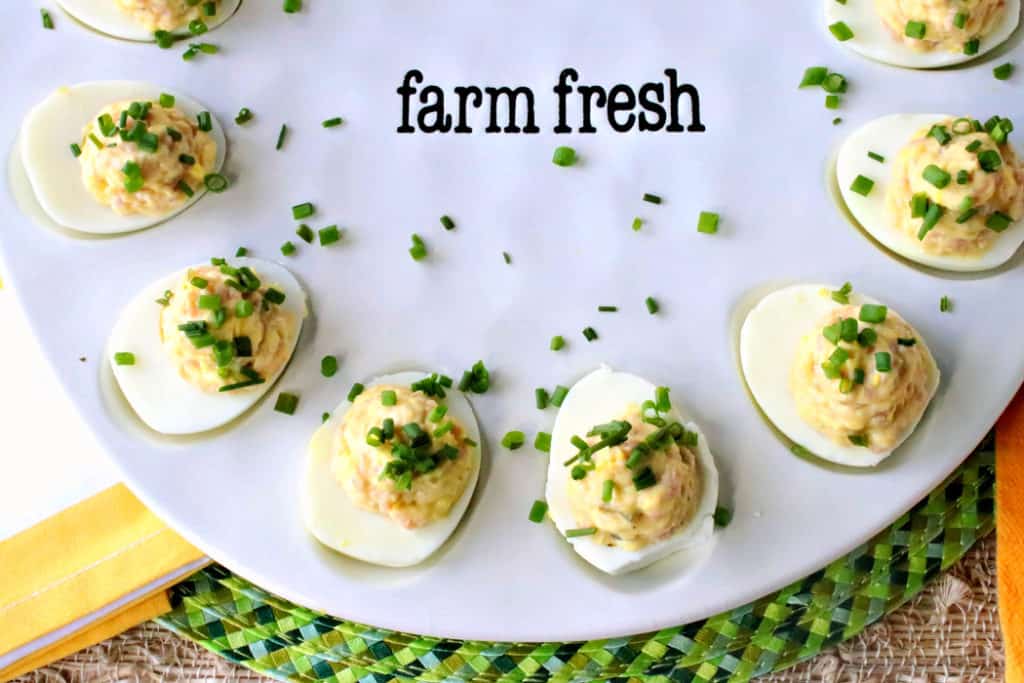 The ingredient list:
**Note - The following lists of ingredients plus kitchen tools and equipment contain affiliate links (highlighted in blue) for your consideration and shopping convenience. #CommissionsEarned
hard-boiled eggs
ham, finely chopped
chives
Kitchen tool and equipment needed: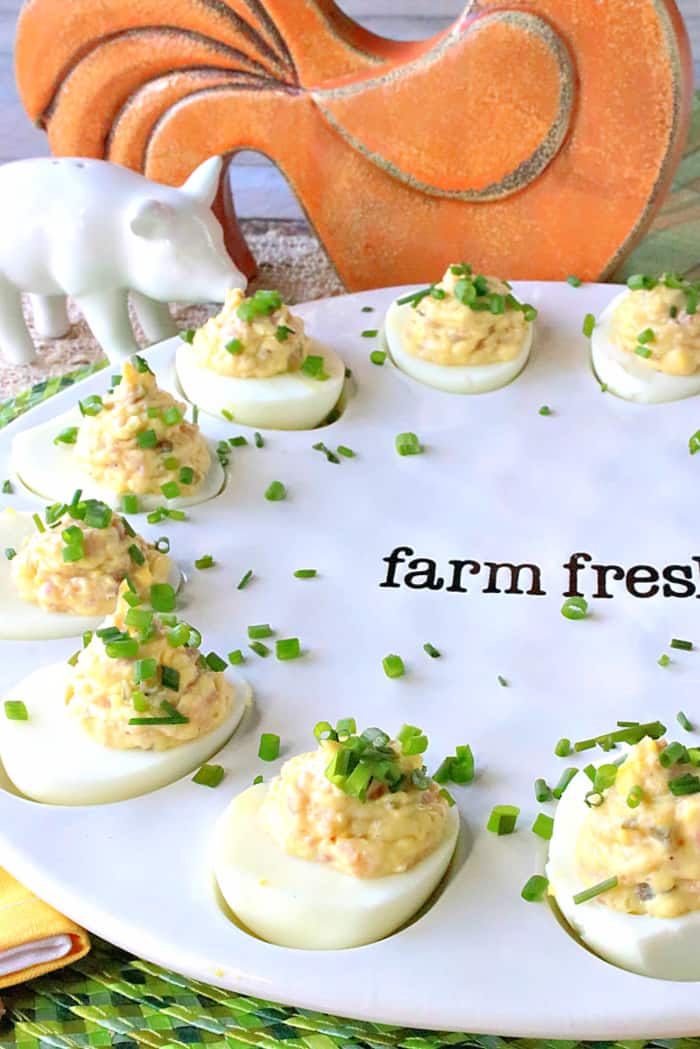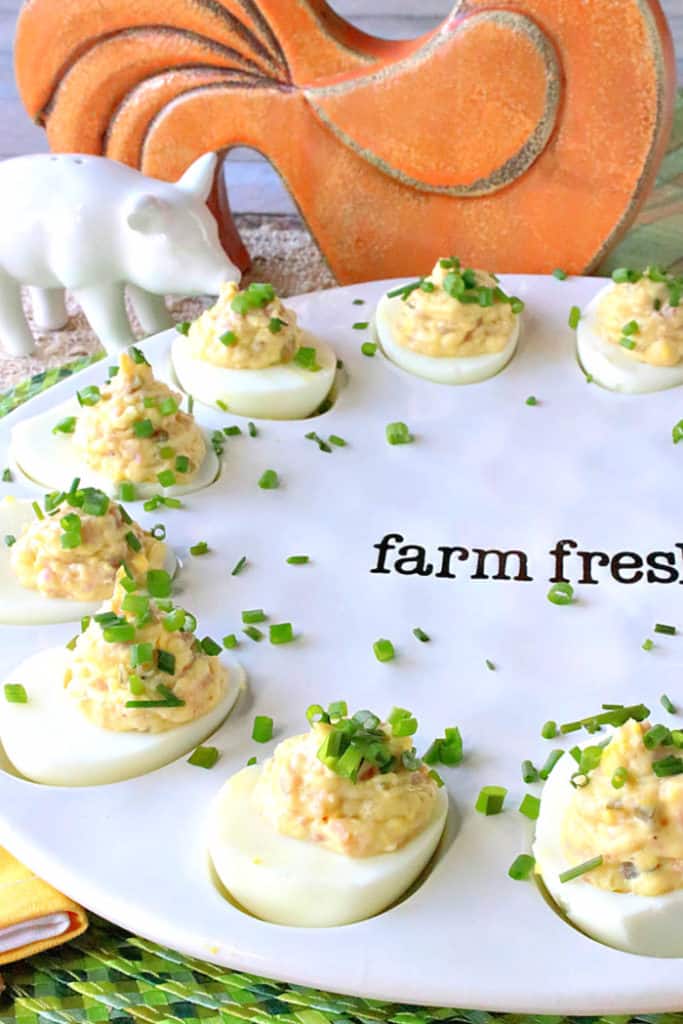 What is a proper stovetop method for making hard-boiled eggs?
Start with eggs that are a little older. Eggs that have been in the refrigerator for 2 weeks work best.
Bring eggs to room temperature before cooking.
Always start with cold water, and use a smaller pot so the eggs have little room to move around and bump into each other which can cause cracking.
Once the water boils, turn off the heat and cover the pot. Allow the eggs to remain in the pot for 10-12 minutes. *Note - cooking hard-boiled eggs too long will produce that unappetizing grey ring around the yolk. A kitchen timer or even Alexa works great for minding the time.
Once cooked, carefully drain the hot water from the pot and run cold water over the cooked eggs to cool.
Once cooled completely, peel the eggs and continue with the recipe.
Want to cook your hard-boiled eggs in the instant pot?
How long will hard-boiled eggs keep in the refrigerator?
You can safely store hard-boiled eggs up to 7 days in the refrigerator.
Can deviled ham and eggs be made in advance?
I recommend only making the deviled eggs one-day before you plan to serve. However, you can cook the hard-boiled eggs up to seven days before preparing the deviled eggs.
How long will deviled ham and eggs keep in the refrigerator?
Once prepared, refrigerate the deviled eggs immediately in an air-tight container, or covered well with plastic wrap.
Deviled ham and eggs will keep up to 2 days in the refrigerator.
Can deviled eggs be frozen?
I don't recommend it.
Once a cooked egg white is frozen it becomes very tough and rubbery making for a very unpleasant eating experience.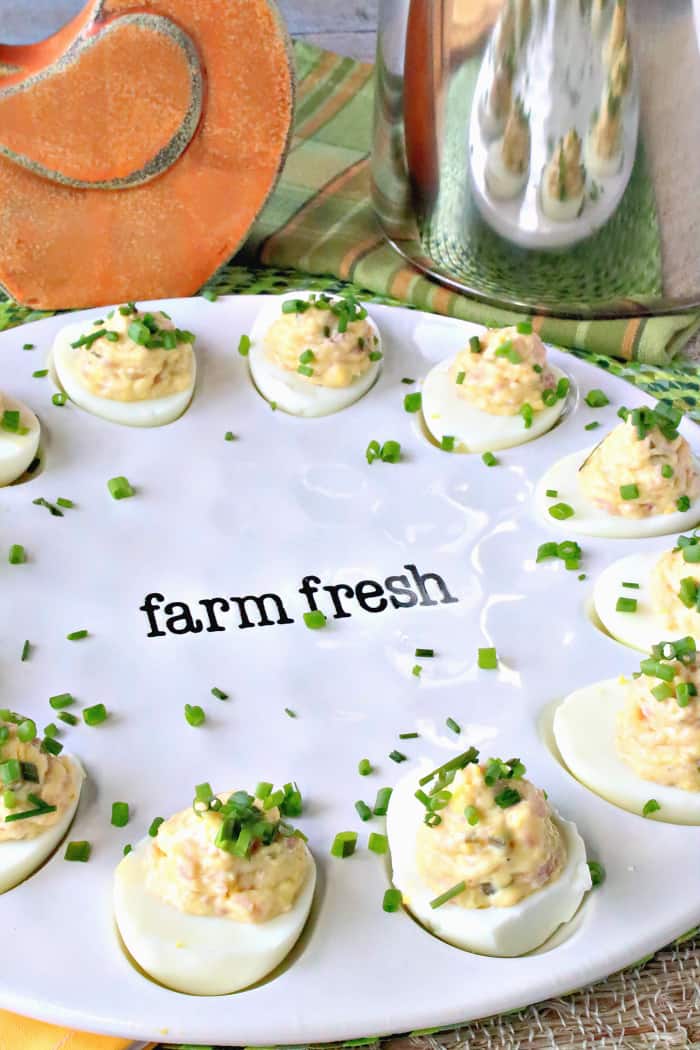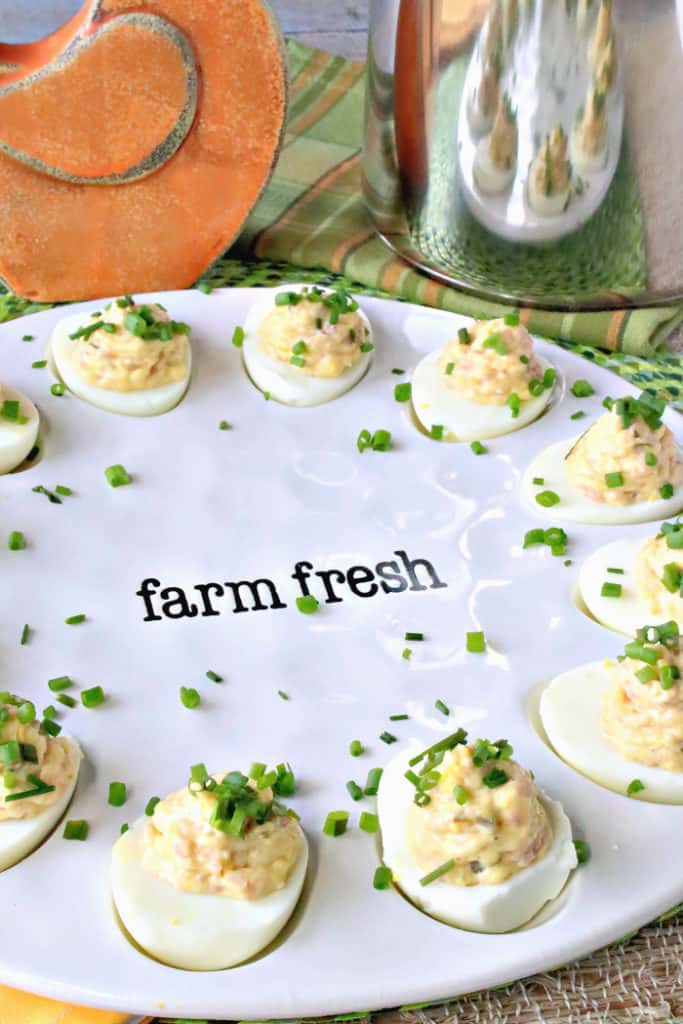 What is the best way to make ham crumbles?
I used the food processor along with some leftover ham I had in the refrigerator.
Pulsing the ham in the food processor a few times makes a nice, crumbly mixture.
However, using a chef's knife will also work to chop the ham into small, itty-bitty pieces. Small ham pieces work best for piping the creamy yolk filling.
What are some other uses for the ham and egg yolk filling?
Spread on toast or crackers.
Use it as a dip for veggies or breadsticks.
Fill celery sticks with it.
What are some of your ideas? I'd love to hear.
Additional recipes using hard-boiled eggs:
Easy Scotch Eggs (pictured below)
"A Scotch Egg is a perfectly cooked hard-boiled egg that is surrounded by pork sausage and then pan-fried for a crunchy outside and a soft center."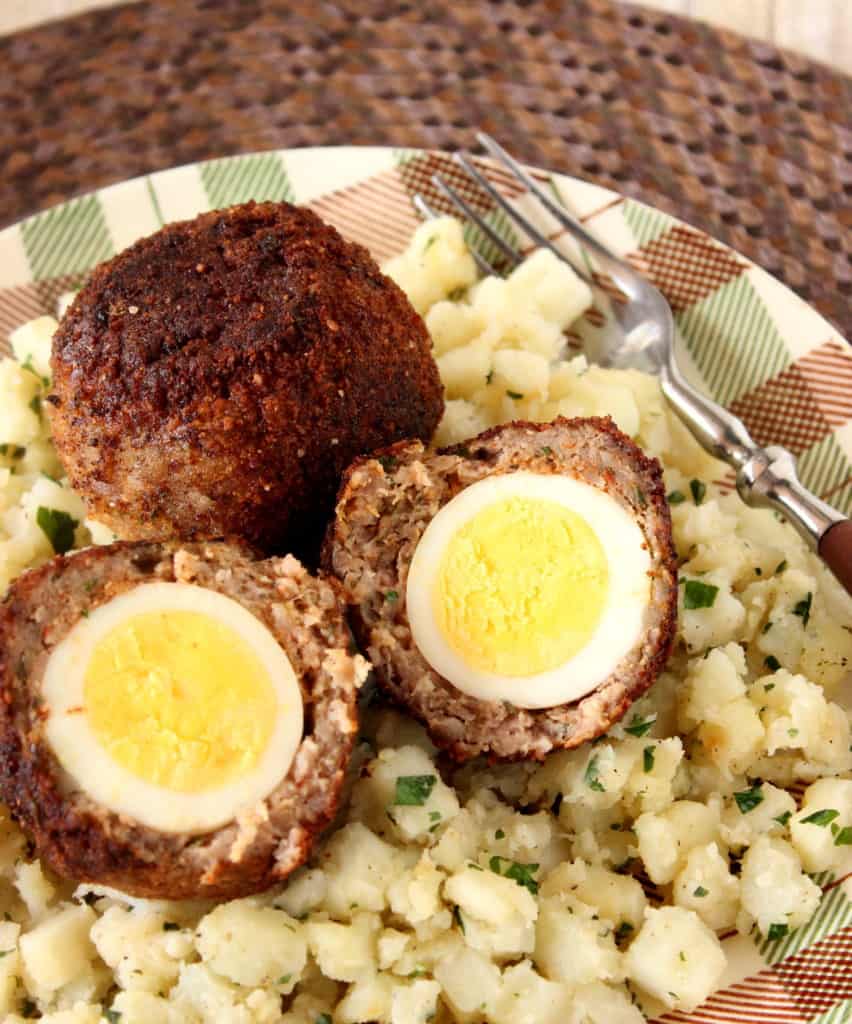 "With a little preparation the night before, you can serve mom breakfast in bed on Mother's Day in only a matter of minutes with these easy Creamy Egg Salad Canapes."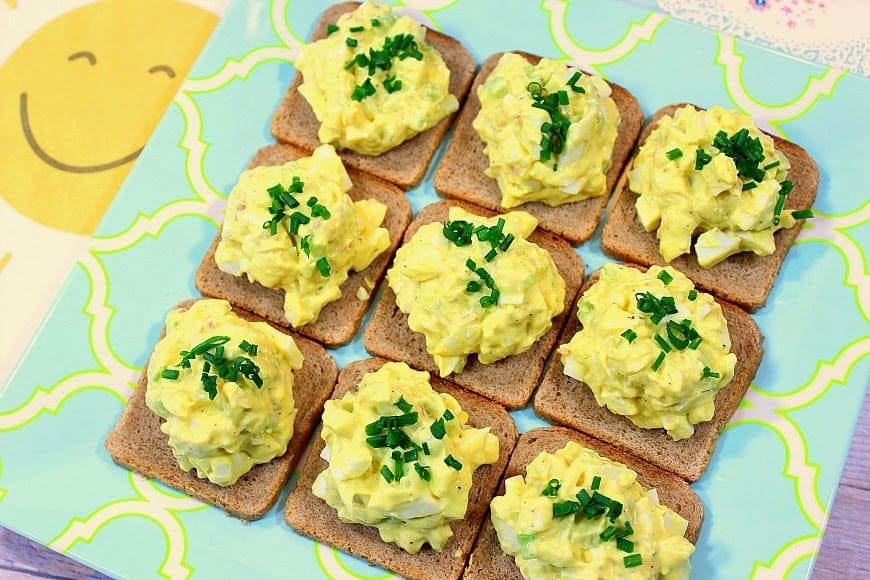 "These easy to make Hard Boiled Egg Stuffed Biscuits with Ham & Cheese can be made in a matter of minutes with the help of a few supermarket convenience foods. They're the perfect a grab-and-go breakfast which will please the entire family!"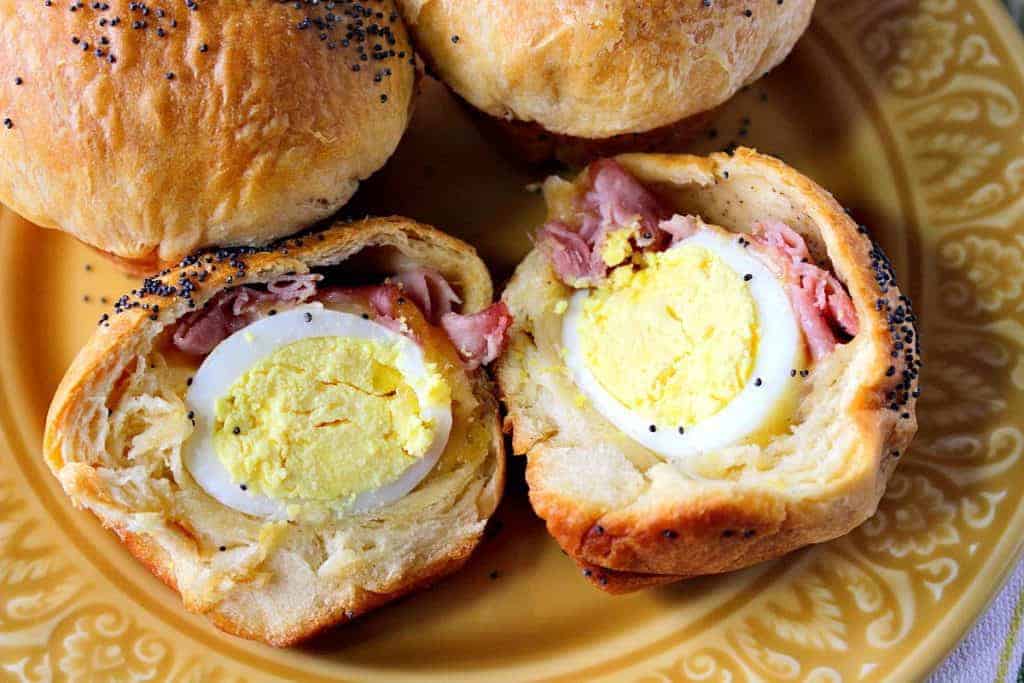 Deviled Ham and Eggs

(pictured below) THIS IS THE PLACE!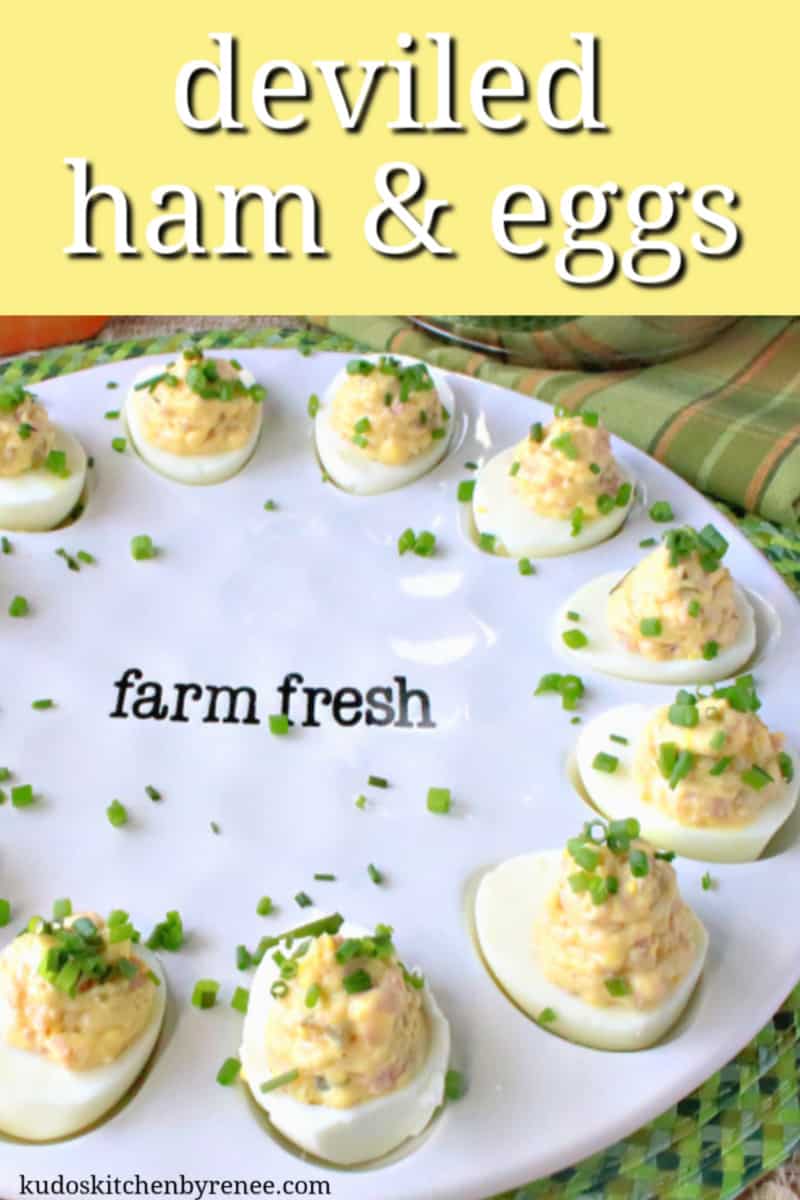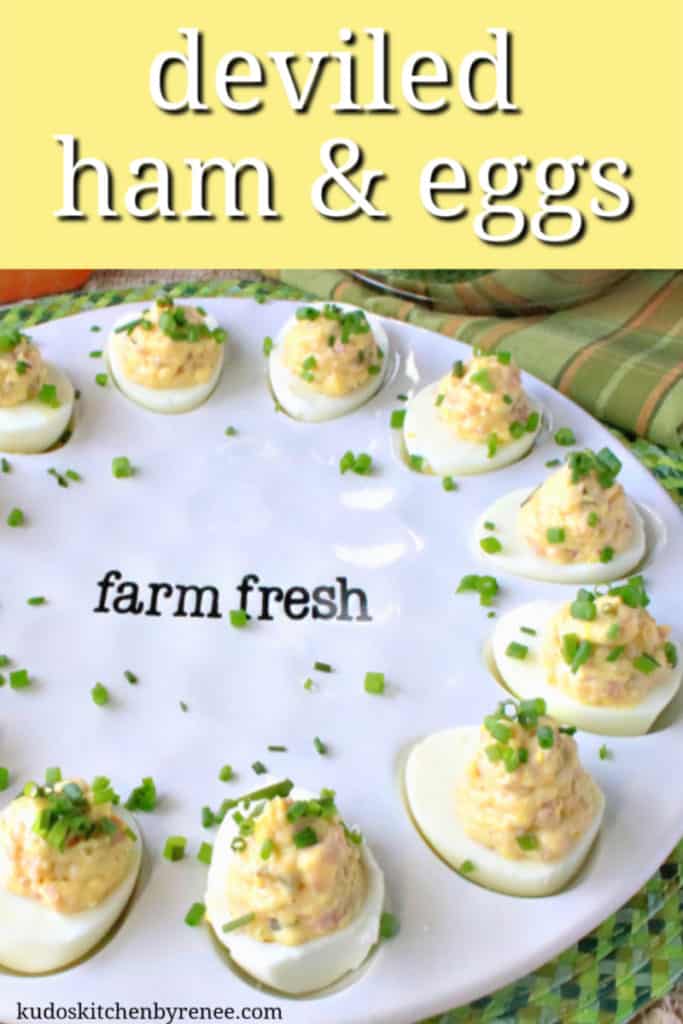 Whether you're working all day on a blue screen device, or in the kitchen, the following affiliate products are ones I can highly recommend to save your eyesight and your sanity.
Below is a photo of my blue blocker computer glasses in action! I swear by them! I work at the computer for what feels like all-day, every-day, and these glasses have relieved a great deal of eye-stress and migraine problems for me.
A neurologist was the one who recommended I get myself some, and it was the best thing he could have told me to do, so now I pass that information on to you!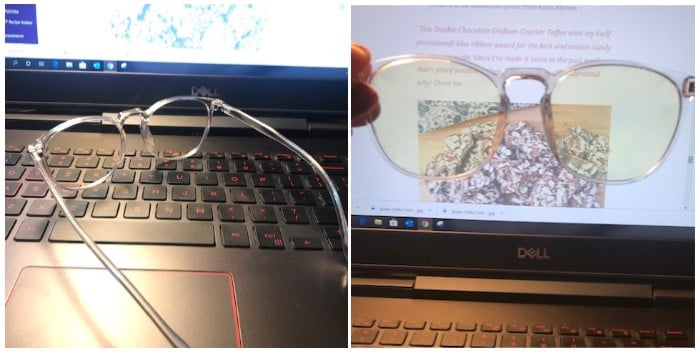 Below is the printable recipe card along with the exact ingredient measurements and nutritional information for making today's easy deviled egg appetizer.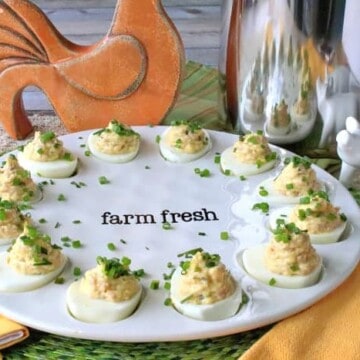 Deviled Ham and Eggs
You just can't go wrong when serving deviled ham and eggs. They're perfectly delicious for breakfast, brunch, appetizer, or snack.
Ingredients
10

large eggs

hard-cooked

1½

cup

ham crumbles

¾

cup

mayonnaise

2

teaspoons

Dijon mustard

2

teaspoons

sweet pickle relish

½

teaspoon

black pepper

3

tablespoons

minced fresh chives
Instructions
Peel the cooked eggs and cut them in half lengthwise.

Add the yolks to a medium bowl and place the whites aside.

Mash and stir the egg yolks along with the mayonnaise, ham crumbles, Dijon mustard, sweet relish, and black pepper. Taste. If lacking salt, add a tiny bit. Depending on how salty the ham is, you may or may not decide you need some.

Place the egg yolk mixture into a piping bag or a large (gallon-size) zip-top bag fitted with a ½" piping tip, or snip off a ½" corner from the bag.

Generously fill the egg white shells with the deviled ham and egg yolk mixture and place the stuffed eggs on a plate for serving.

Sprinkle the top of the eggs with chopped chives, and chill before serving.
Notes
Deviled ham and eggs can be stored in the refrigerator for up to 2 days if covered well.
Nutrition
Serving:
1
Calories:
107
kcal
Carbohydrates:
1
g
Protein:
5
g
Fat:
9
g
Saturated Fat:
2
g
Polyunsaturated Fat:
7
g
Cholesterol:
103
mg
Sodium:
204
mg
I sincerely hope you've enjoyed today's easy breakfast, brunch, snack, and/or appetizer recipe as much as I've enjoyed bringing it to you!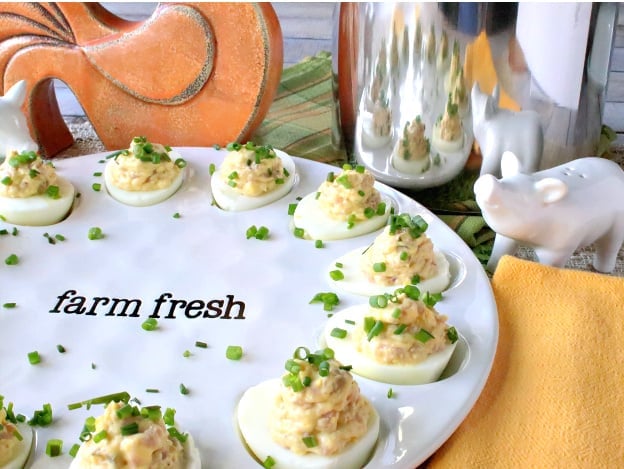 This post may contain affiliate links which won't change your price but will share some commission.
As an Amazon Associate, I earn from qualifying purchases. When I find a great product or service I like to share it with my readers. For additional information please view my privacy policy.