Have you ever tried a Burgerdilla? It's a delicious fusion of a burger cooked in a tortilla, and they're effortlessly quick to prepare. You can also make Burgerdillas in the oven, air fryer, or stovetop.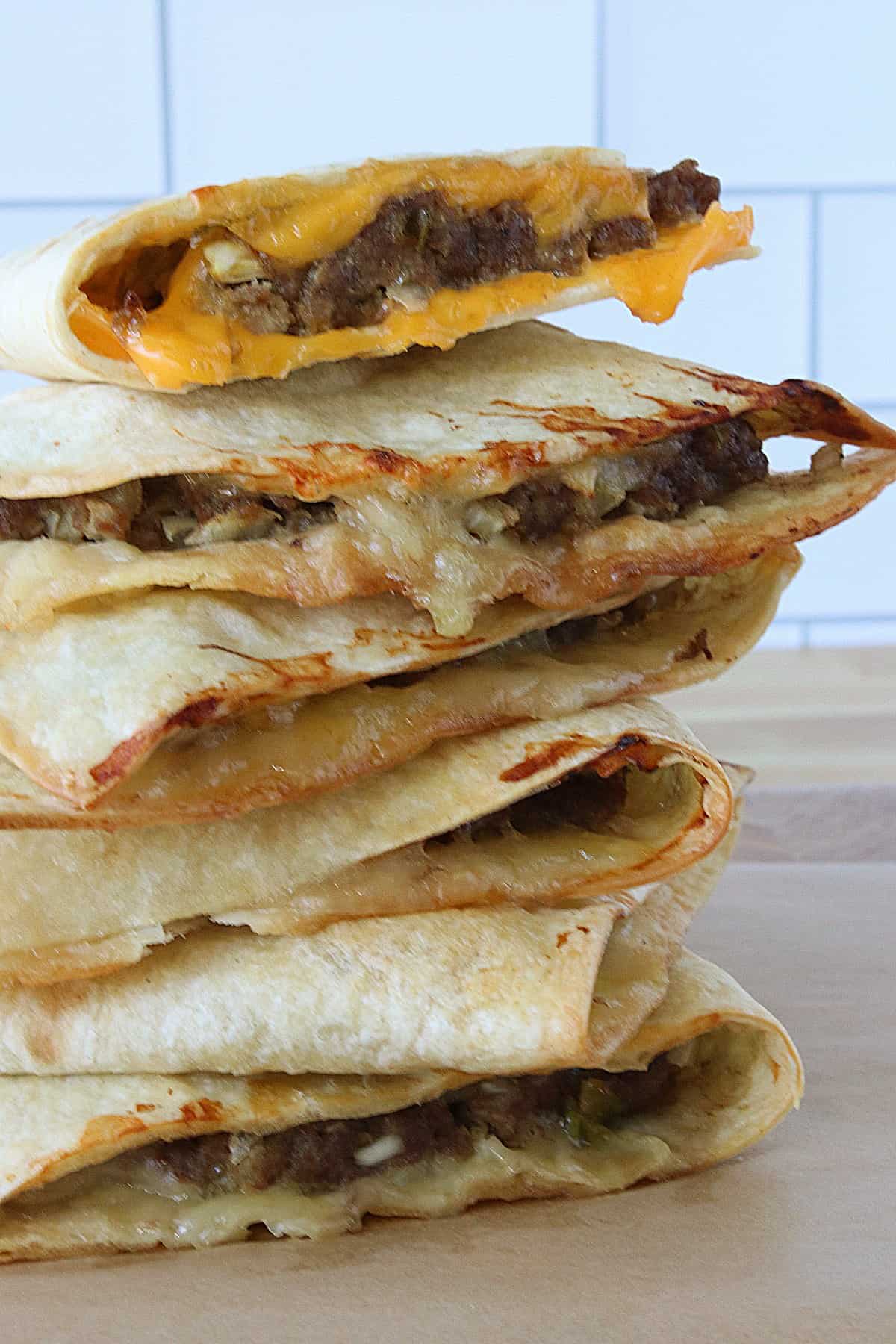 I was inspired by a recipe I previously shared called Burrito Dogs, which led me to create this burger cooked inside a flour tortilla. Lately, I've developed a fondness for things cooked in flour tortillas, and I can't seem to get enough. Is that weird? Haha.
Jump to:
Why this recipe works
Trust me when I tell you that burgerdillas are utterly delicious. The tortillas get crispy outside; the inside is hot, meaty, and cheesy. Your taste buds will thank you for each and every bite.
The ingredients
*Please note that the exact measurements along with a new "shop the recipe" feature from Instacart is available in the printable recipe card.

The above ingredient image was made using Canva Design. It's one of my very favorite design tools. You don't need to be a food blogger to use Canva. All you need to be is someone who loves designing graphics. Check them out if you're interested and a whole new world of artistic expression will be opened to you.
Ingredient information and alternative ingredient suggestions
GROUND BEEF - I prefer to use 100% grass-fed or grass-finished ground beef whenever possible. Feel free to use whatever ground beef you usually purchase, or you can also substitute ground turkey, pork, chicken, or lamb. The choice is yours.
FINELY MINCED RED ONION - Adding onion to a Burgerdilla is optional, but mincing them finely is the best option. Since the burgers in a burgerdilla are thin, the smaller the onions are minced, the better they'll cook.
DIJON MUSTARD - Dijon is my go-to mustard for adding flavor and balance to a burger. If you're a mustard lover, feel free to use your favorite variety of mustard. They're all delicious! There is no one right choice.
CHEDDAR CHEESE SLICES - Cheddar cheese is classic in my mind as far as burgers go, but American cheese, Swiss cheese, Muenster, Provolone, or Gouda will all work. Heck, why not mix things up and use a combination of cheeses? That would be amazing!!
FLOUR TORTILLAS - A flour tortilla is the perfect malleable wrapper for almost anything. I used 12" flour tortillas for my burgerdillas, but using smaller flour tortillas also work. Of course, you can use low-carb or veggie tortillas as well.
EXTRA VIRGIN OLIVE OIL - This ingredient will give the tortilla-wrapped burger its wonderful crunchy texture. I chose olive oil for its flavor, but any oil you have on hand will work.
SESAME SEEDS - I added these to mimic a sesame seed bun. They're optional, of course, or you can swap them out with poppy seeds, or even my Homemade Everything Seasoning Blend would be excellent.
Become a member of the Misfits Market family and save up to 40% off organic produce and sustainably sourced groceries, delivered straight to your door.
Kitchen tools and equipment recommendations:
I like to cook my burgerdillas on a wire rack inside a baking sheet in the oven. The wire rack will ensure the flour tortilla stays nice and crispy, top to bottom while cooking.

I also like to line my baking sheet with foil to make cleanup easier. Heck, if dinner cooks quickly, then the cleanup should be a breeze too!
What does 100% grass fed or grass-finished ground beef mean?
It means that the cattle have only eaten grass or foraged for themselves for their entire lives.

A label that reads grass-fed ground beef means that the cattle ate grass when young and were finished on grains as a supplement or as their main diet when they got older.
Top tips for recipe success
Since these are quick-cooking burgers, the key is in pressing the burger meat thin. A pressed patty approximately ¼ inch thick is perfect for the burger/"bun" ratio of deliciousness.

Brushing the outside of the tortilla before baking will ensure a crispy, crunchy shell, which is precisely what you want in a burgerdilla.

Press the burger meat into an even layer on half of whatever flour tortilla you use. Ensure that cheese goes down first, followed by a thin layer of meat, followed again with cheese. The melting cheese will act as a "glue" for the burgerdilla and keep everything neatly tucked inside the crunchy tortilla wrapper.
Can these tortilla-wrapped burgers be made in different sizes?
They sure can. It all depends on how you slice (or not slice) the flour tortillas. Keep them whole, and you can make round burgerdillas. Cut the tortillas into quarters, and you can make small appetizer-size burgerdillas. The choice is yours.
How long do these burgers take to cook?
15 minutes in a 425 degree (F) oven.
Can these be made in an air fryer?
Sure! Depending on how many burgers you're making, you may have to work in batches and the size of your air fryer, but they will also be delicious cooked in an air fryer. *Please note that cooking time may be slightly less if cooking in an air fryer.
Can they be made on the grill?
I'd say yes, but only under indirect heating, which means that the coals (or flame) are on one side of the grill, and the burgers cook on the other, away from the direct heat. The tortillas would burn if cooked directly over the open flame.
Can these be cooked on a flattop grill?
You bet!! They'd be delicious, cooked on a flattop grill or in a skillet. The only thing you'd need to be aware of is that as the burger cooks (even though it's thin), the juices and fat will escape from the meat while cooking, potentially making the tortilla a bit soggy and harder to flip.
By cooking them on a wire rack in the oven, there is no need for fiddly flipping, but again, the choice is yours.
How to store tortilla-wrapped burgers, and how long will they keep in the refrigerator?
Store the cooked burgerdillas in an airtight container in the fridge for up to 5 days.
Can they be frozen after cooking?
Yes!! Wrap them individually in freezer paper or plastic wrap and store them in a freezer zip-top bag for up to 2 months.
How to reheat burgerdillas:
I like to reheat them in an air fryer or oven (uncovered) until hot to keep them crispy. Reheating a burgerdilla will only take a few minutes because they're thin. Watch them closely.
What to serve alongside burgerdillas:
You won't find a better macaroni salad than this chilled Macaroni and Pea Salad. It may sound like a bold statement, but it's the truth. This pasta salad has a perfectly balanced flavor that's light and refreshing.
Dijon Potato Salad is cool, creamy, and refreshing with just the right amount of tang from the Dijon, and the perfect amount of crunch to balance all that creaminess.
Crunchy, healthy, and completely addictive. This Sunflower Crunch Kale and Cabbage Salad has it ALL going on!! Dig in! You're going to love this colorful salad!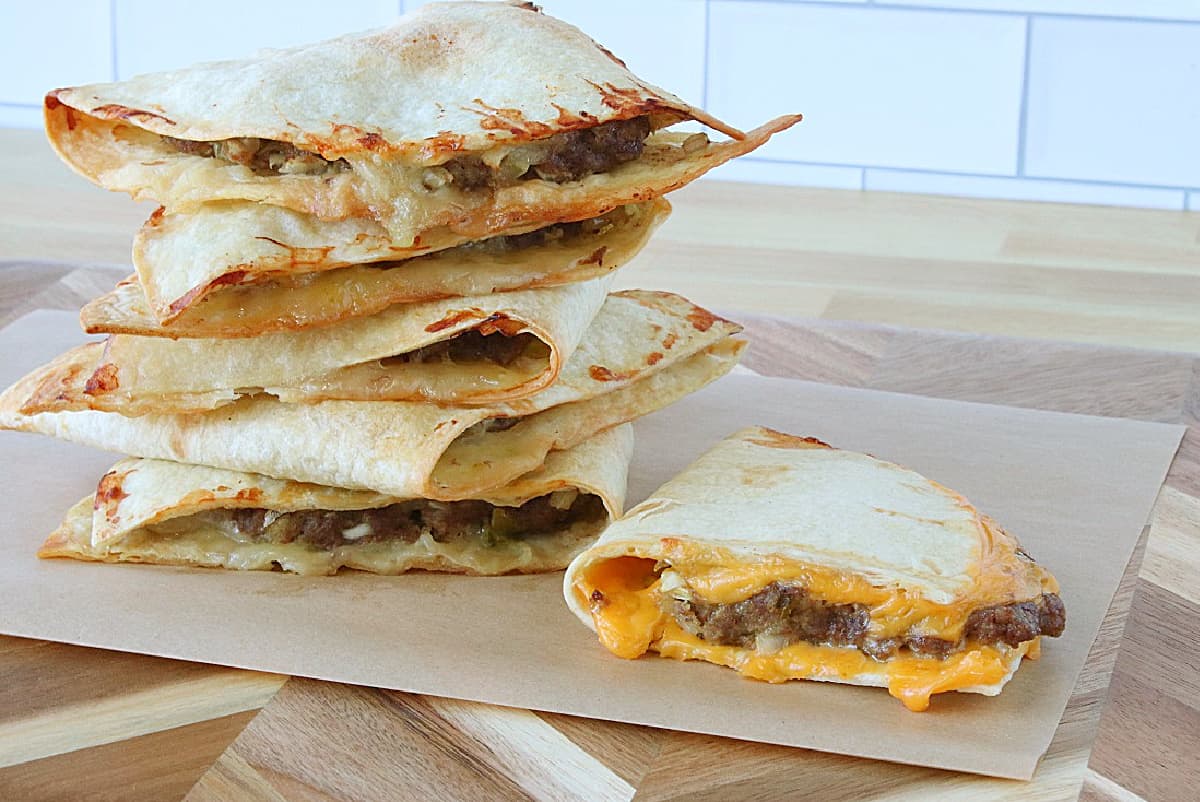 When you make this recipe, and I hope you do, I'd appreciate it if you'd take a moment to leave a star rating on the recipe card and briefly comment on why you rated it as you did. FYI - Google appreciates recipe ratings and, in turn, will share my recipes with more people. Thank you so much!!
Printable Recipe Card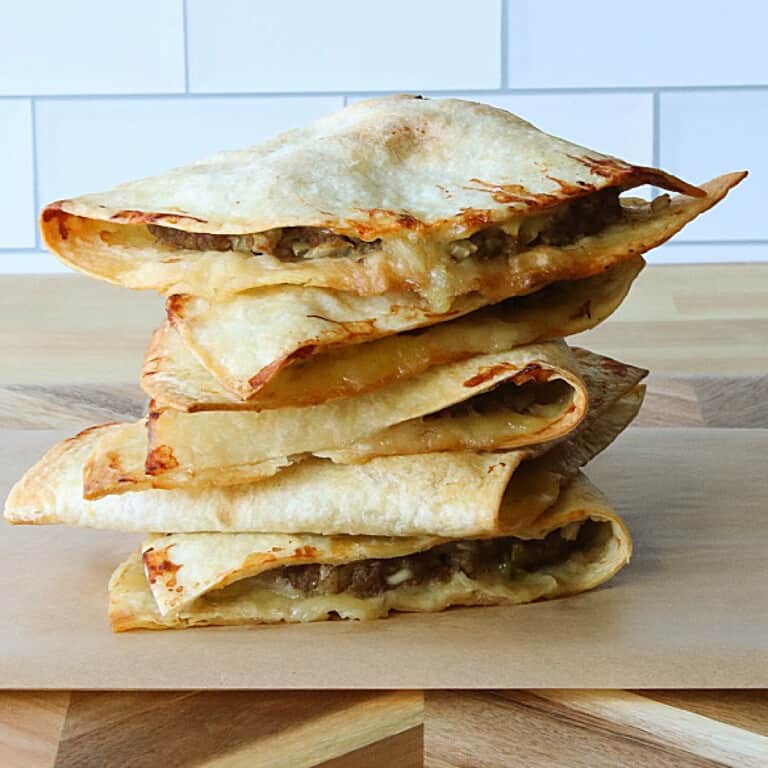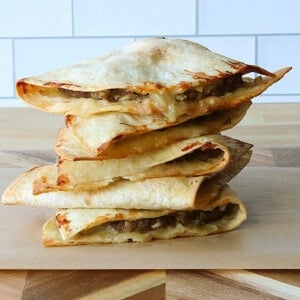 BURGERDILLAS
Burgerdillas is the new way to eat a burger you didn't know you needed. They're crispy and crunchy on the outside and meaty and cheesy on the inside!
Ingredients
3

12 inch

flour tortillas

cut in half

1

pound

ground beef

¾

cup

finely minced onion

1

tablespoon

Dijon mustard

1

teaspoon

kosher salt

½

teaspoon

black pepper

12

cheddar cheese slices

1

tablespoon

olive oil

2

teaspoons

sesame seeds

optional
Instructions
Preheat oven to 425 degrees Fahrenheit

Prepare a rimmed baking sheet with either parchment paper or foil and place a baking rack inside. Set aside.

Place the ground beef, finely diced onion, salt, pepper, and Dijon mustard in a large bowl and mix until thoroughly combined.

Fold each tortilla in half and open again. The fold line will be your guide. Place one slice of cheese on the bottom half of the tortilla (below the fold).

Press a thin and even layer of the ground beef mixture over the bottom half of the tortilla (on top of the cheese) working the meat to evenly cover and follow the lines of the tortilla. The ground beef should be approximately ¼" thickness.

Add another slice of cheese on top of the meat mixture and fold the empty side of the tortilla over the meat and cheese. Continue the same process with the remaining ingredients.

Brush a light coating of oil on the top and bottom of each tortilla-wrapped burger and sprinkle with sesame seeds if desired.

Bake in the preheated oven for 15 minutes or until lightly golden and crispy. Remove. Cool slightly, and serve.
Notes
Store any leftovers in an airtight container in the refrigerator for up to 5 days.
May be frozen after cooking. Wrap each burgerdilla individually in freezer paper or plastic wrap and store in a zip top freezer bag for up to 2 months.
Reheat (uncovered) in an oven or air fryer for crispiness.
Nutrition
Serving:
1
serving
Calories:
350
kcal
Carbohydrates:
30
g
Protein:
21
g
Fat:
16
g
Saturated Fat:
6
g
Polyunsaturated Fat:
2
g
Monounsaturated Fat:
6
g
Trans Fat:
0.5
g
Cholesterol:
51
mg
Sodium:
899
mg
Potassium:
354
mg
Fiber:
3
g
Sugar:
3
g
Vitamin A:
23
IU
Vitamin C:
1
mg
Calcium:
120
mg
Iron:
4
mg
I sincerely hope you've enjoyed today's recipe for burgers wrapped in flour tortillas as much as I've enjoyed bringing it to you.
Follow me across my social media platforms and join in on the conversation: FACEBOOK, INSTAGRAM, PINTEREST, TIKTOK, AND YOUTUBE.
Thank you so much for visiting me today in my Kudos Kitchen. I hope you found something you'll love and that you'll come back and visit me often. There is always room for you around my table!
Should you have any questions or comments regarding anything you've seen here on my blog, please don't hesitate to reach out to me. It is always my distinct pleasure to respond to you just as soon as I possibly can.
Until we eat again, I hope you have a delicious day!!