Ever wonder how to make your own fillable Puff Pastry Appetizer Cups? Wonder no more! Once made, you can fill them however you like! They're so versatile!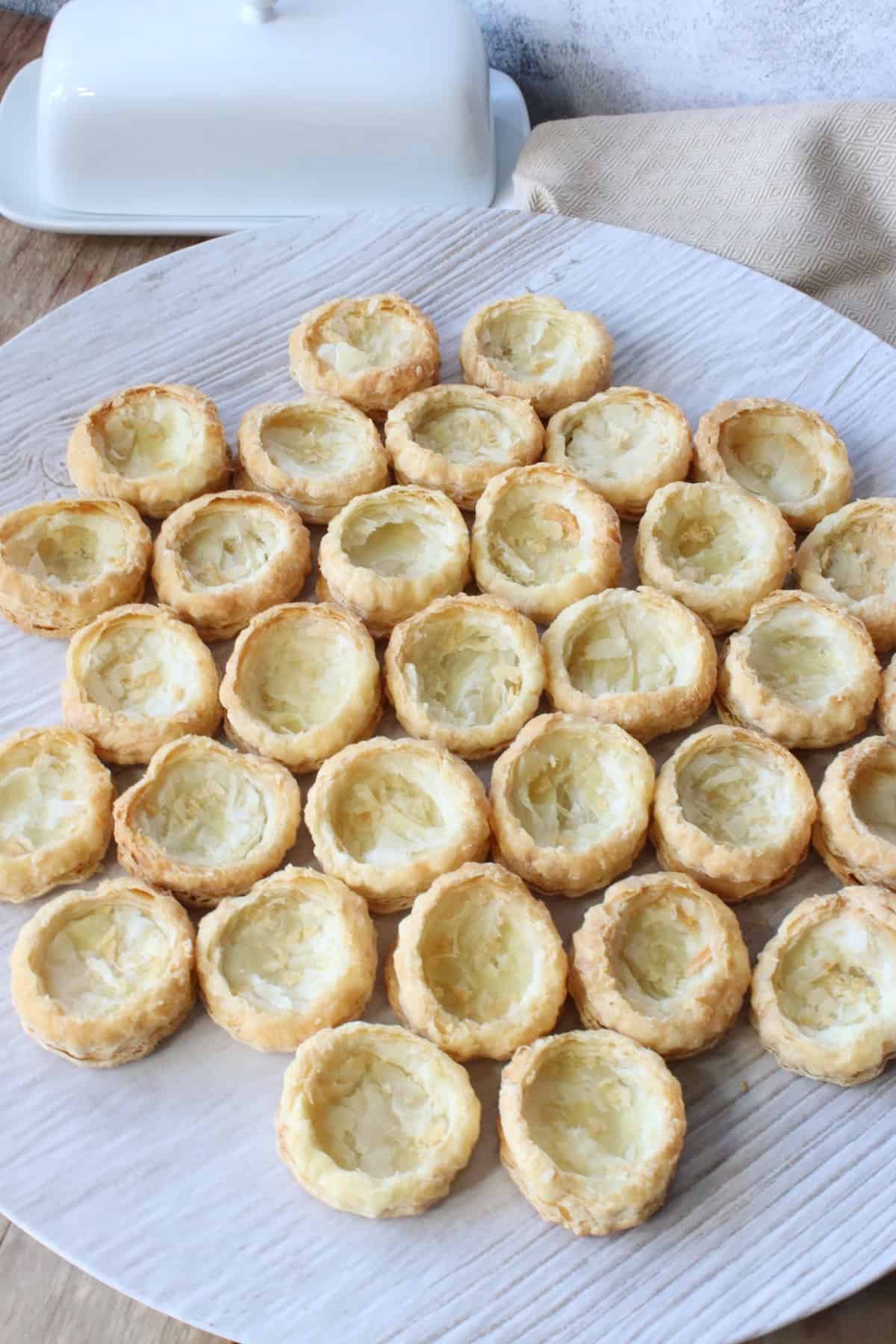 Now you can easily make your own appetizer cups at home and with hardly any effort. Surprise your family and friends by saying, "I made them myself," and watch their mouths drop open with awe and amazement!
Jump to:
The ingredients
*Please note that the exact measurements along with a new "shop the recipe" feature from Instacart is available in the printable recipe card.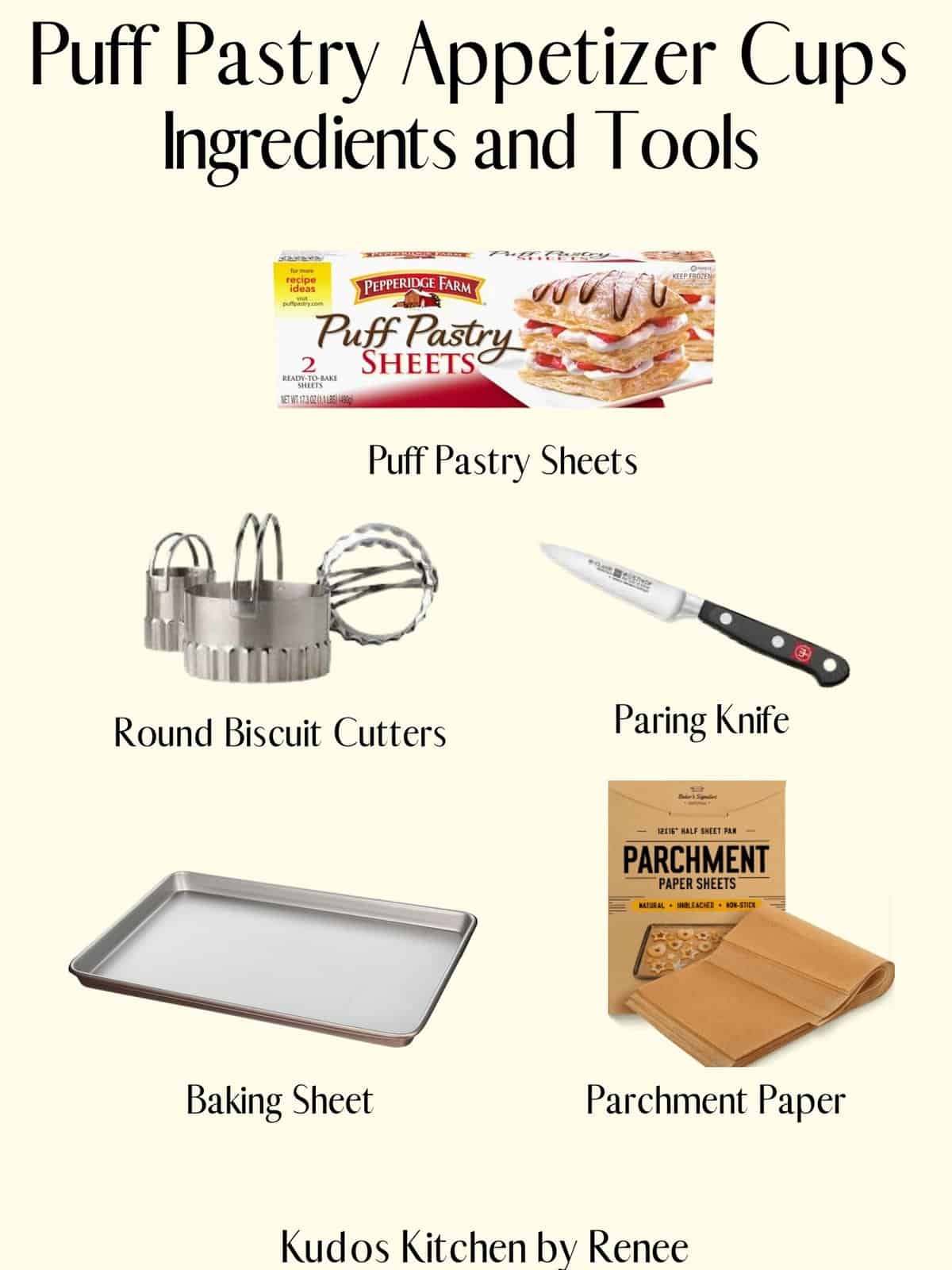 Ingredient information
STORE BOUGHT PUFF PASTRY SHEETS - I pretty much always use the Pepperidge Farm Puff Pastry Sheets because it's a brand I've used in the past, and it's a brand I trust.
Tools and equipment needed
If using store-bought puff pastry the list of equipment is short.
You'll need 2 round biscuit cutters (one 2¼" in circumference and the other 1½" in circumference)
A paring knife, baking sheet, parchment paper, cooling rack, rolling pin (optional), and a kitchen timer.
What is puff pastry?
Puff pastry is a light and flaky dough made by working butter into dough with rolling and folding, rolling and folding which produces several layers of butter and dough. As the dough bakes, the butter melts and gives off steam, creating the characteristic puffy, crispy layers of buttery dough.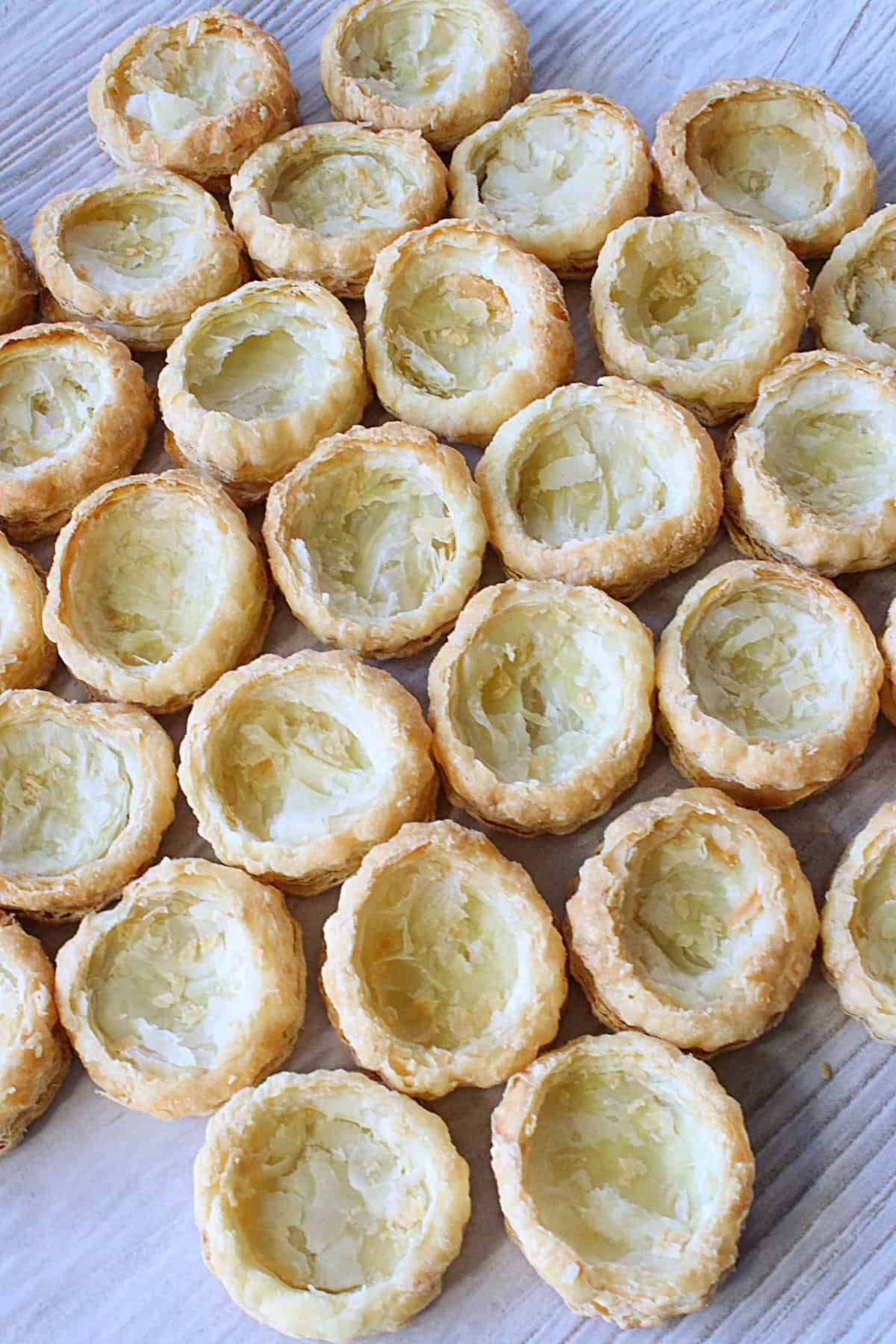 Top tip for success
Once baked, don't wait too long before hollowing the center of the pastry. As soon as the puffs are cool enough to handle use the paring knife ready to gently cut and hollow out the center of each flaky pastry cup.
Can these appetizer cups be made in advance?
They sure can! They can even be frozen if needed. See more below.
How to store the pastry cups after baking
Store the baked but unfilled puff pastry cups in an airtight container at room temperature for up to 3 days, but for longer storage you can keep them in the refrigerator (in an airtight container) for up to 7 days.
Can these pastry cups be frozen after baking
Yes! Cool the pastry cups completely. Then, store in them in an airtight freezer container for up to 2-3 months.
To use, thaw the pastry cups in the refrigerator and reheat them (if desired) in a preheated 350 degree oven (175 C) until hot and crispy.
Please note that in many cases these pastry cups will not need to be reheated. It all will depend on what you decide to serve in them.
How many puff pastry cups per sheet of dough
Using a 2¼" round cutter, you'll get 12 each pastry cups per one sheet of dough.
Sweet or savory filling
The choice is completely yours.
Whatever you decide to add inside these flaky little appetizer cups will be pure perfection.
A word of caution, however, these are not meant to hold liquid.
Best way to fill mini puff pastry appetizer cups
I like to use a piping bag (if I require a more precise filling application), but if not two teaspoons will work well.
What does puff pastry taste like?
It's has a buttery melt in your mouth light flavor with a delicate crispy crunch.
Can homemade puff pastry be used for making appetizer cups?
Yes, of course! If you have the time, patience, and desire to make your own puff pastry I say GO FOR IT.
I've not made homemade puff pastry very many times, but I do have a recipe on my site for Homemade Blueberry Cheese Danish where I started with making my own puff pastry. Feel free to check it out and use the puff pastry dough recipe and instructions and then follow on making these flaky little appetizer cups.
Is laminated dough the same as puff pastry?
Essentially, yes. Laminated means "layers" which is what puff pastry is. Layers and layers of dough and butter as described above in the section "What is puff pastry?"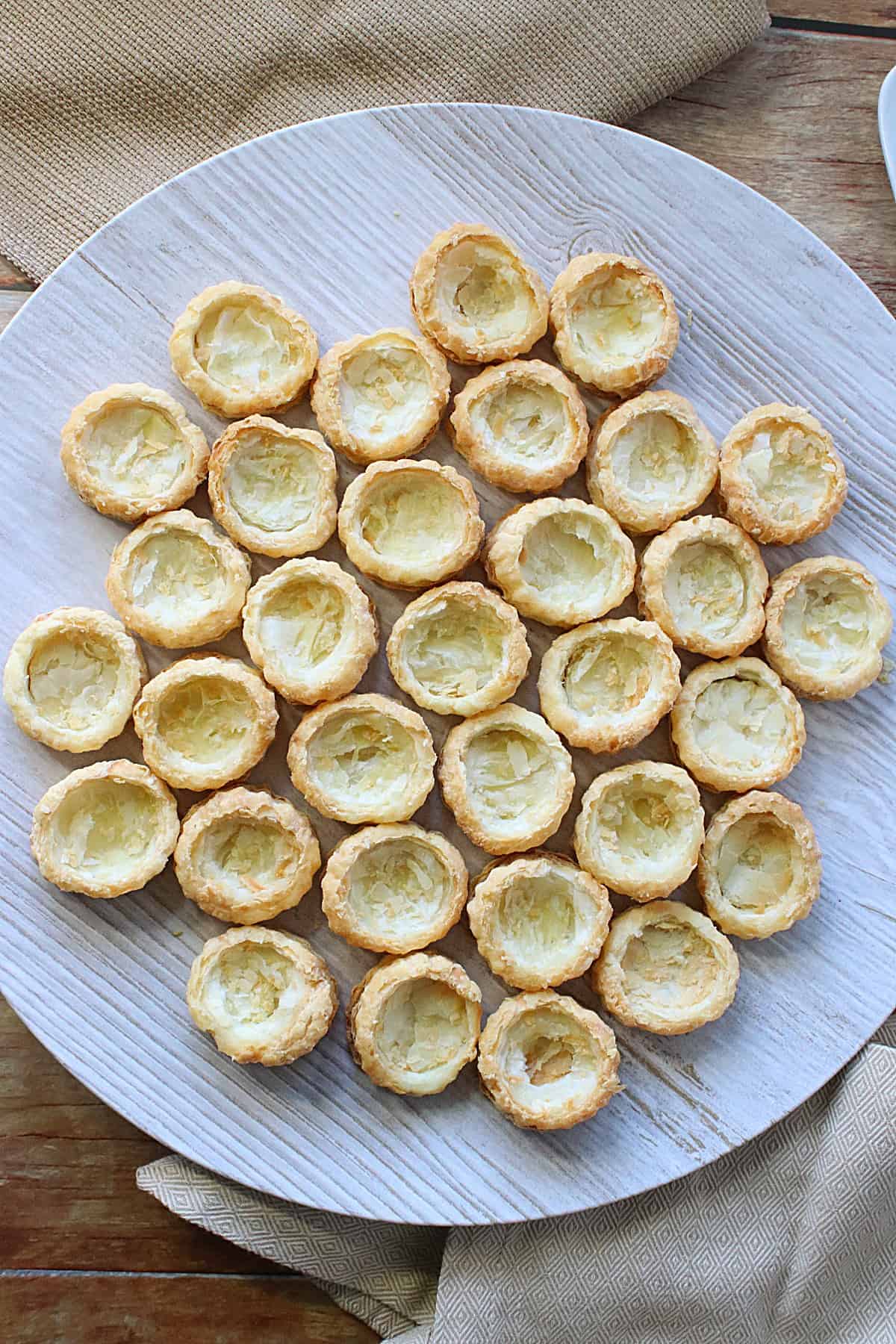 Filling suggestions for pastry cup appetizers
Sweet filling suggestions:
pie fillings
puddings
pastry creams
citrus curds
cheesecake
Savory filling suggestions:
cream cheese
cooked ground meat
cooked chicken
pimento cheese
tapenades
cooked seafood
Can larger puff pastry cups be made using this same method?
Yes, but the baking time will be increased. Feel free to experiment with the size, shape, and fillings of your fillable pastry cups!
Additional puff pastry recipes
They'll think you bought these delicious Puff Pastry Apple Turnovers at the bakery, but you made them at home, and it was quick and easy! TA-DA!!
This delectable BLT Puff Pastry Tart with a Balsamic Drizzle for an appetizer or main course, you're going to love the fresh tomato flavor topped by oodles of crispy, smoked bacon.
What would you call layers upon layers of puff pastry which encase layers and layers of chocolate, cream cheese, and cherries? Well, why not Chocolate Cherry Pastry Tower? Works for me! LOL
They'll think you spent hours making these deliciously flaky Pumpkin Spice Palmiers, but you were in and out of the kitchen in no time flat!
When you make this recipe, and I hope you do, I'd appreciate it if you'd take a moment to leave a star rating on the recipe card and briefly comment on why you rated it as you did. FYI - Google appreciates recipe ratings and, in turn, will share my recipes with more people. Thank you so much!!
Printable Recipe Card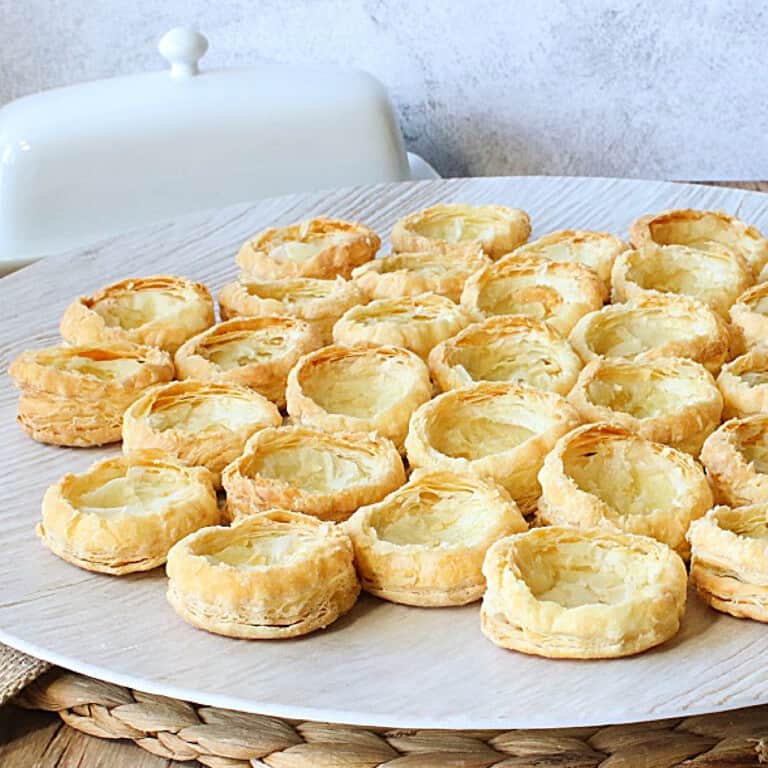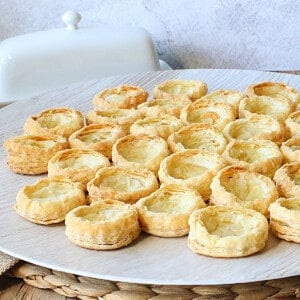 How to Make Fillable Puff Pastry Appetizer Cups
Appetizer size puff pastry cups that are perfect for sweet or savory fillings.
Ingredients
1

box (two sheets per box)

puff pastry sheets

1

tablespoon

all-purpose flour

optional
Instructions
Allow the pastry sheets to thaw (if previously frozen) in the refrigerator for 6 hours (or overnight).

Preheat oven to 400 degrees Fahrenheit (205 Celsius).

Remove one pastry sheet from the package at a time and lightly roll (or pat) the creases from the dough, using additional flour (if needed) to prevent sticking. Discard the paper.

Use the larger circle cutter to cut 12 circles completely through the dough. Place the dough circles onto a parchment lined baking sheet.

Use the smaller cutter to score (not fully cut), an inner circle in the dough. You will use this as a guide from which to remove the center of the dough to form the "cup" once baked.

Bake in the preheated oven for 20 minutes (center rack) until the puffs are puffed and golden.

Remove from the oven and allow them to cool slightly until you're able to handle them without being burned.

Using the center score as a guide, use a paring knife to gently cut the center from each puff, removing layers of dough (from the center if needed) to form a neat cup.

Follow the same procedure with the second sheet of dough and allow the cups to cool completely before adding your choice of filling.
Video
Notes
Store the baked cups in an airtight container at room temperature for 3-4 days, or in an airtight container in the refrigerator for up to 7 days.
May be frozen in an airtight container for up to 2-3 months. Thaw and fill.
Nutrition
Serving:
1
cup
Calories:
1
kcal
Carbohydrates:
0.3
g
Protein:
0.04
g
Fat:
0.02
g
Saturated Fat:
0.005
g
Polyunsaturated Fat:
0.003
g
Monounsaturated Fat:
0.01
g
Sodium:
0.1
mg
Potassium:
0.4
mg
Fiber:
0.01
g
Sugar:
0.001
g
Vitamin A:
0.01
IU
Calcium:
0.1
mg
Iron:
0.02
mg
I sincerely hope you've enjoyed today's easy and fillable puff pastry appetizer cup recipe/method as much as I've enjoyed bringing it to you!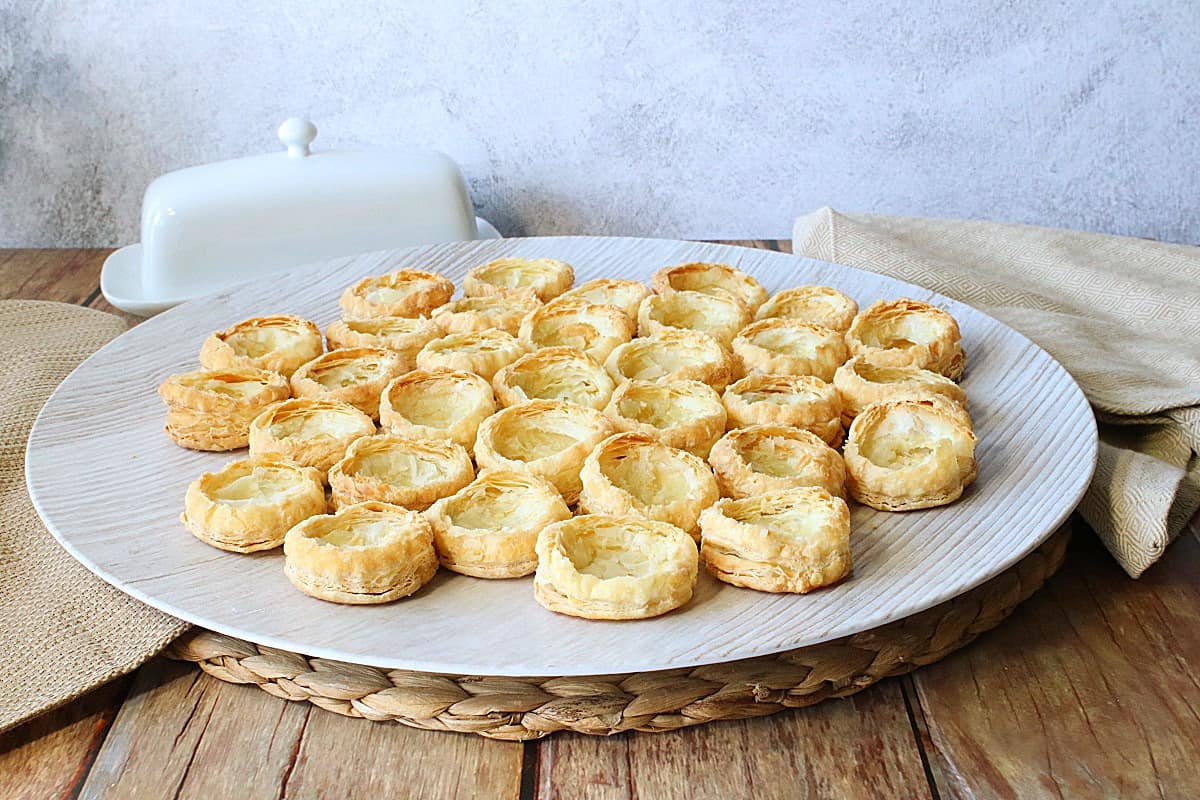 Follow me across my social media platforms and join in on the conversation: FACEBOOK, INSTAGRAM, PINTEREST, TIKTOK, AND YOUTUBE.
Thank you so much for visiting me today in my Kudos Kitchen. I hope you found something you'll love and that you'll come back and visit me often. There is always room for you around my table!
Should you have any questions or comments regarding anything you've seen here on my blog, please don't hesitate to reach out to me. It is always my distinct pleasure to respond to you just as soon as I possibly can.
Until we eat again, I hope you have a delicious day!!