I'm a sucker (make that "Zucker" lol, sorry) for an excellent German dessert, and this recipe for Traditional German Zuckerkuchen is one of THE absolute BEST!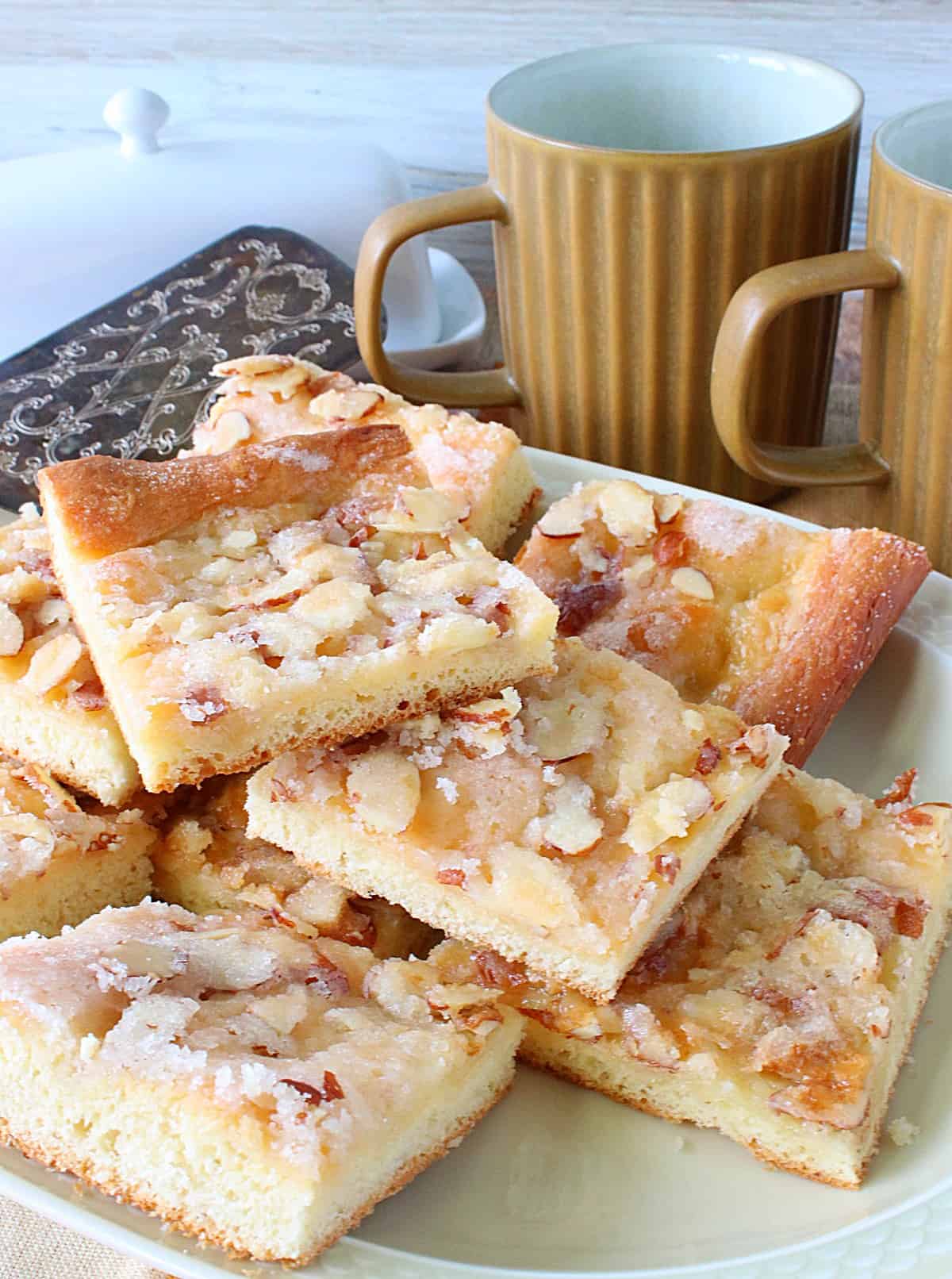 With a name like Zuckerkuchen (sugar cake), you'd think this dessert would be clawingly sweet, but it isn't. It must be all that butter that rounds out the flavor, making this an absolutely delightful dessert. Not too sweet and just perfect with a cup of coffee or tea.
This recipe reminds me slightly of German Bienenstich (Bee Sting) Cake. Bienenstich is another top-rated German yeast dough cake recipe with almonds I have on my site, and it always gets rave reviews.
Jump to:
The ingredient list:
*Please note that the exact measurements along with a new "shop the recipe" feature from Instacart is available in the printable recipe card.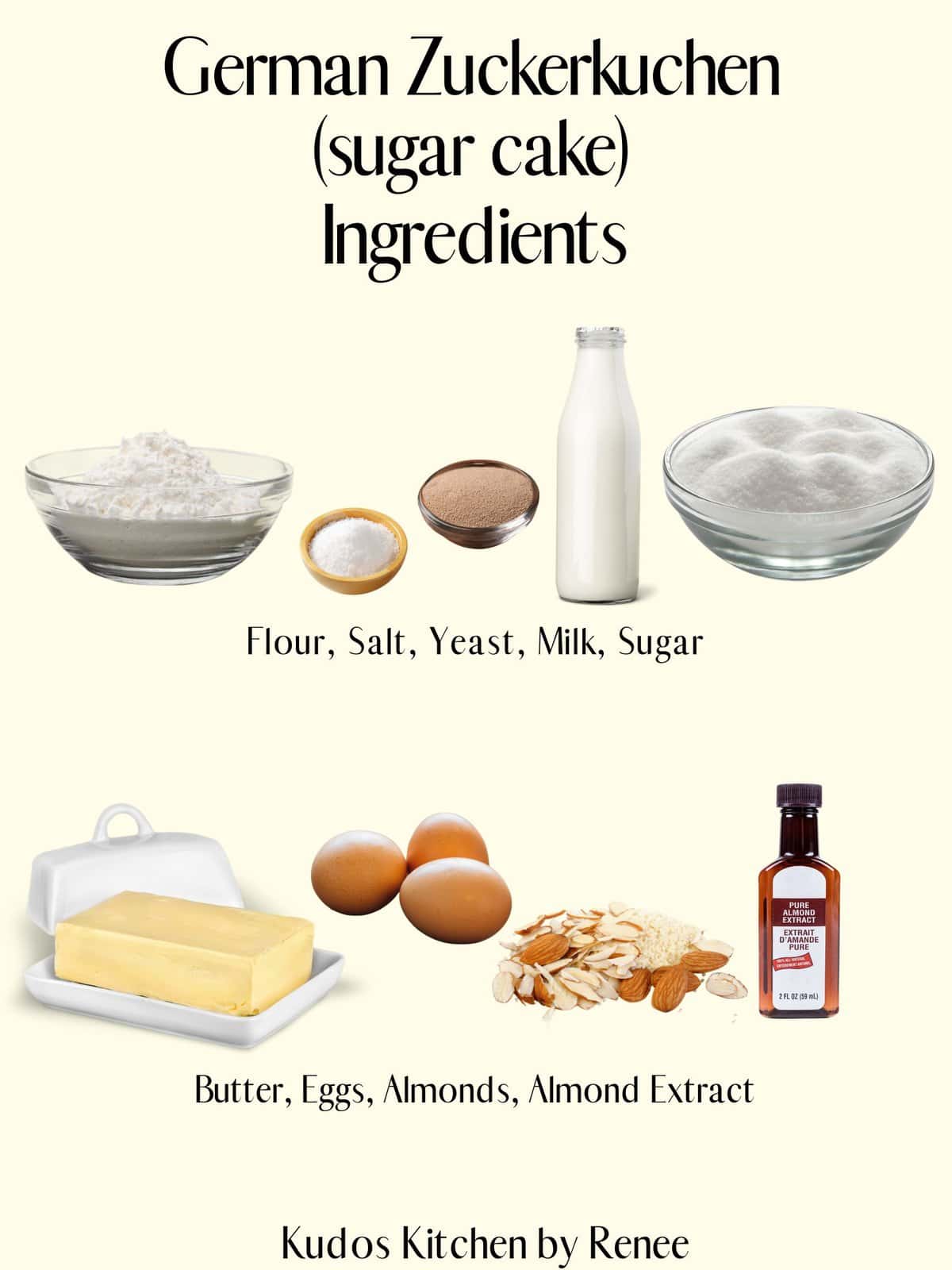 Ingredient information:
ALL-PURPOSE FLOUR - Any all-purpose flour will work here. I used unbleached all-purpose flour. The most important thing to remember about the flour is to sift it into the mixing bowl.
KOSHER SALT - Kosher salt is my go-to salt for baking. Table salt may be substituted, but if you use it, be advised that the grains of table salt are smaller than kosher salt, so you'll need to cut back on the amount of salt called for in this recipe.
ACTIVE DRY YEAST - I buy my yeast in jars, so it's easy to measure out one tablespoon, which is what the recipe calls for. One packet of dry yeast equals 2¼ teaspoons, so you'll require two packages of active dry yeast for this recipe but know that you won't be using the complete two packets.
WARM MILK - I used 2% milk for this recipe, but you can use whole milk if you prefer. I don't recommend using skim milk or 1% milk just from the flavor aspect.
BUTTER - I use American salted butter when I bake. Since I know that the brand of butter I typically use isn't overly salty, I never find that my baked goods are too salty. However, if you prefer using unsalted butter in this recipe, please feel free to do so. The most important thing about the butter is to soften it to room temperature.
EGGS - Always large and allowed to sit for at least 30 minutes at room temperature before baking so they incorporate better into the other ingredients.
GRANULATED SUGAR - Your primary granulated sugar is what you need here. Although it may seem alarming to sprinkle one cup of sugar over the top of the sheet cake, remember that this dessert serves 24, and unless you're eating the whole thing by yourself (it's tempting, I know), the sugar content, per serving, isn't very high at all.
ALMOND EXTRACT - A little touch is all you need because the flavor of pure almond extract goes a long way. Feel free to use a touch more or even substitute pure vanilla extract if you like.
SLICED ALMONDS - I used thinly sliced almonds to top my zuckerkuchen, but feel free to use ground almonds or slivered almonds if that's what you have. If you're feeling really wild and crazy, I think finely ground pecans sprinkled on top would also taste amazing.
Recommended kitchen tools and equipment:
stand mixer (makes kneading the dough so much easier)
kitchen scale
rimmed jelly roll pan
plastic wrap
kitchen timer
How this recipe came to be:
I found and adapted this recipe lightly for what I had in my pantry and fridge from a site called German Foods. On the site, they called this recipe Bremen (the area where this cake originated) Butterkuchen (butter cake). This amazing German sheet cake can be called Zuckerkuchen (sugar cake) or Butterkuchen. Either is acceptable.
Renee's top tips for success:
This is a beautiful yeast dough to work with, but it is essential to let it rest for the allotted time stated in the recipe card.

If the dough doesn't have proper time to rest, it will not have a chance to relax, so pressing it easily into a buttered jelly roll pan may be difficult because it will tend to shrink back in size.

Make sure to preheat the oven for at least 30 minutes before baking.
Before starting the recipe, allow the butter and eggs to come to room temperature. The time to achieve this will vary depending on your specific conditions.

Using an instant-read thermometer is the best way to check the temperature of the warmed milk. Properly warmed milk should be between 105-110 degrees (F). Any hotter, and you run the risk of killing the yeast.
How long does Zuckerkuchen take to make:
Because of the two resting times (I hesitate to call them proof times because the dough only rises a little), this traditional German dessert takes approximately 90 minutes. However, be aware that doesn't include the 30 minutes of cooling time after baking, so you better figure on two hours altogether.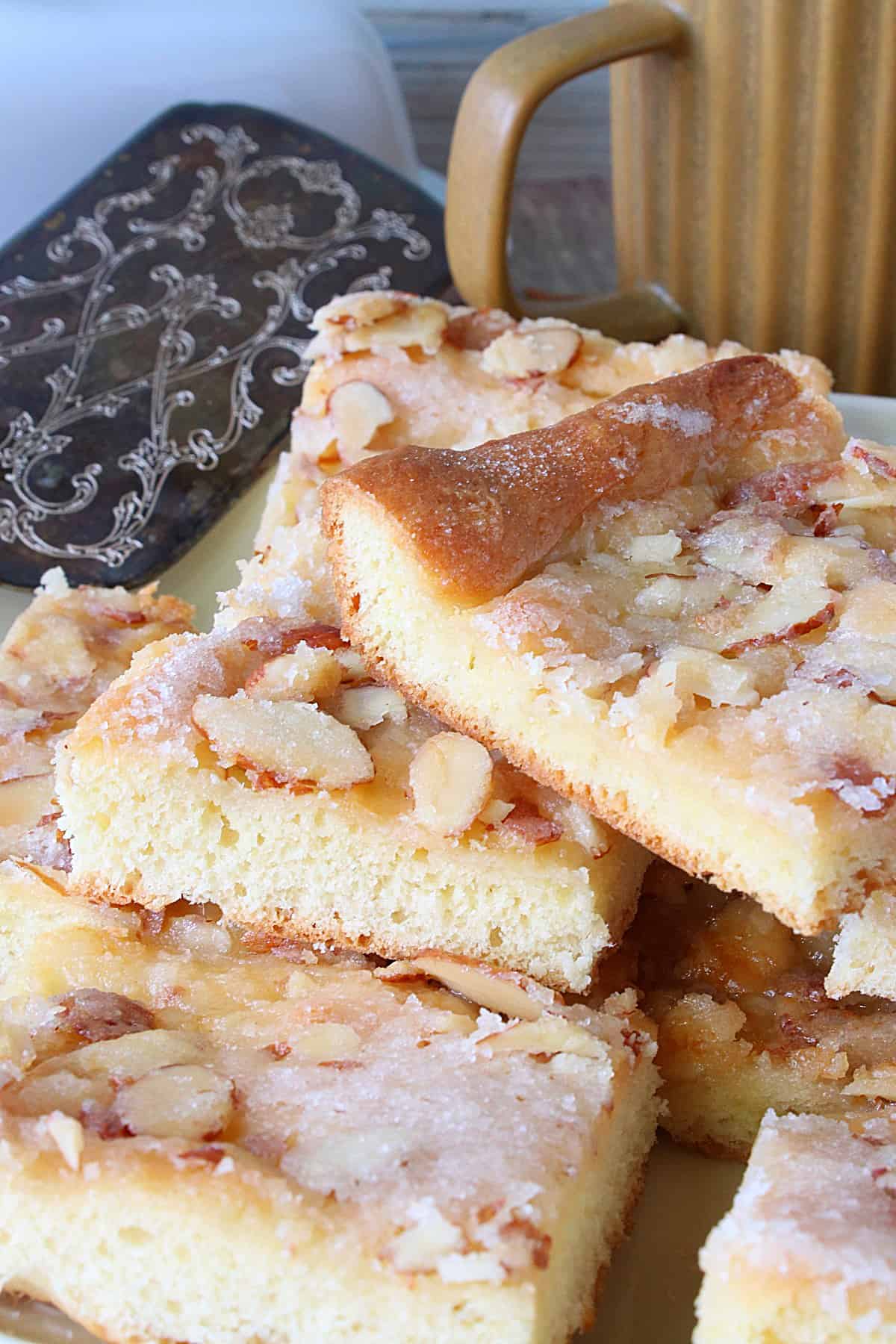 The origins of German Sugar Cake:
As I stated earlier, this traditional German sheet cake recipe originated in Bremen, Germany. Since this cake is widely served at weddings and funerals (likely because it serves many), it is also referred to as a "joy-and-sorrow" cake, but let's go with "joy cake" because that's what eating it will bring you.
Weighing vs measuring ingredients:
I grew up in the US, measuring my baking ingredients with cups and spoons, so I'm somewhat partial to that. It's all in what you're comfortable with.
That said, if you want the extra insurance that the ingredient amounts are added accurately, reach for the kitchen scale, not the measuring cups.
When to serve this German sugar cake:
Since this cake serves at least 24, it would be excellent for a housewarming, baby shower, wedding shower, graduation party, or an Oktoberfest celebration.
The possibilities of when and how to serve it are endless. So I'm curious…when will YOU serve it?
Serving suggestions for German Zuckerkuchen:
This German cake tastes best warm, either shortly after it's been taken out of the oven or warmed ever so slightly in the oven or microwave before serving.
German sugar cake may also be served at room temperature (or even chilled directly from the fridge) if that's what you prefer. You'll have to experiment to see which way you enjoy eating it the most.
Adding a dusting of confectioner's sugar over the German butter cake will make for an extra pretty presentation if you feel the need to guild-the-lily. Or I doubt anyone would be mad about adding a dollop of fresh whipped cream or a scoop of ice cream or gelato on top. Ooh. Did I just say that out loud? lol
How many servings does this recipe make?
I cut mine into 24 squares for serving. However, you can cut your servings larger (I wouldn't blame you) or smaller than what the recipe states.

Please be mindful that the recipe card's calorie count and nutritional information will no longer be valid should you choose to make your servings different in size.
Additional German recipes you'll enjoy:
Buttered German egg dumplings (spaetzle) are layered in a casserole dish along with shredded Gruyere cheese and crispy, crunchy onions to bring you this delicious recipe for German Spaetzle Casserole.
German Pork Schnitzel has a light lemony flavor and a crispy outside coating. When you want a memorable meal that can be made in minutes, this is the recipe to reach for.
This copycat German Knockwurst Sausage Sandwich is my version of a terrific sausage sandwich I'd had while on vacation in Northern Wisconsin.
Crispy on the outside and tender and fluffy on the inside. German Fried Potatoes are everything you want in a potato side dish…including the bacon!
German Bee Sting Cake (mentioned earlier) is a yeasted cake with a beautiful texture, fantastic honey flavor (hence the name), a beautifully caramelized almond topping, not to mention a thick, creamy vanilla filling.
When you make this recipe, and I hope you do, I'd appreciate it if you'd take a moment to leave a star rating on the recipe card and briefly comment on why you rated it as you did. FYI - Google appreciates recipe ratings and, in turn, will share my recipes with more people. Thank you so much!!
Printable Recipe Card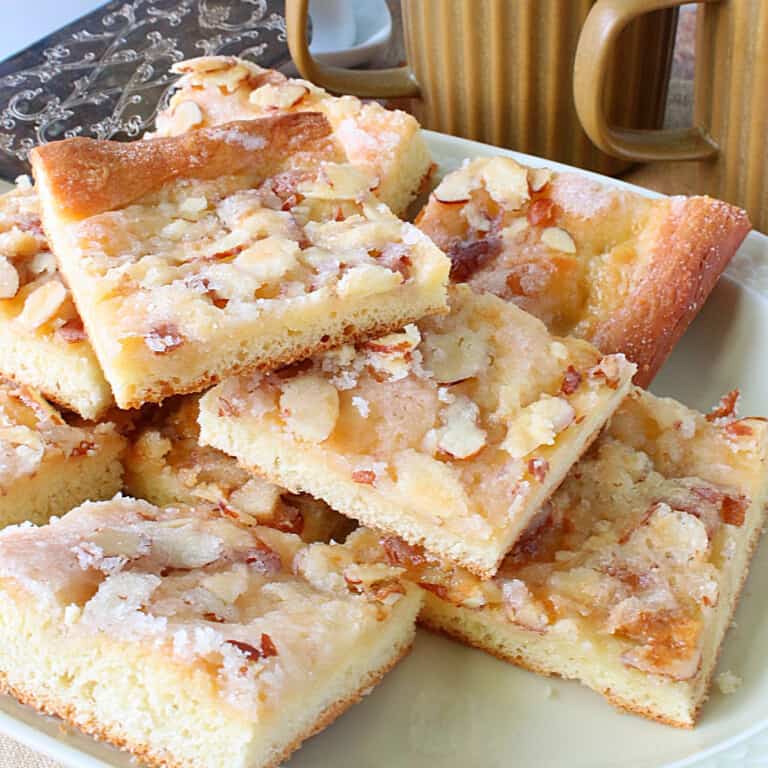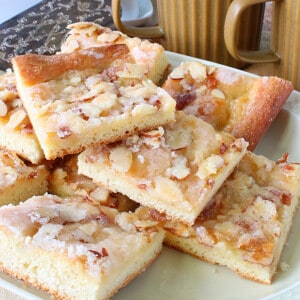 German Zuckerkuchen (Sugar Cake)
German Zuckerkuchen is an absolutely delightful dessert. Not too sweet and just perfect with a cup of coffee or tea.
Ingredients
For the dough:
½

cup

warm milk

(105-110 degrees)

1

tablespoon

active dry yeast

½

teaspoon

granulated sugar

3

cups

all-purpose flour

½

teaspoon

kosher salt

6

tablespoons

butter, melted

plus more for buttering the bowl and baking pan

1

teaspoon

pure almond extract

2

large

eggs

3

tablespoons

granulated sugar
For the topping:
10

tablespoons

butter

softened

¼

teaspoon

kosher salt

1

cup

granulated sugar

½

cup

sliced almonds
Instructions
To make the dough:
Add half of the warm milk into a small bowl along with the dry yeast and ½ teaspoon of sugar. Stir well to dissolve the yeast and set aside until the mixture gets foamy (approximately 5-7 minutes).

In another small bowl, whisk the melted butter (cooled slightly), almond extract, and eggs until combined. Set aside.

In a large mixing bowl (or the bowl of a stand mixer) sift the flour, 3 tablespoons of sugar, ½ teaspoon salt. Add the milk and yeast mixture along with the egg and butter mixture to the bowl with the flour and stir well until it comes together into a shaggy dough.

Add the bowl to the stand mixer and using the dough hook attachment knead the dough (on medium speed) until it transforms into a smooth and elastic dough. This will take approximately 7 - 10 minutes of kneading.

Turn the smooth dough out onto the counter and grease the inside of the bowl with softened butter. Return the dough to the buttered bowl and cover with plastic wrap. Allow the dough to rest for 30 minutes.

Meanwhile, whisk 10 tablespoons of softened butter along with ¼ teaspoon of kosher salt until it's light and fluffy. Use some additional softened butter to also liberally butter the bottom and sides of the jelly roll pan.

After 30 minutes, gently turn the dough out onto the prepared buttered pan and press the dough evenly into the entire surface of the pan and slightly up the sides. Use your fingertips to gently press dimples evenly across the surface of the dough. Cover with plastic wrap and allow the dough to rest again for 20-30 minutes.

While the dough is resting, preheat the oven to 350 degrees Fahrenheit (175 degrees Celsius).

After resting, uncover the dough and use an offset spatula to evenly spread the whisked and softened butter over the entire surface of the dough. Next sprinkle the 1 cup of granulated sugar along with the sliced almonds evenly over the buttered surface of the dough.

Bake in the preheated oven for 25 minutes, or until the kuchen is golden brown and the sugar is almost fully melted. Cool on a wire rack for at least 30 minutes before slicing. Zuckerkuchen is best served slightly warm.
Video
Notes
Store any leftovers covered at room temperature for up to 3 days.
If stored in the refrigerator in an airtight container it will remain fresh for up to 5 days.
Once fully cooled, Zuckerkuchen may be frozen in an airtight freezer container or freezer bag for up to 3 months.
To reheat, cover with foil and heat in a low oven until warm.
Nutrition
Serving:
1
serving
Calories:
187
kcal
Carbohydrates:
23
g
Protein:
3
g
Fat:
10
g
Saturated Fat:
5
g
Polyunsaturated Fat:
1
g
Monounsaturated Fat:
3
g
Trans Fat:
0.3
g
Cholesterol:
36
mg
Sodium:
142
mg
Potassium:
52
mg
Fiber:
1
g
Sugar:
10
g
Vitamin A:
264
IU
Vitamin C:
0
mg
Calcium:
20
mg
Iron:
1
mg
I sincerely hope you've enjoyed today's traditional German sugar and butter cake recipe as much as I've enjoyed bringing it to you!
Follow me across my social media platforms and join in on the conversation: FACEBOOK, INSTAGRAM, PINTEREST, TIKTOK, AND YOUTUBE.
Thank you so much for visiting me today in my Kudos Kitchen. I hope you found something you'll love and that you'll come back and visit me often. There is always room for you around my table!
Should you have any questions or comments regarding anything you've seen here on my blog, please don't hesitate to reach out to me. It is always my distinct pleasure to respond to you just as soon as I possibly can.
Until we eat again, I hope you have a delicious day!!