When you want to impress but don't want to spend a lot of time preparing dinner, this easy Alfredo Ravioli Lasagna is the perfect recipe, and it's company worthy!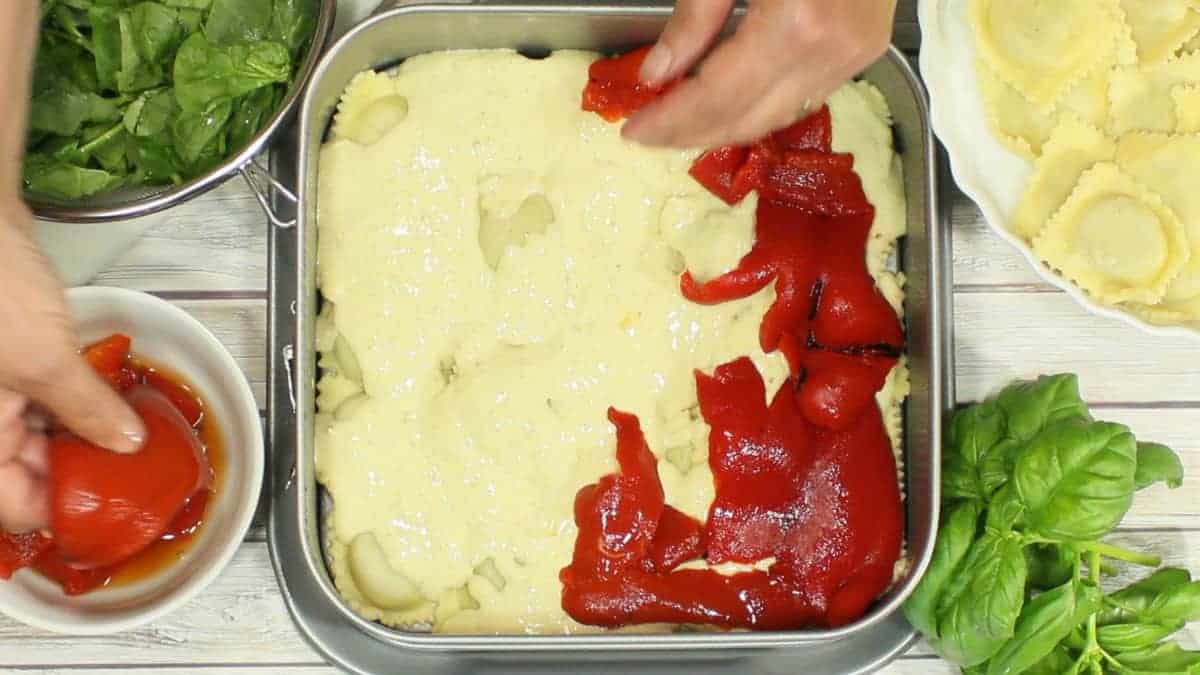 As you'll see in the photos and video, I made this Alfredo Ravioli Lasagna in a square-shaped springform pan. The reason I chose this pan is that I've had it in my cabinet, and have never (not once) used it.
It's not like I have a lot of unused pots and pans in my kitchen, but due to neglect and a fair bit of inorganization on my part (i.e., getting pushed to the back of the cabinet), my square springform pan was in need of some serious loving.
Before I go any further, I have to call myself out on making a huge mistake with this recipe post.
If you're a regular visitor here, then you know I always like to have several completed photos of the finished dish throughout the post. However, upon looking through my computer files I've come to the unhappy realization that I never took any "hero shots" of this completed dish, and believe me, I looked in every computer file I have. Wah Waaah!
Luckily for me, I'm able to pull still shots from the video I made of the Alfredo Ravioli Lasagna, and I'll be able to piece them together and make this work, even though it's not what I'm used to, or how I like to normally do things. But, as we all know, sometimes life's mistakes brings the greatest treasures, so we'll just see how this goes. LOL
Now if you're thinking you can't make this recipe because you don't have a springform pan, please don't let that discourage you. You can easily make this Alfredo Ravioli Lasagna in any casserole dish you have, rectangle, square, round or oval as long as it's at least 3 quarts or larger in size.
Also, you'll notice that I used jarred Alfredo sauce for this particular recipe, but I doctored it up.
I don't always use jarred Alfredo sauce, but since I wanted to keep this recipe fast and easy, the jarred sauce was the way to go. However, if you have a favorite homemade Alfredo sauce recipe you enjoy, by all means, use it.
If you're looking for a good homemade Alfredo sauce recipe, here are a few I recommend from around the web. First up is mine *wink* from my recipe of Spaghetti Squash Alfredo with Pancetta. Fast and Easy Alfredo Sauce from Don't Waste The Crumbs, Easy Alfredo Sauce from The Blond Cook, Perfect Homemade Alfredo Sauce from Chef In Training, Olive Garden Alfredo Sauce from Damn Delicious.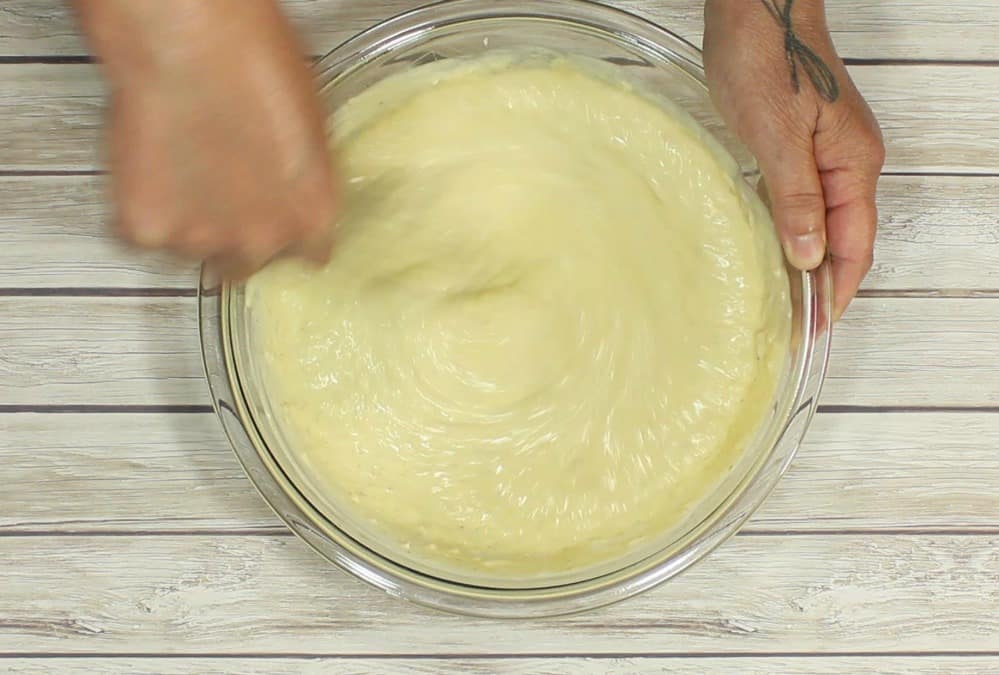 The ingredient list for making this Alfredo Ravioli Lasagna is as follows;
2 jars store-bought Alfredo sauce (your favorite variety),
two eggs
1½ cups shredded Parmesan cheese
garlic
2 packages frozen ravioli (meat or cheese filled, your call)
two large jars fire roasted red peppers (drained)
2 cups fresh spinach leaves
1 cup fresh basil leaves
salt & pepper
2 cups shredded mozzarella.
That's it!
Then, as we all know, lasagna is all about the layering. I hope you'll take a moment to watch the video I made for Alfredo Ravioli Lasagna and see how it all comes together. If you enjoy this video, please subscribe to my Kudos Kitchen channel on YouTube. Thank you!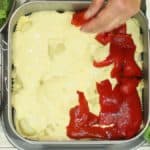 Easy Company's Coming Alfredo Ravioli Lasagna
When you want to impress but don't want to spend a lot of time preparing dinner, this easy Alfredo Ravioli Lasagna is the perfect thing, and it's company worthy!
Ingredients
2

packages frozen ravioli

your favorite variety cooked and drained

2

jars Alfredo sauce

your favorite variety

2

eggs

2

cloves

garlic

minced

1½

cups

shredded Parmesan cheese

2

large jars fire roasted red peppers

drained

2

cups

fresh spinach leaves

1

cup

fresh basil leaves

1½

teaspoon

kosher salt

½

teaspoon

pepper

2

cups

shredded mozzarella cheese
Instructions
In a 3 quart or larger casserole dish, or springform pan place one even layer of cooked ravioli.

In a large bowl, whisk together the alfredo sauce, eggs, garlic and Parmesan cheese.

Spoon half of the Alfredo sauce over the bottom layer of cooked ravioli.

Top the sauce evenly with the spinach and basil leaves.

Season with the salt and pepper and top evenly with half of the shredded mozzarella.

Add the remainder of the cooked ravioli in an even layer and top them evenly with the remaining Alfredo sauce.

Sprinkle the remaining mozzarella cheese over top and bake in a preheated 350-degree oven for 60 minutes, or until the cheese is golden brown and bubbly.

Remove from the oven and cool for 15 minutes before serving.

IF using a springform pan, cool for 30 minutes before removing the collar.

Serve hot and enjoy
Recipe Notes
Tools and equipment:
3-quart casserole dish or springform pan, large stock pot to cooking ravioli, large bowl, whisk, small bowls, chefs knife, cooking spray
Below I'm leaving an Amazon affiliate link (by way of the photo) for a 9″ square springform pan. Should you decide you'd like purchase one, please click on the photo and you'll be taken directly to Amazon.com. As always, you are in no way obligated to click on the photo or make a purchase.
I hope you've enjoyed this recipe for Alfredo Ravioli Lasagna as much as I've enjoyed bringing it to you.
Should you have any questions regarding this recipe for Alfredo Ravioli Lasagna, or anything else you'll find on my site please don't hesitate to contact me directly or leave me a comment in the comment section at the end of this post. It is always my pleasure to answer any questions you may have and I promise to do so as soon as possible.
For additional information regarding my Kudos Kitchen recipes, or my hand painted glassware and fabric items, please follow me on:
FACEBOOK, PINTEREST, INSTAGRAM, TWITTER, YOUTUBE, and MY PAINT SHOP
Kudos Kitchen by Renée ~ Where food, art, and fun collide each and every day!
Until we eat again, I hope you have a delicious day!
**The post above includes affiliate links. When I find a great product or service, I like to share it with my readers. Sometimes I use affiliate links so I can earn a small commission for my recommendations. As always, I thank you for your support!