With only two ingredients, that I'll bet you already have on hand in your pantry and fridge, you can make a homemade buttermilk alternative in the blink of an eye!
You have my guarantee that using this homemade buttermilk substitute for all your recipes, both sweet and savory, will ensure deliciousness each and every time. Want to know more? Of course, you do! Read on…

**Please Note – The printable recipe card with detailed instructions, complete ingredient measurements, and nutritional information for making Homemade Buttermilk Alternative is available near the end of this post.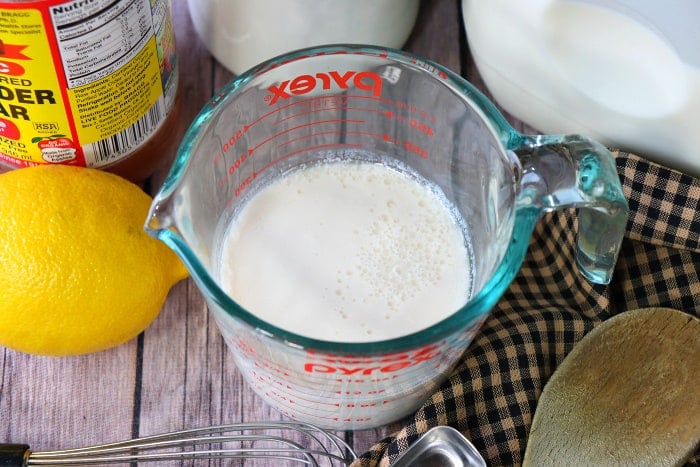 The dilemma;
Your recipe calls for buttermilk but you don't have any on hand, and don't want to run to the store!
The solution;
Homemade buttermilk alternative to the rescue!!
Only two ingredients;
Milk (full fat, reduced fat, or skim) (See below for dairy-free options)

Fresh Lemon Juice OR Apple Cider Vinegar (See below for more acidic suggestions)
Can White Vinegar be used in place of Apple Cider Vinegar?
Sure, but if you have raw, organic apple cider vinegar on hand (the one with the mother), then I suggest using it over white vinegar.
Raw apple cider vinegar has a multitude of health benefits that white vinegar does not.
Did you know that raw apple cider vinegar;
Helps lower blood sugar levels and fights diabetes.

Helps to reduce belly fat.

Lowers cholesterol and improves heart health.
Check out this article for additional information regarding all the health benefits of raw apple cider vinegar.
Can fresh lime juice be used in place of lemon juice?
Yes! Lime juice will also work in place of lemon juice or vinegar.
The key here is to use something acidic so the milk changes its structure to thicken and curdle slightly and be mildly tangy in flavor.
Can buttermilk alternative be made using dairy-free milk?
Yes! Go for it. Almond milk or even soy milk will work wonderfully well when using the same process.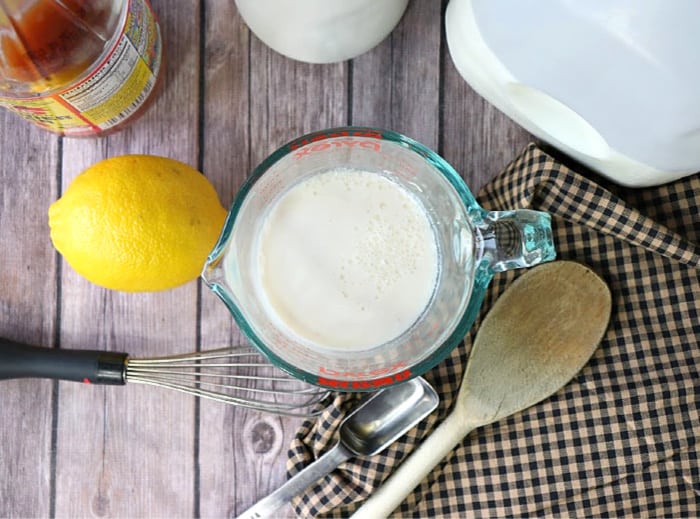 For a delicious Kudos Kitchen recipe roundup of sweet and savory dishes I've shared over the years calling for buttermilk and/or this homemade buttermilk alternative, please click on the following titles for;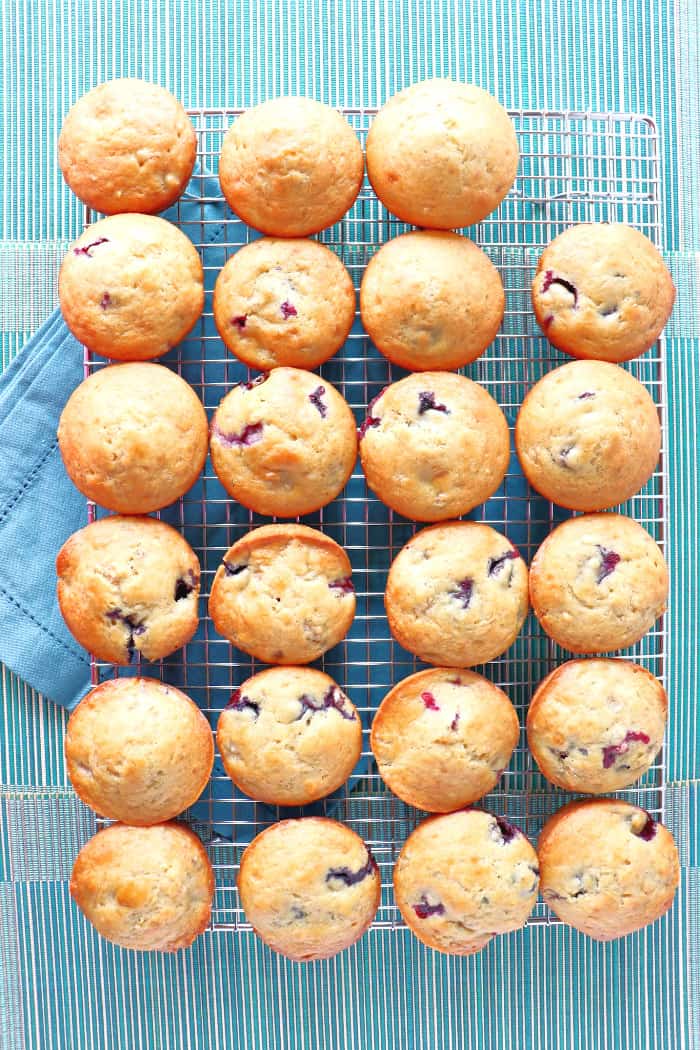 Homemade Blueberry Banana Muffins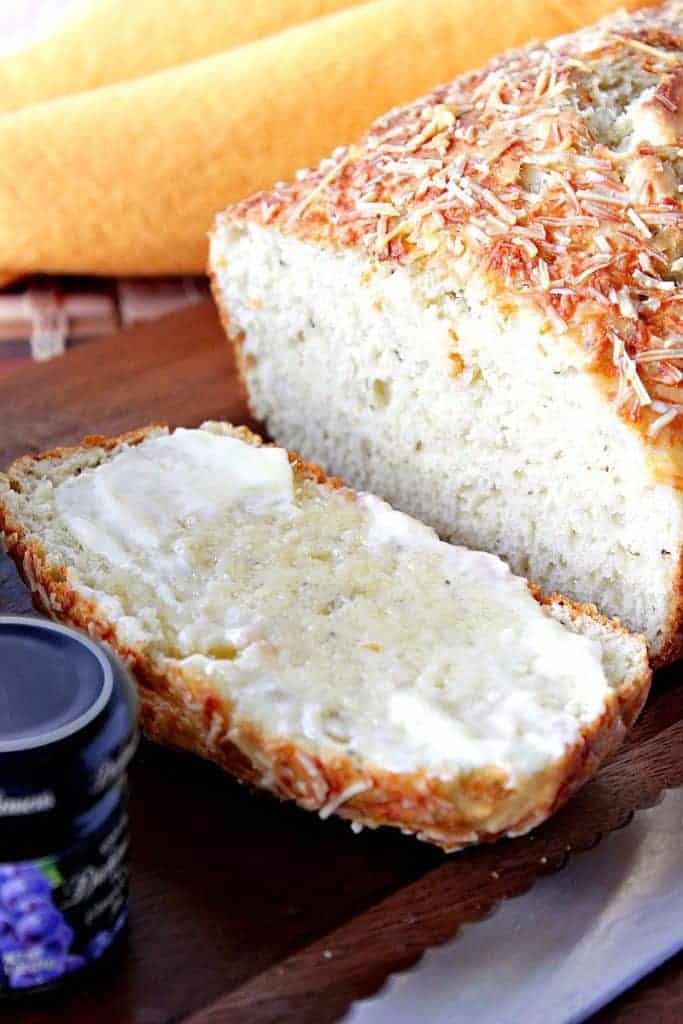 Foolproof Italian Herb Parmesan Quick Bread
Tart and tangy Blueberry Lemon Scones with Lemon Icing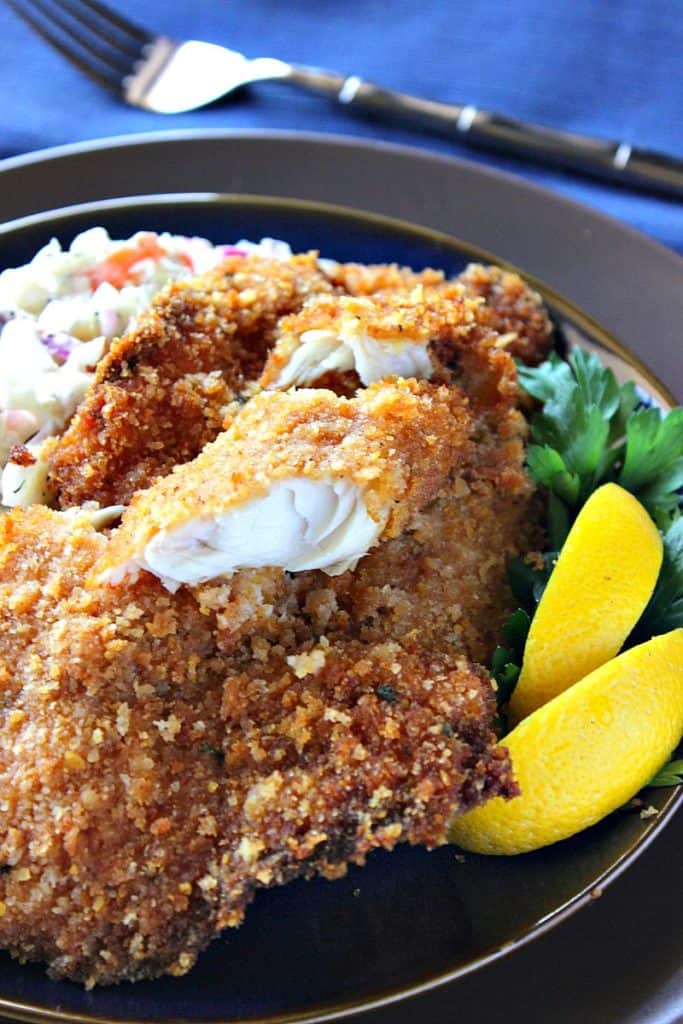 Crispy Crunchy Homemade Fried Tilapia
Orange Poppy Seed Bundt Cake with Orange Icing
The super easy instructions for making 1 cup of buttermilk alternative;
Assemble your equipment and ingredients. In this case, I'm using 2% milk and apple cider vinegar.

Add 1 cup of milk to a measuring cup along with one tablespoon apple cider vinegar.

Whisk or stir to completely combine.

Allow the mixture to sit at least 7-10 minutes until it becomes thicker in consistency and slightly curdled. Do not worry, this is what you're looking for.

Use as you would regular buttermilk in any given recipe, sweet or savory.


Measurements for making specific amounts of buttermilk replacement;
For 1 cup buttermilk = 1 cup milk + 1 Tablespoon acid
For 3/4 cup buttermilk = 3/4 cup milk + 2½ teaspoons acid
For 2/3 cup buttermilk = 2/3 cup milk + 2 teaspoons acid
For 1/2 cup buttermilk = 1/2 cup milk + 1½ teaspoons acid
For 1/4 cup buttermilk = 1/4 cup milk + 3/4 teaspoon acid
How long will buttermilk alternative keep in the refrigerator?
Store this buttermilk replacement, well sealed, in the refrigerator for up to 5 days.
**The following affiliate links are some suggested products I've chosen that will aid you in the making and serving of this recipe for Homemade Buttermilk Alternative if desired.
Plus, I've added some additional items that are meant to make you smile, and because it's fun to shop! 😉
By clicking on the item photo, you'll be taken directly to Amazon.com if you're interested in purchasing any of these products. You are in no way required to do so, and you will not be charged in any way unless you decide to purchase one of these products through Amazon.com. As an Amazon Associate, I earn from qualifying purchases. For additional information please view my privacy policy.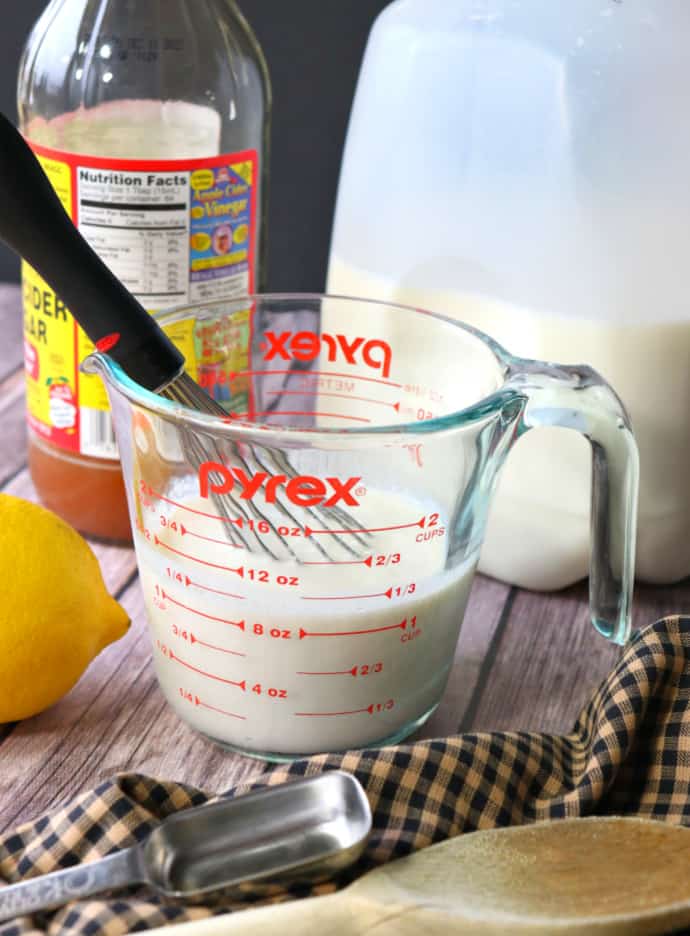 Below is the printable recipe card for today's Homemade Buttermilk Alternative.
If you've enjoyed this recipe and look forward to making it (or have already made it), I'd appreciate if you'd take a moment to give it some feedback by way of stars near the comment section at the end of this post. Thank you so much!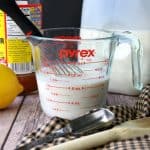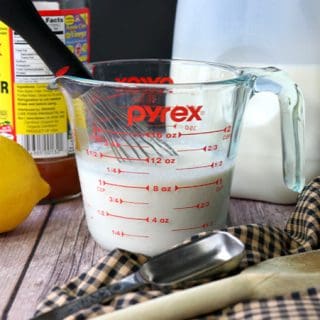 Homemade Buttermilk Alternative
This fast and easy buttermilk alternative will work perfectly for any time a recipe calls for buttermilk.
Keyword:
buttermilk substitution, homemade buttermilk alternative
Ingredients
1

cup

milk

1

tablespoon

apple cider vinegar
Instructions
Whisk the ingredients together and allow to sit for 7-10 minutes before using as a buttermilk substitution in all your recipes.
Recipe Notes
Measurement calculations:
For 1 cup buttermilk  = 1 cup milk + 1 Tablespoon acid  
 For 3/4 cup buttermilk  = 3/4 cup milk + 2½ teaspoons acid 
 For 2/3 cup buttermilk  = 2/3 cup milk + 2 teaspoons acid 
 For 1/2 cup buttermilk  = 1/2 cup milk + 1½ teaspoons acid 
 For 1/4 cup buttermilk = 1/4 cup milk + 3/4 teaspoon acid 
Whole milk, reduced fat milk, skim milk, almond milk, soy milk may be used for the milk.
Lemon or lime juice, white vinegar, or apple cider vinegar may be used as the acid.
Nutrition Facts
Homemade Buttermilk Alternative
Amount Per Serving (1 cup)
Calories 121
Calories from Fat 36
% Daily Value*
Fat 4g6%
Cholesterol 18mg6%
Sodium 111mg5%
Potassium 330mg9%
Carbohydrates 11g4%
Protein 7g14%
Vitamin A 240IU5%
Calcium 283mg28%
* Percent Daily Values are based on a 2000 calorie diet.
I hope you've enjoyed today's method for making homemade buttermilk alternative, plus all the recipes I've included (which are some of my favorites) to scratch your baking and cooking with buttermilk itch.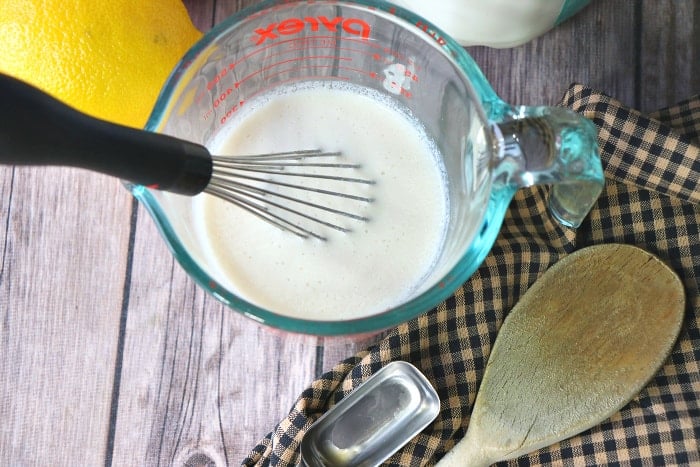 Should you have any questions or comments regarding this recipe or anything else you've seen on my site, please don't hesitate to contact me directly or leave me a comment in the comment section below. It is always my distinct pleasure to get back to you with a reply just as soon as I possibly can!
For additional information regarding my Kudos Kitchen recipes, and/or my hand painted glassware or fabric items, please follow me on;
FACEBOOK, PINTEREST, INSTAGRAM, TWITTER, and YOUTUBE
Kudos Kitchen by Renée ~ Cooking up artistically delicious family-friendly dishes from my Kudos Kitchen to yours!
Until we eat again, I hope you have a delicious day!
**Note – The post above includes affiliate links. When I find a great product or service, I like to share it with my readers. Sometimes I use affiliate links so I can earn a commission for my recommendations. As always, thank you so much for your support!