Spiced Apricot Glazed Ham will take your holiday meal (or any meal for that matter) to epic proportions, and with hardly any effort.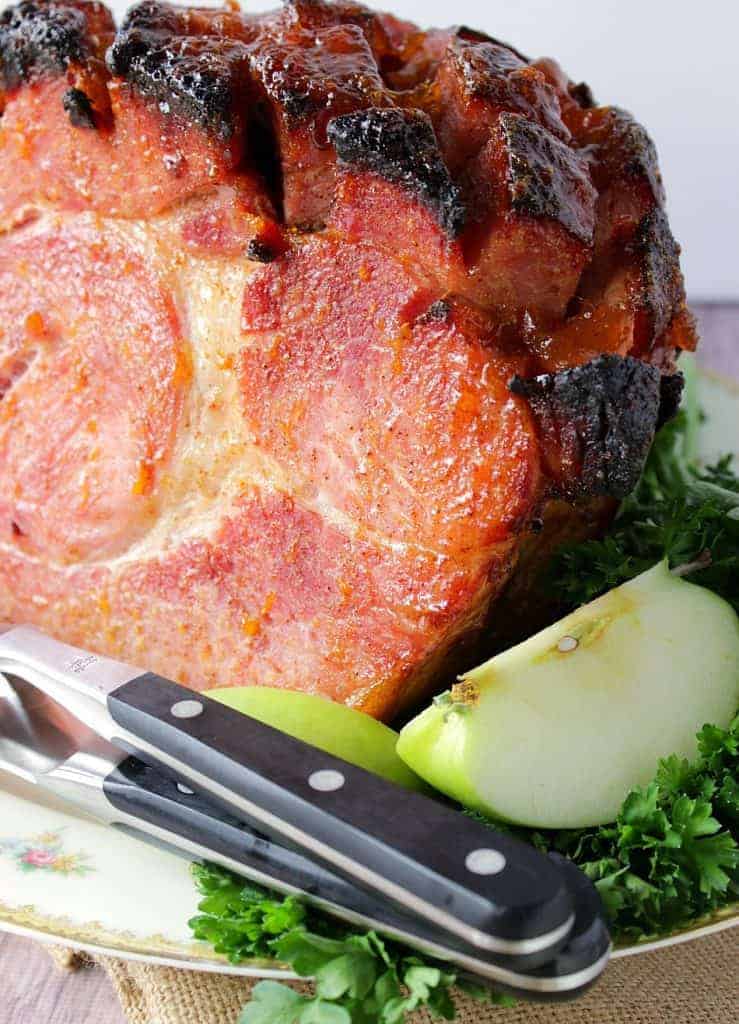 This spiced apricot glaze will work well for all types of meat. Chicken, pork, and even seafood will love the flavors this spiced apricot glaze brings to the table.
The completed recipe I'm showing today is with a 9-pound, unsliced, bone-in ham.
Jump to: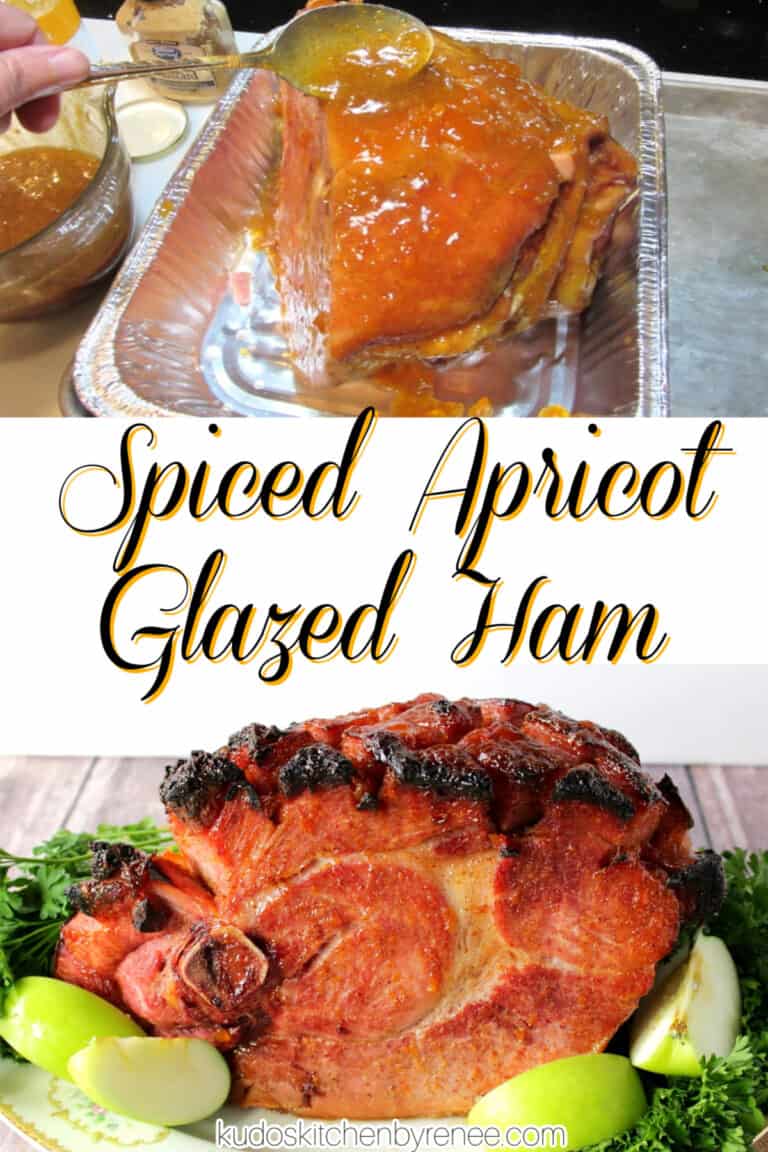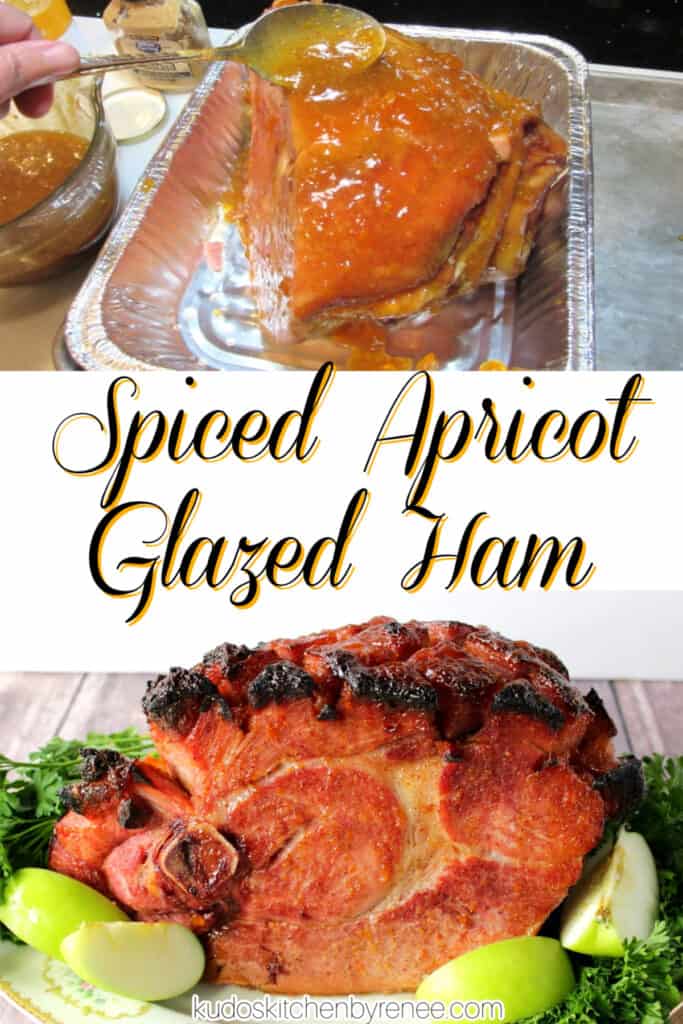 The ingredient list:
**Note - The following lists of ingredients plus kitchen tools and equipment contain affiliate links (highlighted in blue) for your consideration and shopping convenience. #CommissionsEarned
Whole ham
Apple Juice or Orange Juice
Kitchen tools and equipment needed:
Why this spiced apricot glazed ham recipe works?
I have a confession to make. Once I started eating this easy glazed ham (for photo purposes only, mind you, LOL), I literally could not stop eating it!
It's completely irresistible!! Find out for yourself!
This glazed ham recipe is one of our absolute favorites!
It feeds a crowd and is delicious for celebrating any multitude of occasions throughout the year.
I've made it for Christmas, New Year's, and of course, I'll be making it again for Easter.
Presentation is everything!
I sliced the top of the ham in a diamond pattern with a sharp butcher knife so that the thick mustard glaze would flavor the interior of the meat and also make for a pretty presentation.

Side dishes to serve alongside this spiced mustard glazed ham:
*Side Dishes for Every Occasion Recipe Roundup (not shown)
For me, sometimes a meal is just as much about the side dishes as it is about the main course.
With the help of this Side Dishes for every occasion recipe roundup, your delicious menu will keep your family and friends very full, and extremely happy!
Can this glaze be used on a spiral cut ham?
Yes! You can, and you should!!
Dispose of the little packet of ham glaze that comes with some brands of spiral cut hams (those are all preservatives and sugars) and make this easy ham glaze instead!
It's quick, delicious, and everyone loves it!
Can this spiced apricot glaze be used on chicken or pork chops?
Of course!
You may also want to use it for fish or as a dipping sauce for breaded shrimp. It's THAT good!
The step-by-step-photo instructions:
Place the ham in a baking dish and score the top with a sharp carving knife in a diamond pattern, about 1" deep. *Note - skip this step if using a spiral cut ham.

In a medium-size bowl stir together one jar (18 ounces) apricot preserves, ½ cup deli-style mustard, 1 tablespoon ground ginger, 1½ teaspoons ground cloves, and ¼ cup pure maple syrup.

Stir well to combine.

Liberally spoon half of the glaze over the scored ham.

Pour ½ cup of orange or apple juice in the bottom of the roasting pan.


Roast the ham in a preheated 425-degree oven for 50 minutes.

Remove the ham and liberally spoon the remaining glaze over the ham.

Reduce the oven temperature to 350-degrees and return the ham to the oven for 45 more minutes. Cool slightly, slice and serve.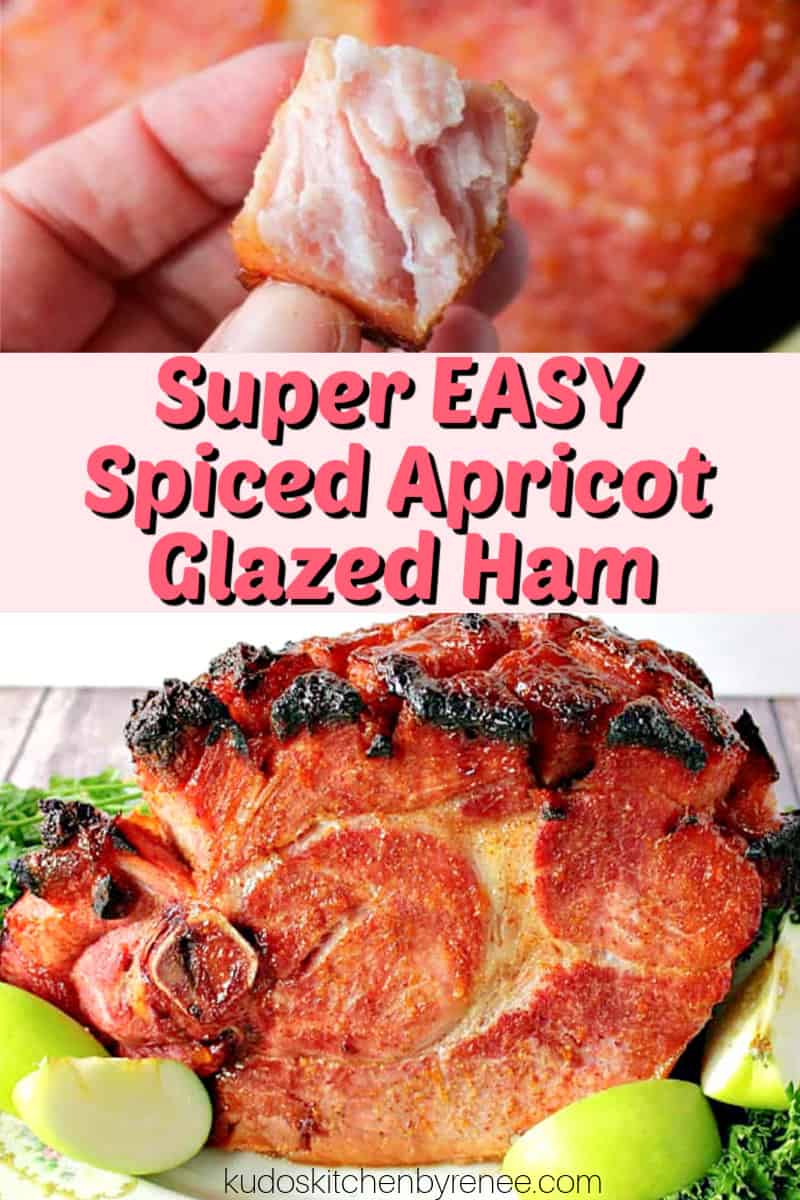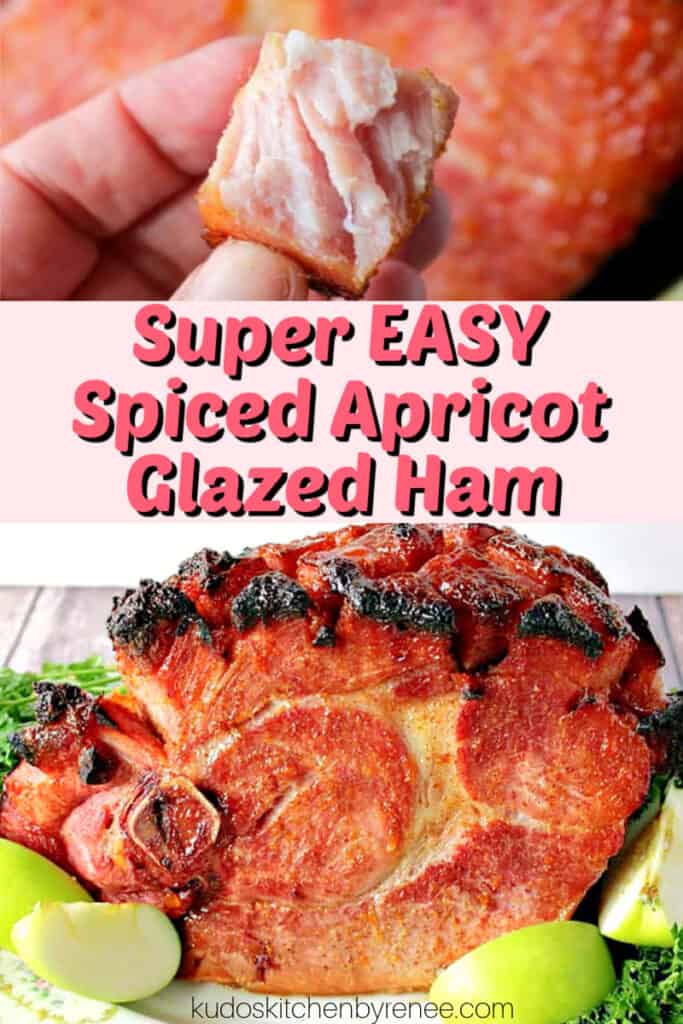 Recipes using leftover ham:
*Monte Cristo Tortilla Roll-Ups (shown below)
Monte Cristo Tortilla Roll-Ups are a fried appetizer recipe and a fun new way to eat everyone's favorite sweet and savory sandwich but in appetizer form!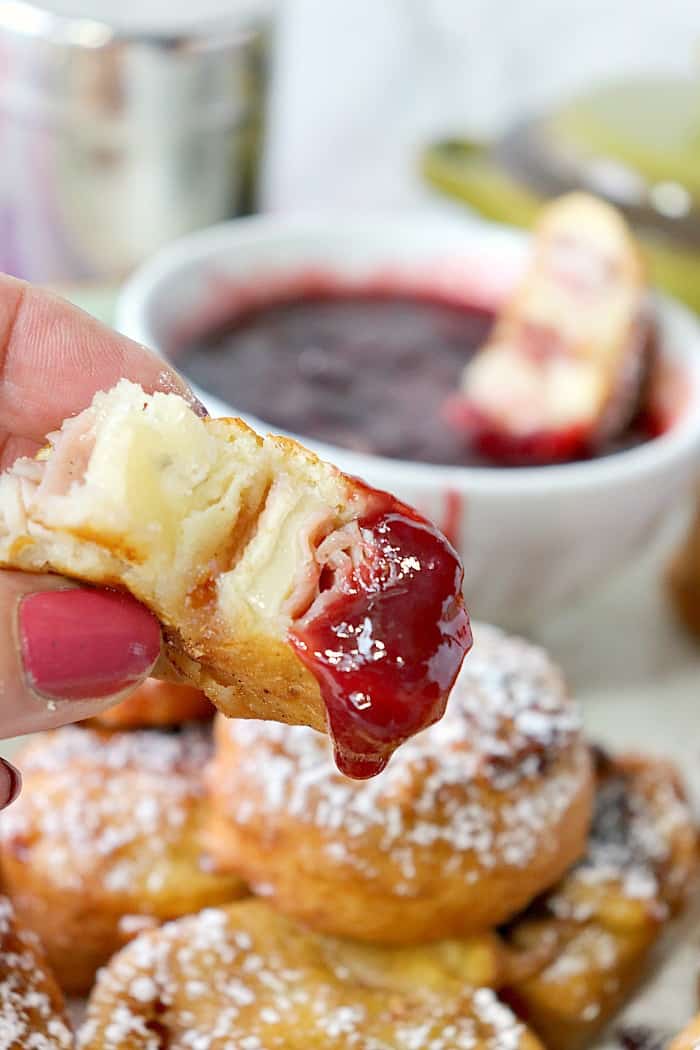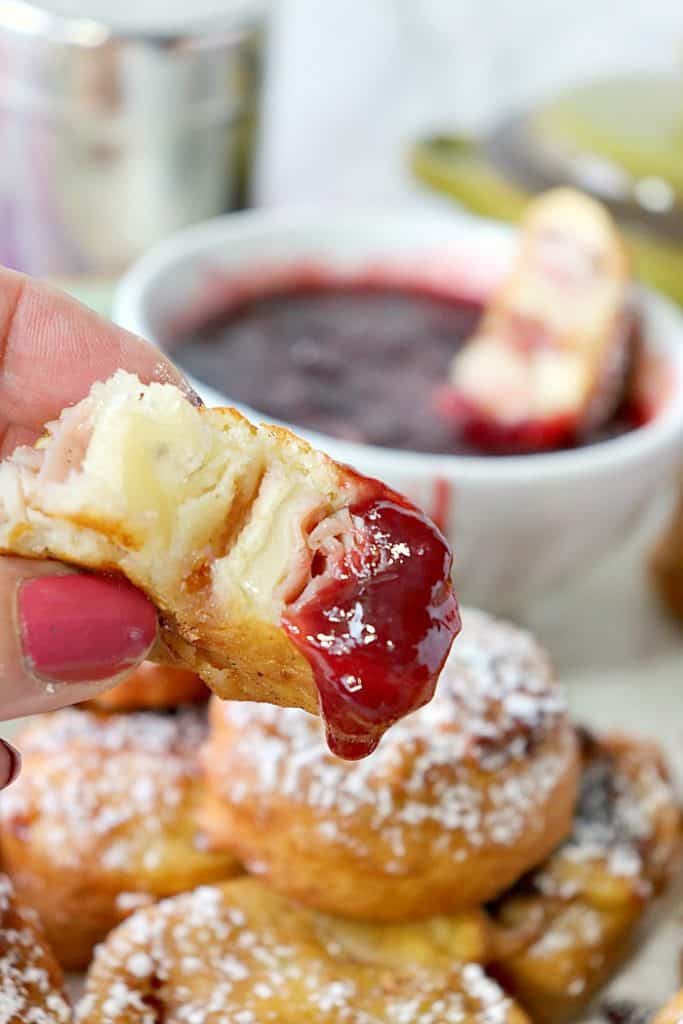 *Deviled Ham and Eggs (shown below)
Whether you choose to serve these easy-to-make deviled Dijon ham and eggs for breakfast, brunch, appetizers, or a hearty snack, you just can't go wrong! They're utterly scrumptious no matter how, or when, you eat them!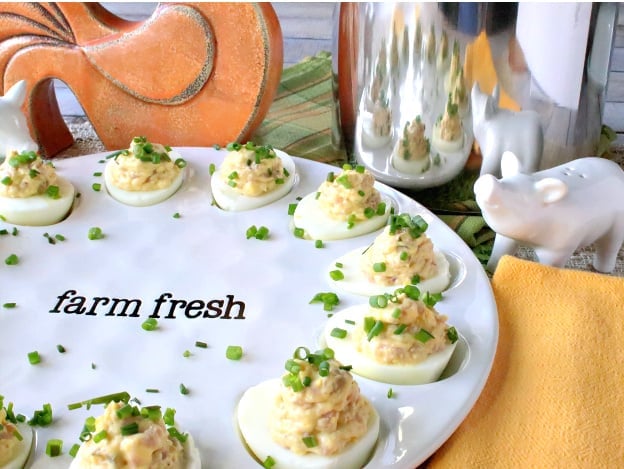 *Speedy Ham and Egg Fried Rice from Love Foodies
*Ham and Cabbage Soup from Brooklyn Farmgirl
*Ham Tetrazzini from Beyond the Chicken Coop
*Hawaiian Pizza Cups from Smack of Flavor
*CHICKEN CORDON BLEU SALAD from (yours truly) Kudos Kitchen by Renee
*Ham and Havarti Crescent Appetizers (shown below)
These Crunchy Crescent Ham & Havarti Appetizers will win rave reviews at any big game party. And with the use of everyone's favorite store-bought crescent roll dough, they couldn't be easier to make.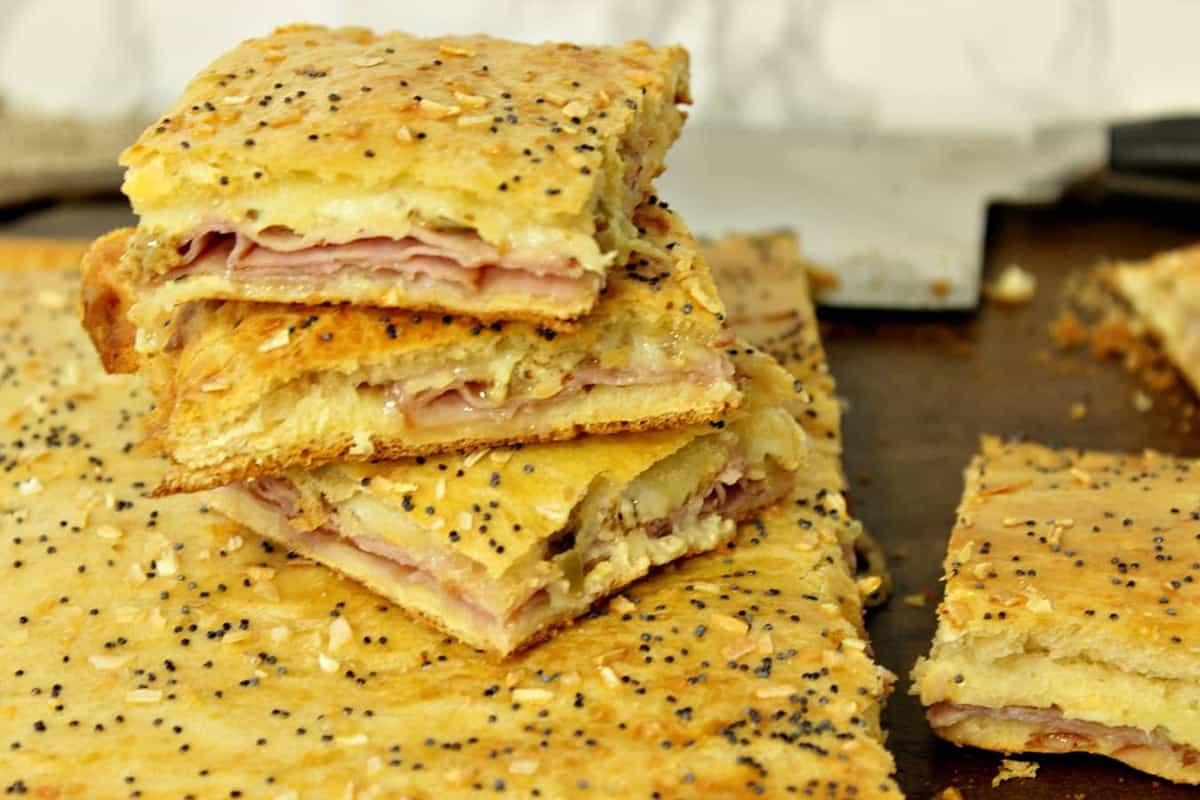 *Spiced Apricot Glazed Ham (shown below) THIS IS THE PLACE!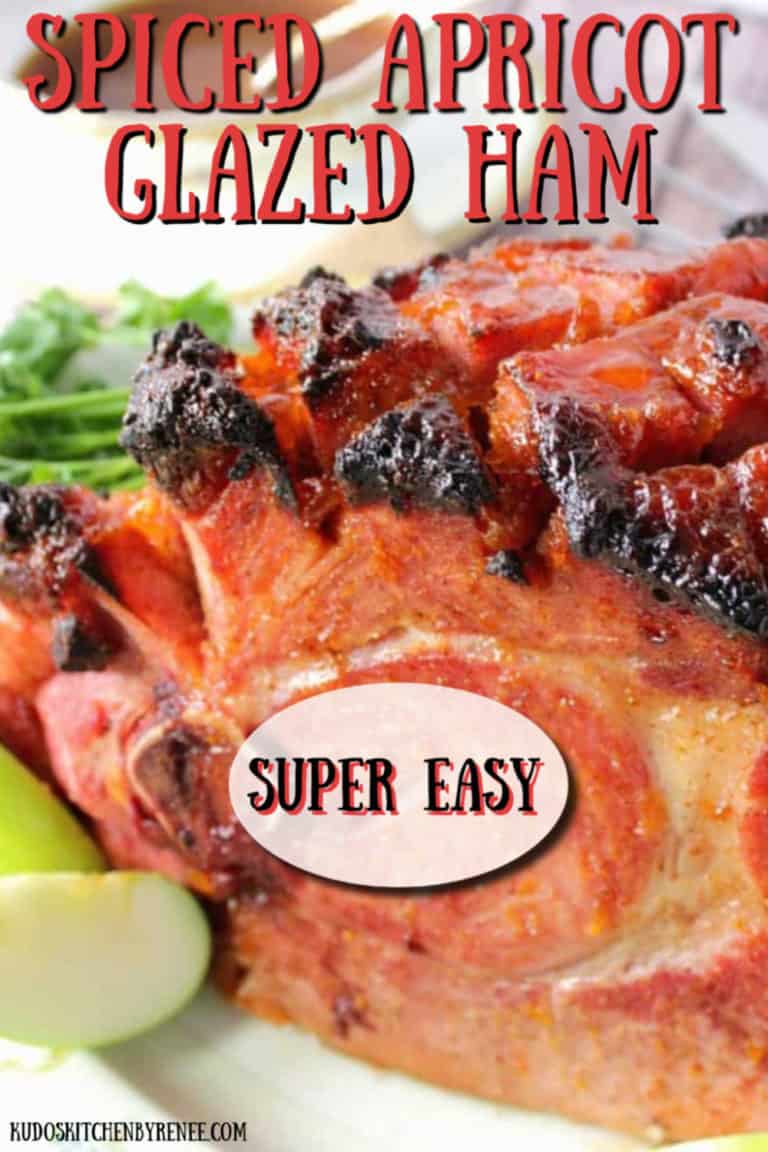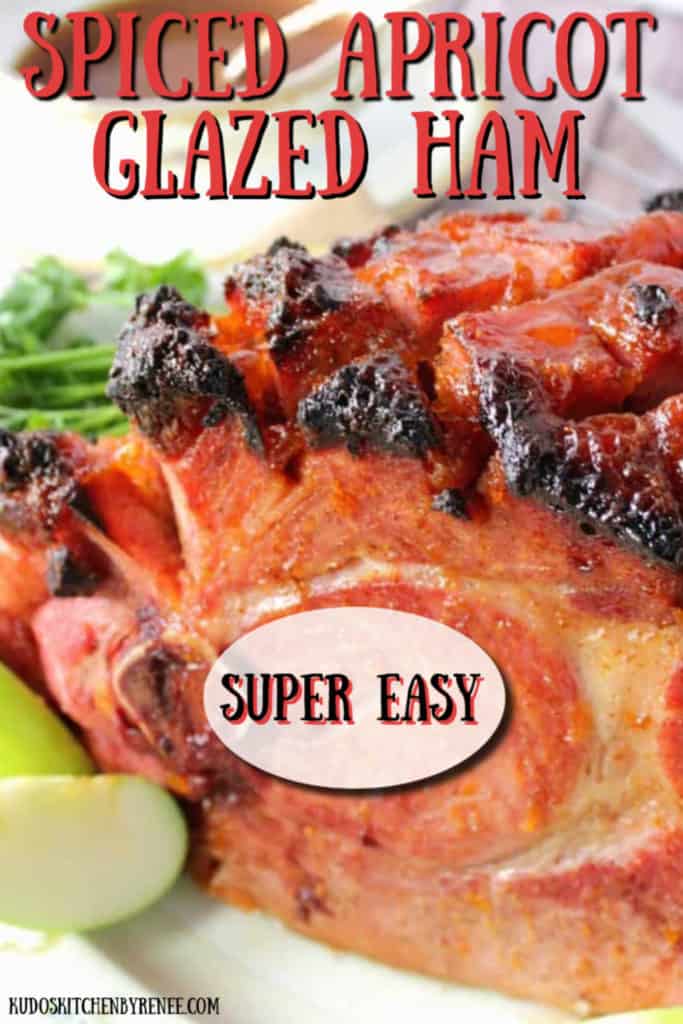 What to do with the leftover ham bone?
When cooking a bone-in ham, I suggest that you don't throw the bone away after you've carved and served the ham.

Wrap it tightly in foil or plastic wrap and stick it in the freezer for when you're going to make bean or pea soup.

The ham bone will add extra flavor to your soup or stew.

Also, if you have any leftover ham, it's always a good idea to freeze some and add it into the pot for extra meaty goodness like my Slow-Cooker Split Pea Soup with Ham (shown below)
Comforting and delicious, this Slow Cooker Split Pea Soup with Ham will convert even a pea hater, into a pea lover. Please, I beg of you "Give Peas A Chance!"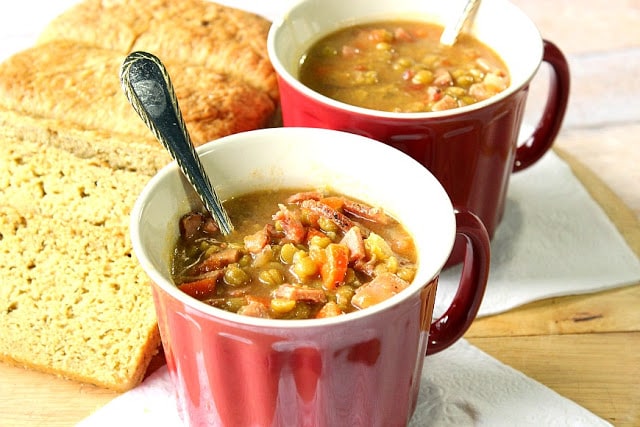 Or this Lentil Stew with Lemon and Sausage (shown below) is a personal favorite of mine!
This is one of the many, many recipes I've been anxious to make from Melissa Clark's cookbook "In The Kitchen With A Good Appetite". It's one of those page-turning books where just about every recipe you see has you mentally making your grocery list so you can be ready at a moment's notice to whip up one of her creative and well-thought-out dishes in no time.
⭐If you've made this recipe, or are excited to make this recipe, I'd appreciate it if you'd take a moment to leave it a star rating on the recipe card, along with a comment if you're so inclined. Thank you. 🙂
Printable Recipe Card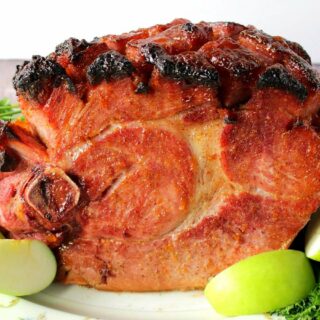 Spiced Apricot Glazed Ham
This recipe for Spiced Apricot Mustard Glazed Ham will take your glazed ham to epic proportions, and with hardly any effort. It's irresistible!!
Ingredients
1 - 9 to 10

pound

bone-in ham

boneless will also work.

1

jar

18 ounces apricot preserves

½

cup

deli-style mustard

1

tablespoon

ground ginger

1½

teaspoons

ground cloves

¼

cup

maple syrup

½

cup

orange or apple juice
Instructions
Preheat oven to 425-degrees

Score the top of the ham all over with ½" deep slices and place in a deep roasting pan.

In a medium bowl stir together the apricot preserves, mustard, ground ginger, cloves and maple syrup.

Spoon half of the glaze over top of the ham.

Pour the juice in the bottom of the pan.

Roast the ham in the preheated oven for 50 minutes.

Remove the ham and slather on the remaining glaze.

Reduce the oven heat to 350-degrees and return the ham to the oven to continue cooking for 45 minutes (cover with foil if the ham is browning too deeply).

Remove the ham from the oven, cool for 15 minutes before slicing and serving.
Notes
Tools and equipment:
Roasting pan, medium bowl, chef's knife, spoon, aluminum foil, serving platter
Nutrition
Serving:
1
serving
Calories:
148
kcal
Carbohydrates:
7
g
Protein:
10
g
Fat:
8
g
Saturated Fat:
2
g
Cholesterol:
28
mg
Sodium:
681
mg
Sugar:
6
g
Follow me across my social media platforms and join in on the conversation: FACEBOOK, INSTAGRAM, PINTEREST, TIKTOK, AND YOUTUBE.
I sincerely hope you've enjoyed today's easy holiday ham recipe for Spiced Apricot Glazed Ham as much as I've enjoyed bringing it to you!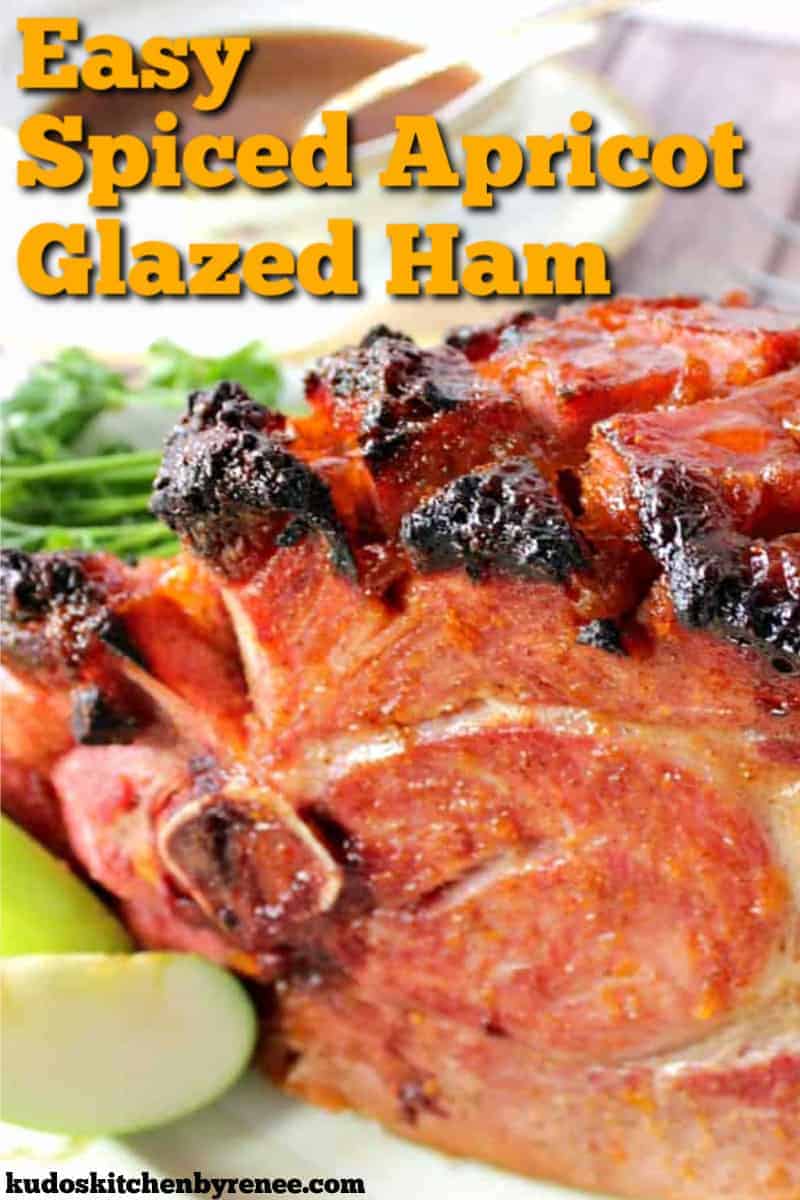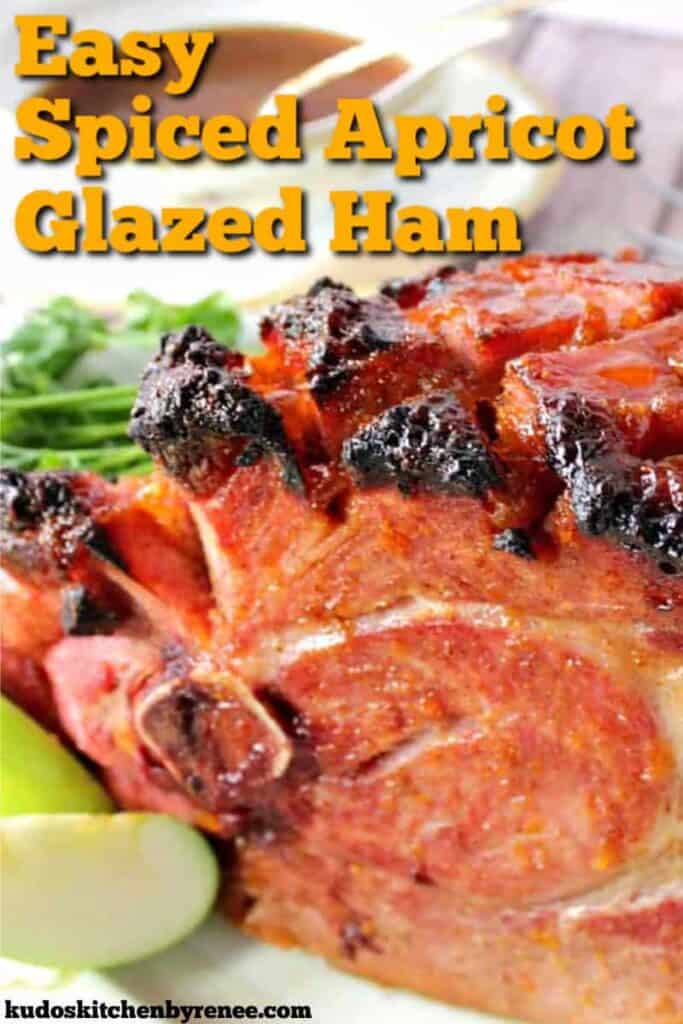 Thank you so much for visiting me today in my Kudos Kitchen. I hope you found something you'll love and that you'll come back and visit me often. There is always room for you around my table!
Should you have any questions or comments regarding anything you've seen here on my blog, please don't hesitate to reach out to me. It is always my distinct pleasure to respond to you just as soon as I possibly can.