Contrary to popular belief it is very easy being green (and healthy) with this delicious Roasted Asparagus with Avocado Hollandaise!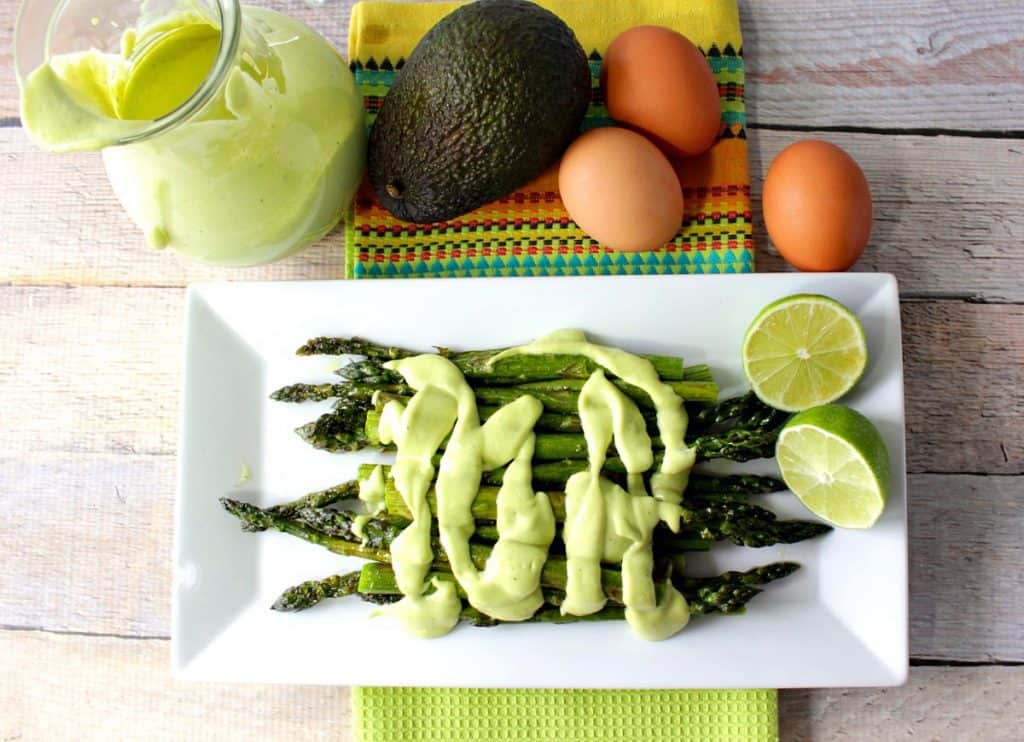 Instantly upgrade your oven-roasted asparagus with this easy to make thick and creamy avocado hollandaise sauce. Your taste buds will thank you!
This is the absolute perfect vegetable side dish to accompany any meal with its gorgeous spring green color and creamy rich sauce!
Jump to: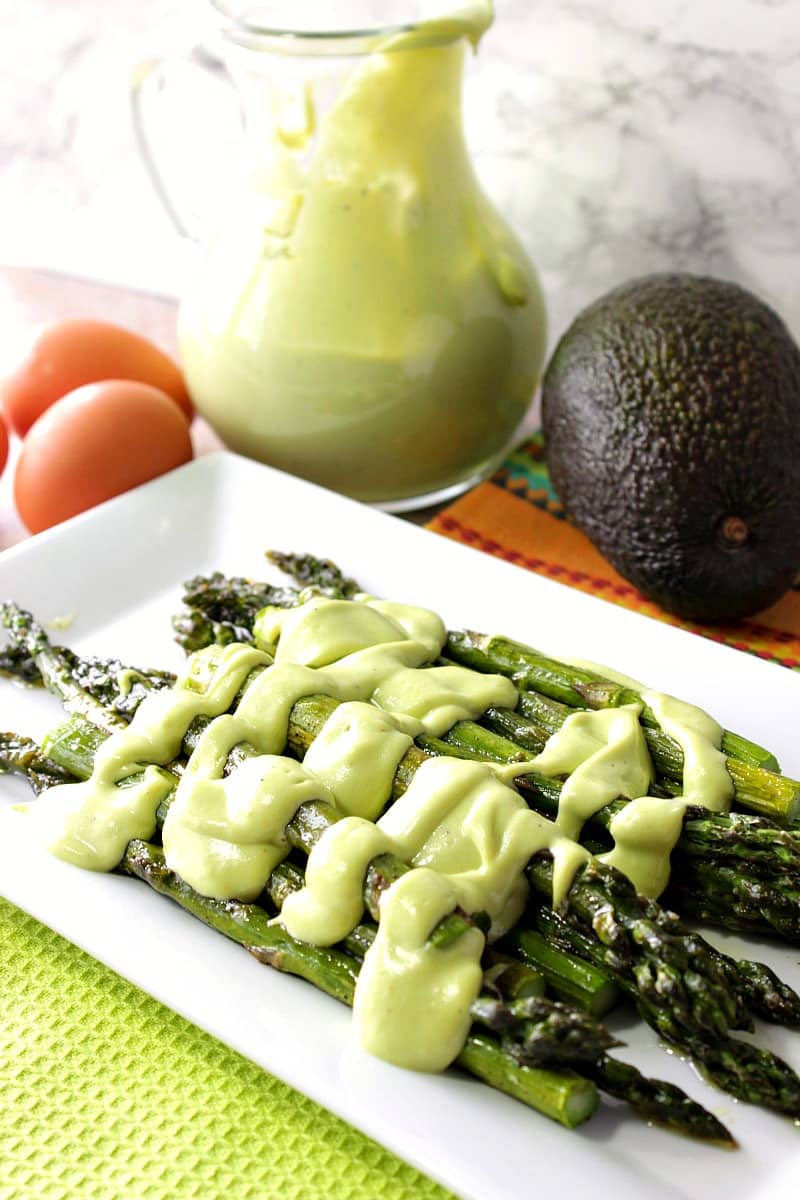 The ingredient list:
**Note - The following lists of ingredients plus kitchen tools and equipment contain affiliate links (highlighted in blue) for your consideration and shopping convenience. #CommissionsEarned
Ripe Avocados

Egg Yolks

Melted Butter

Lime Juice

Hot Sauce (optional)

Fresh Asparagus
Kitchen tools and equipment needed:
Homemade avocado hollandaise sauce sounds scary to make. Is it?
If you've never made your own hollandaise sauce before, let me be the first to tell you that it's one of the easiest sauces you can make at home.
You can either make it in a blender or in a food processor as I did.
What is the key to making the best avocado hollandaise sauce?
The trick to making this buttery, tangy Avocado Hollandaise Sauce thick and creamy is to temper egg yolks with a tiny bit of hot butter.
By adding more hot butter, little by little, the sauce thickens in only a matter of minutes. It's truly magical!

Click here to check out my latest and greatest Kudos Kitchen tasty BBQ side dishes recipe roundup.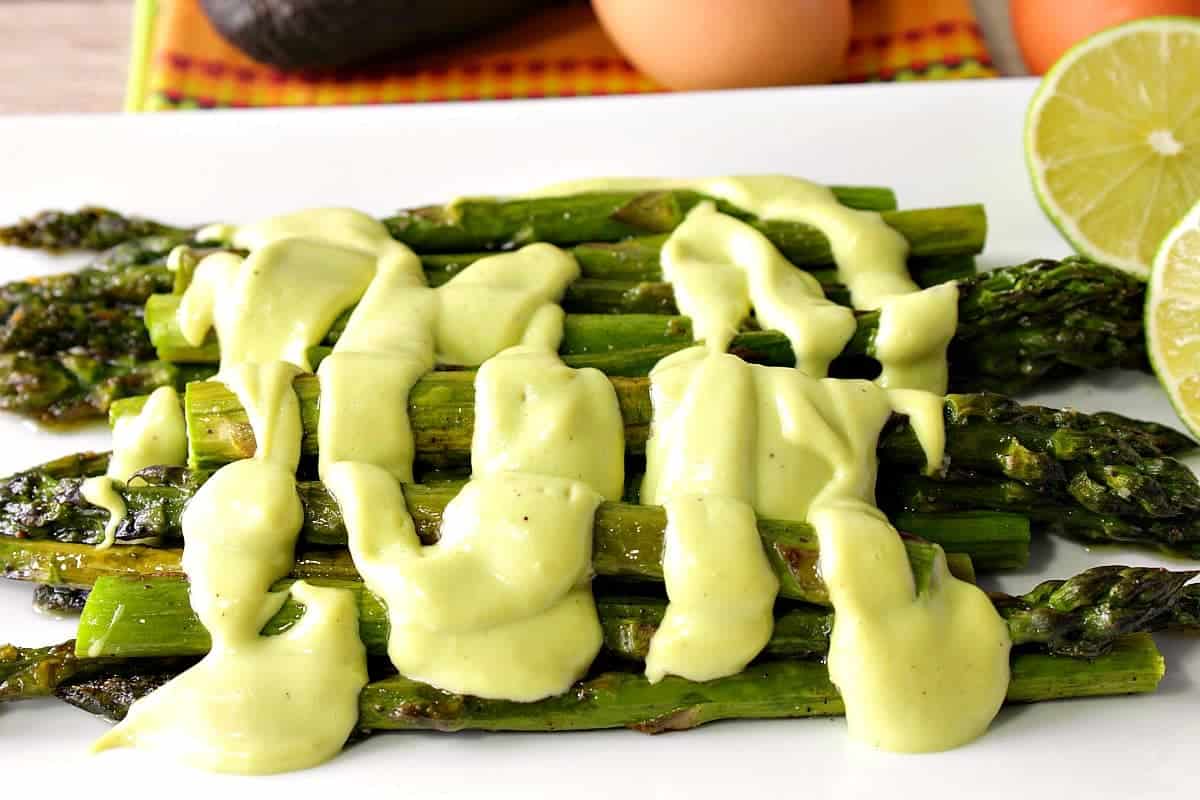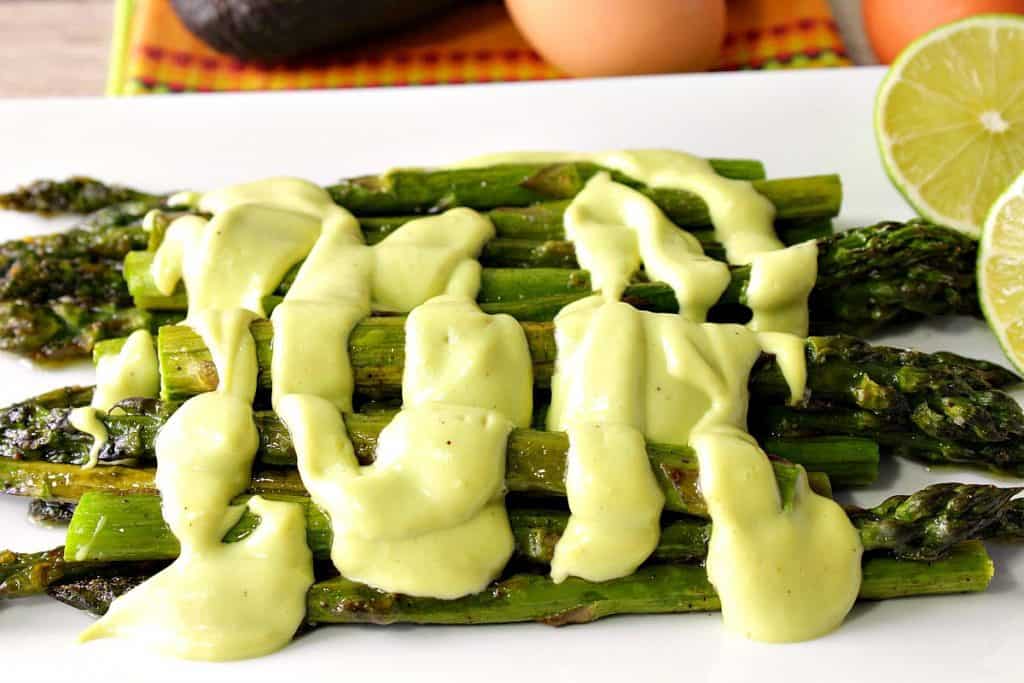 What is the key to making the best avocado hollandaise?
After making a standard hollandaise sauce, the secret to making my creamy avocado Hollandaise is simple.
By adding ripe avocado, a splash or two of hot sauce, and finally a squeeze of fresh lime juice for a tasty and unique twist on all the other hollandaise sauce recipes out there.
Dare to be different, my friends! 🙂
How long will avocado hollandaise sauce keep in the fridge?
The addition of the lime juice will help keep the bright, vibrant green of the sauce from turning brown over time.
Because of this, the sauce will keep in the fridge for up to 3 days.
Health benefits of avocados?
They contain more potassium than bananas.

They're loaded with heart-healthy monounsaturated fats.

Avocados can lower cholesterol.

They are loaded with anti-oxidants.

They're loaded with fiber.

Eating avocados may help you lose weight.
For more information regarding the health benefits of avocados, check out this article from Healthline.
How do you know when an avocado is ripe?
If an avocado is rock-hard when you press it lightly, it is not yet ripe.
A ripe avocado will give way to a little pressure when pressed.
However, if an avocado is too ripe, it will be very soft under very little pressure, so don't purchase those.
It will be easy to remove the stem "button" (for lack of a better word) from a ripe avocado, and under that button will be a nice green color.
If an avocado is not yet ripe, that button will be hard to remove, and if it is too ripe, the button will fall off easily (or maybe it's already gone) and under that button, the flesh will be brown.
Leave that avocado at the store.
Is there a way to quickly ripen an avocado at home?
Yes, never fear.
Wrap an unripe avocado tightly in foil and place it a low (200-degree) oven for 10-15 minutes.
Doing this will accelerate the ripening process, and you'll be ready to use those unripe avocados in your favorite recipes, once cooled.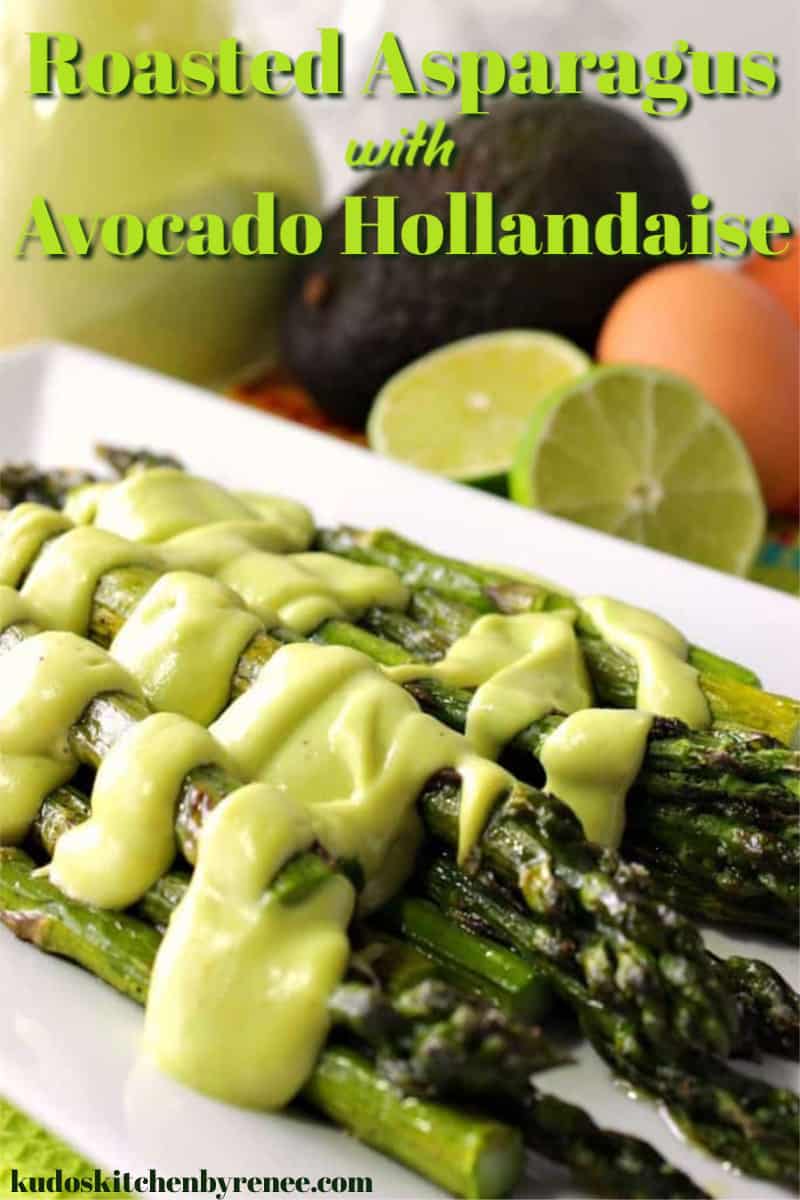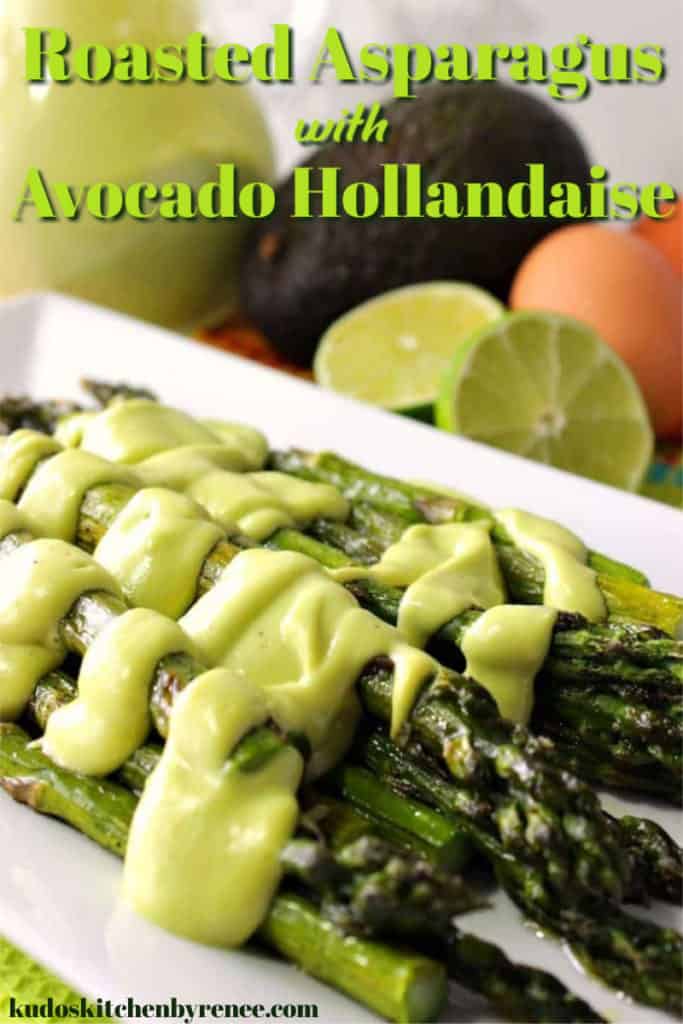 Other uses for avocado hollandaise sauce:
This homemade avocado hollandaise sauce would be a welcome addition to just about any vegetable.
I think it will be especially delicious over seasonal roasted Brussels sprouts in the fall, and roasted broccoli all year round.
Also, by mixing it in with a touch of buttermilk you've got a creamy and delicious dressing to go over the top of your favorite salad.
Of course, you can always serve avocado hollandaise sauce over eggs on top of English muffins or toast for a delicious twist on the standard eggs Benedict.
Then, add the roasted asparagus to the top of the eggs and pour on some creamy avocado hollandaise sauce.
Breakfast, brunch, or dinner will never be the same!
How to make avocado hollandaise sauce:
Use a food processor to mix the egg yolks.

Slowly stream in a little bit of hot butter to the egg yolks and continue to mix.

Add a little more hot butter, mix, add a little more hot butter, mix, (etcetera) until all the melted butter is incorporated into the egg yolks.

The sauce will become pale in color and thick.

Squeeze fresh lime juice into the sauce and add 1 ripe avocado (skin and pit removed).

Add a splash (or two) of hot sauce (optional) to the food processor.

Return the cover to the processor and process until the sauce is smooth and creamy.

If desired, add a touch of olive (or avocado oil) and process again if you'd like your creamy avocado hollandaise sauce a little looser.



How to roast asparagus:
Season fresh asparagus with olive oil, salt, and pepper.

Roast the asparagus in a preheated 400-degree oven for 15 minutes.

Pour the creamy avocado hollandaise sauce over the roasted asparagus and serve immediately.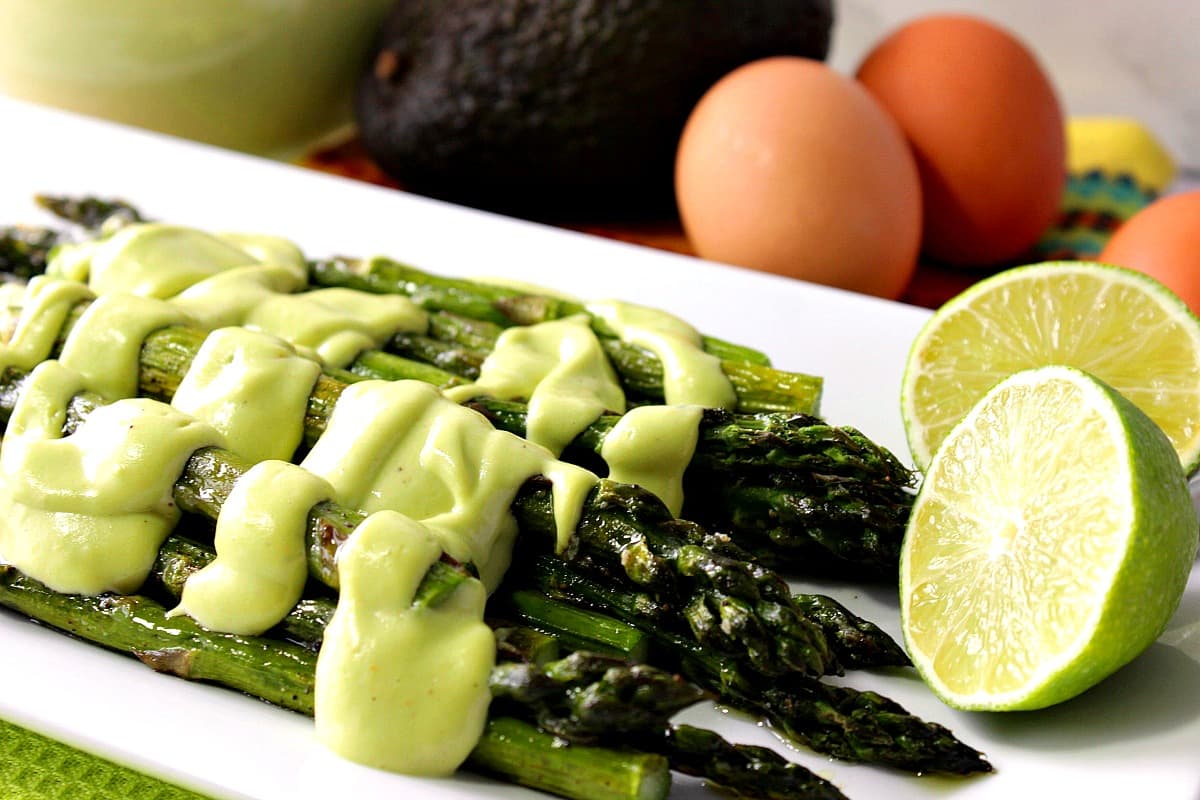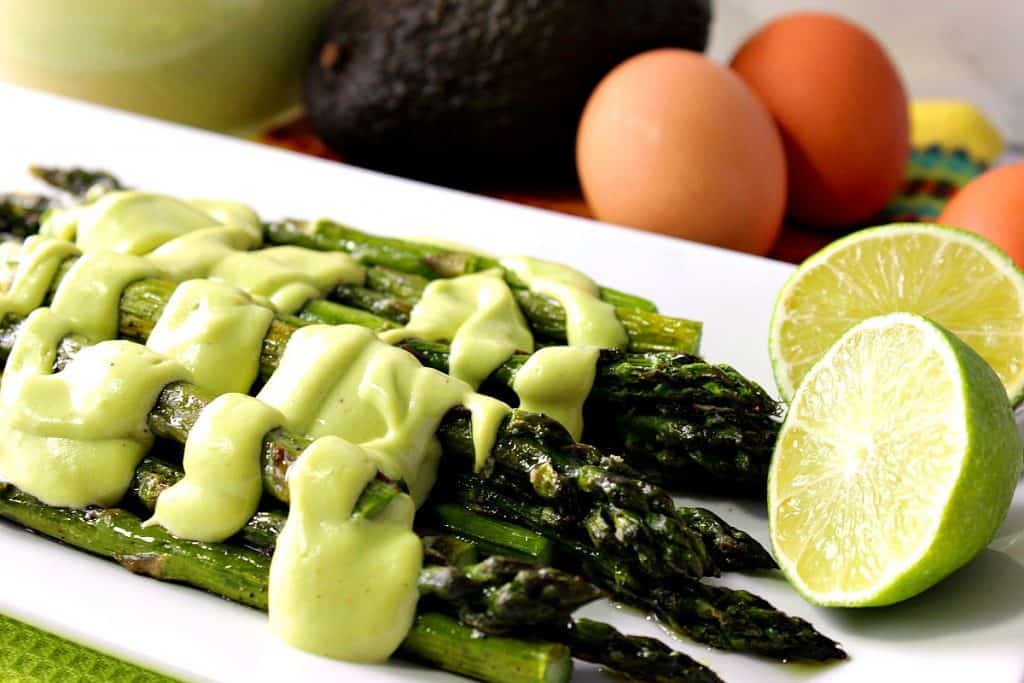 Additional asparagus recipes:
There is nothing like fresh, springtime asparagus so I'm always looking for new and delicious ways to serve it while it's on sale in the grocery store.
Asparagus is one of my all-time favorite vegetables so you can bet I have a lot of asparagus recipes on my blog that I've shared over the years.
If you're hungry for more delicious springtime asparagus recipes, please click on the tempting titles below to find tasty new recipes that will incorporate asparagus into your family meals while it is at its very peak of flavor!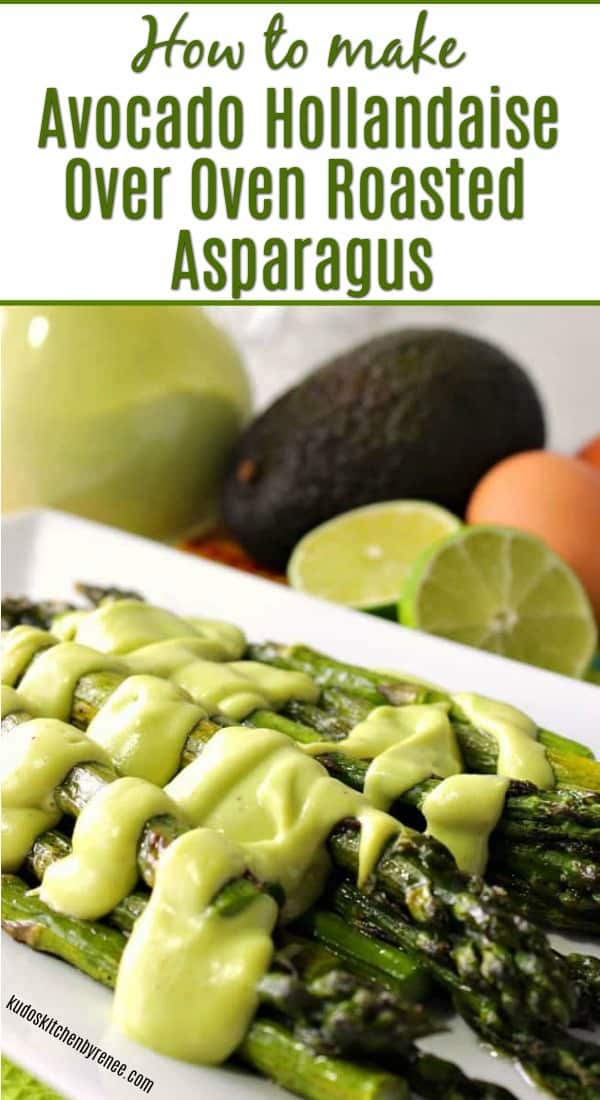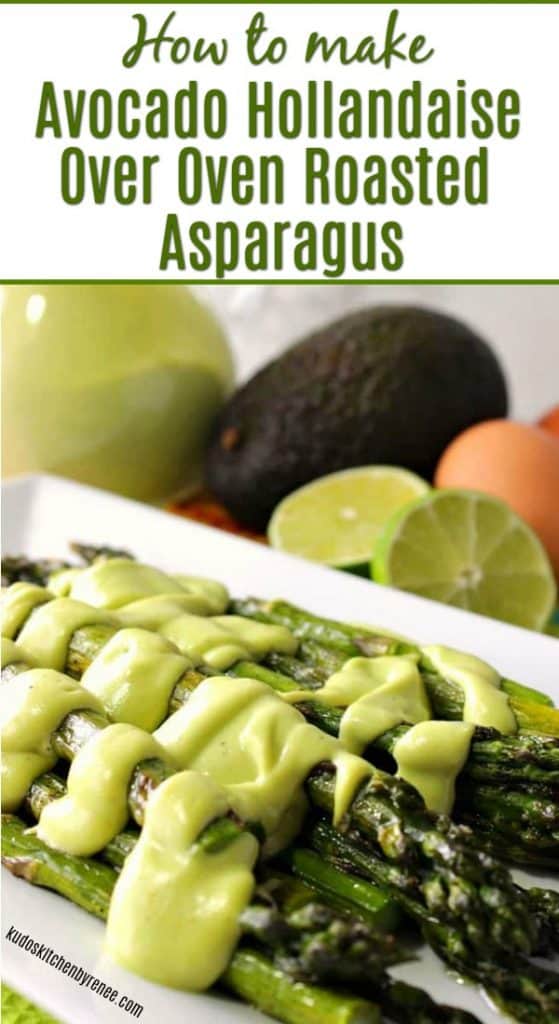 When you make this recipe, and I hope you do, I'd appreciate it if you'd take a moment to leave a star rating on the recipe card and briefly comment on why you rated it as you did. FYI - Google appreciates recipe ratings and, in turn, will share my recipes with more people. Thank you so much!!
Printable Recipe Card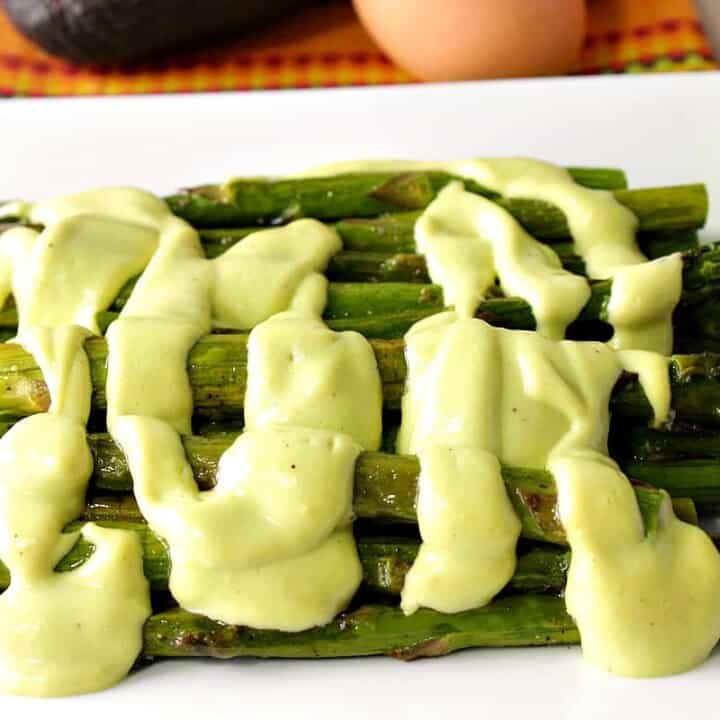 Roasted Asparagus with Avocado Hollandaise
Upgrade your oven roasted asparagus with this easy to make thick and creamy avocado hollandaise sauce. Your taste buds will thank you!
Ingredients
For the roasted asparagus:
1

pound

fresh asparagus

trimmed

1

tablespoon

olive oil

salt and pepper to taste
For the avocado hollandaise:
3

large

egg yolks

reserve the whites for another use

8

tablespoons

butter

melted and hot, but not boiling.

1

tablespoon (one large lime)

lime juice

1

ripe

avocado

skin and pit removed

½

teaspoon

kosher salt

¼

teaspoon

black pepper

¼

teaspoon

hot sauce

optional

olive oil

if needed, to thin the sauce to your desired consistency.
Instructions
TO MAKE THE ROASTED ASPARAGUS:
Preheat the oven to 400 degrees Fahrenheit.

Place the trimmed asparagus on a baking sheet and drizzle with the olive oil.

Season the asparagus with salt and pepper to taste, and lightly roll the asparagus to coat with the oil.

Roast in a preheated oven for 17-20 minutes.
TO MAKE THE CREAMY AVOCADO HOLLANDAISE SAUCE:
Process the egg yolks in a food processor or blender until blended.

Very slowly add approximately 1 tablespoon of the hot butter and process with the egg yolks to temper the yolks.

Slowly add more of the hot butter to the yolks, a little at a time, until all the butter has been added to the yolks and they've become thick and pale yellow in color.

Remove the cover from the processor and squeeze in the fresh lime juice, and add the avocado.

Season with the salt and pepper and add the hot sauce, if desired.

Continue to process the sauce until it's thick and creamy.

*Note - If the sauce is too thick, add additional olive oil to the processor until you've achieved your desired consistency.

Plate the asparagus and drizzle the creamy avocado hollandaise sauce.

Serve hot.
Notes
A food processor or blender may be used to make the avocado hollandaise sauce.
Keep any leftovers in an airtight refrigerator container for up to 3 days.
Nutrition
Serving:
1
serving
Calories:
379
kcal
Carbohydrates:
10
g
Protein:
6
g
Fat:
37
g
Saturated Fat:
17
g
Cholesterol:
207
mg
Sodium:
503
mg
Fiber:
6
g
Sugar:
3
g
I sincerely hope you've enjoyed today's delicious roasted asparagus recipe as much as I've enjoyed bringing it to you!!
Follow me across my social media platforms and join in on the conversation: FACEBOOK, INSTAGRAM, PINTEREST, TIKTOK, AND YOUTUBE.
Thank you so much for visiting me today in my Kudos Kitchen. I hope you found something you'll love and that you'll come back and visit me often. There is always room for you around my table!
Should you have any questions or comments regarding anything you've seen here on my blog, please don't hesitate to reach out to me. It is always my distinct pleasure to respond to you just as soon as I possibly can.
Until we eat again, I hope you have a delicious day!!