You won't find a better macaroni salad than this chilled Macaroni and Pea Salad. It may sound like a bold statement, but it's the truth. This pasta salad has a perfectly balanced flavor that's light and refreshing.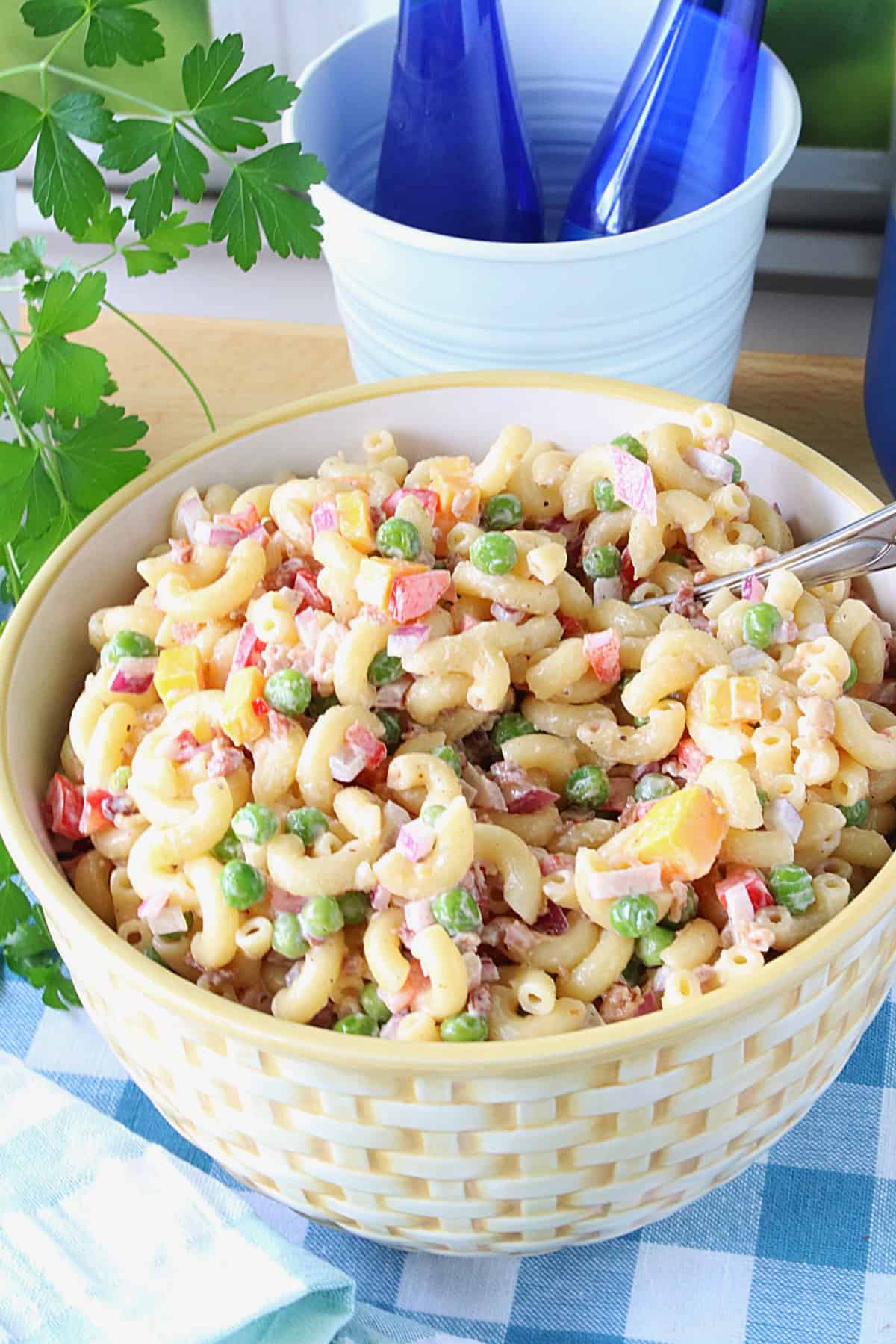 This macaroni salad with peas is a perfect dish to add to all your summer menu plans. It tastes even better when chilled in the fridge, making it an ideal option to prepare ahead for backyard BBQs and parties.
Jump to:
The ingredient list
*Please note that the exact measurements along with a new "shop the recipe" feature from Instacart is available in the printable recipe card.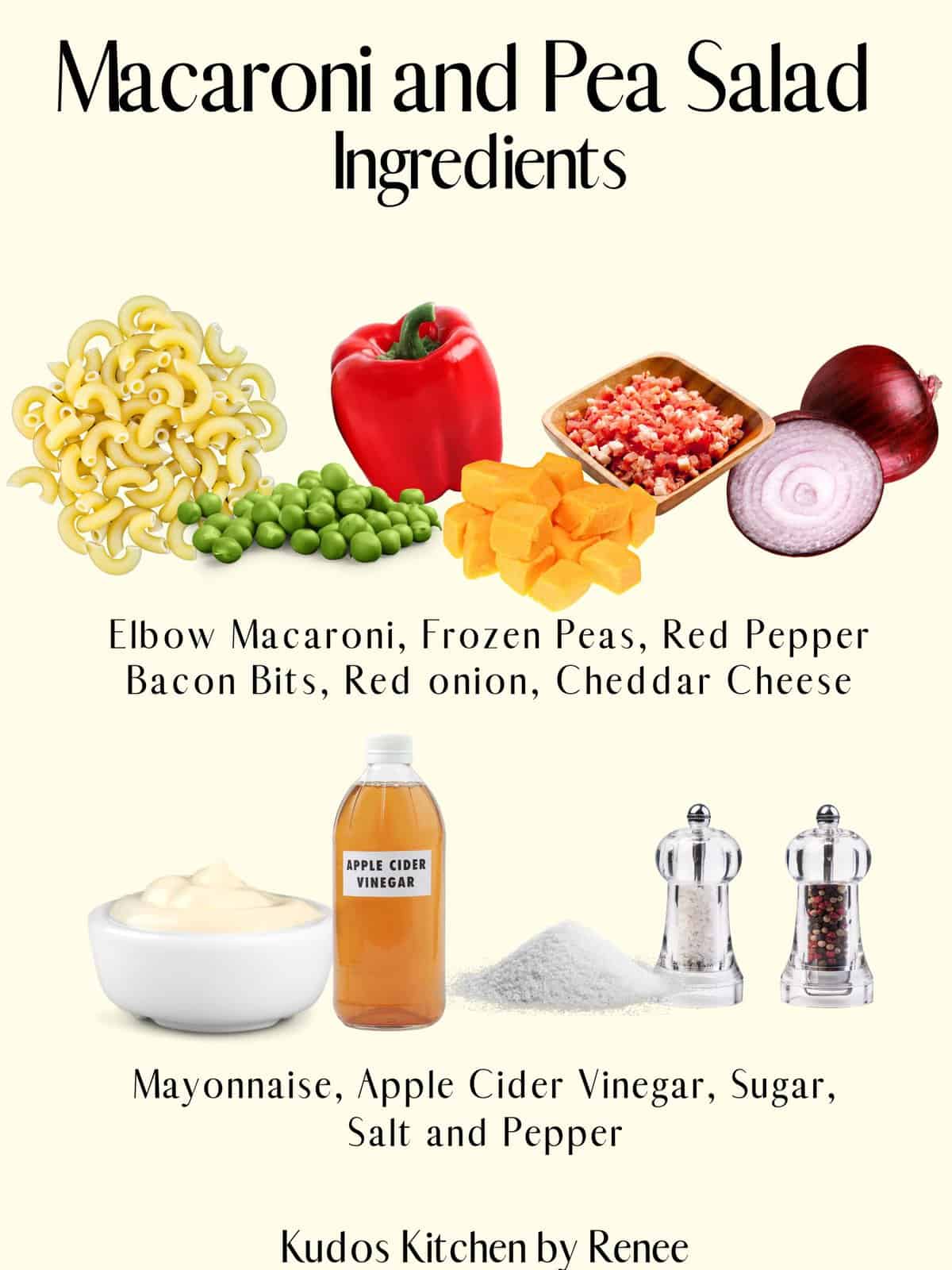 The above ingredient image was made using Canva Design. It's one of my very favorite design tools. You don't need to be a food blogger to use Canva. All you need to be is someone who loves designing graphics. Check them out if you're interested and a whole new world of artistic expression will be opened to you.
Ingredient information
ELBOW MACARONI - I used a traditional elbow macaroni for this recipe, but please feel free to use your favorite style of pasta for this recipe. I'd steer clear of anything long, like spaghetti or linguine (for ease of eating during a picnic or BBQ), but that's just me.
RED ONION - I love the slightly spicy bite the little bit of red onion adds to a fresh, chilled salad. If you're worried that the flavor of the onion may be too intense for your liking, you can either leave the red onion out, or you can chop and soak them in ice water for 20-30 minutes (draining and drying them well) before adding them to the macaroni salad.
RED BELL PEPPER - Not only does this ingredient add a slight bit of sweetness to the macaroni salad, but it also adds a beautiful pop of color. I urge you to keep it in the recipe.
FROZEN PEAS - I wasn't very heavy-handed when I added the peas to this salad because my husband isn't a huge fan. I usually would have added double the amount of peas because I love them so much. Feel free to add (or subtract) this ingredient as you see fit. If you add more than what the recipe calls for, you may want to increase the amount of dressing a tiny bit to accommodate the additional ingredients.
BACON - I used bacon bits (store-bought in a jar) for this recipe because that's what I had on hand. Feel free to cook and crumble bacon if that's your preference. Just make sure to drain it well on paper towels before adding it to the salad.
CHEDDAR CHEESE - This ingredient was a must for me in this salad (other than the macaroni, of course). Since I wanted this chilled pasta salad to be a macaroni and pea salad hybrid, the cubed cheddar cheese was a non-negotiable ingredient. The cubed cheddar cheese brings texture, balance, and richness to the completed dish.
MAYONNAISE - Feel free to use your favorite brand of mayonnaise for this recipe. I used Dukes. That said, if you choose to use Miracle Whip, you may want to omit the sugar from the ingredient list because Miracle Whip is already quite sweet.
SUGAR - I like adding a sugar touch for sweetness to the dressing. The sugar helps to offset the next ingredient ever so slightly. Feel free to substitute a small amount of honey if desired. Or you can leave it out entirely.
APPLE CIDER VINEGAR - As with many chilled summer salads (coleslaw, broccoli salad, or something similar), a bit of vinegar is the ingredient that helps marry the flavors of the dressing and gives the undeniable taste and tartness everyone loves. I used apple cider vinegar because it's my favorite and because I always have it in my pantry, but feel free to use white, champagne, or even red wine vinegar if that's what you have on hand. Be aware, however, that using red wine vinegar may lend a slightly pinkish tinge to the completed dish.
I do not recommend using balsamic vinegar as that would be a strong and overpowering flavor (in my opinion) for this chilled pasta salad.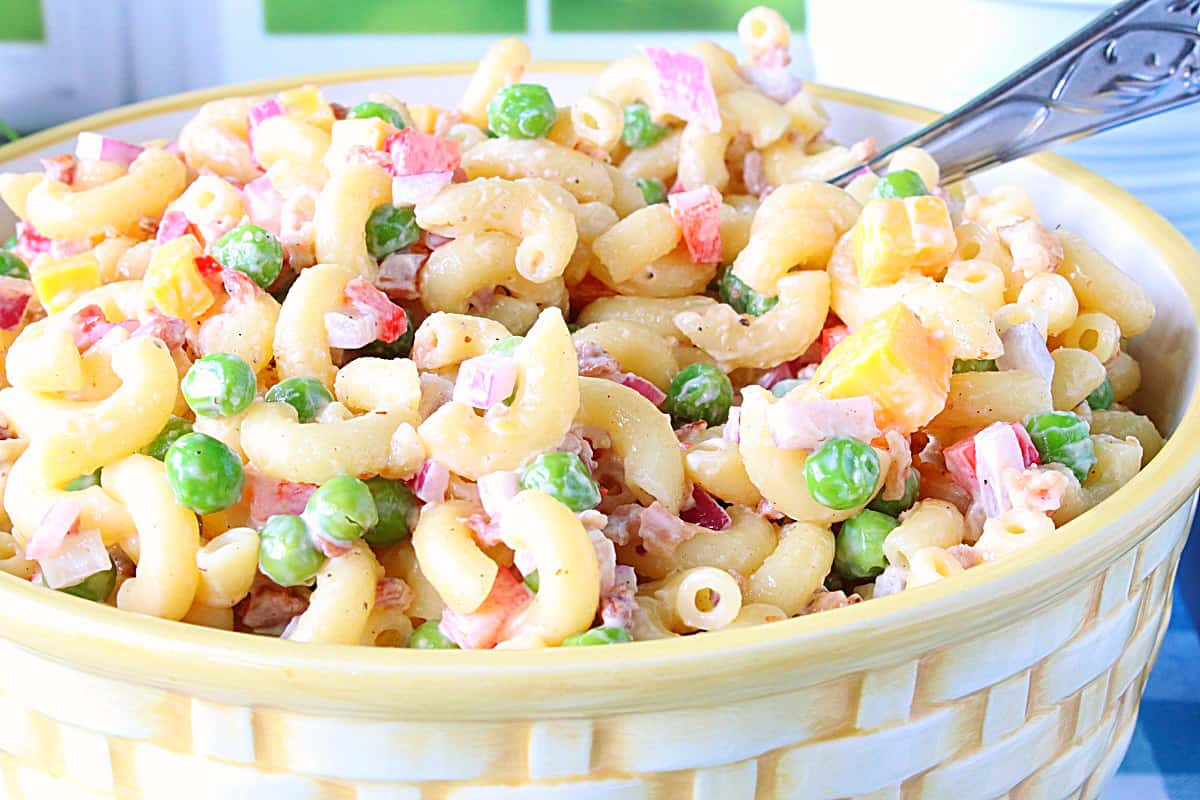 The flavor profile of this cold pasta salad with peas
Sometimes macaroni salads can be heavy and stodgy, but not this chilled macaroni and pea salad.
Since I'm not a big fan of overly dressed macaroni salad, I decided to keep the amount of dressing (and ingredients) for this macaroni salad to a minimum.
This chilled macaroni salad is light and fresh in flavor thanks to the mild sweetness of the dressing, peas, and red pepper, along with the savory notes of bacon, red onion, and cheddar cheese.
How long will this macaroni salad keep in the refrigerator?
Store it in its serving bowl covered with plastic wrap (or in an airtight container), and it will last up to 7 days.
Additions or substitutions
Add whatever vegetable you love. Small bits of broccoli (lightly blanched), cut-up snap peas, lightly blanched string beans, finely chopped carrots, finely chopped cauliflower, chopped scallions...you name it. They'll all work deliciously well in this chilled macaroni salad. The only thing I suggest is to keep all the vegetables similar in size to make for easier eating.
If you're not a fan of mayo, feel free to substitute a blend of plain Greek yogurt (or full-fat sour cream), softened cream cheese, and a splash of milk. The salad will be tangier in taste using this dressing, but it will still be creamy and delicious. See directly below for the instructions for this particular substitution.
Diced ham, hard-boiled eggs, or even shredded chicken would be delicious additions if you're so inclined.
Suggested substitution for the mayonnaise-based dressing
4 ounces of cream cheese
½ cup plain Greek yogurt or sour cream
¼ cup milk
2 teaspoons sugar
Blend the above ingredients together until a smooth and creamy dressing forms. Add additional milk (if needed) to reach a pourable consistency.
How long can mayonnaise-based macaroni salad be left at room temperature?
At most, two hours. If you're serving it outside on a sweltering summer day (90 degrees and above), the time should be reduced to one hour, and then it's time to refrigerate again.
Keep a mayonnaise-based pasta salad out longer; it's best to serve it in a chilled bowl and place that bowl on a platter or in a larger bowl with ice.
I've recently added this Ice Bowl Mold to my Kudos Kitchen Amazon Shop as it's a brilliant way to extend the chilled life of the party food. Place the bowl of macaroni salad (or anything else you need to stay chilled) inside the premade ice bowl, and you've extended the length of time you can keep the food out and safe to eat.
Best occasions to serve chilled macaroni salad
There is never a wrong time to serve this chilled macaroni and pea salad, but it's particularly good when served as a BBQ side dish for a party, graduation, casual gathering, picnic, family reunion, potluck supper, or for any random weeknight lunch or dinner.
Serve this delicious make-ahead macaroni salad alongside grilled or smoked meats, burgers, fish, BBQ chicken, brats, pork, or even cold sandwiches. Heck, you can even eat it as a stand-alone meal. It's that good!!
In my book, there is always a right time to serve or eat macaroni salad, so you'll probably want to make this regularly and always have it on hand in your fridge. Your family will thank you!
When is the best time to add dressing to a cold macaroni salad?
I like to add the dressing to a macaroni while the pasta is still slightly warm, shortly after draining. That way, the noodles soak up some of the dressing, and the flavor permeates the noodles instead of just sitting on top of the pasta.
Top tips for success
Remember to salt the cooking water for the pasta liberally. The time to salt is right after the water boils and before adding the pasta. For 4 quarts of boiling water (my recommended amount of water to cook 16 ounces of pasta), I recommend adding two tablespoons of salt for perfectly seasoned pasta.
Don't overcook the pasta. There is nothing worse than a chilled pasta salad that is mushy. For this recipe, please cut the cooking time for the macaroni by 1-2 minutes than what the box calls for. Drain thoroughly and keep warm.
Make sure that all the add-ins are similarly sized as the pasta itself. It's a lot easier to eat that way.
Add the dressing while the pasta is still warm so the sauce can soak into the noodles for extra flavor.
If you like a creamier pasta salad, feel free to add more dressing to suit your tastes and preferences. Be aware that as the macaroni salad chills in the refrigerator, it will tighten slightly.
Wait to add the cheddar cheese cubes until the pasta has cooled a bit, or you'll end up with melted cheese in your macaroni salad, and that's a whole other dish.
For best flavor and consistency, stir the chilled macaroni salad well before serving.
Always keep a mayonnaise-based pasta salad chilled as it sits out for serving.
How to make macaroni and pea salad
Prepare and chop the veggies you're planning to use. Set aside.
Cook and drain the pasta. Keep warm.
Whisk together the ingredients for the dressing.
Stir the warm pasta, vegetables, and dressing together.
Add the cheddar cheese cubes once the macaroni has cooled slightly.
Stir again.
Cover the bowl with plastic wrap and chill in the refrigerator for at least 4 hours, but overnight is best.
Stir well before serving.
Can macaroni salad be frozen?
Sadly, I do not recommend it. Once thawed, the texture will become mushy and unappetizing, and the mayonnaise dressing will likely separate into a watery mess. Nope. Nobody wants that!
Additional delicious recipes to serve for a backyard BBQ
This healthier Lite Pink Lemonade with Strawberry Simple Syrup is deliciously tart and tangy and at all not sickeningly sweet. It's also good for your hair, skin, and nails...Find out why!
Warm and tangy German Potato Salad is the perfect side dish for just about any main course. It's especially good at a backyard BBQ or party.
Crunchy, healthy, and completely addictive. This Sunflower Crunch Kale and Cabbage Salad has it ALL going on!! Dig in! You're going to love this colorful salad!
This no-bake cool and creamy Kool-Aid Pie with Cream Cheese takes only moments to prepare, and everyone loves it! It's the perfect summertime dessert!!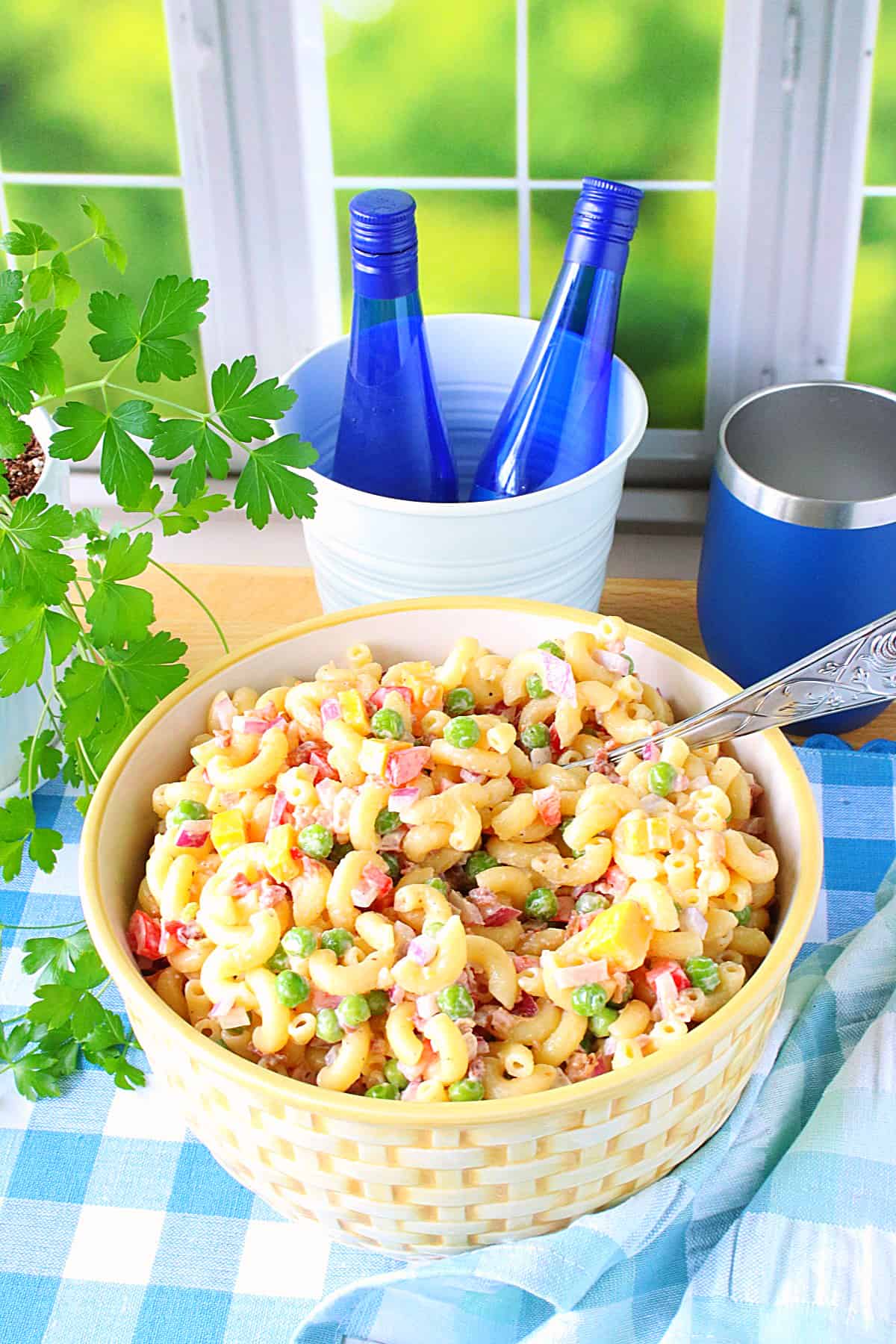 Become a member of the Misfits Market family and save up to 40% off organic produce and sustainably sourced groceries, delivered straight to your door.
When you make this recipe, and I hope you do, I'd appreciate it if you'd take a moment to leave a star rating on the recipe card and briefly comment on why you rated it as you did. FYI - Google appreciates recipe ratings and, in turn, will share my recipes with more people. Thank you so much!!
Printable Recipe Card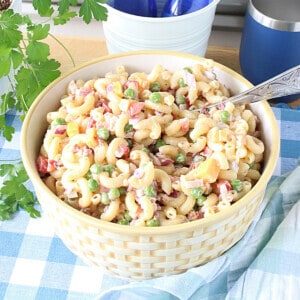 Chilled Macaroni and Pea Salad
You won't find a better macaroni salad than this chilled Macaroni and Pea Salad. It may sound like a bold statement, but it's the truth. This pasta salad has a perfectly balanced flavor that's light and refreshing.
Ingredients
1

box (16 ounces)

elbow macaroni

cooked 2 minutes less than the box directions, drained, and kept warm.

1

cup

diced red onion

1

cup

diced red bell pepper

2

cups

frozen peas

½

teaspoon

coarse salt

¼

teaspoon

black pepper

3

ounces

bacon bits

5

ounces

cheddar cheese,

cubed
To make the dressing:
1½

cups

mayonnaise

1½

tablespoons

granulated sugar

¼

cup

apple cider vinegar

½

teaspoon

coarse salt

¼

teaspoon

black pepper
Instructions
While the pasta cooks, whisk together the dressing ingredients (mayonnaise, sugar, apple cider vinegar, salt and pepper) in a medium-sized bowl. Set Aside.

When the pasta is cooked and drained, add it to a large bowl along with the prepared red onion, red pepper, peas, bacon bits, salt and pepper. Add the dressing to the bowl and stir well to combine.

Add the cubed cheddar cheese to the dressed macaroni once the pasta has cooled slightly. Stir again to combine.

Cover the bowl with plastic wrap and chill in the refrigerator for at least 4 hours, but overnight is best.

Stir again before serving and enjoy!
Video
Notes
Do not allow the macaroni salad to sit out longer than 2 hours if not kept cold.
If the temperatures exceed 90 degrees, do not let the macaroni salad sit out longer than 1 hour if not kept cold.
Store covered in the refrigerator for up to 7 days.
Nutrition
Serving:
1
serving
Calories:
369
kcal
Carbohydrates:
12
g
Protein:
8
g
Fat:
32
g
Saturated Fat:
7
g
Polyunsaturated Fat:
16
g
Monounsaturated Fat:
7
g
Trans Fat:
0.1
g
Cholesterol:
28
mg
Sodium:
692
mg
Potassium:
162
mg
Fiber:
3
g
Sugar:
5
g
Vitamin A:
853
IU
Vitamin C:
32
mg
Calcium:
125
mg
Iron:
1
mg
Follow me across my social media platforms and join in on the conversation: FACEBOOK, INSTAGRAM, PINTEREST, TIKTOK, AND YOUTUBE.
Thank you so much for visiting me today in my Kudos Kitchen. I hope you found something you'll love and that you'll come back and visit me often. There is always room for you around my table!
Should you have any questions or comments regarding anything you've seen here on my blog, please don't hesitate to reach out to me. It is always my distinct pleasure to respond to you just as soon as I possibly can.
Until we eat again, I hope you have a delicious day!!