Zucchini Corn Gratin is one of the cheesiest and easiest vegetable side dishes you'll ever have. It's the perfect accompaniment to almost anything, and it only takes about 30 minutes from start to finish!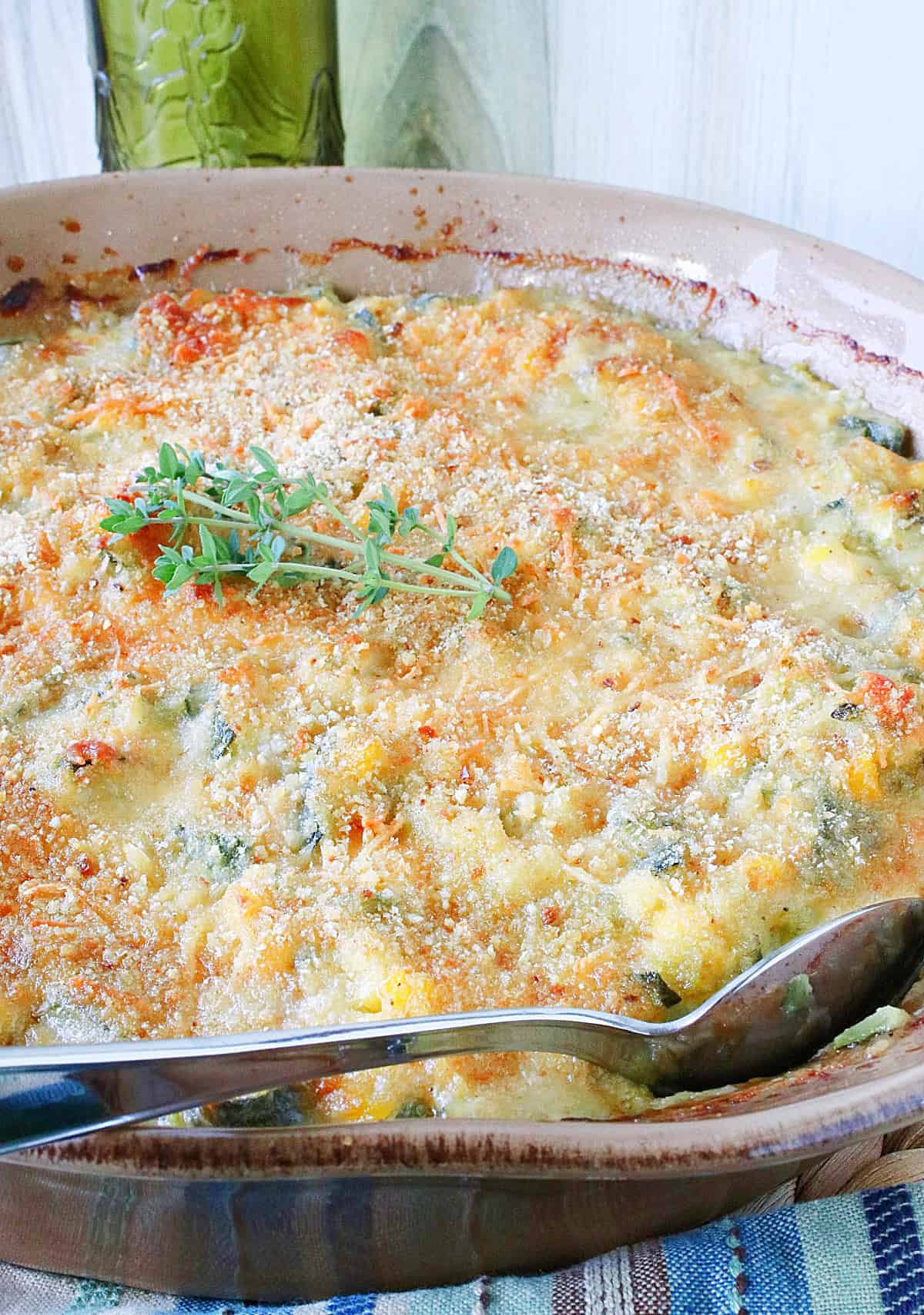 If you love zucchini (but especially if you don't), I can guarantee that you will fall in love with this amazing zucchini casserole after your very first bite!! And I can, and will, gladly refund 100% of your purchase price (for this recipe) if you don't fall completely and madly in love with this dish! *wink*
Jump to:
The ingredient list:
*Please note that the exact measurements along with a new "shop the recipe" feature from Instacart is available in the printable recipe card.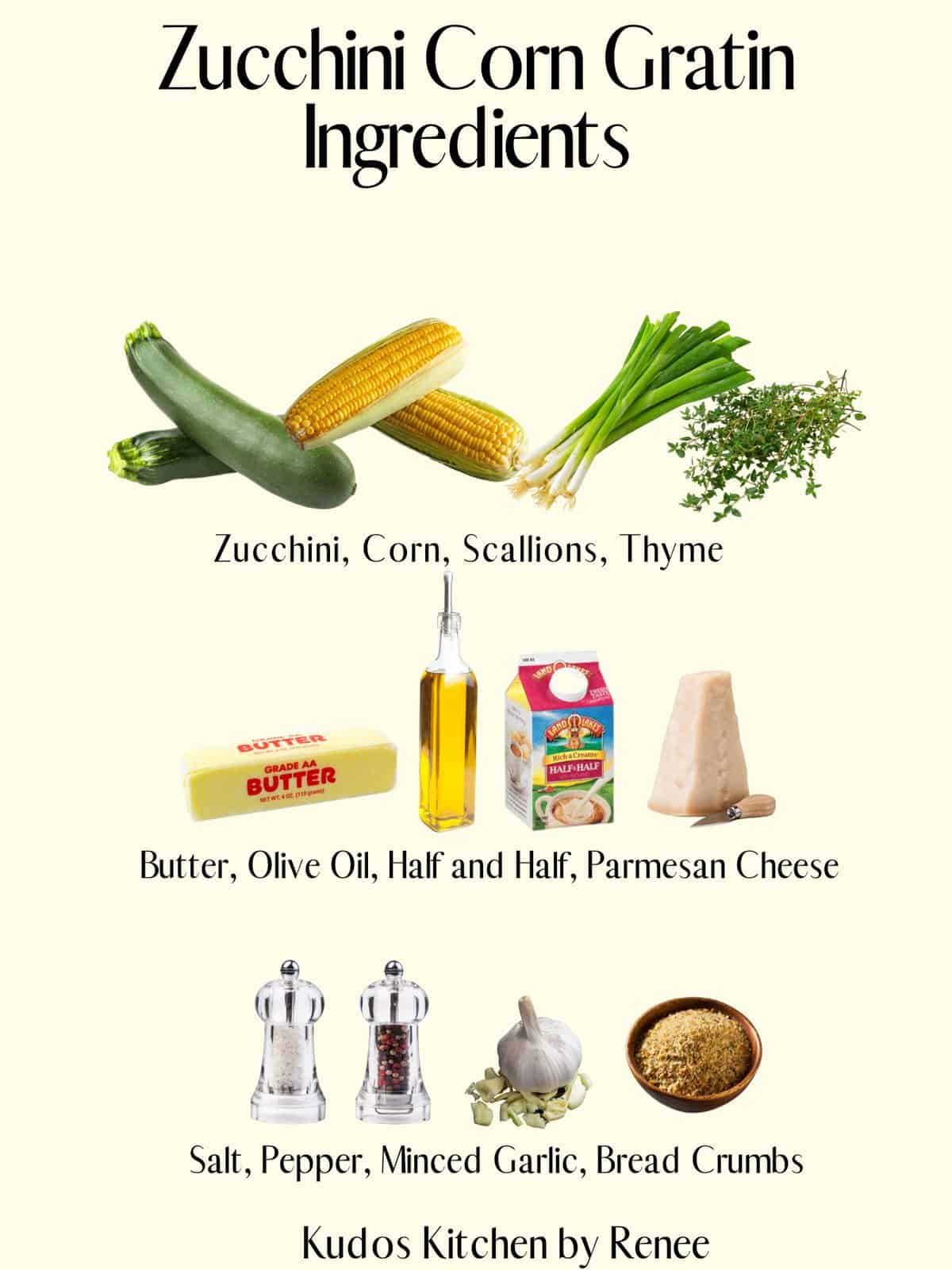 Ingredient information:
ZUCCHINI - This recipe is best with fresh zucchini. You'll need approximately 6 cups of chopped (or sliced) zucchini. When chopping zucchini, cut them into bite-sized pieces. Slices of zucchini (for this recipe) are best when the zucchini are smallish in size and not overly large to make it easier to eat.
CORN - Corn straight off the cob is best (for flavor), but this recipe also works well with frozen or canned and drained corn.
BUTTER - I always like to use salted butter in my kitchen. You can also use unsalted butter for this recipe if that's what you prefer and or have on hand.
OLIVE OIL - I like extra virgin olive oil (for the best flavor), but feel free to use avocado or any other light-colored oil you have.
GARLIC - Adding freshly minced garlic to this dish is what I used, but you can also use jarred pre-minced garlic or even swap out garlic powder (add 1 teaspoon of garlic powder) for the minced garlic called for in this recipe.
HALF AND HALF - Heavy cream may be substituted for the half and half if you prefer. Heavy cream will add a slightly richer and thicker consistency and flavor. Half and half is delicious (it's what I used), but using heavy cream will be even more decadent. Please, DO NOT swap milk (skim, 1%, 2%, or whole) for this recipe.
PARMESAN CHEESE - The Parmesan cheese adds a slightly nutty and salty flavor to this zucchini dish. It also makes this zucchini gratin cheesy and extra delicious. Use the best quality Parmesan cheese you can find, and I urge you to steer clear of the canned variety on the grocery store shelves.
SCALLIONS - I adore the fresh and light oniony flavor the scallions add to this dish. They aren't significantly detectable when it comes to picking out the oniony flavor, but leaving them out would be a mistake.
FRESH THYME LEAVES - The fresh thyme elevates this vegetable side dish from good to WOW; this is amazing!! You won't need much to make an impact (about 1 teaspoon), so please do keep this ingredient in the recipe when you make this dish.
BREAD CRUMBS - The light, crunchy topping of Parmesan cheese and bread crumbs is the perfect final addition before popping this zucchini and corn vegetable casserole into the oven. The topping will become golden brown in the oven and make for a beautiful presentation, with an added texture to offset all the creaminess.
SALT AND PEPPER - I always use kosher salt and freshly cracked black pepper for the best flavor.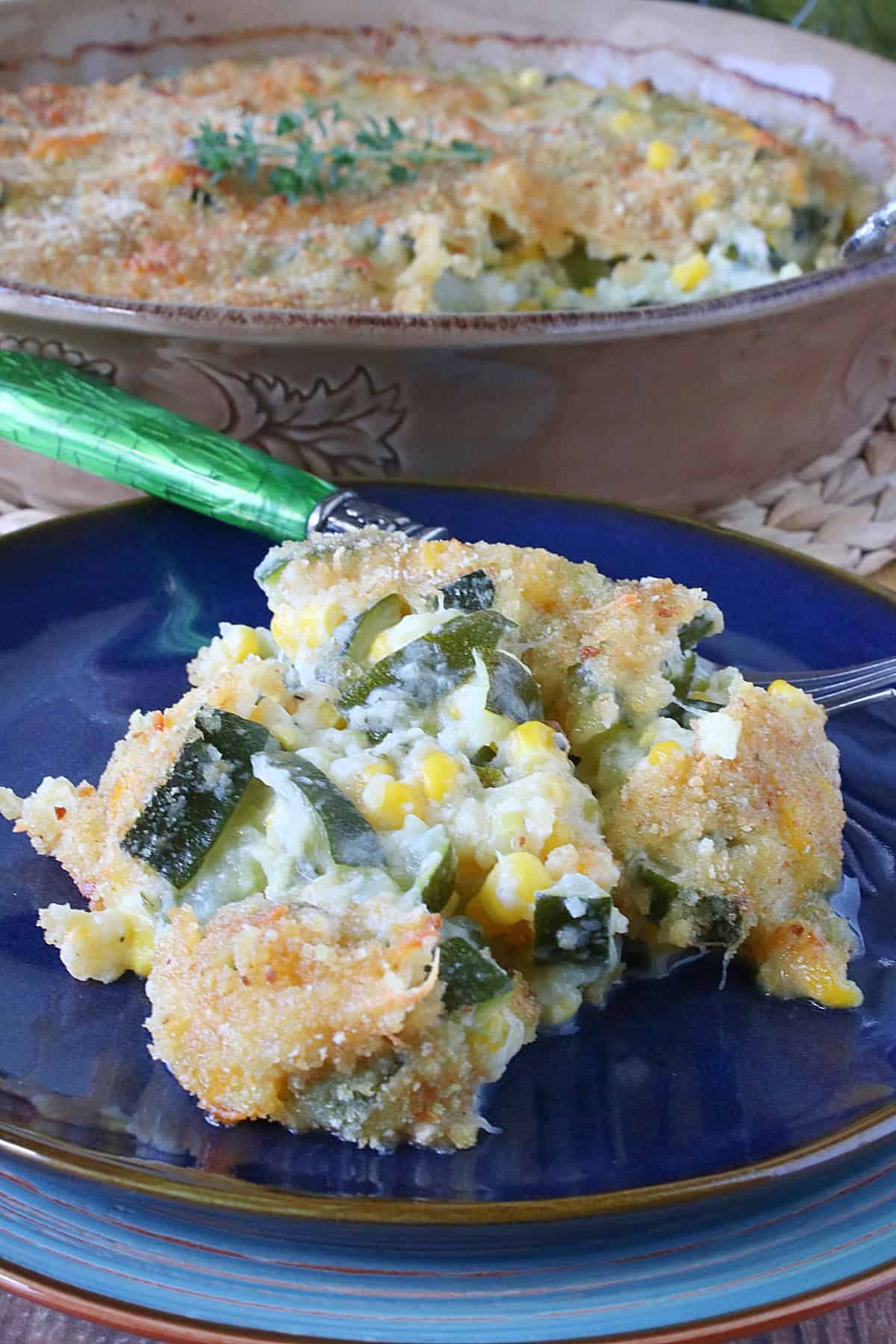 Kitchen tools and equipment needed:
large skillet
corn stripper (optional)
chef's knife
cutting board
measuring cups and spoons
cheese grater (optional)
3-quart baking dish
kitchen timer
Can this recipe be made in advance?
Yes! Feel free to make this dish up to two days before you plan to serve it. You can either bake it first or bake it before serving. If baking and then storing, make sure the dish is completely cool before storing. Wrap well.
If storing before cooking, add the dish (well covered or wrapped) into the refrigerator. Before cooking, allow the zucchini gratin to sit at room temperature for at least an hour before baking and then bake as per the recipe instructions.
*Note - I recommend adding additional bread crumbs before baking if making this dish in advance.
How to store this vegetable dish:
Store any leftovers in an airtight container in the refrigerator for up to 5 days. Reheat in an oven, microwave, or even an air fryer, until hot.
Can this dish be frozen?
Yes! Cool completely and store in an airtight freezer container for up to 3 months. Allow to thaw in the refrigerator overnight and reheat before serving.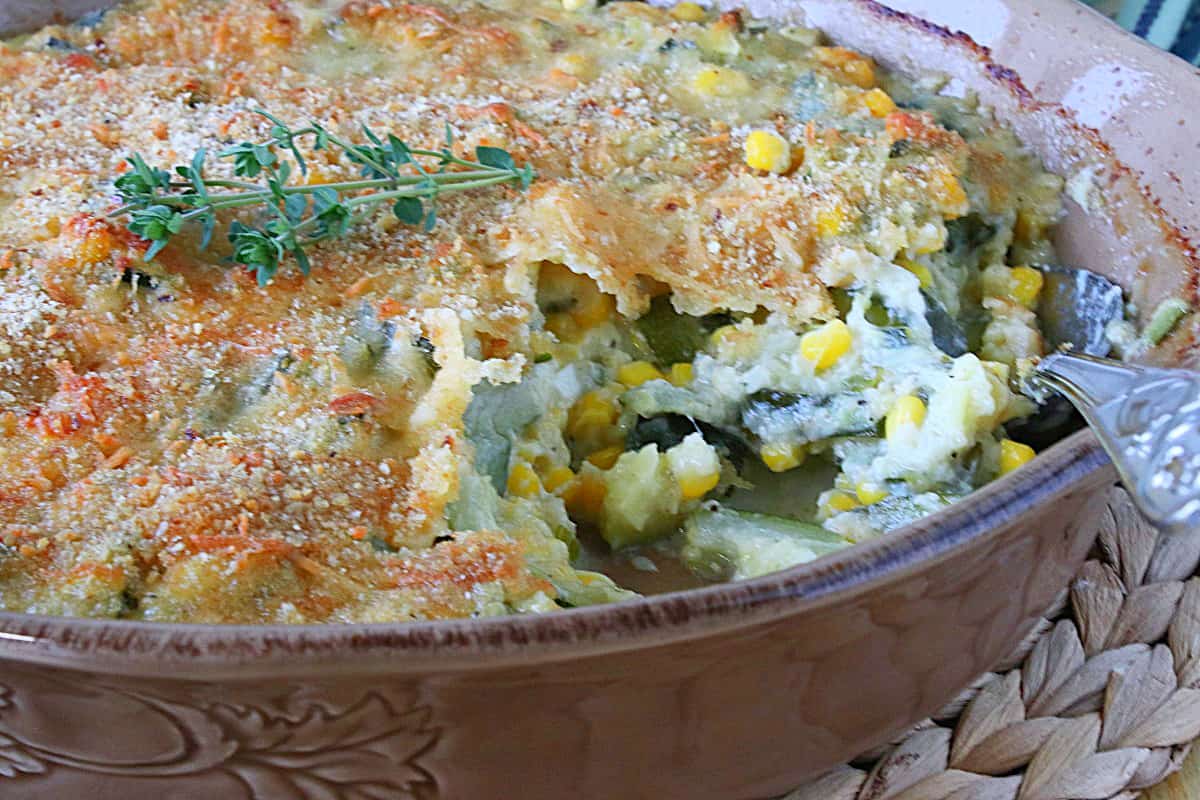 Substitution suggestions:
If you'd like to substitute minced shallots for the scallions, that would be a good choice.
In a pinch, evaporated milk (not sweetened condensed milk) may be substituted for the half and half or heavy cream.
Grated Gruyere cheese would make a delicious substitution for the Parmesan, as would grated Asiago cheese.
Crushed crackers (your favorite brand or flavor) would make a nice substitution for the bread crumbs.
Frozen peas in place of the corn would be tasty...and green.
Dried thyme leaves would work instead of fresh thyme leaves. Remember that dried herbs are more potent and flavorful than their fresh counterparts, so I suggest using half of the amount called for in this recipe, if using dried thyme.
Add in suggestions:
frozen peas
shredded cheddar cheese
shredded Swiss cheese
shaved brussels sprouts (add in when sautéing the zucchini)
French fried onions (for topping)
sliced mushrooms (add in when adding the corn)
rosemary, basil, chives, or parsley (fresh or dried)
cooked chicken (rotisserie chicken would be great)
cubed ham (leftovers)
cooked and crumbled bacon (add and stir before baking)
Easy way to remove corn kernels from cobs:
Is this zucchini casserole considered low carb?
Yep! The only ingredient in this recipe that contains a significant amount of carbohydrates are the bread crumbs. Choosing not to use the bread crumbs will leave you with a keto dish that anyone can enjoy.
How to make Zucchini Corn Gratin:
Preheat oven to 400 - degrees Fahrenheit.
Heat the oil and butter in a large skillet over medium heat.
Chop or slice the zucchini and add it to the skillet. Stir to combine.
Season the zucchini with salt and pepper and add the garlic to the pan.
Stir well and cook for 2-3 minutes.
Stir in the corn kernels and scallions. Continue cooking for 2-3 minutes.
Stir in the half and half along with the Parmesan cheese and thyme leaves.
Stir and simmer for 2-3 minutes.
Transfer the zucchini and corn gratin to a 3-quart baking dish that has been prepared with cooking spray.
Top the gratin with additional Parmesan cheese and the bread crumbs.
Bake for 20 minutes, or until the cheese and crumbs are a golden brown.
Cool for 10-15 minutes and serve.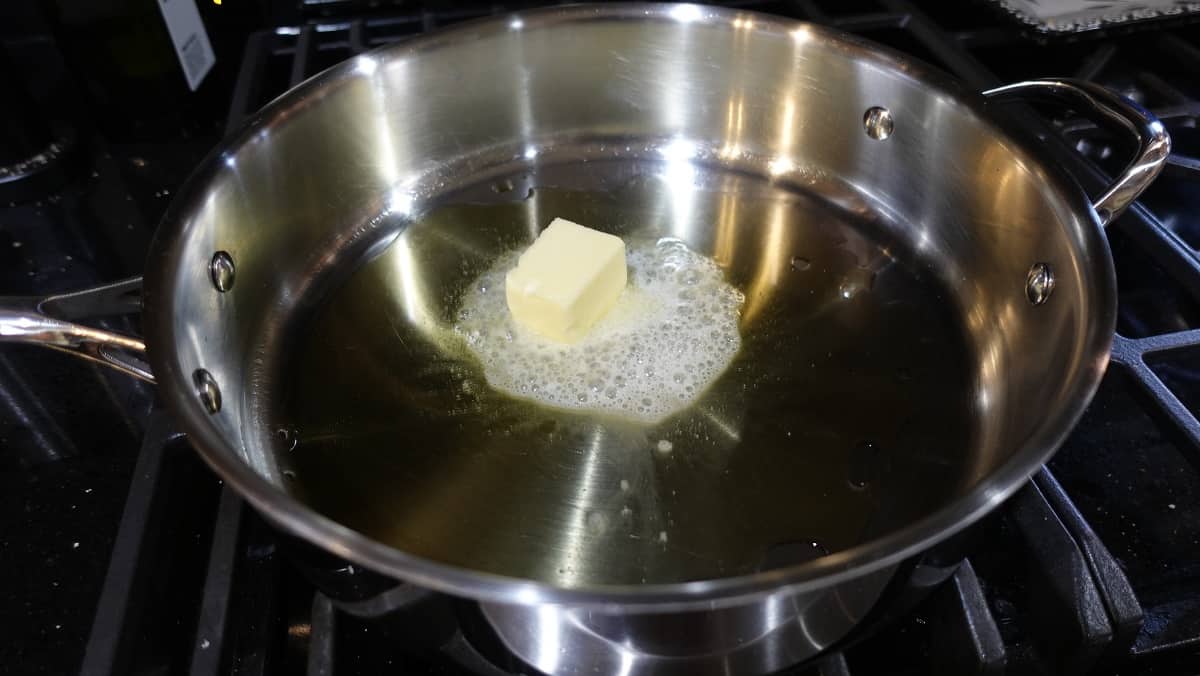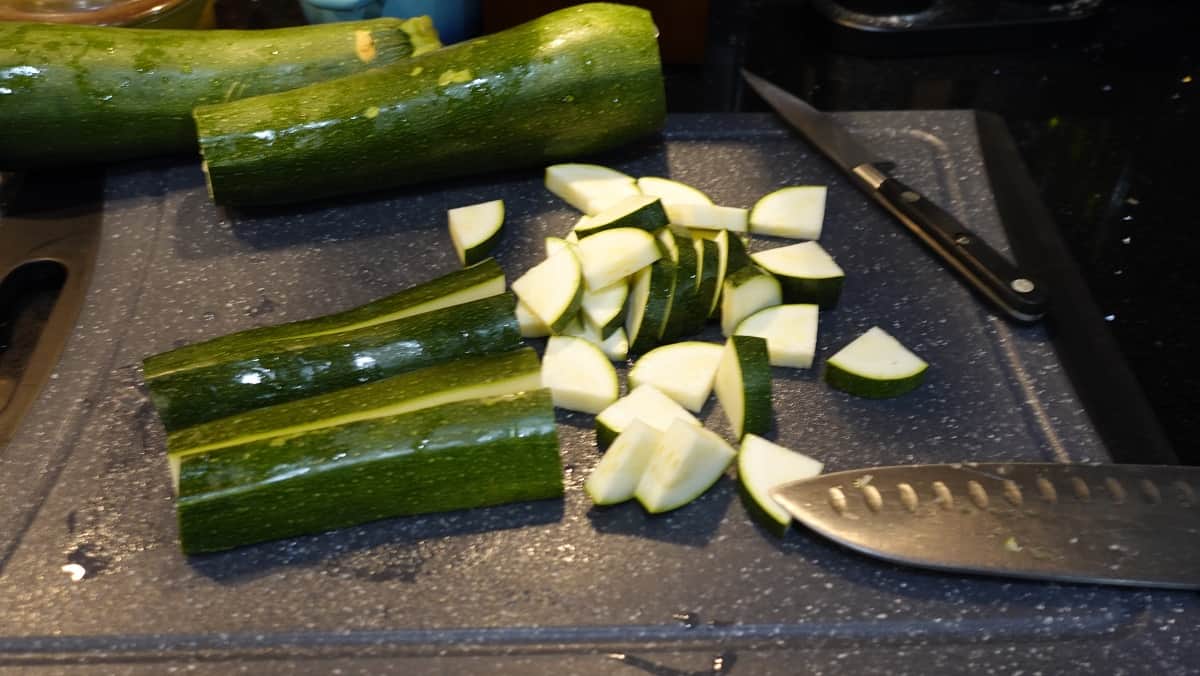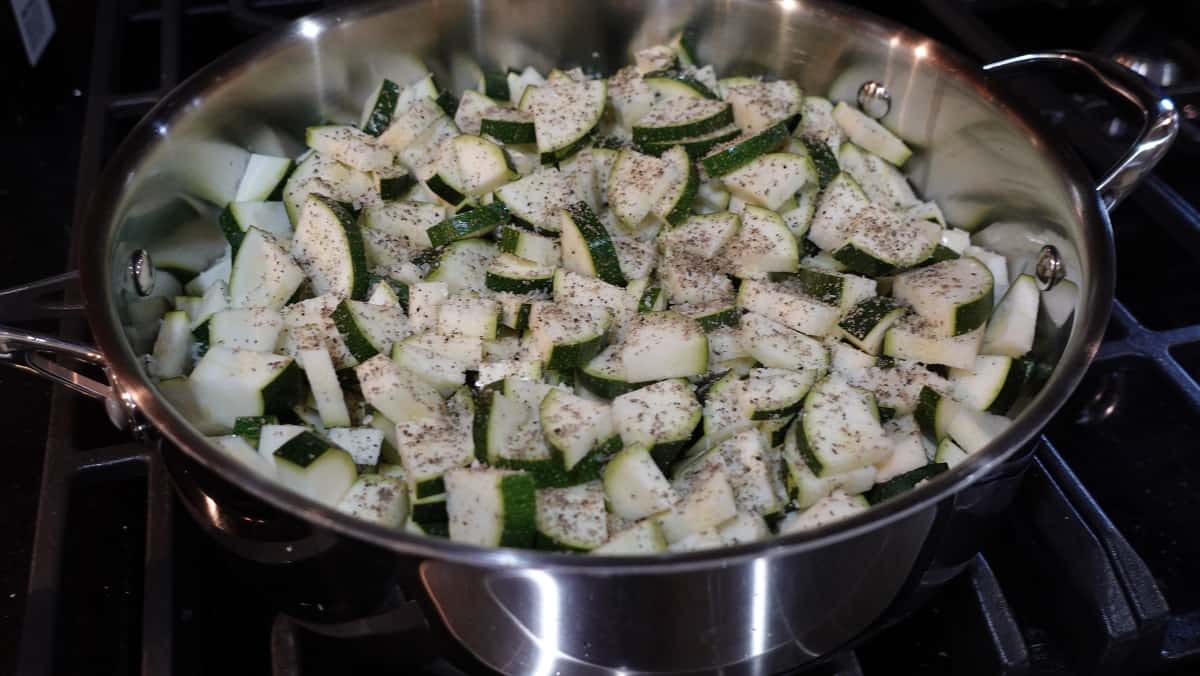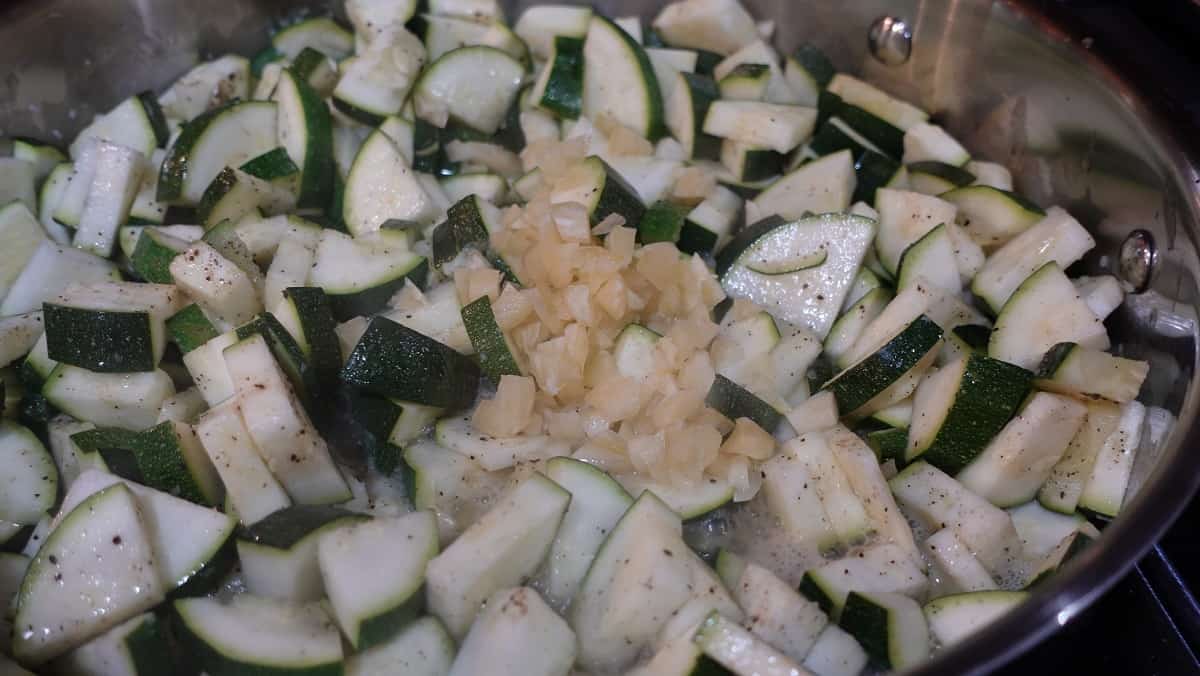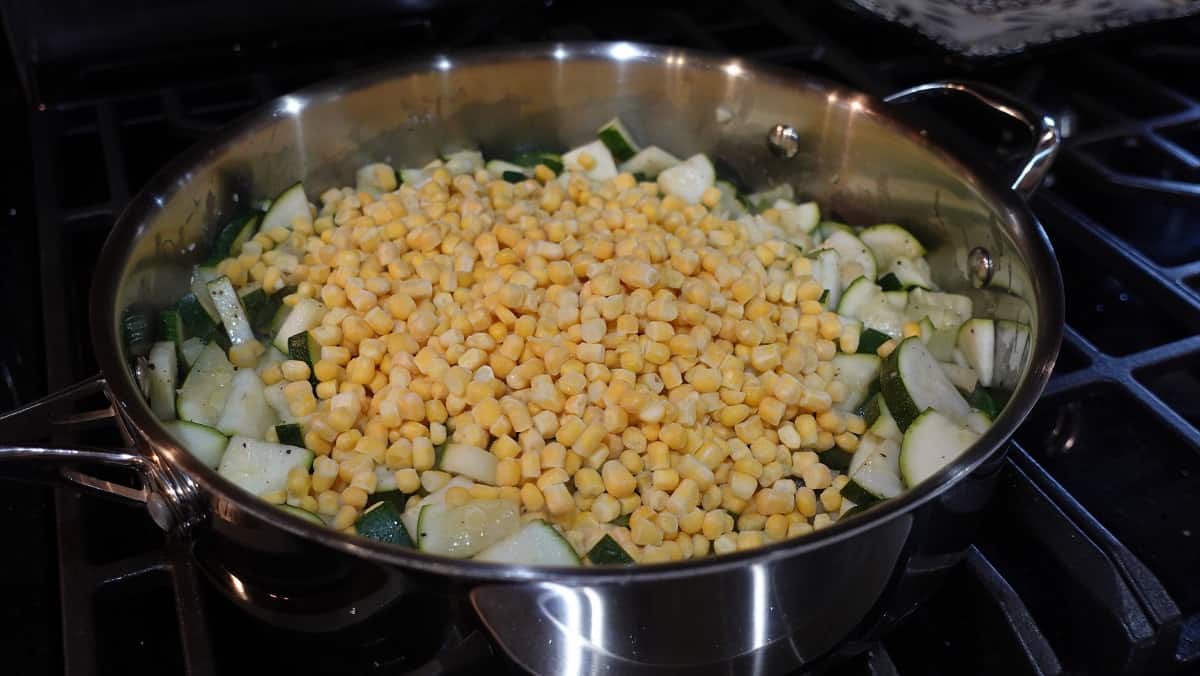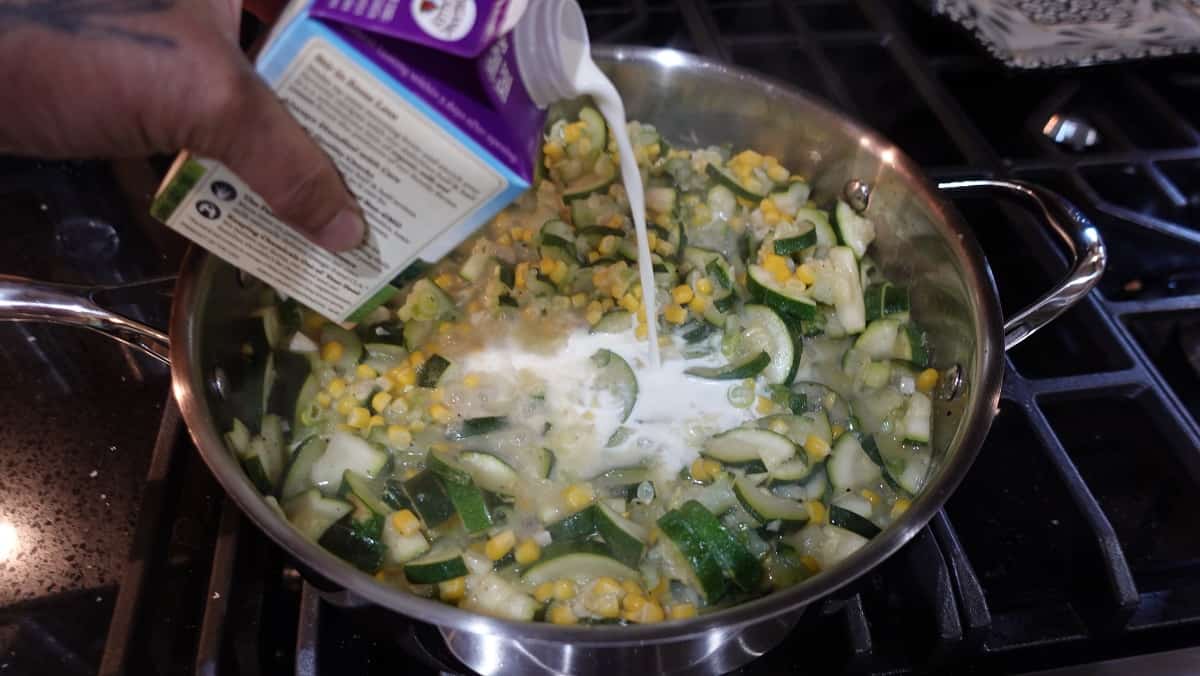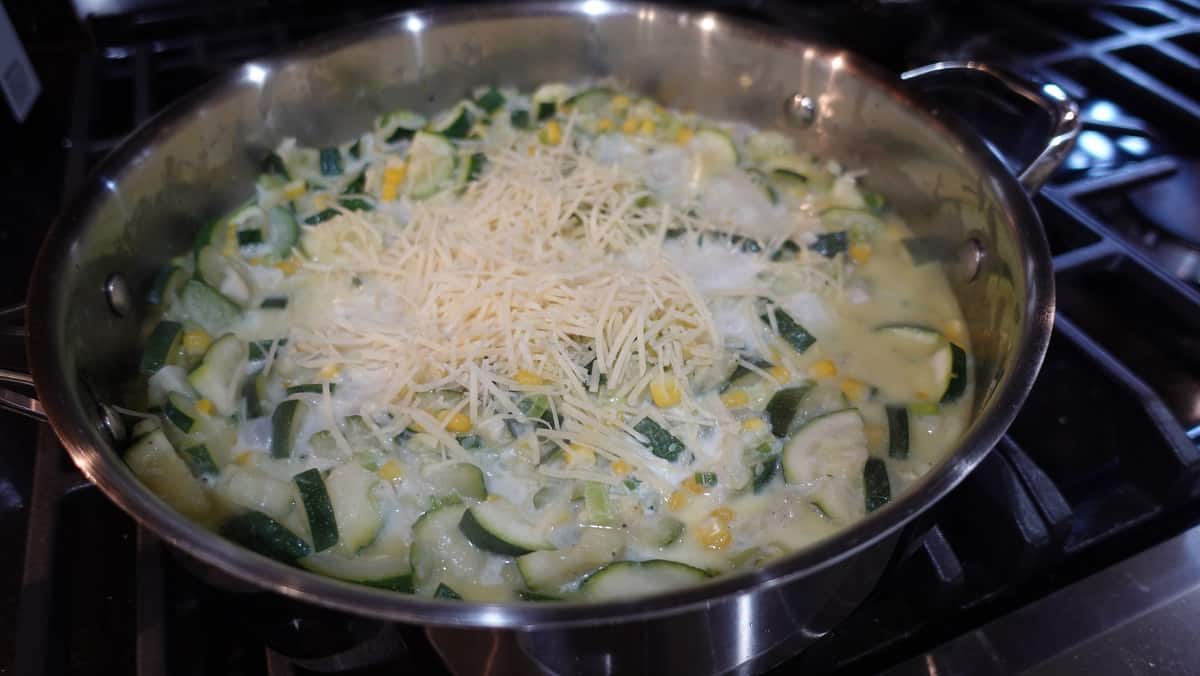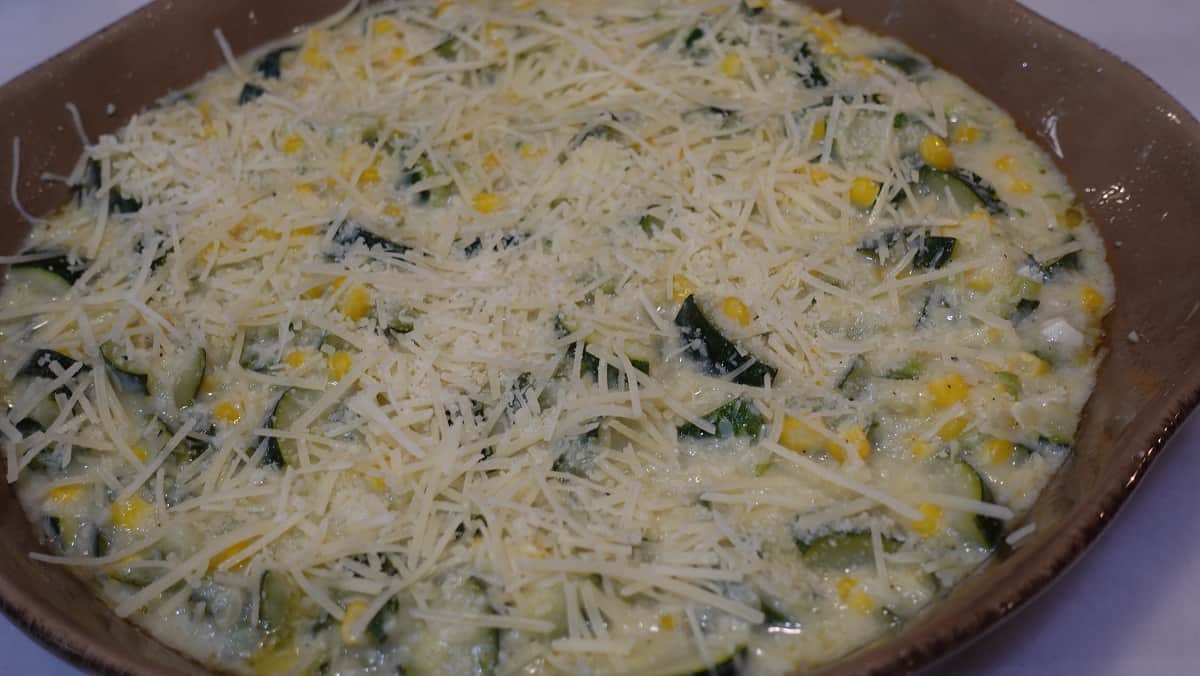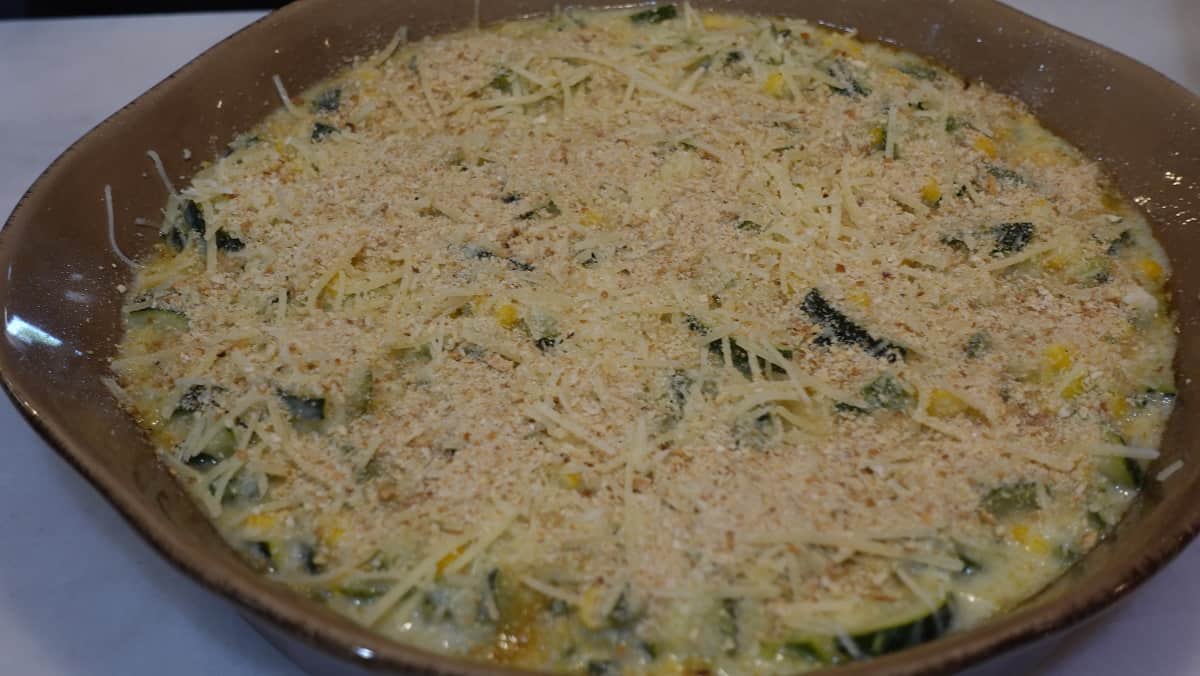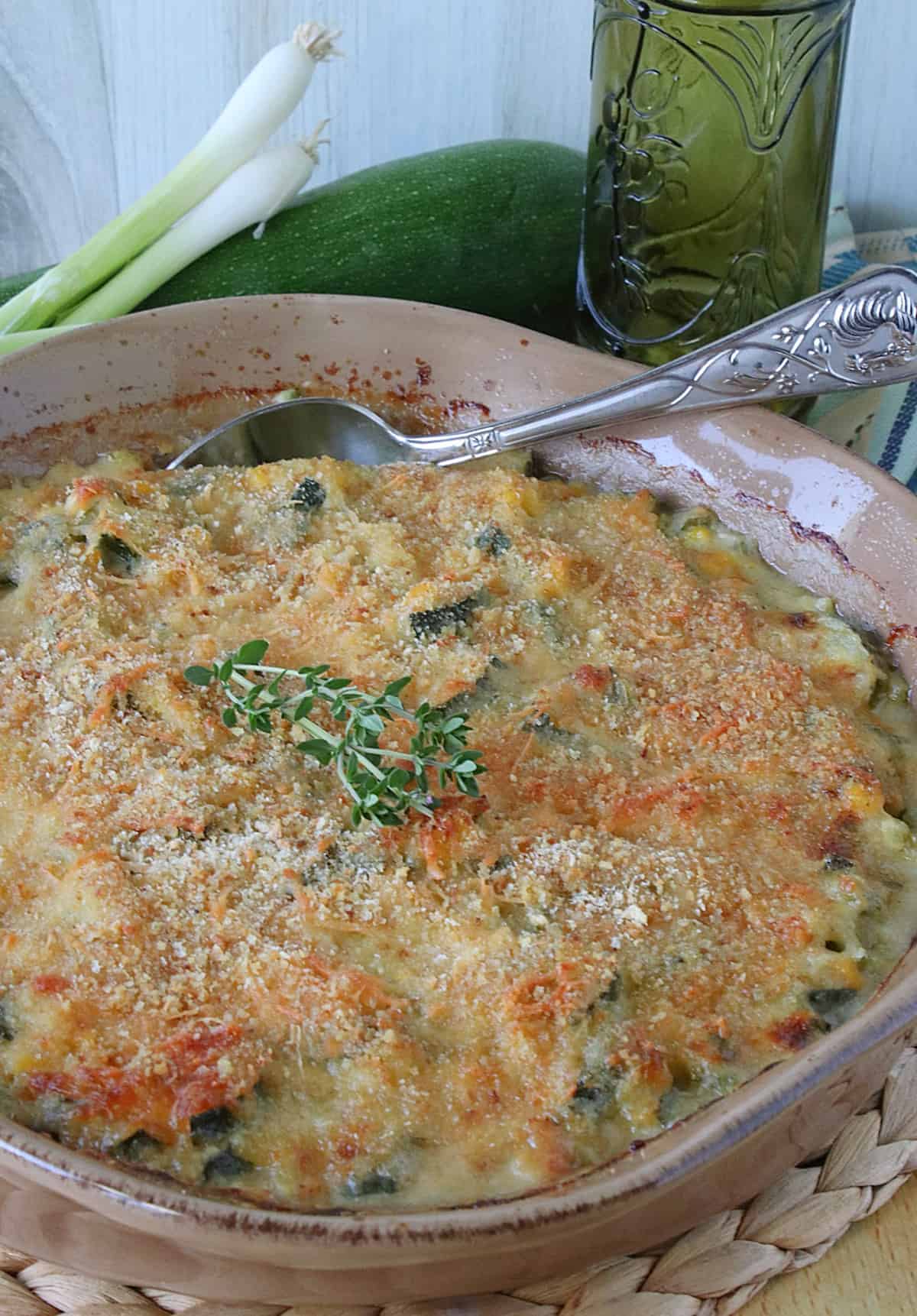 Additional zucchini recipes you'll enjoy:
Pepperoni Pizza Hasselback Zucchini is a great way to get the kids to eat their veggies. This stuffed zucchini recipe is a sure-fire family winner.
Eggplant Zucchini Bread is so moist and flavorful, AND it's a great way to bump up the nutrition level of your next zucchini quick bread without anyone being the wiser.
When served in a bowl, Roasted Garlic and Zucchini Soup is a deliciously mellow yet super flavorful creamed soup. Or it can be served as a unique pasta sauce as a delectable main course or side.
Zucchini Ricotta Cookies with Blueberries are super soft, cake-like cookies with a light lemony flavor and a big burst of blueberry flavor!
Make it a full Italian-Inspired meal:
Italian Herb Quick Bread comes together in a snap with only one bowl, one spoon and no fussy kneading required.
In the blink of an eye, and in only the time takes to cook Italian sausages, you can have a deliciously easy Caprese Italian Sausage Sandwich (with tomatoes, pesto, and mozzarella cheese) for dinner tonight!
If you love tiramisu but not the calories. Fear not! With this recipe for Skinny Tiramisu Parfaits, you can have your favorite Italian dessert but not feel one bit guilty!!
And don't forget the Zucchini Corn Gratin!!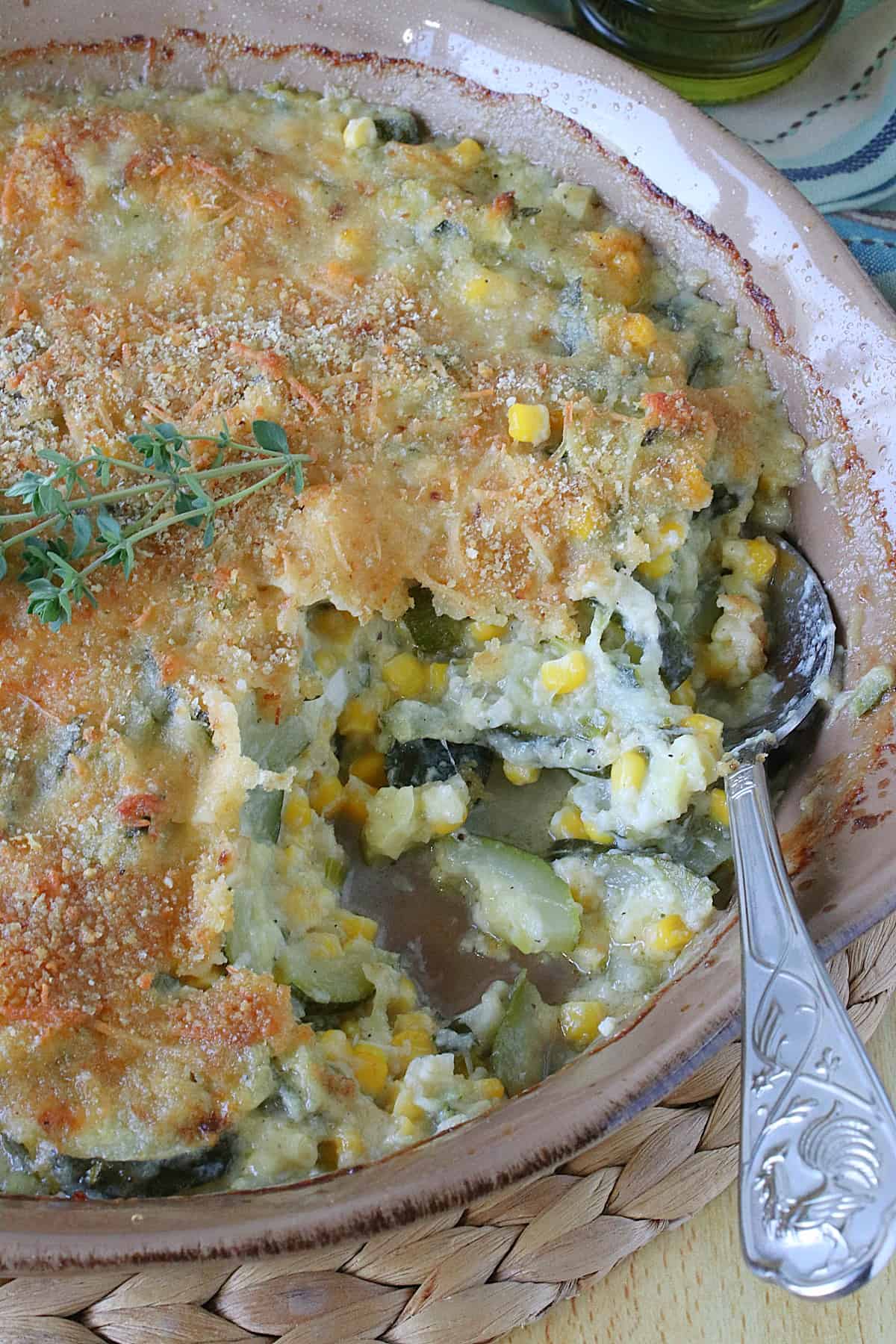 When you make this recipe, and I hope you do, I'd appreciate it if you'd take a moment to leave a star rating on the recipe card and briefly comment on why you rated it as you did. FYI - Google appreciates recipe ratings and, in turn, will share my recipes with more people. Thank you so much!!
Printable Recipe Card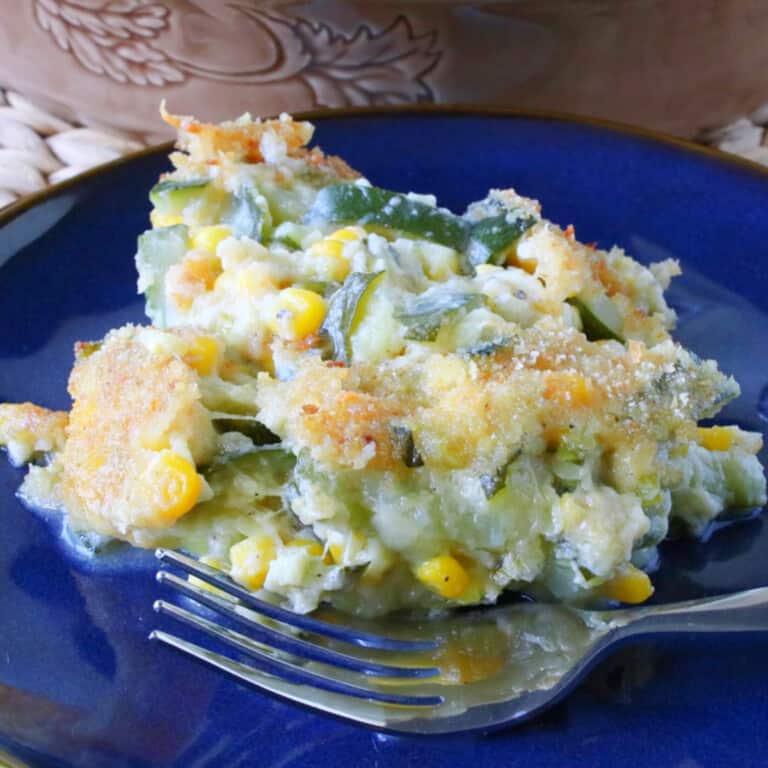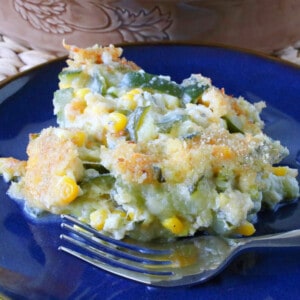 Zucchini Corn Gratin
Zucchini Corn Gratin is one of the cheesiest and easiest vegetable side dishes you'll ever have. It's the perfect accompaniment to almost anything, and it only takes about 30 minutes from start to finish!
Ingredients
For the casserole:
6

cups

chopped zucchini

1½

cups

corn kernels

2

teaspoons

kosher salt

divided

¾

teaspoon

black pepper

divided

3

tablespoons

butter

2

tablespoons

olive oil

3

cloves

garlic

minced

½

cup

half and half

⅓

cup

grated (or shredded) Parmesan cheese

½

cup

chopped scallions

1

teaspoon

thyme leaves
For the topping:
¼

cup

grated (or shredded) Parmesan cheese

¼

cup

prepared bread crumbs
Instructions
Preheat the oven to 400 degrees Fahrenheit (205 Celsius).

Heat the butter and oil in the skillet over medium/high heat. Add the zucchini and cook, stirring occasionally for 2-3 minutes. Season with half of the salt and half of the pepper. Stir well.

Add the corn, garlic, half and half, Parmesan cheese, scallions, thyme leaves, and the remaining salt and pepper. Cook, stirring occasionally for 3-4 minutes.

Transfer the zucchini and corn mixture to a baking dish that has been sprayed with cooking spray.

Top the vegetable mixture evenly with the ¼ cup Parmesan cheese, and ¼ cup bread crumbs.

Bake (uncovered) in the preheated 400-degree oven for 20 minutes or until the topping is golden brown.

Remove from the oven and allow to sit for 10-15 minutes before serving.
Notes
May be made in advance (minus the topping) and kept in the refrigerator 2 days in advance of baking. Before baking add the topping of Parmesan cheese and bread crumbs.
Leftover may be kept in the refrigerator in an airtight container for up to 5 days.
Leftovers may be frozen in an airtight container for up to 2 months. Thaw in the refrigerator overnight and reheat in the oven, microwave, or air fryer.
Nutrition
Serving:
1
serving
Calories:
155
kcal
Carbohydrates:
9
g
Protein:
4
g
Fat:
12
g
Saturated Fat:
6
g
Polyunsaturated Fat:
1
g
Monounsaturated Fat:
5
g
Trans Fat:
0.2
g
Cholesterol:
22
mg
Sodium:
249
mg
Potassium:
98
mg
Fiber:
1
g
Sugar:
2
g
Vitamin A:
330
IU
Vitamin C:
3
mg
Calcium:
118
mg
Iron:
0.5
mg
I sincerely hope you've enjoyed today's deliciously cheesy zucchini casserole recipe as much as I've enjoyed bringing it to you!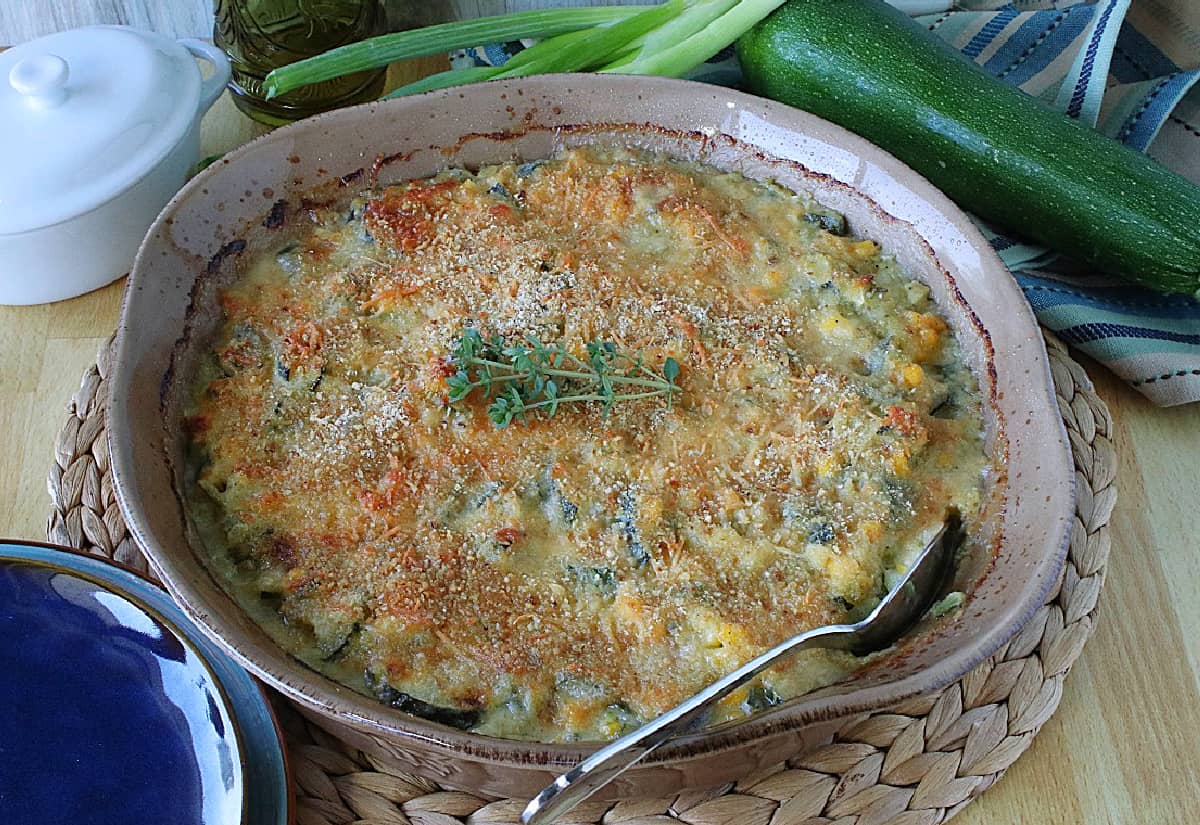 Follow me across my social media platforms and join in on the conversation: FACEBOOK, INSTAGRAM, PINTEREST, TIKTOK, AND YOUTUBE.
Thank you so much for visiting me today in my Kudos Kitchen. I hope you found something you'll love and that you'll come back and visit me often. There is always room for you around my table!
Should you have any questions or comments regarding anything you've seen here on my blog, please don't hesitate to reach out to me. It is always my distinct pleasure to respond to you just as soon as I possibly can.
Until we eat again, I hope you have a delicious day!!