If you have 10 minutes and only five ingredients, you can serve these Blueberry Basil Bruschetta to your friends and family and blow them all away with how delicious, and easy they are.
From the first time I ever tried goat cheese, I knew I'd never be the same. With its creamy texture and mildly pungent taste, goat cheese is the perfect accompaniment for some of Mother Nature's sweetest things like her seasonal fruits and berries.
Welcome readers to what I've self-proclaimed for my blog as "Berry Week." I have three very special berry recipes that I'm over-the-moon excited to be sharing with you this week. They range from an appetizer (this one for Blueberry Basil Bruschetta) to a Strawberry Sriracha BBQ sauce (for all of your backyard grilling needs), to some fun and patriotic Red, White and Blue Dessert Nachos that will be wonderful to serve on Memorial Day as well as the 4th of July.
First up, Blueberry Basil Bruschetta. They're super fast to make and super hard to resist. Trust me when I tell you this. During my photography session, I decided to take one bite (for artistic purposes only, of course), and before I knew it, I was downing the second one with hardly a breath in between.
Slice a baguette diagonally, into approximately ½" thickness. Toast the sliced baguettes in a dry skillet until browned. Spread goat cheese evenly onto the toasted baguette slices.
Season the goat cheese with black pepper. Top the goat cheese with fresh blueberries, fresh basil, a liberal drizzle of honey and a light sprinkling of salt. Serve.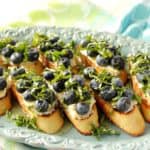 Blueberry Basil Bruschetta
Ingredients
10

pieces

diagonally sliced baguette

approximately ½" thickness

3

ounces

goat cheese

1

pint

blueberries

3

tablespoons

honey

kosher salt and pepper to taste

3

tablespoons

freshly basil leaves

cut into ribbons (Chiffonade)
Tools
Serrated knife

for slicing the baguette

Skillet

for toasting the baguette

butter knife or offset spatula

for spreading the goat cheese

cutting board and chefs knife

for slicing the baguette and slicing the basil

serving plate
Instructions
Toast the sliced baguette in a skillet until browned and toasted on both sides.

Spread the goat cheese liberally and evenly onto the toasted baguette slices.

Sprinkle evenly with black pepper.

Top the goat cheese with fresh blueberries, pressing them gently in place.

Drizzle each bruschetta liberally with honey.

Sprinkle lightly with salt and top with the ribbons of fresh basil leaves.
Recipe Notes
The salt and pepper in this recipe are optional, but they both add great flavor.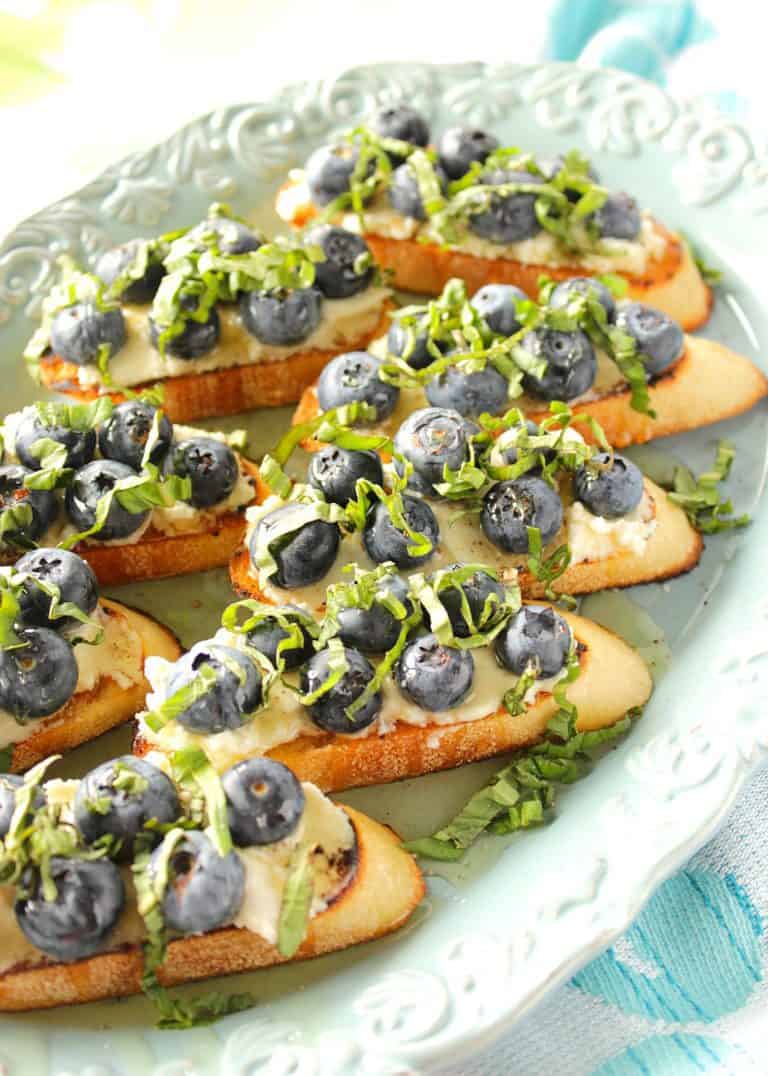 The following photos are the ones I was telling you about when I took a bite (because I wanted the shot), and then before I could stop myself I quickly gobbled up another because they tasted too darned good.
I saved what was left of the Blueberry Basil Bruschetta on the plate for my husband to eat with dinner, and he literally went on and on about how much he loved them! I honestly think we could have made an entire meal out of them and been perfectly happy. LOL. Maybe another time 😉
This post reminds me of a fruit juice glass I painted for a customer a while back. As you can see, it's fun and whimsical, and each of those little blueberries is wearing a big, bright smile (along with the strawberries, pineapples, lemon and orange). It's bright, colorful and makes me smile! I hope it makes you smile too 🙂
All of my hand painted glassware items are completely dishwasher and microwave safe, as well as being non-toxic. Each glass comes complete in its own gift box making them perfect for giving. Special custom orders are always welcomed and I will happily paint and decorate from any photo, idea, or description you send my way. For additional information and a price quote for your specific design, please feel free to contact me or visit one of my shops: Etsy, Wazala, Kudos Kitchen Paints.
Kudos Kitchen by Renée ~ Where food, art, and fun collide each and every day!
Until we eat again, I hope you have a delicious day!