Ever wish you could make a mac and cheese recipe that you'd become famous for? You know, the one your friends and family would consider your signature dish? Look no further. My famous French Onion Mac and Cheese recipe has got your name written ALL over it, and I'm happily handing it to you so you can become the BBQ side dish star at your local block party! You're welcome! 🙂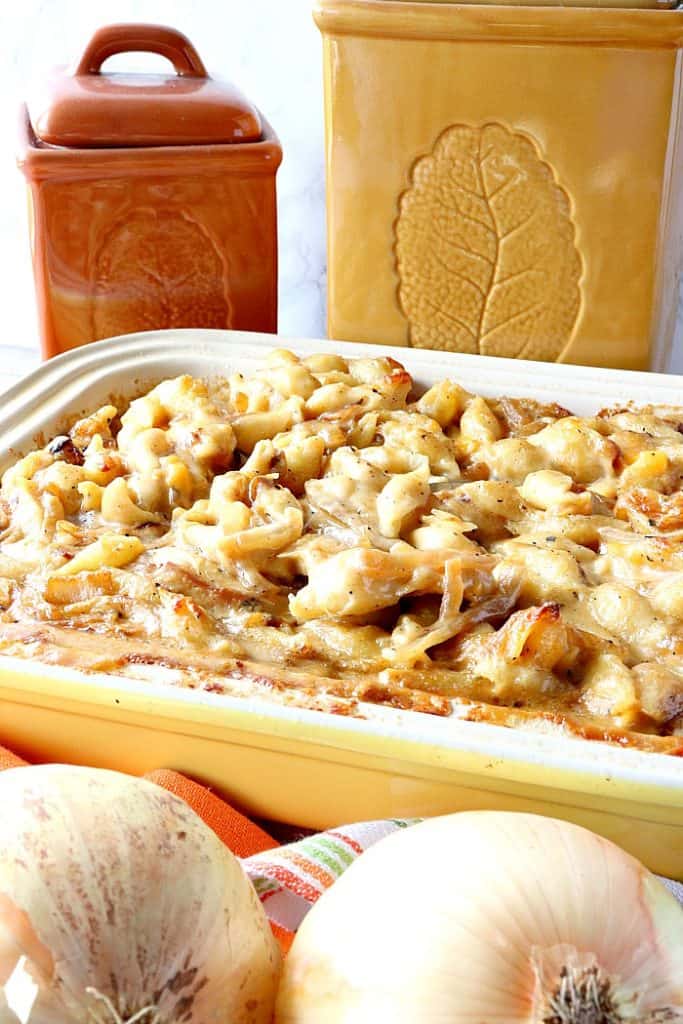 This BBQ side dish is a mashup of a recipe I've been making for years and years called Lovin' Onions, and a traditional baked macaroni and cheese recipe using a basic roux as the base, and then adding lots and lots of cheese!
If you love sweet caramelized onions and creamy macaroni and cheese, then you're going to absolutely flip your lid for this baked French onion mac and cheese casserole! You have my word on it!!
**Please Note – The printable recipe card with detailed instructions, complete ingredient measurements, and nutritional information for making baked French Onion macaroni and cheese is available at the end of this post.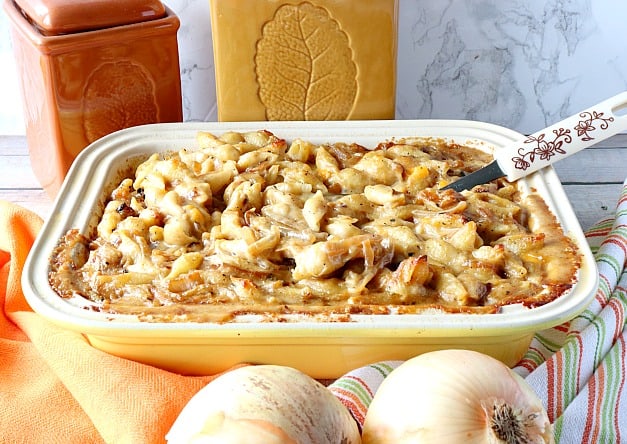 The ingredient list;
Sweet Onions (4), sliced

Avocado Oil (or other light colored oil)

Butter

Cooked Pasta (I used small shells)

Fresh Thyme Sprigs

Monterey Jack Cheese

Cheddar Cheese

Mozzarella Cheese

All-Purpose Flour

Milk (I used 2%)

Apple Cider Vinegar

Salt and Pepper
Check out my latest and greatest Kudos Kitchen tasty BBQ side dishes recipe roundup.
What is the key to making perfect caramelized onions and how long does it take?
The longer you cook the onions, the sweeter and the deeper golden brown color they become.

To start the onions the heat under the pan should be medium-high. Once the onions have started to brown, reduce the heat to medium and continue caramelizing until your desired doneness.

Don't season the onions right away. Wait until they start to get some color (about 5 minutes) before seasoning. Adding salt at the beginning of caramelizing will bring out the water in the onions and they won't get off to a good start.

Don't stir often. Let the pan do the work and leave the onions cook, unattended, for periods of 7-10 minutes without stirring.

From start to finish, for deeply caramelized onions, the process should take roughly 30 minutes.
Additional pasta shape suggestions:
You can use whatever pasta shape you love the most. A standard elbow shape is probably the most popular for a macaroni and cheese recipe, but why not switch things up a little by using a rotini (corkscrew), farfalle, fusilli, orecchiette, cavatelli, or cavatappi?
Just as long as you choose a pasta shape that will trap and carry all that wonderful cheesy caramelized onion sauce into your mouth, you'll be all set!
To learn more about fun and unique pasta shapes including all the nutritional information you need, check out the site Pasta Fits.
Can gluten-free pasta be used in this recipe?
Sure thing! It's totally your call what type of pasta you choose to use in this recipe.
Cook your chosen pasta according to the package directions, and carry on with the written recipe from there.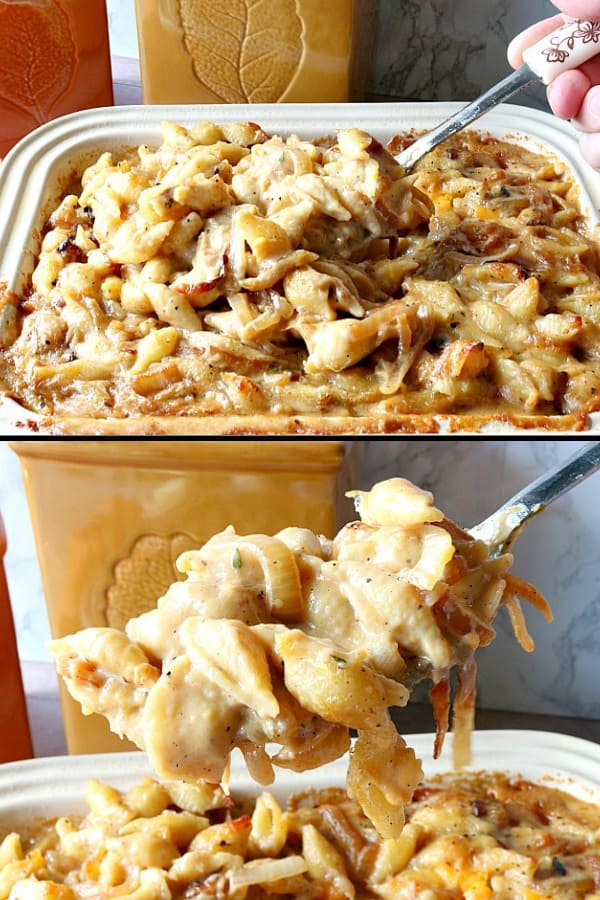 Can this macaroni and cheese recipe be made in advance?
Yes, yes, and yes!!
As with all pasta dishes (at least I haven't heard of any that don't comply with this rule), they only get better after they've had a chance to sit for a day or two.
Cover the casserole dish well (cool it fully, first) and you can refrigerate this for up to 2 days before reheating and serving.
Leftovers can be stored in airtight containers for up to 5 days, but it's highly doubtful that they'll last that long!
Can this baked French onion mac and cheese be frozen?
Heck yeah!!!
Might I suggest (if you're not feeding a crowd), that you divide this casserole in half and freeze some for another time?
Or, why not double the recipe, to begin with, eat one casserole now, and freeze one for later!
This is a great dish to bring to a pot-luck, back yard BBQ, church supper, or to surprise someone with a fuss-free meal just because you're that kind of super nice person.
What's up with the addition of apple cider vinegar? Is this ingredient necessary?
In my mind, YES! Please don't leave it out!
The apple cider vinegar will cut through the heavy richness of the cheese sauce and bring a nice balance to the completed dish.
Don't worry. The vinegar brightens and lightens the entire dish without adding a vinegary taste.
I do hope you'll trust me on this! It will take your French Onion Mac and Cheese from fine to FAMOUS!!
How do I reheat this French onion mac and cheese?
From the refrigerator –
Allow the mac and cheese to sit on the counter for 30 minutes at room temperature while preheating the oven to 350-degrees.

Bake the casserole for 30 minutes, covered, and 10 minutes uncovered.

Serve and enjoy.
From the freezer –
Preheat the oven to 350-degrees for 30 minutes.

Place the frozen casserole in the oven (covered) and bake for 70 – 90 minutes.

Stir and check if the casserole is heated through.

Uncover, and continue to bake for an additional 30 minutes until the mac and cheese is melted, golden and bubbly.
Looking for additional popular BBQ side dish recipes to complete your backyard entertaining this summer and keep your family and friends well fed? Of course, you are!!!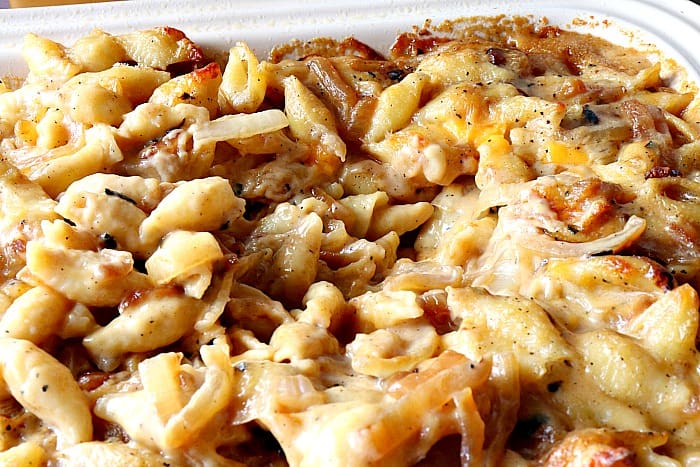 Looking for additional Kudos Kitchen cooking videos? Don't forget to like and subscribe to my Kudos Kitchen channel on YouTube.
Other tasty recipes featuring caramelized onions (aka French onions)
French onion recipes have long been popular on my blog. These are some of my favorites!
**The following affiliate links are some suggested products I've chosen that will aid you in the making and serving of this recipe for French Onion Mac and Cheese if desired.
As an Amazon Associate, I earn from qualifying purchases. When I find a great product or service I like to share it with my readers. For additional information please view my privacy policy.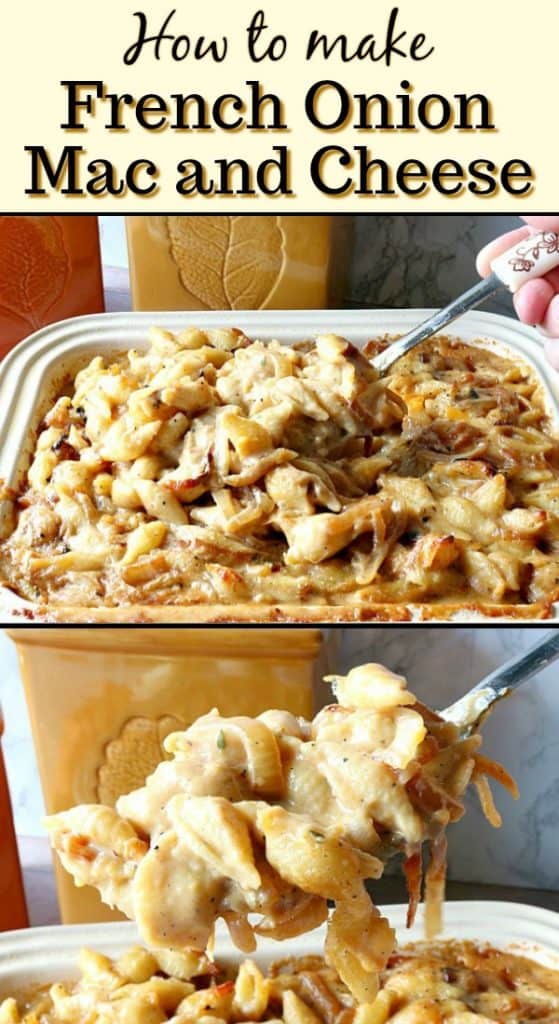 Below is the printable recipe card for today's Baked French Onion Macaroni and Cheese.
If you've enjoyed this recipe and look forward to making it (or have already made it), I'd appreciate if you'd take a moment to give it some feedback by way of stars near the comment section at the end of this post. Thank you so much!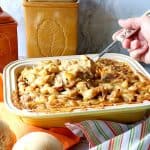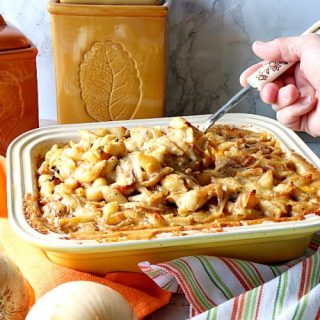 French Onion Macaroni and Cheese
Course:
Appetizer or Side Dish, Pasta
Keyword:
baked macaroni and cheese casserole, French onion mac and cheese
Ingredients
For the caramelized onions;
3

large

sweet onions

sliced

2

tablespoons

avocado oil

or other light colored oil

3

sprigs

fresh thyme

1½

teaspoon

coarse salt

¼

teaspoon

black pepper
For the cheese sauce;
4

tablespoons

butter

2

tablespoons

avocado oil

or other light colored oil

5

tablespoons

all-purpose flour

2

cups

milk

8

ounces

Monterey Jack cheese

cubed or shredded

8

ounces

sharp cheddar cheese

cubed or shredded

4

ounces

mozzarella cheese

shredded

1

teaspoon

apple cider vinegar

pinch

coarse salt

pinch

black pepper

1

pound

pasta

cooked and drained according to the package directions

1

tablespoon

olive oil
Instructions
Preheat the oven to 350-degrees.
To make the pasta;
Cook the pasta just shy of the package directions. Drain. Stir in 1 tablespoon of olive oil, set aside, and keep warm.
To make the caramelized onions;
In a large heavy bottom skillet over medium-high heat, add the avocado oil and the sliced onions. Stir well to coat the onions in the oil. Allow the onions to cook without stirring for approximately 5 minutes.

Reduce the heat to medium. Add the salt, pepper, and thyme to the onions and stir well. Continue to cook the onions, stirring only occasionally, until the onions are deeply caramelized and golden brown (approximately 20-25 minutes).

Remove the onions to a bowl and discard the thyme sprigs. Set the onions aside.
To make the cheese sauce;
Melt the oil and butter in the same large skillet, over medium heat. Add the flour and cook, stirring occasionally for 1-2 minutes.

Add half of the milk to the butter-flour mixture (roux) and stir well to combine. Add the remaining milk to the skillet and stir well until the mixture thickens.

Season the thickened sauce with a pinch of salt, a pinch of pepper. Add the cubed and shredded cheddar, jack, and mozzarella cheese to the skillet, and stir continually until the cheese is completely melted and creamy.

Add the apple cider vinegar to the cheese sauce along with the caramelized onions, and the cooked and drained pasta. Stir well to combine.
Spoon the French onion macaroni and cheese evenly into a 4-quart casserole dish that has been prepared with cooking spray.

Bake the casserole in a preheated oven, uncovered, for 30 minutes or until the cheese lightly golden and bubbly.
Recipe Notes
This French onion mac and cheese can be made in advance and stored in the refrigerator for up to 2 days before baking. Allow the casserole to come to room temperature before baking as instructed.
The casserole may also be frozen before baking. Cover well and store in a freezer safe casserole dish. Freeze for up to 3 months. To reheat from frozen, cover and cook for 90 minutes at 350-degrees. Stir well, and then return to the oven, uncovered, for an additional 30 minutes (if needed).
Nutrition Facts
French Onion Macaroni and Cheese
Amount Per Serving (1 serving)
Calories 458
Calories from Fat 225
% Daily Value*
Total Fat 25g 38%
Cholesterol 57mg 19%
Sodium 629mg 26%
Potassium 282mg 8%
Total Carbohydrates 39g 13%
Protein 18g 36%
* Percent Daily Values are based on a 2000 calorie diet.
I sincerely hope you've enjoyed today's baked French Onion Mac and Cheese casserole recipe as much as I've enjoyed bringing it to you!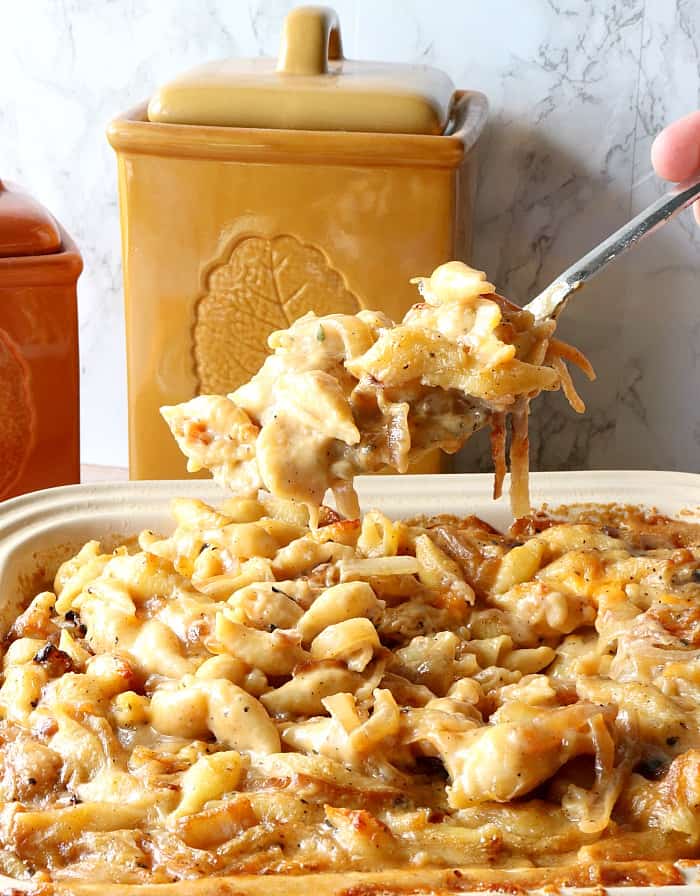 Should you have any questions regarding this recipe or anything else you've seen on my site, please don't hesitate to contact me directly or leave me a comment in the comment section below. It is always my distinct pleasure to get back to you with a reply just as soon as I possibly can!
For additional information regarding my Kudos Kitchen recipes, please follow me on;
FACEBOOK, PINTEREST, INSTAGRAM, TWITTER, and YOUTUBE
Kudos Kitchen by Renée ~ Cooking up artistically delicious family-friendly dishes from my Kudos Kitchen to yours!
Until we eat again, I hope you have a delicious day!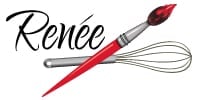 **Note – The post above includes affiliate links. As always, I truly thank you for your support!