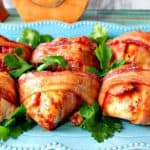 This recipe for Smoky Sweet Bacon Wrapped Chicken Breast will soon become a family favorite. One bite, and you'll understand why.
Preheat oven to 350 degrees.

In a large bowl, dissolve 3 tablespoons kosher salt, and 2 tablespoons granulated sugar in the warm water. Add the chicken breasts to the bowl and allow the breasts to brine for 30 minutes.

Remove the chicken from the water and pat the breasts dry with paper towel. Discard the water.

If the chicken breasts are really large, cut in half.

In a small bowl, combine the smoked paprika, 1 teaspoon salt and ½ teaspoon pepper.

Rub the seasoning mix all over the <g class="gr_ gr_1926 gr-alert gr_spell gr_inline_cards gr_run_anim ContextualSpelling ins-del" id="1926" data-gr-id="1926">dried</g> chicken.

Wrap each seasoned chicken breast with 1-2 slices of bacon.

Place the bacon wrapped chicken on a baking sheet and roast in a preheated oven for 30 minutes.

Remove the chicken from the oven and brush each bacon wrapped chicken breast with maple syrup.

Return the chicken to the oven and continue cooking an additional 15 minutes, or until the center of the chicken breasts are no longer pink, and a meat thermometer reads 165 degrees.
Tools and equipment:
large bowl
small bowl
measuring cups
measuring spoons
pastry brush (for maple syrup)
paper towels
baking sheet
chefs knife
non-stick cooking spray (optional)