Welcome to another edition of one of my favorite new features, Woof Wednesday. Today I'm thrilled to introduce you to two of my reader's adorable kitty cats, Casper and Franklin.
Casper and Franklin
Casper and Franklin belong to Laura and I think they're some of the cutest kitties I've ever seen. Once you read what Laura has to say about them, I know you'll agree that beauty is far more then fur deep.
Here's what makes these two little fur kids so special in Laura's words:
"Casper is a little bit elusive, her favorite toy is a gnarly old felt toy in the shape of a Santa hat. She brings it to me in the night, it's always next to the bed when I get up. She also leaves it by the door when I'm out working late at night. Sometimes I find it in her bed. She was a stray kitten that we found when we lived in South Boston. She's a bit snooty with strangers, but is very sweet with me. She brings that Santa hat upstairs and gets in bed with us (usually on my side). She's also polydactil on her front paws. She's our very best behaved pet, she doesn't claw things, or have potty accidents, or steal food, and she waits patiently for us to get up in the morning. Unlike Franklin who knocks everything off the bed side table then pokes you in the face with his claws."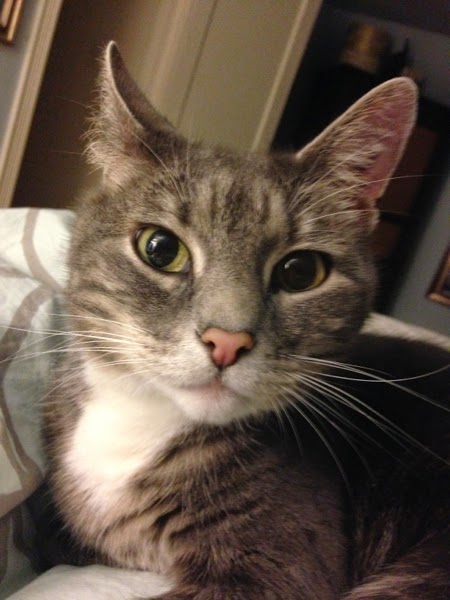 Franklin
"Franklin is a character. He's like a dog when it comes to food. He eats EVERYTHING. We have to put baby locks on the food cabinets to keep him out. He'll steal bread, peanuts, cashews, Brussels sprouts, asparagus, pasta, rice, (raw or cooked). His favorite food is avocado. Which I know is not good for kitties. We have to be very careful to lock them up either in the fridge or in the locked cabinets. He'll steal a whole avocado and take it into the guest bathroom and eat right through the skin. He'll try to eat anything. A few weeks ago he took a whole jalapeño off the counter and ran off with it. I found it in the living room with lots of bite marks, he didn't actually eat only of it, just bit it a bunch of times. He usually sleeps on Dave's side of the bed and has the loudest, craziest meows when he thinks no one is around. Franklin was a stray that we adopted from the MSPCA in Boston."
"Thanks for featuring my kids!!"
You are more than welcome, Laura. Thank you so much for sharing them with us! I just loved reading about them both and how different they are. Franklin is such a stinker (in a good way) and today I leaned that avocado is bad for cats. I had no idea! And I love how Casper brings you a Santa hat each and every day. What a sweetheart!!! Please give them both a little scratch behind the ears from me 🙂
Dear Readers:
I hope you've been enjoying the Woof Wednesday – Pet Friends Edition as much as I've enjoyed bringing it to you. If you'd like your pet (dog, cat, bird, horse, lizard etc.) feature in an upcoming Woof Wednesday publication, I'd love if you'd send me a photo of your beloved pet/pets along with a little something about what makes them so special to you! I'd love to share them with my readers! Thank you all so much and I'll look forward hearing from you!
Until we woof again,