Welcome back to another edition of Woof Wednesday. Today Cyndi shares the very special story of her baby Tipper and how he found his way into her life.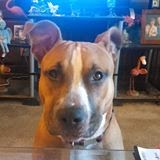 Here is Tipper's story as told by Cyndi:
I have been meaning to
send some pics of my Pibble, Tipper. He was a foundling, about 5
weeks old, when someone left him outside to freeze on a night when temperatures
were going to dip to minus 14 degrees. He was found crying outside of an
apartment in my complex. I certainly was not looking for another dog. I already
had two, a Chihuahua and a Cavalier King Charles Spaniel, living in my one
bedroom apartment. My Cavalier was just 6 and had cirrhosis of the liver and
congestive heart failure. I was coping with this, out on a late night walk with
him, when someone ran past me with this crying little pup. He sounded so
pitiful, and started drawing a crowd. No one wanted him, and no one would take
him in, even for the evening until animal welfare could take him. I certainly
did not have room and just thought about how disruptive it woul be to my Boyz.
Against every fiber in my body that told me to say "NO", I heard it
come oout of my mouth that I would take him for the night if someone else would
take him the next day. I brought him home and got him to quit crying, and fed
him and gave him water to get him through the night. Found a box, and put
towels in it and an alarm clock that ticked. My Arthur and Chico were just
besides themselves, worried about what Mom brought into their happy little
home. By the time morning got here, he was in bed with the rest of us, sleeping
on my neck. And we were in love with each other. The odd part of the story is
that the person who promised to take him the next day never showed up and I
never saw him or the person who found him again. He has been one of my Boyz
ever since. Two weeks later, my Arthur took a turn for the worse, and I had to
have him put down. This tiny puppy that had to be weighed at the vet's on the
kitten scale is now a huge 60 pound baby that thinks he is the size of the Chihuahua!
I named him Tipper, because the very tip of his tail is white. He is just a
spoiled baby who loves his mama, and his mama loves him. But don't tell him he
is adopted, he believes he was born to be privileged. The story is long, but
needed to be told. He eats his food bowl and dumps the contents on the floor.
He will not eat food in the bowl. And he sleeps wherever he wants, all of the
time and in any position. From cast off to loved family member, Tipper wins the
heart of all he meets.


Here are the photos of Tipper that Cyndi shared with us. He sure was a cutie pie as a puppy. What a face!!!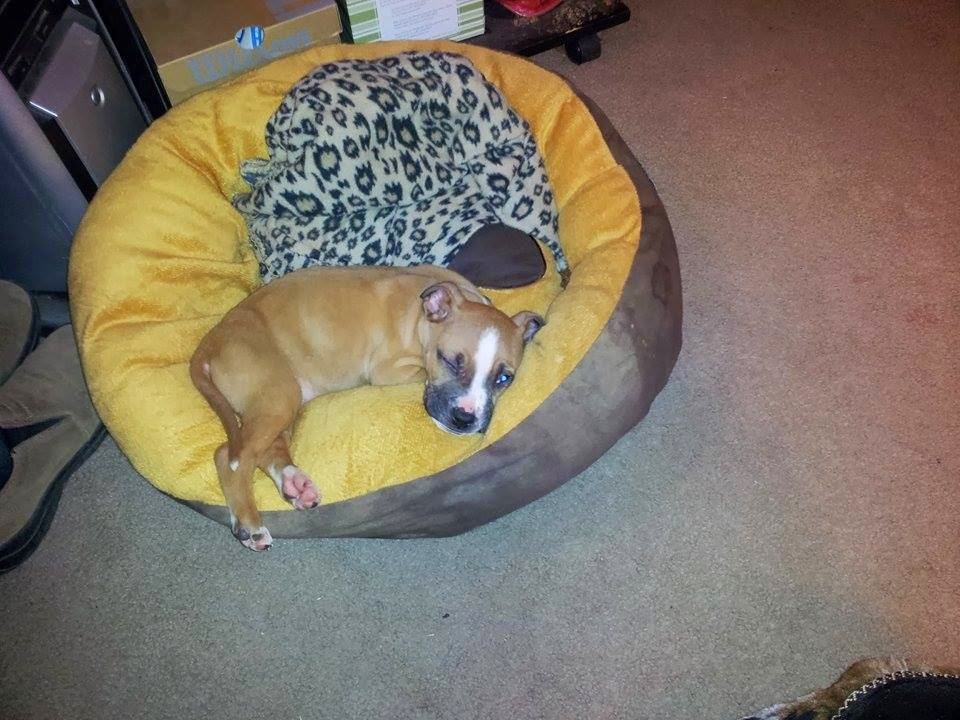 Here he is as a big boy on that same bed. Not quite the same fit, but he still looks pretty comfortable!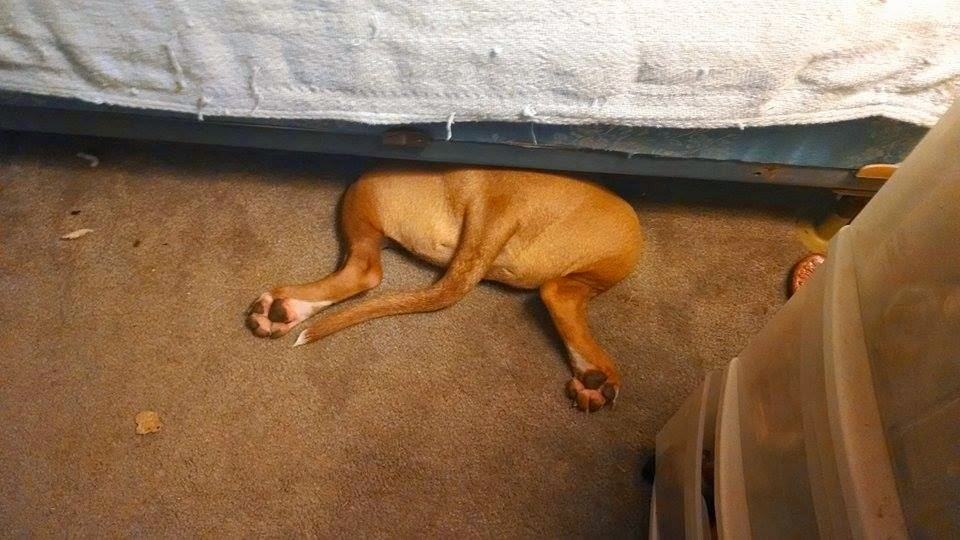 Thank you so much for sharing Tipper with us, Cyndi. He seems like quite a character! Thank goodness you're such a kind and loving person to have taken him in on that freezing cold night. I've very sorry to hear that you lost your Arthur, but I'm also very happy that Tipper found a loving family that fateful night.
If you'd like your pet featured on an upcoming edition of Woof Wednesday – Pet Friends, I'd love to show them off for you to my readers. Just email me a photo (or more) of your pet (dog, cat, bird, lizard, fish, etc.) along with a little bit about what makes them so special to you, and I'll take it from there. Then, each Wednesday, I'll feature a new pet/pets from you, my valued readers. Because I'd like this blog to be as interactive as possible, what's better than sharing the pets that make us smile and fill our hearts with love?
Kudos Kitchen by Renée ~ Where food, art, fun (and fur) collide on a regular basis!
Until we woof again,