I've assembled all of my best summertime bbq side dishes in one place to make your family meals, and your entertaining needs, easier and more delicious than ever.
You can find all these recipes (plus more) featured in the following video, down below. Enjoy, and happy cooking!
From cold pasta salads to the hot side dishes that everyone craves, I've got something for everyone in this amazing collection of bbq sides.
So, fire up the grill and gather your people, because we've got some serious eating to do!!
Don't forget to like and subscribe to my Kudos Kitchen channel on YouTube!
Everyone loves a bbq! Whether you're hosting a party, feeding your family, or bringing a bbq side dish to a pot-luck, these recipes are sure to please everyone.
How important are side dishes at a party or BBQ?
VERY!
I don't know about you, but I'm all about the sides when it comes to filling my plate at a BBQ.
Sure, I love a good bbq protein too, but without the sides, it wouldn't be a party (IMO).
What are some of the best proteins for pairing with these BBQ side dishes?
Where to begin? I'm sure I'll wind up missing out on many of them, but here are the first few that come to mind.
Ribs

Chicken

Brisket

Pulled Pork

Steak

Hamburgers

Hot Dogs

Ham

Seafood

Lamb
Need some meat inspiration? Check out Girl Carnivore and be amazed at all of her utterly delicious recipes!
How many BBQ side dishes should I serve at a party or gathering?
I like to serve at least 3.
Usually one decadent, creamy side, and at least 2 healthier salad-type sides.
Of course, if you're serving a large crowd, it's always a good idea to pull out all the stops and line the table with even more.
After all, everyone loves a good side dish, and if you're serving vegetarians, the sides will be the thing they'll be filling up on.
What type of occasions are these sides good for?
Graduations

Patriotic Parties

Birthday Parties

Casual Weddings

Showers

Family Dinner

Pool Parties

Family Reunions

Work Functions

Block Parties

The list is endless…
What is a standard serving size for a typical side dish?
I guess that answer will vary from person to person, but a good rule of thumb would probably be between a ¼ – a ½ cup of each side per person.
Of course, that is dependant on many variables, but in my mind, it's always better to err on the side of caution and have too much food than not enough.
Can the following BBQ side dishes be made in advance?
In most cases, YES!
Should any of these recipes I've listed in the following roundup not yet have that information within the post, please don't hesitate to reach out to me with your questions. I'm always happy to get back with you ASAP with an answer.
**The following affiliate links are some suggested products I've chosen that will aid you in the making and serving of recipes for BBQ's proteins, and BBQ side dishes if desired.
As an Amazon Associate, I earn from qualifying purchases. When I find a great product or service I like to share it with my readers. For additional information please view my privacy policy.
And now, without further ado, here are some of my favorite Kudos Kitchen BBQ side dishes that I do hope you will make your own;
Best Ever Kudos Kitchen BBQ Side Dishes
I'm helping to fill your plate with delicious (healthy and decadent) bbq side dish recipes, so I hope you're hungry! Let's eat!!
For additional BBQ side dish recipes please check out my Popular BBQ Recipe Roundup which features tons and tons of recipes from all around the web.
I sincerely hope you've enjoyed today's Kudos Kitchen recipe roundup for BBQ side dishes as much as I've enjoyed bringing it to you!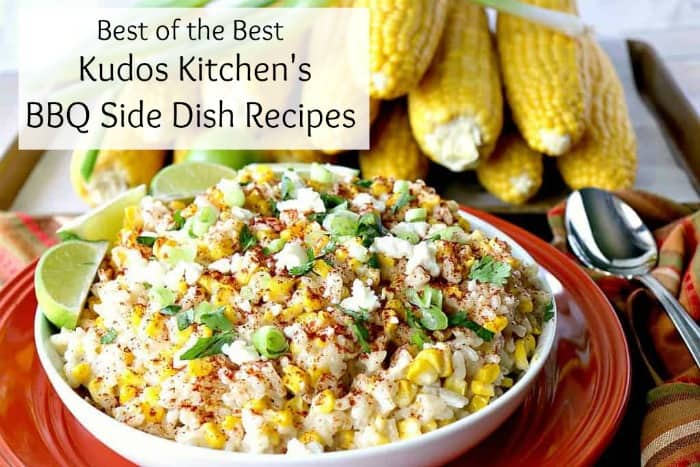 Should you have any questions or comments regarding this roundup post, or anything else you've seen on my site, please don't hesitate to contact me directly or leave me a comment in the comment section below. It is always my distinct pleasure to get back to you with a reply just as soon as I possibly can!
For additional information regarding my Kudos Kitchen recipes, please follow me on;
FACEBOOK, PINTEREST, INSTAGRAM, TWITTER, and YOUTUBE
Kudos Kitchen by Renée ~ Cooking up artistically delicious family-friendly dishes from my Kudos Kitchen to yours!
Until we eat again, I hope you have a delicious day!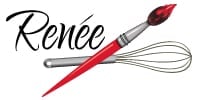 **Note – The post above includes affiliate links. As always, I truly thank you for your support!