This Alfredo Mac and Cheese is one of the best macaroni and cheese recipes you'll ever have. It's a cheese and wine lover's dream come true and it's easy to make too!!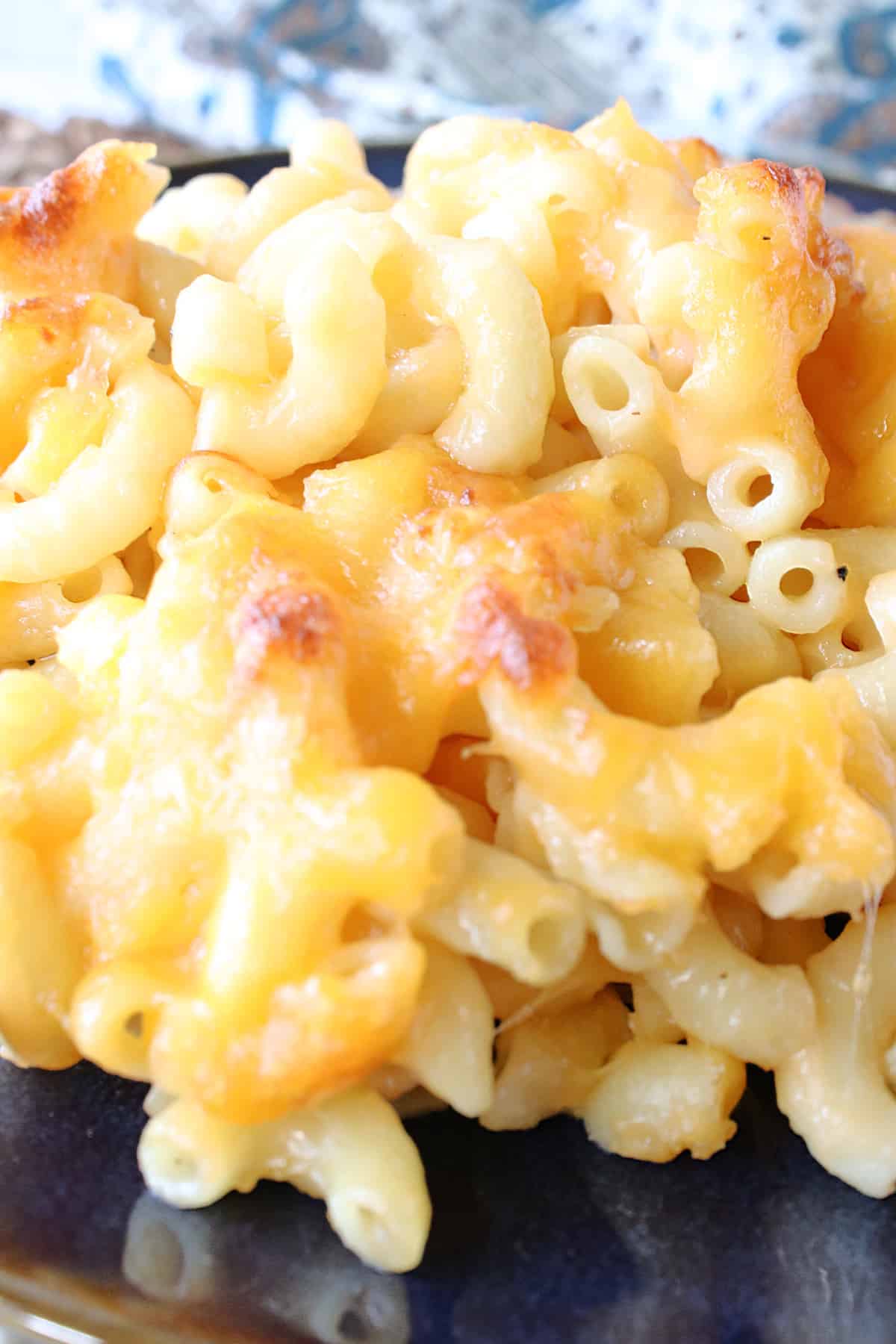 I originally shared this recipe in 2014. I've recently updated this post with new photos and additional information, including a recipe card (complete with nutritional information) along with a video of how my Alfredo Mac and Cheese is made, but the recipe itself has remained unchanged.
Jump to:
A delicious call
What do you do when you have leftover homemade Alfredo sauce in the fridge? If you're anything like me, you make Alfredo Macaroni and Cheese with white wine. Trust me. It was a deliciously good call!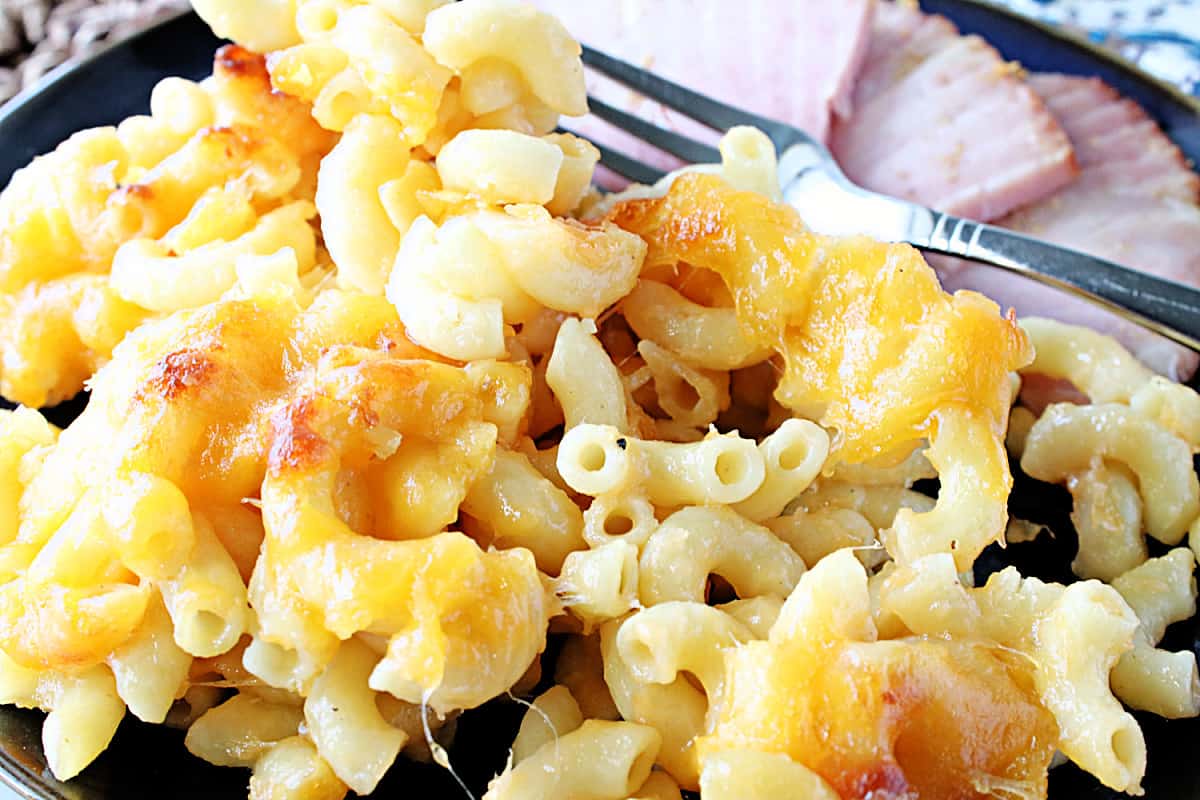 🧀 The ingredient list
Please see the printable recipe card for exact quantities.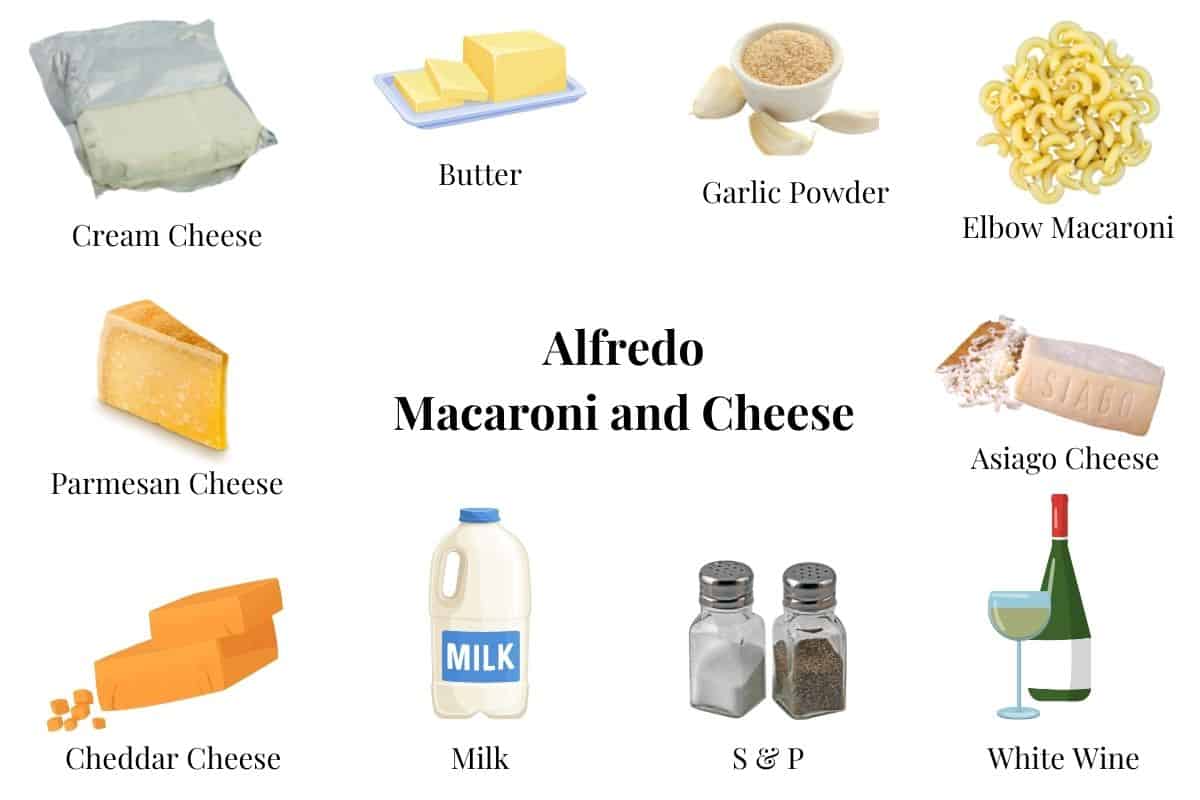 ⭐Why this recipe works
It's a creamy mac and cheese but it's not overly rich and heavy tasting. The white wine balances out all that cheese very nicely and after baking the flavors and textures of the browned cheeses are what macaroni and cheese lovers dreams are made of.
💭How this recipe came to be
Because I had leftover Alfredo sauce from when I made this recipe for Chicken Alfredo Garlic Bread Pizza I needed to find a tasty use for it.
Why use wine in a macaroni and cheese recipe?
Because it balances the flavors.
As I was stirring the Alfredo sauce and cheese into the cooked macaroni, a quick taste made me realize that it needed a little something to cut through all the rich cheese.
The remedy to that was adding a little white wine that brought this Alfredo Macaroni and Cheese recipe from good... to EPIC!
💬 FAQ's
Can other shapes of pasta be used for this recipe?

You bet! Use your favorite.

The only thing I would suggest is that you use a smaller shaped pasta so it's a bit easier to serve.
Can the wine be omitted and if so, what do I use in its place?

Yes, the wine can be omitted from this recipe if desired.

However, in order to balance the flavors of this extremely cheesy dish, I suggest replacing the wine with a small splash (approximately 1-2 teaspoons) of apple cider vinegar.
Can other variety of chees be used to make this recipe?


Sure. Use your favorites.

I went with a sharp cheddar cheese because it is one of my standards when I'm making macaroni and cheese. If you're using something different the only thing I would suggest is shredding it first so that it melts quickly and easily when it's added to the hot pasta.
Does this Alfredo Mac and Cheese need to be baked?

Nope. It's totally your call.

If you'd like this to strictly be a stovetop mac and cheese you can certainly serve it that way and skip the oven baking. It will still be extremely delicious, and extremely creamy. It just won't have the cheesy brown top.
Can this macaroni and cheese be frozen after baking?

Yes. It freezes beautifully.

Make sure to cool it completely after baking, and place it in an air-tight freezer container. It can be frozen for up to 3 months.
⏲️ Can store-bought jarred Alfredo sauce be used to make this recipe?
Of course! I'm all about saving time and money where you can.
If you already have (or love) a jarred store-bought Alfredo sauce by all means, feel free to use that instead of making your own.
⭐ Top Tips for making macaroni and cheese with Alfredo sauce.
It's best to grate your own cheese from a block if you're able. The pre-grated cheeses sold in the market are coated with anti-caking ingredients to prevent clumping during their time on shelves. The anti-caking ingredients prohibit proper cheese melting.
When making a pasta with any kind of sauce (cheese sauce included), always make sure to save a little of the pasta cooking water. If needed you can add a little of the starchy cooking water to the sauce to slightly loosen a thick sauce, but not make it runny. Always start by using small increments of cooking water first, adding more until you reach your desired consistency.
🍽 Important kitchen equipment for this recipe
To shred block cheese faster, I like using my Rotary Cheese Grater. It makes quick work of a tedious task.
A workhorse in the kitchen that I reach for time and time again is a 9 x 13 casserole dish. It's great for sweet and savory dishes alike and you can be proud to serve from them because they look so great.
A heavy bottom 3-quart saucepan is a kitchen essential. The heavy bottom pan will transfer heat more evenly, and it also prevents scorching which is very important when making a creamy Alfredo sauce.
And last, but certainly not least (in my importance list of kitchen equipment), is a spice grinder. Mine is designated specifically for peppercorns. I like to grind fresh pepper and keep it in a covered vessel on my counter. I my opinion there is nothing better than freshly ground black pepper to help elevate the flavor of a dish.
🔪 The step-by-step photos and instructions for making Alfredo Mac and Cheese:
In a medium saucepan melt the butter. Add the cream cheese, milk, black pepper, and garlic powder. Bring to a low simmer.
Switch to a whisk and add the Parmesan cheese.
Continue whisking over low heat until the cheese has melted and the sauce thickens.
Pour the Alfredo sauce over the hot cooked and drained pasta.
Add the shredded cheeses.
Time to add a little wine.
Stir well to combine all the ingredients and melt the cheeses.
Pour the macaroni and cheese into a 5-6 quart prepared casserole dish that has been sprayed with cooking spray and top with additional cheese.
Bake in a preheated 350-degree oven for 30-40 minutes.
Cool for at least 10 minutes and serve.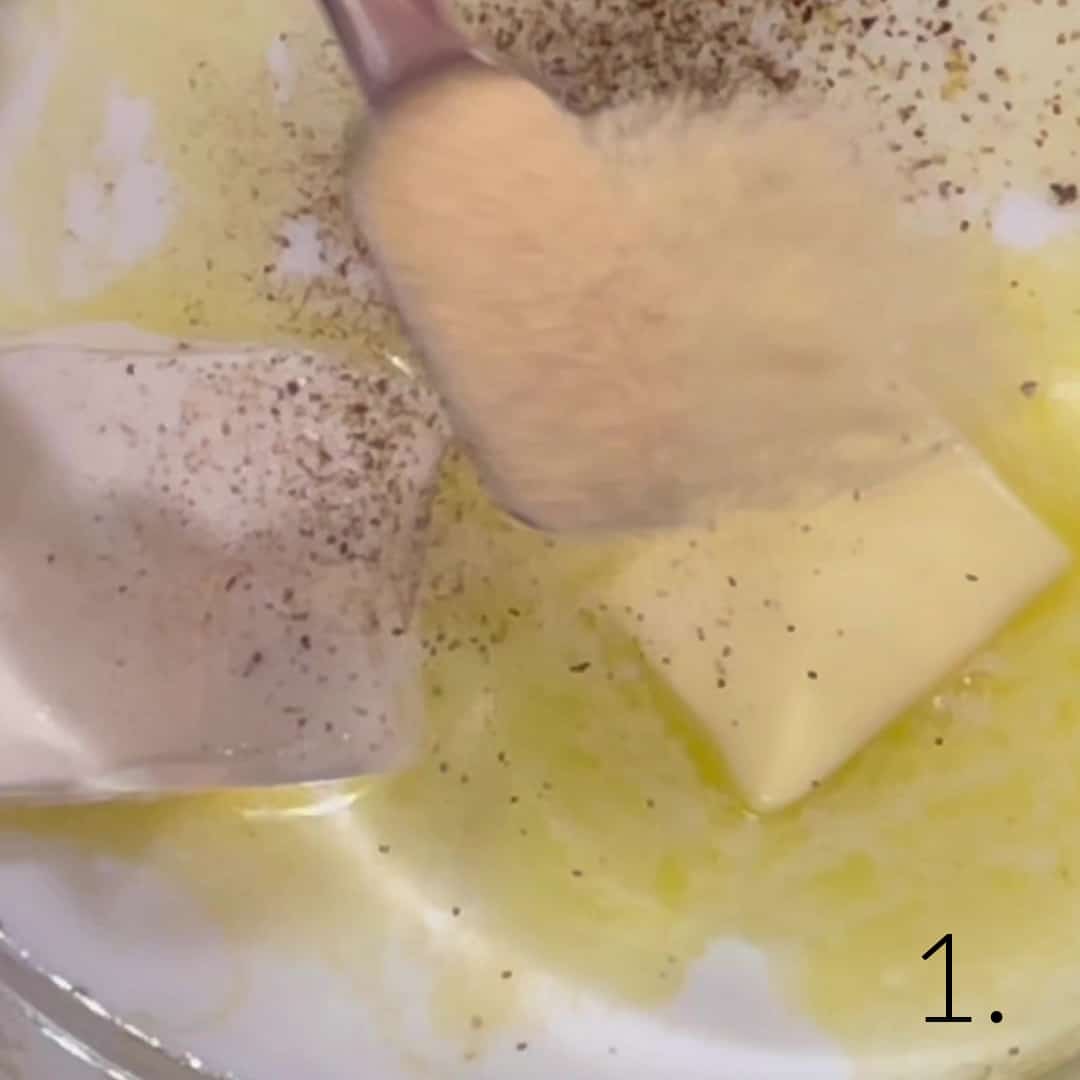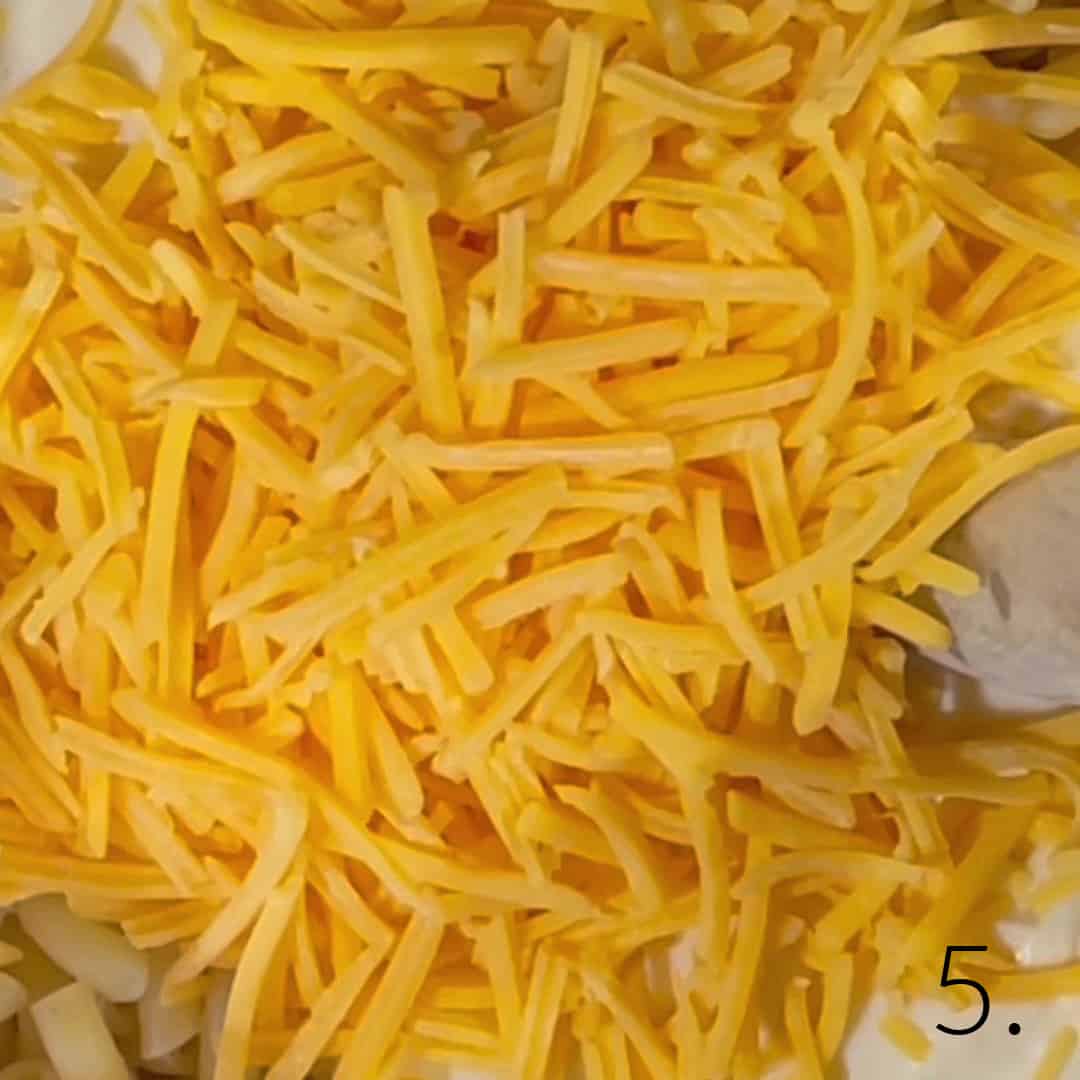 Better grab your plate and a big fork because the Alfredo Macaroni and Cheese with white wine is ready to serve!!
🥘 Related Kudos Kitchen recipes you'll also enjoy
When you make this recipe, and I hope you do, I'd appreciate it if you'd take a moment to leave a star rating on the recipe card and briefly comment on why you rated it as you did. FYI - Google appreciates recipe ratings and, in turn, will share my recipes with more people. Thank you so much!!
Printable Recipe Card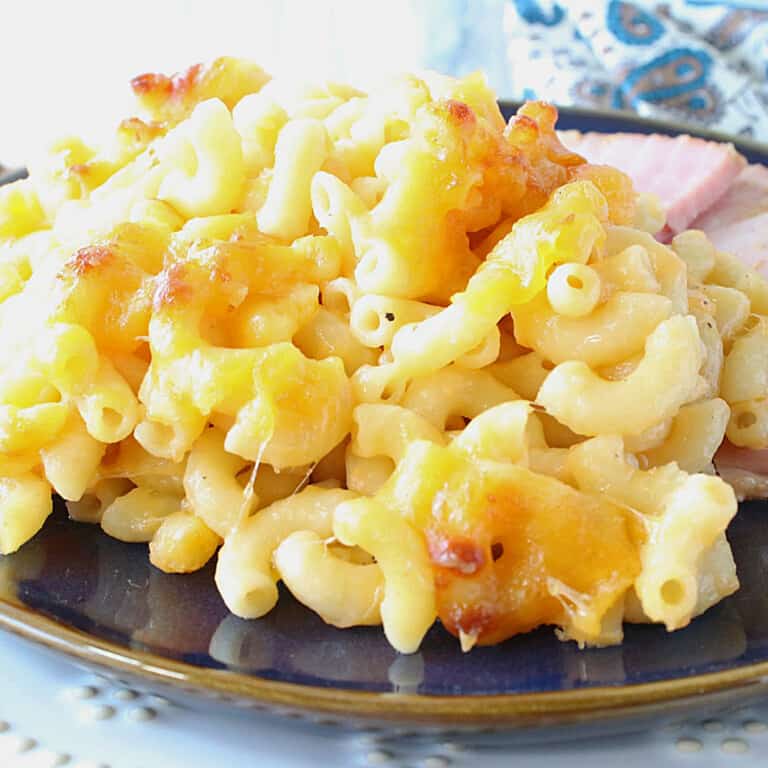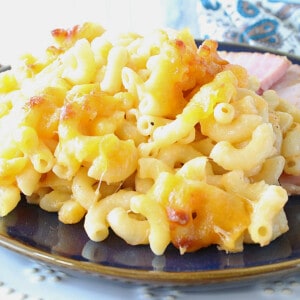 ALFREDO MAC AND CHEESE
This Alfredo Mac and Cheese is one of the best macaroni and cheese recipes you'll ever have. It's a cheese and a wine lover's dream come true, and it's easy to make too!!
Ingredients
To make the Alfredo sauce:
3

tablespoons

butter

3

ounces

cream cheese

½

cup

milk

1

teaspoon

garlic powder

3

ounces

grated Parmesan cheese

¾

teaspoon

black pepper,

divided

1

box

elbow macaroni

cooked and drained according to the package directions. Keep warm.

3

cups

grated sharp cheddar cheese

1

cup

grated asiago cheese

½

cup

white wine
Instructions
Preheat oven to 350-degrees Fahrenheit.

In a 3-quart heavy bottom saucepan, melt the butter over medium/low heat. Add the cream cheese and milk and bring to a low simmer.

Stir in the garlic powder, ½ teaspoon of black pepper, and the grated Parmesan cheese. Switch to a whisk and continue cooking and stirring the Alfredo sauce on medium/low heat until the cheese melts and the sauce thickens. Remove from heat.

Meanwhile, cook and drain the elbow macaroni in a pasta pot and keep warm.

Add the thickened Alfredo sauce to the hot pasta along with 2 cups shredded cheddar cheese, ¾ cups grated asiago cheese, white wine, and the remaining black pepper. Stir well to thoroughly combine and melt the cheeses.

Spray a 9 x 13 casserole dish with non-stick cooking spray and spoon the macaroni and cheese evenly into the dish. Top the pasta with the remaining shredded cheddar and grated asiago cheeses.

Bake in the preheated oven for 30 minutes, or until the top of the macaroni and cheese is golden brown.

Remove from the oven and allow the pasta to sit for 10 minutes before serving.
Notes
Can be made in advance and kept covered in the refrigerator (before baking) for 1-2 days. To bake after refrigeration, remove the dish from the refrigerator and let it sit on the counter for at least 30 minutes before baking. Preheat the oven to 350-degrees and bake for 40-50 minutes, or until hot.
Leftovers can be frozen in an air-tight freezer container for up to 3 months.
White wine can be omitted (if desired) and replaced with 1-2 teaspoons of apple cider vinegar.
Nutrition
Serving:
1
cup
Calories:
252
kcal
Carbohydrates:
15
g
Protein:
13
g
Fat:
15
g
Saturated Fat:
8
g
Polyunsaturated Fat:
1
g
Monounsaturated Fat:
3
g
Trans Fat:
0.1
g
Cholesterol:
42
mg
Sodium:
447
mg
Potassium:
112
mg
Fiber:
1
g
Sugar:
1
g
Vitamin A:
438
IU
Vitamin C:
0.02
mg
Calcium:
346
mg
Iron:
0.4
mg
I sincerely hope you've enjoyed today's amazing Alfredo Mac and Cheese recipe as much as I've enjoyed bringing it to you!
Follow me across my social media platforms and join in on the conversation: FACEBOOK, INSTAGRAM, PINTEREST, TIKTOK, AND YOUTUBE.
Thank you so much for visiting me today in my Kudos Kitchen. I hope you found something you'll love and that you'll come back and visit me often. There is always room for you around my table!
Should you have any questions or comments regarding anything you've seen here on my blog, please don't hesitate to reach out to me. It is always my distinct pleasure to respond to you just as soon as I possibly can.
Until we eat again, I hope you have a delicious day!!