This refreshing Peach Basil Lemonade is the perfect combination of lightly sweet and lightly tart, and the basil adds an extra herbaceous fragrant note you'll enjoy!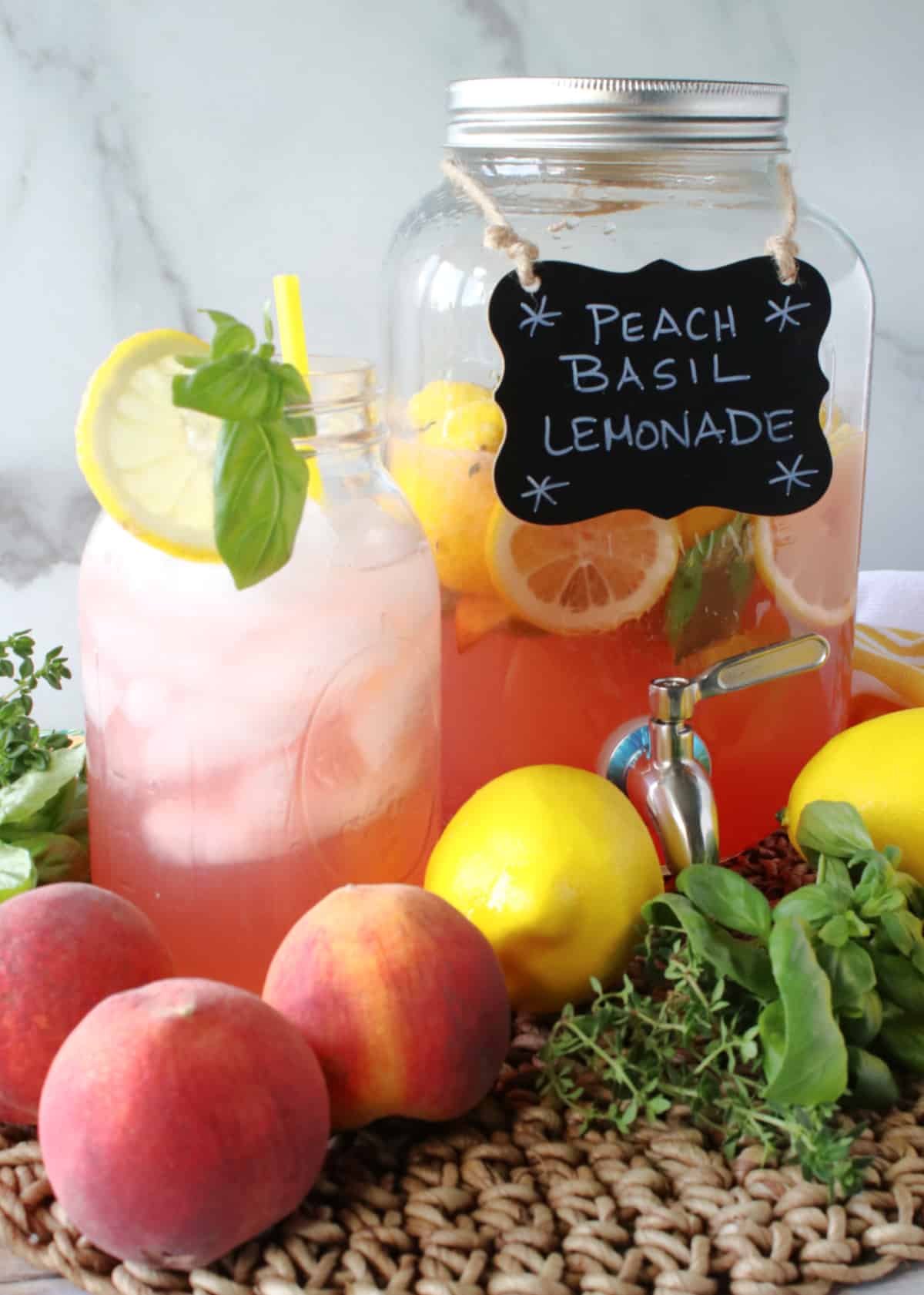 This fresh homemade lemonade comes together in 15 minutes or less. Keep it in the refrigerator and reach for a tall glass anytime you need to quench your summertime thirst.
Jump to: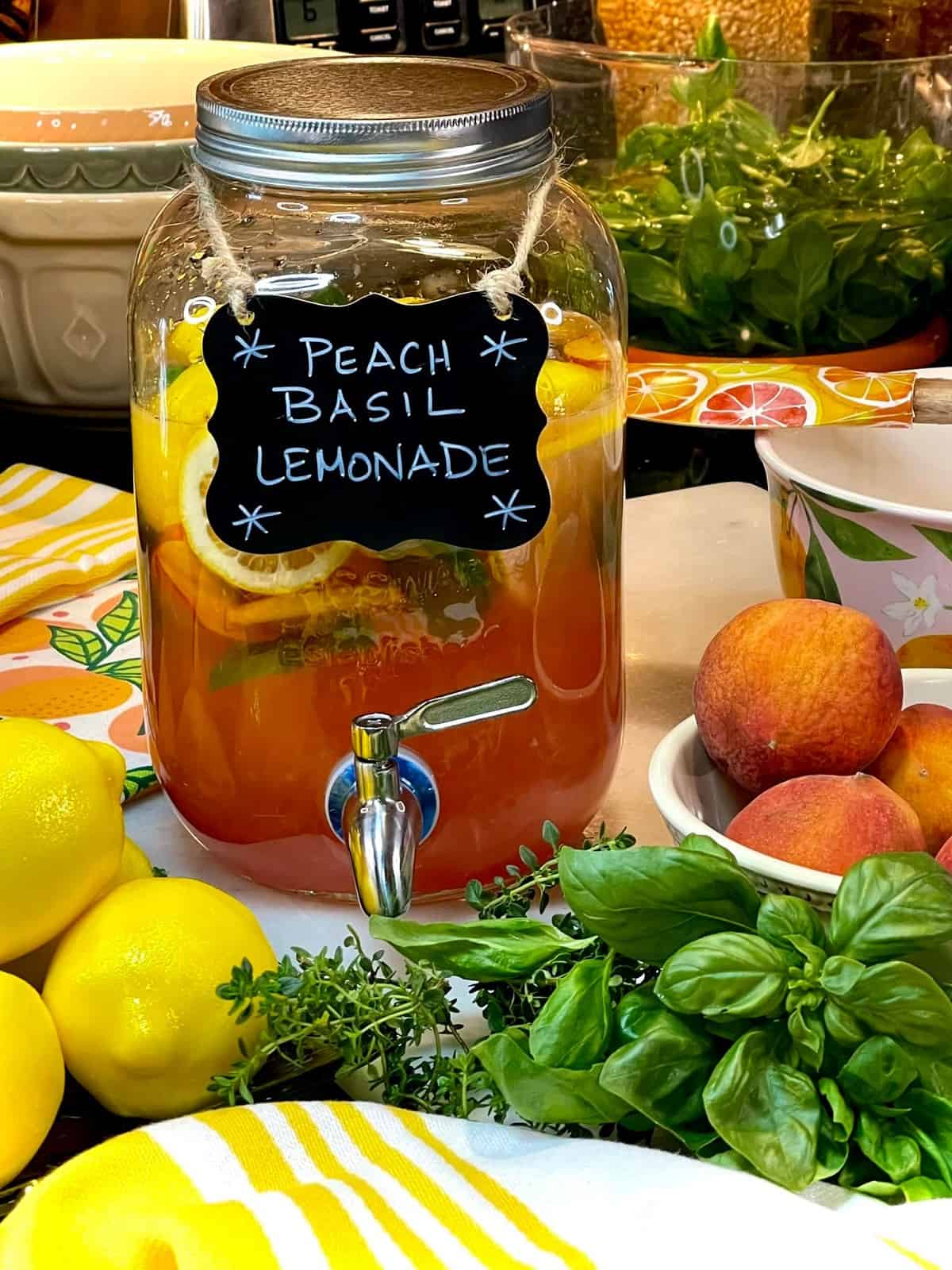 🍋The ingredients: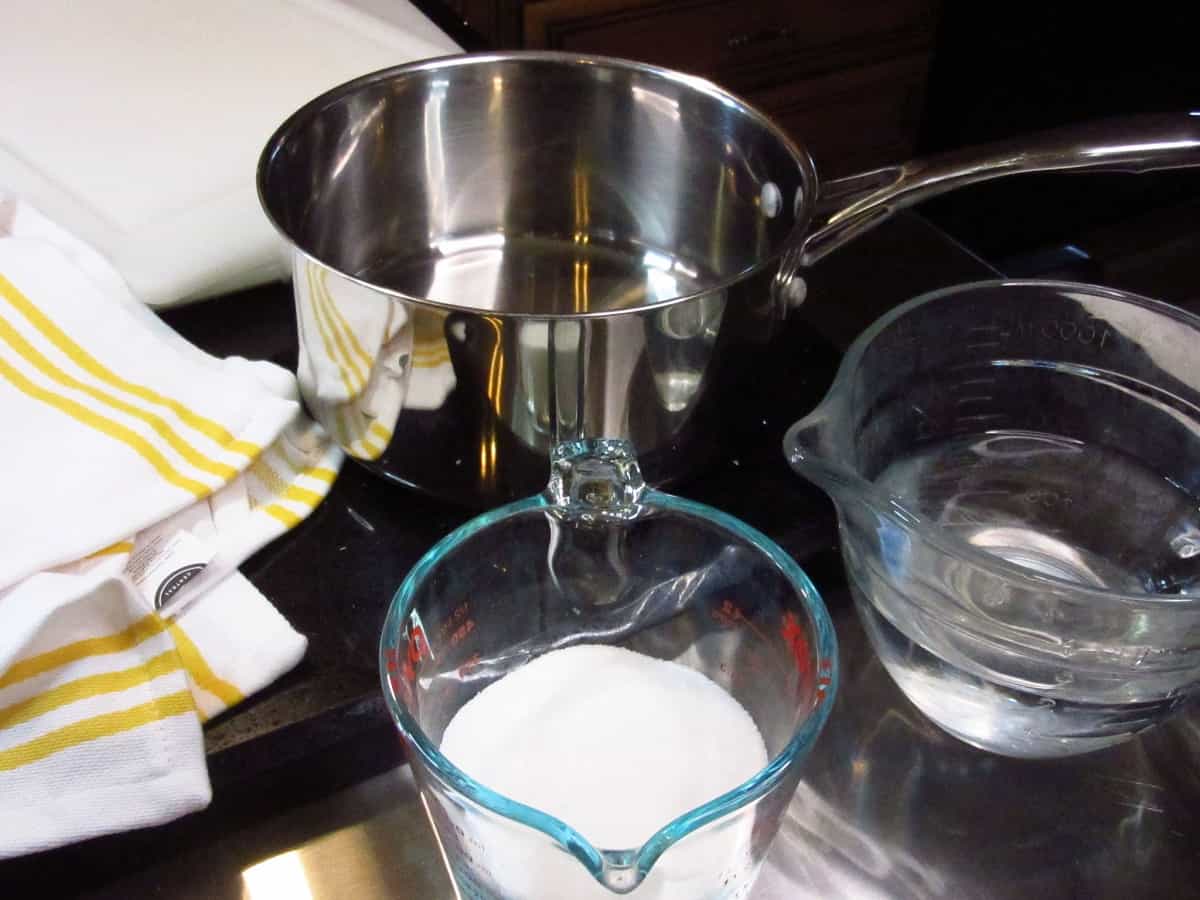 water
granulated sugar (other sweeteners may be used, see below)
peaches
lemons
basil
thyme
💭 Tips for making the best homemade lemonade:
Always use filtered water.
Using a simple syrup to sweeten the lemonade will ensure the sugar is completely dissolved, plus it's a great way to infuse all kinds of flavors into the lemonade.
For a whole lot of lemon flavor, make sure to use plenty of fresh lemons. I recommend using 5-6 large lemons, and to use an electric juicer to extract every bit of juice from the citrus fruit.
Allow the lemons to sit at room temperature for at least 30 minutes before juicing, and always press and roll each lemon on the counter for the highest yield of juice.
🥄 What is simple syrup and how is it made:
Simple syrup is just that. A syrup that is simple to make.
By combining equal parts of sweetener (in this case, sugar) and water together and bringing them to a simmer on the stovetop, a slightly thick and syrupy mixture will form.
Once cooled, simple syrup is a fantastic way to sweeten beverages of all kinds because there is no worry about a sweetener not being completely dissolved making it mix better into a beverage.
⭐ How to infuse simple syrup with extra flavor:
In this case I added fresh peach slices, basil leaves, and thyme sprigs to the saucepot.
By simmering the ingredients together on the stovetop, the simple syrup easily, and subtilty, took on the additional summertime flavors. See below.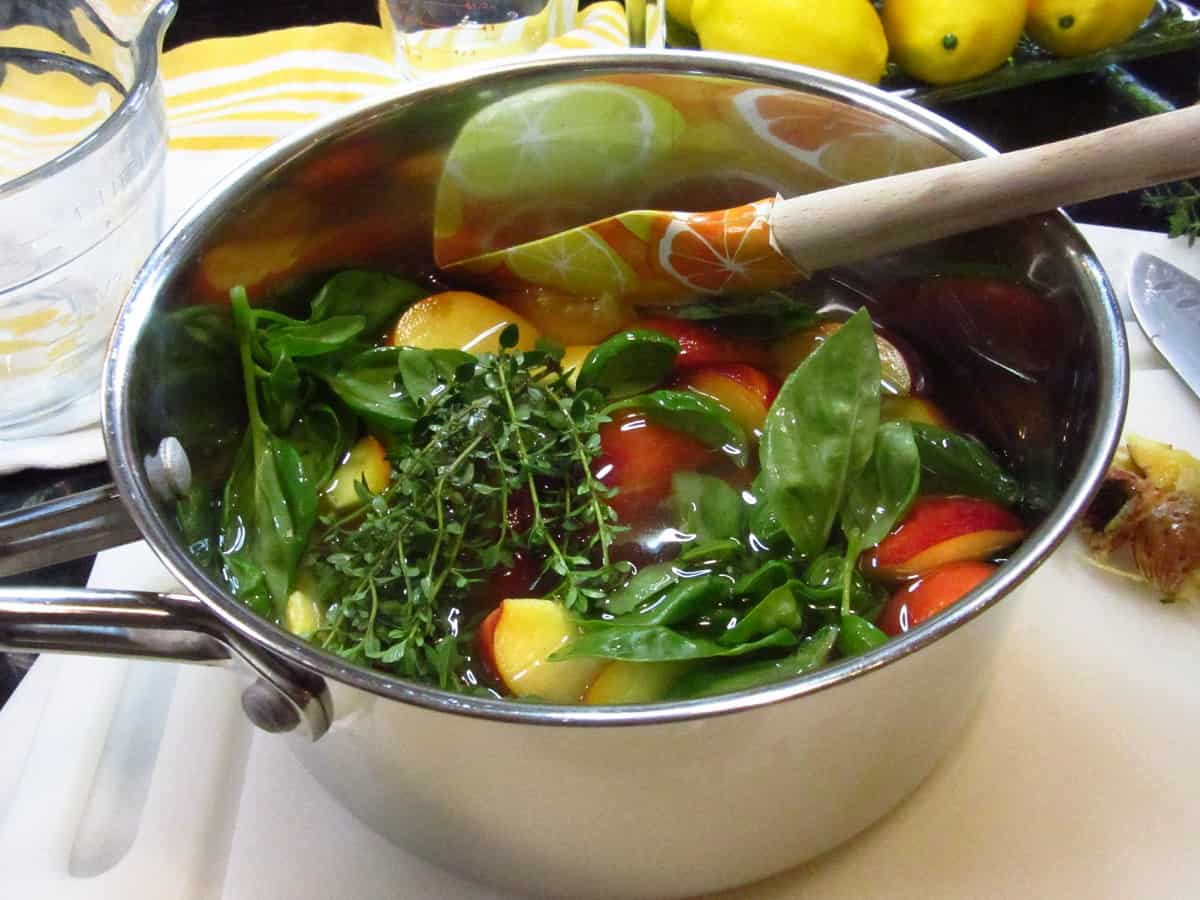 ⏲️ How long will an infused simple syrup keep in the refrigerator:
Once an infused simple syrup is made, use a fine mesh strainer to strain out the spent fruit and herbs and discard. An infused simple syrup can be kept in a jar in the refrigerator for up to 2 weeks.
🥤 Suggested simple syrup flavor substitutions:
Want to try the same infused simple syrup technique with other fruit and herbs?
For fruit, how about adding fresh cherries (pitted and cut in half), blueberries, strawberries, raspberries, or even pineapple chunks to the simple syrup mixture and bring to a simmer?
For herbs, I've used cilantro to make a cilantro simple syrup to flavor my Peach and Raspberry Sun Tea, but I know that rosemary, sage, and even dill would make for some interesting (and tasty) simple syrup infusions.
📋 Can honey or a sugar substitute replace the granulated sugar in this lemonade recipe:
Yes! Feel free to use your favorite 1:1 sugar replacement. The ones I've used in the past are Monk Fruit and Stevia. These will also both work to make a simple syrup.
To use honey in a simple syrup you can do a 2:1 (honey to water) ratio on the stovetop, and infuse it with additional ingredients (as addressed above) if desired.
For this particular lemonade recipe I'd use ½ cup of honey to ¼ cup of water. Taste and adjust the final lemonade with additional honey if you prefer a sweeter beverage.
🎥 Watch this video from FlavCity to learn more about the best sugar substitutes:
👪 How many servings will this recipe make:
As written this recipe will make eight, 8 ounce glasses, of lemonade.
🍑 How long will this peach basil lemonade keep in the refrigerator:
This lemonade will keep for 4-5 days in a covered pitcher or a 1 gallon drink dispenser in the refrigerator without ice so it doesn't dilute.
🥤 Serving suggestions:
Of course you have to serve it over ice in a tall glass with a straw, lemon slice, and a fresh sprig of basil.
However, for the 21 and over crowd, if you'd like to flavor (i.e. spike) your lemonade with an alcohol beverage of your choice, I wouldn't tell you no. 🍹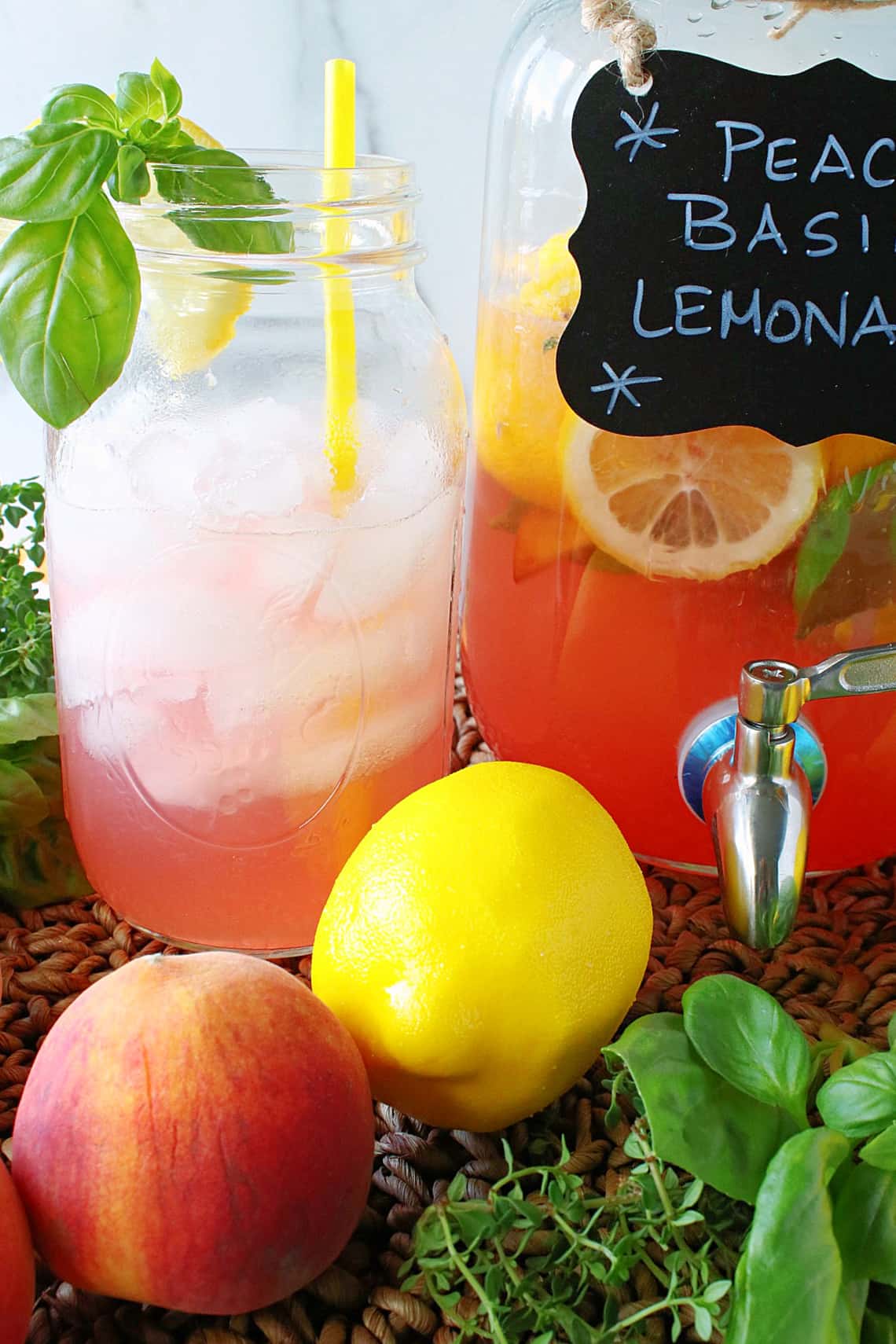 🍑 Additional peach recipes you'll also enjoy:
My Fresh Peach Crostata is rustic and delicious. It's similar to biting into a fresh ripe peach except it has a flaky piecrust shell.
No ice cream maker? No problem. My recipe for No-Churn Peach and Pecan Ice Cream is made with simple ingredients and calls for basic kitchen equipment.
Dazzle them with this super fast and delicious recipe for Peaches Foster! It's a dessert they won't soon forget!
When you make this recipe, and I hope you do, I'd appreciate it if you'd take a moment to leave a star rating on the recipe card and briefly comment on why you rated it as you did. FYI - Google appreciates recipe ratings and, in turn, will share my recipes with more people. Thank you so much!!
Printable Recipe Card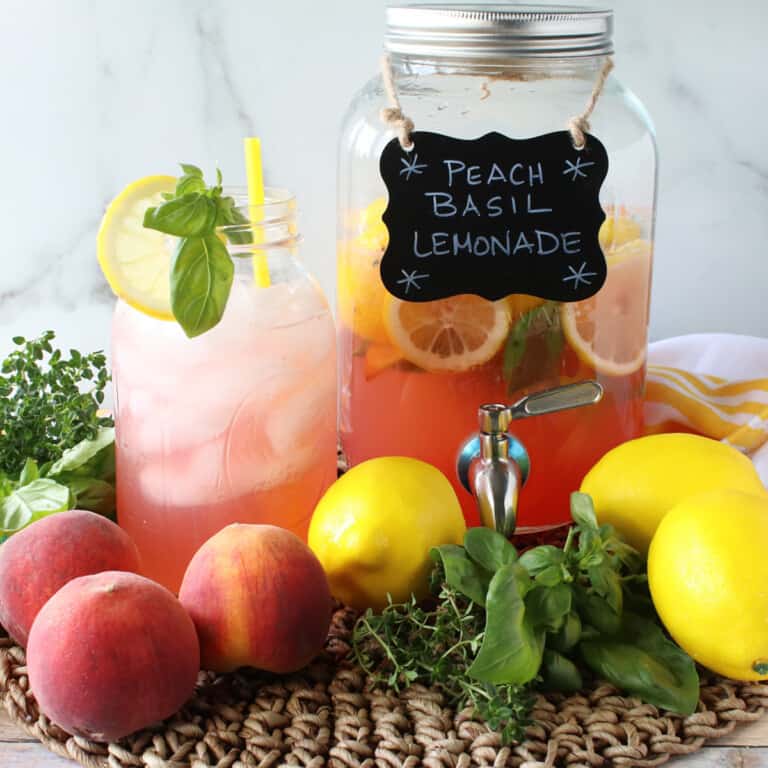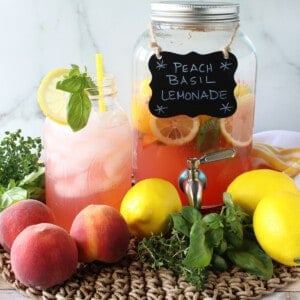 Peach Basil Lemonade
This refreshing Peach Basil Lemonade is the perfect combination of lightly sweet and lightly tart, and the basil adds an extra herbaceous fragrant note you'll enjoy!
Ingredients
For the infused simple syrup:
4

medium

very ripe peaches

pitted and sliced

2

cups

water

2

cups

granulated sugar

½

cup

fresh basil leaves

plus additional for garnish

¼

cup

fresh thyme sprigs
For the lemonade:
7

medium

lemons

juiced

1½

quarts

filtered water

additional lemon slices, peach slices, and fresh herbs
Instructions
To make the peach and herb simple syrup:
Add 2 cups water and 2 cups of the granulated sugar to a 3-quart heavy bottom saucepan.

Remove the pit and slice 3 of the peaches into wedges. Add them to a saucepan along with (approximately) ½ cup of fresh basil leaves and ¼ cup of thyme sprigs.

Bring the mixture to a simmer over medium heat and cook, stirring occasionally, for 5-7 minutes, or until the simple syrup reduces slightly and turns syrupy.

Use a fine mesh strainer to strain out the spent fruit and herbs from the saucepot, reserving the simple syrup. Set the syrup aside to cool.
To make the Peach Basil Lemonade:
Juice the lemons making sure to keep at least one half of a lemon intact for slicing and garnishing. You should have approximately 1¼ to 1½ cup of fresh juice.

Add a few of the hollowed out lemon rinds along with some lemon slices to a 1 gallon jug or pitcher. Also add peach slices from the remaining peach, and additional thyme sprigs and basil leaves.

Pour the fresh lemon juice, cooled simple syrup, and filtered water into the 1 gallon pitcher or jug and stir well to combine.

Refrigerate (without ice) until cold. At least 3 hours.

Serve over ice and garnish with lemon slices and fresh basil leaves if desired.
Notes
Store the completed lemonade in a covered container in the refrigerator (without ice) for up to 5 days.
Serve over ice with a garnish of lemon slices, peach slices and fresh herbs.
Cheesecloth may also be used to strain the simple syrup.
Store the strained and prepared simple syrup in a covered container in the refrigerator for up to 2 weeks.
Nutrition
Serving:
1
serving
Calories:
254
kcal
Carbohydrates:
67
g
Protein:
2
g
Fat:
1
g
Saturated Fat:
0.1
g
Polyunsaturated Fat:
0.2
g
Monounsaturated Fat:
0.1
g
Sodium:
24
mg
Potassium:
242
mg
Fiber:
4
g
Sugar:
59
g
Vitamin A:
507
IU
Vitamin C:
57
mg
Calcium:
48
mg
Iron:
1
mg
Follow me across my social media platforms and join in on the conversation: FACEBOOK, INSTAGRAM, PINTEREST, TIKTOK, AND YOUTUBE.
Thank you so much for visiting me today in my Kudos Kitchen. I hope you found something you'll love and that you'll come back and visit me often. There is always room for you around my table!
Should you have any questions or comments regarding anything you've seen here on my blog, please don't hesitate to reach out to me. It is always my distinct pleasure to respond to you just as soon as I possibly can.
Until we eat again, I hope you have a delicious day!!