Delicious Cast Iron Skillet Cornbread will help keep the heat out of the house when those summer temperatures soar. This BBQ side dish recipe is perfect for outdoor entertaining no matter what you're serving!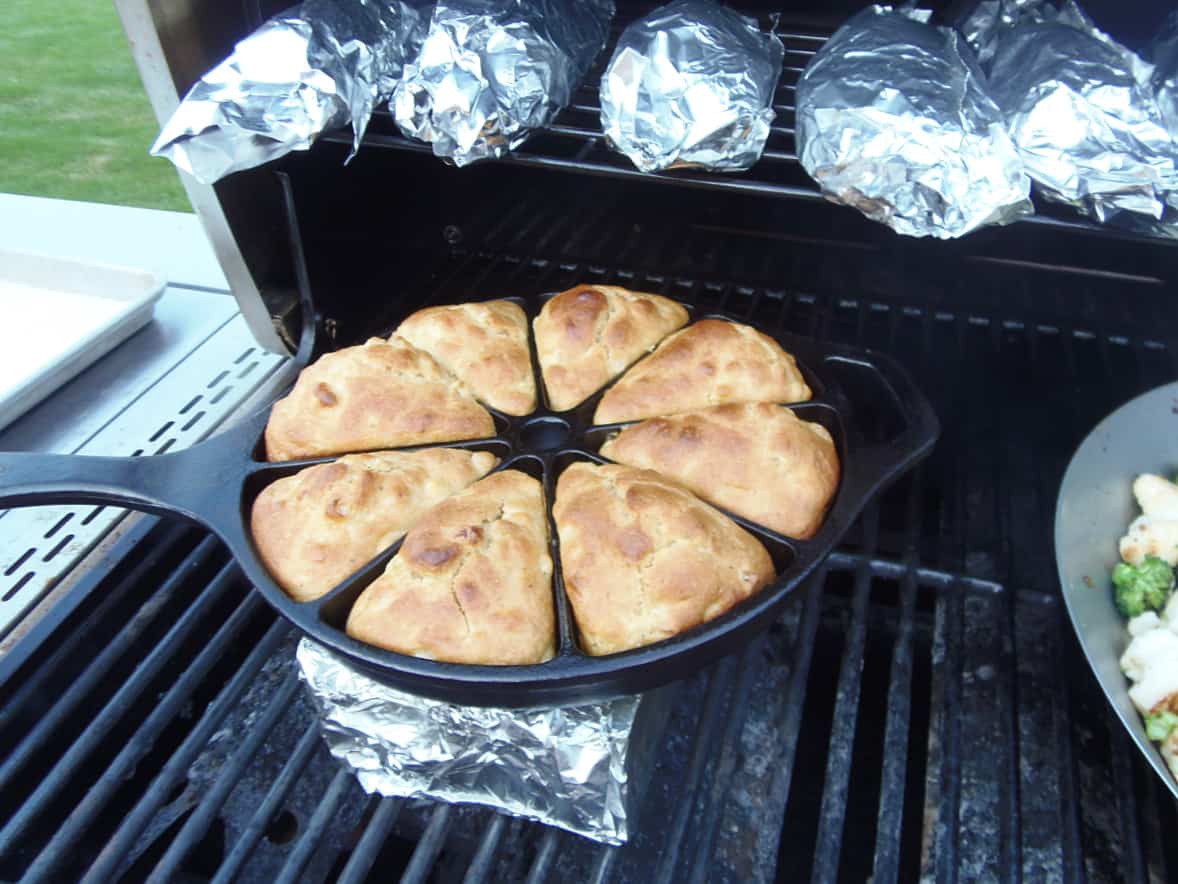 *Disclaimer - This recipe was originally published in 2012. I'm working hard to update all my older recipes with recipe cards, new photos, and additional recipe information. But, getting to all of them will take time. Please bear with me. In the meantime let me assure you that this recipe is still a winner and one I'm sure you'll be well pleased with when you make it at home.
Ever wonder how you can turn your backyard grill into a backyard oven? I'm here to show you just how easy it is to do, and you probably have the items you need already at your disposal.
If not, they're easy to come by at your local garden or backyard center. Are you intrigued? Good! Read on!
**Please Note - The printable recipe card with detailed instructions, complete ingredient measurements, and nutritional information for making Cast Iron Skillet Grilled Corn Bread is available near the end of this post.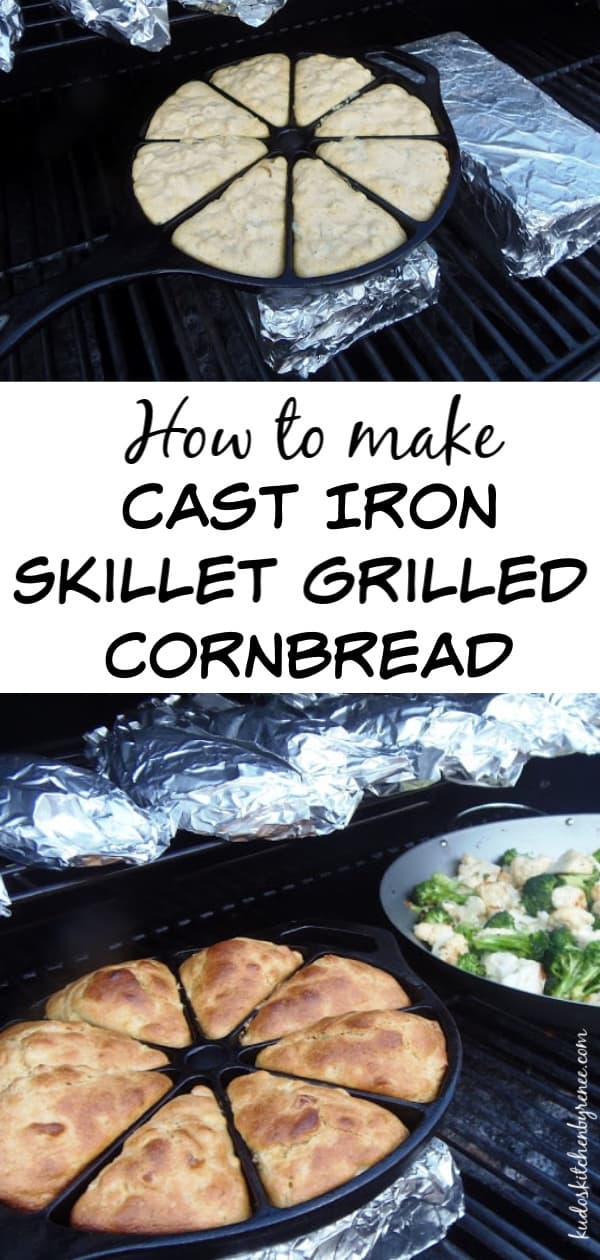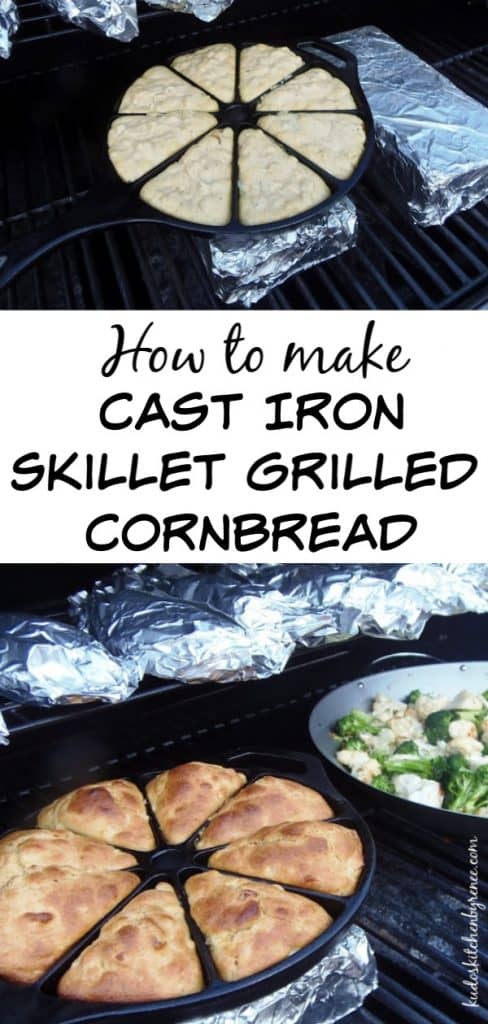 The ingredient list:
All-Purpose Flour

Yellow Cornmeal

Sugar

Baking Powder

Kosher Salt

Freshly Cracked Black Pepper

Ground Cumin

Freshly Chopped Rosemary

Garlic Powder

Buttermilk or Buttermilk Alternative

Olive Oil

Egg

Corn Kernels (frozen or fresh)
**This post is being updated from the original publication in 2012. The recipe has remained completely unchanged from the original post but it now includes a printable recipe card along with the specific calorie count and nutritional information.
This is what I had to say about this recipe back in 2012:
This month's #baketogether recipe from Abby Dodge had me jumping for joy! Not only did Abby choose a lovely and extremely easy-to-prepare buttermilk cornmeal batter, but she also gave us options for preparing the batter in either in a sweet or savory way.
Given those two choices, I'll choose savory 9 times out of 10.
The day I decided to make this recipe was also the day we were having some company over for a backyard cookout. The weather outside was in the '90s and humid so the air conditioning was on in the house.
For the main course, we made a turkey breast on the smoker.
We added some lemon and rosemary and set the timer for approximately 4 ½ hours.
The only thing we needed to do was add cherry wood chips to the smoker every couple of hours to keep the smoker fed and happy.
It was a stress-free way to entertain during the summer, and a great way to keep the heat out of the house! You just can't beat that for easy backyard entertaining!
Not wanting to add any heat to the house, I decided that it would be fun to cook the cornbread out on the grill alongside the sweet potatoes and veggies also.
As it turns out, it worked wonderfully well and this skillet cornbread was the star of our evening meal.
How to turn a backyard grill into a backyard oven:
Cover several bricks or flat patio stones with aluminum foil. (see photo below)

Place the bricks or stones directly on the grill grates, and preheat the grill with the lid closed.

To bake or cook, place cooking items such as a casserole dish, skillet, baking sheets (etc.) directly on top of the prepared bricks for indirect heating, and to keep the items away from the direct grill flames.

Cover the lid and check back occasionally to monitor the cooking and adjust the heat and temperature if needed.

**IMPORTANT - NEVER place a glass or ceramic dish directly over an open flame as this will cause the dish to explode!
Below is the printable recipe card for today's Cast Iron Skillet Grilled Cornbread.
If you've enjoyed this recipe and look forward to making it (or have already made it), I'd appreciate if you'd take a moment to give it some

feedback

by way of

stars

near the comment section at the end of this post. Thank you so much!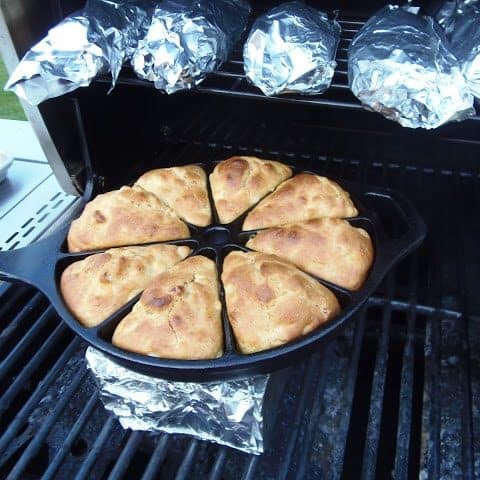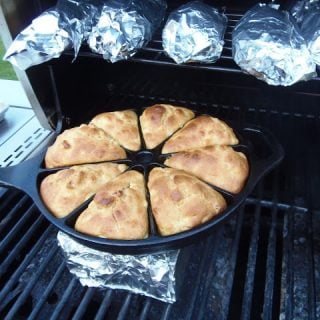 Cast Iron Skillet Grilled Cornbread
Making this Cast Iron Grilled Skillet Cornbread will help you keep your cool this summer and keep the heat out of the house. It's perfect for outdoor entertaining and will please even the pickiest eater.
Ingredients
¾

cup

all-purpose flour

⅓

cup

yellow cornmeal

⅓

cup

granulated sugar

or to taste

2

teaspoons

baking powder

1

teaspoon

kosher salt

1

teaspoon

black pepper

or to taste

1½

teaspoons

ground cumin

1

tablespoon

freshly chopped rosemary

2

teaspoons

garlic powder

¾

cup

buttermilk

1

tablespoon

olive oil

1

large

egg

1

cup

corn kernels

fresh or frozen
Instructions
Preheat grill to approximately 350-degrees, or arrange hot coals in a circle around the perimeter of the grill, leaving the center free from coals and heat to a medium/high heat.

Cover 1 or 2 bricks with tin foil and place them in the center of the grill.

Place your seasoned empty skillet on top of the brick and close the cover.

**Using bricks to elevate dishes from the direct flame, will turn your grill into your outdoor oven**

Heat your empty seasoned cast iron skillet in the grill while you prepare the batter.

Add all the dry ingredients into a large bowl and stir to combine.

Add the wet ingredients to a small bowl and whisk to combine.

Add the wet ingredients into the dry ingredients and stir to combine but not over mix.

Add the frozen corn and stir until just combined.

Carefully spoon the batter evenly into the hot skillet, and tent with aluminum foil.

Carefully place the skillet onto the prepared bricks. Cover the grill.

Cook for approximately 20 minutes or until the cornbread is golden brown and when a toothpick inserted in the center comes out clean.
Nutrition
Serving:
1
slice
Calories:
161
kcal
Carbohydrates:
28
g
Protein:
4
g
Fat:
4
g
Saturated Fat:
1
g
Cholesterol:
28
mg
Sodium:
365
mg
Potassium:
218
mg
Fiber:
1
g
Sugar:
10
g
Vitamin A:
90
IU
Vitamin C:
0.3
mg
Calcium:
78
mg
Iron:
1.4
mg
I sincerely hope you've enjoyed today's BBQ side dish recipe for Cast Iron Grilled Skillet Cornbread as much as I've enjoyed bringing it to you!
Thank you so much for visiting me today in my Kudos Kitchen. I hope you found something you'll love and that you'll come back and visit me often. There is always room for you around my table!
Should you have any questions or comments regarding anything you've seen here on my blog, please don't hesitate to reach out to me. It is always my distinct pleasure to respond to you just as soon as I possibly can.