My Chicken Cordon Bleu Salad is a hearty romaine lettuce salad loaded with chicken, ham, and Swiss cheese. It's then topped with a lightly sweet and tangy homemade honey Dijon vinaigrette that balances this delicious salad perfectly!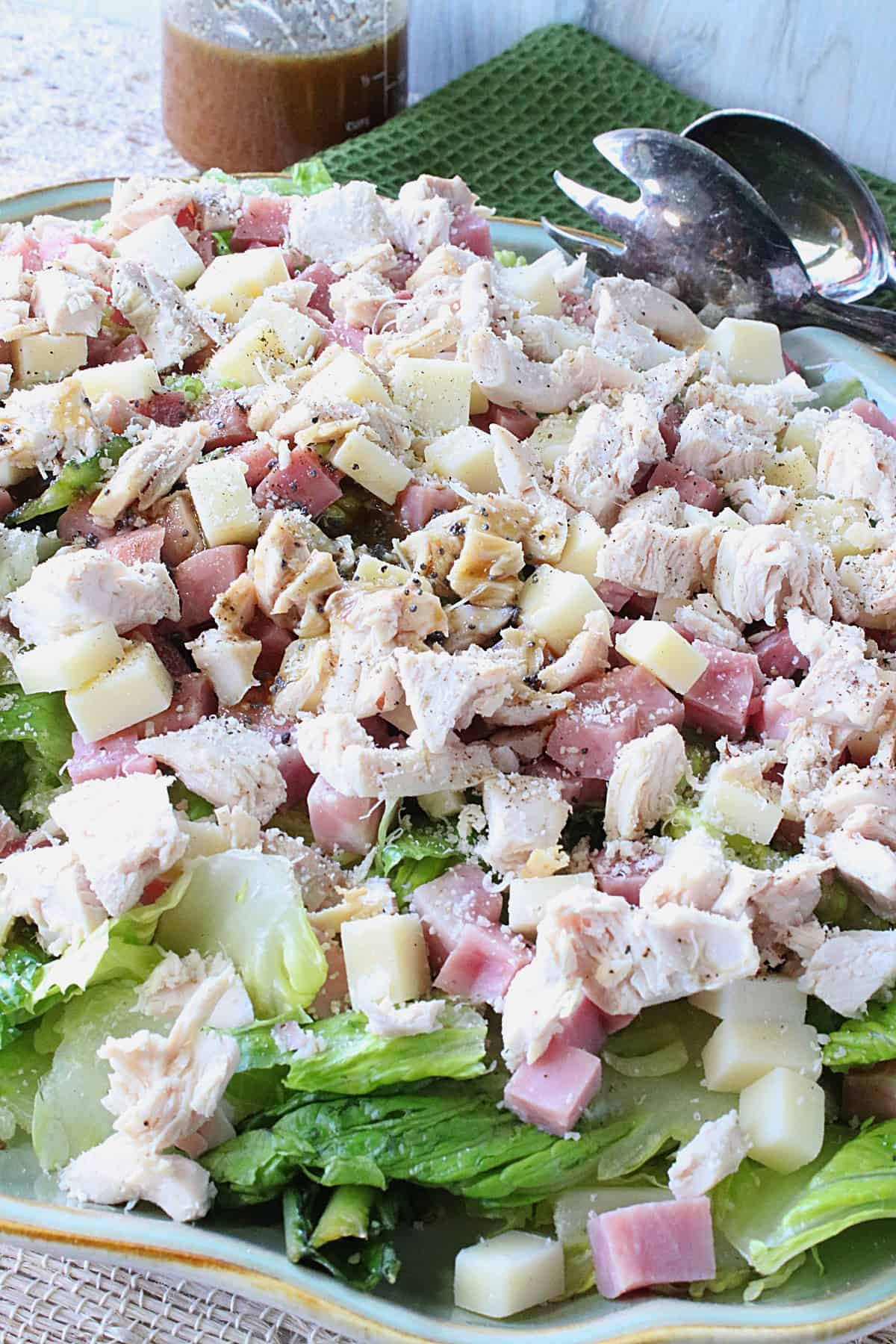 **Note - The following recipe post or category contains affiliate links (highlighted in blue) for your consideration. By clicking on a link I may earn a small commission at no additional cost to you. Thank you!
This delicious and filling meat and cheese salad is a snap to make! Dinner (or lunch) will be on the table in 20 minutes or less with no fuss and hardly any cleanup.
Today's recipe was inspired because I'd had some leftover Spiced Apricot Glazed Ham. This ham was so good that I knew I wanted to use it to make another dish. This salad is the result.
Jump to:
The ingredients:
*Please note that the exact measurements along with a new "shop the recipe" feature from Instacart is available in the printable recipe card.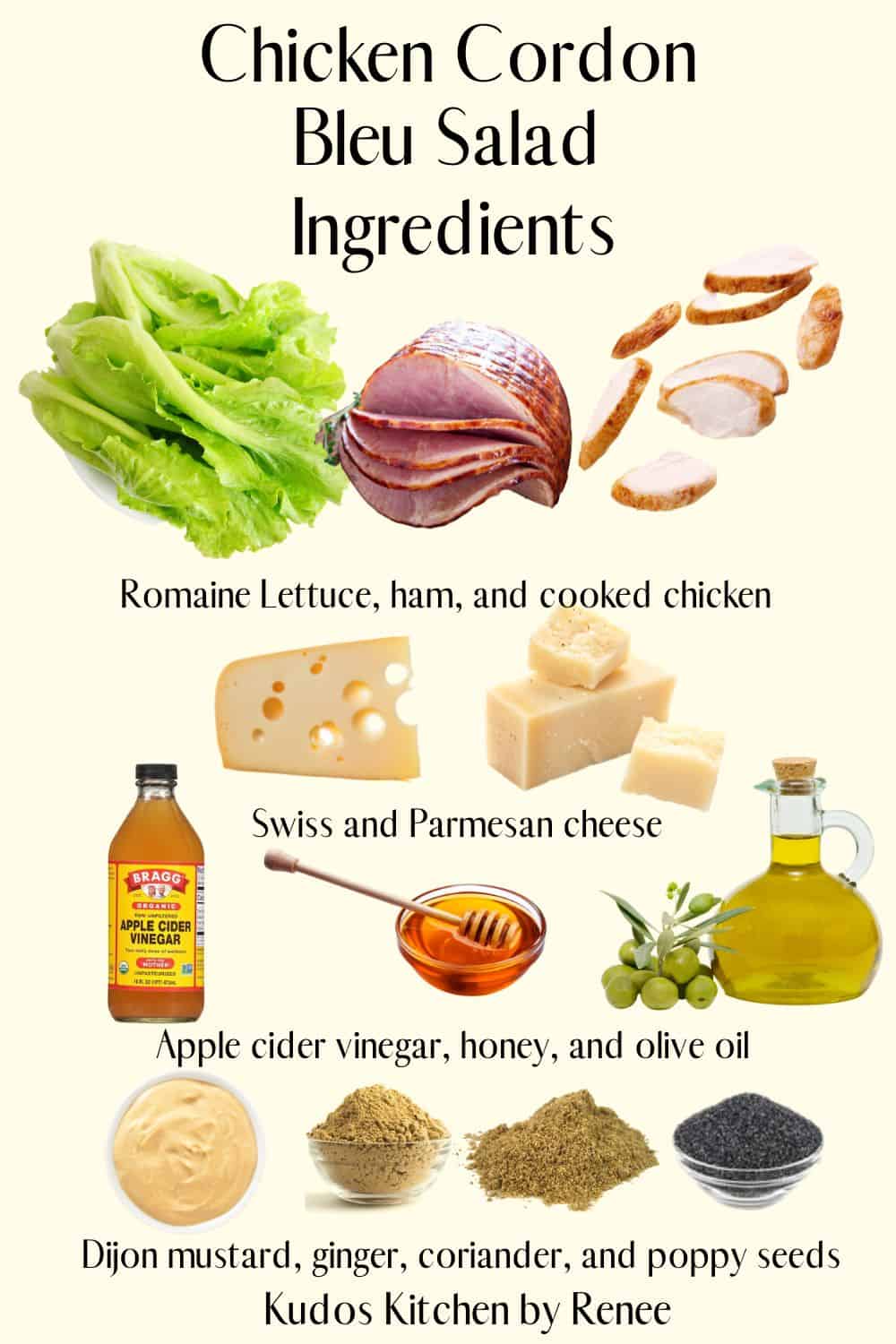 The above ingredient image was made using Canva Design. It's one of my very favorite design tools. You don't need to be a food blogger to use Canva. All you need to be is someone who loves designing graphics. Check them out if you're interested and a whole new world of artistic expression will be opened to you.
Ingredient savvy:
ROMAINE LETTUCE - I chose to use romaine lettuce in this recipe because its nutrition level is higher than iceberg lettuce. Did you know that romaine is packed with vitamins A and C and is also high in magnesium and folic acid?
However, use whatever lettuce is your favorite or that you have in the fridge. The important thing is that you make this salad, not particularly what type of lettuce you use.
COOKED CHICKEN - If you have leftover cooked chicken, use it for this recipe. I did not, so I used the trusty grocery store convenience food; the rotisserie chicken! You'll need about 2 cups of chopped chicken, white meat, dark meat, or both.
COOKED HAM - I had leftover ham in my fridge that I needed to use (which is basically how this recipe came to be). But, if you don't have leftover ham in your fridge, the cubed ham sold in the meat case is a great option.
SWISS CHEESE - I adore Swiss cheese now but didn't always. If Swiss isn't something you fancy, feel free to substitute any semi-hard cheese you enjoy. I had Swiss slices when I made this recipe, but a block of cheese will also work. You'll need about 1 cup of cubed cheese.
PARMESAN CHEESE - You won't require much, but using the best quality Parmesan you can afford is the difference between a good salad and a great salad. Whenever possible, I like to grate my own Parmigiano-Reggiano. But when I can't, I buy my Parmesan cheese in the cheese case at the supermarket, either pre-grated or shredded for convenience.
SALT AND PEPPER - Kosher salt is always my "go-to" salt because of the mild flavor, and I appreciate that it's not iodized. Using freshly cracked black peppercorns are also something I strongly prefer to buying already cracked pepper in a tin from the store. The flavor of freshly cracked pepper is FAR superior. Plus, you know for 100% sure what you're actually sprinkling on your food!
EXTRA VIRGIN OLIVE OIL - I recommend using the highest quality extra virgin olive oil you can afford. Extra virgin olive oil is always the first press olives have, making extra virgin the best-tasting olive oil for homemade vinaigrettes.
APPLE CIDER VINEGAR - This is an ingredient I adore and use very frequently when making homemade vinaigrettes. I always like using cider vinegar with the "Mother" included. The "mother" of apple cider vinegar is the byproduct of the yeast and bacteria added to apple cider turning a sweet apple cider into an acidic vinegar.
Apple ciders, including the mother, are a non-filtered cider vinegar, which leaves healthy bacteria, promoting good gut health.
Learn more about the health benefits of using apple cider vinegar with the mother.
DIJON MUSTARD - This ingredient provides additional flavor and works as an emulsifier preventing the vinaigrette from breaking into separate oil and vinegar layers once vigorously shaken.
HONEY - Honey adds a light floral sweetness to the tangy bite of the vinaigrette. You can use whatever type of honey you have on hand or your favorite. I always tend to use wildflower honey.
GROUND CORIANDER - Did you know that coriander seed is from the cilantro plant? Making ground coriander is when dried coriander seeds are crushed into a powder. To me, ground coriander has a lively, fresh flavor. It brightens up the taste of whatever dish you're making.
GROUND GINGER - This warm, spicy, and earthy addition adds a beautiful depth of flavor to this homemade Dijon vinaigrette. To me, it also lends a very slight floral note to this highly flavored dressing.
Not using ground ginger in this dressing isn't a deal breaker, but if you have it on hand, you'll be wonderfully pleased with the flavor it gives this homemade Honey Dijon vinaigrette.
POPPY SEEDS - I'm all about adding a little texture and crunch to a dressing, and poppy seeds are great for that, and yes, poppy seeds do come from the opium poppy plant. Of course, poppy seeds can be an optional ingredient in this dressing if you cannot digest them easily.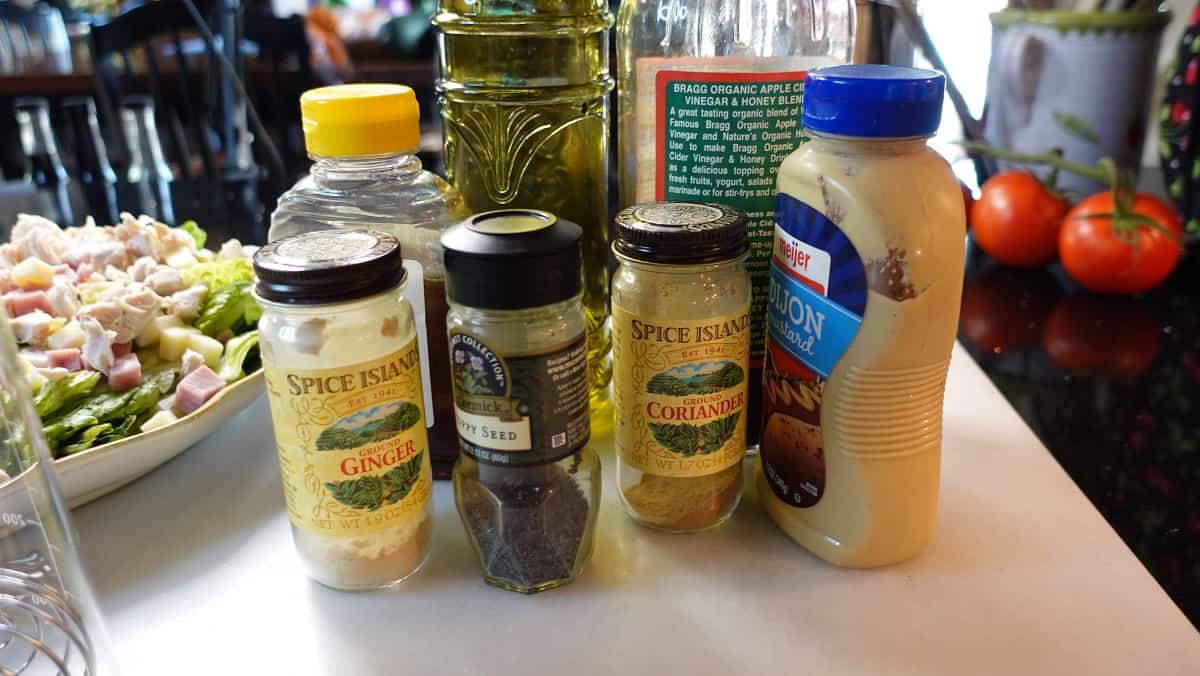 Swaps and substitution suggestions:
Cubed cooked turkey would be a nice substitution for the chicken if you have it.
Cooked and crumbled bacon would make a nice swap for the ham.
Avocado oil would make another healthy swap for the olive oil.
Maple syrup can be used in place of the honey.
Any type of mustard can be used in place of the Dijon. Just make sure to use it sparingly so it won't overpower the dressing.
Iceberg, Boston bib, butter lettuce, and red leaf lettuce would all make wonderful replacements for the romaine. Just remember, for optimal nutrition, a darker leaf provides more nutritional value.
FAQs
How long will this homemade vinaigrette keep in the refrigerator?
Keep this dressing in a jar with a tight fitting lid for up to 10 days. Shake well, if needed, before using after refrigeration.
Can this chicken cordon blue salad be made in advance?
Yes, but don't dress the salad until right before serving. Layer all the ingredients on a platter (minus the dressing), and cover with plastic wrap. Keep in the refrigerator no longer than 24 hours before serving. Serve cold.
How many people will this salad serve?
If serving as an entrée, it will feed 4-6 people comfortably.
If serving as a cold side dish, it will feed 8-12 comfortably.
Can this salad be made vegetarian?
Yep. Leave out the ham and chicken. Still yummy. Add more veggies and you'll be a happy camper.
Suggested salad add-ons and add-ins:
croutons
cooked and crumbled bacon
drained capers
toasted sesame seeds
nutritional yeast
frozen peas (thawed)
shredded carrot
shredded red cabbage
diced red onion
diced celery
toasted walnuts
diced avocado
berries; blue, raspberry, diced strawberries, blackberries
Additional outstanding salad recipes:
A chef's salad isn't something only to be eaten at restaurants. You can easily make this Best Ever Chef's Salad with Homemade Blue Cheese Dressing at home with all the great add-ins and flavor you love!
Crunchy, healthy, and completely addictive. This copycat Sunflower Crunch Kale and Cabbage Salad has it ALL going on!! Dig in! You're going to love this colorful salad!
This salad recipe may surprise you with its unexpected ingredients. But after your first bite of this incredible Spinach Salad with Blue Cheese and Purple Potatoes, you'll agree that it blows all other spinach salad recipes out of the water!
This Healthy Rubbed Kale Salad with Fresh Berries is a deliciously healthy salad that takes only minutes to prepare. It's chock full of Mother Nature's healthiest ingredients and then topped with a homemade vinaigrette which has just the right amount of tang to complement the hearty kale.
Become a member of the Misfits Market family and save up to 40% off organic produce and sustainably sourced groceries, delivered straight to your door.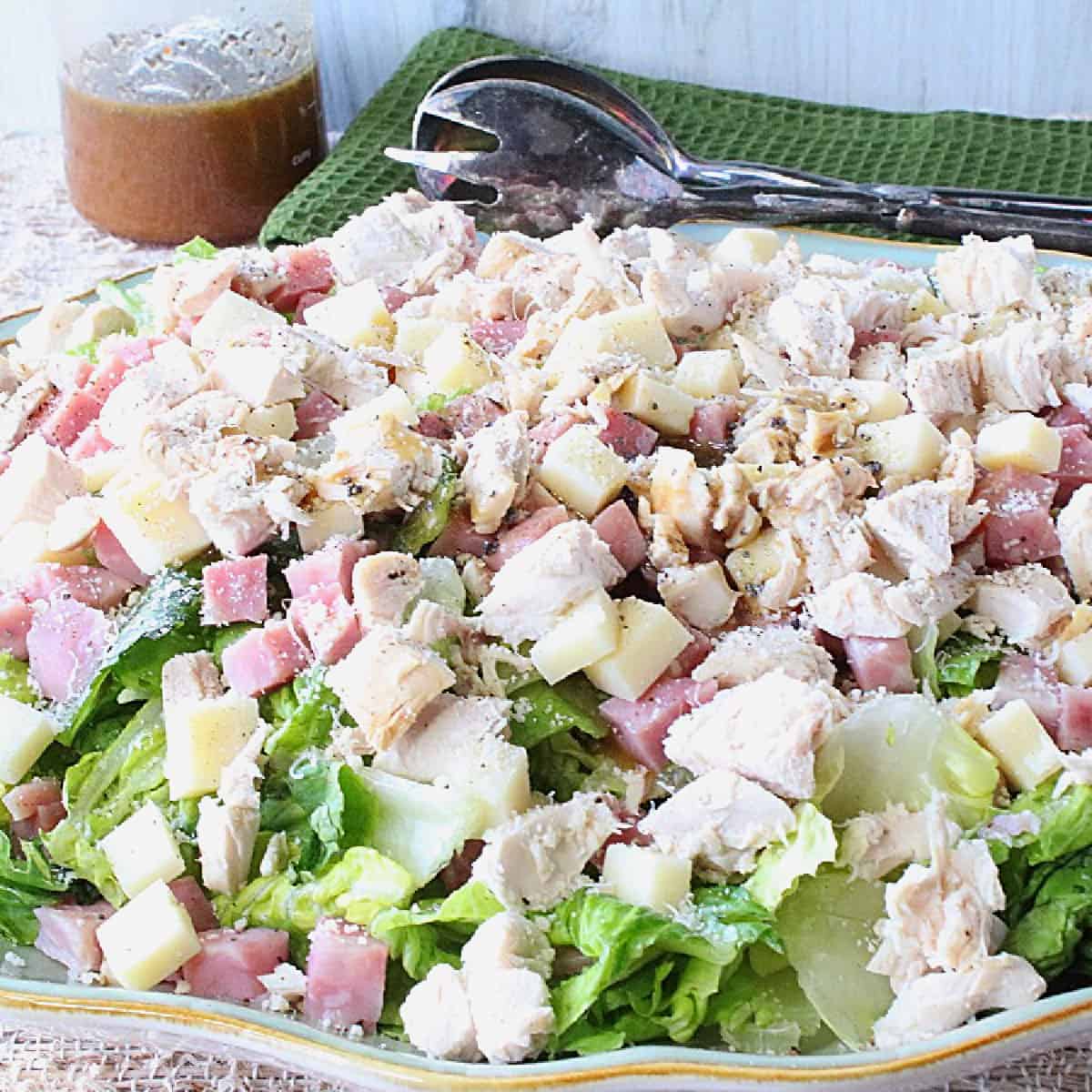 ⭐If you've made this recipe, or are excited to make this recipe, I'd appreciate it if you'd take a moment to leave it a star rating on the recipe card, along with a comment if you're so inclined. Thank you. 🙂
Printable Recipe Card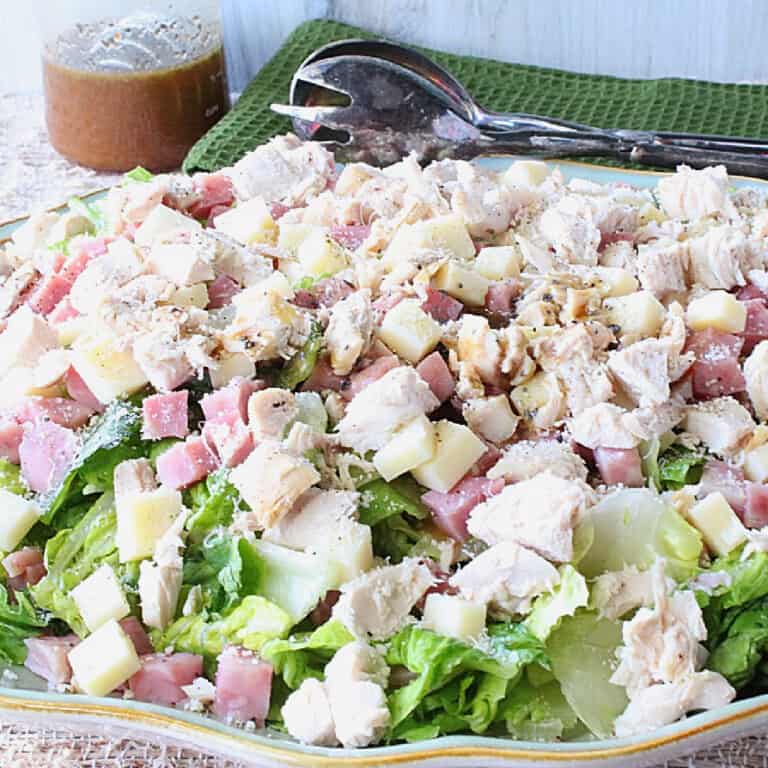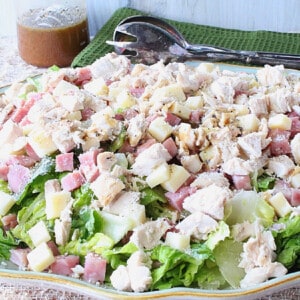 Chicken Cordon Bleu Salad
My Chicken Cordon Bleu Salad is a hearty romaine lettuce salad loaded with chicken, ham, and Swiss cheese. It's then topped with a lightly sweet and tangy homemade honey Dijon vinaigrette that balances this delicious salad perfectly!
Ingredients
For the salad:
6

cups

chopped romaine lettuce

1

cup

chopped cooked chicken

1

cup

chopped cooked ham

1

cup

cubed Swiss cheese

½

cup

grated Parmesan cheese
For the dressing:
½

cup

apple cider vinegar

¼

tablespoons

extra virgin olive oil

or to taste

3

tablespoon

honey

1½

tablespoons

Dijon mustard

½

teaspoon

ground coriander

½

teaspoon

ground ginger

1

teaspoon

poppy seeds

½

teaspoon

salt

or to taste

¼

teaspoon

black pepper

or to taste
Instructions
To make the vinaigrette dressing:
Place all the dressing ingredients into a jar with a tight fitting lid and shake vigorously until the dressing comes together. Chill until ready to serve.
To make the salad:
On a large serving platter or salad bowl, layer the romaine lettuce, ham, chicken, Swiss, and Parmesan cheese. Refrigerate until ready to serve.

Drizzle the dressing lightly over the salad and serve.
Notes
The honey Dijon vinaigrette can be kept in the refrigerator for up to 10 days. Shake before using.
This salad may be made in advance and kept in the refrigerator (covered without dressing) for 24 hours before serving.
Nutrition
Serving:
1
serving
Calories:
258
kcal
Carbohydrates:
12
g
Protein:
17
g
Fat:
16
g
Saturated Fat:
7
g
Polyunsaturated Fat:
2
g
Monounsaturated Fat:
5
g
Trans Fat:
0.02
g
Cholesterol:
53
mg
Sodium:
710
mg
Potassium:
279
mg
Fiber:
1
g
Sugar:
9
g
Vitamin A:
4345
IU
Vitamin C:
2
mg
Calcium:
265
mg
Iron:
1
mg
Follow me across my social media platforms and join in on the conversation: FACEBOOK, INSTAGRAM, PINTEREST, TIKTOK, AND YOUTUBE.
Thank you so much for visiting me today in my Kudos Kitchen. I hope you found something you'll love and that you'll come back and visit me often. There is always room for you around my table!
Should you have any questions or comments regarding anything you've seen here on my blog, please don't hesitate to reach out to me. It is always my distinct pleasure to respond to you just as soon as I possibly can.