Burrito Dogs, or as I like to refer to them, Dogs in a Blanket, are a super fun new way to make, and eat, hot dogs. They can easily be made in less than 30 minutes time and all the kids (young, and old) will LOVE them!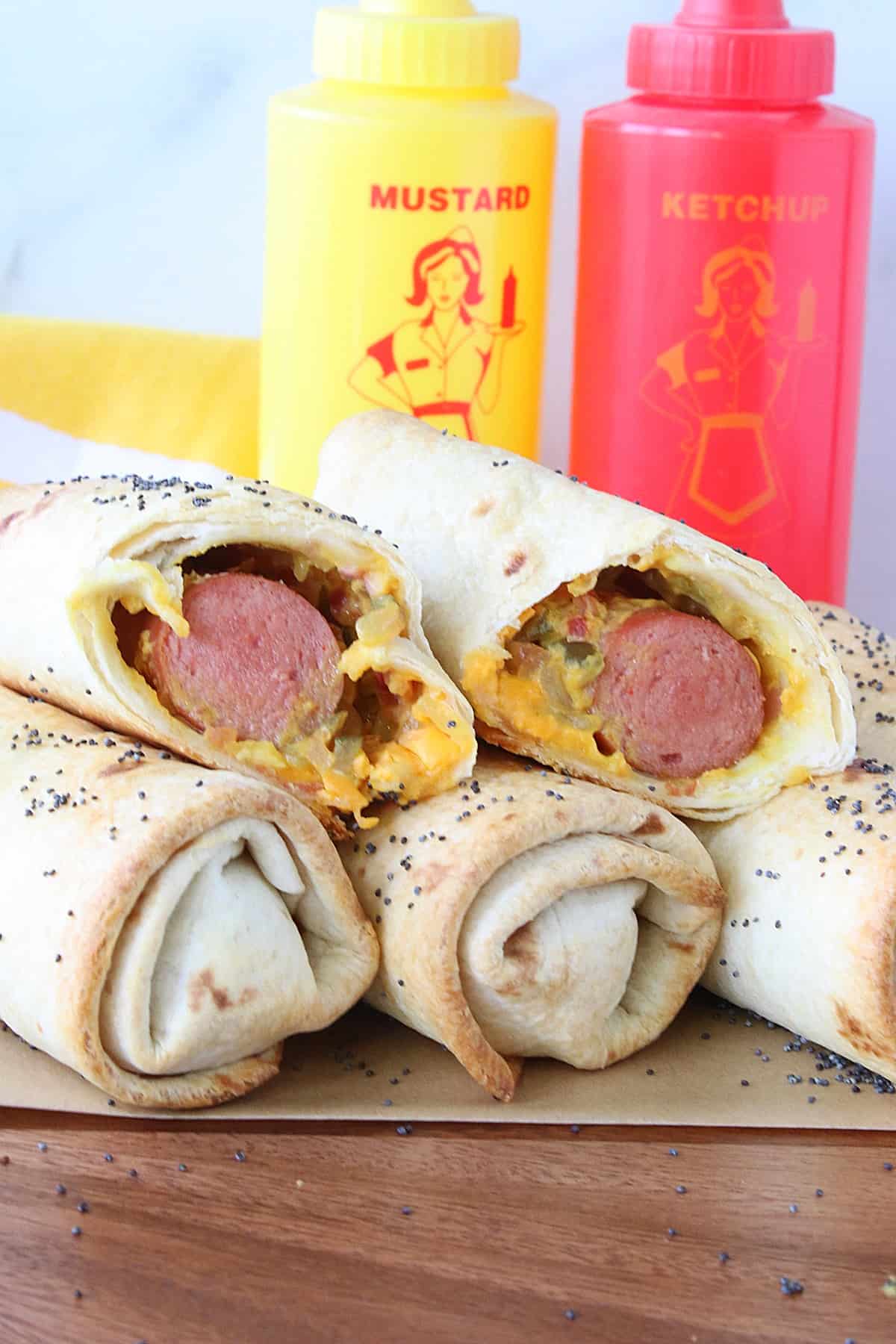 I'm a little obsessed with these tortilla-wrapped hot dogs, and you will be, too, once you try them. They're almost as much fun to make as they are to eat! Almost.
Today's recipe for Burrito Dogs spun off an equally fun and tasty for for Burgerdillas which are a cross between a cheeseburger and a quesadilla. I know you'll love them also so go buy some flour tortillas and get cooking!! 🙂
Jump to:
The ingredient list
*Please note that the exact measurements along with a new "shop the recipe" feature from Instacart is available in the printable recipe card.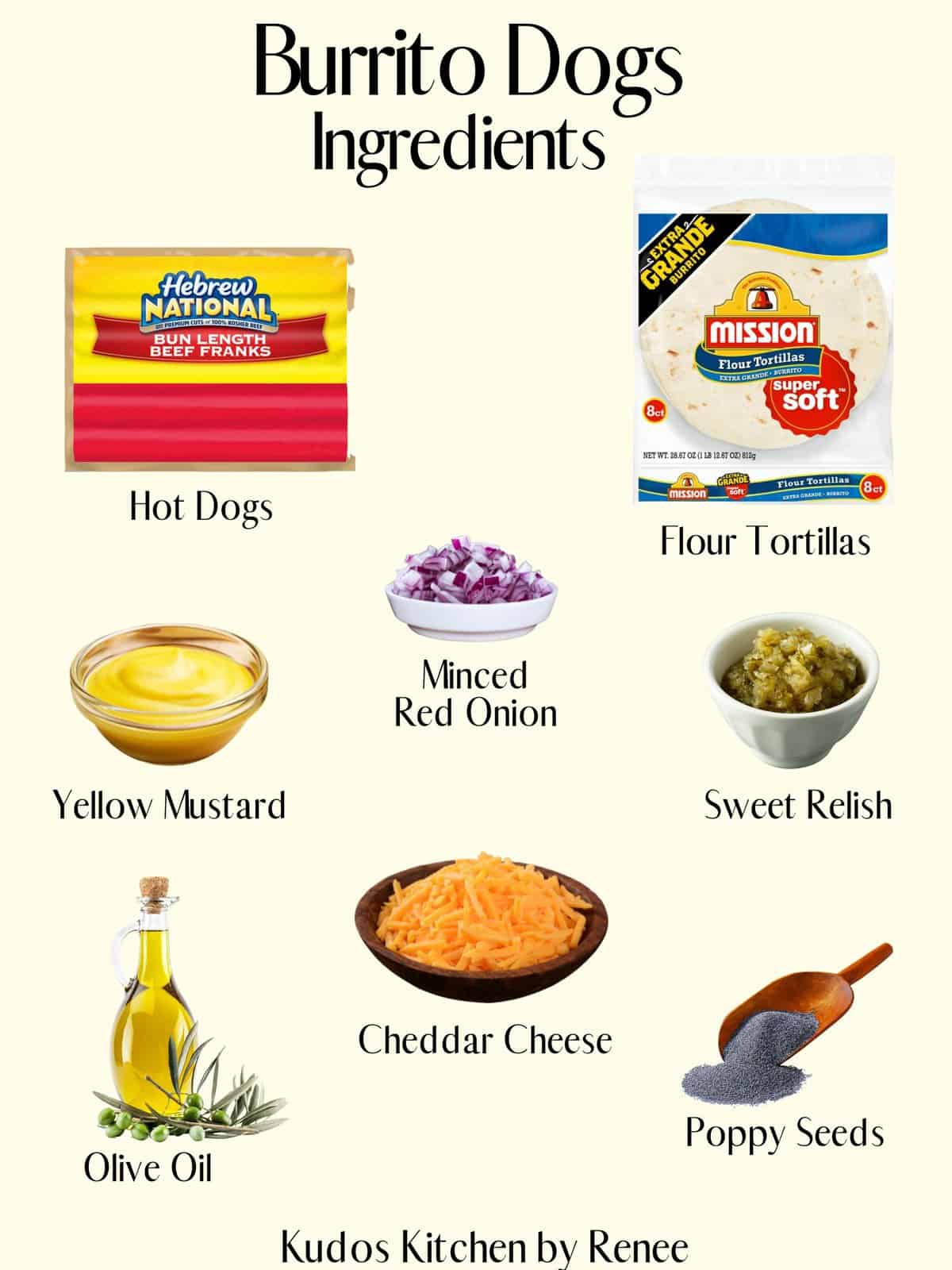 Ingredient information
HOT DOGS - You can use your favorite brand (or size) of hot dog you like. I chose to use all beef and bun-length wieners and look for the lowest amount of sodium possible on the package's nutritional label. I've listed some hot dog substitutions below, so check those out if you're not a big fan of hot dogs.
FLOUR TORTILLAS - A 12" flour tortilla was called for since I used bun-length wieners. I prefer flour tortillas over corn for this recipe but feel free to use corn tortillas if that's what you like or have on hand. You can also swap out low-carb tortillas if you want.
YELLOW MUSTARD - Ball park yellow mustard and hot dogs just go hand in hand. However, get creative and use your favorite mustard or forgo mustard altogether. These are your burrito dogs now!
SWEET PICKLE RELISH - I like the slight bit of sweetness the sweet pickle relish provides against the tang of the yellow mustard, but feel free to swap out dill pickle relish if that's what you like.
MINCED RED ONION - Finely chopped red onion gives these burrito dogs an extra kick of flavor. I like any additional filling ingredients to be small, so they wrap well in the tortilla blanket.
SHREDDED CHEDDAR CHEESE - Any cheese will work here if it has an excellent melty quality. It's best to shred your cheese from a block instead of using a pre-shredded bag of cheese. Pre-shredded bag cheeses have anti-caking ingredients added to the cheese to keep them from clumping in the bag and, in turn, won't melt as well as cheese directly from the block. Both will work, however. The choice is yours, however.
OLIVE OIL - I used olive oil and lightly coated the wrapped tortilla dogs. The oil promotes browning in the oven and gives a lovely light crunch to the tortilla after baking. Melted butter, avocado oil, or vegetable oil will also work.
POPPY SEEDS - What self-respecting hot dog holder doesn't have a light sprinkling of poppy seeds? Just kidding. I love the look and slightly nutty flavor the poppy seeds provide, so I added them after brushing the burrito dogs with oil. Feel free to omit them if you're not a fan, or you can swap them out with sesame seeds. My homemade Everything Bagel Seasoning would also be a great finishing touch!!
Are burrito dogs healthy
Well, let's say you probably shouldn't eat them every night of the week. However, as a fun treat from time to time, they're perfectly fine. Remember, kids, all things in moderation!
Can they be made in advance
Yes, they can. They're great to make in advance and then to reheat as needed.
How long will they keep in the refrigerator
If stored in an airtight container, tortilla dogs will keep in the refrigerator up to 7 days, but I doubt you'll have them that long.
How to reheat tortilla-wrapped hot dogs
I find these are best reheated in an oven or air fryer because that way you'll get a crispy exterior. Preheat the oven or air fryer to 350 degrees Fahrenheit and cook for 4-5 minutes, or until hot.
If, however, you don't mind the tortilla being soft, loosely wrap the burrito dog with plastic wrap and heat for 1 minute in the microwave on medium power.
Top tips for success
Don't overfill the tortilla dogs, and always cook them seam-side down so the tortillas stay closed during cooking.
Brushing the wrapped tortilla dogs with either olive oil or butter before baking will help to crisp up the tortilla giving a nice crunchy texture you don't get with an ordinary hot dog and bun situation!
Also, I recommend keeping your filling ingredients small in size (as far as pieces) so they'll be easier to wrap.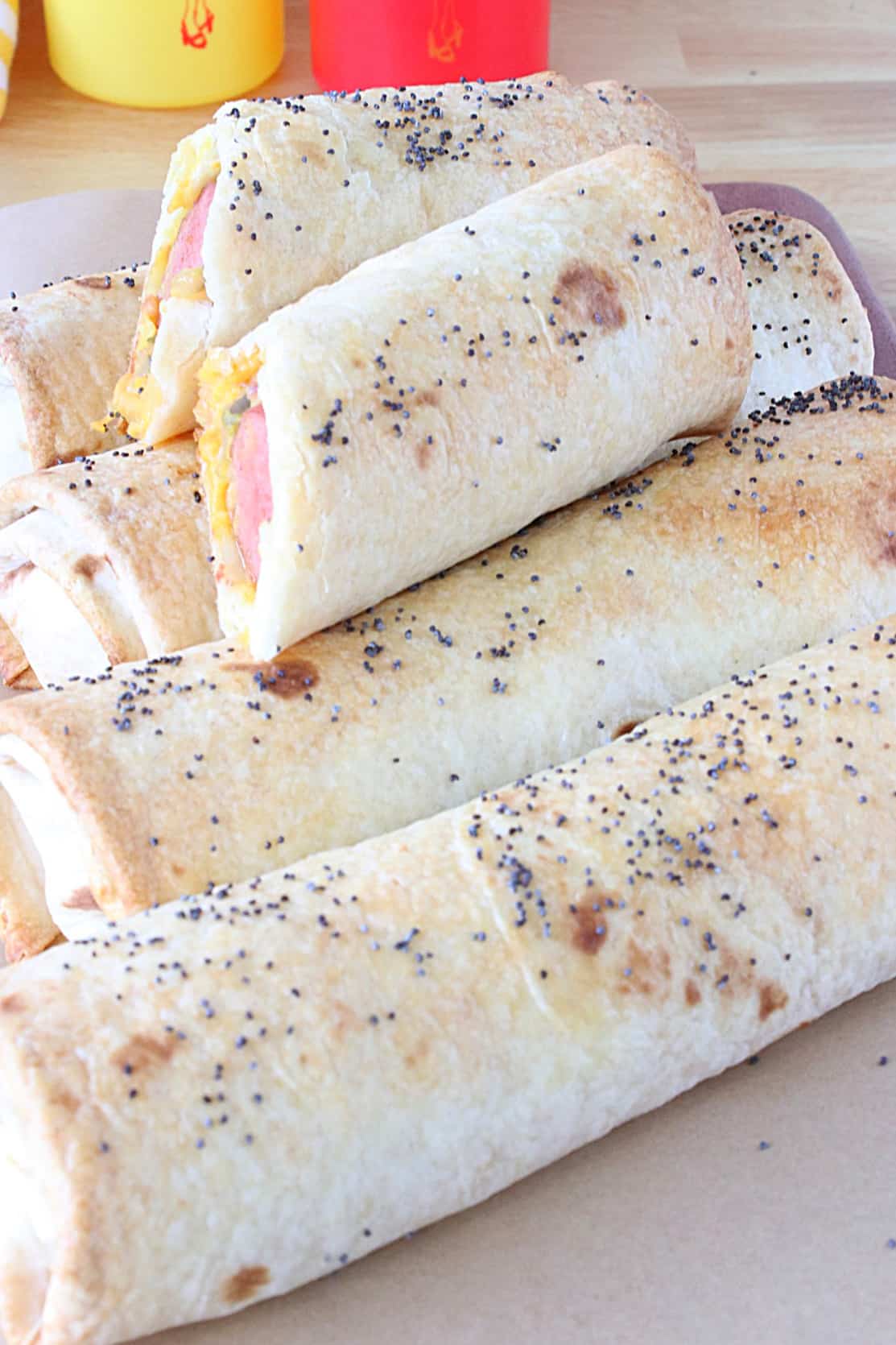 Additional burrito dog filling suggestions
Dare I say ketchup? While I don't mind ketchup on my hot dogs, it's not my typical go-to for toppings. That said, these are now your burrito dogs, so fill them with your heart's desire.
Here are a few fun filling suggestions off the top of my head:
sautéed peppers and onions
your favorite cheese (shredded)
pickled vegetables (of any variety)
premade macaroni and cheese
You get the idea. How will you fill your burrito dog??
What are the best hot dogs to use
I like to use pure beef hot dogs, and also ones that are lower in sodium.
Feel free to use your favorite variety of hot dog (if you have one).
Can these be made in an air fryer
You bet. Make sure to cook the hot dogs first (at 350 degrees for 4-5 minutes) and then stuff, wrap, and roll the burrito dogs.
When ready, return the "dogs in a blanket" to the air fryer and cook for and additional 7-10 minutes (keep an eye on them while cooking so they don't burn) at 375 degrees Fahrenheit until the tortillas are lightly golden in color.
Hot dog substitution suggestions
Not a fan of hot dogs? No worries.
These would be delicious with any pre-cooked sausage you can imagine. Bratwurst, Italian sausage, smoked sausage, chicken sausage...you name it!
Important note: If swapping sausages for hot dogs, make sure the sausages are FULLY COOKED before wrapping them in the tortillas. Do NOT wrap raw sausage in tortillas, as they won't be in the oven long enough to thoroughly cook the meat.
FAQs
Can low carb tortillas be used for this recipe?
You bet. Follow the recipe and you're good to go!
Can other meats be used in this recipe?

Great question and one I'm also anxious to try. Burrito wraps would be delicious, filled with many pre-cooked sliced types of meat. Think ham, turkey, chicken, and pork. The possibilities are endless with how you can fill a flour tortilla.
Can burrito dogs be frozen?

Yep. Cool them thoroughly and then wrap them individually with several layers of plastic wrap and freeze them for up to 3 months. Thaw them in the refrigerator overnight and reheat them (oven, air fryer, or microwave) before eating.
Can leftover hot dogs be used for this recipe?
This recipe is the perfect solution for using leftover hot dogs because they're pre-cooked.
Can any other type of mustard be used?
Use your favorite. A nice whole grain European-style mustard would be amazing for these.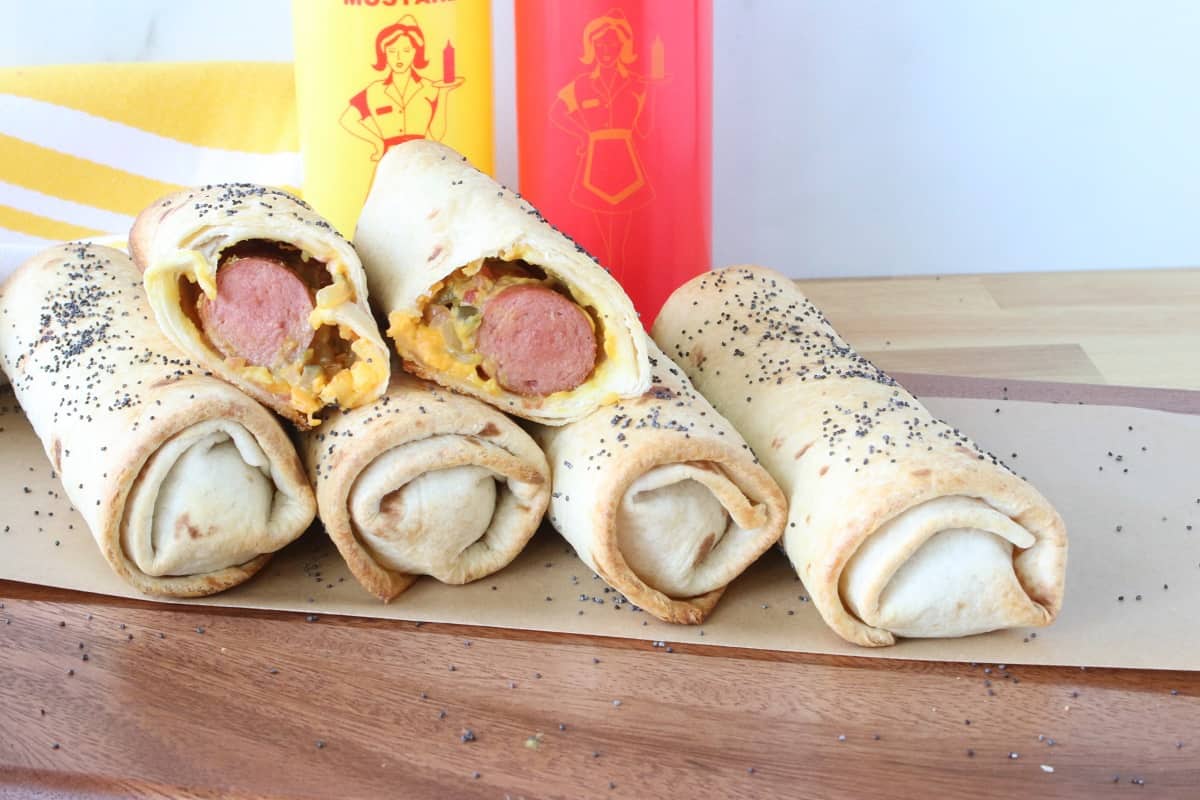 Additional classic recipes with a twist
Looking for a new "twist" on serving spaghetti? Look no further. Spaghetti Stuffed Bell Peppers will surprise and delight the entire family.
What do you get when you cross a delicious and comforting chicken pot pie with a handheld sandwich? Chicken Pot Pie Pockets, that's what! It's a comfort food treat that is as on-the-go as you are!
Tater Tot Poutine is my quick and easy take on the French-Canadian classic, but mine is made with everyone's favorite freezer staple...tater tots.
You're going to love how easy and delicious these Apple Pie Wedges are to make...and eat. With store-bought or homemade pie crust, apple pie wedges are utterly delicious!!
Printable Recipe Card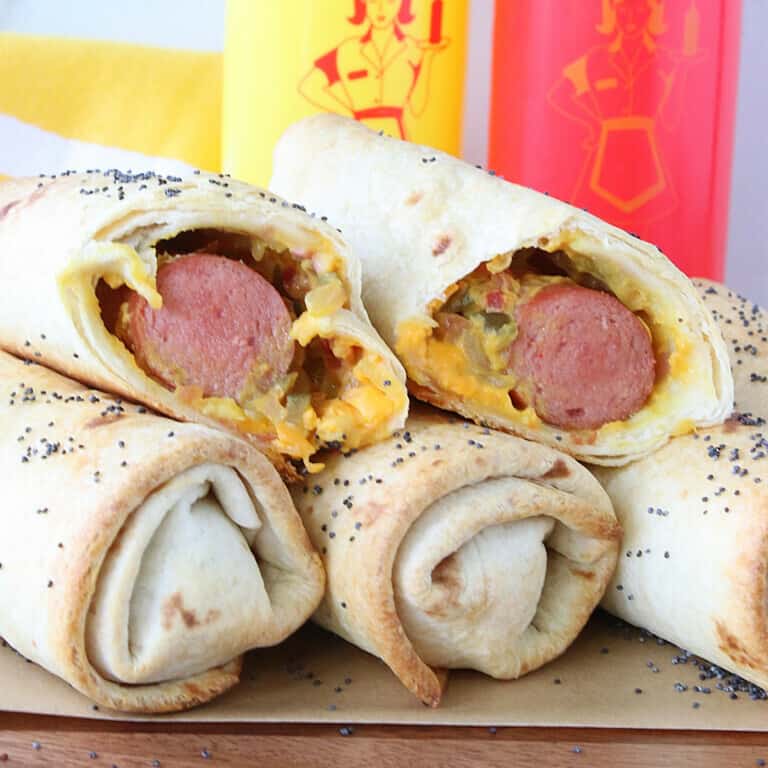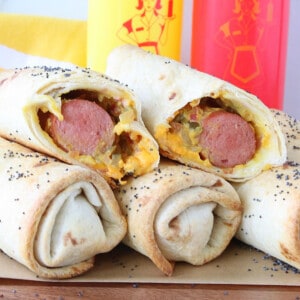 Burrito Dogs
Burrito Dogs are a tasty and fun new way to make and eat hot dogs. They're ready in less than 30 minutes, and all the kids (young and old) will LOVE them!
Ingredients
5

bun-length (6 inches)

hot dogs

2

12" round

flour tortillas

⅓

cup

yellow mustard

1

tablespoon

sweet pickle relish

1½

tablespoon

finely minced red onion

½

cup

shredded cheddar cheese

2

tablespoons

olive oil

2

teaspoons

poppy seeds

optional
Instructions
Preheat the oven to 350-degrees Fahrenheit (175 degrees Celsius)

Place the hot dogs onto a parchment-lined baking sheet and cook in the preheated oven for 7 minutes.

While the hot dogs are cooking sit together the mustard, sweet relish, and minced red onion in a small bowl. Set aside.

Increase the oven temperature to 375 degrees Fahrenheit.

To prepare the burrito dogs, place approximately 1 tablespoon of shredded cheese (in a line) about 3 inches from one end of the tortilla.

Place the preheated hot dog on top of the shredded cheese and spoon the mustard relish over the hot dog.

Fold and roll the tortilla over the hot dog and fillings (egg roll style) and place the burrito dogs, seam side down onto a parchment lined baking sheet.

Brush each burrito dog with olive oil and top each with the poppy seeds.

Cook the burrito dogs in the oven for 10-12 minutes, or until the tortillas are lightly golden brown.

Remove, cool slightly, and enjoy!
Video
Notes
Air fryer instructions:
Cook the hot dogs first (at 350 degrees for 4-5 minutes) and then stuff, wrap and roll the burrito dogs as per the recipe instructions.
When ready, return them to the air fryer and cook for and additional 7-10 minutes (keep an eye on them while cooking so they don't burn) at an increased temperature of 375 degrees Fahrenheit until the tortillas are lightly golden in color.
Remove, cool slightly, and enjoy!
Nutrition
Serving:
1
serving
Calories:
266
kcal
Carbohydrates:
4
g
Protein:
9
g
Fat:
24
g
Saturated Fat:
9
g
Polyunsaturated Fat:
2
g
Monounsaturated Fat:
12
g
Trans Fat:
0.002
g
Cholesterol:
37
mg
Sodium:
746
mg
Potassium:
106
mg
Fiber:
1
g
Sugar:
2
g
Vitamin A:
162
IU
Vitamin C:
0.3
mg
Calcium:
114
mg
Iron:
1
mg