Chilled Orzo Pasta Salad with Sweet Corn and Blueberries may be a little unexpected, but after your first bite, you'll keep returning for more!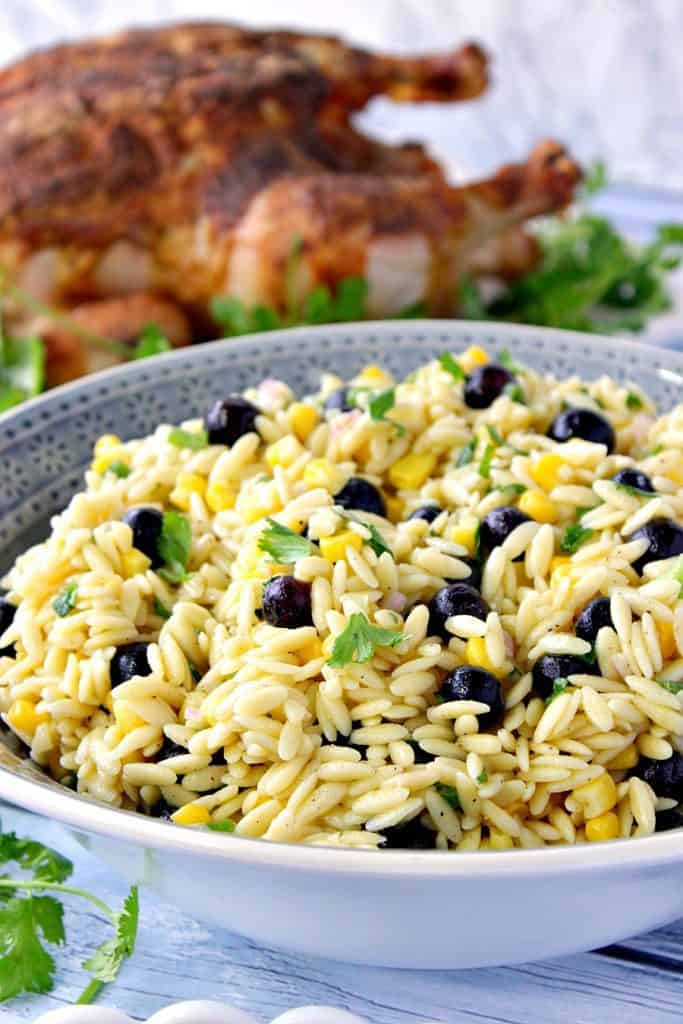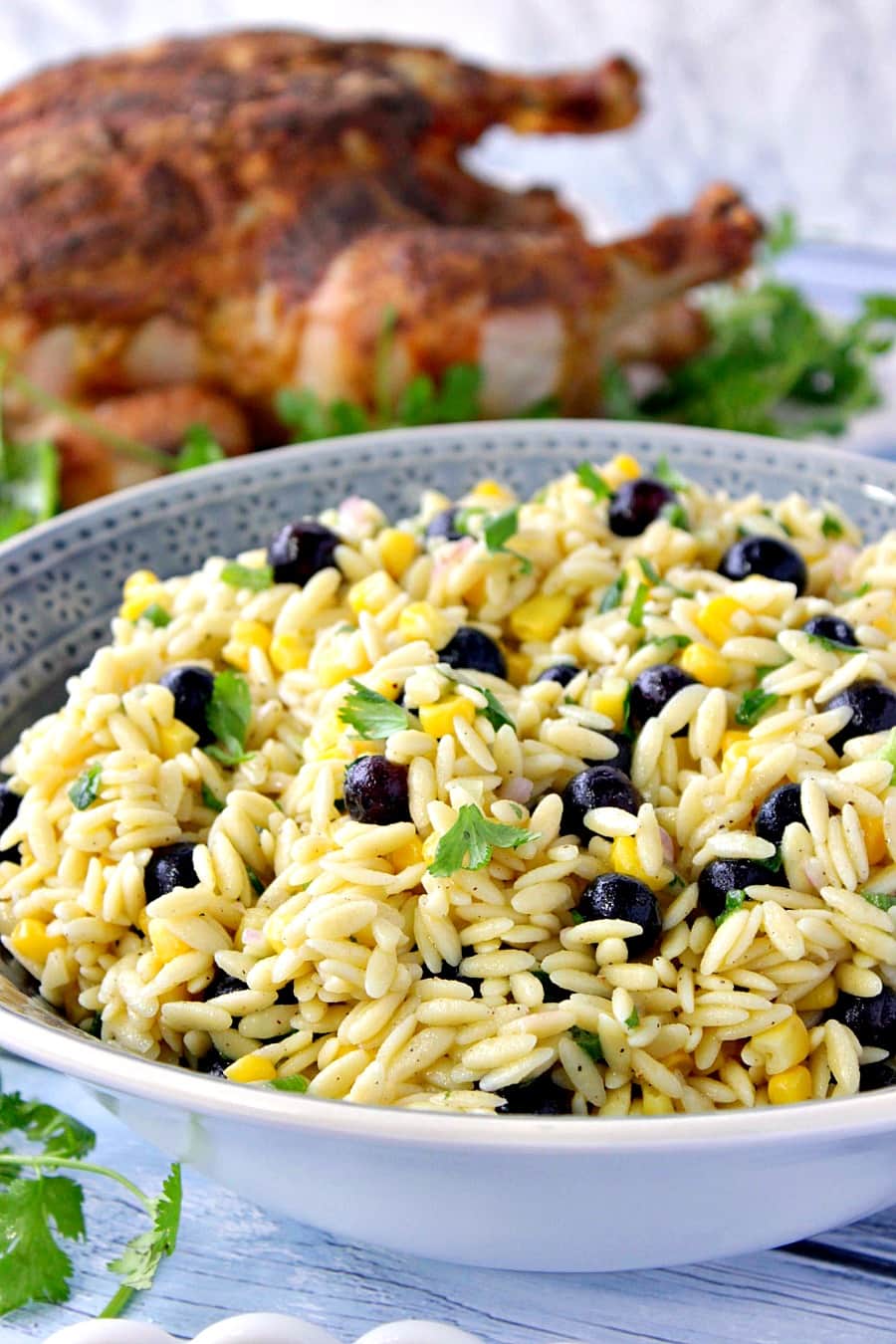 What goes better with a backyard BBQ or party in the warm weather than a chilled pasta salad? Not much in my book.
This recipe for chilled orzo pasta salad perfectly accompanies any protein. Or it can be a vegetarian lovers' delight and stand entirely on its own.

Jump to:
The ingredient and or substitution list:
*Please note that the exact measurements along with a new "shop the recipe" feature from Instacart is available in the printable recipe card.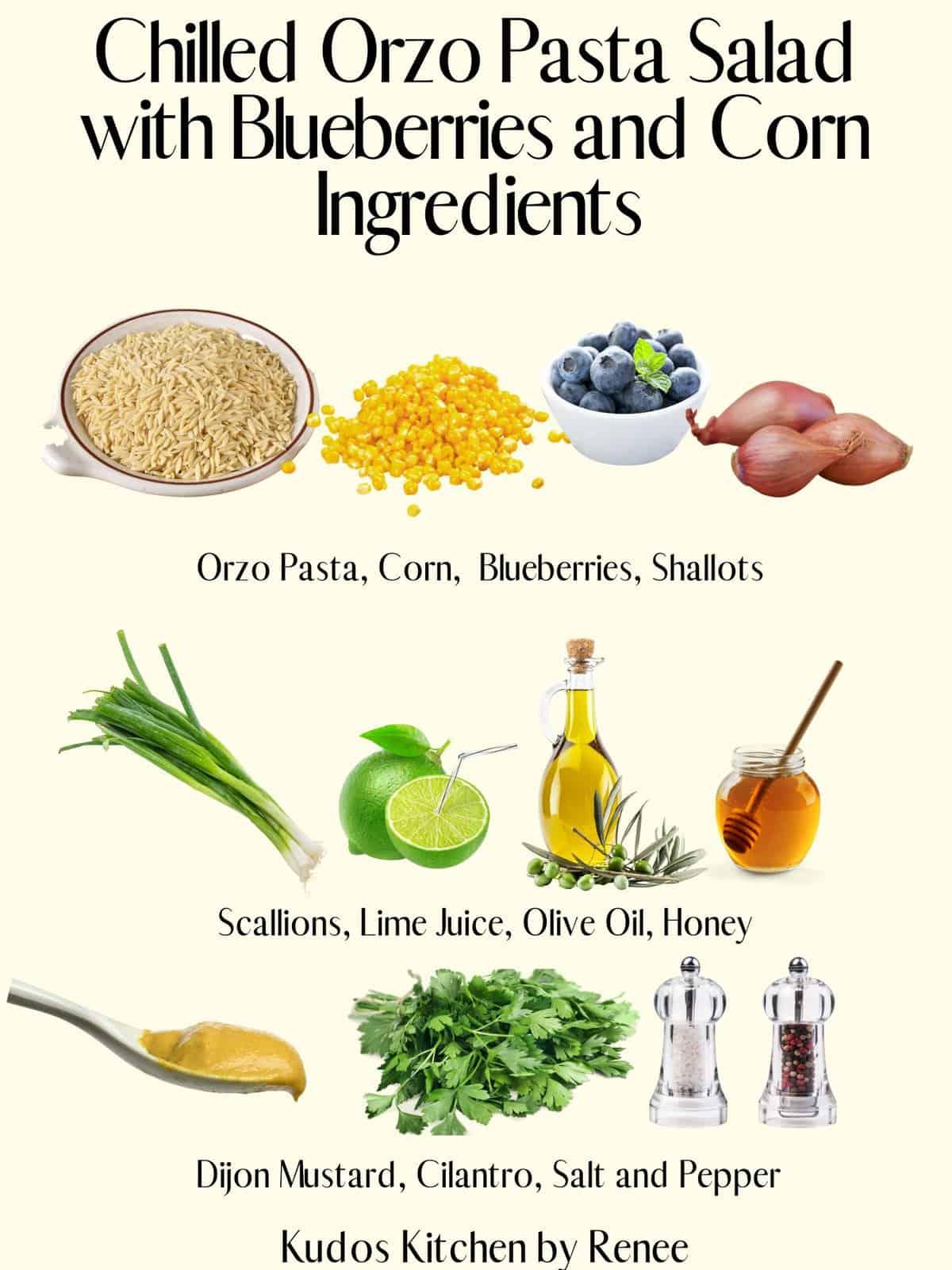 Ingredient information
ORZO PASTA - I love the little pasta grains and think that orzo is the perfect pasta for salads. However, if you prefer another type of pasta for your cold pasta salads, use it. Additional pasta suggestions for a chilled pasta salad are ditalini, farfalle, rotini, cavatappi, or rotelle (wagon wheels).
SWEET CORN - Feel free to use frozen sweet corn if needed, but fresh sweet corn stripped right from the cob is always preferred, especially when sweet corn is at its peak of freshness near the end of summer.
If using frozen sweet corn, thaw and mix it gently into the salad. If using fresh sweet corn, you can add it raw, right off the cob, or you can blanch it for 30-45 seconds in boiling water before adding it to the salad.
FRESH BLUEBERRIES - A little touch of sweet fresh blueberries adds balance and brightness to this glorious salad's flavor and eye appeal. Not to mention the added health benefits that blueberries provide. Read more on that down below.
SCALLIONS - This is an optional ingredient (if you're not a fan), but I urge you to include the green onions (if you're on the fence about them) because they'll add an extra punch of oniony flavor and color that only they can provide.
FRESH LIME JUICE - I strongly urge you to always and only use freshly squeezed lime juice whenever a recipe calls for it. Sure, it may take a few extra minutes to prepare, but the difference in fresh flavor without preservatives is monumental.
HONEY - I like to use organic honey. The touch of sweetness the honey provides the dressing for this pasta salad is pure perfection. Not too much, and not too little. "It's just right," as quoted from little red riding hood upon visiting the three bear's cottage to sample their honey. Sorry. LOL
EXTRA VIRGIN OLIVE OIL - Use the best extra virgin olive oil for this dressing. Since the fresh and uncooked dressing is the star of the show and ties this dish together, the ingredients must be top-notch.
If you'd like to substitute another oil instead of the extra virgin olive oil, I suggest avocado, grapeseed, sunflower, or canola oil.
DIJON MUSTARD - This emulsifying ingredient unites and keeps the extra virgin olive oil and lime juice from separating and going in two different directions. The Dijon mustard works as the peacemaker keeping everyone happily mixed.
SALT AND PEPPER - Kosher salt and fresh cracked black pepper for the win. These are always my go-to's when it comes to seasoning savory dishes.
SHALLOTS - The shallots' flavor is like a cross between an onion and garlic, except that shallots are mild and slightly sweet. Minced shallots work exceptionally well when used in an uncooked sauce or dressing.
CILANTRO - If you're in the camp that doesn't enjoy cilantro, please leave it out or substitute it with chopped fresh parsley. That said, if you're a fan, please keep it in for the slight citrus flavor it provides, which is a lovely compliment to the lime and olive oil dressing.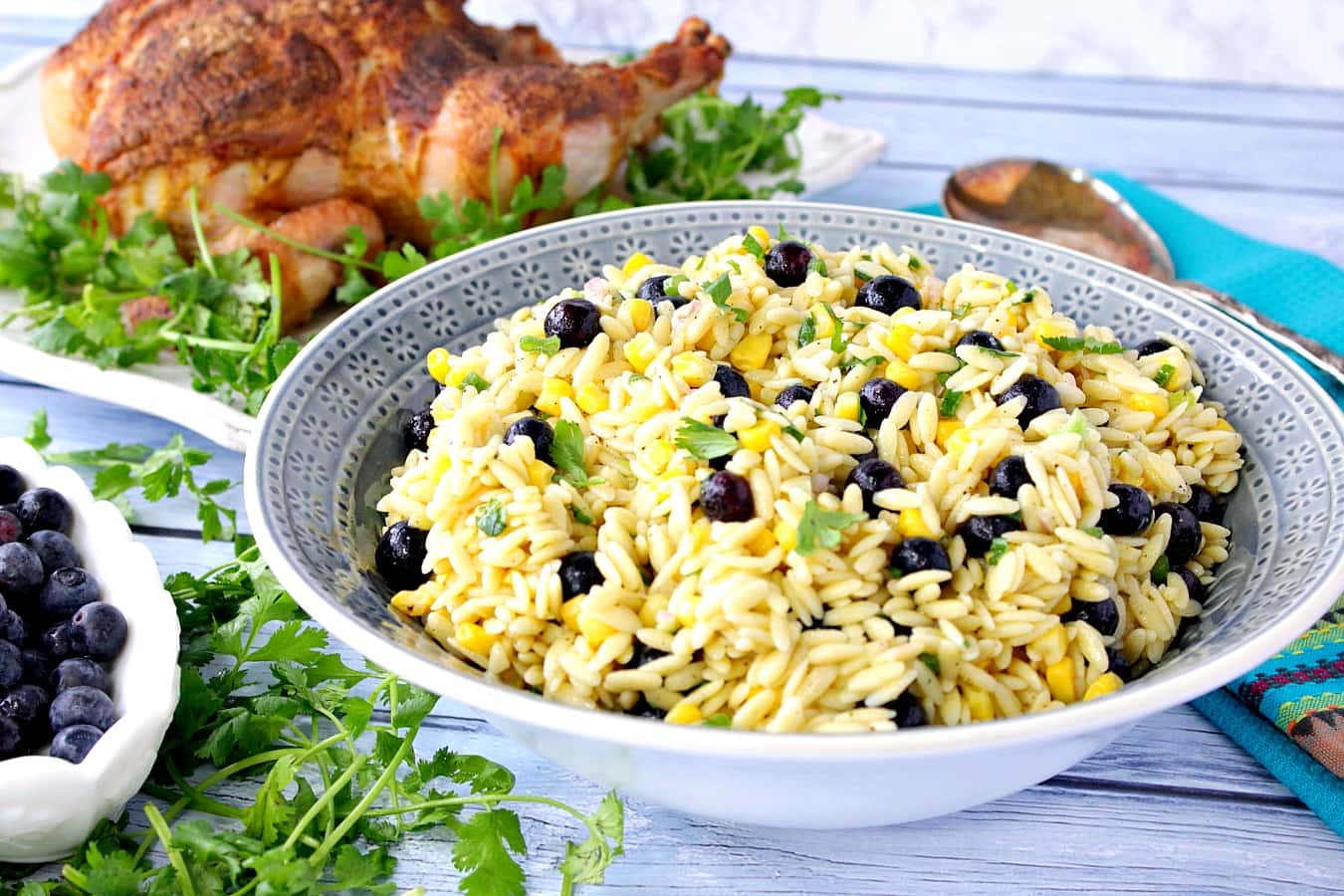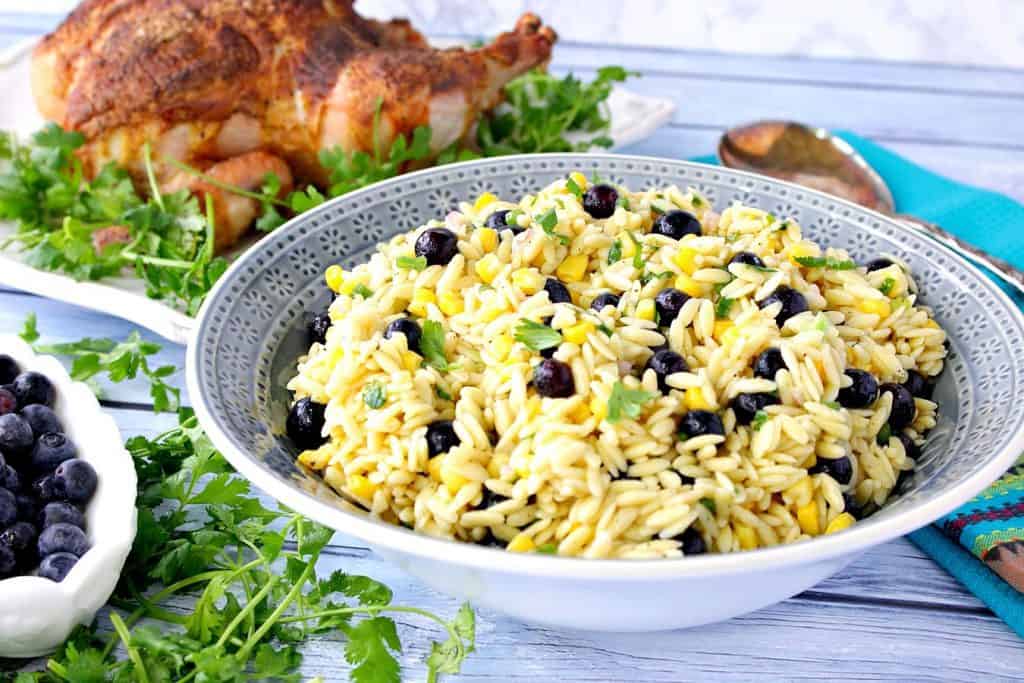 How to easily remove corn kernels from an ear of corn:
This may become your signature summertime dish.
Once you make and taste this salad, you might be surprised that it will become one of your favorites.
And, who knows? It could even become your "signature dish" you become famous for after you bring it to all the pot-luck parties in the neighborhood.
Now THAT wouldn't surprise me at all! *wink*
How long does this orzo side dish take to make?
This easy side dish takes about 15 minutes to make and assemble. The thing that takes the longest is cooking and draining the pasta.
However, this pasta salad is best served cold or at room temperature after it's had a chance to chill. After assembling, allow the salad to rest in the refrigerator for at least 4 hours (but overnight is best) so all the flavors can mix and mingle. Please plan accordingly.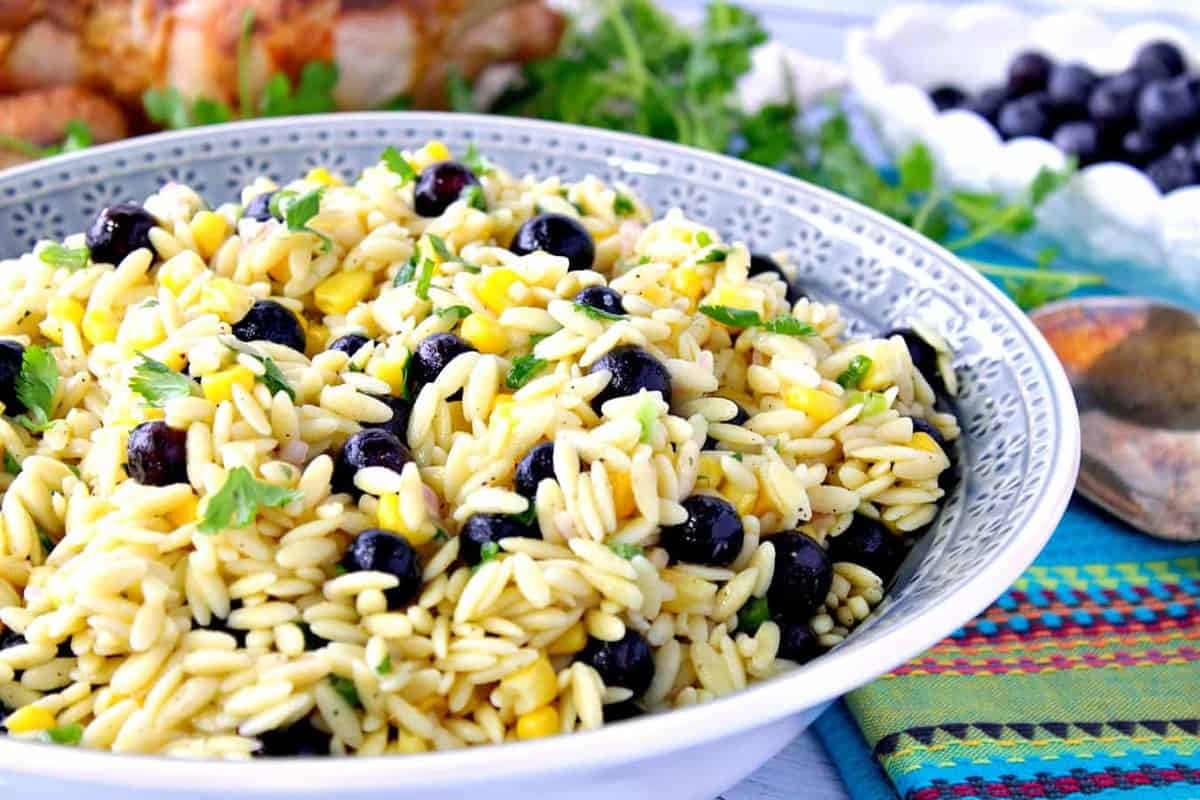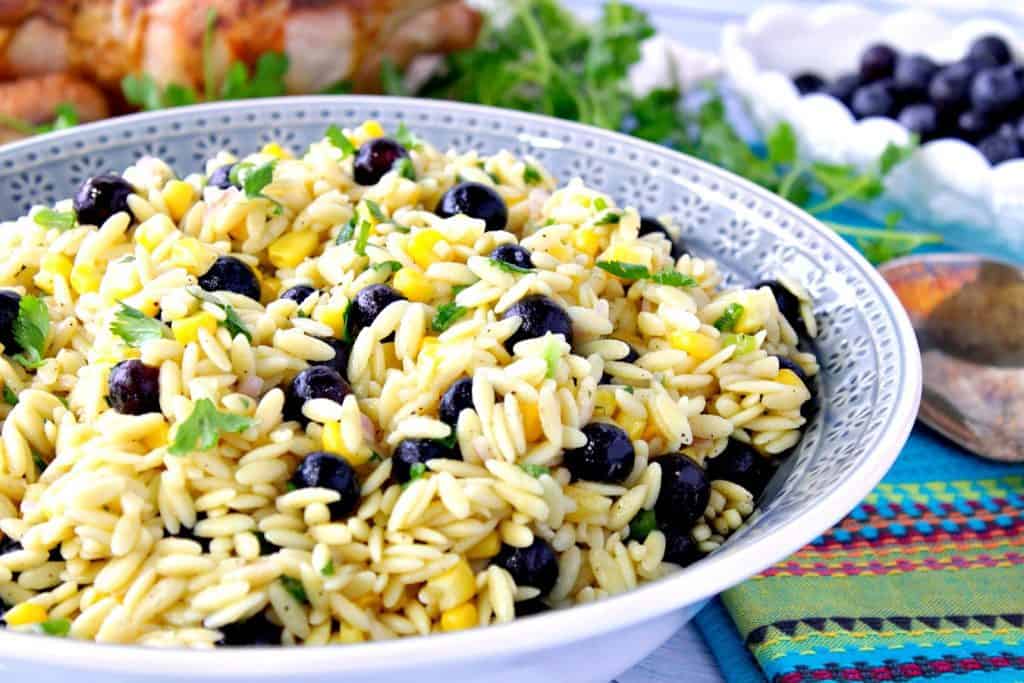 The play of ingredients
I played around with the ingredients for this salad for quite some time until I was completely satisfied with how it all came together.
The addition of the honey to the dressing helps to round out the flavor of the dressing, and it plays well against the tart and tangy bite of the lime juice and Dijon mustard.
The shallots are a nice touch without being overpowering, as onion or garlic can sometimes be, and the final addition of fresh cilantro at the end is light enough to lend a slight citrus flavor to an already unforgettable salad.
Health benefits of blueberries
Did you know that blueberries may aid in reducing blood pressure, prevent heart disease, and help to improve memory? Yep. True story.
Find out more about the awesome health benefits of blueberries from Healthline.
How to make this chilled orzo pasta dish:
Mince the shallots.
Cook and drain the orzo pasta according to the package directions.
Add the cooked pasta to a large serving bowl.
In a small bowl mix together the dressing ingredients; shallots, lime juice, Dijon mustard, olive oil, honey, and black pepper.
Pour the dressing over the pasta and mix well.
Add the corn, chopped cilantro, chopped scallions, blueberries, salt, and additional black pepper (if needed) to the pasta and stir well to combine.
Cover, and chill the salad for at least 4 hours, but overnight is better.
Stir before serving and garnish with additional cilantro if desired.
Best served chilled, but this salad is also delicious at room temperature.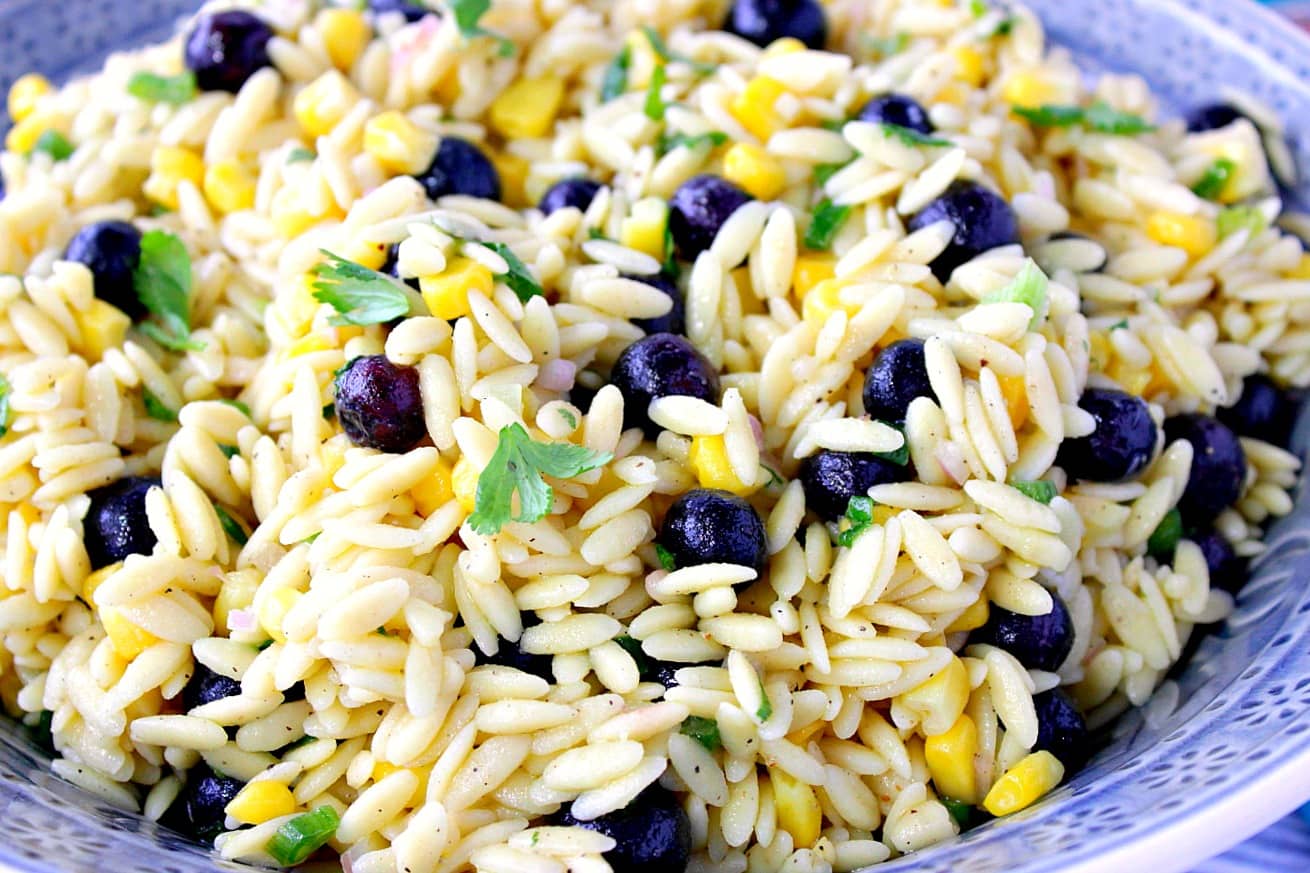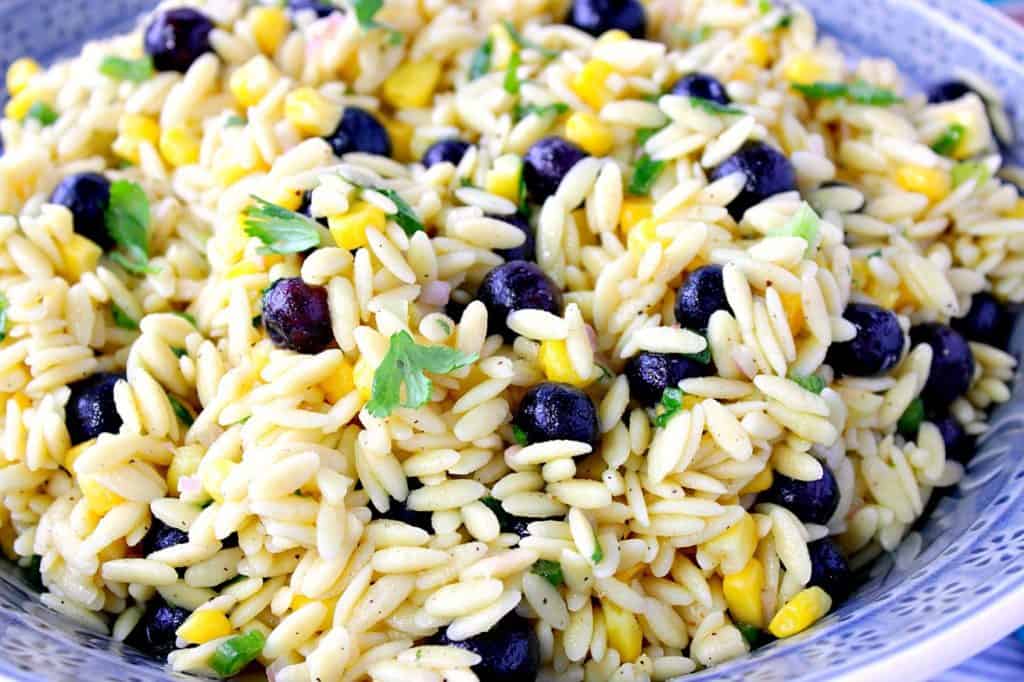 Why this chilled pasta salad can take the heat
This is one of the best cold pasta salads I've ever had, and the best part (other than the flavor, of course) is that there is no mayonnaise involved. So even on the hottest of days, this salad can sit out for hours without any worries that the salad has spoiled.
Check out my latest and greatest Kudos Kitchen tasty BBQ side dishes recipe roundup.
Make it a complete meal
Have you ever tried a Burgerdilla? It's a delicious fusion of a burger cooked in a tortilla, and they're effortlessly quick to prepare. You can also make Burgerdillas in the oven, air fryer, or stovetop.
Crunchy, healthy, and completely addictive. This Sunflower Crunch Kale and Cabbage Salad has it ALL going on!! Dig in! You're going to love this colorful salad!
Lemon Ricotta Cake with Blueberries is an easy cake to make. It has a creamy texture, a light lemony flavor, and it takes advantage of springtime's bounty of beautiful blueberries.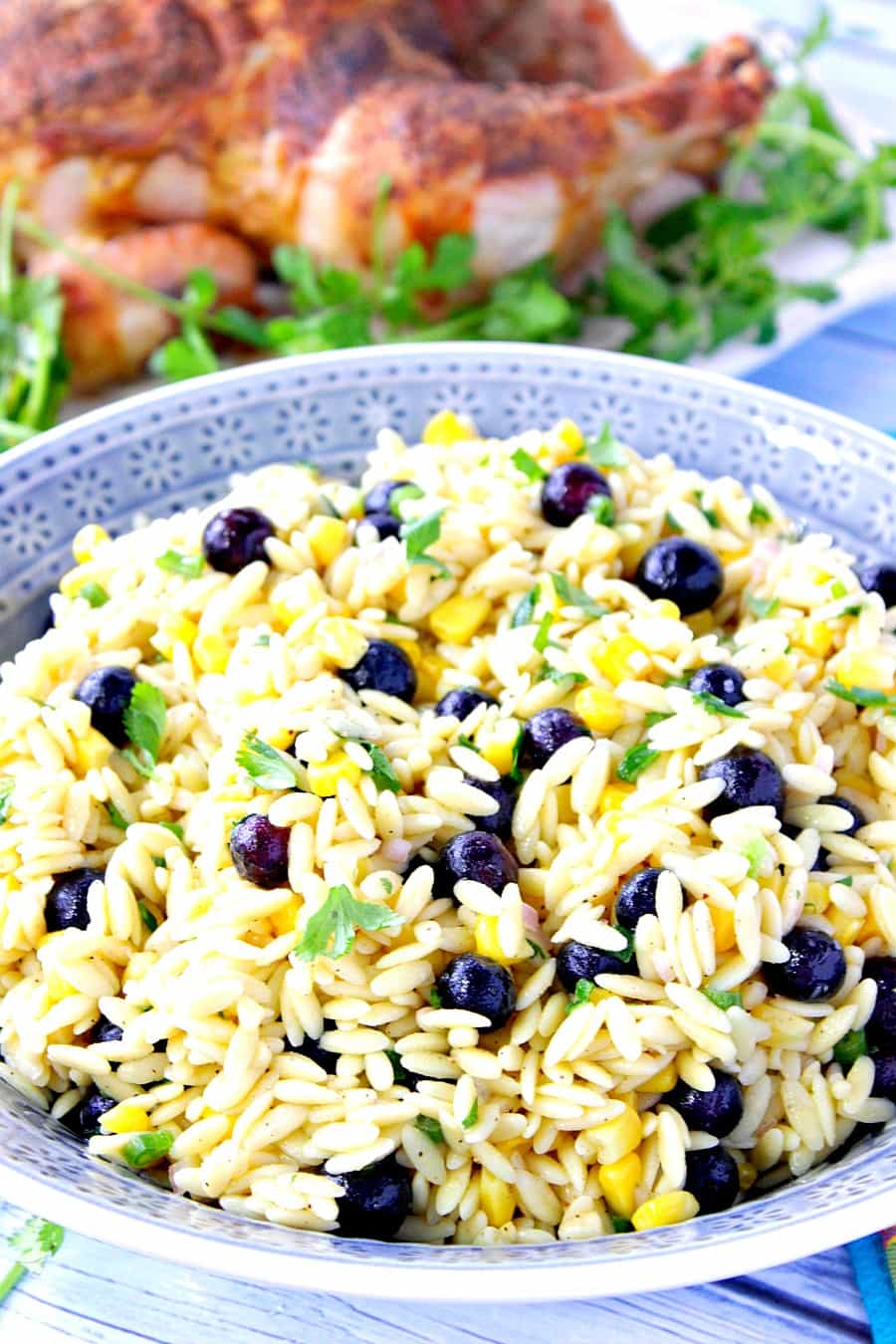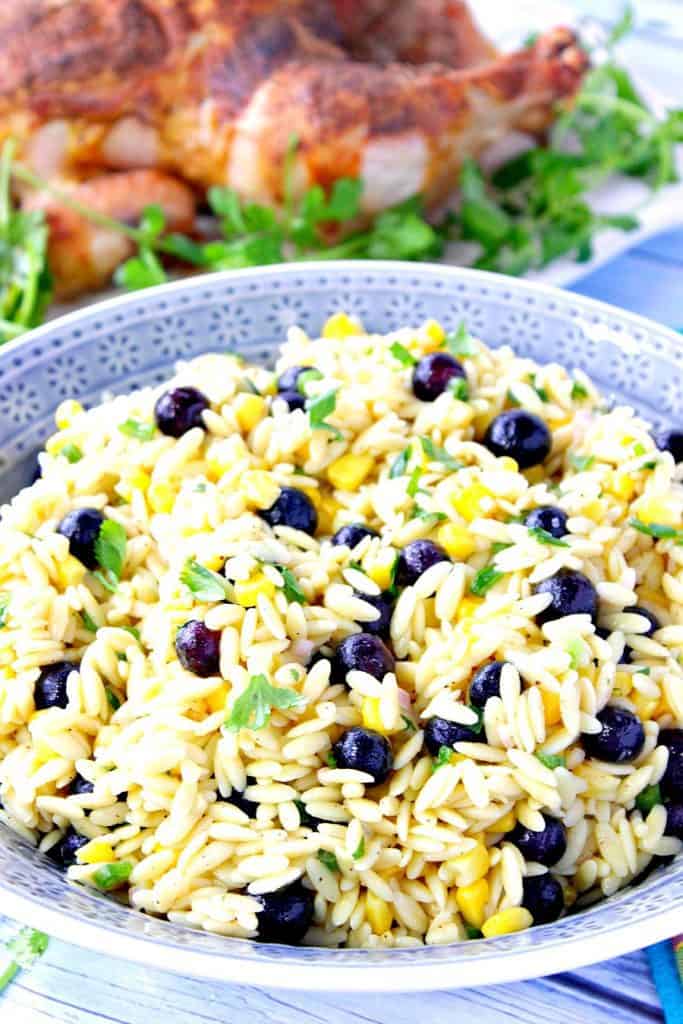 When you make this recipe, and I hope you do, I'd appreciate it if you'd take a moment to leave a star rating on the recipe card and briefly comment on why you rated it as you did. FYI - Google appreciates recipe ratings and, in turn, will share my recipes with more people. Thank you so much!!
Printable Recipe Card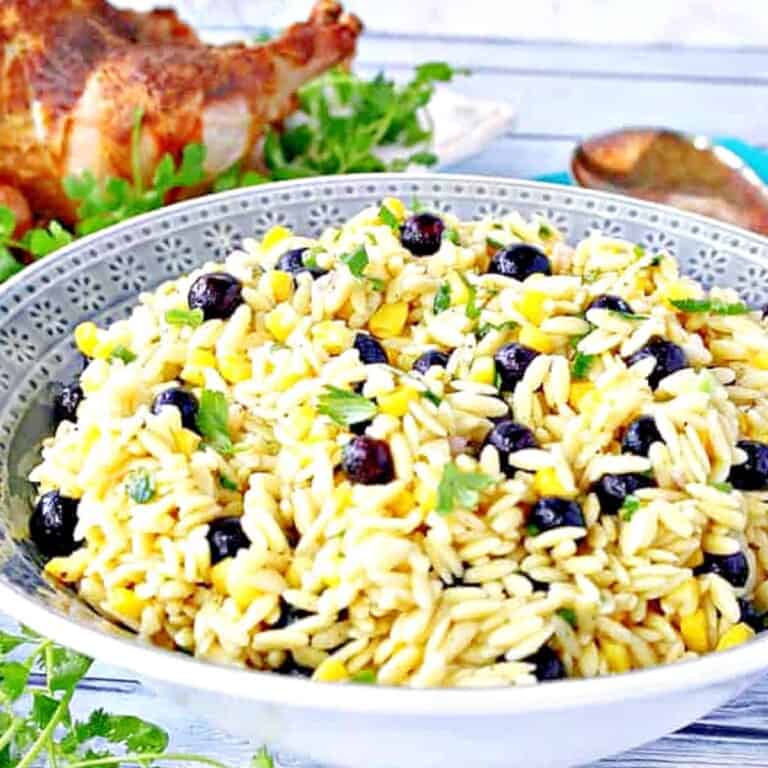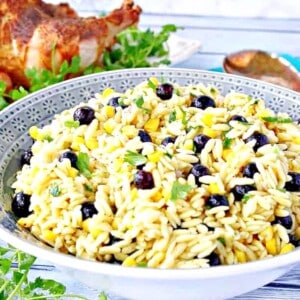 Orzo Pasta Salad with Sweet Corn and Blueberries
Chilled Orzo Pasta Salad with Sweet Corn and Blueberries may be a little unexpected, but after your first bite, you'll keep coming back for more!
Ingredients
1

box

orzo pasta

cooked to package directions and drained.

⅓

cup

fresh lime juice

approximately 3-4 limes

¼

cup

extra virgin olive oil

½

teaspoon

salt

¼

teaspoon

pepper

2

tablespoons

minced shallots

2

teaspoons

Dijon mustard

1

tablespoon

honey

1½

cups

corn kernels

frozen will work

1½

cups

fresh blueberries

¼

cup

chopped scallions

¼

cup

chopped fresh cilantro

plus more for garnish if desired
Instructions
Add the cooked pasta to a large bowl.

In a medium bowl, whisk together the lime juice, olive oil, salt, pepper, shallots, mustard, and honey. Pour the dressing over the pasta and stir to combine.

Add the corn, blueberries, scallions and ¼ cup of the chopped cilantro. Stir well.

Cover and refrigerate for at least 4 hours, or overnight.

Serve chilled or at room temperature.
Notes
Store in the refrigerator in a covered container for up to 7 days.
Nutrition
Serving:
1
Calories:
213
kcal
Carbohydrates:
36
g
Protein:
6
g
Fat:
5
g
Saturated Fat:
1
g
Polyunsaturated Fat:
1
g
Monounsaturated Fat:
3
g
Sodium:
152
mg
Potassium:
149
mg
Fiber:
2
g
Sugar:
5
g
Vitamin A:
67
IU
Vitamin C:
5
mg
Calcium:
14
mg
Iron:
1
mg
Follow me across my social media platforms and join in on the conversation: FACEBOOK, INSTAGRAM, PINTEREST, TIKTOK, AND YOUTUBE.
Thank you so much for visiting me today in my Kudos Kitchen. I hope you found something you'll love and that you'll come back and visit me often. There is always room for you around my table!
Should you have any questions or comments regarding anything you've seen here on my blog, please don't hesitate to reach out to me. It is always my distinct pleasure to respond to you just as soon as I possibly can.
Until we eat again, I hope you have a delicious day!!