This salad recipe may surprise you with its unexpected ingredients. But after your first bite of this incredible Superfood Spinach Salad with blue cheese and purple potatoes, you'll agree that it blows all other spinach salad recipes out of the water!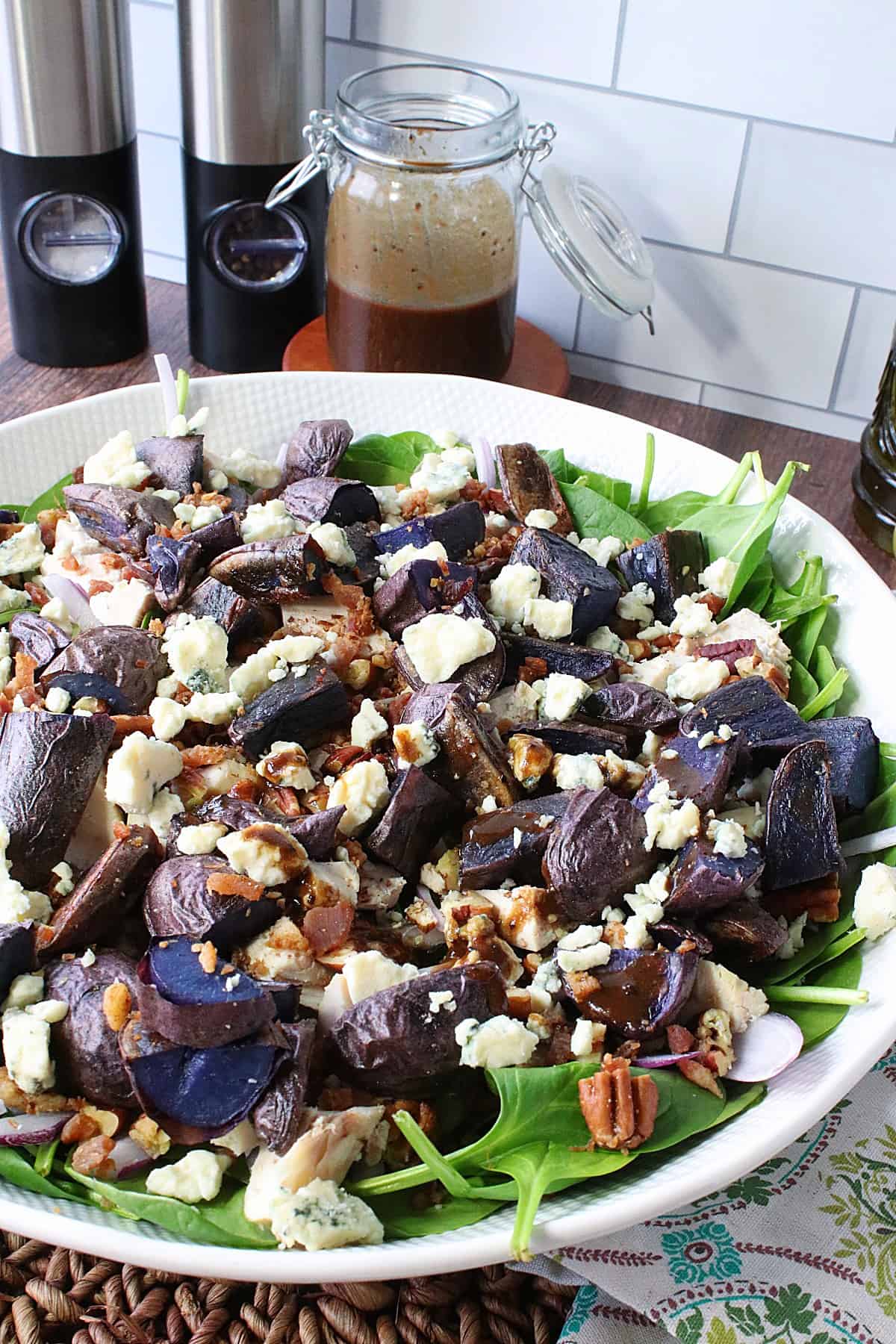 This superfood spinach salad loaded with all the good stuff!! You'll do your body good by eating this delicious and colorful salad!
This recipe post and its contents may include affiliate links for your consideration. I may earn a commission from qualifying purchases, but your prices are never increased as a result. Thank you.
Jump to:
The ingredients:
*Please note that the exact measurements along with a new "shop the recipe" feature from Instacart is available in the printable recipe card.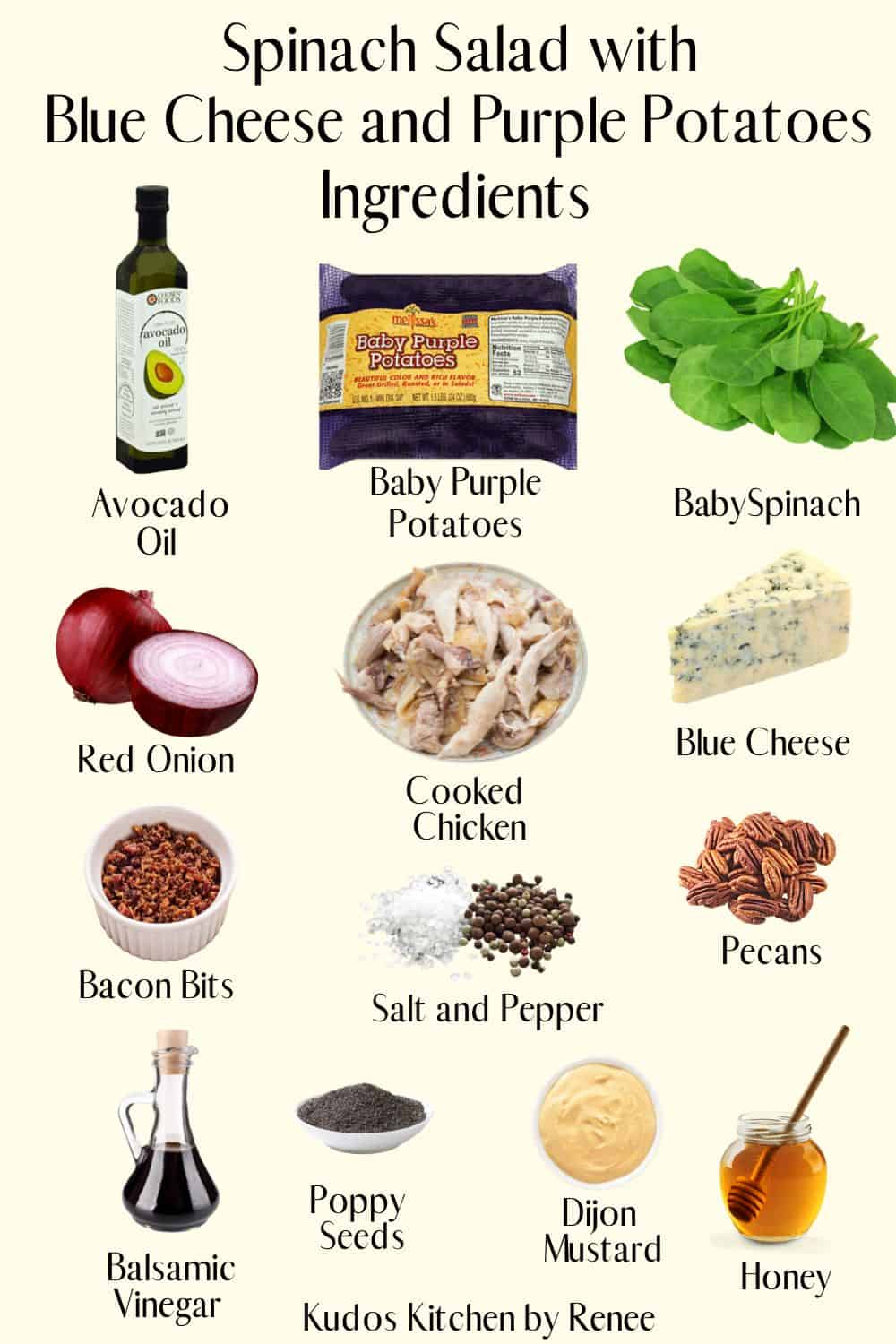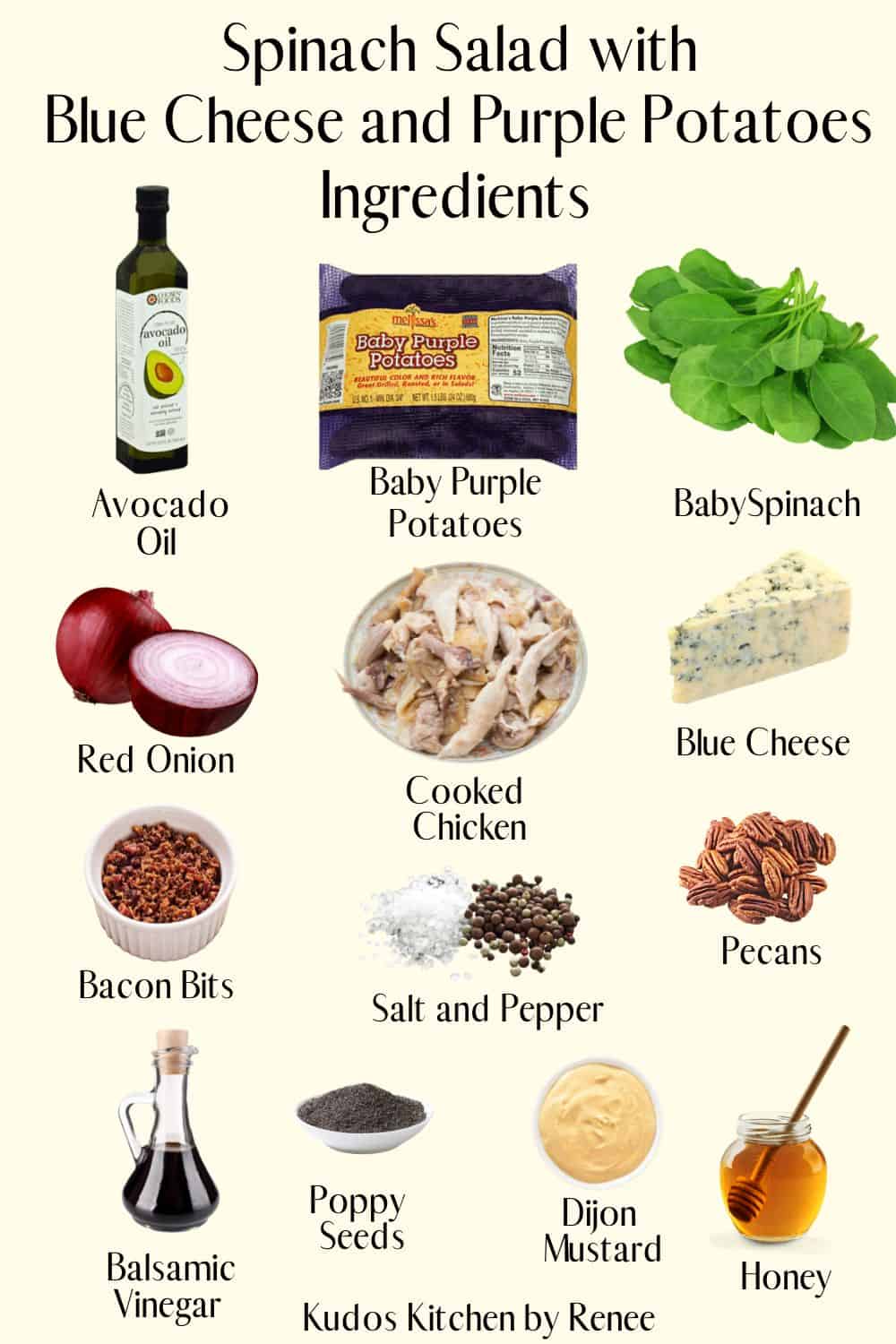 Ingredient savvy:
AVOCADO OIL - The health benefits of avocado oil make it a staple in my pantry. I reach for it almost as much, if not more, than I do olive oil these days. It's a heart-healthy oil that contains plenty of vitamin E. Learn more about the benefits of avocado oil.
BABY PURPLE POTATOES - These little powerhouse potatoes are packed with two to three times more antioxidant power than white or yellow potatoes. Amazing! Learn more about the benefits of purple potatoes.
FRESH BABY SPINACH - Spinach is super high in many vitamins and minerals. This green leafy veggie is another antioxidant superfood that provides anti-inflammation properties and disease protection and promotes good brain health. Learn more about the health benefits of spinach.
RED ONION - I enjoy adding thinly sliced raw red onions to different salads. This salad, in particular, benefits from the sweet, spicy bite and crunch the red onion provides. And because of the red onion's vivid bright color, you know it too is packed full of those wonderful antioxidants that are so helpful in a healthy diet.
CHOPPED CHICKEN - To keep this salad a quick meal, I've used store-bought rotisserie chicken and chopped it into bite-sized pieces. You can also use leftover chicken if you happen to have any. Either light and dark meat will work. This recipe calls for 3 cups of chopped chicken but feel free to add more (or less) as you see fit.
BACON BITS - I used the pre-cooked bacon bits you can buy in a package. Probably not the very best choice, but it works in a pinch. Feel free to cook and crumble strips of bacon (if you're a bacon purist), and then if you like, you can even add a tablespoon of the bacon grease to the balsamic vinaigrette for an extra kick of bacony flavor. That said, you can omit the bacon entirely from this salad if you want to keep the calories down.
BLUE CHEESE CRUMBLES - Not everyone enjoys blue cheese (my husband included), but luckily for me, he enjoys it in this salad. The tangy flavor of the cheese compliments the bite of the red onion and the sweet, salty taste of the balsamic Dijon vinaigrette. Feel free to use any other cheese that may be your favorite. Feta or goat cheese comes to mind as delicious replacements.
BALSAMIC VINEGAR - I used a basic grocery store commercial balsamic vinegar. Nothing fancy or expensive. However, if you don't have balsamic vinegar, you can swap in red wine vinegar or apple cider vinegar instead. The rule of thumb for making a homemade vinaigrette is 1 to 1 (vinegar to oil), but I like mine a little more vinegar-forward. Taste as you go, and adjust the flavors to your preference. Learn more about the differences between traditional and commercial balsamic vinegar.
DIJON MUSTARD - Not only is the Dijon mustard used in this recipe for flavor but it's also used as an emulsifier to keep the dressing creamy. When shaken or whisked vigorously into the oil and vinegar, the mustard will combine the ingredients throughout and prevent the vinaigrette from separating into layers.
HONEY - The amount of honey called for in this vinaigrette is minimal, so the health benefits of it in this vinaigrette are too small to mention. I used wildflower honey, but any honey will do.
POPPY SEEDS - Finally, I grabbed the poppy seeds from the cabinet in order to give this homemade balsamic vinaigrette a little more pizzazz and flair. Poppy seeds are a totally optional ingredient, but it is important to note that they provide additional fiber and nutrients like manganese, magnesium, zinc, copper, and iron.
How this superfood spinach salad came to be:
This spinach salad is my version of a salad I frequently get from our local Italian pizza joint. I wanted to recreate my own version so I could have it whenever the whim strikes, and now I can, and so can you.

You have my word that this will be one of the best-tasting spinach salads you've ever eaten. Plus, it's a complete and super healthy meal in one bowl!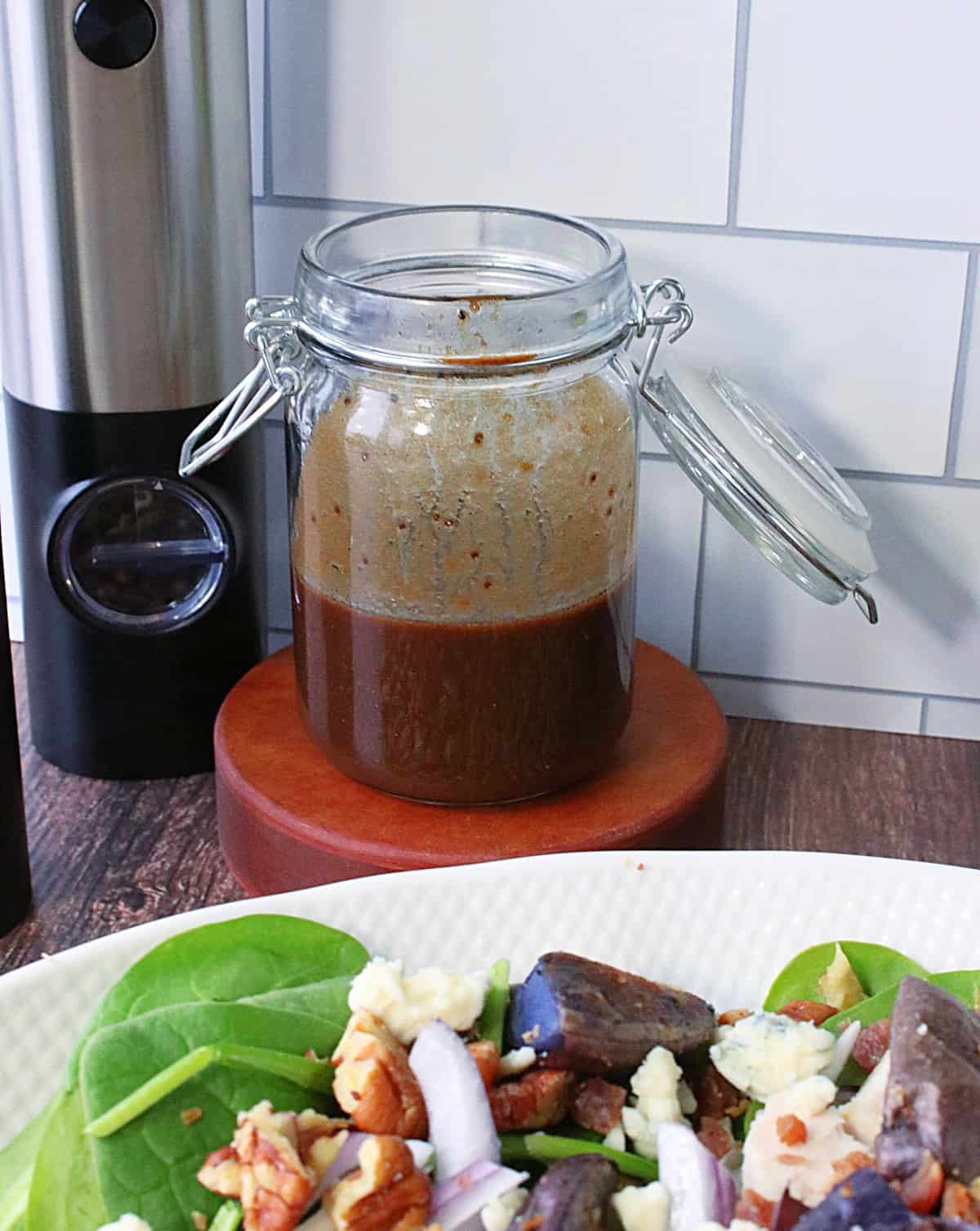 How to prepare spinach salad with homemade balsamic poppy seed vinaigrette:
Halve or quarter ¾ of a pound of baby purple potatoes. Toss them with avocado oil, salt, and pepper. Place them on a baking sheet and roast at 425 F for 17 minutes.
Meanwhile, wash and dry 5-6 cups of baby spinach leaves. Thinly slice ½ a small red onion, chop 3 cups of cooked chicken, and chop ¼ cup of chopped pecans.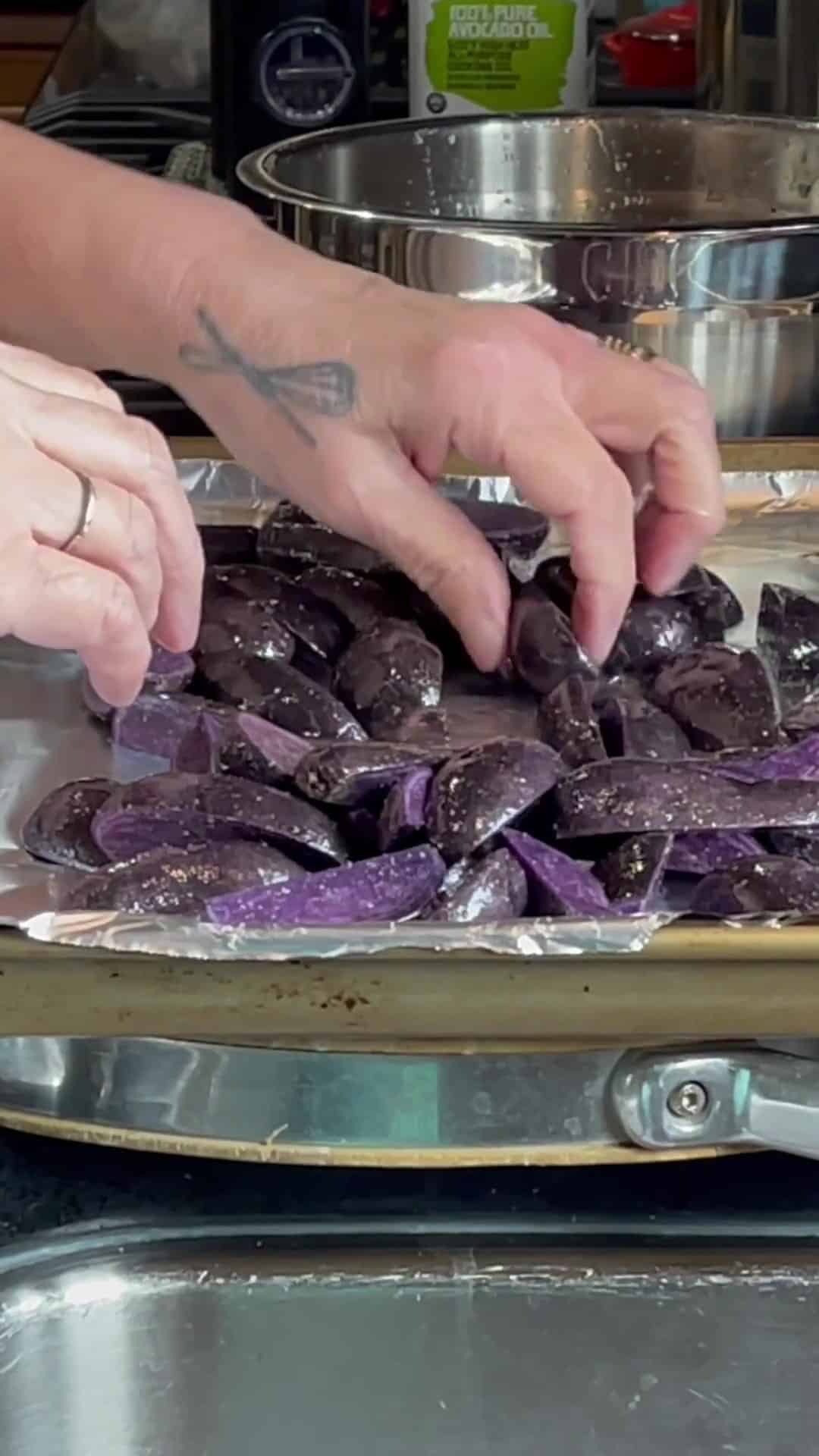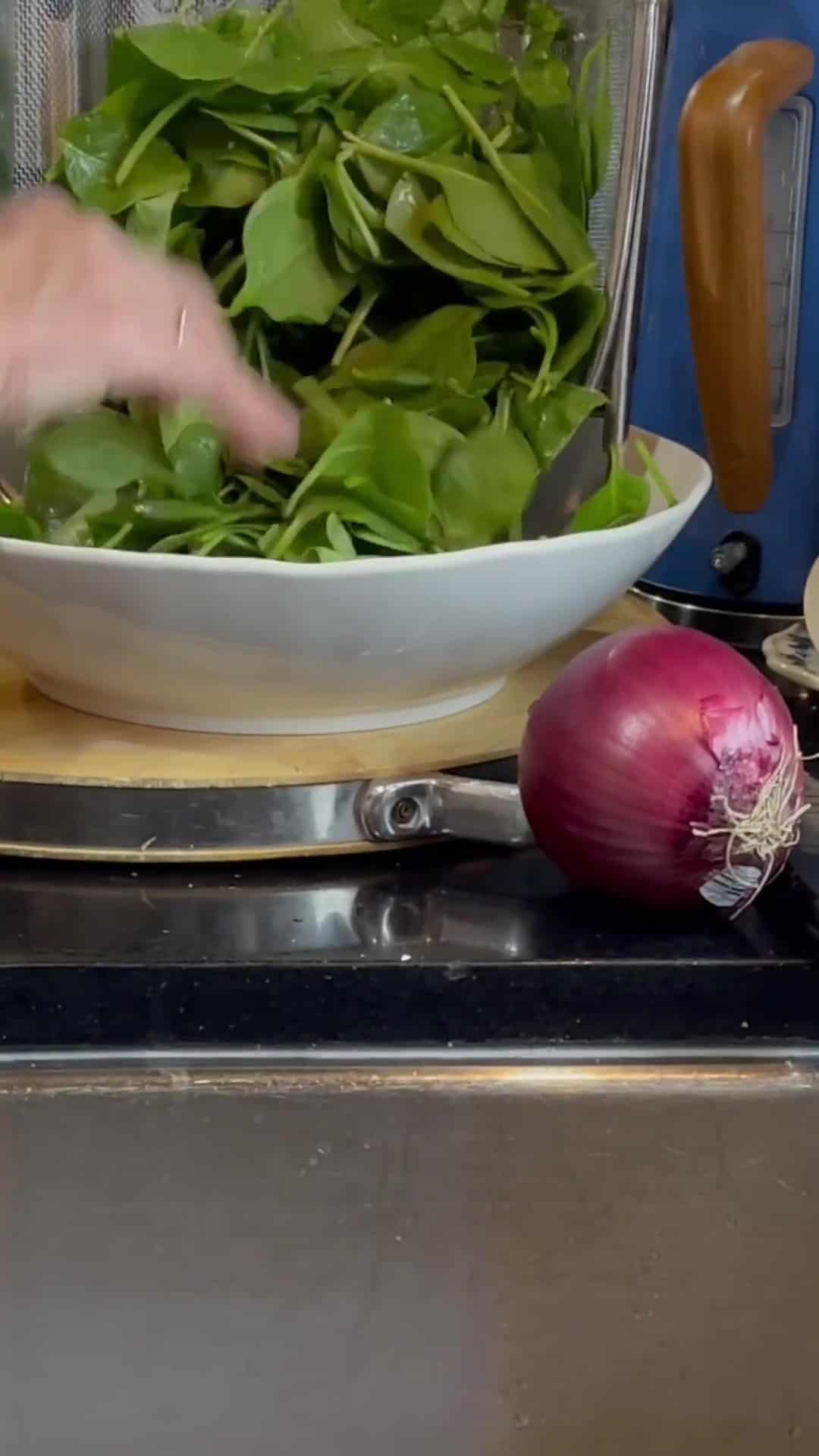 Remove the potatoes from the oven when they're fork tender or a paring knife can be inserted without resistance. Remove and cool.
In a large salad bowl, layer the spinach leaves, sliced red onion,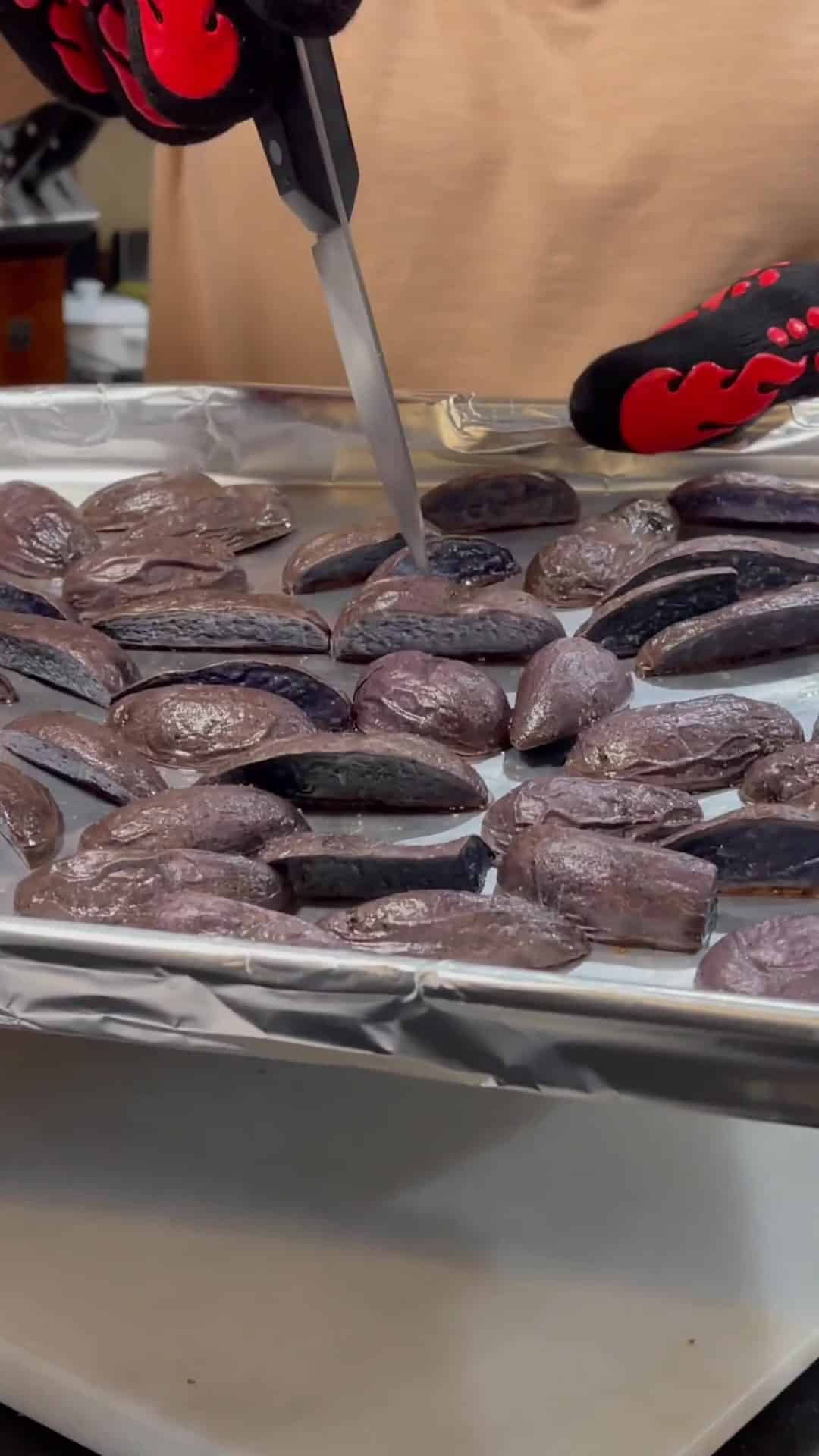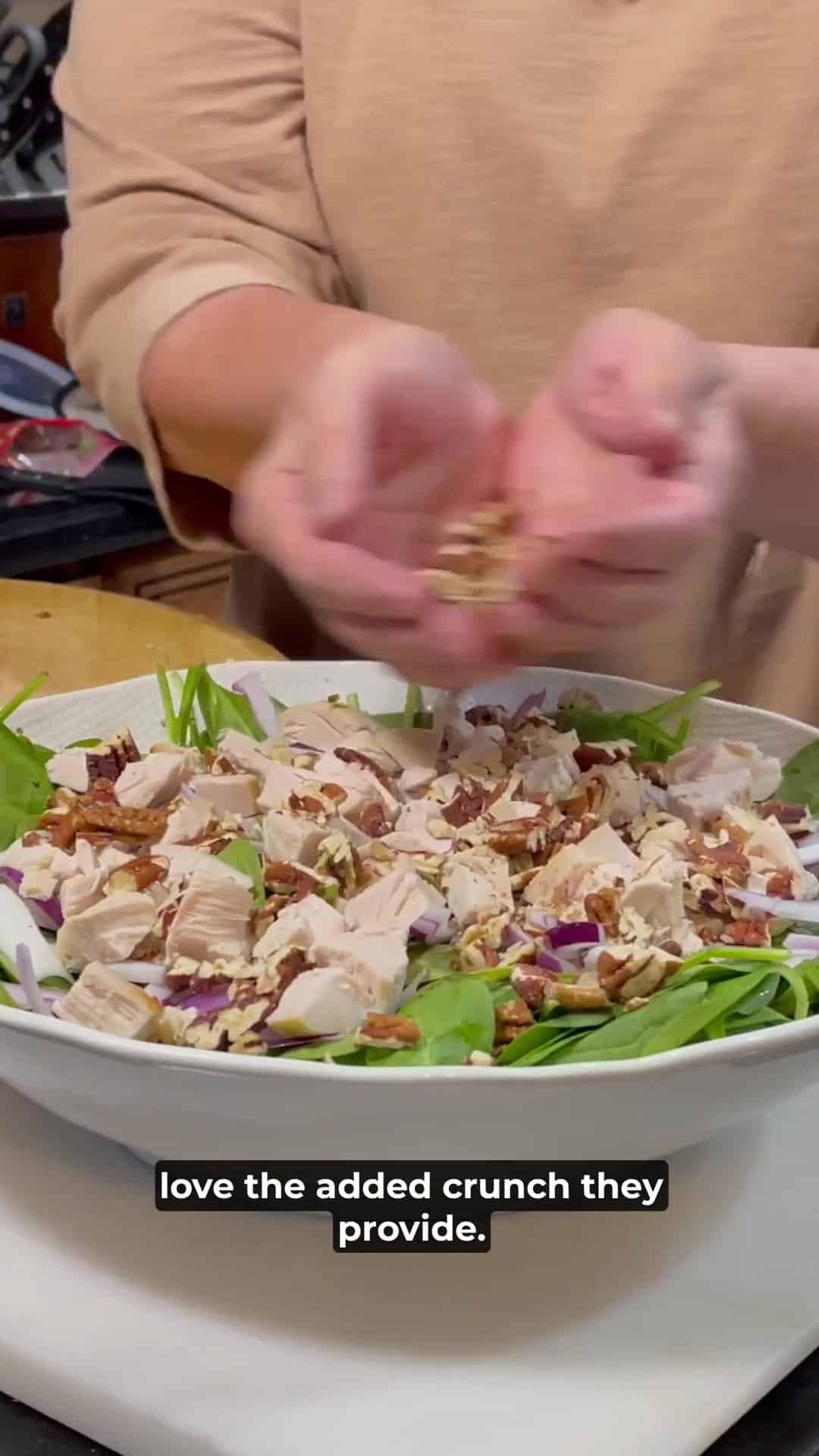 the cooked baby potatoes that have been cut into bite-sized pieces,
and the crumbled blue cheese.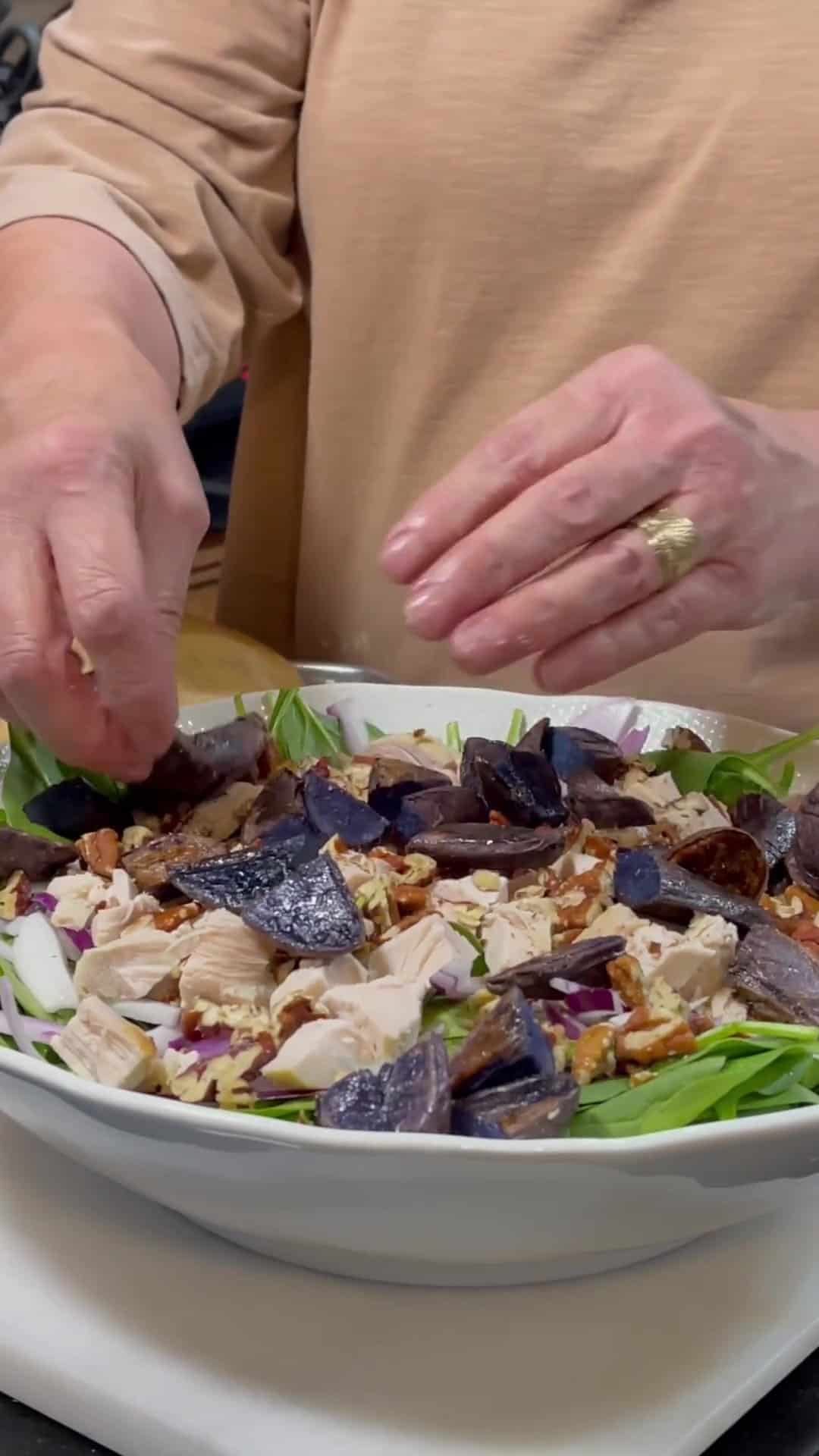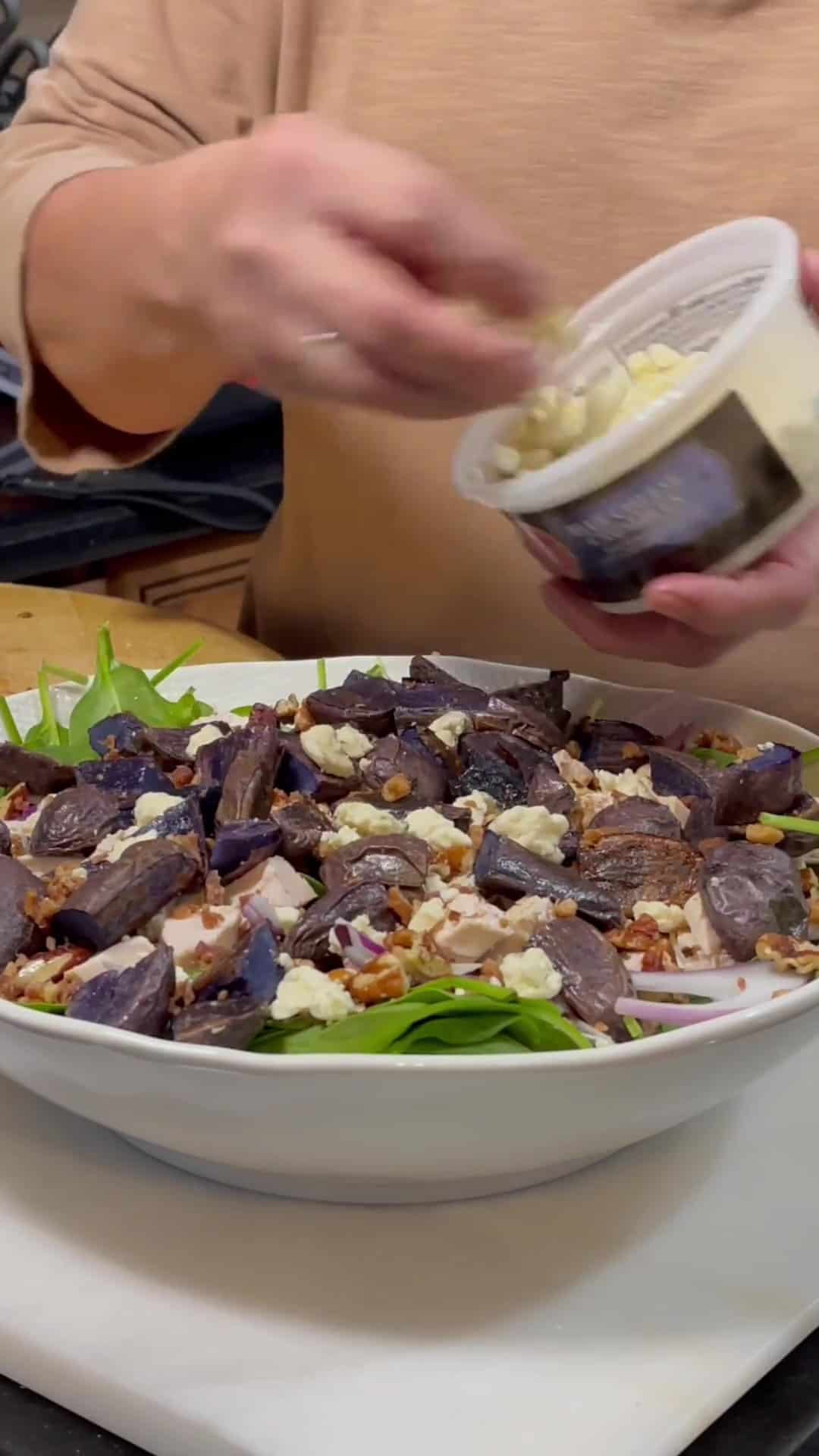 To make the spinach salad vinaigrette add the balsamic vinegar, avocado oil, Dijon mustard, salt, pepper, poppy seeds, and honey (optional) to a jar with a lid.
Add the lid to the jar and shake vigorously until the vinaigrette is fully emulsified.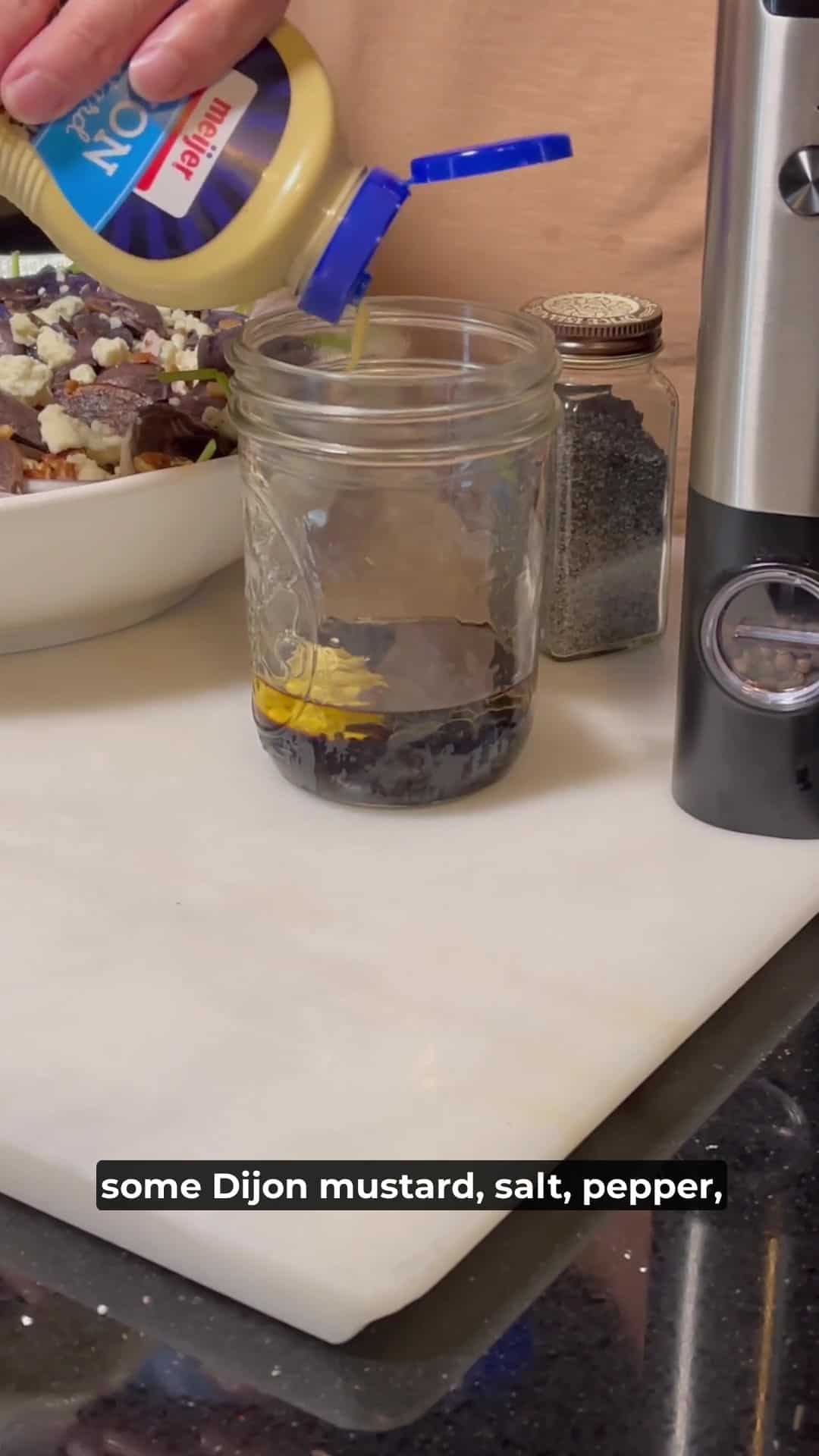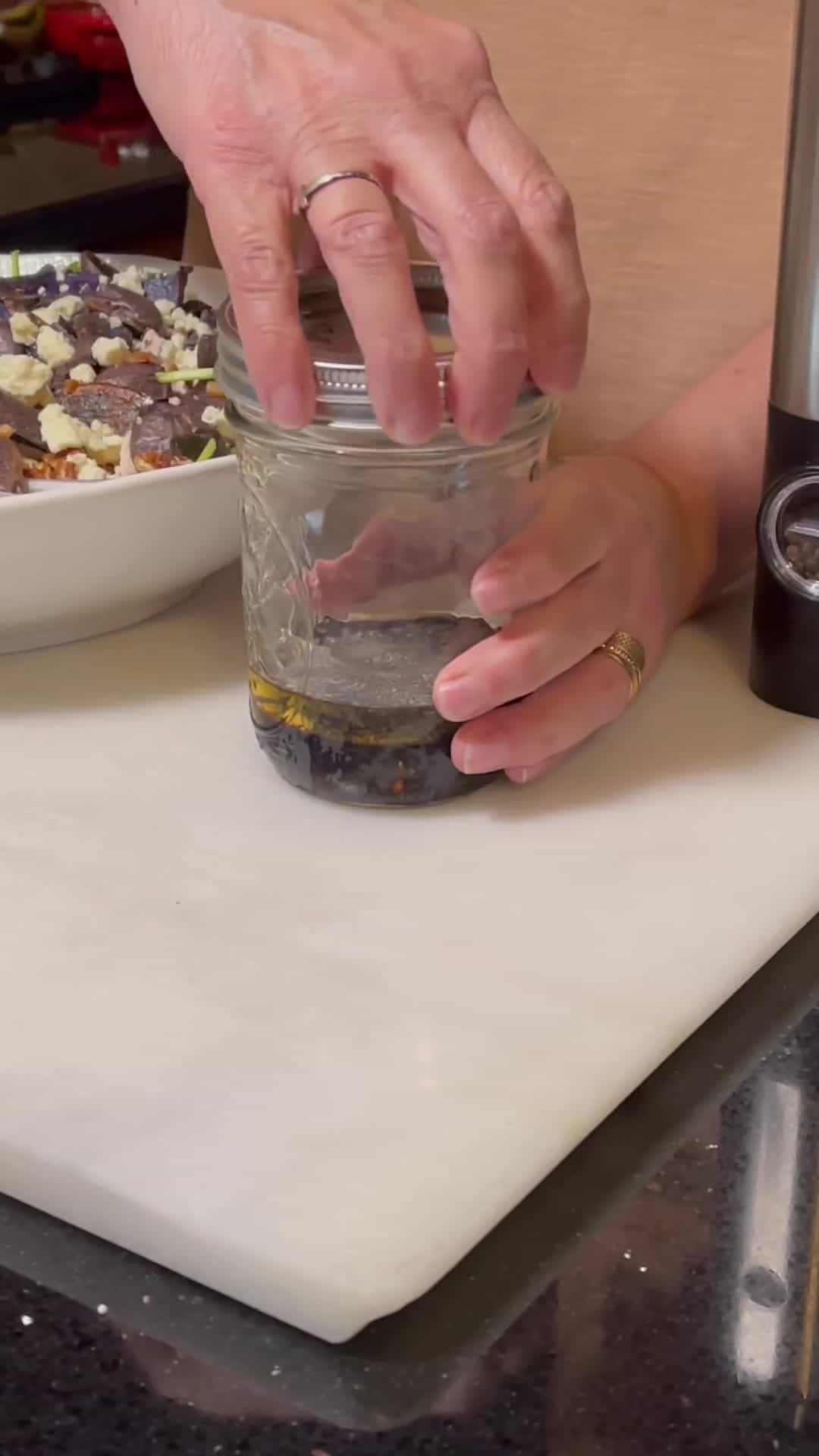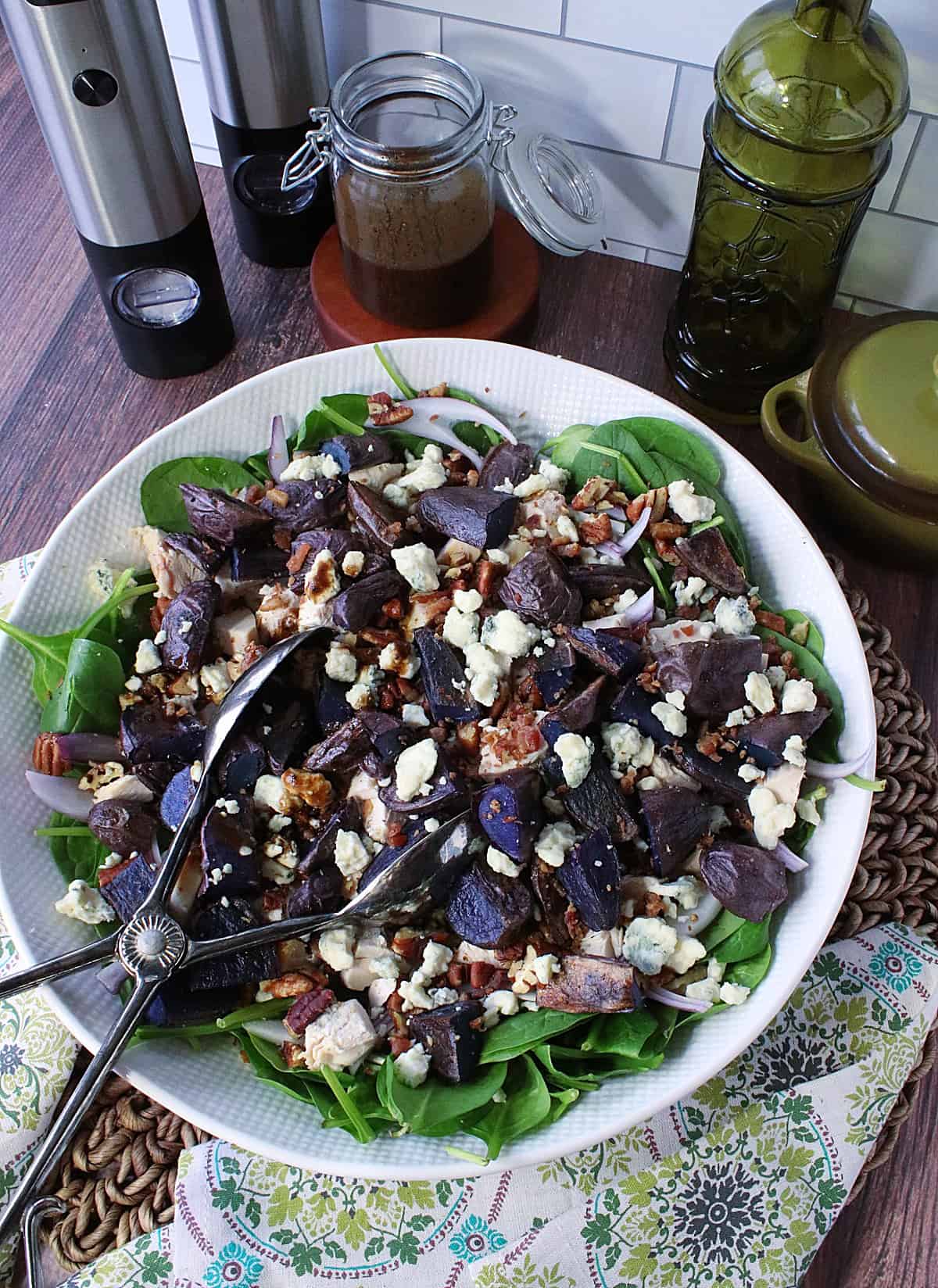 FAQs:
How long will this salad last in the refrigerator?
If you're going to store any leftovers it's best to add the dressing to the salad only when you're ready to serve. This salad, without the dressing, will stay fresh in the refrigerator for 2-3 days.
Can other greens be substituted for the spinach?
Sure. Feel free to use your favorite salad greens, or even swap out kale or Swiss Chard. Of course you can also mix all of them together for a super duper healthy salad treat!
Can other potatoes be substituted for the purple potatoes?
Yes. I do suggest using the baby-sized potatoes, however, because they cook fast and you can leave the skins on.
Can this salad be eaten with a different dressing?

You bet. Use your favorite store-bought or homemade dressing. The choice is yours.
Does Dijon mustard have to be used to make this dressing?

No. However, using a yellow ball park mustard wouldn't be a good substitution because the flavor is a bit too harsh. That said, a good whole grain mustard would be lovely.
How long will this homemade balsamic dressing keep in the refrigerator?
Store the dressing in an airtight container in the refrigerator for up to 7 days.
Does honey need to be added to the dressing?
Nope. Taste it first to see how you like it without the honey. If you feel it's just right, leave the honey out.
Can this superfood spinach salad be made vegetarian?
Of course. Leave out the cooked chicken and bacon and you have a vegetarian superfood spinach salad.
Can this chilled spinach salad be made in advance:
Yes, but I caution you to make it only one day before you plan to serve. Keep it well covered in the refrigerator (without the vinaigrette). Once you're ready to serve, lightly drizzle with the vinaigrette.
Additional recipes featuring spinach:
When you want to impress but don't want to spend a lot of time preparing dinner, this easy Alfredo Ravioli Lasagna is the perfect dish to make, and it's company-worthy too!
This Creamed Spinach Casserole is a super easy low-carb side dish that is a perfect accompaniment to any main course entree. Or, it can be the main course itself if you're living a vegetarian lifestyle.
Cheesy Spinach Artichoke Dip is just like what you get at a restaurant, but you can make it at home! It's creamy, easy to make, and oh so delicious!
Creamed Cabbage and Spinach is a delicious side dish complemented by the flavor of bacon and a touch of lemon for brightness and balance.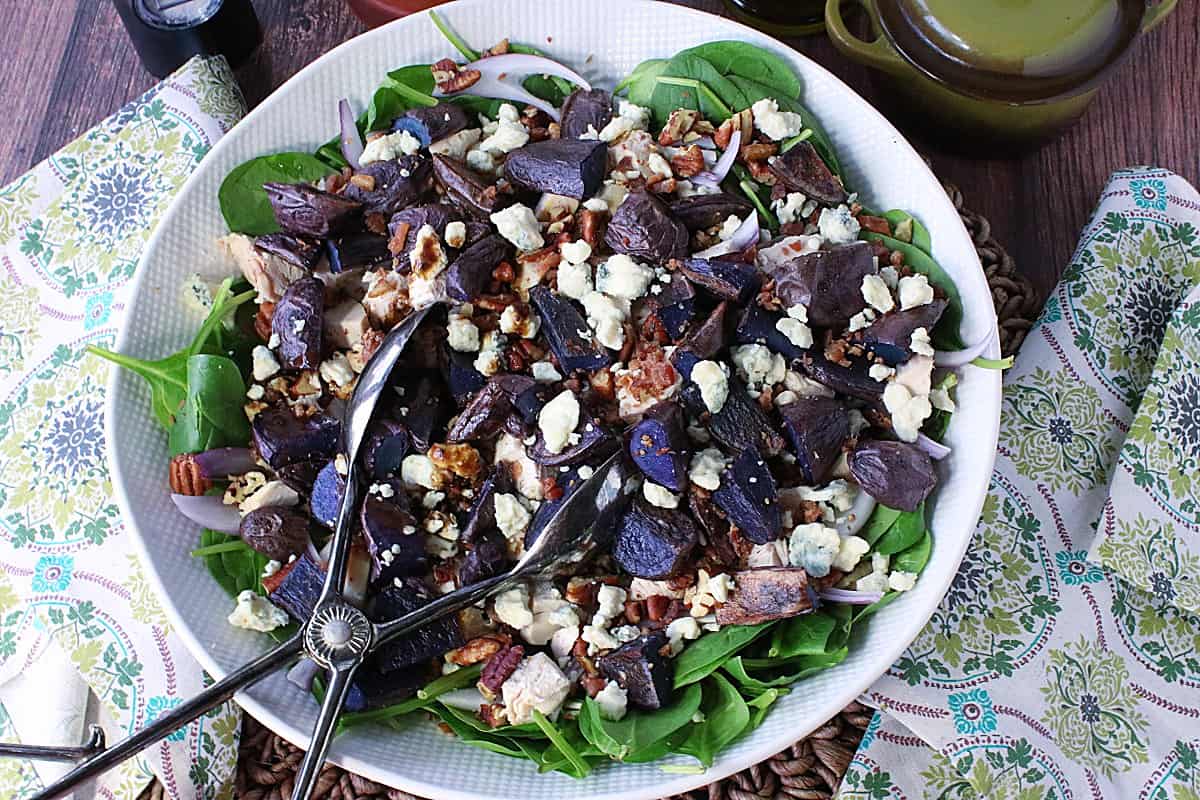 When you make this recipe, and I hope you do, I'd appreciate it if you'd take a moment to leave a star rating on the recipe card and briefly comment on why you rated it as you did. FYI - Google appreciates recipe ratings and, in turn, will share my recipes with more people. Thank you so much!!
Printable Recipe Card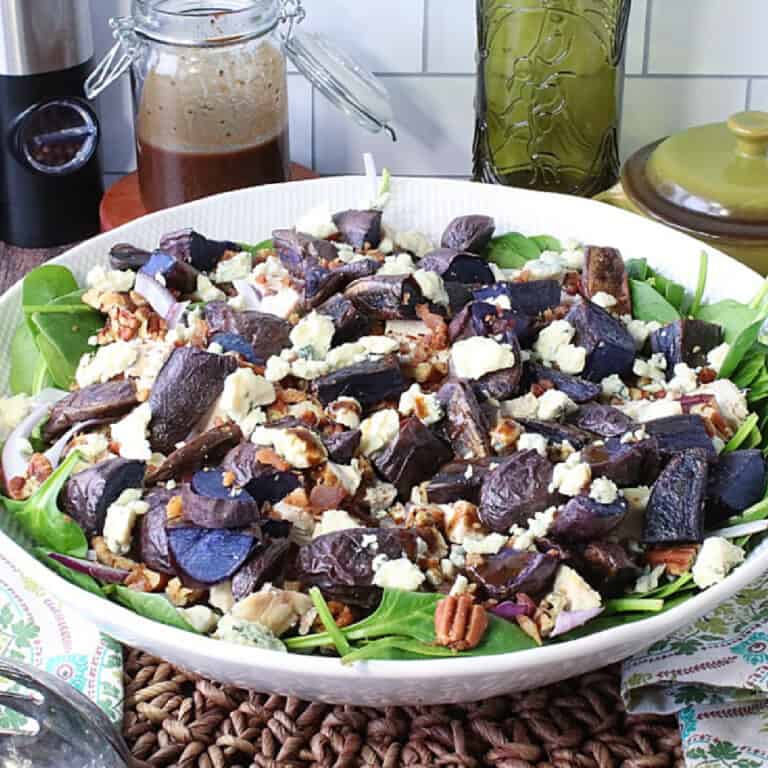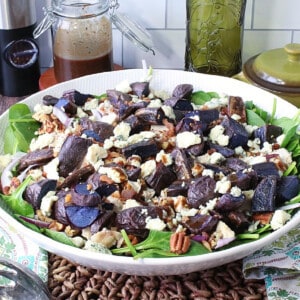 Superfood Spinach Salad with Blue Cheese and Purple Potatoes
This salad may surprise you with its unexpected ingredients. But after your first bite of this incredible Spinach Salad with Blue Cheese and Purple Potatoes, you'll agree that it blows all other spinach salads out of the water!
Ingredients
¾

pound

baby purple potatoes

halved or quartered depending on size

1

tablespoon

avocado oil

½

teaspoon

kosher salt

¼

teaspoon

black pepper

6

cups

baby spinach leaves

washed and dried

½

cup

red onion

thinly sliced

3

cups

cooked chicken

chopped

½

cup

bacon bits

⅓

cup

blue cheese

crumbled

½

cup

chopped pecans
For the dressing:
¼

cup

balsamic vinegar

¼

cup

avocado oil

½

tablespoon

Dijon mustard

2

teaspoons

poppy seeds

½

teaspoon

honey

⅛

teaspoon

kosher salt

⅛

teaspoon

black pepper
Instructions
Preheat oven to 425 degrees Fahrenheit.

Place the potatoes in a large bowl and toss with 1 tablespoon avocado oil, salt, and pepper.

Spread the potatoes on a rimmed baking sheet and roast in the oven for 17 minutes (or until fork tender). Remove, cool, and chop into bite-sized pieces.

Layer the spinach, red onion, chopped chicken, bacon, blue cheese crumbles, chopped pecans, and purple potatoes in a large salad bowl.
To make the vinaigrette:
Place all the dressing ingredients into a jar with a lid and shake well to combine.

Top the salad with a drizzle of vinaigrette (or to taste), serve chilled, and enjoy!
Video
Notes
May be refrigerated (without dressing is best) in an airtight container for 2-3 days.
Keep any leftover dressing in an airtight container in the refrigerator for up to 7 days.
Nutrition
Serving:
1
serving
Calories:
711
kcal
Carbohydrates:
33
g
Protein:
43
g
Fat:
46
g
Saturated Fat:
8
g
Polyunsaturated Fat:
11
g
Monounsaturated Fat:
23
g
Cholesterol:
87
mg
Sodium:
1161
mg
Potassium:
1041
mg
Fiber:
8
g
Sugar:
5
g
Vitamin A:
4361
IU
Vitamin C:
32
mg
Calcium:
199
mg
Iron:
4
mg
I sincerely hope you've enjoyed today's superfood spinach salad as much as I've enjoyed bringing it to you!
Follow me across my social media platforms and join in on the conversation: FACEBOOK, INSTAGRAM, PINTEREST, TIKTOK, AND YOUTUBE.
Thank you so much for visiting me today in my Kudos Kitchen. I hope you found something you'll love and that you'll come back and visit me often. There is always room for you around my table!
Should you have any questions or comments regarding anything you've seen here on my blog, please don't hesitate to reach out to me. It is always my distinct pleasure to respond to you just as soon as I possibly can.
Until we eat again, I hope you have a delicious day!!