This easy-to-make Italian Panzanella Salad features plenty of garden-fresh summer tomatoes, crusty Italian bread, and fragrant basil. It's an Italian bread and vegetable salad that pleases just about everyone.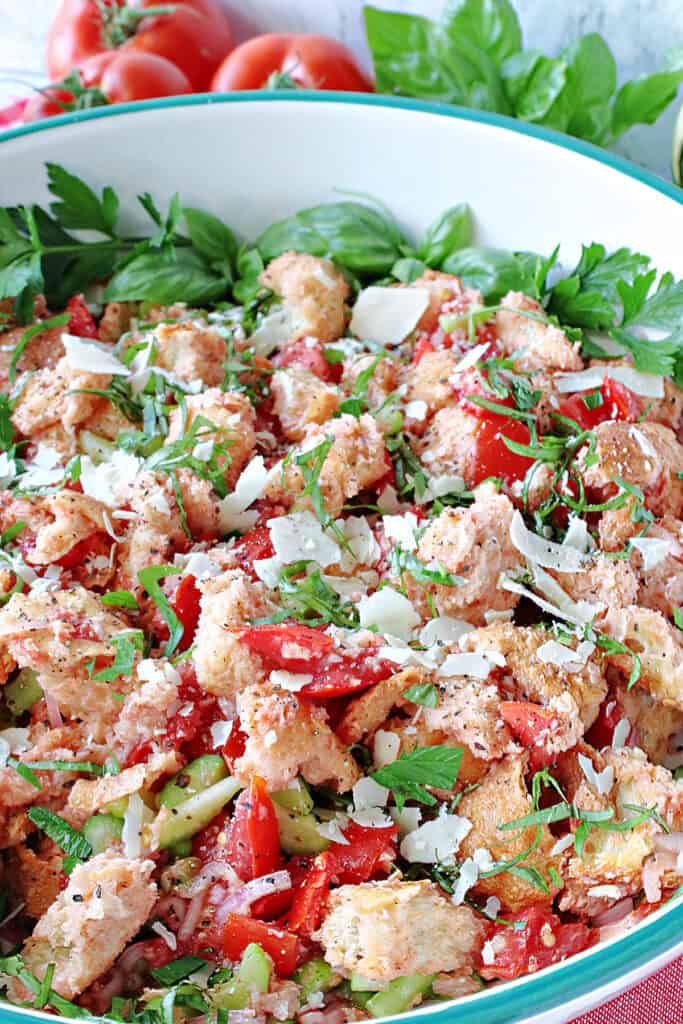 Jump to: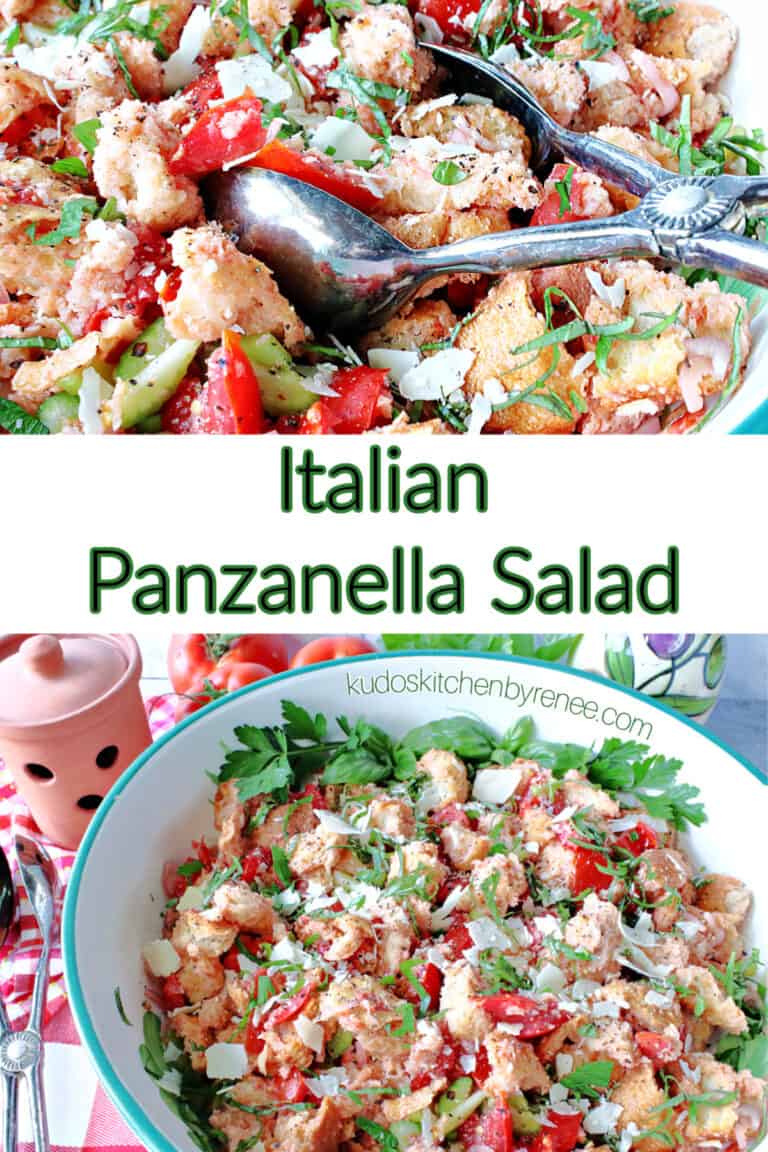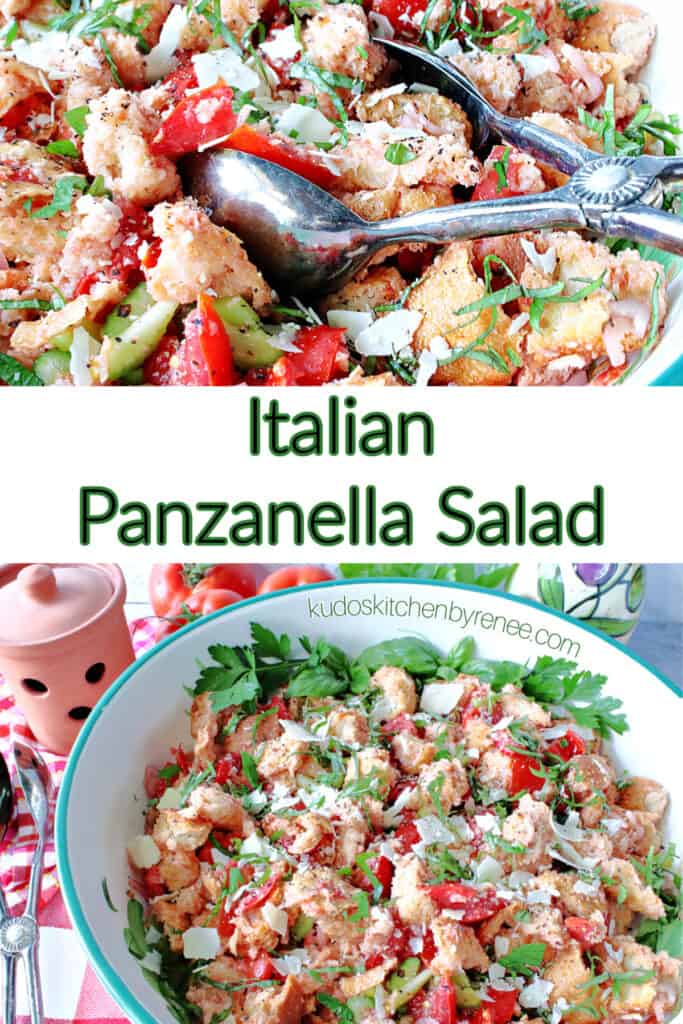 The ingredient list:
**Note - The following lists of ingredients plus kitchen tools and equipment contain affiliate links (highlighted in blue) for your consideration and shopping convenience. #CommissionsEarned
crusty Italian bread
sugar
tomatoes
celery
fresh basil
Kitchen tools and equipment:
Why this recipe works:
It's a great way to utilize garden-fresh tomatoes and basil.
It's an economical dish that feeds many people.
It's a great way to use stale, leftover Italian bread.
It's delicious and VERY easy to make.
It can be a vegetarian main course or side dish.
It's an Italian classic.
What is panzanella salad?
It's a Tuscan chopped salad of bread and tomatoes that is popular in the summertime.
It is also quite common in other parts of central Italy.
How many people will this Italian chopped salad serve?
Well, I guess it depends on how hungry they are, and if you're serving this as a side dish or main course.
I've written the recipe with the servings listed as 10.
Because you may or may not have that many servings (depending on how you're serving), please be aware that the calorie count listed in the recipe card may not be accurate.
Can panzanella leftovers be stored in the fridge?
It's best to serve Panzanella salad the very same day it's made.
If the Panzanella is stored in the refrigerator for more than a day, the bread will become quite soggy and soft. It will still taste great, but the texture will be less appealing (to some).
I, however, still enjoy it and don't mind the soggy texture. Some people might call me crazy, however! LOL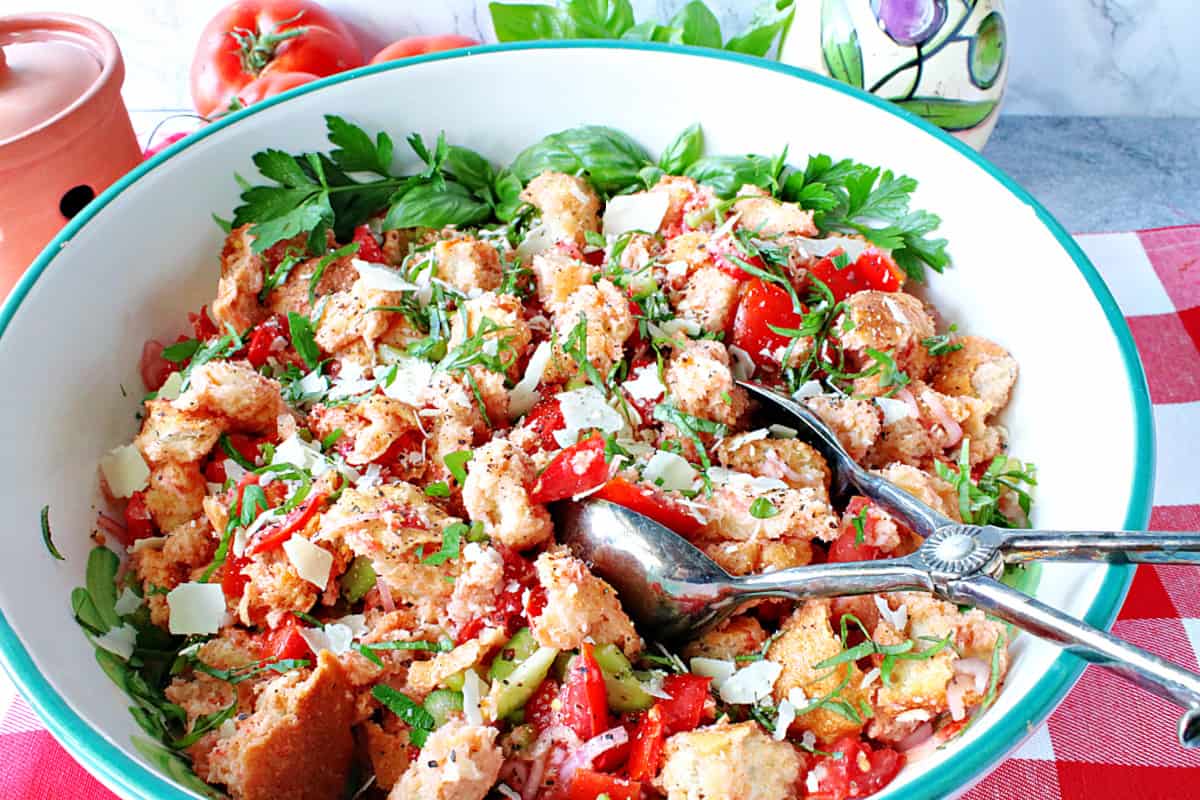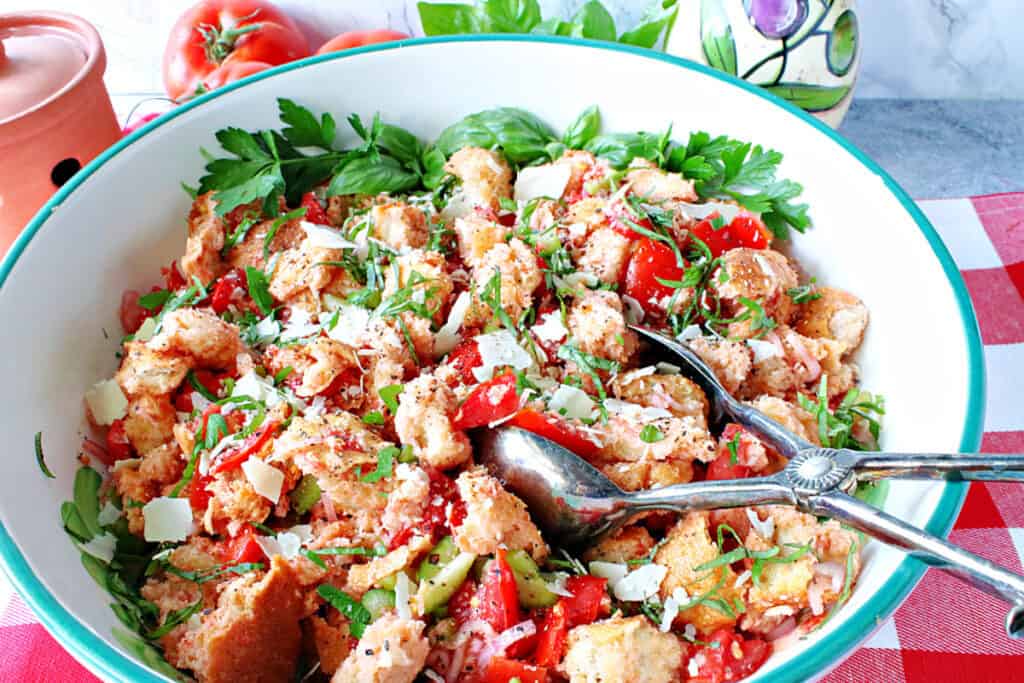 What type of tomatoes work best for this Italian bread and tomato salad?
Whatever kind you have.
I used Better Boy because that's what I have growing in our garden.
However, grape, cherry, plum, heirloom, beefsteak...(you name it) will all work wonderfully well!
That said, it's always best to use fresh summer tomatoes because they'll have the most flavor, by far.
Why do I need to salt and rest the tomatoes before assembling this salad?
It's important to do so in order to remove a lot of the excess water from the tomatoes.
If this step isn't done the salad will become far too mushy in a short amount of time.
Salting the tomatoes beforehand will also ensure that the tomatoes are properly seasoned, and will they'll have the flavor to stand up to the red wine vinegar dressing.
Why toast the bread before assembling the salad?
Toasting the ripped bread pieces ahead of time is important so the bread has extra flavor, texture, and a little bit of crunch.
If the bread isn't toasted, it will immediately soak up the dressing like a sponge, and the bread will lose its ability to remain deliciously textured.
Can the celery be left out of this recipe?
Sure! If you're not a fan, by all means, leave it out.
While celery isn't traditionally an ingredient used in Panzanella, I added it because I enjoy the flavor and crunchy texture it gives to this salad.
Since celery holds its crunch forever, I knew that even when this bread and tomato salad got a little soggy, the celery would still give it the crunch and texture I adore.
How to chiffonade fresh basil leaves:
The step-by-step photo instructions:
Preheat oven to 375-degree Fahrenheit.
Rip apart a loaf of crusty Italian bread into random bite-sized shapes and them on a single layer on a baking sheet fitted with a rack.
Toast the broken bread in the preheated oven for 20-35 mInutes until the bread is golden and crispy. Set aside.
Meanwhile, while the bread is toasting, prepare the tomatoes by cutting them into bite-sized pieces (or half the tomatoes if using a small variety such as a grape tomato or cherry tomato).
Place the tomatoes into a colander and salt liberally. Allow the salted tomatoes to drain in the sink for approximately 20 minutes while the bread toasts in the oven. *Note - you can either discard the tomato water, reserve it for soup stock, add it to the red wine vinaigrette (used in this recipe, but not shown), or add it to a smoothie.
While the bread is toasting and the tomatoes are draining, chop the shallots, celery, and mix together the red wine vinaigrette using the red wine vinegar, extra virgin olive oil, salt, black pepper, Dijon Mustard, and granulated sugar.
Add the dried bread cubes to a large serving bowl and add the prepared tomatoes, shallots, celery, and the prepared (shaken) viniagrette. Toss the panzanella well and allow to sit in the refrigerator for 1 hour. Toss again and add the fresh basil leaves along with fresh shaved Parmesan cheese.
Return to the refrigerator again for an additional 45 minutes before stirring and serving.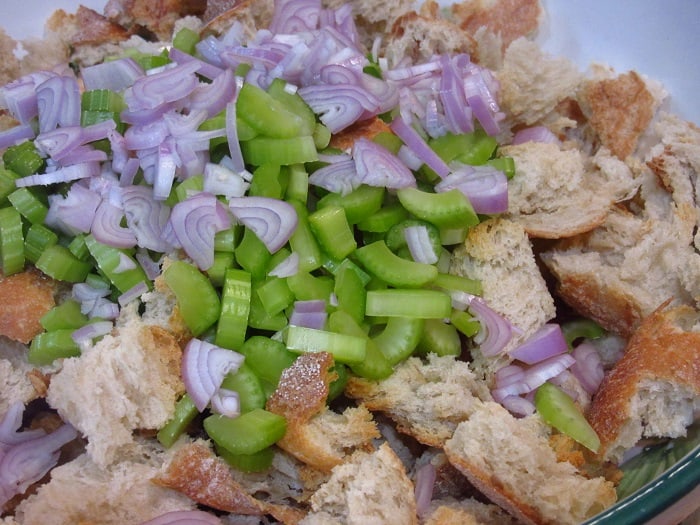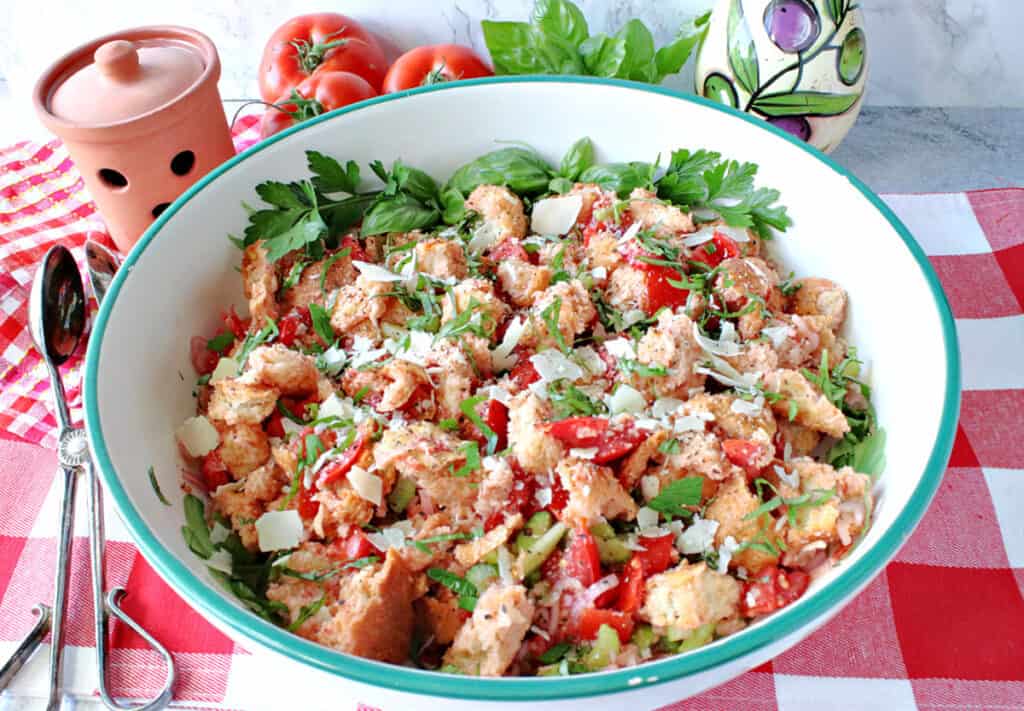 Can other vegetables be added to this Italian panzanella?
I don't see why not.
It's your salad you should be able to add whatever you like.
Plus, when was the last time you had the food police come knocking at your door? LOL
Cucumber slices are typically a traditional ingredient in a panzanella salad, but as I said, go wild and experiment...you'll make me so proud of you if you do!! LOL
Other delicious Italian dishes you need to try:
*Caprese Sausage Sandwich (shown below and featured in the video)
In the blink of an eye, and in only the time takes to cook Italian sausages you can have a deliciously easy Caprese Sausage Sandwich for dinner tonight!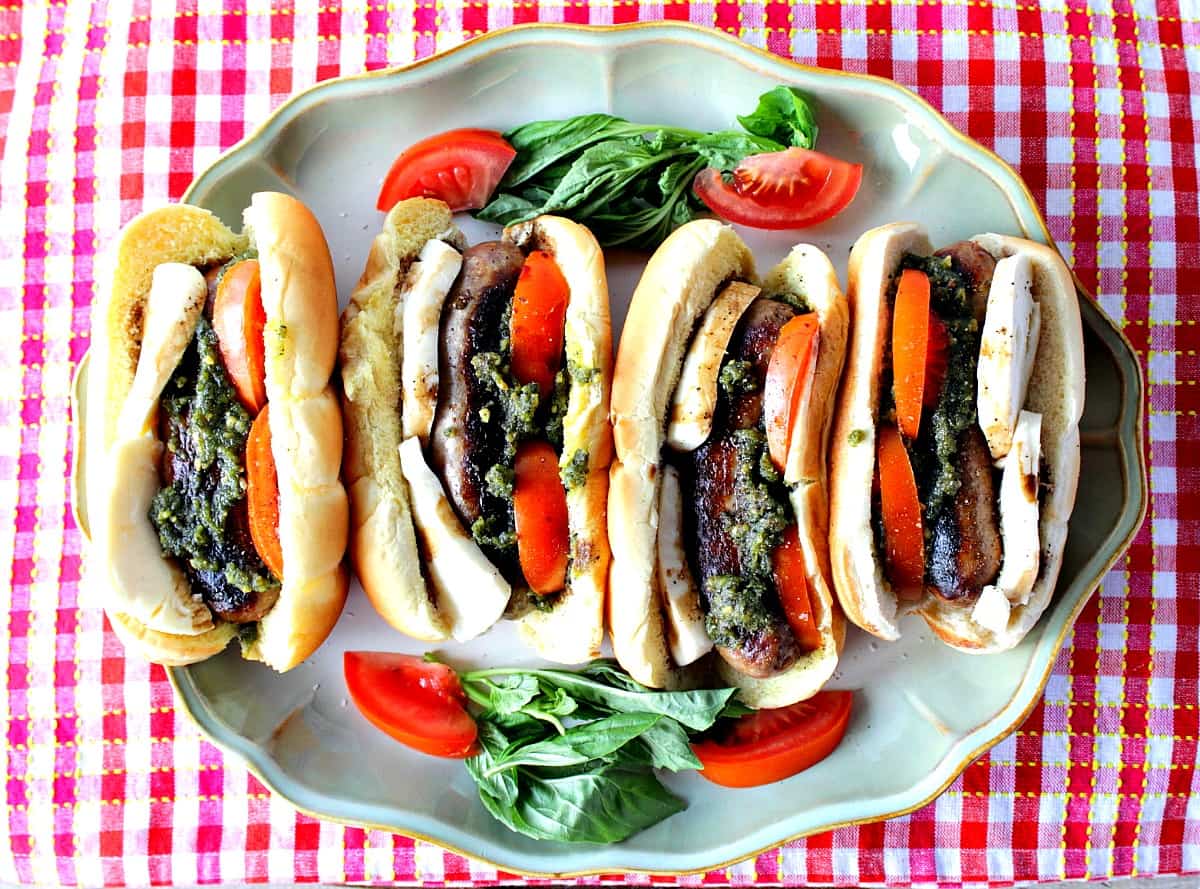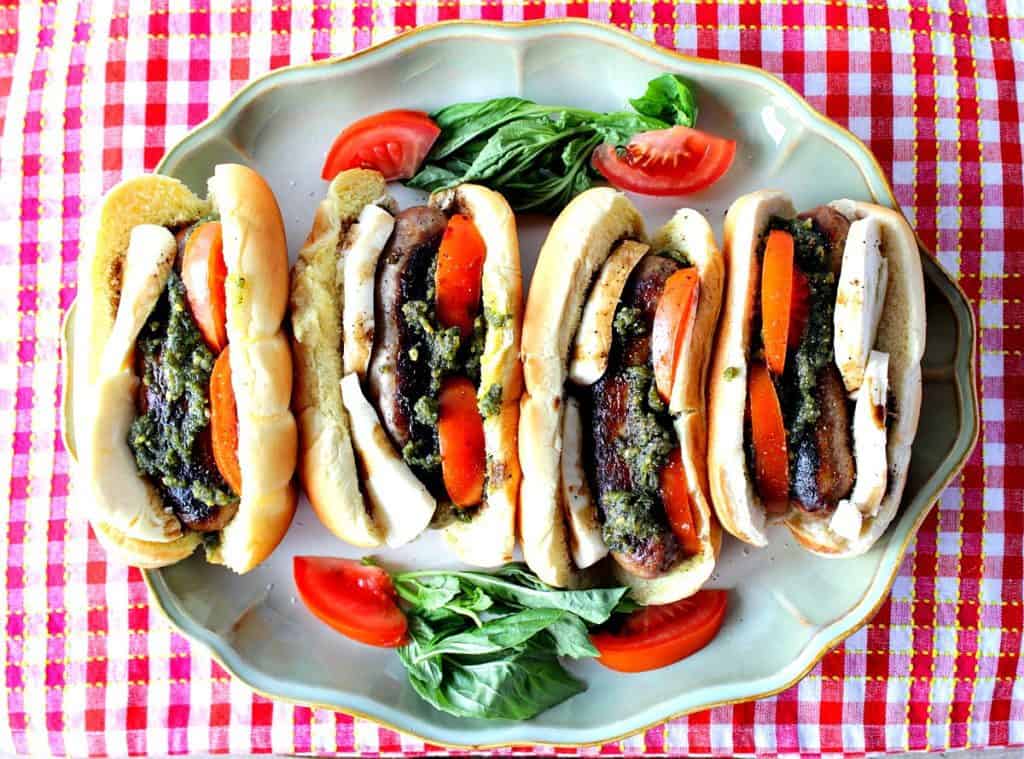 *Italian Zucchini Parmesan (now shown)
Layered Zucchini Parmesan has all the flavors you love about pizza or lasagna but without all those annoying carbs to weigh you down.
*White Bean and Fennel Italian Sausage Soup (shown below)
This hearty White Bean, Fennel & Italian Sausage Soup is sure to please the entire family. The depth of flavor from the blend of sweet fennel and the white beans is a sumptuous treat for the taste buds.
*Italian Herb Quick Bread (not shown)
This Italian herb quick bread comes together in a snap with only one bowl, one spoon, and no kneading required. It's fast, easy, and super delicious!
*Italian Panzanella Salad (shown below) THIS IS THE PLACE!!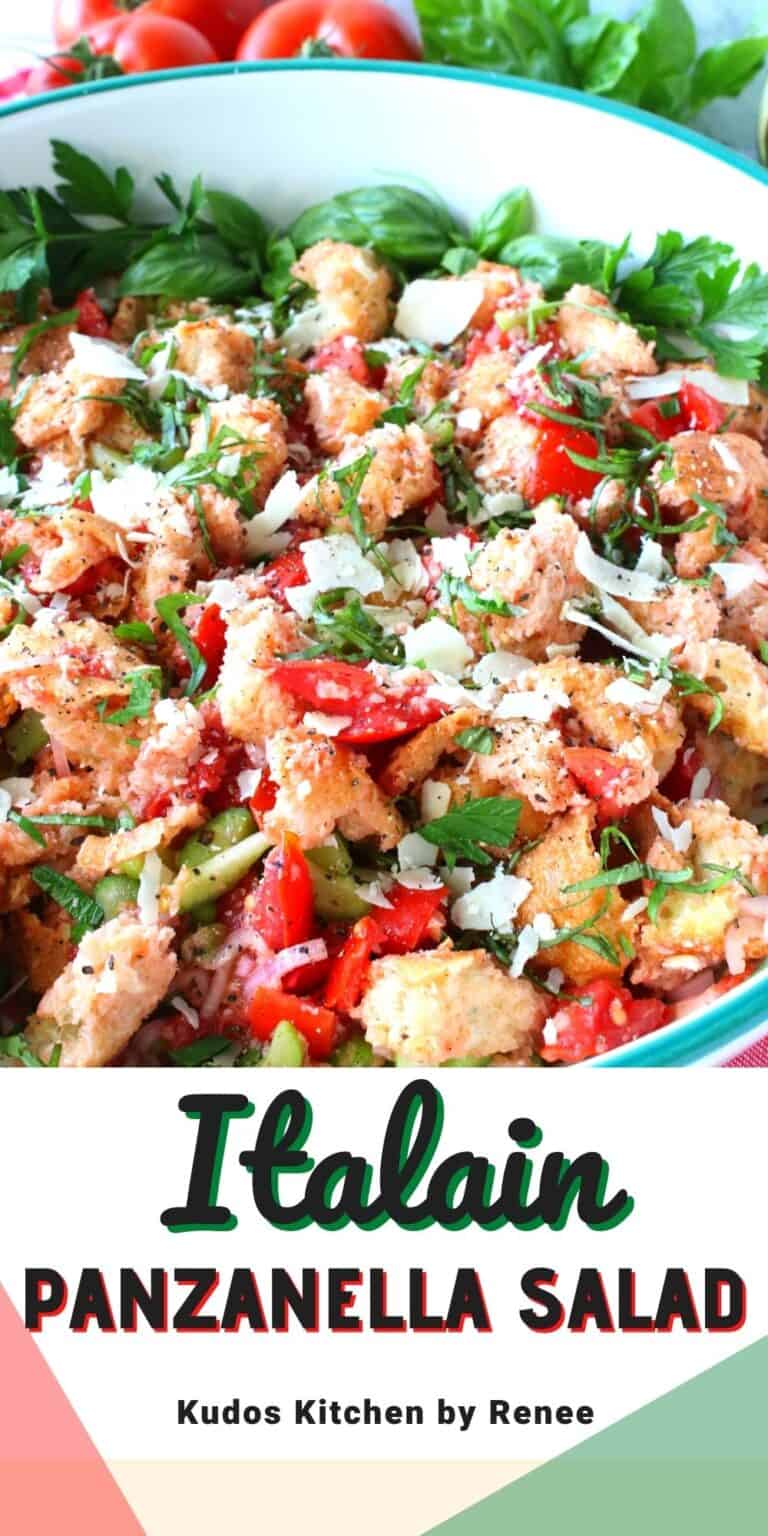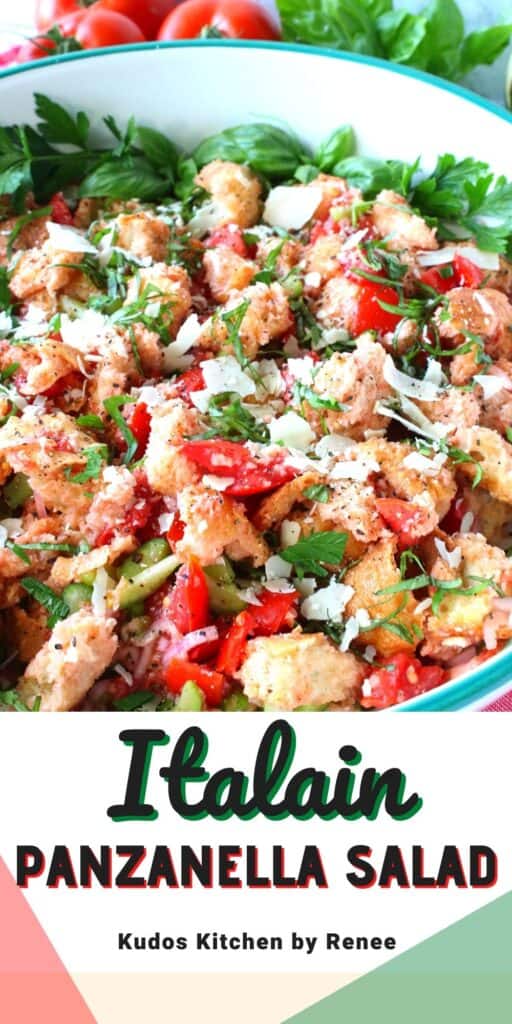 When you make this recipe, and I hope you do, I'd appreciate it if you'd take a moment to leave a star rating on the recipe card and briefly comment on why you rated it as you did. FYI - Google appreciates recipe ratings and, in turn, will share my recipes with more people. Thank you so much!!
Printable Recipe Card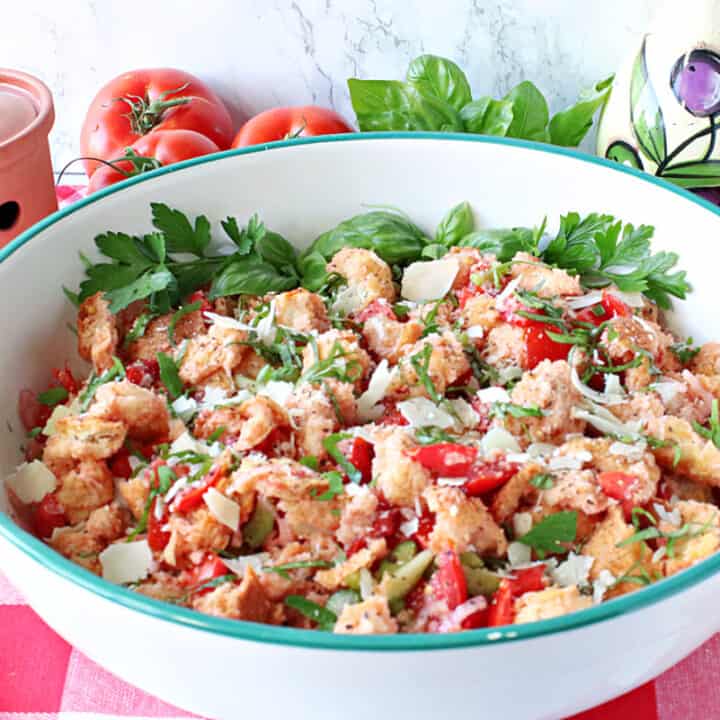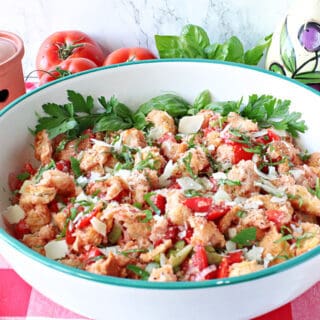 ITALIAN PANZANELLA SALAD
This easy-to-make Panzanella Salad features plenty of garden-fresh summer tomatoes, crusty Italian bread, and fragrant basil. It's a simple salad that pleases just about everyone.
Ingredients
To make the vinaigrette:
¾

cup

red wine vinegar

½

cup

extra virgin olive oil

1

teaspoon

salt

½

teaspoon

fresh cracked black pepper

2

teaspoons

Dijon mustard

1

tablespoon

granulated sugar
To make the panzanella salad:
1

Loaf

crusty Italian bread

approximately 6-8 cups torn bite-sized pieces

¼

cup

chopped shallots

about 1 extra-large shallot

6-8

cups

chopped tomatoes

1

tablespoon

salt

1½

teaspoon

fresh cracked black pepper

1

cup

chopped celery ribs

1

cup

Italian cheese shreds

I used Parmegiano-Regiano

2

tablespoons

fresh basil chiffonade

or roughly chopped (about 5-6 large leaves)
Notes
This salad is best eaten the same day it's made or it will get super soggy. It will still taste great but for those with texture issues, it may not be as pleasurable.
Feel free to use whatever type of tomato is your favorite or the freshest you have on hand. Summer ripe tomatoes are always best.
Nutrition
Serving:
1
serving
Calories:
535
kcal
Carbohydrates:
41
g
Protein:
11
g
Fat:
37
g
Saturated Fat:
15
g
Polyunsaturated Fat:
5
g
Monounsaturated Fat:
16
g
Trans Fat:
1
g
Cholesterol:
9
mg
Sodium:
1858
mg
Potassium:
549
mg
Fiber:
4
g
Sugar:
24
g
Vitamin A:
395
IU
Vitamin C:
18
mg
Calcium:
218
mg
Iron:
3
mg
I sincerely hope you've enjoyed today's Italian Bread and Tomato Panzanella Salad as much as I've enjoyed bringing it to you!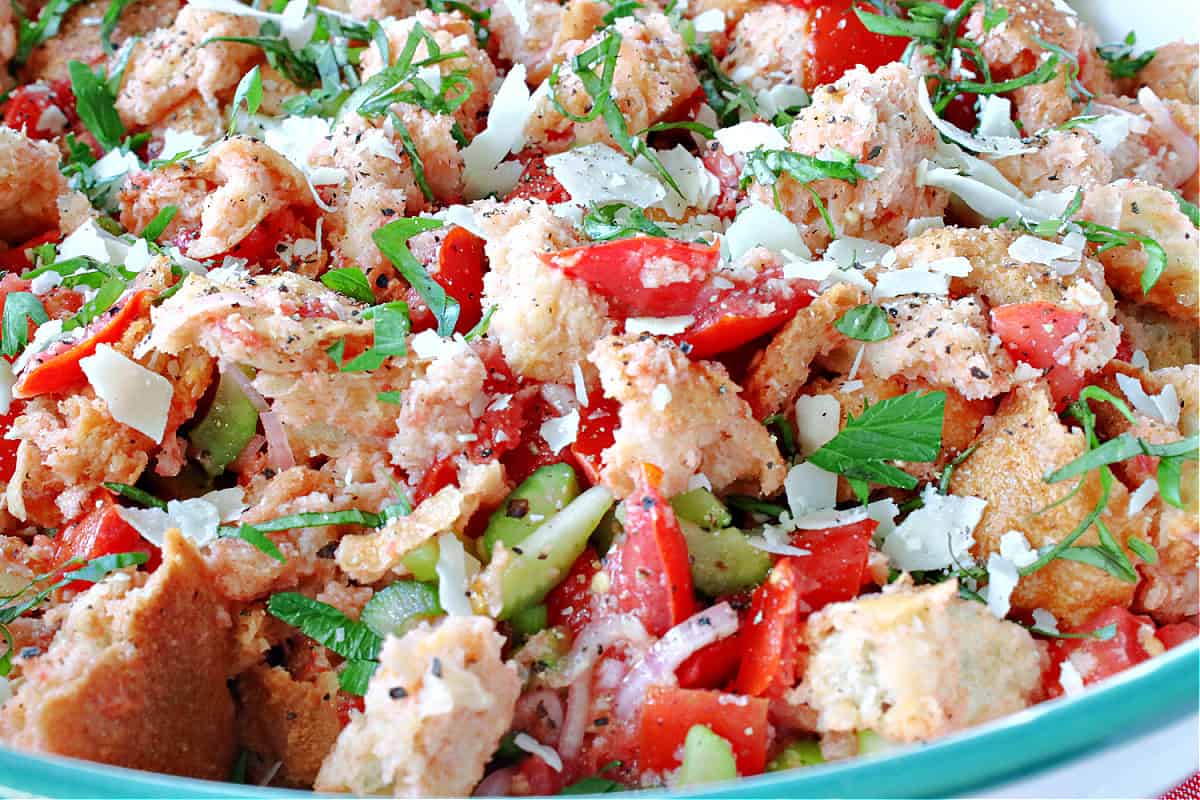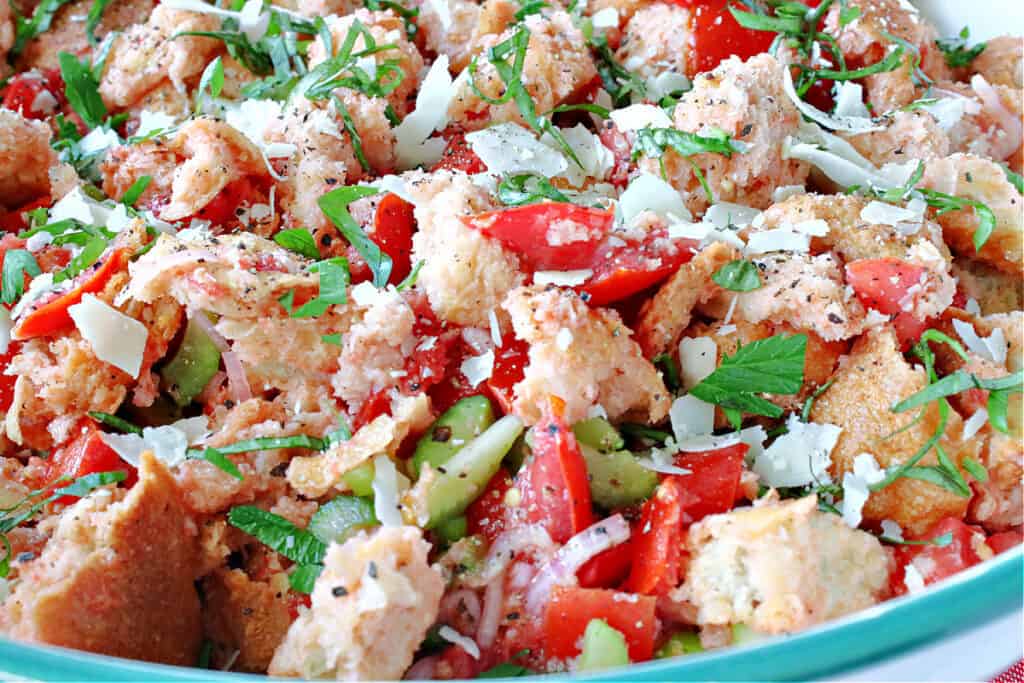 Follow me across my social media platforms and join in on the conversation: FACEBOOK, INSTAGRAM, PINTEREST, TIKTOK, AND YOUTUBE.
Thank you so much for visiting me today in my Kudos Kitchen. I hope you found something you'll love and that you'll come back and visit me often. There is always room for you around my table!
Should you have any questions or comments regarding anything you've seen here on my blog, please don't hesitate to reach out to me. It is always my distinct pleasure to respond to you just as soon as I possibly can.
Until we eat again, I hope you have a delicious day!!