Deliciously comforting foods you eat with a spoon! That's exactly what my popular Soup, Stew, and Chowder Recipes are all about!
From healthy to hearty (and everything in between), there is something for absolutely everyone in this comfort collection of spoon-fed recipes.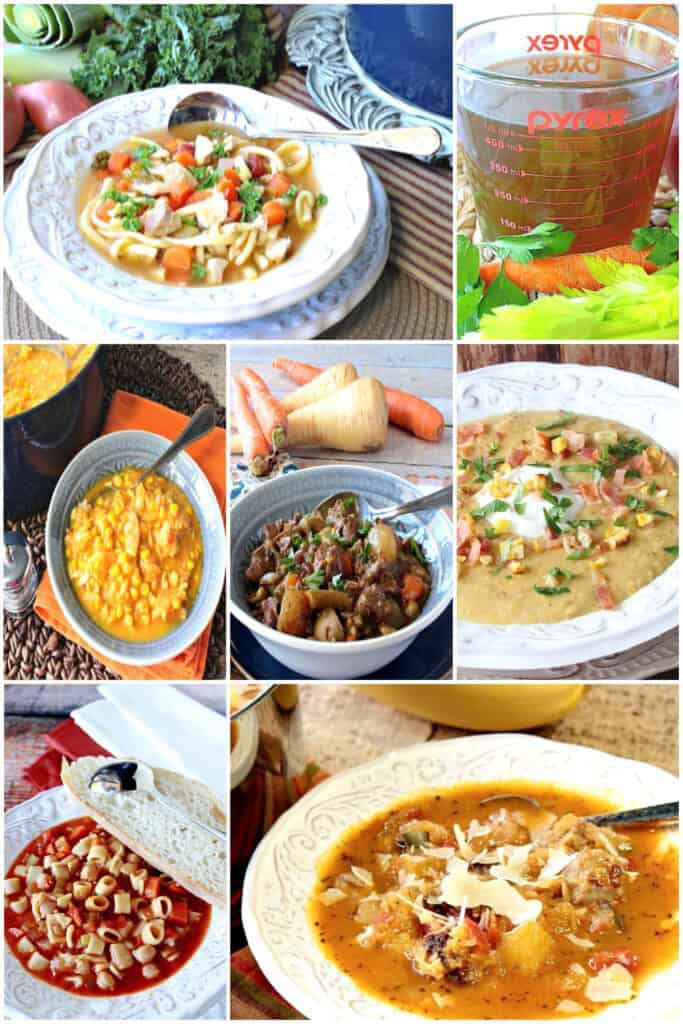 Please check back often as I'll continually be adding new and delicious offerings to my Kudos Kitchen collection of Soup, Stew, and Chowder Recipes.
I have so many recipes in my head waiting patiently for the day when I can bring them to you for your cooking and eating enjoyment.
So remember, stay hungry, my friends!
Soup:
From scratch soup base:
Once you have a few homemade soup bases under your belt, homemade soups, stews, and chowders just became that much tastier...and better for you!
*Healthy Homemade Chicken Stock (stovetop method)
*Beef Bone Broth (slow cooker method)
The health benefits of Beef Bone Broth are enormous, and making it at home in the slow cooker couldn't be easier.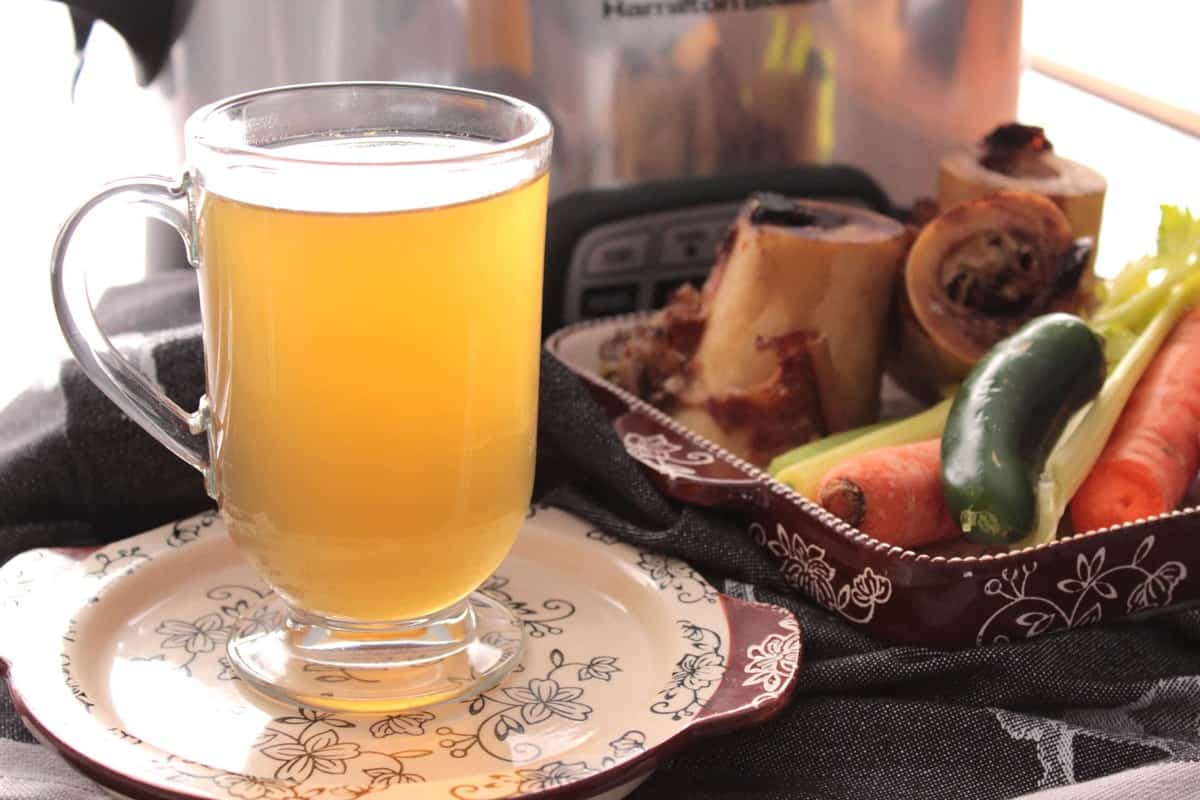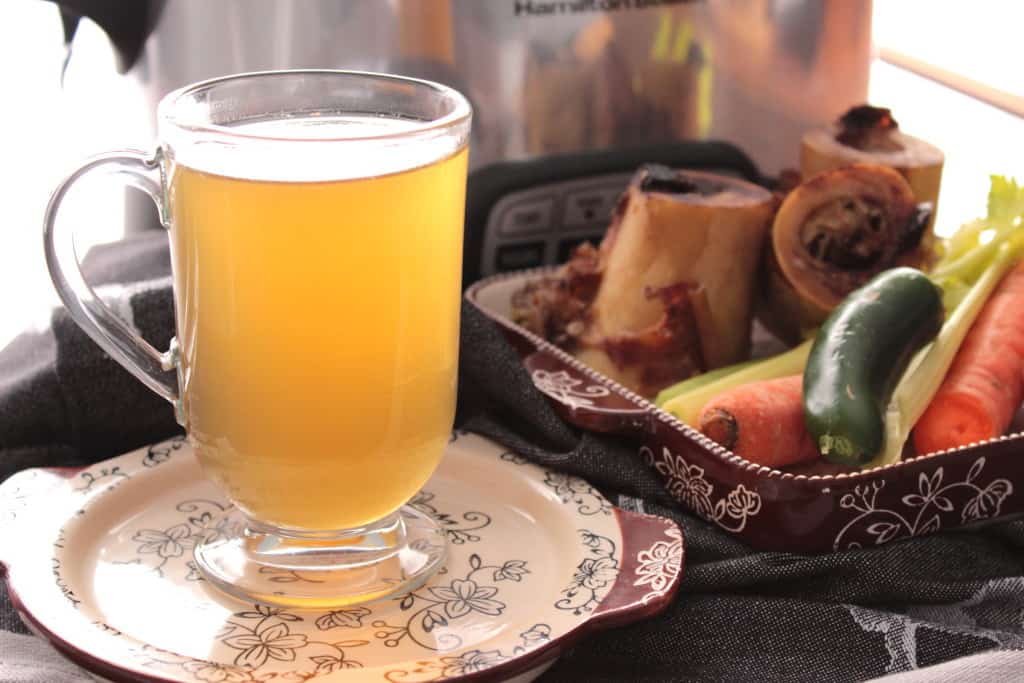 Soup with chicken:
You can't have a soup section without listing soups with chicken at the tippy top of the list.
That said, there are so many more delicious chicken soups besides chicken noodle.
Check them all out and remember that (in a pinch), a store-bought rotisserie chicken can be your very best friend!
*Chicken Noodle Soup with Leeks and Kale
*Chicken Barley Soup (slow cooker method)
*Chicken, Lemon, and Orzo Soup
Soup with sausage:
Bratwurst, Pepperoni, Italian sausage, and more.
These soups with sausage are some of my absolute favorites, and I trust that you'll enjoy them every bit as much as we do here!
*Spaghetti Squash Soup (shown below)
Spaghetti Squash Soup is a wonderfully hearty, comforting, and healthy way to eat your veggies. This soup can be made with or without sausage so it's perfect for anyone, or any table.
*Italian Pepperoni Soup (Instant Pot Method)
*White Bean, Fennel, and Italian Sausage Soup
*Beer Cheese Soup with Bratwurst
Soup with ground beef:
Almost everyone has frozen ground beef at the ready at all times. These ground beef soup recipes will be ones you turn to time and time again.
Soup with ham:
Creamy Vegetable Soup:
Most of the creamy vegetable soups listed below are creamy but without the use of cream.
They're blended in a high-speed blender (or a food processor may be used) to achieve the creamy effect without added calories.
*Roasted Butternut Squash and Vegetable Soup (shown below)
This amazing depth of flavor in this Roasted Butternut Squash and Vegetable Soup can go from fancy to casual and anywhere in between. The flavor is outstanding, and it's super simple to make!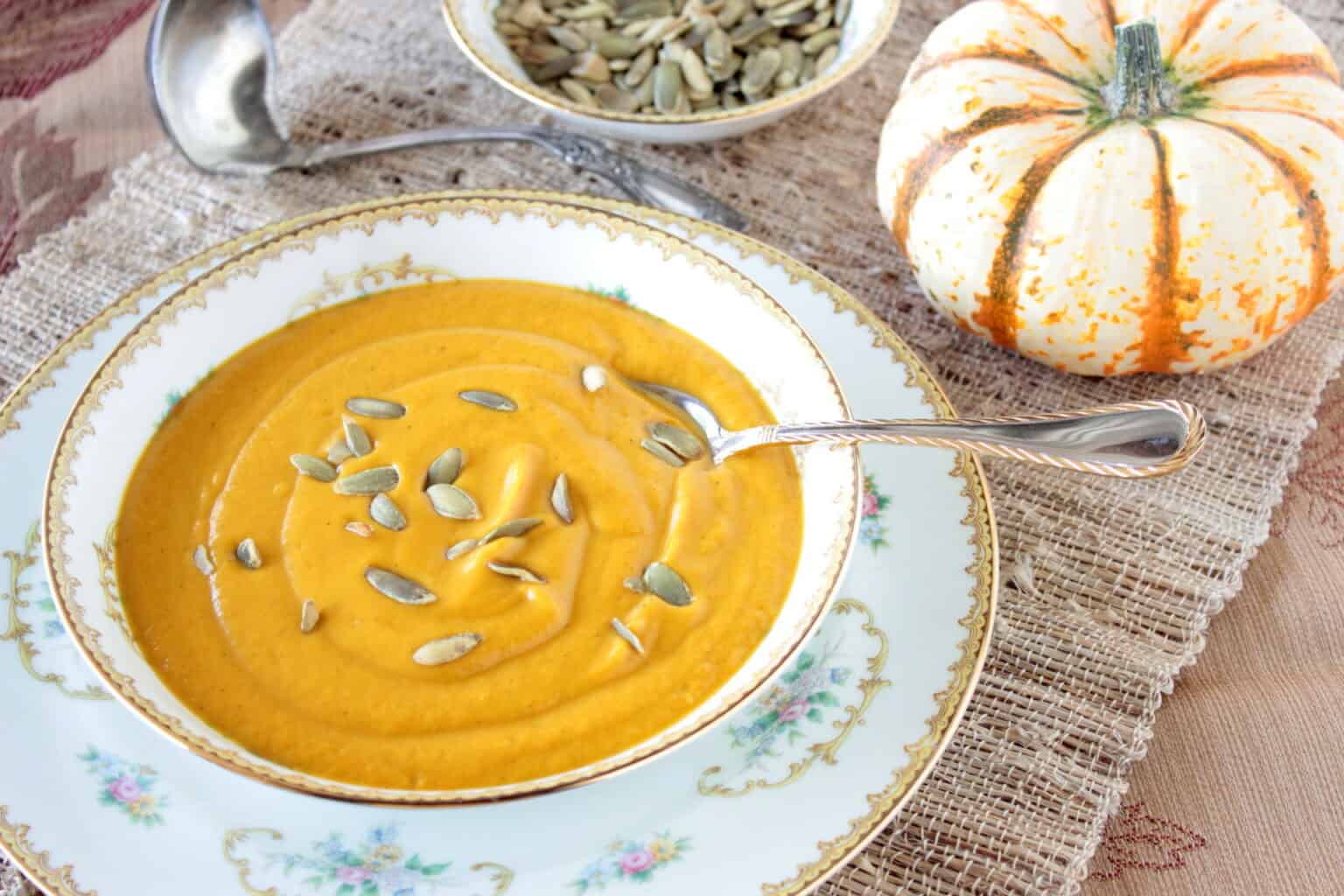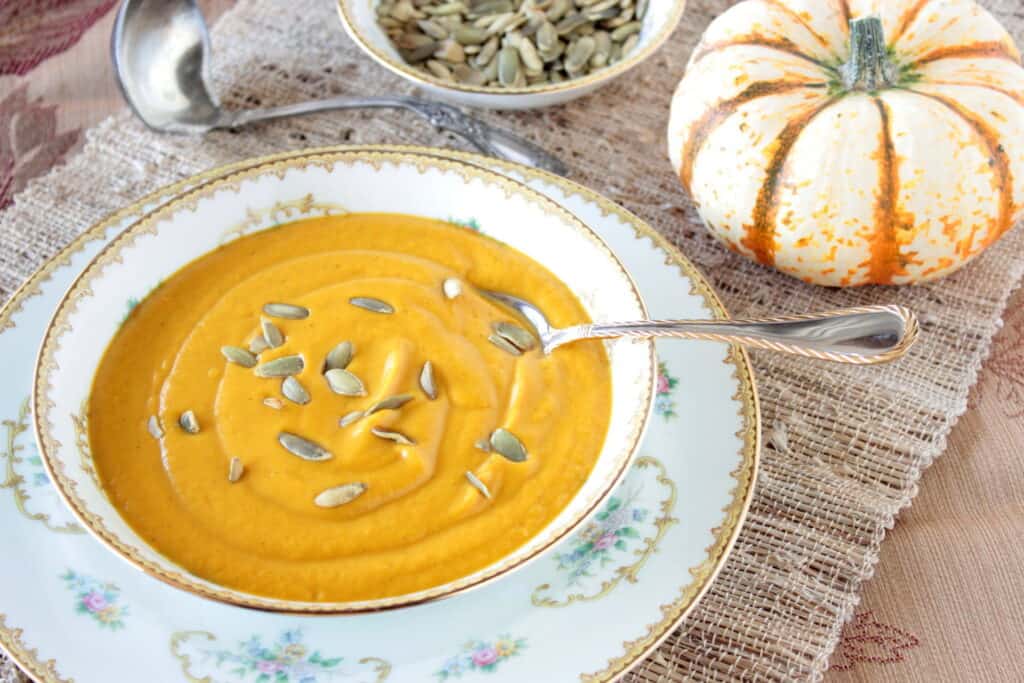 *Roasted Tomato and Red Pepper Soup
*Roasted Garlic and Zucchini Soup with Basil
German Inspired Soup:
One of my absolute favorite cuisines is German cuisine. I love to play around with the flavors and textures to develop recipes that bring me back to my German roots.
Some of the German recipes below are handed down through my family, and some are ones I made up on the fly.
Let's see if you can tell the difference. LOL
*German Onion Soup (shown below)
German Onion Soup has plenty of caramelized onions, beer, bratwurst, and pretzel roll croutons. This delicious and hearty caramelized onion soup with a German flair will soon become a family favorite!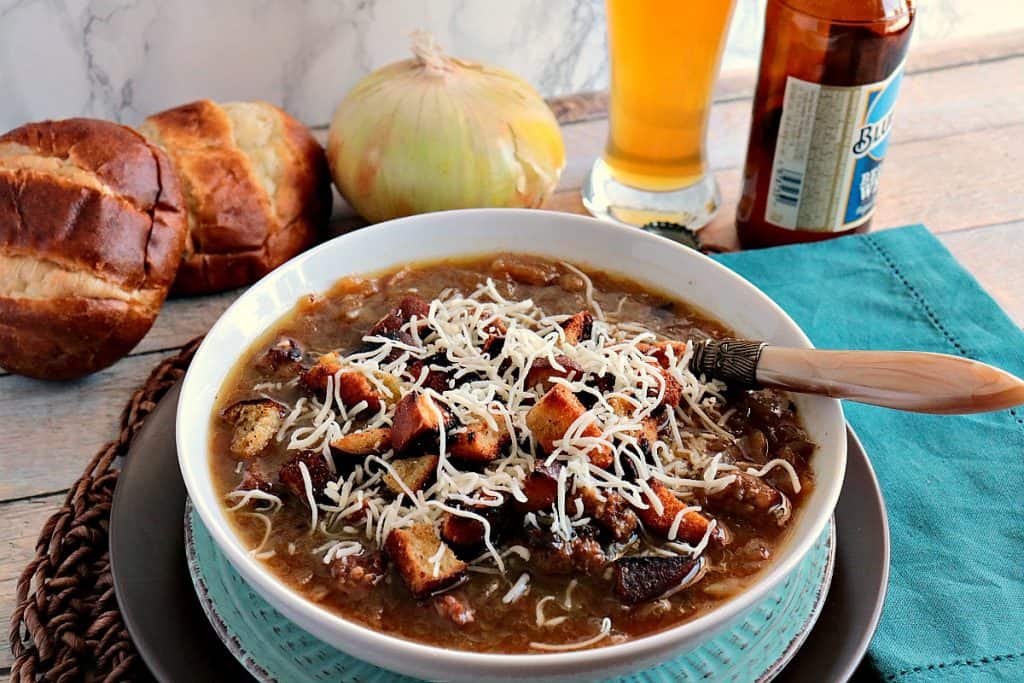 Italian inspired soup:
I'm not Italian, but I sure wish I was.
However, my taste buds may tell you otherwise because Italian cuisine is my second favorite go-to. The following Italian-inspired soup recipes are ones I'm sure you will enjoy.
*White Bean Italian Sausage Soup
All-American inspired soup:
You simply can't have a listing of comfort soups without some fun All-American varieties that families across the board (especially the kiddos) will love and enjoy.
The following are waiting to grace your dinner table and bring big smiles to those little faces!
Tex-Mex Inspired Soup:
Smoky, delicious, and healthy soups that are filled with beans, tomatoes, cheese, and all the Tex-Mex flavors you love!
Tex-Mex inspired soups are always popular, always delicious, and always a hit when it comes to lunch and/or dinner time fare.
Greek inspired soup:
The big, bold flavors of Greek cuisine will satiate and satisfy your appetite!
You're going to fall in love with these Greek-inspired soup recipes and make them a regular part of your comfort food soup rotation.
*Chicken, Lemon, and Orzo Soup
French inspired soup:
Oooh, la, la!
What more can be said when it comes to French-inspired soup?
Time to get into the kitchen and get these soups going on the stovetop. I promise that you won't be sorry!
Stew Recipes:
Stews are thicker than a soup, yet still a savory, spoon-worthy, and comforting meal.
*Stuffed Green Pepper Stew (shown below)
This easy-to-make Stuffed Green Pepper Stew is my deconstructed take on stuffed green peppers only in stew form. You're going to love it!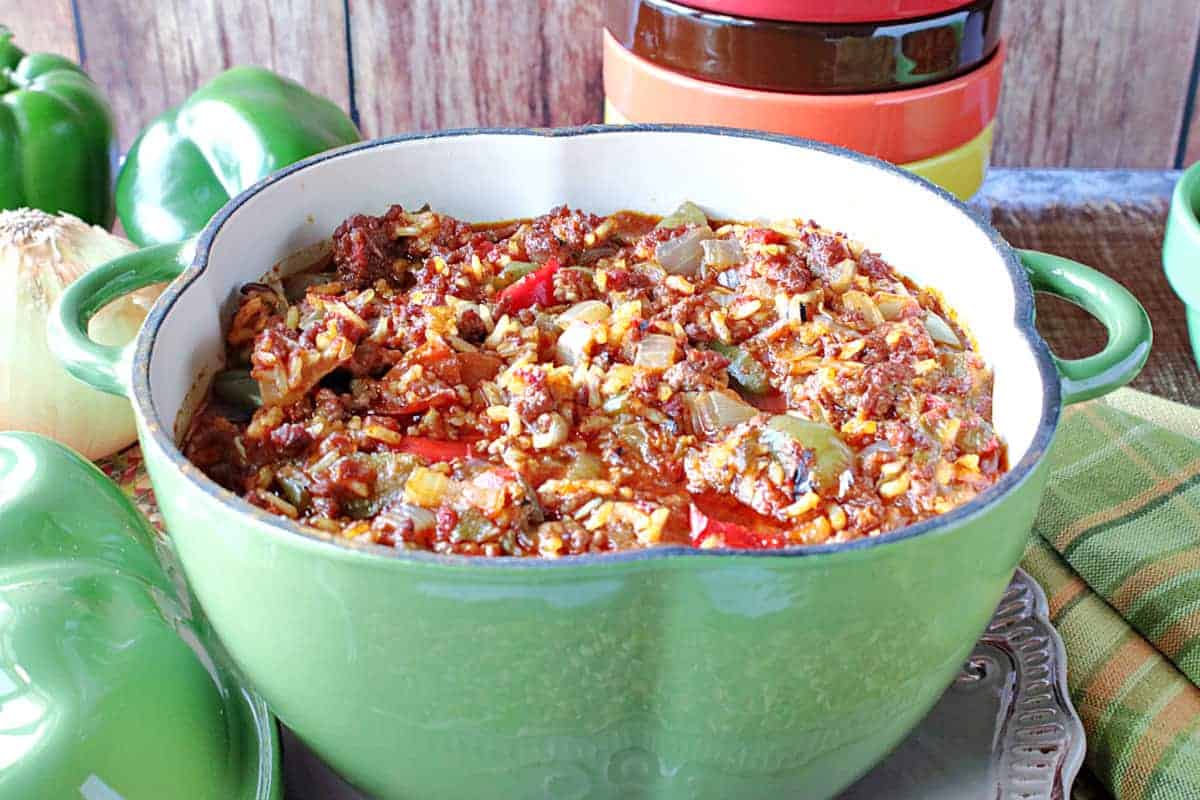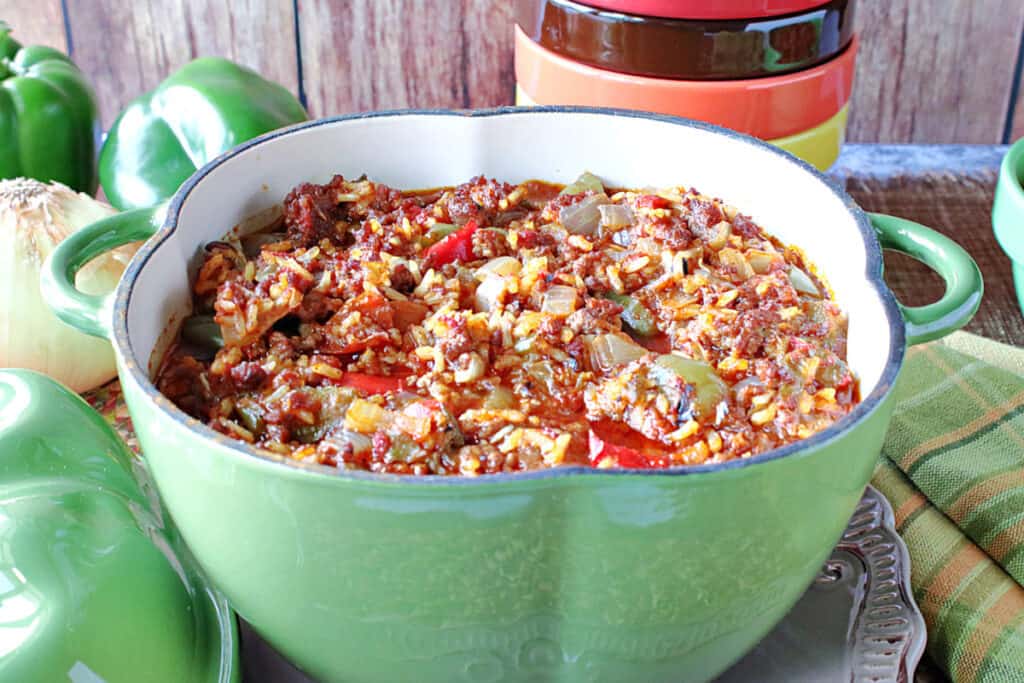 *Carrot and Ginger Chicken Noodle Stew
Chowder Recipes:
Chowders are chunkier than stews and much heartier than a soup.
They're typically thick and creamy and will satisfy even the biggest of appetites.
Chowders are the perfect winter comfort food and can freeze beautifully for months on end if stored properly.
What could be better?
*Pumpkin Corn Chowder with Shrimp
*Gluten-Free Tater Tot Chowder
*Creamy Chicken Corn Chowder with Bacon
*Roasted Sweet Potato with Wild Rice Chowder
Slow Cooker, Crock Pot, and Instant Pot, Soup, Stew and Chowder Recipes:
When you need a time-saving meal that you can prepare in the morning, and eat when you get home, then these slow cooker/crockpot Soups, Stew, and Chowder Recipes are just what you need.
*Split Pea Soup with Ham (shown below)
Comforting and delicious, this Slow Cooker Split Pea Soup with Ham will convert even a pea hater, into a pea lover. Please, I beg of you "Give Peas A Chance!"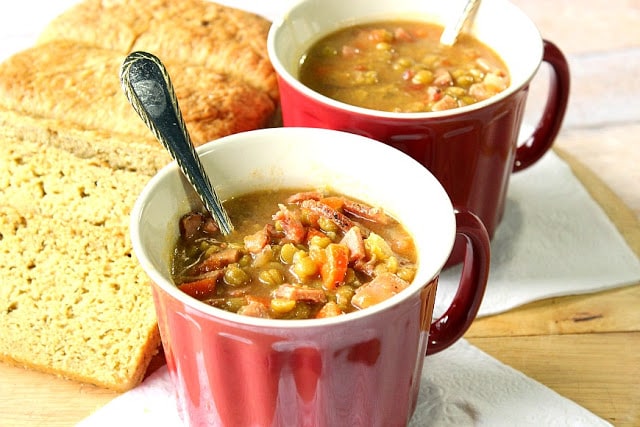 *Midwestern Clam and Shrimp Chowder
*Chicken and Sweet Potato Stew
*Pot Roast and Portobello Stew
Additional soup, stew, and chowder recipes from around the web:
Below is a collection of recipes I've accumulated over time from some of my fellow food bloggers and friends that I think you also need to know about.
Enjoy perusing their recipes and serving them to your friends and family!
*Soups, Stews, and Chowders Recipe Roundup
Below are some of my very favorite kitchen tools and equipment that I use in my Kudos Kitchen on a regular basis to make all of the delicious soup, stew, and chowder recipes you've seen above.
If you're interested, please have a look and maybe you'll like to add some of them to your kitchen arsenal as well.
**Note - The following lists of ingredients plus kitchen tools and equipment contain affiliate links (highlighted in blue) for your consideration and shopping convenience. #CommissionsEarned
I sincerely hope you've enjoyed these delicious family-friendly and comforting Soup, Stew, and Chowder recipes as much as I've enjoyed bringing them to you!!