This dish is my Midwestern take on a clam and shrimp chowder. I came up with this recipe for my husband, who loves New England clam chowder. He loves this version too.
**Please Note – The printable recipe card with detailed instructions, complete ingredient measurements, and nutritional information for making Clam and Shrimp Chowder Midwestern-Style is available at the end of this post. OR you can hit the "jump to recipe" button (found above) to be taken directly to the recipe.
WANT TO SEE MORE FOOD VIDEOS AND FUN THINGS FROM ME? YES? GREAT!! CLICK THIS BOX TO LIKE AND SUBSCRIBE TO MY KUDOS KITCHEN CHANNEL ON YOUTUBE! I'LL SEE YOU THERE.
The ingredient list:
**Note – The following lists of ingredients plus kitchen tools and equipment contain affiliate links (highlighted in blue) for your consideration and shopping convenience. #CommissionsEarned
celery
carrots
onion
Youkon gold potatoes
salt and pepper
ground thyme
low-sodium chicken broth or stock
cream of mushroom soup
canned chopped clams (with their liquid)
raw shrimp, peeled, deveined, tails removed
Old-Bay seafood seasoning
half and half
cornstarch
fresh lemon juice
oyster crackers (optional)
fresh parsley for garnish (optional, not shown)
Kitchen tools and equipment needed:
large crockpot or slow cooker
chef's knife
cutting board
can opener (optional)
measuring cups and spoons
small bowl
wooden spoon
soup mugs and spoons
How this recipe came to be:
My husband always orders New England clam chowder if it's on the menu when we go out because he loves it.
I never order New England clam chowder when it's on the menu when we go out because I *thought* I didn't like it.

With today being National Clam Chowder Day (don't ask me who figures all these food holidays out), I thought I'd be all organized and trendy and actually have a post ready, and on time, for such an auspicious occasion.
This is my own original recipe, and as you can see by the title: Midwestern Clam and Shrimp Chowder I put my own spin to a *traditional* New England Clam Chowder, and I must say, I've been mistaking about my dislike for clam chowder all along.
I really, really liked this!
And, if that's not enough of a revelation, my husband said it was the BEST clam chowder he has EVER had!
Say what?
I believe that's one of the highest compliments I've ever received from him about my cooking…and he's pretty well fed!! LOL
Why this recipe works:
This creamy, thick chowder is loaded with tender clams and succulent pieces of shrimp along with perfectly cooked carrots, celery, and potatoes.
It's hearty and comforting with just a little heat in the background (compliments of the seafood seasoning) that will have you licking the bowl looking for more.
Top it off with some oyster crackers and serve it along with a nice loaf of crusty bread and a salad and you've got yourself a real treat for a weeknight family dinner or weekend evening of entertaining friends and family.
The step-by-step photo instructions:
Add the diced celery, carrots, onions, and potatoes into the slow cooker.
Season with salt, pepper, and thyme. Stir to combine.
Add the chicken stock, mushroom soup, clams (with their liquid), and butter.
Cover partially (I like to vent the cover with a wooden spoon) and cook on high for approximately 4-5 hours. *Note – The venting of the cover will help the chowder to reduce and help the flavor intensify.
After 4-5 hours recuce the heat to low, add in the chopped shrimp and the seafood seasoning. Stir. Continue to cook (covered and vented) for an additional 1-2 hours.
In a small bowl, whisk together the half-and-half and the corn starch.
Pour the corn starch mixture into the chowder and stir occasionally. This mixture will thicken the chowder as it heats.
Right before serving, stir in the lemon juice.
To serve, ladle the chowder into bowls or mugs and top with oyster crackers and chopped fresh parsley (not shown) if desired.
Now open wide because you're going to LOVE this!
Below is the printable recipe card along with the exact ingredient measurements and nutritional information for making today's Clam and Shrimp Chowder in a slow cooker/crockpot.
If you've made this recipe, or are excited to make this recipe, I'd appreciate it if you'd take a moment to leave it a star rating in the recipe card, along with a comment if you're so inclined. Thank you. 🙂
Thank you so much for visiting me here today in my Kudos Kitchen!
Kudos Kitchen by Renee – Bringing you easy, economical, and delicious dishes to feed the people you love!
Until we eat again, I hope you have a delicious day!!
Should you have any questions or comments regarding this recipe or anything else you've seen on my site, please don't hesitate to reach out to me. It is always my distinct pleasure to get back with a reply just as soon as I possibly can!
Kudos Kitchen by Renee – Bringing you easy, economical, and delicious dishes to feed the people you love!
Until we eat again, I hope you have a delicious day!!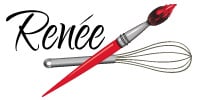 **Note – The post above includes affiliate links. As always, I truly thank you for your support!
When I find a great product or service I like to share it with my readers. For additional information please view my privacy policy.