Hot, hearty, comforting, and utterly delicious! Beef Stew for a Crowd is best made in advance, which is perfect for entertaining!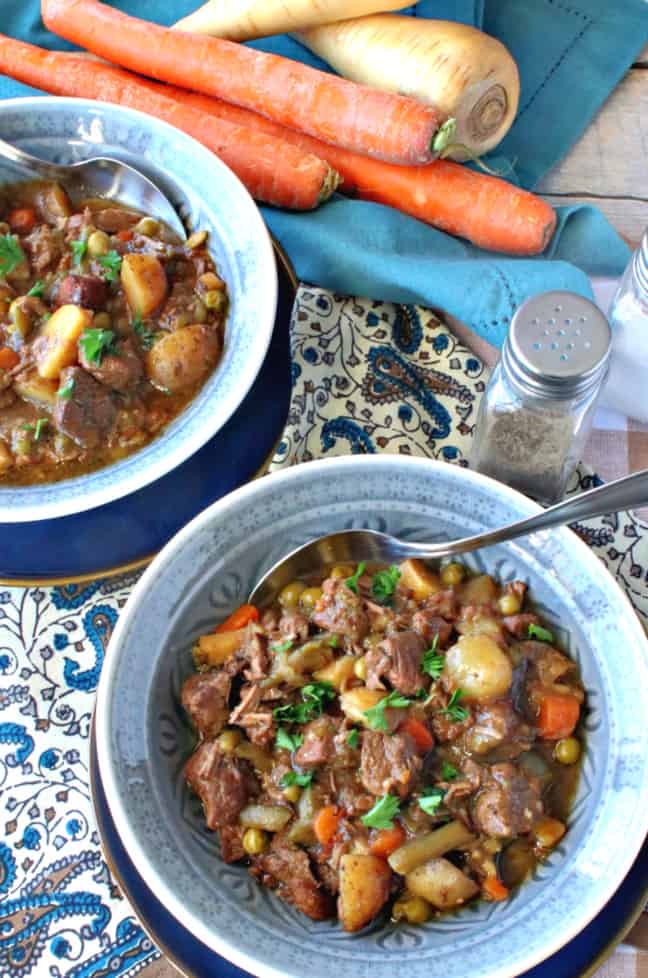 **Please Note – The printable recipe card with detailed instructions, complete ingredient measurements, and nutritional information for making Beef Stew for a Crowd is available near the end of this post. OR click on the "jump to recipe" button (found above) to be taken directly to the recipe.
CLICK ON THIS BOX TO LIKE AND SUBSCRIBE TO MY KUDOS KITCHEN YOUTUBE CHANNEL. SEE YOU THERE! 🙂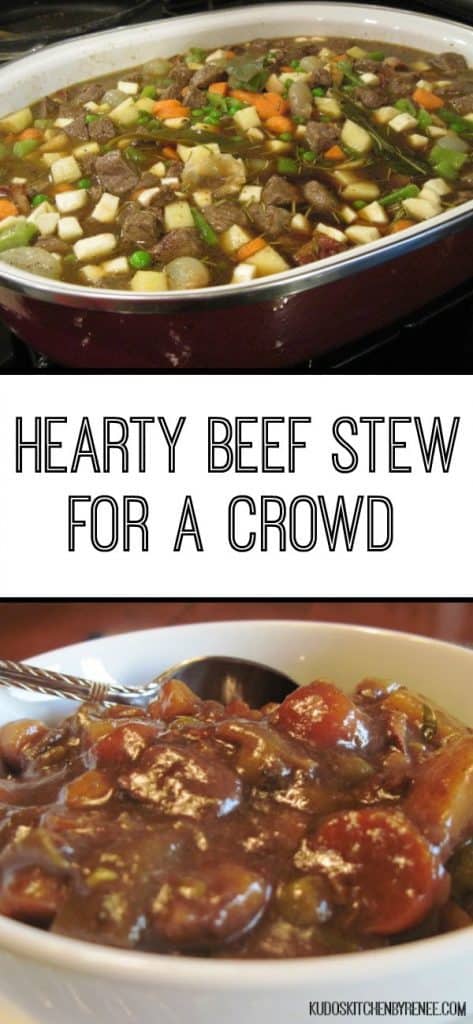 The ingredient list:
**Note – The following lists of ingredients plus kitchen tools and equipment contain affiliate links (highlighted in blue) for your consideration and shopping convenience. #CommissionsEarned
3/4 pounds of Bacon

5 pounds of Beef Top-Round

8-10 Yukon Gold Potatoes

Strongly Brewed Coffee

Parsnips

Carrots

Frozen Italian Green Beans

, or Green Beans

Frozen Peas

Water

Kitchen Bouquet (optional)
Kitchen tools and equipment needed: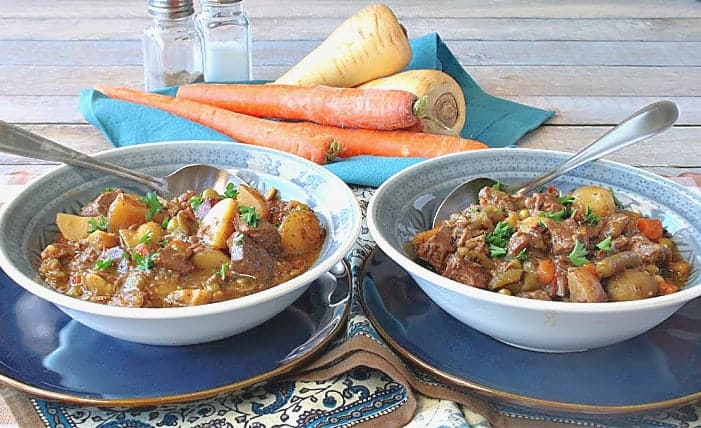 Beef Stew for a Crowd is easy to make.
Please be aware that it will take extra time to prepare a large amount of stew, but once it's finished the results will be worth every moment spent. I guarantee it!
Why this comfort food recipe works:
Making the beef stew in advance and allowing it to chill in the refrigerator for at least 4 hours (overnight is best), will give your stew optimal flavor.
If you don't have the luxury of allowing the stew to chill overnight, it will still be delicious, however, the depth of flavor really intensifies if allowed to chill.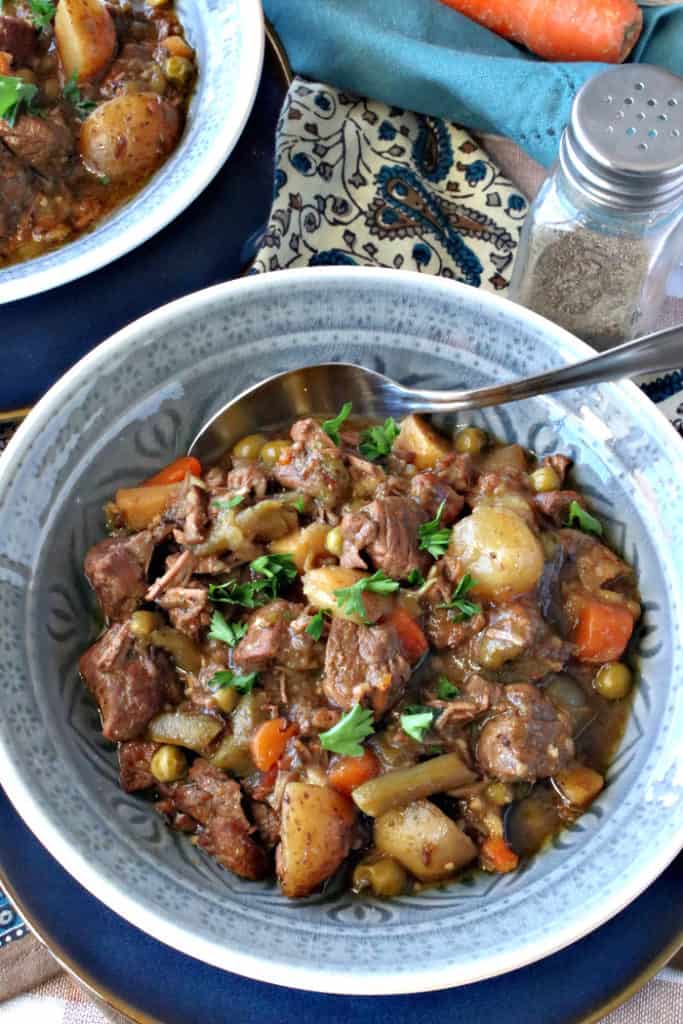 The easy instructions:
Make this beef stew recipe a day in advance for the best flavor.
In a large skillet, brown the bacon until just crispy.

Place the browned bacon in an extra-large pot with a lid. Set aside.

In the same skillet, add the bite-sized pieces of beef and brown (in batches). Season with salt and pepper.

After the beef is browned, add it to the same large pot with the bacon.

Dice the potatoes into bite-sized pieces and stir them into the pot with the browned beef and bacon.

Add the beef stock and coffee into the skillet along with the bay leaves, dried herbs, and remaining seasonings. Stir well.

Peel and dice the parsnips and carrots into bite-sized pieces and add them to the pot along with the seasoned beef broth and coffee mixture.

Cut the frozen Italian green beans into bite-sized pieces and add them to the pot along with the frozen peas, and the cocktail onions and their liquid.

Cover the pot and refrigerate for at least 6 hours (recommended, but optional).

To cook, preheat the oven to 325-degrees and allow the refrigerated stew to sit on the counter for 30 minutes.

Place the uncovered stew in the oven and cook for 2 hours, uncovered, and two hours covered.

Before serving, thicken the gravy by stirring cornstarch into hot water and stir it into the pot along with a little Kitchen Bouquet to deepen the color, if desired.

Simmer on the stovetop (or return to the oven) stirring occasionally until the sauce thickens.

Serves 25-30 very hungry people.
Do I have to make this in advance?
No, but the flavors will have a chance to marry and improve if allowed to sit in the refrigerator for that extra time.

Overnight is optimal.

Plus, if you're entertaining, having it already made will be one last thing you'll have to worry about on the day of the party.
How to reheat this beef stew after it's been chilled overnight in the fridge:
I like to take the stew out of the refrigerator to warm at room temperature for at least 1 hour before adding it to a preheated 325-degree oven.
Add the stew, uncovered, into the oven and cook for 2 hours. Stirring occasionally.
Cover the roaster after 2 hours, and continue to cook for an additional 2 hours for the beef to become fork-tender.
Will this stew freeze well if I have leftovers?
Certainly! I recommend cooking it first and then portioning it out into smaller freezer-safe containers.
Cool the stew completely before adding it to the freezer.
Freeze for up to 3 months.
What if I don't like parsnips and/or carrots? Do I have to use them?
Nope, you can tailor this beef stew to your own tastes and preferences. However, I do recommend (if substituting them) to substitute with other hearty root vegetables that will hold up to the long cooking time, and not fall apart.
Might I recommend celery root, turnips, rutabagas?
Or, leave the root vegetables out entirely and add more potatoes instead.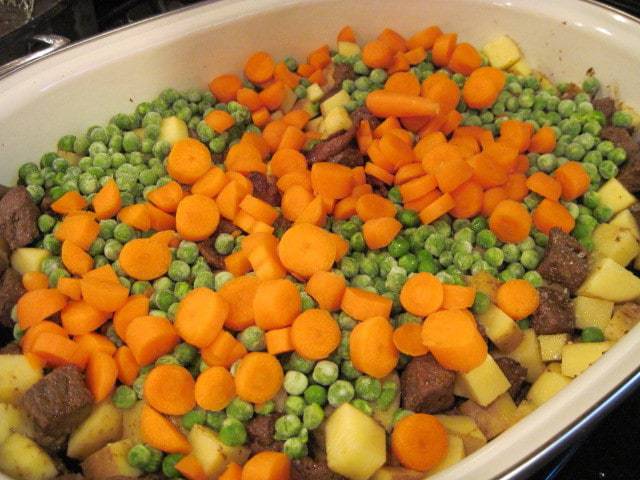 Do I have to make this stew in such a large quantity?
No sir.
If you'd like to cut this recipe in half, it's easy enough to do.
That said because this delicious beef stew does freeze so well, making up a big batch and keeping it tucked away in the freezer for hearty winter meals is a great way to go!
How to reheat this beef stew from frozen?
Allow the stew to thaw completely and then heat the stew in a preheated 350-degree oven until heated through.
The time will depend on how much stew you're reheating at the time.
Whether you're working on a blue screen all day, or in the kitchen, the following affiliate products are ones I can highly recommend to save your eyesight and your sanity.
For more crowd-pleasing recipes click on the following titles for;
"Your family and friends won't believe their eyes when you cut into this Extra Cheesy Spaghetti Stuffed Meatloaf. It's two classic family recipes rolled into one delicious main course. Talk about a crowd-pleaser!"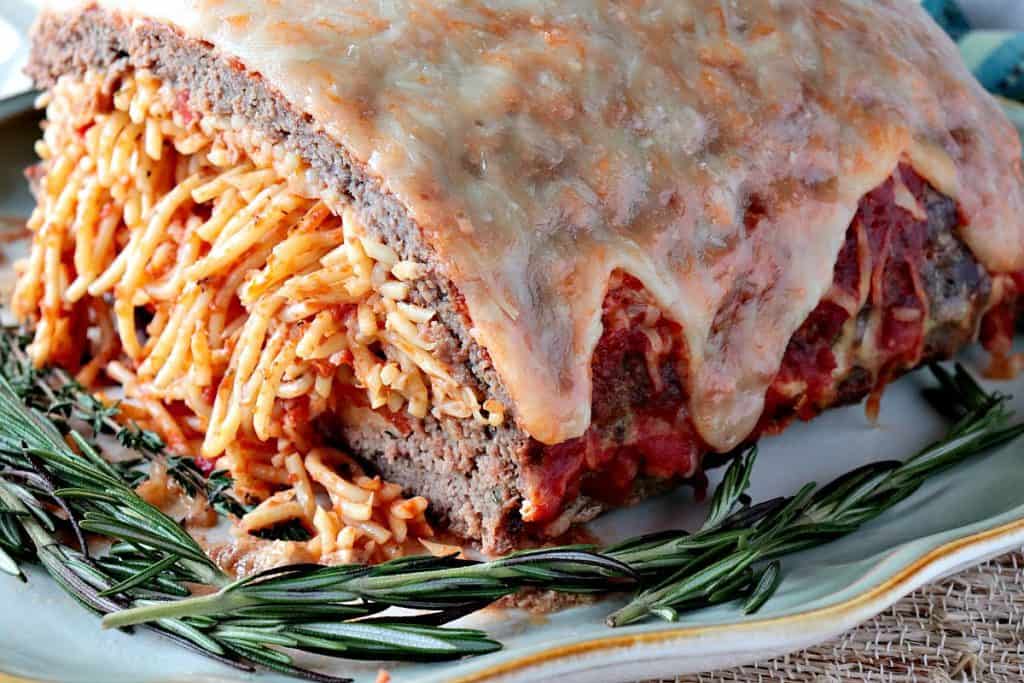 "When you want to feed a crowd, but you don't want to fuss, reach for this Family Reunion Slow Cooker Pulled Pork Sandwiches recipe and everyone will be happy, and well-fed!!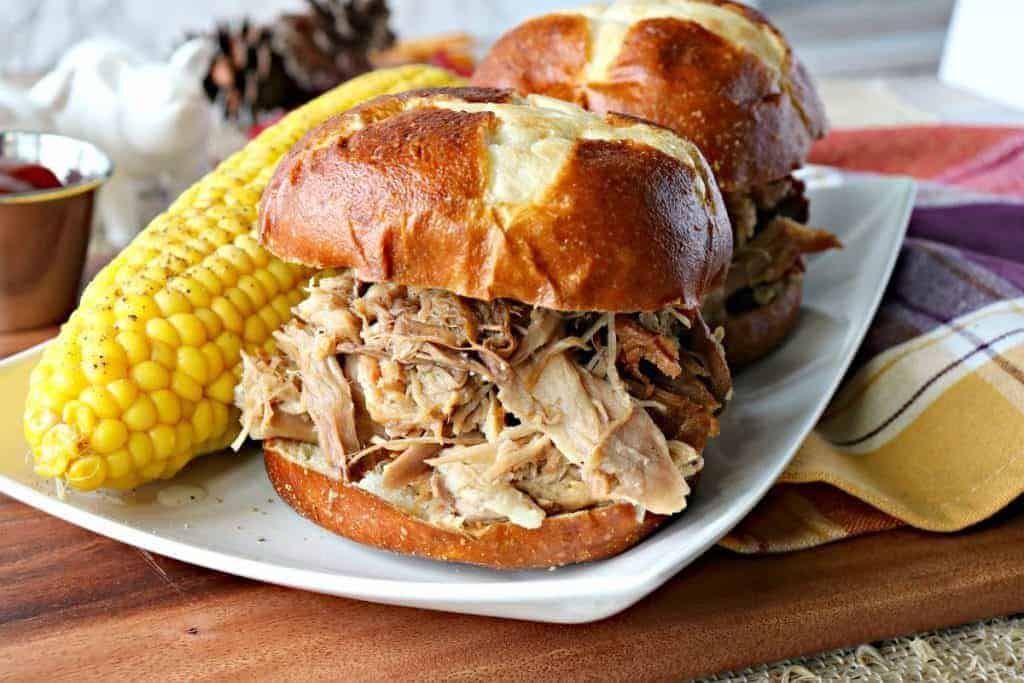 "Treat your family and friends to a breakfast gift this year with this Easy Make-Ahead Croissant Apple Breakfast Bake. It will be a deliciously sweet start to a very wonderful day!"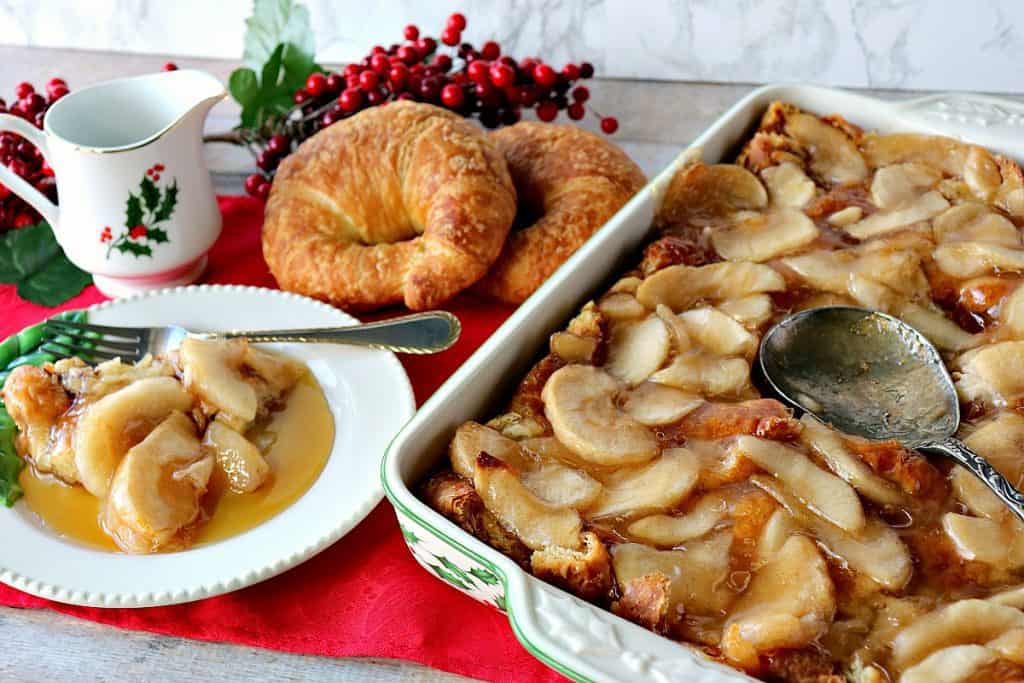 Beef Stew for a Crowd (pictured below) This is the place!!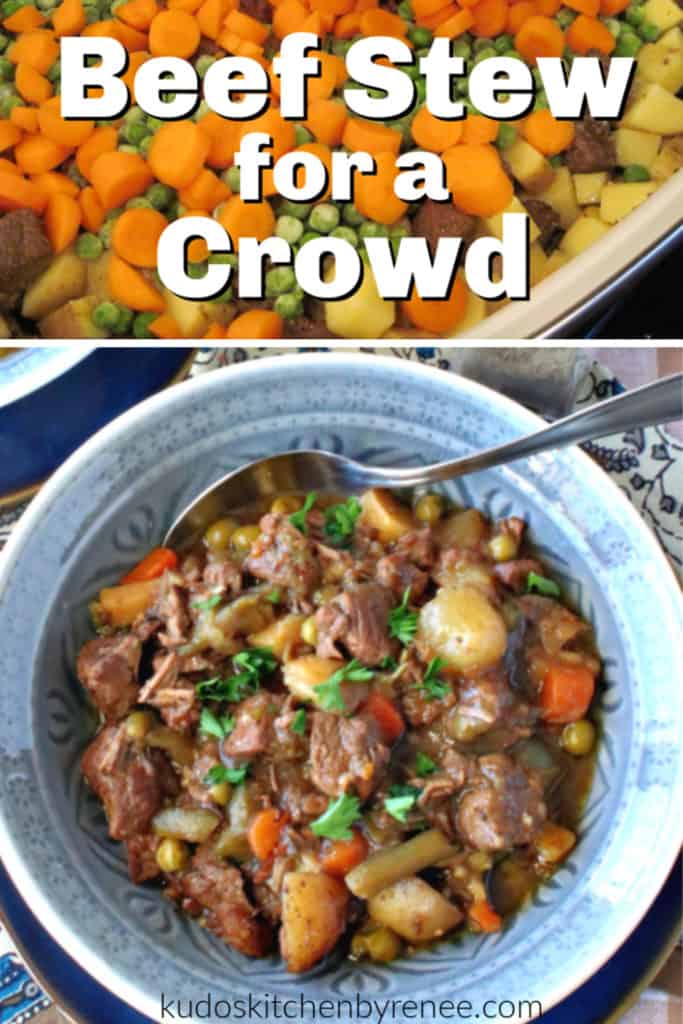 For tons of additional comfort food recipes featuring soups, stews, and chowders, please click on the following recipe roundup from all your favorite food bloggers from around the web!
Warm yourself with this fabulous and filling comfort food Soups, Stews & Chowders Recipe Roundup. There is so much goodness here that you'd better settle in with a cup of hot coffee or tea and enjoy yourself while you browse these recipes!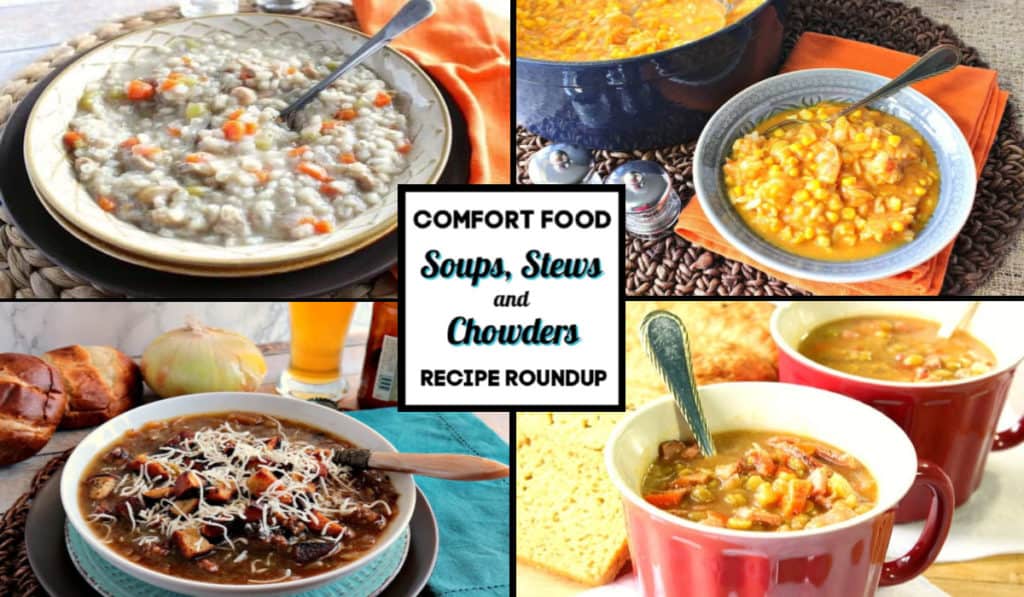 Below is the printable recipe card for today's Beef Stew for a Crowd along with the nutritional information.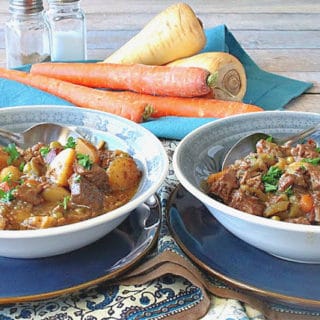 Beef Stew for a Crowd
Hot, hearty, comforting and utterly delicious! Beef Stew for a Crowd is best made in advance which is perfect for entertaining!
Ingredients
3/4

pound

bacon

5

pounds

beef top round

cut into bite-sized pieces

salt and pepper to taste

1

tablespoon

garlic powder

2

teaspoons

seasoning salt

3

tablespoons

olive oil

8

medium Yukon gold potatoes

cut into bite-sized pieces

8

cups

beef stock

1

cup

strongly brewed coffee

¼

cup

Worcestershire sauce

3

medium bay leaves

1½

teaspoons

dried thyme

1½

teaspoons

dried rosemary

6

medium parsnips

peeled and cut into bite-sized pieces

8

medium carrots

peeled and cut into bite-sized pieces

1

bag frozen Italian green beans

1

bag frozen peas

3

jars whole cocktail onions

¼

cup

cornstarch

1

cup

warm water

2

tablespoons

Kitchen Bouquet

optional
Instructions
Cut and brown approximately 3/4 lbs. bacon in a large, heavy-duty skillet, over high heat. Place the bacon into a very large covered roaster pan.

Working in batches, season the beef with salt and pepper to taste. Brown the beef in the olive oil and bacon drippings remaining in the skillet.

Remove the meat with a slotted spoon when browned and add the browned beef to the bacon in the roaster pan.

Add the prepared diced potatoes to the beef and bacon in the roaster and stir well to combine.

Add the beef stock, brewed coffee, and Worcestershire sauce to the skillet, and bring to a simmer, making sure to scrape up all the browned bits from the bacon and beef found on the bottom of the pan.

Stir in the dried herbs, garlic powder, and bay leaves.

Add the chopped parsnips, carrots, green beans, peas, and onions with their liquid to the roaster pan and stir well to combine.

Season the ingredients in the roaster pan liberally with salt and pepper, remembering there are A LOT of ingredients in there. I'd say at least 1 tablespoon salt and ½ tablespoon pepper.

Pour the simmering liquid carefully into the roaster pot and stir well to combine. If needed, add more water to cover the ingredients 3/4's way.

Cover the roaster pan and refrigerate at least 6 hours (recommended).

Preheat oven to 325-degrees and allow the chilled stew to sit on the counter for 30 minutes.

Add the roaster pot to the oven and cook, uncovered for 2 hours.

Remove the lid to the roaster and cook an additional 2 hours in the 325-degree oven.

Remove the roaster from the oven.

Stir together the cornstarch and 1 cup warm water. Slowly pour the cornstarch mixture into the pan and stir well. Simmer on the stovetop (or place the roaster back in the oven) and stir occasionally until the gravy thickens.

Add the Kitchen Bouquet browning sauce if desired.

Spoon the stew into bowls and serve with crusty bread.
Notes
Please season with salt and pepper along the way.
Nutrition
Serving:
1
grams
Calories:
232
kcal
Carbohydrates:
7
g
Protein:
25
g
Fat:
10
g
Saturated Fat:
3
g
Cholesterol:
64
mg
Sodium:
531
mg
Fiber:
1
g
Sugar:
2
g
Thank you so much for visiting me here today in my Kudos Kitchen!
I sincerely hope you've enjoyed today's crowd-pleasing recipe for Beef Stew as much as I've enjoyed bringing it to you!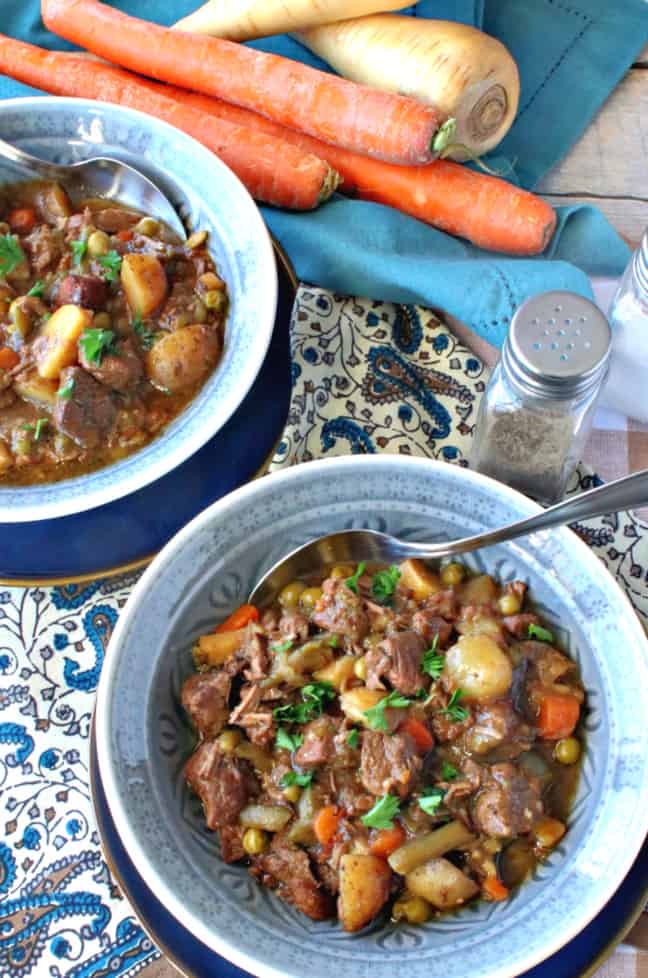 Should you have any questions or comments regarding this recipe or anything else you've seen on my site, please don't hesitate to reach out to me. It is always my distinct pleasure to get back with a reply just as soon as I possibly can!
For more Kudos Kitchen recipe information, please follow me on my social medial channels (listed below), and don't forget to TAG me @kudoskitchen with photos so I can view all your delicious recipe creations! It's exciting for me when you share them, so don't be shy!
Instagram, Pinterest, Facebook, and YouTube
Kudos Kitchen by Renee – BRINGING YOU EASY, ECONOMICAL, AND DELICIOUS DISHES TO FEED YOUR LOVED ONES!
Until we eat again, I hope you have a delicious day!
**Note – The post above includes affiliate links. As always, I truly thank you for your support!
As an Amazon Associate, I earn from qualifying purchases. When I find a great product or service I like to share it with my readers. For additional information please view my privacy policy.