This recipe for Chicken Noodle Stew with carrots and ginger is thick and hearty with a wonderful flavor that will keep your spoon (or fork) moving quickly. Is it so wrong?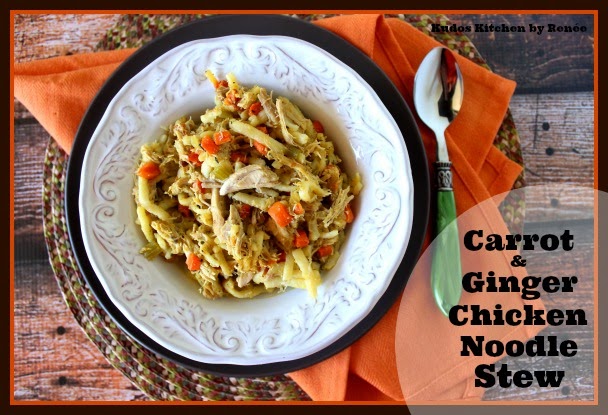 *Disclaimer - This recipe was originally published in 2014. I'm working hard to update all my older recipes with recipe cards, new photos, and additional recipe information. But, getting to all of them will take time. Please bear with me. In the meantime let me assure you that this recipe is still a winner and one I'm sure you'll be well pleased with when you make it at home.
Personally, I tend to enjoy a stew a little bit more than a soup. I think it's because, with a soup, the broth can sometimes dribble down my chin and be rather annoying.
Of course, if I'd slow down and take my time, that probably wouldn't happen...but let's be realistic. LOL
The inspiration for this chicken noodle stew comes from a box of carrot ginger soup I'd picked up in the grocery store on a whim.
As I browsed the aisles store trying to decide how I'd use it, I came to the deli department of the store. As luck would have it, they had just brought out their rotisserie chickens.
The aroma was heavenly, and I was immediately struck with the idea to build a stew around the chicken and the soup. The result is this recipe for chicken noodle stew I made that same evening.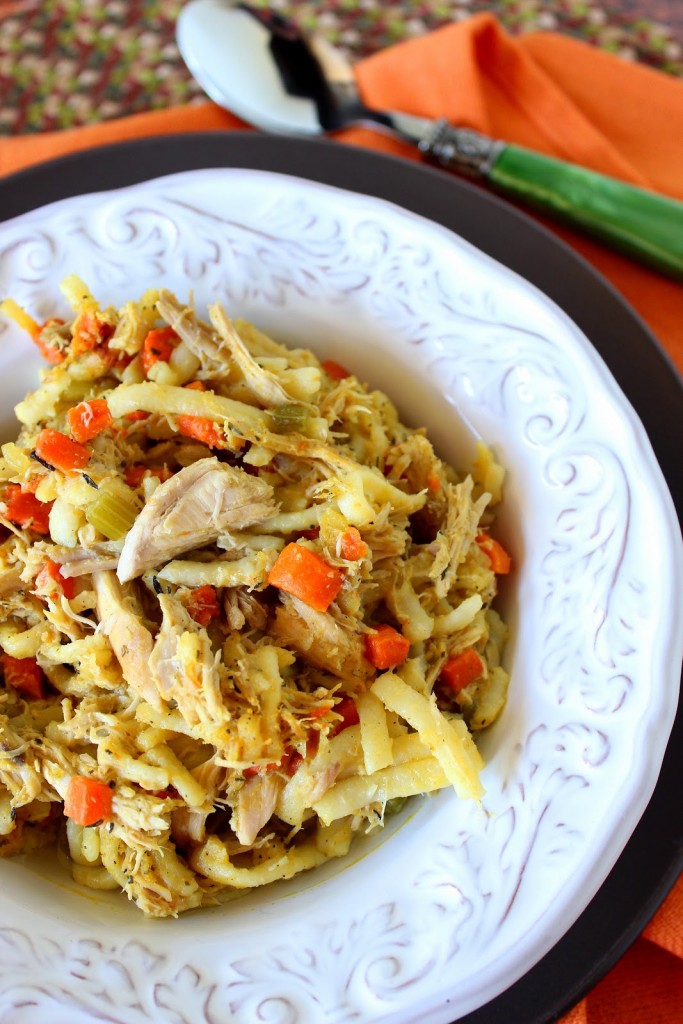 Here are a few step-by-step photos of the making of this stew. The recipe follows.
Sauté onion, carrots, and

celery in the olive oil in

a large stockpot.

Add bay leaves and wine.

Stir in the rotisserie chicken.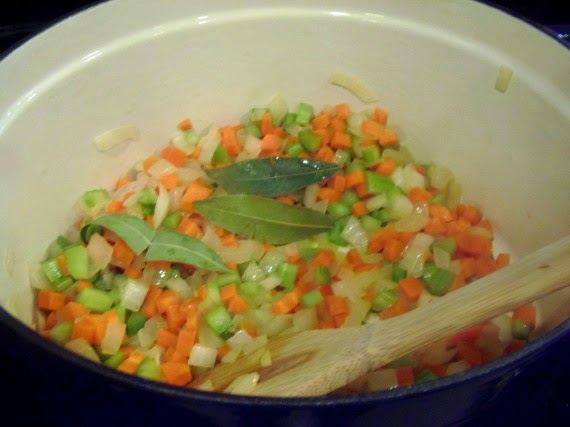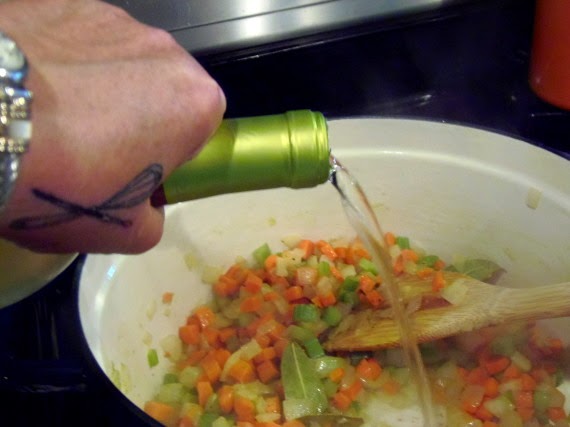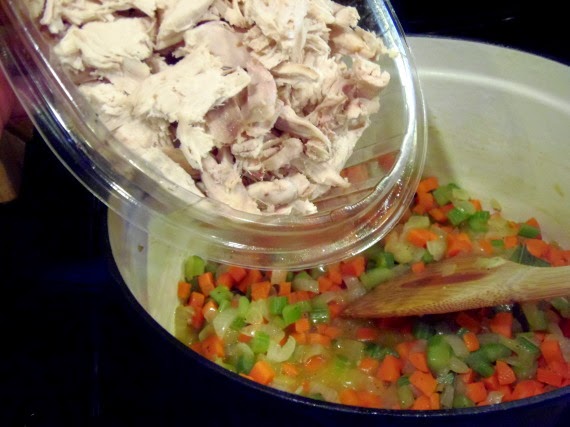 Stir in the sage, thyme leaves, chicken broth, carrot ginger soup, ginger paste, and water.

Simmer the stew, uncovered, to reduce (about 10 minutes).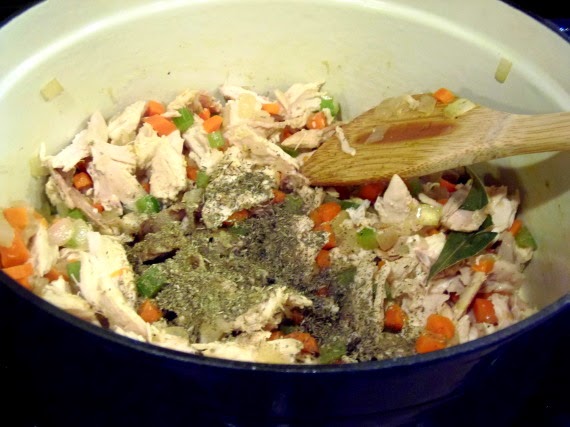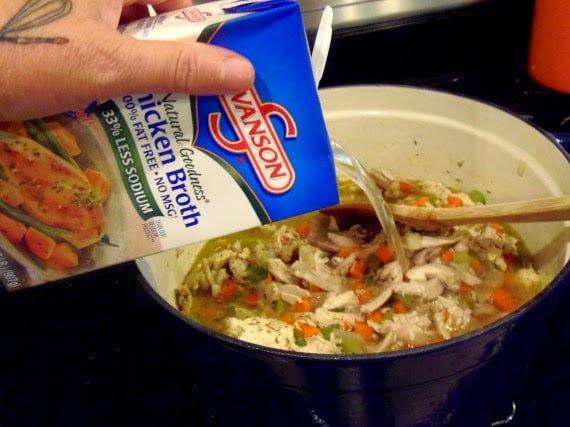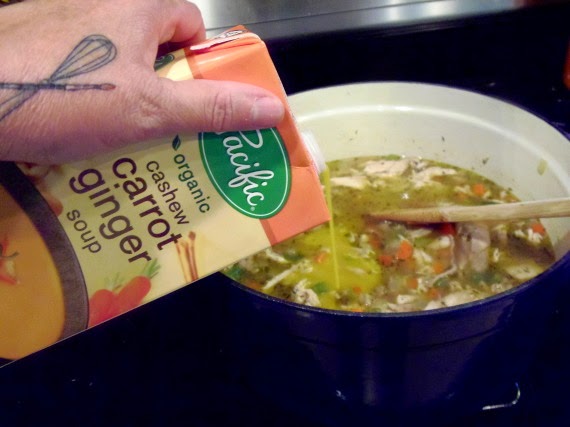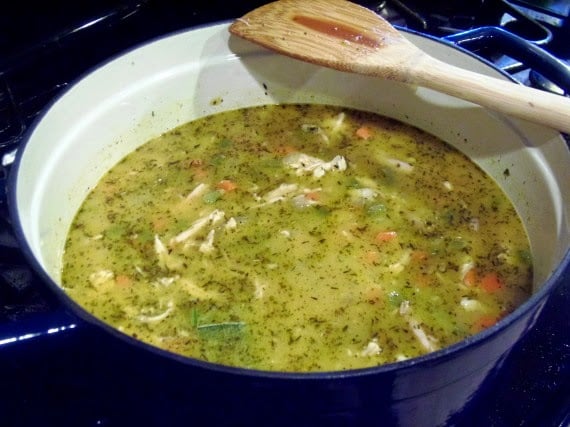 Stir in the egg noodles and simmer uncovered until the stew is thickened and the noodles are tender.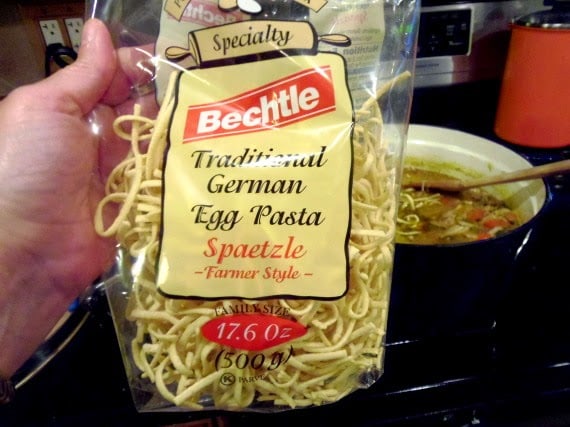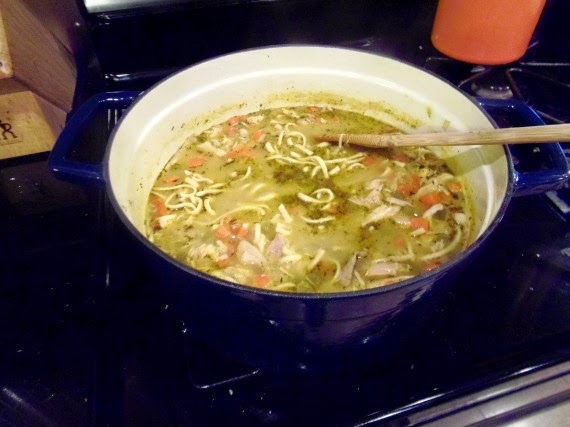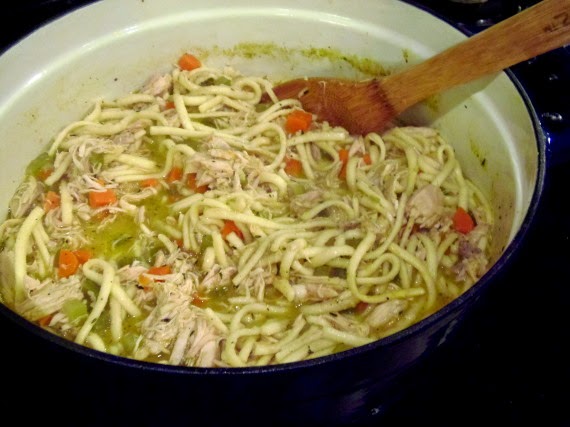 Servings: 8-10 Prep Time: 15 minutes Cook Time: 25 minutes
2 rotisserie chickens, meat and skin removed; set meat aside and discard the bones and skin
1 tablespoon olive oil
1 large sweet onion, medium diced
4 large carrots, peeled and medium diced
3 celery stalks, medium dice
3 bay leaves
1 teaspoon salt
½ teaspoon black pepper
¼ cup white wine
1 teaspoon rubbed sage
1 teaspoon dried thyme leaves
1 - 32-ounce carton low sodium chicken broth
2 cups carrot ginger soup (I used Pacific brand)
2 teaspoons ginger paste (found in the produce department)
1 cup water
12 ounces dried egg noodles
2 tablespoons butter
-In a large stockpot over medium/high heat, sauté the onion, carrots, celery, salt, and pepper in the olive oil, for approximately 5 minutes.
-Add the bay leaves and stir in the wine.
-Add the chicken meat.
-Stir in the sage, thyme, chicken broth, carrot ginger soup, ginger paste, and water.
-Simmer uncovered for about 10 minutes.
-Remove the bay leaves.
-Reduce the heat to low and stir in the egg noodles. Simmer stirring occasionally until the noodles are tender and the stew has reduced and thickened (approximately 12-15 minutes)
*Note - If you'd like a more soup-like consistency, add more water until it reaches your desired consistency.
-Stir in 2 tablespoons butter to finish and serve hot.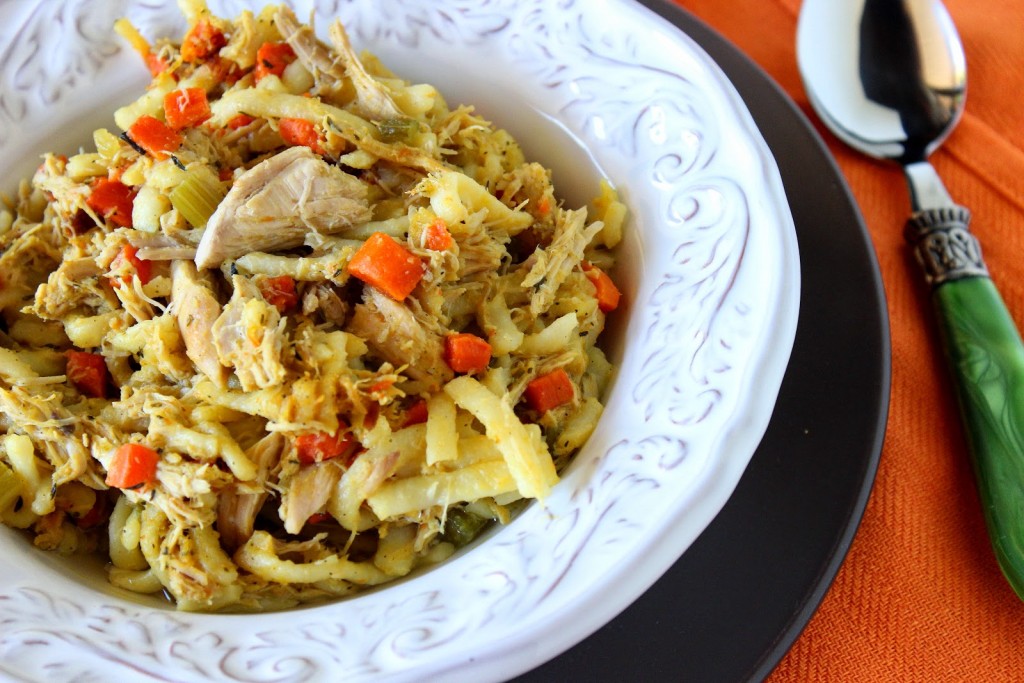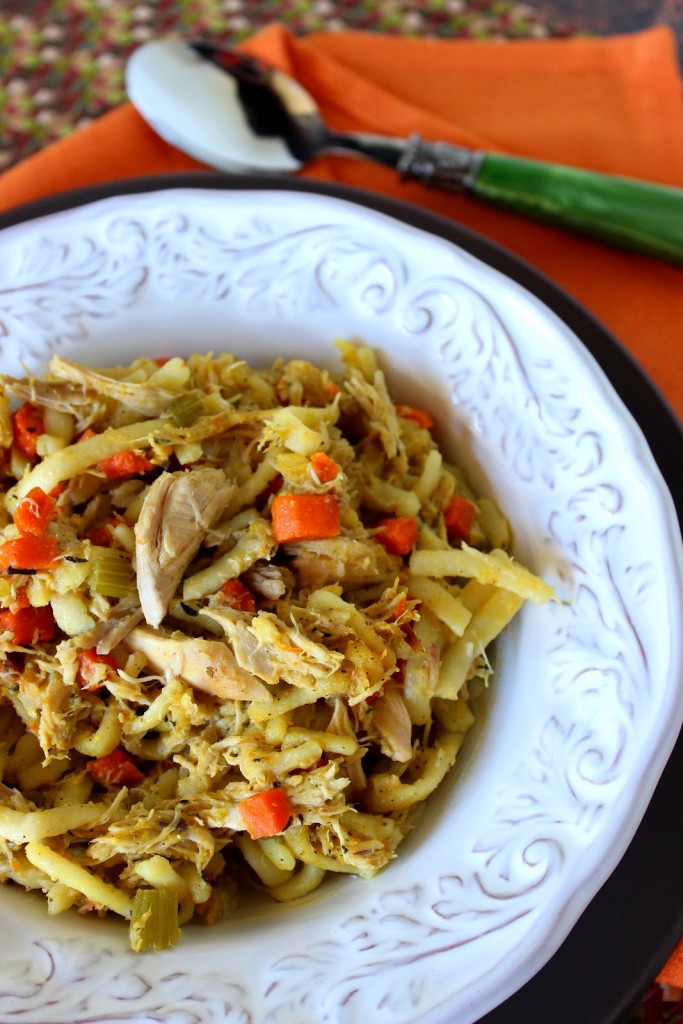 This chicken noodle stew is one of our new favorites, and it's one I'm looking forward to making all during the cold winter months. It's quick, easy, and extra tasty!!!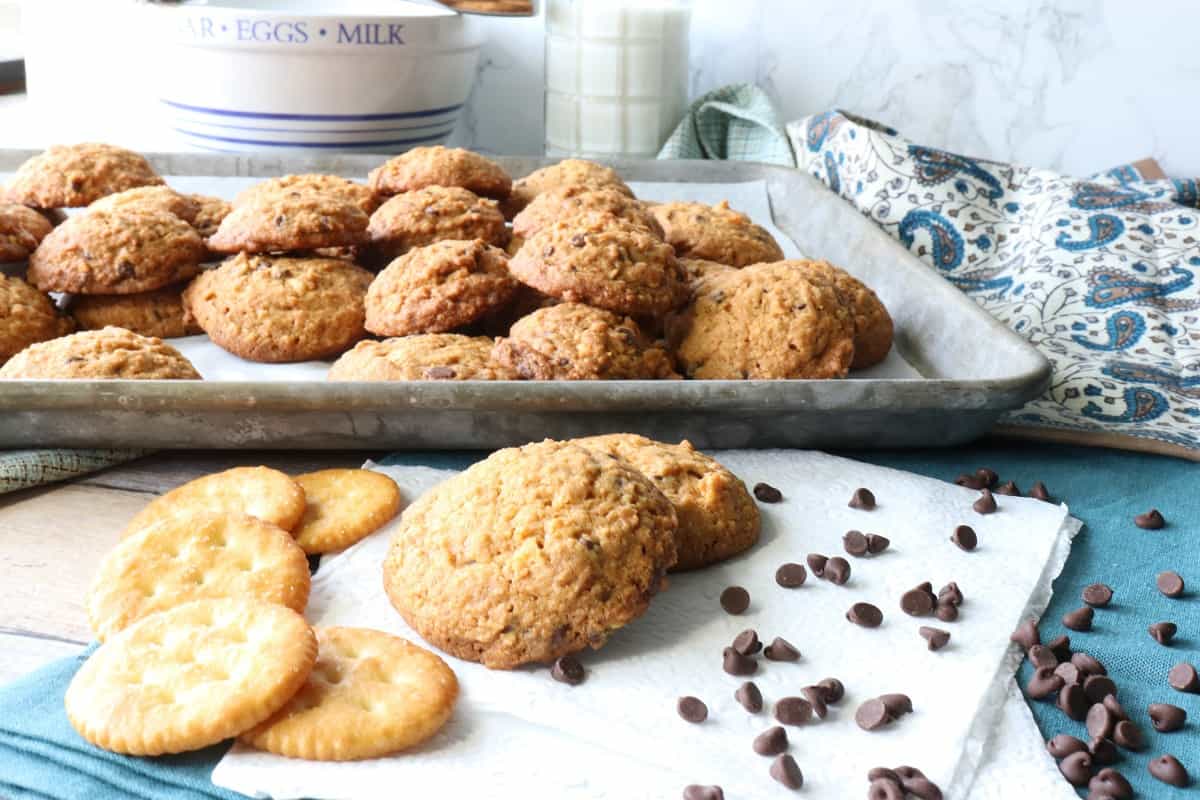 Follow me across my social media platforms and join in on the conversation: FACEBOOK, INSTAGRAM, PINTEREST, TIKTOK, AND YOUTUBE.
Thank you so much for visiting me today in my Kudos Kitchen. I hope you found something you'll love and that you'll come back and visit me often. There is always room for you around my table!
Should you have any questions or comments regarding anything you've seen here on my blog, please don't hesitate to reach out to me. It is always my distinct pleasure to respond to you just as soon as I possibly can.
Until we eat again, I hope you have a delicious day!!