Make no bones about it, homemade chicken stock is one of the easiest things to make in the kitchen!
In addition to it being easy to make, did you know it's very healthy for you, economical, you can control the sodium level, it freezes like a dream, and it comes in handy for all sorts of recipes?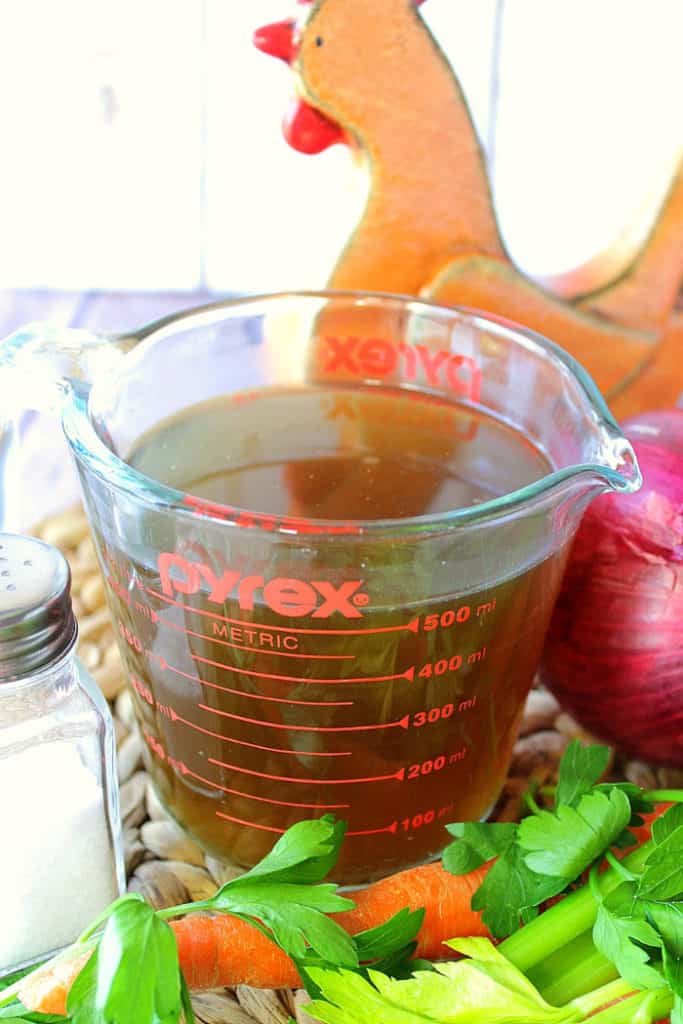 **Please Note - The printable recipe card with detailed instructions, complete ingredient measurements, and nutritional information for making this easy and money-saving recipe of homemade chicken stock is available at the end of this post. OR you can hit the "jump to recipe" button (found above) to be taken directly to the recipe.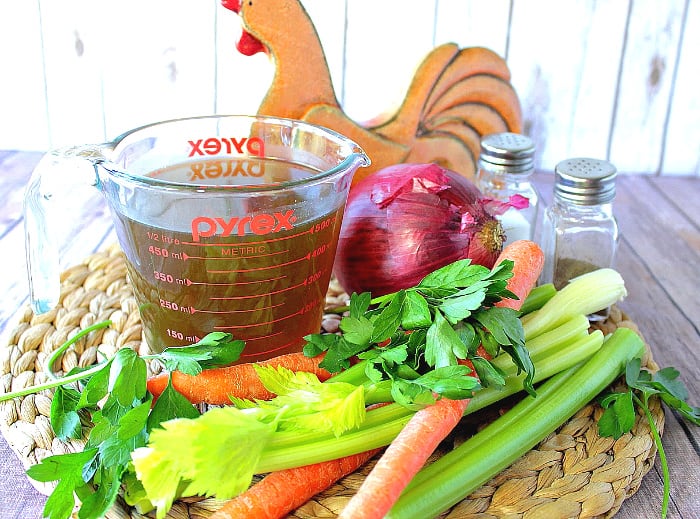 The ingredient list:
**Note - The following lists of ingredients plus kitchen tools and equipment contain affiliate links (highlighted in blue) for your consideration and shopping convenience. #CommissionsEarned
chicken bones, roasted
celery
carrots
onions
assorted herbs (optional)
bay leaves (optional)
Kitchen tools and equipment needed:
Can the same process be used for making turkey, beef, or ham stock?
Yes!
Roasting the bones before making homemade stock is the best way to get the most flavorful end result.
Place any bones on a baking sheet or pan and roast in a preheated 375-degree oven for 30 minutes and then continue the stock making process from that point.
What is the difference between stock and broth?
A stock (as in this recipe) is made from bones.
A broth is made from meat or vegetables.
Can healthy homemade chicken stock be made from store-bought rotisserie chicken?
Heck yeah!
Remove the meat from the bones (and reserve to use in your favorite recipe) like...Chicken Pot Potatoes, Easy Avocado Chicken Salad, Creamy Chicken and Artichoke Pasta.
Add the bones to a baking sheet and roast according to (the instructions above.
Additional add-in ingredient suggestions:
Just about anything will work. Here are some inspirational options...
What do you have in your pantry or fridge?
shallots
garlic
parsnips
spinach
kale
Brussels sprouts trimmings
kohlrabi
celeriac
rutabaga
turnip
radishes (a few will go a long way)
potato peels (sounds weird, but why not?)
leeks
green onions
broccoli stems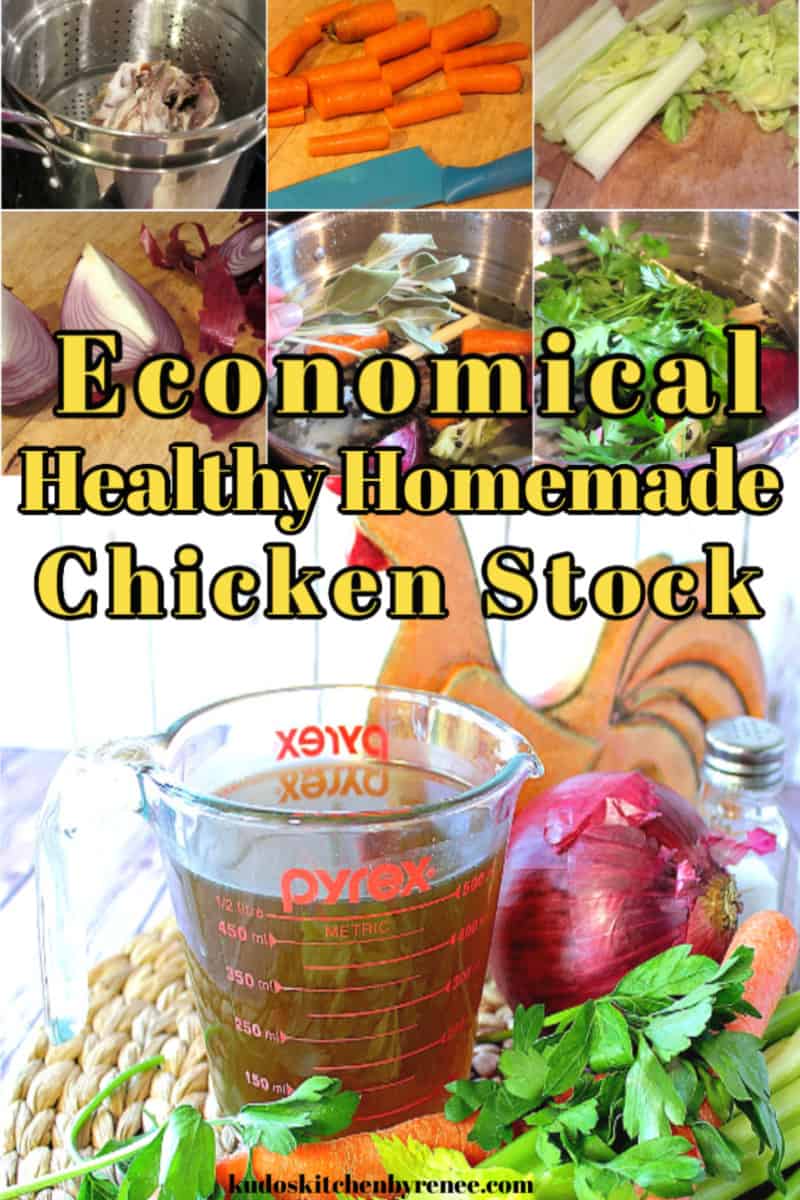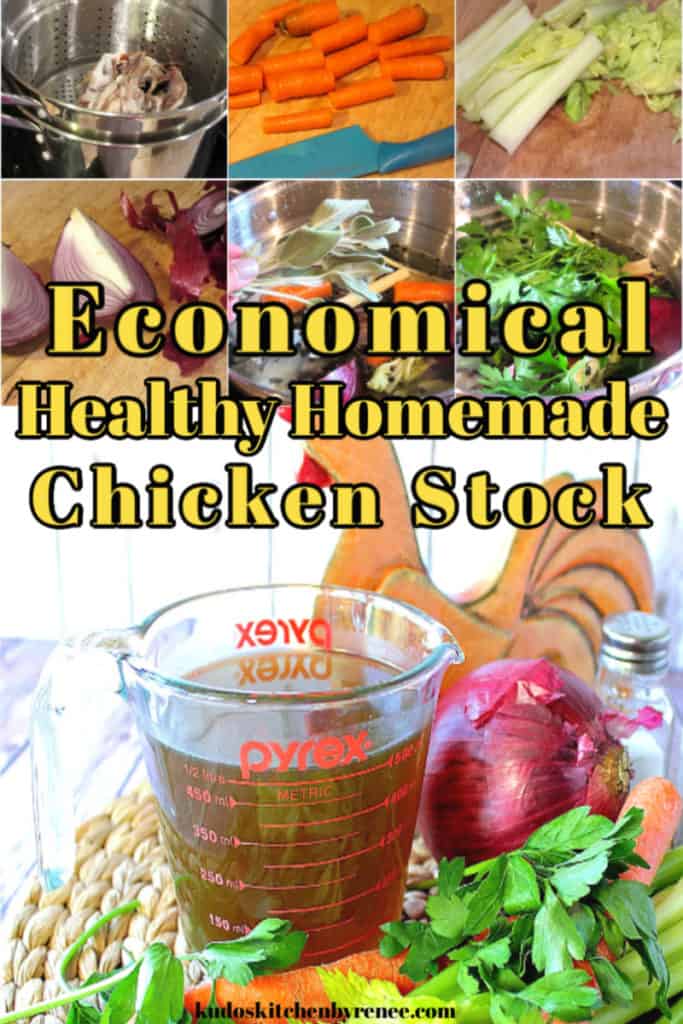 What are the benefits of making homemade chicken stock?
It's very cost-effective and you'll get a lot of bang-for-your-buck by making it yourself.
By using items in your refrigerator, that you'd otherwise dispose of (think of remnants such as vegetable and onion peels, bell pepper tops, bases of things like leeks and celery stalks), you'll flavor the stock while eeking out the very most you can from your grocery store dollars.
Letting homemade stock simmer on the stovetop for several hours will ensure a golden broth with more flavor than you could ever get from a store-bought broth.
Not to mention you'll be filling your home with the comforting aroma of the freshest nourishing goodness that you made yourself!
What is the key to getting the most nutritious and deeply flavored stock?
While it may sound counterintuitive...leave the peels on!
Yep. Onions too.
Of course, you have to make sure you've washed and cleaned them all before adding them into the soup pot, but once that's done drop them all in!
Since the peels are the most nutritious part of most vegetables, adding them to the pot will yield a tastier, deeper colored broth that's far healthier for you and your family!
Want more recipes for using budget-friendly homemade chicken stock?
The following meals are all freezer-friendly making them budget-friendly as well as nutritious and comforting for the entire family!
*Chicken and Leek Soup with Kale and Noodles (pictured below)
"Sit down to a big bowl of chicken and leek soup with kale and noodles to cure whatever ails you. It's comfort food for the body and soul!"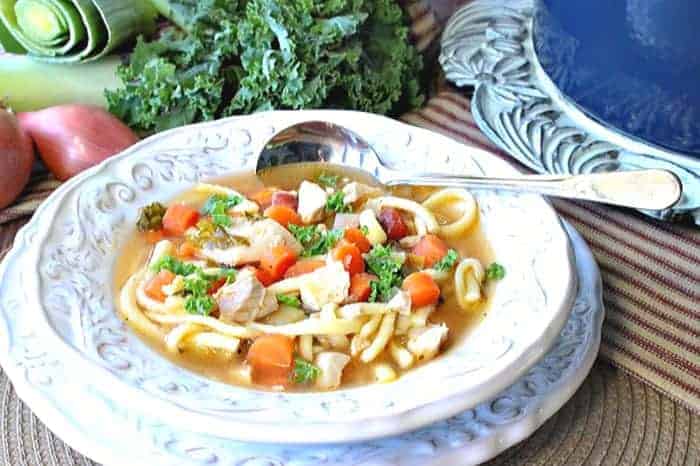 *Black-Eyed Pea Chicken Chili (pictured below)
"Black-Eyed Pea Chicken chili is a delicious fast and healthy dinner recipe with a surprising Tex-Mex flair thanks to warm spices, avocado, and lime."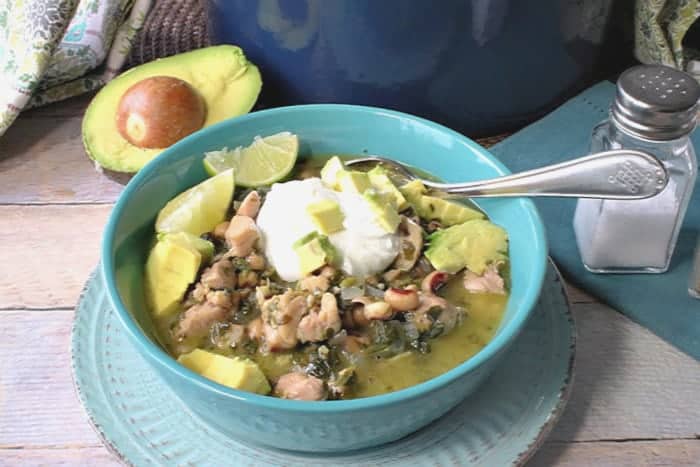 *Chicken Barley Soup for the Slow Cooker (pictured below)
"Healthy Homemade Chicken Barley Soup is a light and delicious slow cooker soup that is easy to assemble in the morning, and then have a hearty, healthy family dinner at the end of a long day."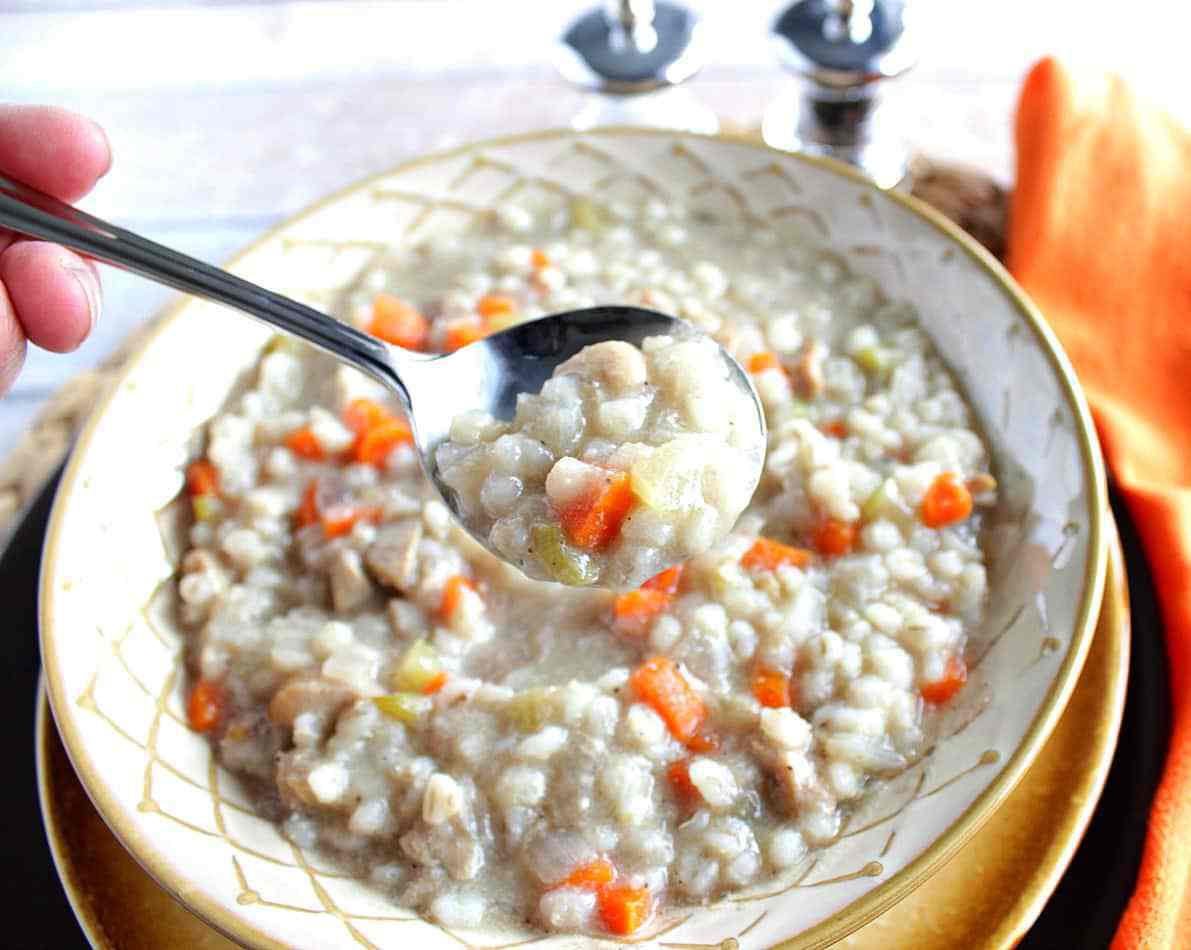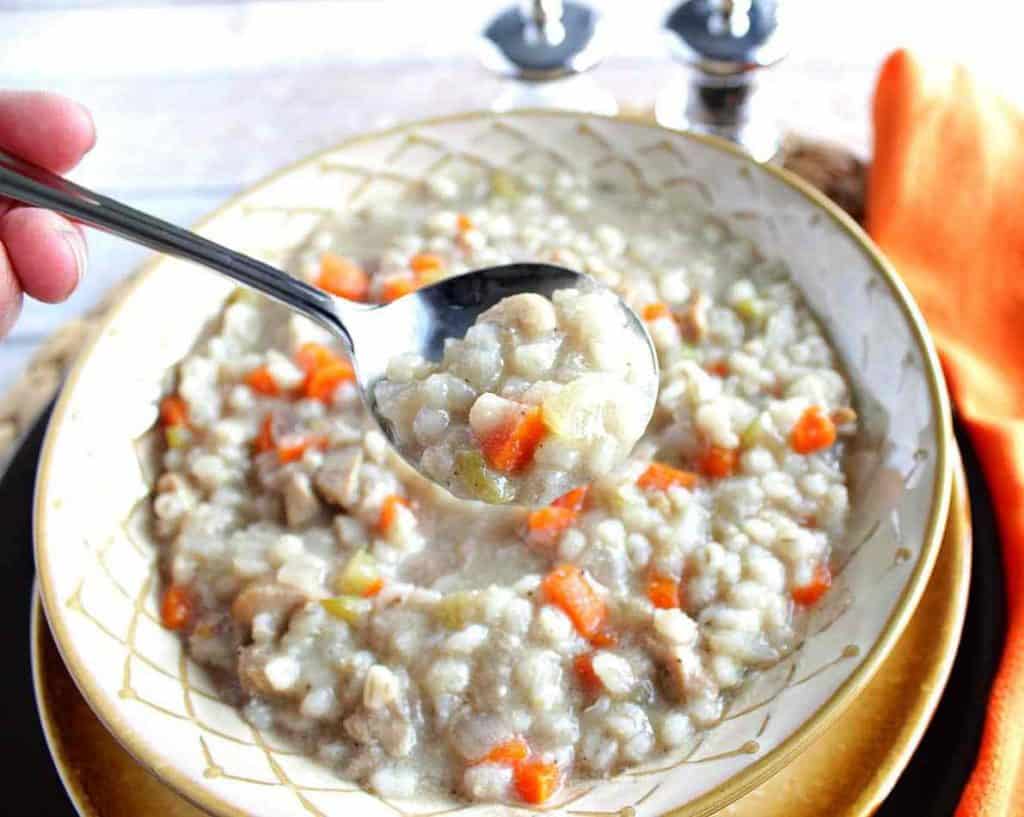 Below is the printable recipe card along with the exact ingredient measurements and nutritional information for making today's easy and healthy homemade chicken stock.
Printable Recipe Card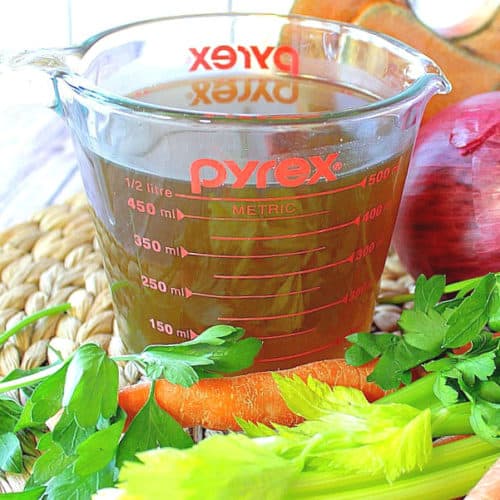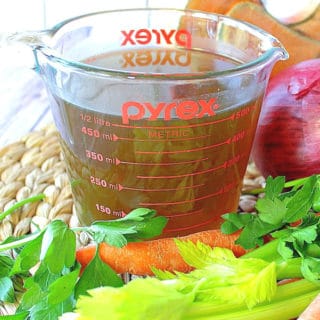 Homemade Chicken Stock
Healthy and homemade chicken stock is cost-effective and can be used for a multitude of recipes.
Ingredients
1-2

pounds

of chicken bones

meat removed, roasted for 30 minutes at 375-degrees.

1

large onion

cut in half (with the skin still on)

3

large carrots

cut into chunks (washed but not peeled)

4-5

ribs celery

cut into large pieces (washed, with the leaves still on)

1

head of garlic

cut in half (skin still on)

4-5

fresh or dry bay leaves

1

tablespoon

black peppercorns

1

tablespoon

kosher salt

or to taste
Instructions
In a large stockpot (or pasta pot with removable strainer), add the roasted chicken bones, onion, carrots, celery, garlic, bay leaves, and peppercorns.

Add in enough water to fill the pot, and to cover the ingredients inside.

Add the salt.

Bring the stock to a simmer (uncovered) on the stovetop for at least 2 hours (longer is better), stirring occasionally.

As the stock simmers it will reduce slightly in volume and intensify in flavor.

Slowly and carefully, remove the strainer basket from the stockpot base If using) and discard the contents.

Cool the stock completely and then strain it into air-tight freezer and/or refrigerator containers.
Notes
**IMPORTANT NOTE - Do NOT give pets the cooked chicken bones as they will splinter and be a choking hazard.
Chicken stock may be kept in the refrigerator for up to 7 days.
Chicken stock may be kept in the freezer for up to 6 months.
Nutrition
Serving:
1
Calories:
137
kcal
Carbohydrates:
3
g
Protein:
14
g
Fat:
7
g
Saturated Fat:
2
g
Polyunsaturated Fat:
5
g
Cholesterol:
53
mg
Sodium:
453
mg
Fiber:
1
g
Sugar:
1
g
Whether you're working all day on a blue screen device, or in the kitchen, the following affiliate products are ones I can highly recommend to save your eyesight and your sanity.
Below is a photo of my blue blocker computer glasses in action! I swear by them! I work at the computer for what feels like all-day, every-day, and these glasses have relieved a great deal of eye-stress and migraine problems for me.
A neurologist was the one who recommended I get myself some, and it was the best thing he could have told me to do, so now I pass that information on to you!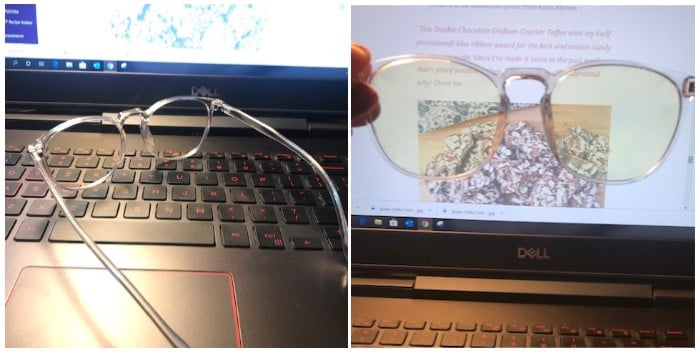 I sincerely hope you've enjoyed today's cost-effective and budget-friendly condiment recipe for homemade chicken stock as much as I've enjoyed bringing it to you!
This post may contain affiliate links which won't change your price but will share some commission.
As an Amazon Associate, I earn from qualifying purchases. When I find a great product or service I like to share it with my readers. For additional information please view my privacy policy.