Homemade Cornbread Crackers are everything you want in a snack cracker. They're crunchy, crispy, and loaded with wonderful corn flavor.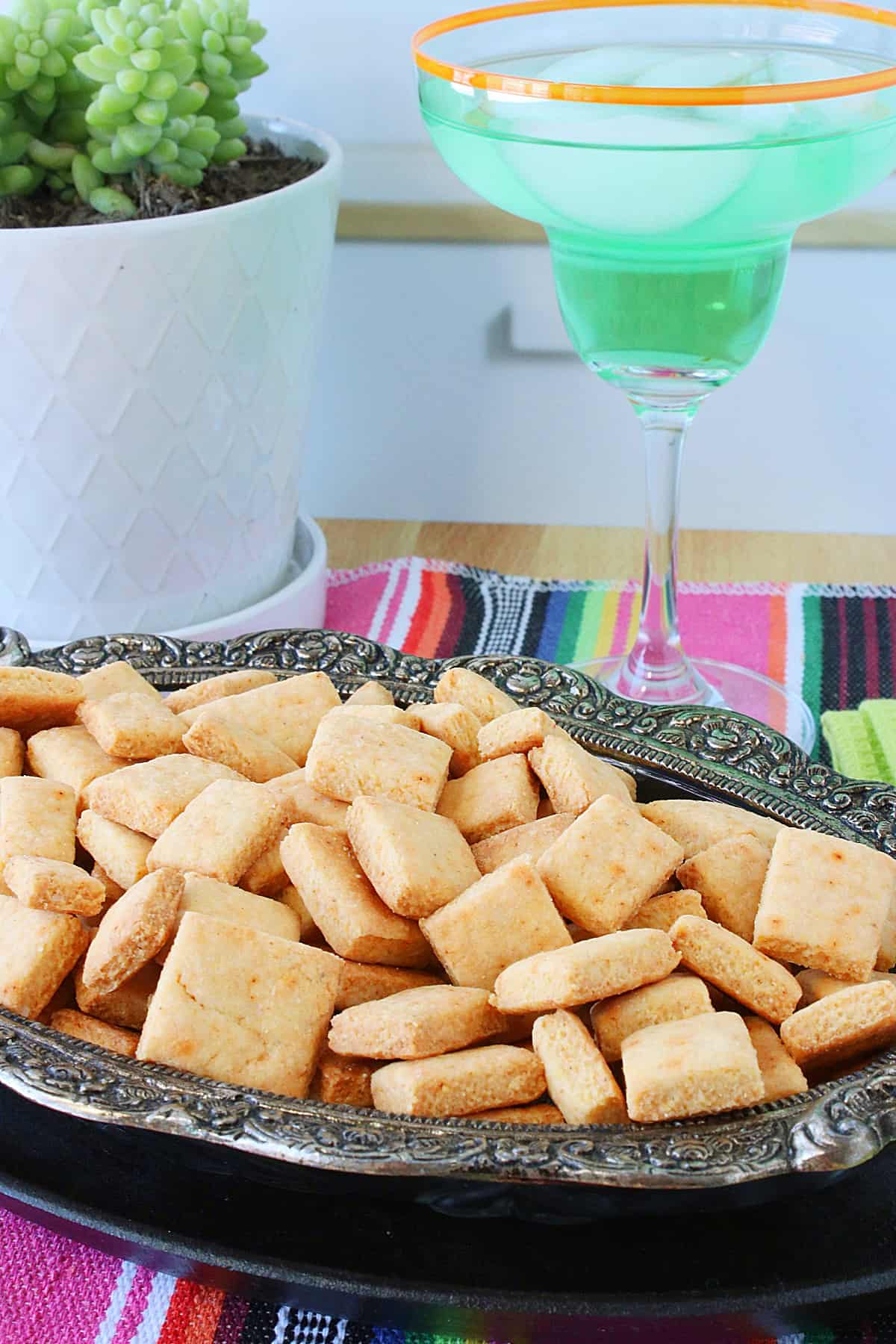 You're going to love working with this easy-to-make savory pastry dough. With only a few simple ingredients, you can whip up these crunchy little cornbread crackers in hardly any time!
**Note - The following recipe post or category contains affiliate links (highlighted in blue) for your consideration. By clicking on a link I may earn a small commission at no additional cost to you. Thank you!
Jump to:
The ingredient list
*Please note that the exact measurements along with a new "shop the recipe" feature from Instacart is available in the printable recipe card.

The above ingredient image was made using Canva Design. It's one of my very favorite design tools. You don't need to be a food blogger to use Canva. All you need to be is someone who loves designing graphics. Check them out if you're interested and a whole new world of artistic expression will be opened to you.
Ingredient information
CORNMEAL - You can use either yellow or white cornmeal. I like the yellow cornmeal for baking because I appreciate the color. White cornmeal has the same flavor as yellow cornmeal, except it was ground using white corn.
ALL-PURPOSE FLOUR - I tend to use unbleached all-purpose flour as a matter of course. However, if you prefer using bleached all-purpose flour, your crackers will be ever so slightly fluffier because bleached flour has a softer texture than its unbleached counterpart.
BAKING POWDER - This leavening agent will give these crackers a tiny bit of rise and a crispy, crunchy texture.
GRANULATED SUGAR - As you might suspect, the sugar in this recipe will add a touch of sweetness to the crackers. There isn't much sugar in this recipe, and these crackers are not "sweet" in flavor, but feel free to cut back on the amount of sugar used in this recipe (if desired), OR you can substitute Stevia (an all-natural sugar substitute) if you're watching your sugar intake.
SALT - I use kosher salt for all my cooking and baking. If you use iodized salt, you may wish to cut back slightly on the amount of salt called for in this recipe.
SMOKED PAPRIKA - This ingredient will give your crackers a slight tinge of red and a very light smoky flavor that I adore. If you don't have smoked paprika, feel free to substitute sweet paprika or leave it out entirely.
CAYENNE PEPPER - A tiny bit of heat is always a wonderful surprise for a crunchy snack. The amount of cayenne used in this recipe is minimal, so there is no need to be worried that these crackers will be "too hot." The cayenne pepper will supply the crackers with a nice, light, finishing flavor you'll enjoy.
BUTTER - I use salted butter. The key to making pastry dough of any sort is to ensure the butter is very cold from the refrigerator. Cold butter will keep the dough crumbly in texture when blending, resulting in a flaky finished product.
BUTTERMILK OR BUTTERMILK ALTERNATIVE - The slight tang of flavor that the buttermilk (or buttermilk alternative) provides these cornbread crackers are evenly balanced with exceptional taste.
How to make homemade cornmeal
Get your earplugs out and place un-popped popcorn into a high-speed blender. Blend on high speed until the corn kernels blend into a coarse meal. The longer you blend, the finer the meal.
This recipe calls for 1 cup of yellow cornmeal, but white cornmeal may be substituted. Add 1½ - 2 cups of un-popped corn to the blender if making homemade cornmeal.
Homemade or store-bought cornmeal?
I recommend using what you have on hand. If you have a Vita-mix...go for it, and make your own.
It's fun and easy to do, and the flavor is far superior to what you can buy in the store (IMO).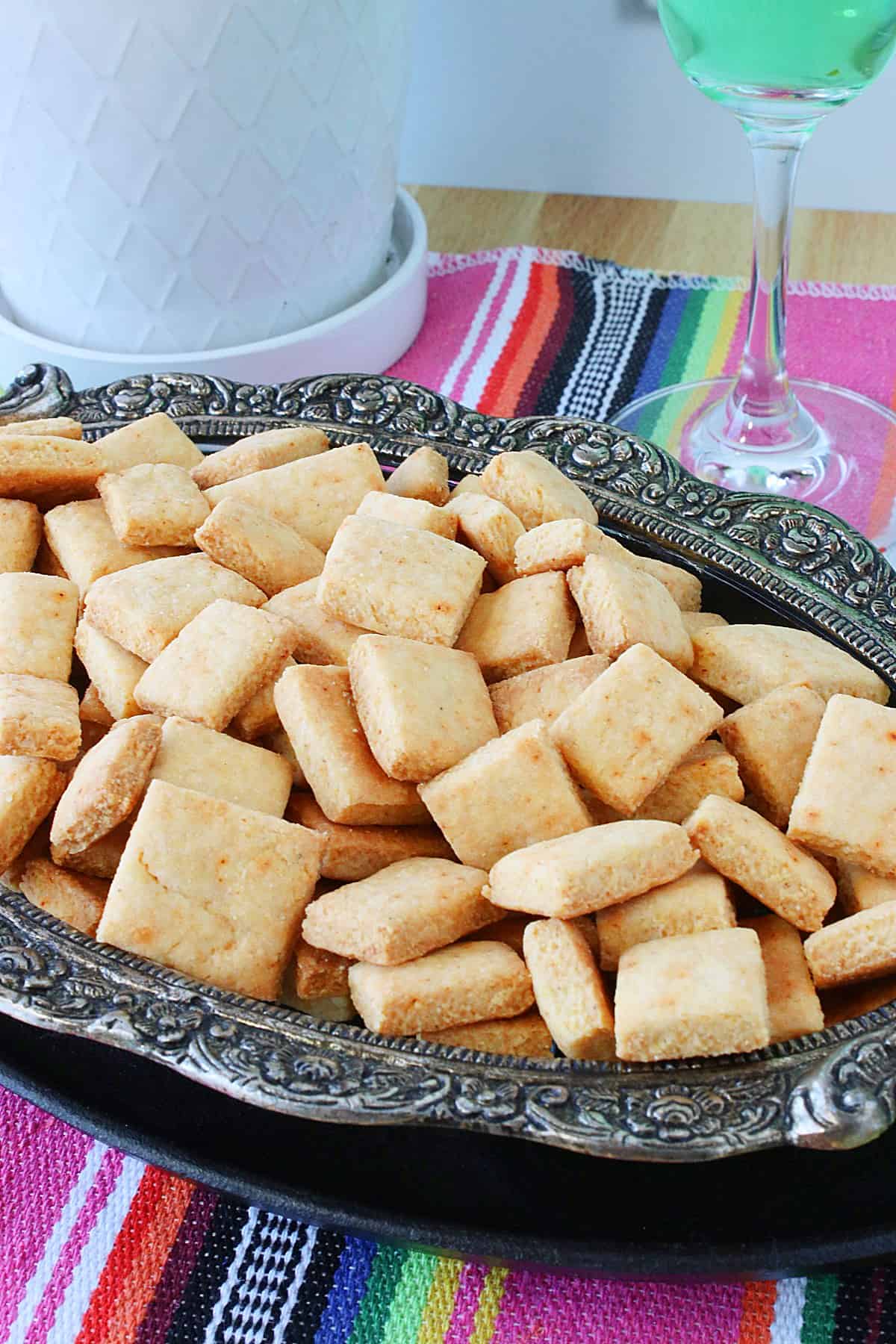 Cracker shapes and sizes
Feel free to cut whatever shapes you wish from your cornbread cracker dough. Remember that the baking time may need to increase if the crackers are much larger than what I show you here.
Of course, you can also use these cute little fish cookie cutters to make these cornbread crackers. How fun would that be?!!
Freezing cornbread dough
If you'd like to make the dough in advance and then roll and bake the crackers at another time, say two months from now, I applaud you for being so organized and thinking ahead!
This dough freezes beautifully as long as it's well-wrapped in several layers of plastic wrap. Date the package/packages and store them in the freezer for up to 3 months.
It is best to wrap the dough in a square or rectangular shape (roughly ½" thickness) because it will make it easier to roll once thawed.
How to make cornbread pastry dough
Other uses for cornbread dough
The flavor and consistency of this lovely dough would also make an exceptional crust for a savory pie or tart.
Imagine a savory pot pie with a cornbread cracker crust! Be still, my cornbread-loving heart!!
Why update a recipe post?
I first posted this recipe back in 2013. I knew then how good the crackers themselves were and had always intended to come back to it and do some updating to the post, but I never did.
However, I was recently contacted by a sweet reader asking about a few substitution recommendations for these crackers, so I decided it was finally time to give this recipe some updated love!
Back in 2013, I didn't have the printable recipe card feature I do now. If you wanted the recipe, you'd have to copy and paste it into a file or grab a piece of paper and write it down.
Even though this recipe and the ingredients haven't changed, this post now has much more useful information AND a printable recipe card for your convenience. You're welcome. 🙂
What I wrote about these crackers back in 2013
I've always wanted to make homemade crackers, so I did just that yesterday. And can I tell you, they were a SNAP to make!!! Ha. Get it? Snap?
Oh well. My humor may need some adjustment, but my crackers don't. I found them delicious and crunchy! However, I suppose my cutting skills could use some work to make them all uniform and pretty—next time.
The ingredients for making these crackers are few and simple. I have some home-ground cornmeal made in my Vita-mix blender from unpopped popcorn a few weeks back.
To be completely honest, the texture of the crackers using my homemade cornmeal wasn't something my husband was too fond of.
They were grainier and coarser than they would have been using store-bought cornmeal.
For me, I loved the extra texture my homemade cornmeal provided.
Next time I make these crackers; however, I'll use store-bought cornmeal to make him happy. He loved the flavor but not so much the extra chew.
Ingredient substitution suggestions
If you'd like to make these gluten-free, swap out a one-to-one gluten-free flour mixture for the all-purpose flour called for in this recipe.
White cornmeal may be used in place of yellow cornmeal if desired, and
Stevia can replace granulated sugar if desired.
And an equal amount of plain Greek yogurt may be used instead of the buttermilk.
If you'd like to amp up the Tex-Mex flavor of these crackers, I suggest adding a touch of ground cumin (½ teaspoon) or some ground coriander (¼ teaspoon) into the mix.
Easy buttermilk substitution hack
Did you know you can make a fantastic buttermilk substitution with ingredients you likely already have in your fridge and pantry? I do this all the time because I rarely have buttermilk in the fridge, and now you can too!
Best way to cut cracker dough
I like using a pizza wheel to cut the cracker dough into squares and rectangles quickly. As you can see, I'm not very patient when measuring perfect shapes and sizes, but don't let that stop you from being as precise as you want to be. A kitchen ruler will undoubtedly come in handy if you're into precision.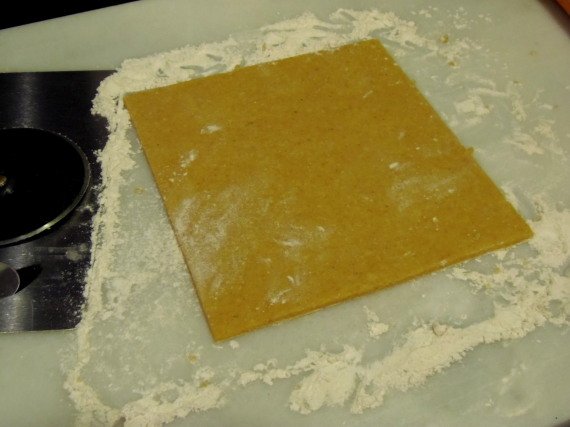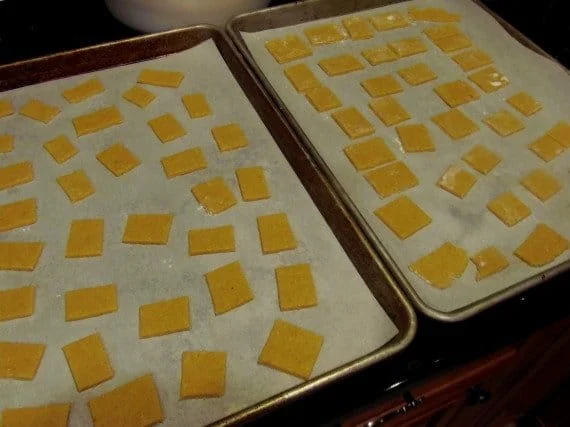 Serving suggestions
These delicious homemade crackers are great by themselves or served along with my Homemade Guacamole or with your favorite salsa.
I also like these crackers as an alternative to croutons on a salad or crumbled on top of my Mexican Salsa Soup.
How many crackers is one serving
As written, one serving of these cornbread crackers is approximately ten small 1" square crackers.
How to store these crackers after baking
I like to store these homemade crackers in an airtight container at room temperature. They'll keep fresh for up to 7-10 days.
Additional crunchy snack recipes
Sriracha Firecracker Snackers pack a whole lot of punch into an itty-bitty cracker. BAM!
What do you get when you cross salty pretzels with sweet praline and cinnamon? Simply the most irresistible snack around! Cinnamon Praline Pretzels will keep you coming back for more!
Beware! These homemade Everything Bagel Chips are so crunchy and so addicting that you won't be able to step away. Please proceed with the utmost caution! 😉
⭐If you've made this recipe, or are excited to make this recipe, I'd appreciate it if you'd take a moment to leave it a star rating on the recipe card, along with a comment of why you rated as you did.
Google loves ratings and will show my recipes to more people if they have them. Thank you. 🙂
Printable Recipe Card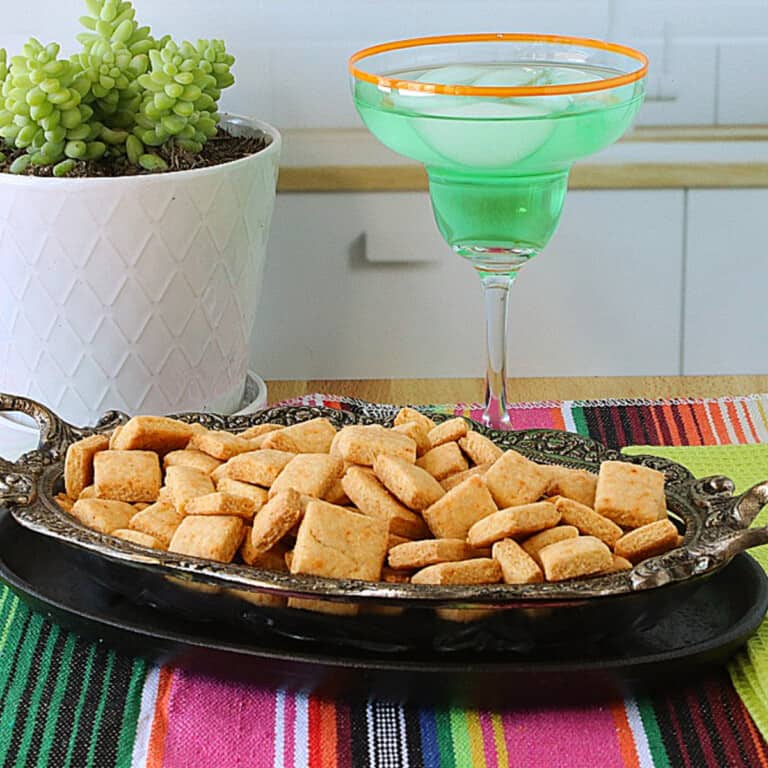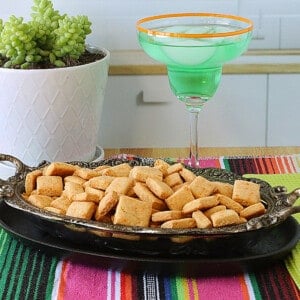 Homemade Cornbread Crackers
Homemade Cornbread Crackers are everything you want in a snack cracker. They're crunchy, crispy, and loaded with wonderful corn flavor.
Ingredients
1

cup

cornmeal

¾

cup

all-purpose flour

plus additional for rolling

1

teaspoon

baking powder

5

teaspoons

granulated sugar

1

teaspoon

kosher salt

⅛

teaspoon

smoked paprika

⅛

teaspoon

cayenne pepper

6

tablespoons

cold butter

cut into six pieces

¼

cup

buttermilk
Instructions
Add the cornmeal, all-purpose flour, baking powder, sugar, salt, smoked paprika, and cayenne red pepper to a food processor and pulse a few times to mix.

Add the cold butter (cut into chunks) to the food processor and pulse until the mixture resembles coarse crumbs.

Add the buttermilk to the food processor and process until the mixture comes together into a shaggy ball.

Turn the cornmeal dough out onto a lightly floured counter and knead by hand until the mixture comes together into a soft dough. Divide the dough in half and flatten each half into a rectangle approximately 1" in depth. Wrap each dough rectangle with plastic wrap and chill for at least 30 minutes before proceeding.

*Note - at this point you can freeze the dough for up to three months if desired.

Preheat oven to 375-degrees Fahrenheit (190 degrees Celsius).

Once the dough has chilled for 30 minutes, lightly flour the surface for rolling and roll each dough portion out to roughly ¼" thickness. Use a pizza wheel, paring knife, or cutters to cut crackers from the dough.

Lay the crackers out onto a parchment-lined baking sheet and bake for 15 minutes in a preheated oven. Remove the crackers from the oven, flip each cracker and then return them to the oven to bake for an additional 3-4 minutes.

Cool on a cooling rack and serve once completely cooled.
Notes
The unbaked dough may be frozen for up to 3 months. Wrap well in several layers of plastic wrap and date before freezing.
Thaw in the refrigerator overnight. Roll and bake as instructed.
1 serving = approximately 10 small 1" square crackers
Nutrition
Serving:
1
Calories:
167
kcal
Carbohydrates:
21
g
Protein:
3
g
Fat:
8
g
Saturated Fat:
5
g
Polyunsaturated Fat:
1
g
Monounsaturated Fat:
2
g
Trans Fat:
0.3
g
Cholesterol:
19
mg
Sodium:
294
mg
Potassium:
113
mg
Fiber:
2
g
Sugar:
3
g
Vitamin A:
243
IU
Vitamin C:
0.02
mg
Calcium:
29
mg
Iron:
1
mg
Follow me across my social media platforms and join in on the conversation: FACEBOOK, INSTAGRAM, PINTEREST, TIKTOK, AND YOUTUBE.
Thank you so much for visiting me today in my Kudos Kitchen. I hope you found something you'll love and that you'll come back and visit me often. There is always room for you around my table!
Should you have any questions or comments regarding anything you've seen here on my blog, please don't hesitate to reach out to me. It is always my distinct pleasure to respond to you just as soon as I possibly can.
Until we eat again, I hope you have a delicious day!!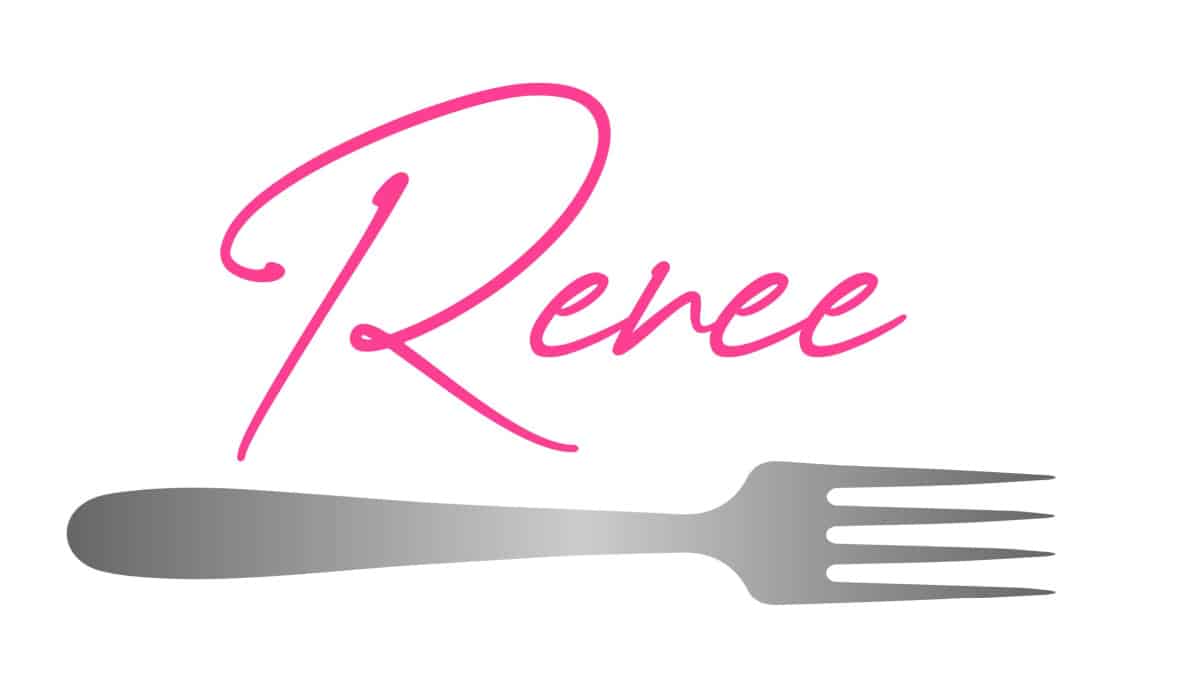 I sincerely hope you've enjoyed today's homemade snack cracker recipe using cornmeal as much as I've enjoyed bringing it to you!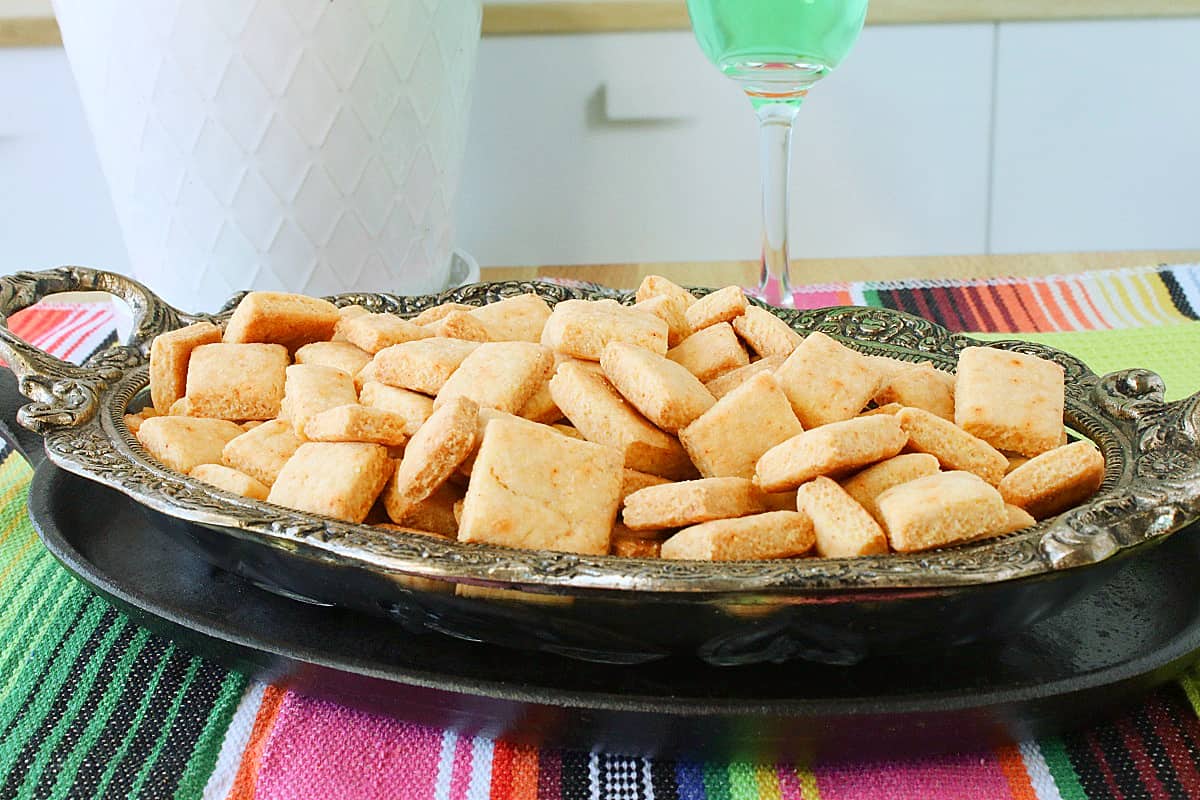 Thank you so much for visiting me today in my Kudos Kitchen. I hope you found something you'll love and that you'll come back and visit me often. There is always room for you around my table!
Should you have any questions or comments regarding anything you've seen here on my blog, please don't hesitate to reach out to me. It is always my distinct pleasure to respond to you just as soon as I possibly can.