Skip the box mix and make them fresh! The best homemade buttermilk blueberry banana muffins are 100% worth the extra 5 minutes they'll take to make!
When you have overripe bananas on hand and blueberries are fresh and in season, whipping up a batch of homemade blueberry banana muffins is a no-brainer!
In addition, they're a healthy breakfast or snack option that are sure to please the entire family!
**Please Note – The printable recipe card with detailed instructions, complete ingredient measurements, and nutritional information for making Blueberry Banana Muffins is available near the end of this post.
The ingredient list for making blueberry banana muffins;
Fresh Blueberries

Overripe Bananas

Milk or Buttermilk

Lemon Juice or Cider Vinegar (omit if using buttermilk)

Oil

Brown Sugar

Pure Vanilla Extract

Lemon Zest

All-Purpose Flour

Baking Powder

Baking Soda

Salt
Tips for making blueberry banana muffins from scratch?
Tossing the fresh blueberries in a touch of flour before adding them to the batter will ensure that the blueberries stay suspended in the batter and won't sink to the bottom of the muffins.

Using buttermilk (or a homemade buttermilk substitute, as I do) will give your muffins a tender crumb, and a very light tang in flavor which will complement the fresh blueberry and banana flavor.

Using an ice cream scoop will help your muffins be all the same size.

Sifting the dry ingredients first, and then adding them into the wet ingredients will keep your muffins light and airy in texture.

Gently stirring the blueberries into the batter will keep the berries from breaking and turning the batter blue'ish in color.

Stir just until the batter comes together. Overstirring the dough will make the muffins tougher in texture.
Can the baked muffins be frozen?
YES! You can either wrap your muffins individually or together in zip-top bags.
Make sure the muffins are completely cool before wrapping and freezing them.
They can be frozen up to 2 months.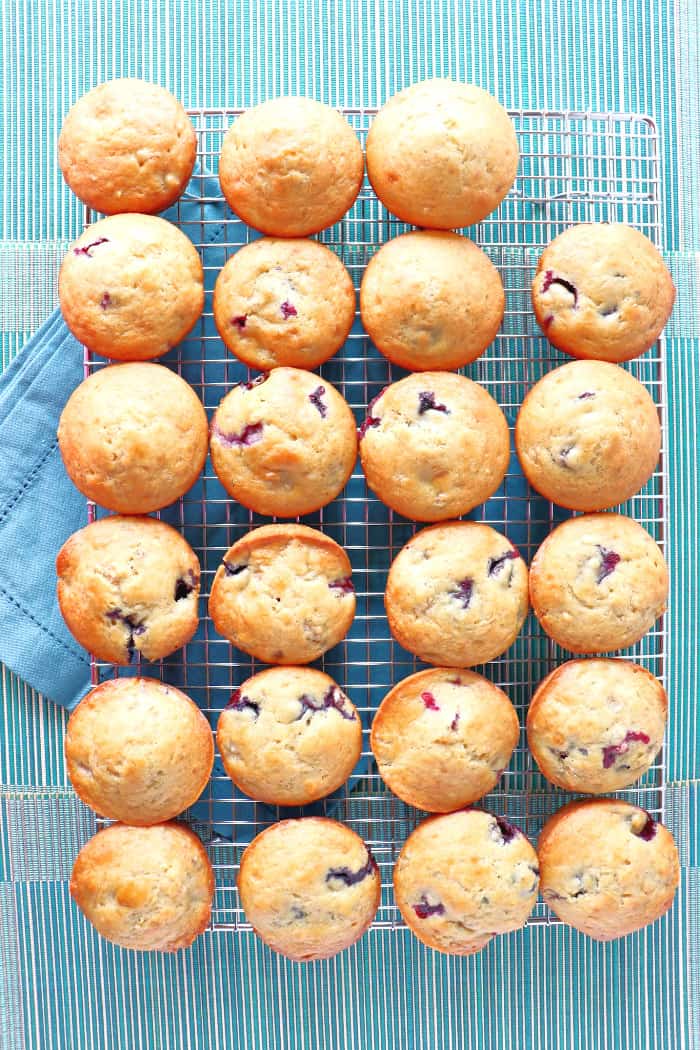 Are Homemade Blueberry Banana Muffins good for you?
Homemade foods are ALWAYS better for you than the packaged variety of foods you can purchase in the grocery store.
By making blueberry banana muffins at home, you will control the freshness of ingredients and there is no need for preservatives or additives to make them shelf-stable.
Health benefits of blueberries;
Blueberries are low in calories and high in nutrients. An entire cup contains only 85 calories and 15 grams of carbohydrates.

Blueberries are considered the king of anti-oxidants.

Blueberries reduce DNA damage which may help protect against cancer and aging.

Blueberries may reduce blood pressure.

Blueberries can help maintain brain function and protect memory.
To read more about the health benefits of blueberries, click HERE for more information.
Health benefits of bananas;
Bananas are chock full of B6, vitamin C, dietary fiber, and manganese.

Bananas are also full of potassium which is good for your heart health and blood pressure.

They can also aid in digestion and help with gastrointestinal issues.

Bananas give you energy without the fat and cholesterol.
To read more about the health benefits of bananas, click HERE for more information.
Can you store overripe bananas in the freezer?
Yes! I always have frozen, overripe bananas in my freezer.

It's best practice to take the bananas out of their peels before freezing or they will produce too much liquid once thawed.

Place the overripe bananas in a zip-top bag or freezer safe container and freeze for up to 4 months.

Bananas may be mashed before freezing.
How to fold one ingredient into another ingredient;
I found this cooking/folding video on YouTube and think that it may explain a lot…NOT! LOL
**The following affiliate links are some suggested products I've chosen that will aid you in the making and serving of this recipe for Homemade Blueberry Banana Muffins if desired. Plus, I've added some additional items that are meant to make you smile, because it's fun to shop! 😉
By clicking on the item photo, you'll be taken directly to Amazon.com if you're interested in purchasing any of these products. You are in no way required to do so, and you will not be charged in any way unless you decide to purchase one of these products through Amazon.com. As an Amazon Associate, I earn from qualifying purchases. For additional information please view my privacy policy.
For additional blueberry and/or banana recipes, please click on the following titles for;
How to make a homemade buttermilk substitute;
Add 1 tablespoon of cider vinegar or fresh lemon juice per 1 cup of milk.

Stir.

Allow it to sit for 2 -3 minutes.

Ready!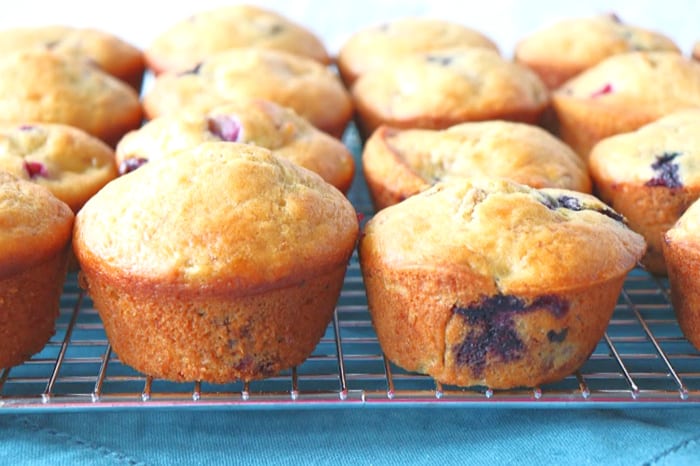 Below is the printable recipe card for today's Homemade Blueberry Banana Muffins.
If you've enjoyed this recipe and look forward to making it (or have already made it), I'd appreciate if you'd take a moment to give it some feedback by way of stars near the comment section at the end of this post. Thank you so much!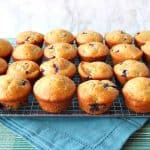 Homemade Blueberry Banana Muffins
Skip the box mix and make them fresh! The best homemade buttermilk blueberry banana muffins are 100% with the extra 5 minutes they'll take to make!
Course:
Breakfast and Brunch
Keyword:
blueberry banana muffin, homemade breakfast muffins
Ingredients
2

cups

blueberries

3

overripe

bananas

mashed

1

cup

milk

or buttermilk

1

tablespoon

lemon juice

omit if using buttermilk

½

cup

grapeseed oil

or canola or vegetable oil

1

cup

brown sugar

2

large

eggs

1

teaspoon

pure vanilla extract

1

teaspoon

lemon zest

2½

cups

all-purpose flour

plus 1 tablespoon for tossing the blueberries

1½

teaspoon

baking powder

1

teaspoon

baking soda

½

teaspoon

salt
Instructions
Preheat oven to 350-degrees.

Spray a muffin tin with baking spray. Set aside.

**Note – Muffin liners may be used, but they aren't necessary.

Toss the blueberries with 1 tablespoon flour and set aside.

In a small bowl, stir together the milk and lemon juice (if NOT using buttermilk). Set aside for 2-3 minutes.

In a large bowl, whisk together the mashed bananas, buttermilk OR buttermilk substitute, eggs, oil, brown sugar, vanilla, and lemon zest.

In a medium bowl, whisk together the 2½ cups all-purpose flour, baking soda, baking powder, and salt.

Add the dry ingredients into the wet, banana mixture and stir gently.

Add the flour-coated blueberries to the muffin batter and gently fold them into the batter just until the blueberries are incorporated. Do not overmix.

Use an ice-cream scoop or large spoon to fill the muffin tins 3/4's full with the muffin batter.

Bake in a preheated oven for 25-30 minutes, or until the muffins are golden and when a toothpick inserted in the center comes out clean.

Cool for 10 minutes, and then run a knife around each muffin to loosen them from the tin.

Turn all the muffins out onto a cooling rack and cool completely.
Recipe Notes
Tools and equipment;
muffin tin, muffin liners (optional), baking spray, large bowl, medium bowl, whisk, wooden spoon, fork or pastry blender (for mashing bananas), small bowls, measuring cups, measuring spoons.
Nutrition Facts
Homemade Blueberry Banana Muffins
Amount Per Serving (1 muffin)
Calories 142
Calories from Fat 45
% Daily Value*
Fat 5g8%
Cholesterol 18mg6%
Sodium 108mg5%
Potassium 81mg2%
Carbohydrates 21g7%
Protein 2g4%
Vitamin A 40IU1%
Vitamin C 1.6mg2%
Calcium 36mg4%
Iron 0.8mg4%
* Percent Daily Values are based on a 2000 calorie diet.
I sincerely hope you've enjoyed today's recipe for Homemade Blueberry Banana Muffins as much as I've enjoyed bringing it to you!!
Should you have any questions or comments regarding this recipe or anything else you've seen on my site, please don't hesitate to contact me directly or leave me a comment in the comment section below. It is always my distinct pleasure to get back to you with a reply just as soon as I possibly can!
For additional information regarding my Kudos Kitchen recipes, and/or my hand painted glassware or fabric items, please follow me on;
FACEBOOK, PINTEREST, INSTAGRAM, TWITTER, and YOUTUBE
Kudos Kitchen by Renée ~ Cooking up artistically delicious family-friendly dishes from my Kudos Kitchen to yours!
Until we eat again, I hope you have a delicious day!
**Note – The post above includes affiliate links. When I find a great product or service, I like to share it with my readers. Sometimes I use affiliate links so I can earn a commission for my recommendations.
As always, I thank you for your support!