Who wouldn't enjoy the flavor of light-as-air Garlic Rosemary Focaccia Muffins? These are easy to make and completely delicious to eat. You're going to love them!!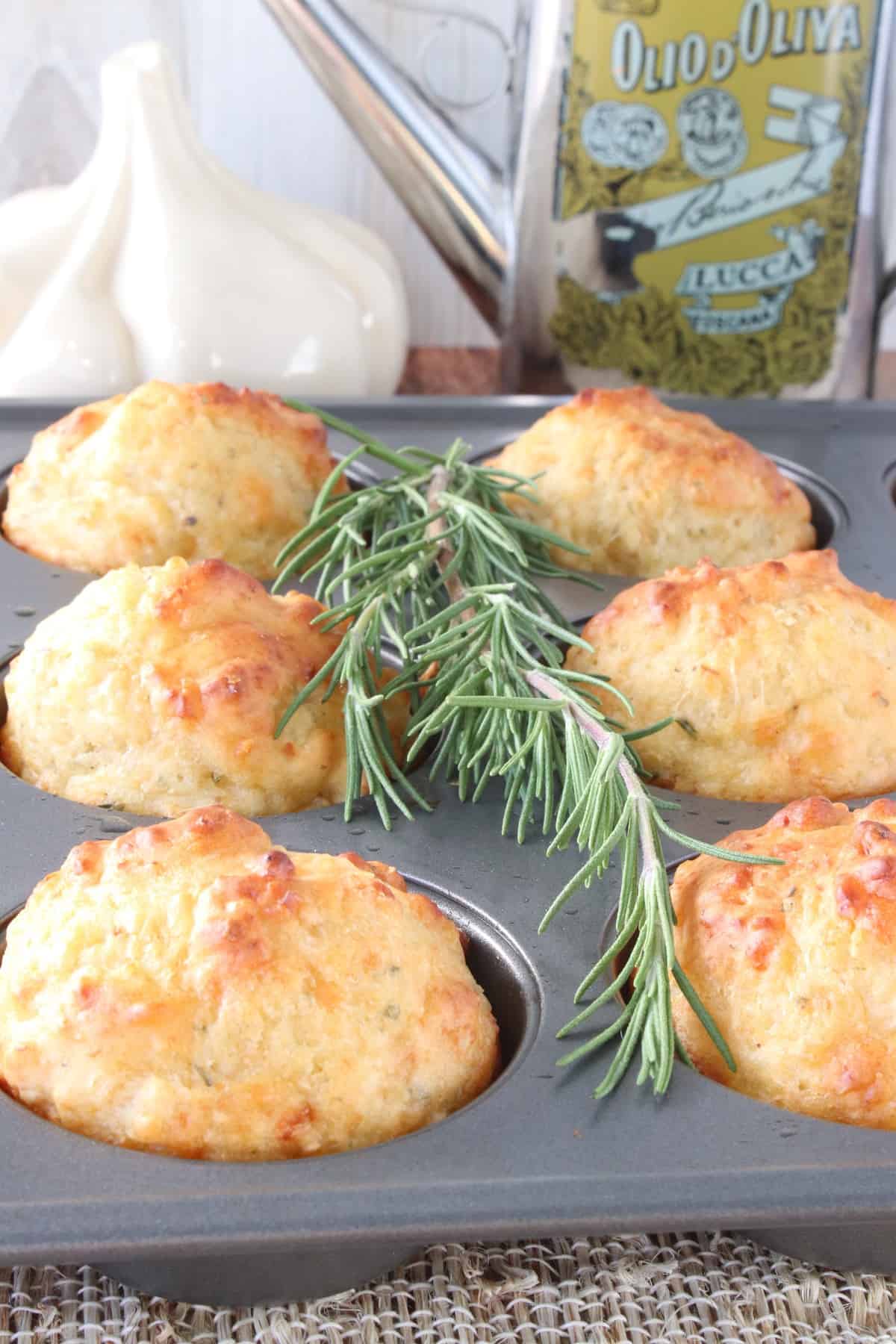 I originally published this recipe in 2013. I've since gone back in and have updated the recipe itself along with new photos and additional helpful information for your baking success.
The original recipe (from 2013) was a lower-calorie muffin, but the new printable version (in the recipe card below), is not. That said, I'll make sure to denote where you can save calories on this recipe if you're interested.
Both versions are truly delicious. You have my word on it!!
This recipe post and its contents may include affiliate links for your consideration. I may earn a commission from qualifying purchases, but your prices are never increased as a result. Thank you.
Jump to:
The ingredients:
*Please note that the exact measurements along with a new "shop the recipe" feature from Instacart is available in the printable recipe card.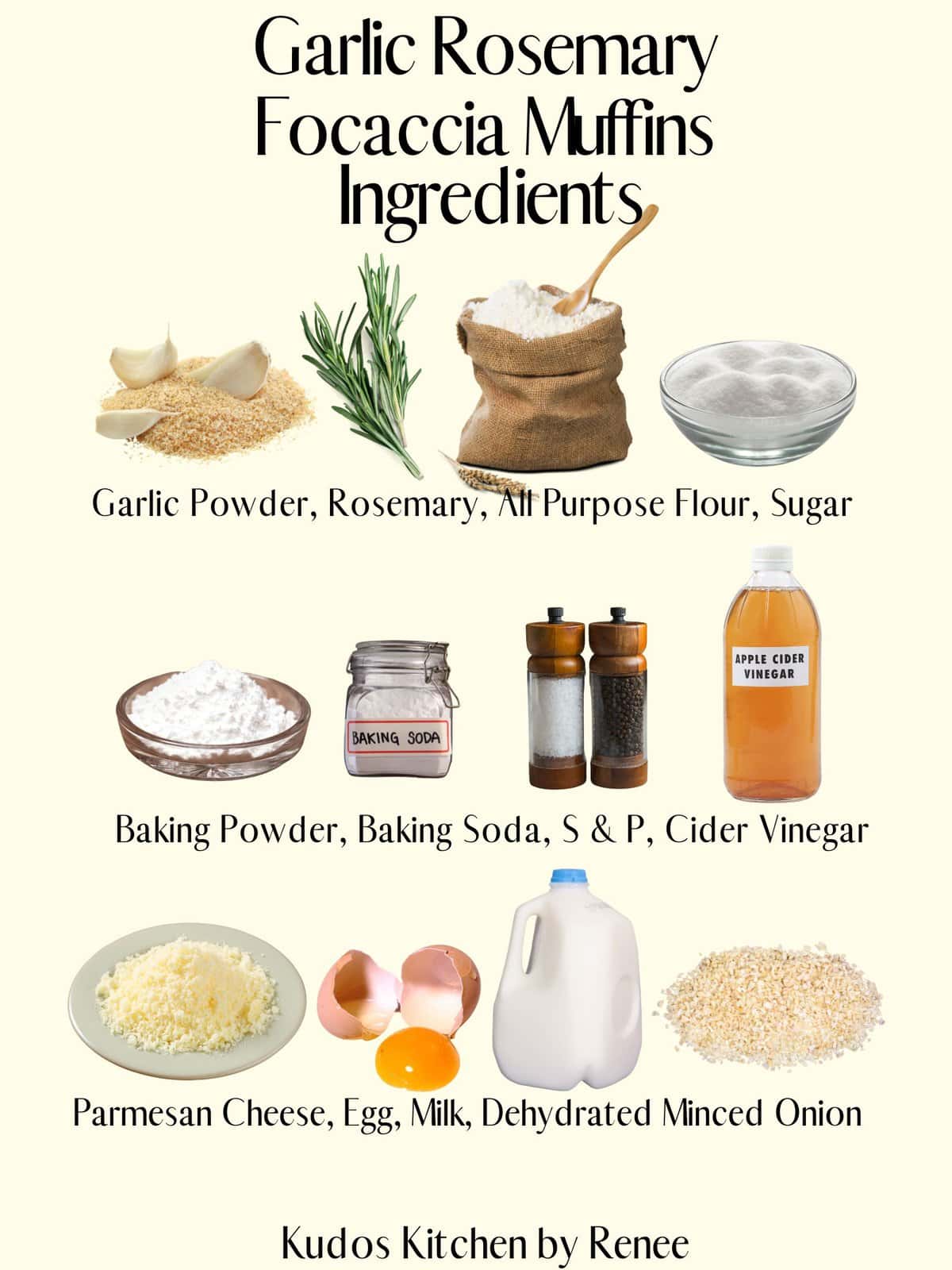 Ingredient information:
ALL-PURPOSE FLOUR - I like to use unbleached all-purpose flour for all my baking. Using bleached all-purpose flour will also work. It's a personal preference, so use what you have in your pantry. See the section below to learn more about the differences between bleached and unbleached flour.
BAKING SODA - This ingredient works with vinegar to form carbon dioxide bubbles that give rise and texture to the focaccia dough.
BAKING POWDER - This ingredient helps neutralize the vinegar's acidic flavor. It works with the baking soda to give extra rise and stability to the focaccia muffins. Learn more about how baking soda and baking powder work together in specific recipes.
GRANULATED SUGAR - The slight touch of sugar in this recipe helps balance the flavor and gives the muffins a beautiful golden in the oven.
DEHYDRATED MINCED ONION - This ingredient may seem odd, but the dehydrated onion adds immense flavor to these golden focaccia muffins without adding extra moisture to the batter. Feel free to cut back on the amount called for in the recipe card if needed, but I strongly urge you to use at least some in this recipe.
EGG - A large egg is what almost all recipes call for unless otherwise specified. This recipe is no different. Make sure to bring the egg to room temperature before adding it to the milk mixture for a more effortless blending of ingredients. If needed, you can run a cold egg under warm water for 60 seconds to bring it to room temperature.
MILK - I like using whole or 2% milk in this recipe. See below for alternative milk substitutes for cutting calories in this recipe, if desired.
CIDER VINEGAR - The vinegar acts as a sort of "tenderizer" (for lack of a better word) for the flour and as a buttermilk replacement when combined with milk. It will lend an ever-so-slight tang to the focaccia muffins that are virtually undetectable but still important in the final flavor.
GARLIC POWDER - This ingredient can be omitted if you're not a fan of garlic flavor, or if desired, you can cut the amount called for in this recipe to ½ teaspoon.
CHOPPED ROSEMARY - Fresh rosemary always evokes the aroma of a woodland forest to me. I prefer fresh rosemary in this recipe, but if you only have dried rosemary, that will also work. However, if using dried, I suggest using half of the amount called for in the recipe card, as dried herbs are always more potent in flavor than their fresh counterparts.
PARMESAN CHEESE - Feel free to use grated or shredded Parmesan cheese. I've used both when making these muffins on different occasions, and they both worked wonderfully well. The only thing I would caution you about is that you use the finest Parmesan cheese you can, and please avoid the unrefrigerated Parmesan cheese in the green can if possible.
OLIVE OIL - Good quality olive oil will enhance and elevate the flavor of these focaccia muffins. A full-bodied and flavorful extra virgin olive oil is my choice, but using olive oil after its first pressing is fine if that's what you have.
How and where to save calories on this recipe:
If you like, you can cut the Parmesan cheese from this recipe entirely or substitute Asiago or Romano cheese, which has fewer calories than Parmesan.
Using 1% or skim milk in this recipe, you'll cut many calories and substitute Stevia for the granulated sugar.
Finally, a light spray of olive oil, instead of adding ½ teaspoon into the bottom of each muffin well, will save considerable calories per muffin.
What I wrote about this recipe in 2013:
Since I found this recipe for Focaccia Muffins in one of my favorite cookbooks for lower-fat, lower-calorie cooking called "Eat More of What You Love" by Marlene Koch, I've made them several times.
Each time I've made them, I'm blown away by these little gems' taste, texture, and flavor versatility.
Below is one of the photos I took of this recipe in 2013. Not horrible, but I believe I've improved my photography skills. You'll have to let me know if you agree with me on that statement! Hopefully, you do!
Adding your favorite herbs:
The first time I made these focaccia muffins, I added dried basil and some oregano into the batter as the recipe called for.
The second time I made them, I went with some chopped fresh rosemary and garlic, which completely changed the flavor profile but not the essential essence of the muffins themselves.
I think the next time I make them, I'll maybe add some chives and or dill.
Or maybe thyme or sage.
Or maybe... (you get the idea).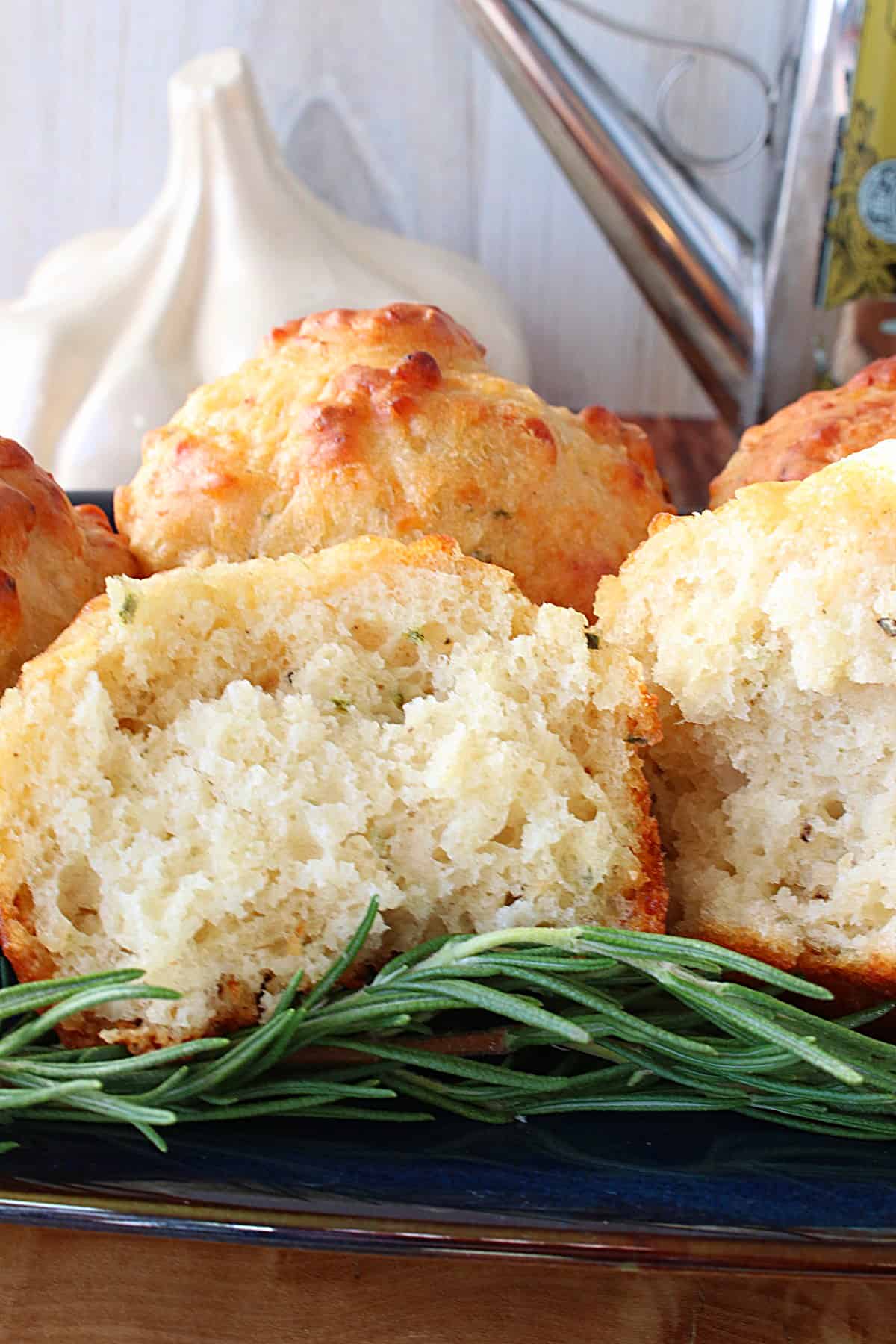 Why this recipe works:
This recipe is so no-fail and fun to play with.
You're only limited by your imagination when it comes to herbs and add-in flavors.
You'll simply love the texture of these muffins.
So much in fact that you might as well make a double batch because they'll go fast!
What to do with leftover focaccia muffins?
I'm so happy you asked...
The leftovers are great for making some mini-sandwiches or even mini pizza crust when cut in half.
Excuse me but I'm off to the kitchen now to bake some more! 🙂
What to serve alongside these focaccia muffins:
When it comes to a hearty and delicious soup that's prepared in only a matter of minutes, Italian Pepperoni Soup will soon be on the very top of your favorites list.
Why go out when you can make this restaurant quality creamy Mascarpone Chicken Risotto at home? It's impressive, delicious, and not at all difficult to make.
Cheesy Tomato Bacon Pasta is tiny pasta in a smooth, creamy mascarpone sauce with a hint of bacon. It's a wonderfully easy, comforting, and delicious dish.
Roasted Garlic and Herb Compound Butter takes only minutes to make and will liven up any savory dish with big, bold flavor! Make some today and keep it handy for everyday cooking, and also for special occasions!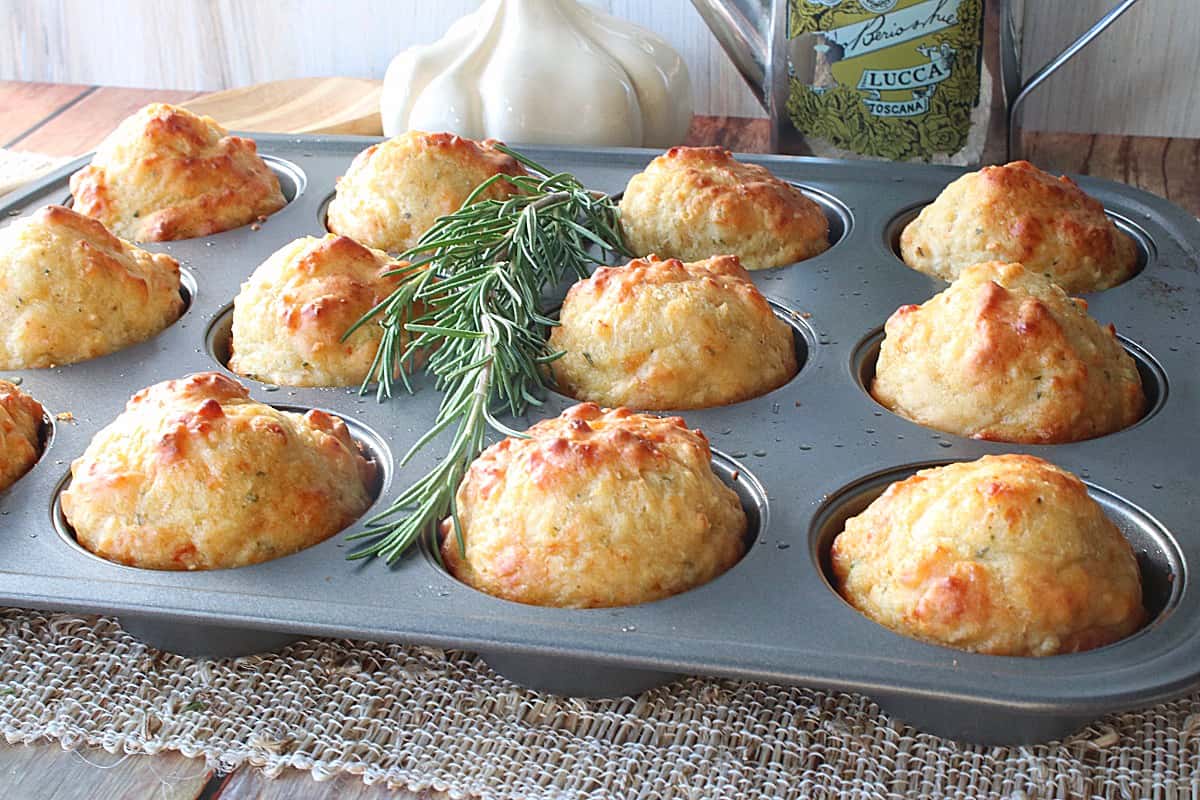 When you make this recipe, and I hope you do, I'd appreciate it if you'd take a moment to leave a star rating on the recipe card and briefly comment on why you rated it as you did. FYI - Google appreciates recipe ratings and, in turn, will share my recipes with more people. Thank you so much!!
Printable Recipe Card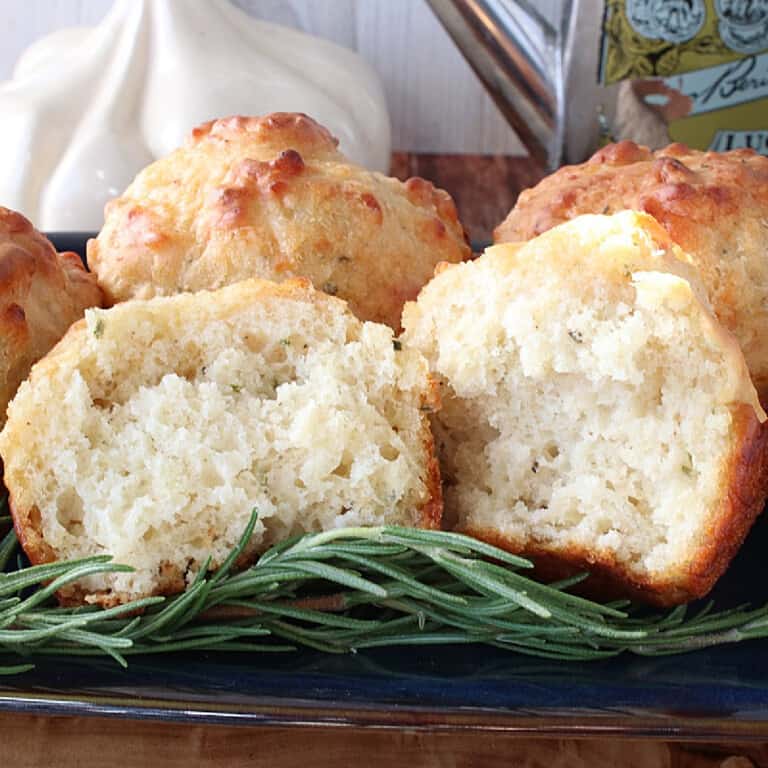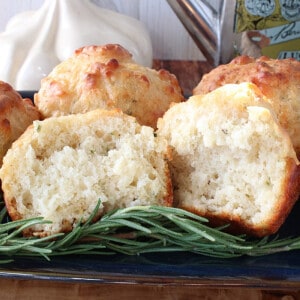 Garlic Rosemary Focaccia Muffins
These cheesy, savory, muffins are easy to make, and they have big bold flavor. They'll soon become a family favorite!
Ingredients
1½

cups

milk

whole or 2%

1½

teaspoons

apple cider vinegar

white vinegar will also work

1

large

egg

at room temperature

3

tablespoons

minced dehydrated onions

2

cups

all-purpose flour

1

teaspoon

kosher salt

½

teaspoon

black pepper

1

tablespoon

granulated sugar

1½

teaspoons

garlic powder

or to taste

1

teaspoon

baking powder

½

teaspoon

baking soda

1

tablespoon

chopped fresh rosemary

less if using dried rosemary

½

cup

Parmesan cheese

grated or shredded

3

tablespoons

olive oil

For the bottom of the muffin wells before baking, and for brushing on the muffins halfway through baking.
Instructions
Preheat the oven to 400 degrees Fahrenheit (205 degrees Celsius).

Prepare the muffin tin by spraying each well liberally with olive oil spray OR add ½ teaspoon olive oil into each well and evenly distribute the oil in each muffin well. Set aside.

Whisk the milk, vinegar, egg, and minced onion in a medium-sized bowl. Set aside for 5 minutes.

Whisk the flour, salt, pepper, sugar, baking powder, baking soda, garlic powder, rosemary, and Parmesan cheese in a large bowl.

Switch to a spatula or wooden spoon and add the wet ingredients into the dry ingredients. Stir to combine, being careful not to over mix the batter.

Use a large cookie scoop (optional) or a ¼ cup measuring cup, evenly scoop the batter into each prepared muffin well. Each muffin well should be no more than ¾'s full.

*Note - spraying the cookie scoop or measuring cup with olive oil spray will prevent the batter from sticking to the scoop.

Bake the muffins in a preheated oven for 18 minutes. Remove the muffins from the oven and brush each one lightly with olive oil. Return the muffins back to the oven for an additional 3-5 minutes or until the muffins are golden brown and a toothpick inserted into the center of the muffins come out clean.

Allow the muffins to cool slightly on a wire rack for 5 minutes. If needed run a paring knife around each muffin to loosen from the tin and continue cooling the muffins on a wire rack.

These focaccia muffins are best served warm.
Video
Notes
Store any leftovers in an airtight container in the refrigerator for up to 7 days.
Baked focaccia muffins may be frozen.
Store in an airtight freezer container and freeze for up to 2 months.
Nutrition
Serving:
1
serving
Calories:
154
kcal
Carbohydrates:
20
g
Protein:
5
g
Fat:
6
g
Saturated Fat:
2
g
Polyunsaturated Fat:
1
g
Monounsaturated Fat:
3
g
Trans Fat:
0.03
g
Cholesterol:
21
mg
Sodium:
327
mg
Potassium:
134
mg
Fiber:
1
g
Sugar:
3
g
Vitamin A:
91
IU
Vitamin C:
1
mg
Calcium:
109
mg
Iron:
1
mg
I sincerely hope you've enjoyed today's delicious savory focaccia muffins as much as I've enjoyed bringing them to you.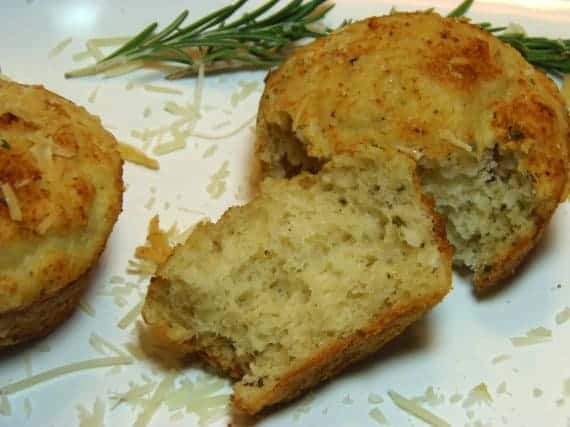 Follow me across my social media platforms and join in on the conversation: FACEBOOK, INSTAGRAM, PINTEREST, TIKTOK, AND YOUTUBE.
Thank you so much for visiting me today in my Kudos Kitchen. I hope you found something you'll love and that you'll come back and visit me often. There is always room for you around my table!
Should you have any questions or comments regarding anything you've seen here on my blog, please don't hesitate to reach out to me. It is always my distinct pleasure to respond to you just as soon as I possibly can.
Until we eat again, I hope you have a delicious day!!