When strawberries and rhubarb are in season, this Strawberry Rhubarb Bread with Bananas should be one of the first things you add to your baking list.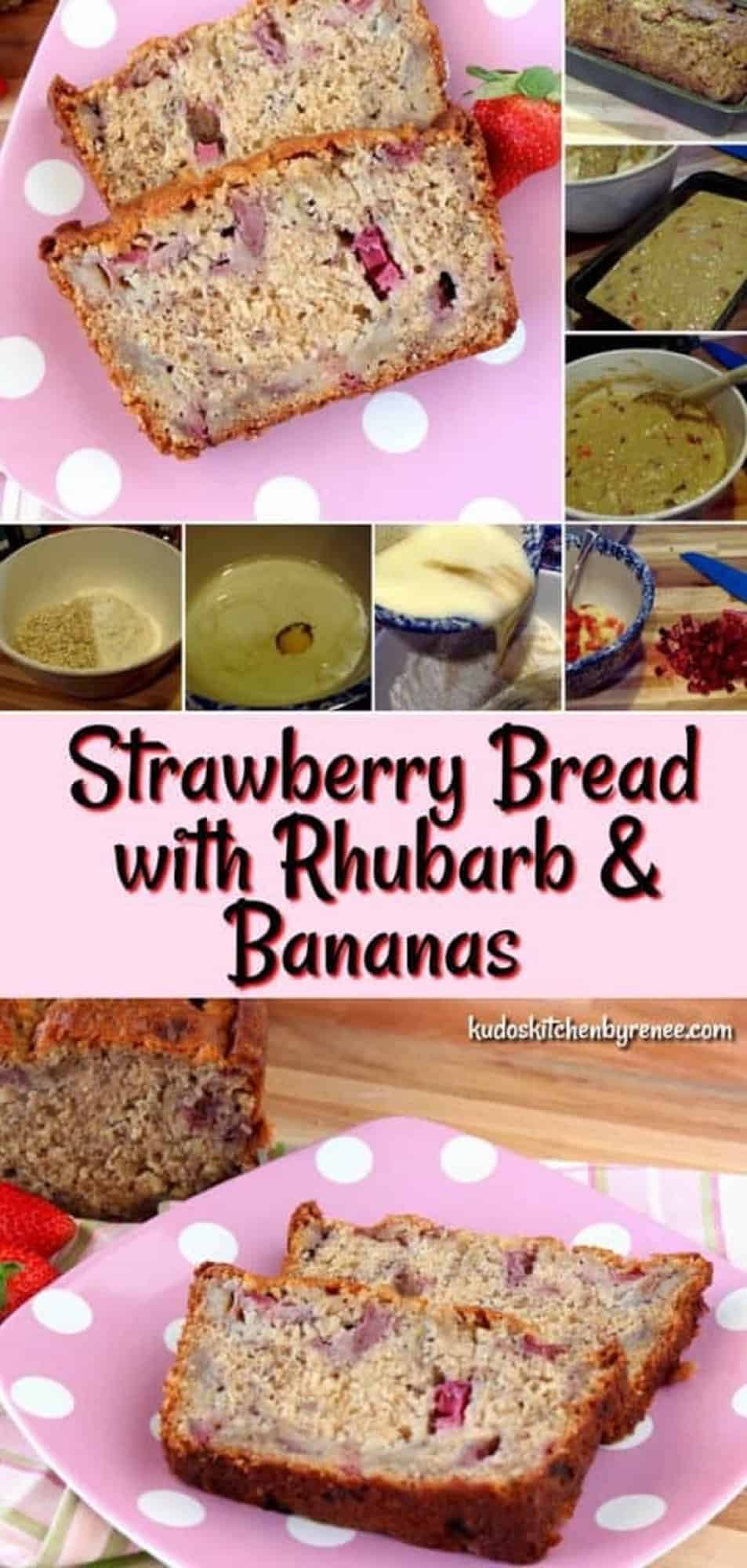 Today's quick bread utilizes buttermilk for a taste and texture that regular milk can't provide. Not everyone stocks buttermilk in their refrigerator regularly (I know I don't) so I have a quick work-around
buttermilk alternative
for you that I know you'll appreciate. I use this method all the time in my own kitchen, and now you can too.
This recipe post is being updated from when it was originally published in 2014 with additional information that I hope you'll find useful. The recipe itself, along with the photos have remain unchanged.
Jump to:
What I wrote about this recipe in March of 2014
Can you feel it? Spring is in the air! Well, maybe not really...yet (at least here in the Midwest where I live) ... but it IS coming, and we are all so, so ready!
But until the days warm up, and all the crazy snow melts, this strawberry quick bread recipe will put a springtime smile on your face and is sure to brighten your mood with just one bite!
Why this recipe works
What tastes better in spring and early summer than fresh, plump strawberries? Not much in my book.
Now, pair those luscious berries with some lovely, tart rhubarb and a slight hint of banana (because who doesn't love banana bread?) and you've got yourself an incredibly moist and fresh tasting strawberry quick bread with a flavor that's completely perfect with a taste that out of this world!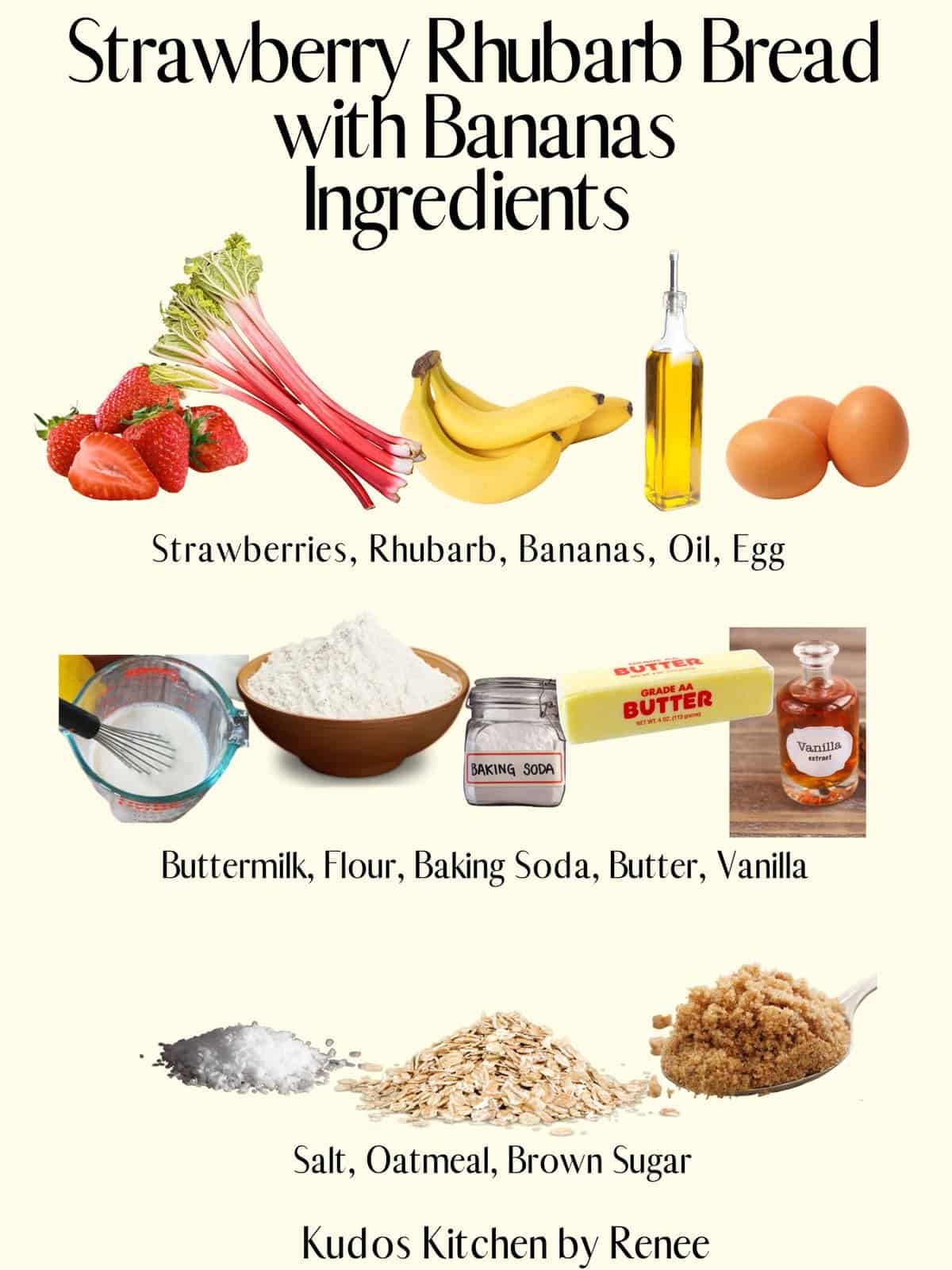 The ingredient list:
fresh strawberries
fresh rhubarb
over-ripe bananas
all-purpose flour
light-colored oil (canola or grapeseed)
baking soda
pure vanilla extract
brown sugar
quick-cooking oats
butter
egg
buttermilk (or buttermilk alternative)
salt
Can this quick bread be frozen?
You bet! Wrap it well or store it in an airtight freezer container and you can keep it in the freezer for up to two months.
How to make strawberry rhubarb bread:
In a large bowl, whisk together the flour, baking powder, salt, brown sugar, and quick-cooking oats.
In a medium bowl, whisk together the buttermilk, egg, oil, vanilla, and mashed banana.
Pour the liquid ingredients into the dry ingredients and stir to combine.
Add the chopped fresh strawberries and rhubarb to the batter and mix until just combined.
Pour the batter into a prepared 9x5 loaf pan that has been sprayed with baking spray.
Bake in a preheated 350-degree oven for 90 minutes, or until a toothpick inserted into the center of the loaf comes out clean.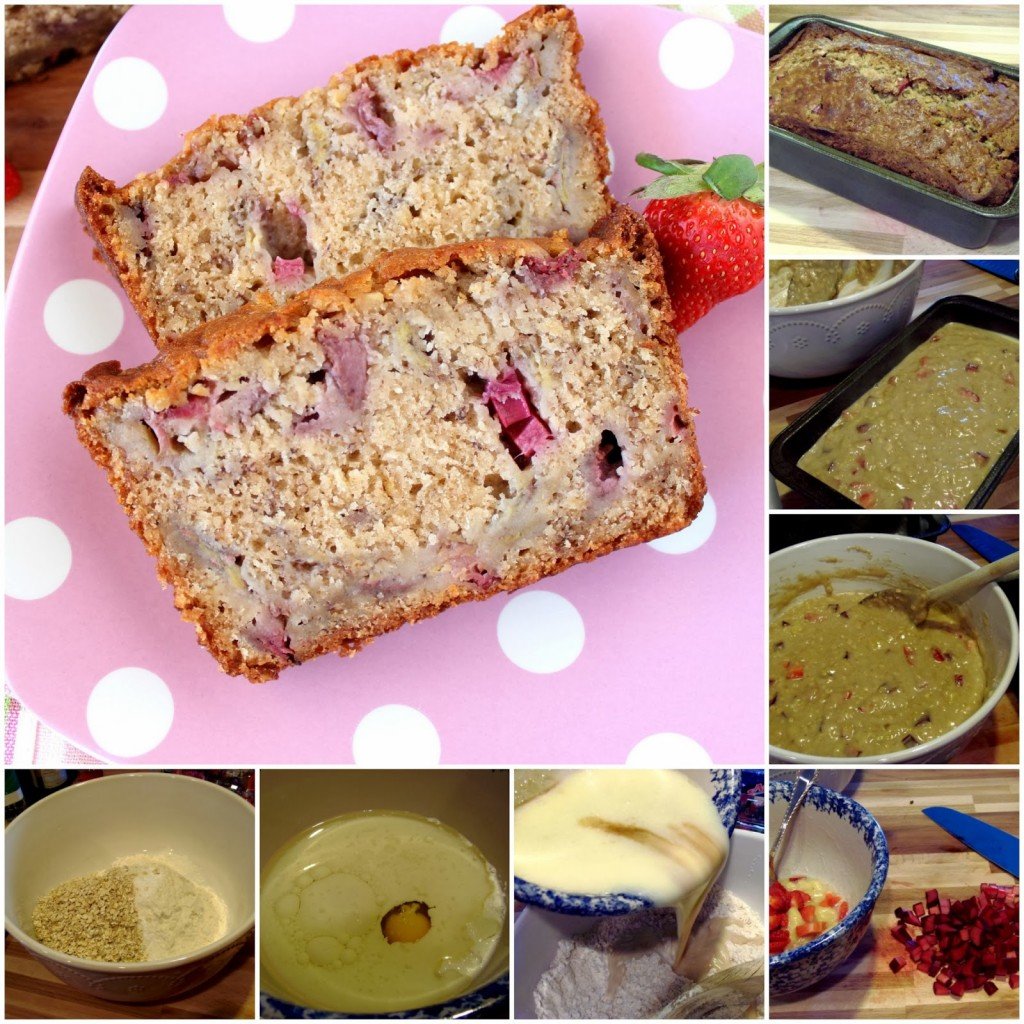 Can granulated sugar be substituted for the brown sugar in this recipe?
I don't recommend it, but it can be done. Using granulated sugar will make this bread a bit dry and crumbly, not nearly as soft and moist as it is intended to be.
Brown sugar includes molasses (which gives it its brown color) so it also gives a depth of flavor that white sugar can't.
Find out more about the differences between white and brown sugar and the usages for both.
How many servings does this recipe make?
As written, this recipe is intended to make 12 slices/servings.
However, I completely understand if you want to make larger slices for yourself...not that I'd know anything about that type of thing. *wink*
What does rhubarb taste like?
On its own, rhubarb is tart and somewhat puckery in flavor. However, in baked goods it is excellent when paired with naturally sweet fruits (such as strawberries) which help balance and compliment the flavor of the pinkish red celery-looking fruit very nicely.
Can frozen rhubarb be used in this recipe?
Yes, and the really nice thing is that you don't need to thaw it first. Add the frozen chopped rhubarb directly to the batter when mixing and you're good to go.
The same thing goes for strawberries. If using frozen strawberries, make sure they're separated into individual berries and give them a rough chop if they're whole. You can toss the chopped frozen strawberries directly into the batter before baking.
What does the oatmeal do for this quick bread?
I like to add the oatmeal for additional structure and fiber. It also adds a slight nutty flavor to this quick bread that is very enjoyable.
Additional quick bread recipes
Blueberry Banana Quick Bread with white chocolate and pecans is a definite upgrade from your typical banana loaf recipe. It's easy to make too!!
Yep, you read that right... Eggplant Zucchini Bread. It's so moist and flavorful, AND it's a great way to bump up the nutrition level of your next zucchini quick bread without anyone being the wiser.
Italian Herb Quick Bread comes together in a snap with only one bowl, one spoon, and no kneading required. It's fast, easy, and super delicious!
When you make this recipe, and I hope you do, I'd appreciate it if you'd take a moment to leave a star rating on the recipe card and briefly comment on why you rated it as you did. FYI - Google appreciates recipe ratings and, in turn, will share my recipes with more people. Thank you so much!!
Printable Recipe Card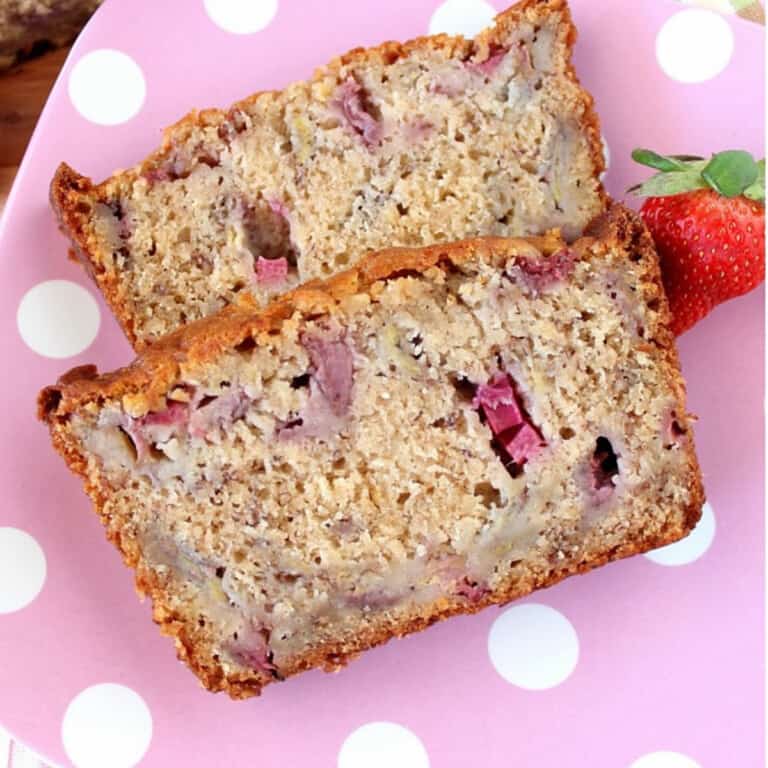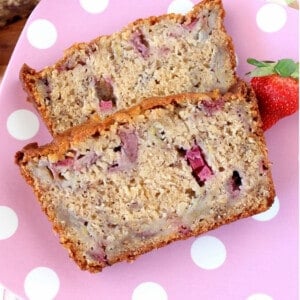 Strawberry Rhubarb Bread with Bananas
When strawberries and rhubarb are in season, this Strawberry Rhubarb Bread should be one of the first things you add to your baking list.
Ingredients
2½

cups

all-purpose flour

1

teaspoon

baking powder

1

teaspoon

salt

1

cup

quick cooking oats

1¼

cups

packed brown sugar

¼

cup

grapeseed oil, or canola oil

1

large

egg

1

cup

buttermilk

1

teaspoon

vanilla

4

tablespoons

butter,

melted

2

large

overripe bananas,

mashed

1½

cups

sliced strawberries

1

cup

sliced rhubarb,

stalk only
Instructions
Preheat oven to 350 degrees, Fahrenheit (175 Celsius)

In a large bowl, combine the flour, baking powder, salt, oats and brown sugar.

In a medium bowl, whisk together the oil, egg, buttermilk, vanilla, bananas and melted butter.

Stir the wet ingredients into the dry ingredients, until incorporated. Do not over mix.

Gently fold the strawberries and rhubarb into the batter.

Pour the batter evenly into a prepared 9×5 loaf pan that has been sprayed with baking spray.

Bake in a preheated oven for approximately 90 minutes, or until a toothpick or cake tester inserted into the center comes out clean.

Cool on a wire rack for approximately 20 minutes and then turn the loaf out of the pan to cool completely before slicing and serving.
Notes
Store in covered on the counter for up to 3 days.
Store covered in the refrigerator for up to 7 days.
May be frozen. Wrap well or store in an airtight freezer container for up to 2 months.
Nutrition
Serving:
1
slice
Calories:
327
kcal
Carbohydrates:
55
g
Protein:
5
g
Fat:
10
g
Saturated Fat:
3
g
Cholesterol:
27
mg
Sodium:
262
mg
Potassium:
303
mg
Fiber:
2
g
Sugar:
27
g
Vitamin A:
195
IU
Vitamin C:
13.4
mg
Calcium:
87
mg
Iron:
1.9
mg
I sincerely hope you've enjoyed today's quick bread recipe with bananas strawberries and rhubarb as much as I've enjoyed bringing it to you!
Follow me across my social media platforms and join in on the conversation: FACEBOOK, INSTAGRAM, PINTEREST, TIKTOK, AND YOUTUBE.
Thank you so much for visiting me today in my Kudos Kitchen. I hope you found something you'll love and that you'll come back and visit me often. There is always room for you around my table!
Should you have any questions or comments regarding anything you've seen here on my blog, please don't hesitate to reach out to me. It is always my distinct pleasure to respond to you just as soon as I possibly can.
Until we eat again, I hope you have a delicious day!!