Hungry for a Friday night fish fry but don't want to pay restaurant prices? My homemade fried tilapia recipe is crispy, crunchy, and utterly delicious.
This breaded fried tilapia recipe is sure to become a staple in your monthly menu rotation so make plenty, and then host your own all-you-can-eat Friday night fish fry at home!
Your family and friends will thank you!!
**Please Note – The printable recipe card with detailed instructions and complete nutritional information for breaded fried tilapia is available near the end of this post, OR hit the "Jump to Recipe" (found above) to be taken directly to the recipe.
CLICK ON THIS BOX TO LIKE AND SUBSCRIBE TO MY KUDOS KITCHEN YOUTUBE CHANNEL. SEE YOU THERE! 🙂
The ingredient list for making homemade fried tilapia;
**Note – The following lists of ingredients plus kitchen tools and equipment contain affiliate links (highlighted in blue) for your consideration and shopping convenience.
light-colored oil (I used peanut)

fresh tilapia fillets

buttermilk

fresh lemon zest

salt and pepper
Kitchen tools and equipment needed for making fried tilapia;
Why is it important to use a light-colored oil when frying?
The reason for using a light-colored oil for trying is because it has a lower smoke point than a darker oil.
Since you'll be frying your fish fillets at a temperature of 375-degrees, a light-colored oil is a better, safer, and healthier choice.
Besides peanut oil what are other good oil options for pan-frying?
Grapeseed

Oil

Avocado

Oil

Coconut

Oil

Canola

Oil

Vegetable Oil
Why this fish fry recipe works:
Every time I make this tilapia fish fry, it gets rave reviews from family and friends.
I've made this recipe several times for one friend in particular who says my pan-fried tilapia is one of the best-fried fish recipes she's ever eaten! Restaurants included!!
While I'm not 100% sure she's telling me the truth, I'm also not 100% sure she's not! LOL!
I guess I'll have to take her word on it, and bask in the compliment. And now you can too!! 😉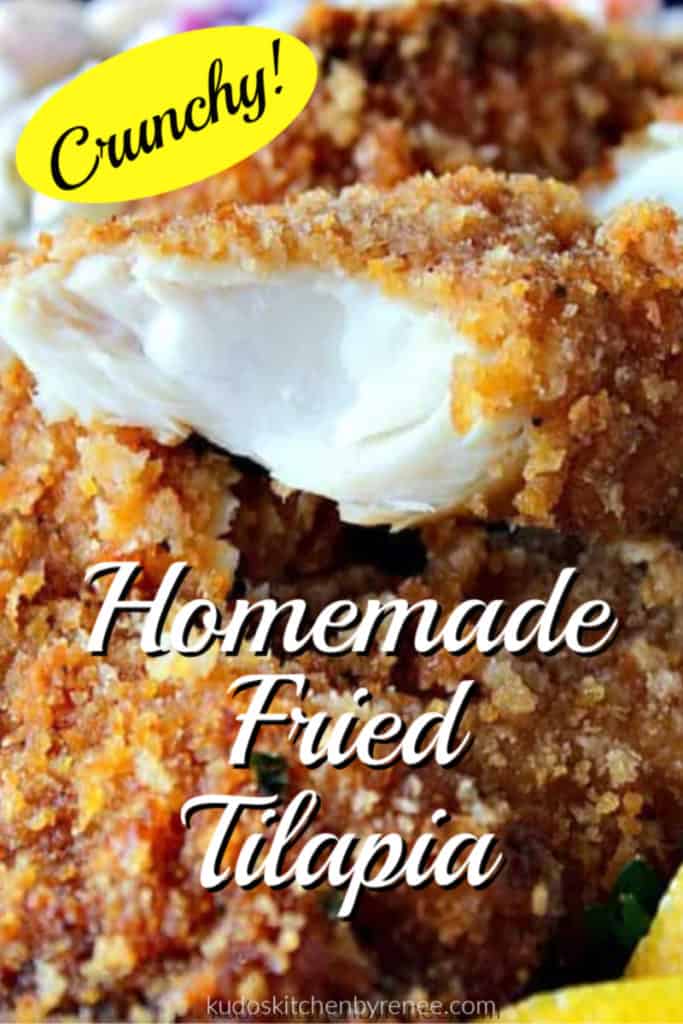 Tips and tricks for making the most flavorful deep-fried fish:
The key to making this flavorful deep-fried fish recipe tender and flaky is marinating the fish fillets in buttermilk for at least 30 minutes before breading.

After that, the key to keep the breading ON the fish while it's frying is to refrigerate the breaded fillets at least 30 minutes before frying.

My final secret (not so secret) for keeping the breading extra crispy and crunchy is to mix panko, breadcrumbs, and cornflake crumbs. This combination of ingredients, along with the simple preparation steps ensures your fried fish will win YOU rave reviews from your family and friends, just as it does for me!
Why buttermilk in for a fried fish recipe?
The buttermilk marinade will give the fried tilapia a slight yet delicious tang of flavor.
It will also help to keep the fish moist and flaky during the frying process.
What do I do with the oil after frying the fish?
After the oil has completely cooled down, carefully funnel it back into its original container and save the oil for another few fryings.
That said, DO NOT use the same oil for frying fish to fry sweet items like donuts. Make sure you mark the oil properly so you'll know which is for sweet, and which is for savory frying.
Once a frying oil has been used to 3 – 4 times, it's time to funnel it back into its original container (for easy disposal) and discard of properly.
All-You-Can-Eat fish fry!
When I make my fried tilapia, I make enough to feed a small army.
I love having leftovers for the next day, or for my husband to take to work.
How long to fry tilapia?
Because it's a thinner fillet, it only takes approximately 2-3 minutes per side to perfectly fry tilapia.
When frying a thicker fish, say cod or haddock, it will take a few additional minutes to ensure the fillet is cooked through to the center.
Can this breading and frying technique be used for other types of fish fillets?
Yes!
However, if using a thicker fillet (as mentioned above), the frying time will be slightly longer.
How to reheat fried tilapia so it's still crunchy?
Preheat the oven to 350-degrees for 20 minutes.
Place the pre-cooked fried tilapia on a baking sheet that has been fitted with a rack, and reheat the fillets for 7-10 minutes.
Can pre-cooked fried tilapia be frozen?
Yes!
To freeze, cool the fried fillets completely before wrapping each separately in parchment paper and then plastic wrap.
Freeze the fried tilapia fillets for up to 2 months.
To reheat, unwrap the frozen fillets and place them on a baking sheet that has been fitted with a rack.
Bake them in a preheated 425-degree oven for 15-17 minutes.
For other delicious seafood recipes please click on the following titles for:
*Sweet Corn Risotto with Shrimp (pictured below) from (yours truly) Kudos Kitchen
Creamy New England Sweet Corn Risotto with Shrimp is a great way to use up the last of summer's bounty of sweet corn. It's a creamy and delicious seafood main course that can be on the dinner table in approximately 30 minutes."
*Grilled Bacon Wrapped Tilapia from Fearless Dining
*Baked Salmon Salad Spread (pictured below) from (yours truly) Kudos Kitchen
Baked Salmon Salad is so versatile you can use it as an appetizer spread with crackers or you can use it as a spread for sandwiches.
*Thai Coconut Noodles with Pan Seared Tilapia from Life Currents
*Coconut Crusted Tuna Steak (pictured below) from (yours truly) Kudos Kitchen.
This Pan-Seared Seared Coconut Crusted Tuna Steak was inspired by coconut shrimp dish I recently had while out to dinner.I've paired it with a dipping sauce of orange juice and hoisin, which is the perfect complement to the mild sweetness of the crunchy toasted coconut crust.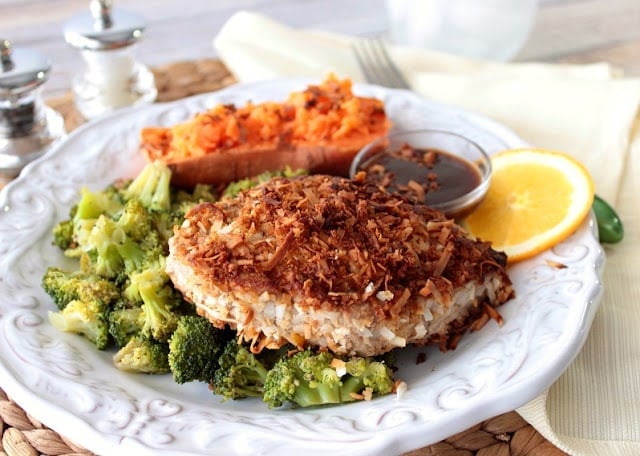 *Miso Glazed Tilapia with Roasted Bok Choy from Sidewalk Shoes
*Homemade Pan-Fried Tilapia (pictured below) You are here!!
The directions for pan-frying tilapia:
Place the fish fillets in a dish.

Pour buttermilk over the fillets and place them in the refrigerator for at least 60 minutes, but no longer than 90 minutes.

In a large shallow dish, combine panko crumbs, cornflake crumbs, breadcrumbs, salt, pepper, garlic powder, cayenne pepper, and Old Bay seafood seasoning.

Add fresh lemon zest to the breadcrumbs and stir well to combine.

After the fish has marinated at least 30 minutes, remove it from the refrigerator.

Allow the excess marinade to drip off each fillet, and press each fillet firmly into the breadcrumb and panko mixture.

Flip the fillet and press the crumbs firmly onto the opposite side of each fillet.

Place all the crumb-coated

fish on a baking sheet and return to the refrigerator to chill for an additional 30 minutes.
Meanwhile, in a large, high sided skillet, heat a light-colored

oil to 375 degrees (I used a canola/peanut oil blend).

*NOTE – For SAFETY, NEVER fill a pan with HOT OIL more than halfway full, as the oil will bubble and expand once the food is added.
Gently and carefully slip 2 – 3 cold, breaded fillets into the hot oil.

Fry each fillet for 2-3 minutes each side until golden and crispy.

Carefully remove the fillets from the oil with a slotted spatula and place the fried fish on a baking sheet fitted with a rack.

Immediately season the fried fillets generously with salt.

Continue frying the remainder of the breaded tilapia fillets, keeping the already fried fillets warm in a preheated 300-degree oven, if needed.

Below are some products you may find useful in your kitchen;
Below is the printable recipe card along with the nutritional information for today's breaded fried tilapia.
If you enjoy this recipe and are anxious to give it a try, I'd appreciate it if you'd take a moment to give this recipe some feedback by way of stars near the comment section at the end of this post.
Yield: 6 servings
Homemade Fried Tilapia
Hungry for a Friday night fish fry but don't want to pay restaurant prices? Homemade fried tilapia is crispy, crunchy, and completely delicious.
marinating and chilling time
30 minutes
Total Time
1 hour
30 minutes
Ingredients
2 pounds fresh tilapia fillets
1½ cups buttermilk
3/4 cups panko crumbs
3/4 cups cornflake crumbs
3/4 cups breadcrumbs
zest of one lemon
1/8 teaspoon cayenne pepper
1/8 teaspoon Old Bay seafood seasoning
1 teaspoon garlic powder
2 teaspoons kosher salt,, plus additional for after frying
½ teaspoon pepper
3 - 4 cups light oil for frying,, I used a canola/peanut oil blend
Instructions
Place the fish fillets in a container and pour the buttermilk over top.
Place the container in the refrigerator and marinate for 30 minutes.
Meanwhile, in a large shallow dish, mix together the panko crumbs, cornflake crumbs, breadcrumbs, lemon zest, cayenne pepper, Old Bay seasoning, garlic powder, salt, and pepper.
Remove the fillets from the fridge, allowing the excess buttermilk to drip off, and press each fillet into the crumb mixture on both sides.
Place the breaded fillets on a plate or baking sheet and return the breaded fish to the refrigerator for at least 30 minutes.
In a wide, high sided frying pan, add enough oil to fill the pan halfway with oil
*DO NOT OVERFILL*
Heat the oil over medium/high heat to 375-degrees.
*Note - if you don't have a thermometer, you can tell when the oil temperature is ready by sticking the handle of a wooden spoon into the hot oil. If lots of small bubbles emerge from the spoon (similar to champagne bubbles), the oil is ready.
Carefully slide a few breaded fillets into the hot oil, making sure not to overcrowd the pan.
Fry each fillet until golden brown on both sides (approximately 2 minutes per side).
Carefully remove the fried fish from the oil using a slotted spatula and place on a baking sheet that has been fitted with a rack.
Immediately season the hot fried fish with additional salt.
Continue the same process until all the fillets have been fried.
Keep the fried fillets warm and crunchy in a low 300-degree oven while frying the remaining fish, if needed.
Serve hot with lemon wedges and tartar sauce if desired.
Notes
Tools and equipment:
baking sheets, baking rack to fit the sheet (optional), parchment paper (optional), slotted spatula, large high sided skillet, 2 large shallow dishes for marinating and breading, lemon zester, measuring spoons and cups, funnel (for funneling the cooled oil back into the oil bottle for reuse or disposal), frying thermometer
Nutrition Information
Yield
6
Serving Size
1 serving
Amount Per Serving
Calories

596
Total Fat

31g
Saturated Fat

7g
Unsaturated Fat

0g
Cholesterol

82mg
Sodium

1286mg
Carbohydrates

43g
Fiber

2g
Sugar

7g
Protein

37g
Thank you so much for visiting me here today in my Kudos Kitchen!
I hope you've enjoyed today's homemade fried tilapia recipe as much as I've enjoyed bringing it to you!
Should you have any questions or comments regarding this recipe or anything else you've seen on my site, please don't hesitate to reach out to me. It is always my distinct pleasure to get back with a reply just as soon as I possibly can!
For more Kudos Kitchen recipe information, please follow me on my social medial channels (listed below), and don't forget to TAG me @kudoskitchen with photos so I can view all your delicious recipe creations! It's exciting for me when you share them, so don't be shy!
Instagram, Pinterest, Facebook, and YouTube
Kudos Kitchen by Renee – BRINGING YOU EASY, ECONOMICAL, AND DELICIOUS DISHES TO FEED YOUR LOVED ONES!
Until we eat again, I hope you have a delicious day!
*Note – The post above includes affiliate links. As always, I truly thank you for your support!
As an Amazon Associate, I earn from qualifying purchases. When I find a great product or service I like to share it with my readers. For additional information please view my privacy policy.