This Italian herb quick bread comes together in a snap with only one bowl, one spoon, and no kneading required. It's fast, easy, and super delicious!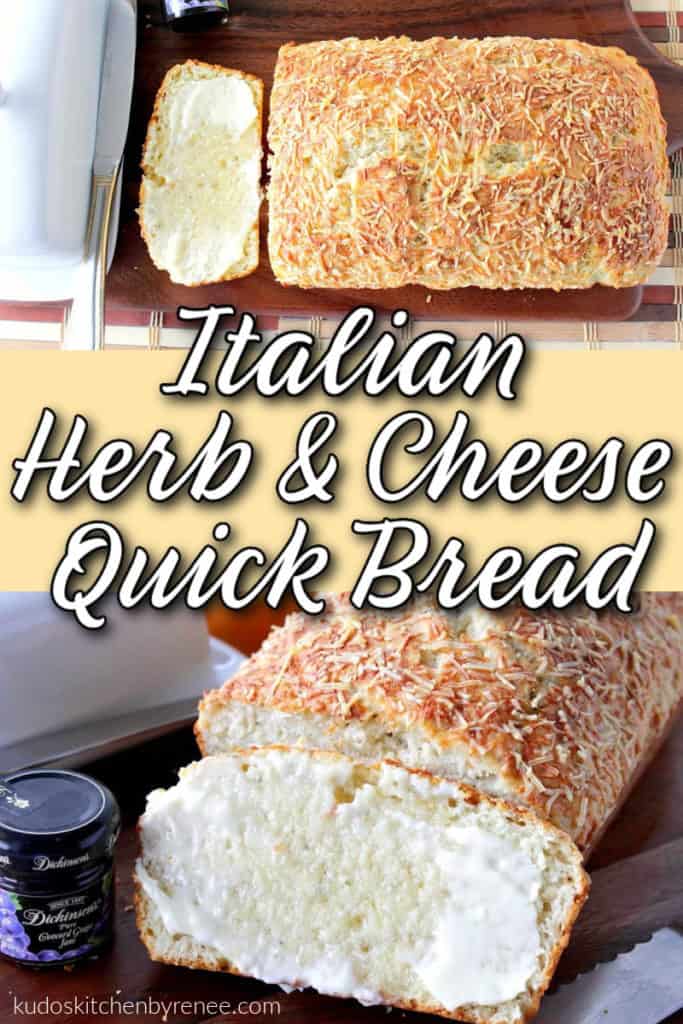 Did you know you can have this fresh, hot, homemade no-yeast bread on the dinner table in under an hour, and with only about 5 minutes of that time spent mixing the batter?
This savory Italian quick bread recipe is seriously delicious. It will be a sure-fire hit with your family and friends!
**Please Note – The printable recipe card with detailed instructions, complete ingredient measurements, and nutritional information for making Italian Herb Quick Bread is available near the end of this post. OR click on the "jump to recipe" button (found above) to be taken directly to the recipe.
CLICK ON THIS BOX TO LIKE AND SUBSCRIBE TO MY KUDOS KITCHEN YOUTUBE CHANNEL. SEE YOU THERE! 🙂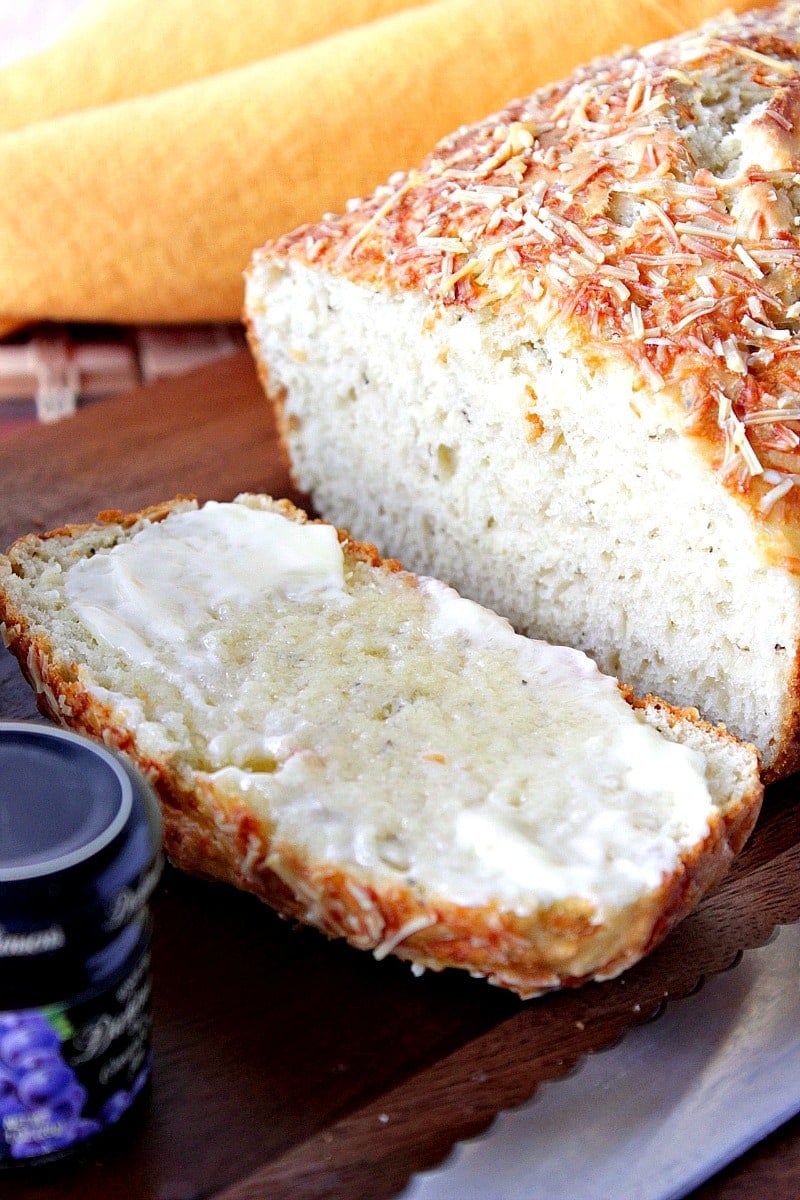 The ingredient list:
**Note – The following lists of ingredients plus kitchen tools and equipment contain affiliate links (highlighted in blue) for your consideration and shopping convenience. #CommissionsEarned
Kitchen tools and equipment needed:
How to make your own buttermilk alternative:
Please don't fret if you don't have any buttermilk already at home.
Did you know you can easily make your own buttermilk by combining milk and either vinegar or lemon juice?
Yep. True story.
I do it all the time because let's face it, who regularly keeps buttermilk on hand in their fridge?
And, if it's so easy to make your own at home, why wouldn't you?!!
Check out my Homemade Buttermilk Alternative post and you may never buy buttermilk again!
This is one savory Italian quick bread recipe you're going to want to keep on hand and make all the time!
Tailor this savory quick bread recipe to make it your own!
Once you've made this Parmesan Herb Savory Quick Bread a few times and see how super simple it is, you'll be able to make it in your sleep!
Once you feel comfortable enough with this version, why not change things up a little with the ingredients just for fun?
Add some different dried herbs. Maybe rosemary and/or thyme.
What about changing up the cheese?
Use something semi-hard, otherwise, the consistency of the bread might become too soft with the extra moisture. Try an aged Gruyere, Gouda or Provolone.
And what about adding some sunflower seeds or pine nuts to the batter, and then sprinkle them over the top of the bread before baking?
The possibilities are as endless as your imagination.
A tip for switching out the cheese:
The only thing I would suggest to you if you're playing around with different cheeses is to taste them before adding them to the batter.
Some hard cheeses have a rather salty taste (in my opinion) so you may want to adjust the addition of salt in the recipe or cut back on the amount of cheese you ultimately use, depending on its flavor.
How to make Italian Herb Quick Bread:
In a medium bowl, stir together the buttermilk (OR milk and apple cider vinegar or lemon juice).

In a large bowl, add the flour, baking soda, salt, basil, oregano, dehydrated onion, and most of the Parmesan cheese.

Whisk the dry ingredients together and add the milk mixture to the dry ingredients.

Stir well until the mixture comes together into a thick, wet, lumpy, paste-like consistency.

Spoon the bread batter into a loaf pan that has been liberally sprayed with cooking spray.

*Important tip – liberally coat a spatula with olive oil to keep the wet batter from sticking to the spatula for when you smooth the batter into the loaf pan.

Using the oiled spatula, spread the batter evenly in the loaf pan.

Top the batter with additional Parmesan cheese.

Bake the bread in a preheated 350-degree oven for approximately 60 minutes, or until the bread is golden in color and a toothpick inserted in the center comes out clean.

Once the bread is fully baked, turn the loaf out onto a cooling rack and allow to cool for at least 30 minutes before slicing.

Enjoy!

Can this savory quick bread be toasted?
You bet!! It's delicious toasted and for sandwiches!
Can this bread be frozen?
Yep!
Wrap it well in a few layers of plastic wrap and it can be frozen for up to 2 months.
Additional quick bread recipes:
"When you want homemade bread, but you don't have the time or patience to wait for the yeast to work its magic, this homemade soda bread with fresh herbs is just the loaf you'll want to make!"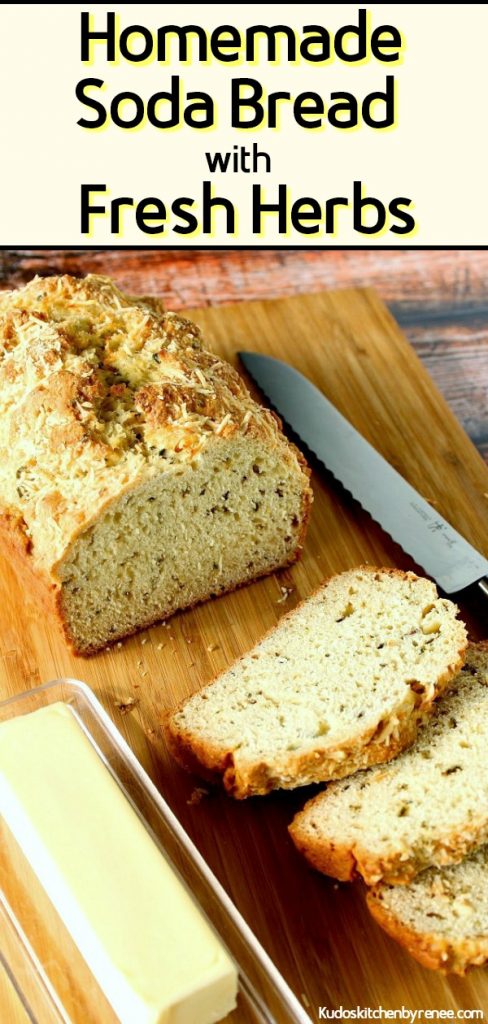 Chocolate Cranberry Quick Bread with Pecans comes together quickly, and it's chock full of creamy, chewy and crunchy ingredients.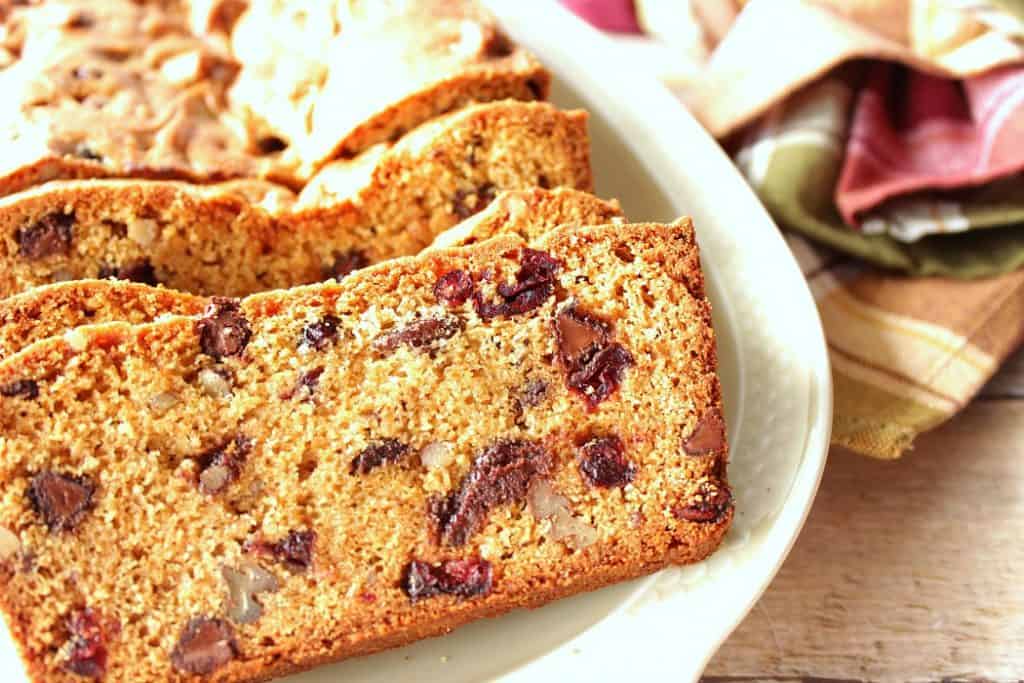 "With no yeast involved, this Cheesy Jalapeno Quick Bread comes together in a snap and packs a punch of undeniable Southwestern flavor."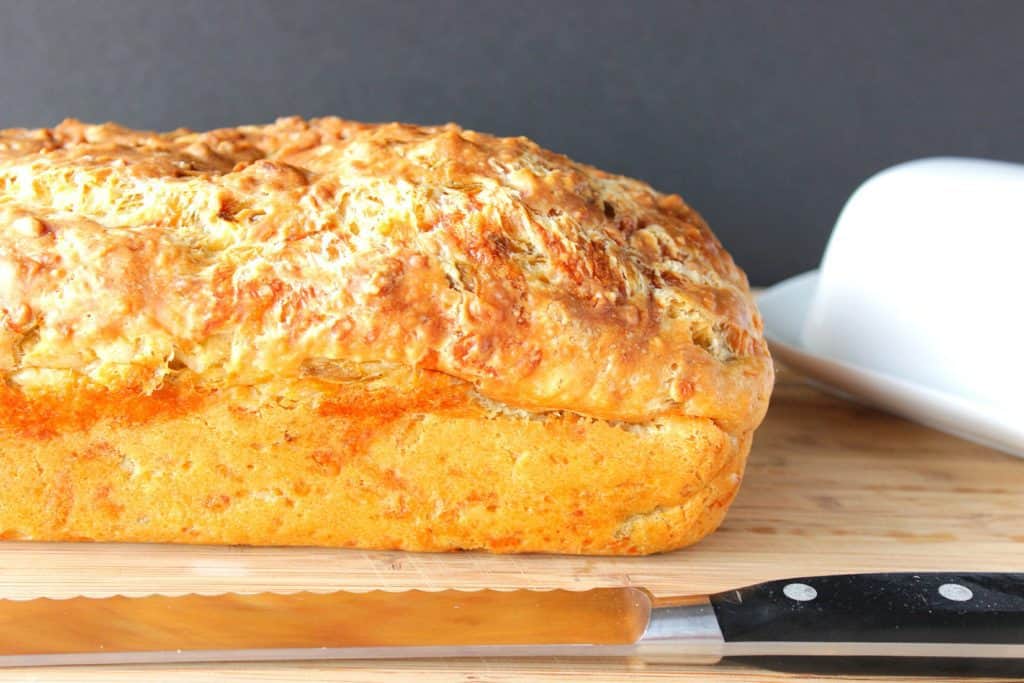 Savory Italian Herb Quick Bread (pictured below) This is the place!!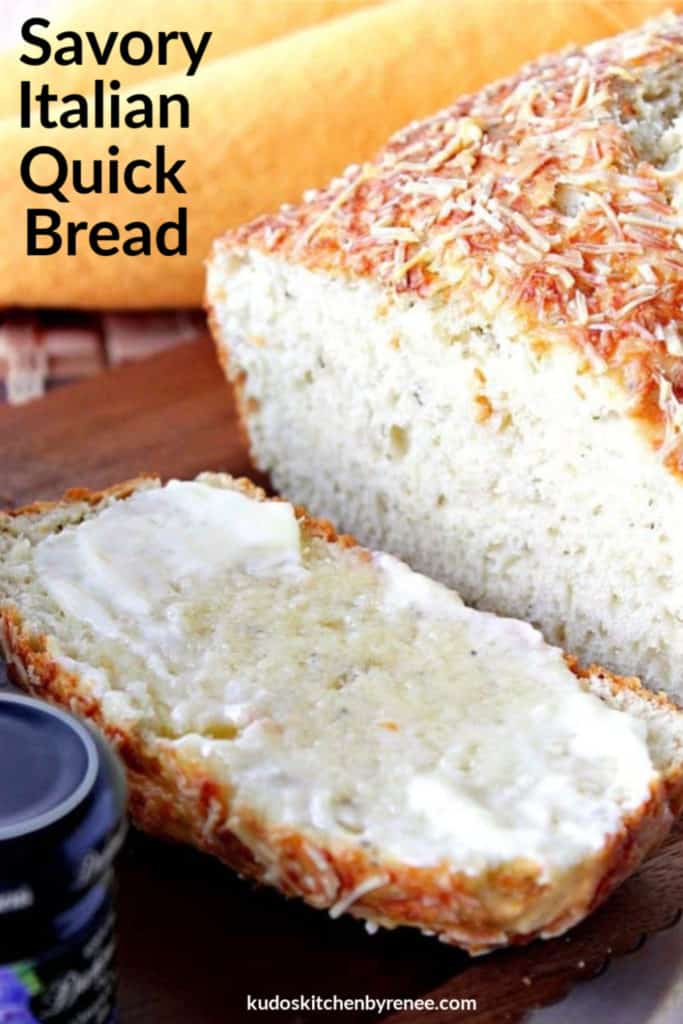 Whether you're working all day on a blue screen device, or in the kitchen, the following affiliate products are ones I can highly recommend to save your eyesight and your sanity.
Below is a photo of my blue blocker computer glasses in action! I swear by them! I work at the computer for what feels like all-day, every-day, and these glasses have relieved a great deal of eye-stress and migraine problems for me.
A neurologist was the one who recommended I get myself some, and it was the best thing he could have told me to do, so now I pass that information on to you!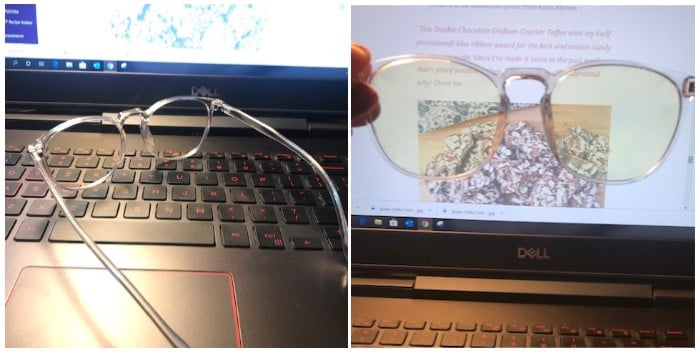 Below is the printable recipe card along with the exact ingredient measurements and nutritional information for making today's No Yeast Italian Herb Quick Bread.
Yield: 16 slices
Italian Herb Parmesan Quick Bread
Italian Herb Parmesan Quick Bread comes together in a snap with only one bowl, one spoon, and no kneading required. Make some today!
Total Time
1 hour
5 minutes
Ingredients
3 1/2 cups all-purpose flour
1 1/4 teaspoons baking soda
1 1/2 teaspoons kosher salt
1 teaspoon dried basil
1 teaspoon dried oregano
1 tablespoon garlic powder
2 tablespoons dehydrated onion
1/4 cup Parmesan cheese, plus 1 tablespoon for topping
2 cups milk, OR buttermilk
2 tablespoons cider vinegar, OMIT IF USING BUTTERMILK
Instructions
Preheat oven to 350 degrees.
To make the buttermilk add the milk and vinegar to a medium size bowl and stir.
If using store bought buttermilk, omit the above step.
Place all of the dry ingredients (except for the cheese to top the bread) into a large bowl and whisk to combine.
Pour in the milk mixture into the flour mixture and stir with a wooden spoon until it's a thick, lumpy and pasty consistency.
Spoon the batter evenly into a loaf pan that has been liberally sprayed with cooking spray.
Top the batter with the remaining Parmesan cheese and bake in a preheated oven for approximately 60 minutes or until the bread is golden brown.
Allow the loaf to cool for 5 minutes and then turn the loaf out onto a cooling rack for at least 30 minutes before slicing and serving.
Notes
Tools and equipment:
1 medium bowl, 1 large bowl, whisk, wooden spoon, 1 loaf pan, cooking spray,
spatula coated with olive oil to prevent sticking
Nutrition Information
Yield
16
Serving Size
1 slice
Amount Per Serving
Calories

125
Total Fat

1g
Saturated Fat

1g
Unsaturated Fat

0g
Cholesterol

3mg
Sodium

344mg
Carbohydrates

23g
Fiber

1g
Sugar

2g
Protein

5g
Thank you so much for visiting me here today in my Kudos Kitchen!
I sincerely hope you've enjoyed this easy recipe for Italian Herb Quick Bread as much as I've enjoyed bringing it to you.
Should you have any questions or comments regarding this recipe or anything else you've seen on my site, please don't hesitate to reach out to me. It is always my distinct pleasure to get back with a reply just as soon as I possibly can!
For more Kudos Kitchen recipe information, please follow me on my social medial channels (listed below), and don't forget to TAG me @kudoskitchen with photos so I can view all your delicious recipe creations! It's exciting for me when you share them, so don't be shy!
Instagram, Pinterest, Facebook, and YouTube
Kudos Kitchen by Renee – BRINGING YOU EASY, ECONOMICAL, AND DELICIOUS DISHES TO FEED YOUR LOVED ONES!
Until we eat again, I hope you have a delicious day!
**Note – The post above includes affiliate links. As always, I truly thank you for your support!
As an Amazon Associate, I earn from qualifying purchases. When I find a great product or service I like to share it with my readers. For additional information please view my privacy policy.