Since we all have to stay inside a while, looking for ways to keep busy may be challenging. I've come up with a list of 25 kid-friendly recipes kids of all ages will enjoy making…and EATING!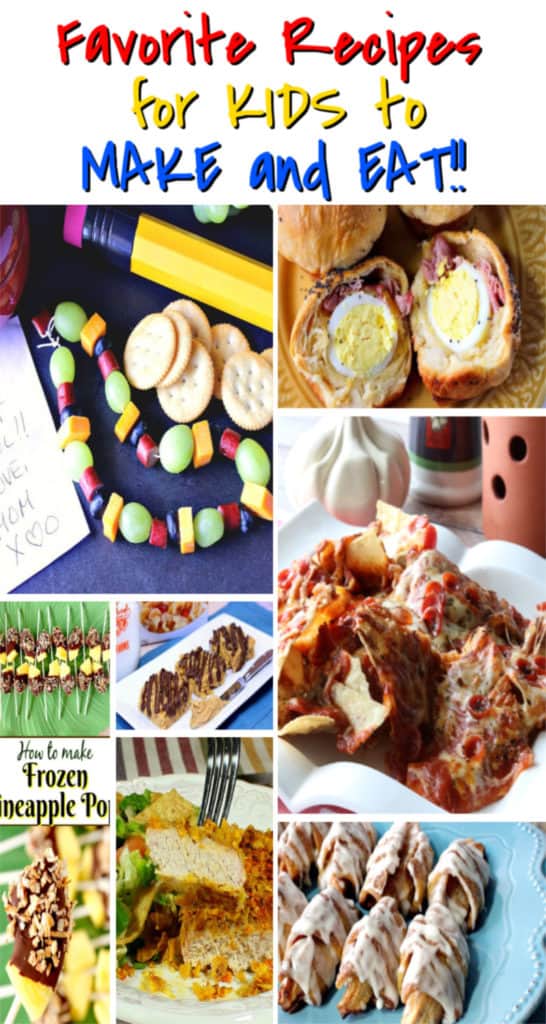 Having fun in the kitchen is what leads to a life-long love of cooking!!
The recipes I've compiled here today are not only delicious and ones the kids will have fun making, but they're also really easy dishes they'll feel proud to serve.
These kid-friendly recipes will give them a great sense of accomplishment, and there's nothing better than that!!
Give them the gift of knowing how to cook:
Get your kids busy in the kitchen. It's time to turn off the t.v. and tune in to kitchen family fun time.
The easy dishes I'm sharing today are for anyone and everyone. Even the littlest hands can help to make these recipes.
After all, teaching kids to feel comfortable making food in the kitchen is one of the best gifts you can give them. It's a skill that will serve them well for the rest of their lives.
Wrangle up the kids and let's get started!
[mv_create key="102" type="list" title="Kid Friendly Recipes for Cooking and Eating!" thumbnail="https://www.kudoskitchenbyrenee.com/wp-content/uploads/2017/11/Eggs-Wrapped-in-Biscuits-final-1.jpg" layout="circles"]
Now, don't forget to teach them that cleaning up after cooking is equally as important as the cooking itself.
There are many ways to turn clean-up into a fun time as long as you take the moment to get creative with your thinking.
How to turn chore-time into fun-time for the kids:
Below are some wonderful resources I think you'll find most valuable.
*Cleaning Games for Kids from Momtastic
*Cleaning Games for Kids from House Beautiful
*Cleaning Games for Kids and Adults from Cleanipedia
*Chore Games from Money Prodigy
*Turn Chores into Games from Homey
I hope you've enjoyed today's roundup post for fun and easy cooking with kid recipes, and will enjoy making them at home with your kids!