A Bagel Tuna Melt is a delicious open-face sandwich with a slightly updated twist on a traditional tuna melt. You're going to want to make this deliciously melty tuna salad sandwich on a regular rotation. It's THAT good!!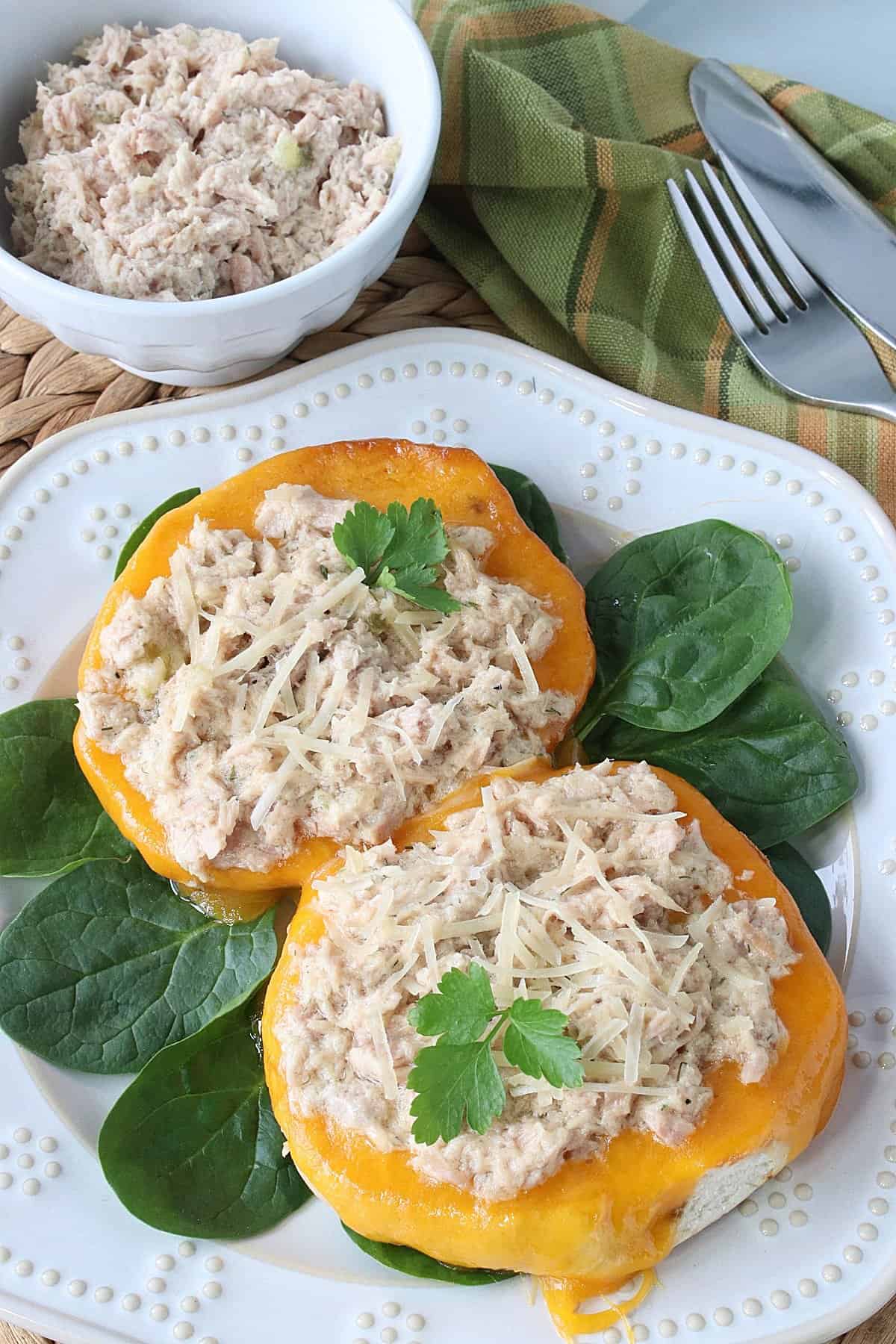 This super easy tuna sandwich with melted cheddar cheese can be made in less than 5 minutes time and is perfect when served for lunch or an easy dinner option.
**Note - The following recipe post or category contains affiliate links (highlighted in blue) for your consideration. By clicking on a link I may earn a small commission at no additional cost to you. Thank you!
Jump to:
The secret's in the sauce
Keep my deliciously versatile Homemade Dill Tartar Sauce in your refrigerator at all times and you'll be ready to whip up this creamy tuna melt sandwich in no time flat!
The ingredient list
*Please note that the exact measurements along with a new "shop the recipe" feature from Instacart is available in the printable recipe card.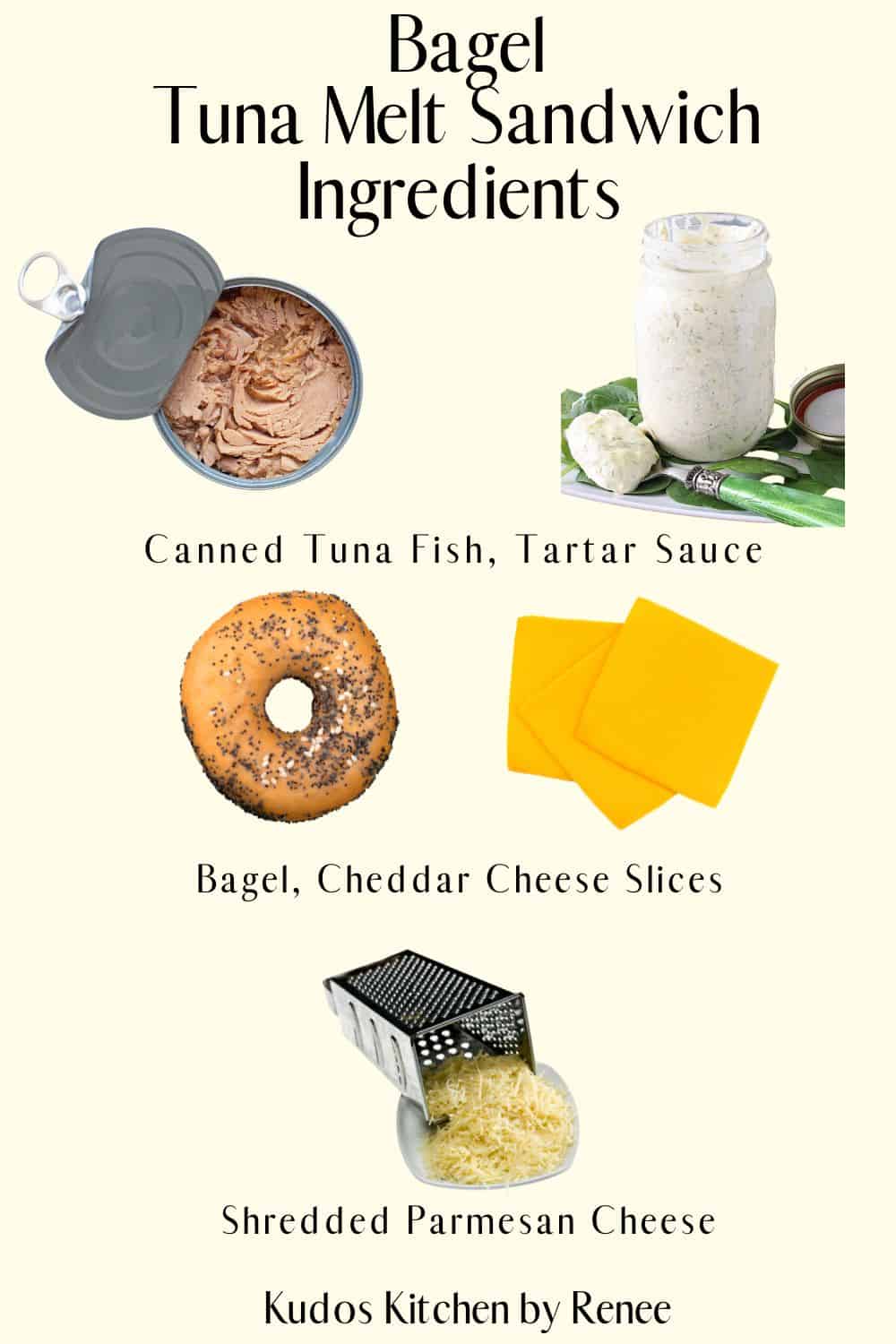 The above ingredient image was made using Canva Design. It's one of my very favorite design tools. You don't need to be a food blogger to use Canva. All you need to be is someone who loves designing graphics. Check them out if you're interested and a whole new world of artistic expression will be opened to you.
Ingredient information
CANNED TUNA - The choice is yours if you want canned tuna packed in oil or water. I used tuna in oil because I wanted the most flavor I could pack into this tuna melt sandwich.
TARTAR SAUCE - I always make tuna salad using the tartar sauce recipe I've been making for 30-plus years. My family has always loved the flavor of my tuna salad, so I won't mess around with my tried-and-true recipe.
Feel free to use your own tartar sauce (store-bought will work, too), but I urge you to try my recipe. It's a winner, takes less than 5 minutes to make, and uses basic refrigerator and pantry staples.
BAGEL - I used an everything bagel for this particular sandwich shown in the photos because those are the ones I like the best. Feel free to use whatever type of bagels you prefer.
CHEDDAR CHEESE SLICES - You can never go wrong when choosing cheddar cheese for a tuna melt. Just make sure your slices are as large as your bagel because you want to make sure you get all the cheesiness that makes a tuna melt, melt!
SHREDDED PARMESAN CHEESE - Why not top the melt with more cheese? I always have Parmesan in the fridge, so it was a no-brainer. Feel free to omit it if needed.
How many tuna melts does this recipe make
I guess that depends on if you call two halves, two sandwiches, or one. In the recipe, I'm calling two, one, so this recipe makes three servings of two each. Who's on first? LOL
How long will tuna salad keep in the fridge
Store the prepared tuna salad in an airtight container in the refrigerator for up to 5 days. I do not recommend freezing the tuna salad because the consistency will change once thawed.
FAQs
What type of tuna fish is best for this recipe
Use your favorite brand of canned tuna fish. Yellowfin and Albacore are both great choices. As stated above, I used tuna packed in oil for this particular melt, but I've also used tuna packed in water for these melts when I want to keep the calories just a wee bit lower.
Can store bought tartar sauce be used?
Yes. Sure. Use what you have, or make your own. I like to make my own tartar sauce, but don't let me stop you from using store-bought tartar sauce if that's what you have on hand or prefer.
Can tuna salad be frozen?
I don't recommend it. Because this recipe is mayonnaise based, when the tuna salad thaws, the texture will be "off," and the sauce will likely split and be oily.
What flavor bagel works best for this sandwich?
Any flavor you wish!
Can a different type of cheese be used for this tuna melt?
Of course.
Additional add-in suggestions
Feel free to add whatever herbs and spices you enjoy most to this tuna melt sandwich. Grated fresh ginger would make an excellent addition, as would chopped capers, pimentos, minced red onion, celery, and of course, citrus zest.
Ingredient substitution suggestions
Feel free to use a vegan mayonnaise instead of the egg-based mayonnaise in this recipe. You can also use a smashed avocado instead of the mayonnaise for a completely different twist on a tuna melt sandwich.
Monterey Jack, Colby Jack, Pepper Jack, Swiss cheese, and American or Provolone cheese slices would all make great substitutions (or additions) to this updated tuna melt sandwich.
Additional sandwich recipes for you
This Fried Eggplant Sandwich is seriously delicious. Golden brown fried eggplant slices are layered between toasted bread with lettuce, tomato, and sautéed green bell pepper. This sandwich is so, so good!! One bite, and you'll be hooked.
In the blink of an eye, and in only the time it takes to cook Italian sausages, you can have a deliciously easy Caprese Sausage Sandwich for dinner tonight!
This copycat German Knockwurst Sandwich is my version of a terrific sausage sandwich I'd had while on vacation in Northern Wisconsin.
What to serve alongside this modern tuna melt bagel sandwich
Roasted Baby Potatoes with garlic and herbs are creamy in the center and golden brown and crispy outside.
Crunchy, healthy, and completely addictive, Sunflower Crunch Kale and Cabbage Salad has it ALL going on!! Dig in! You're going to love this colorful salad!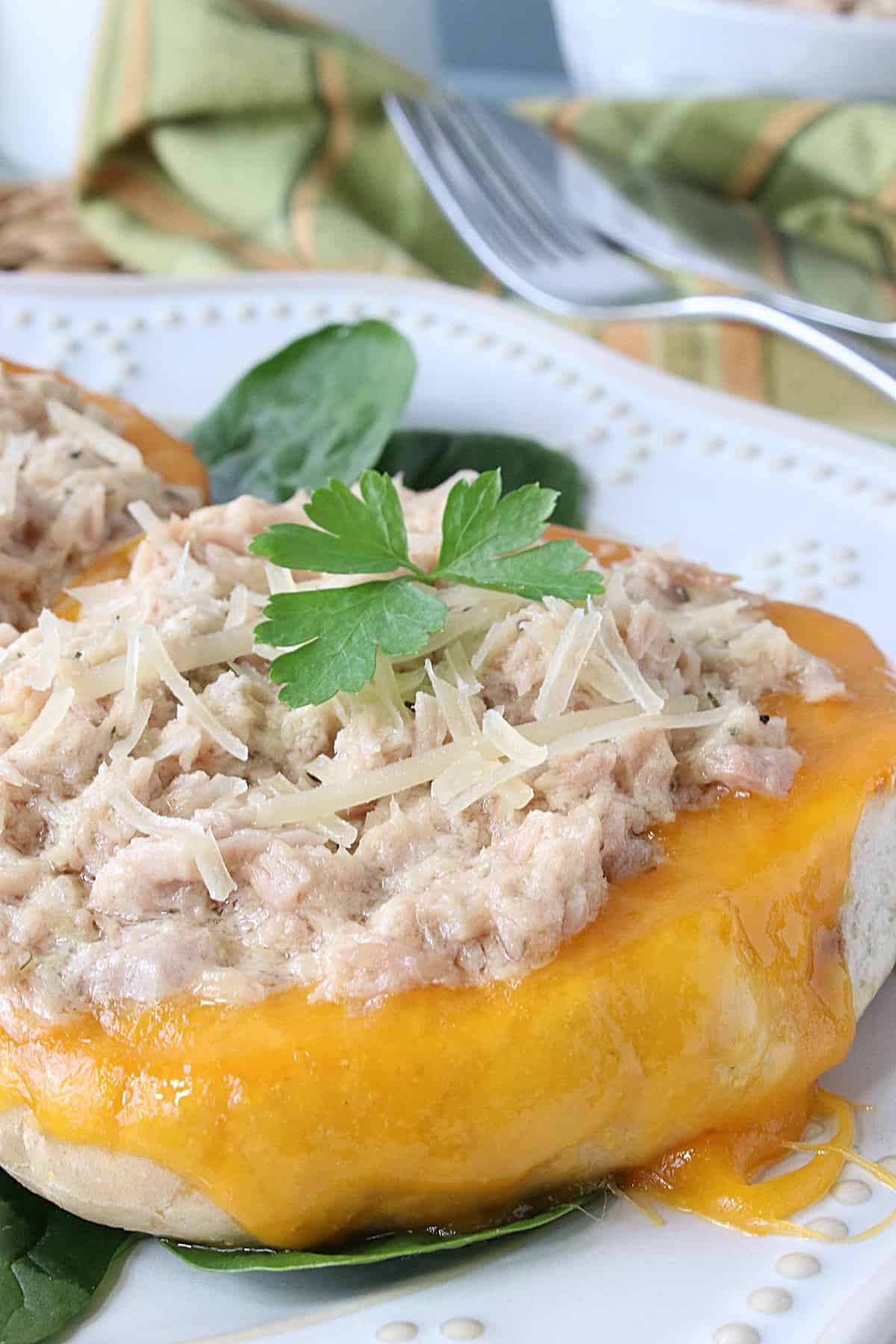 ⭐If you've made this recipe, or are excited to make this recipe, I'd appreciate it if you'd take a moment to leave it a star rating on the recipe card, along with a comment if you're so inclined. Thank you. 🙂
Printable Recipe Card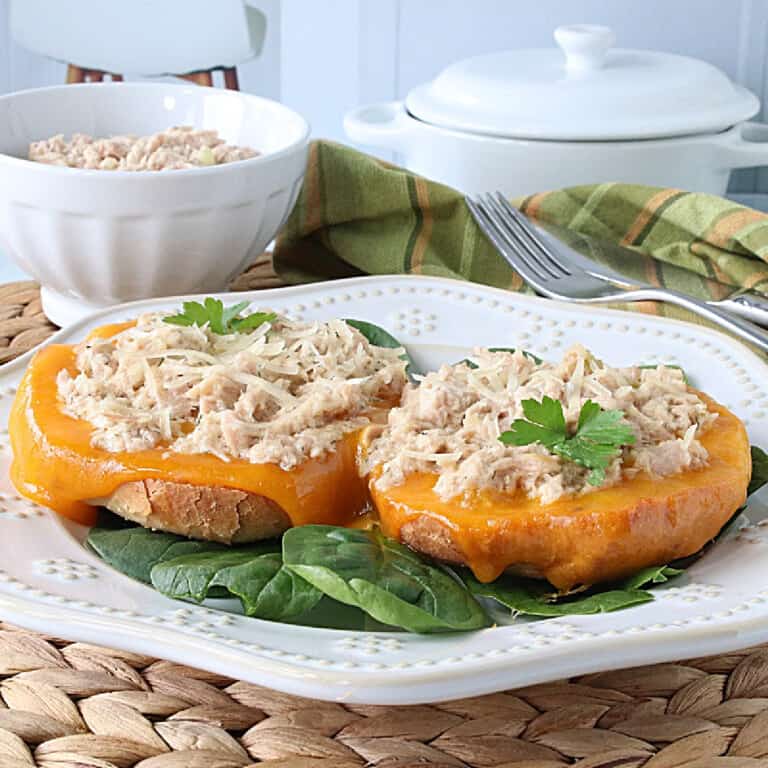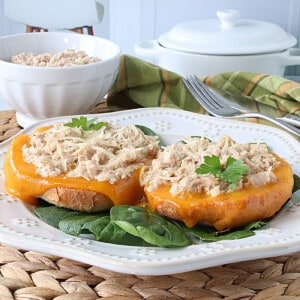 Bagel Tuna Melt Sandwich
Ingredients
3

cans (3 ounces each)

tuna fish

drained

¼

cup

prepared tartar sauce

or to taste

3

large

bagels

sliced in half

6

slices

cheddar cheese

3

tablespoons

grated Parmesan cheese

divided
Instructions
Preheat oven to 350 degrees Fahrenheit.

Place the drained tuna fish and the tartar sauce in a medium-sized bowl and stir well until combined.

Cut the bagels in half and toast until your desired doneness.

Place the bagels onto a baking sheet (cut side up) and place the cheddar cheese slices onto each bagel half.

Add a layer of prepared tuna salad to each bagel with cheese and sprinkle each with the shredded Parmesan cheese.

Place in the preheated oven for 3-5 minutes, or until the cheese has melted.
Notes
The prepared tuna salad may be kept in the refrigerator for up to 5 days in an airtight container.
Tuna in water may be substituted for tuna in oil if desired.
For best consistency, always drain the tuna well before adding additional ingredients.
Nutrition
Serving:
1
Calories:
651
kcal
Carbohydrates:
74
g
Protein:
29
g
Fat:
26
g
Saturated Fat:
12
g
Polyunsaturated Fat:
3
g
Monounsaturated Fat:
5
g
Cholesterol:
62
mg
Sodium:
1282
mg
Potassium:
199
mg
Fiber:
3
g
Sugar:
1
g
Vitamin A:
636
IU
Vitamin C:
0.4
mg
Calcium:
469
mg
Iron:
2
mg
Follow me across my social media platforms and join in on the conversation: FACEBOOK, INSTAGRAM, PINTEREST, TIKTOK, AND YOUTUBE.
I sincerely hope you've enjoyed today's bagel and tuna salad sandwich melt as much as I've enjoyed bringing it to you!
Thank you so much for visiting me today in my Kudos Kitchen. I hope you found something you'll love and that you'll come back and visit me often. There is always room for you around my table!
Should you have any questions or comments regarding anything you've seen here on my blog, please don't hesitate to reach out to me. It is always my distinct pleasure to respond to you just as soon as I possibly can.