When you want a hot, hearty, and healthy meal that takes less than 20 minutes to prepare and will satisfy the entire family, put on a pot of Salsa Soup, and set the table. It will be dinnertime soon!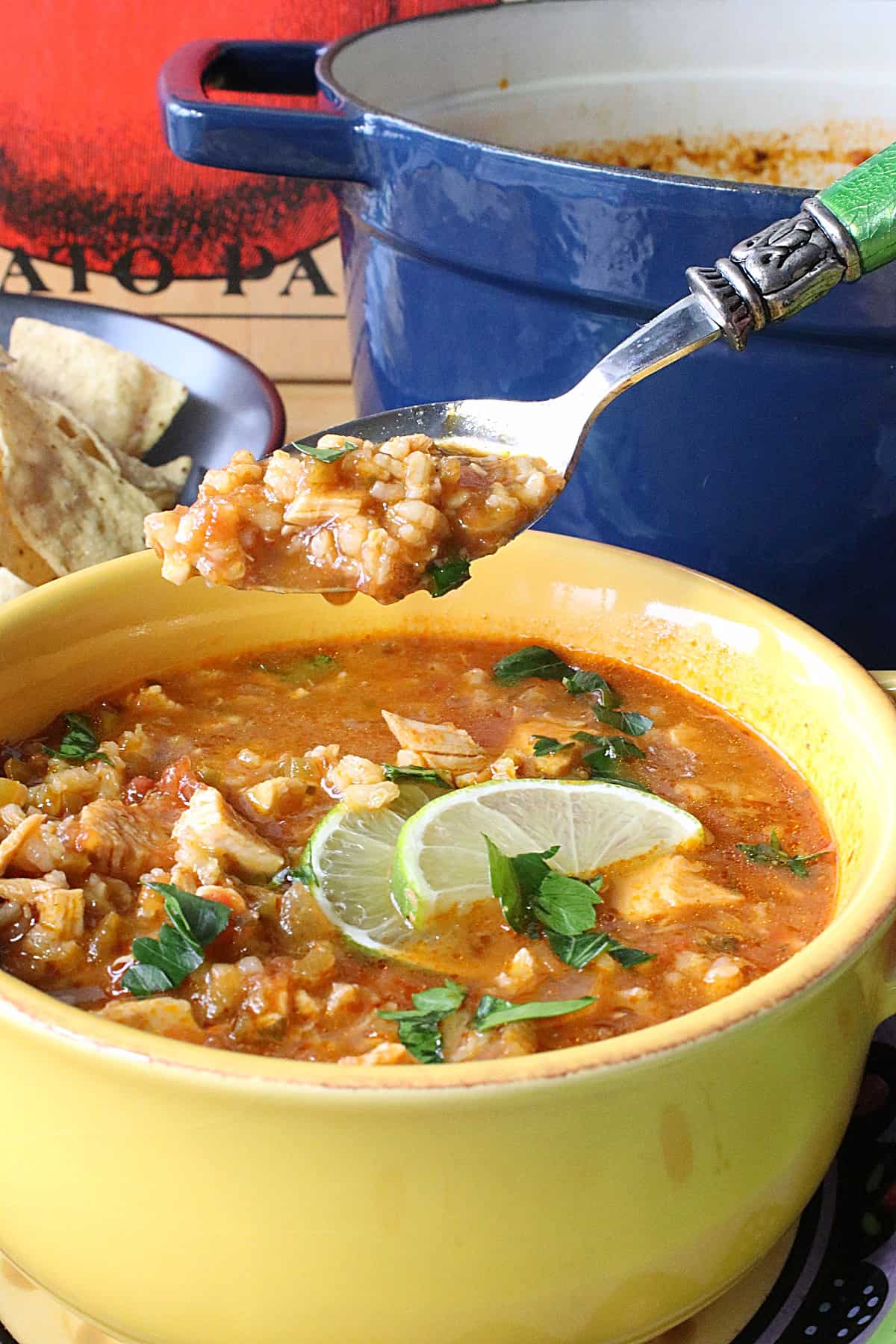 **Note - The following recipe post or category contains affiliate links (highlighted in blue) for your consideration. By clicking on a link I may earn a small commission at no additional cost to you. Thank you!
This Salsa Soup was loosely inspired by another recipe on my site for Salsa BBQ Sauce. The two recipes are very different, but what resonates is that salsa (store-bought or homemade) is so much more than a condiment or dip. It's a full-on ingredient and should be kept on hand at all times.
Jump to:
The ingredient list:
*Please note that the exact measurements along with a new "shop the recipe" feature from Instacart is available in the printable recipe card.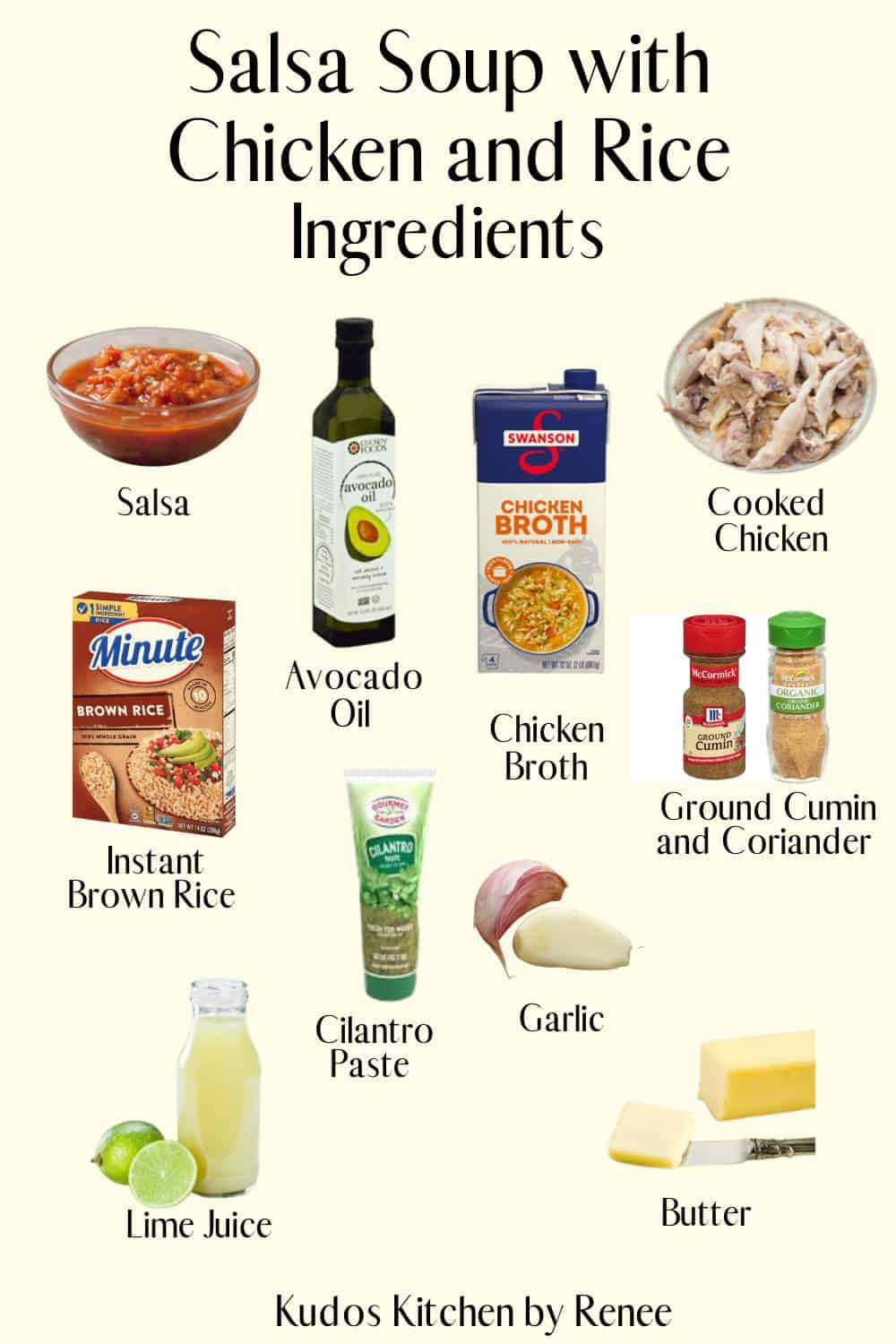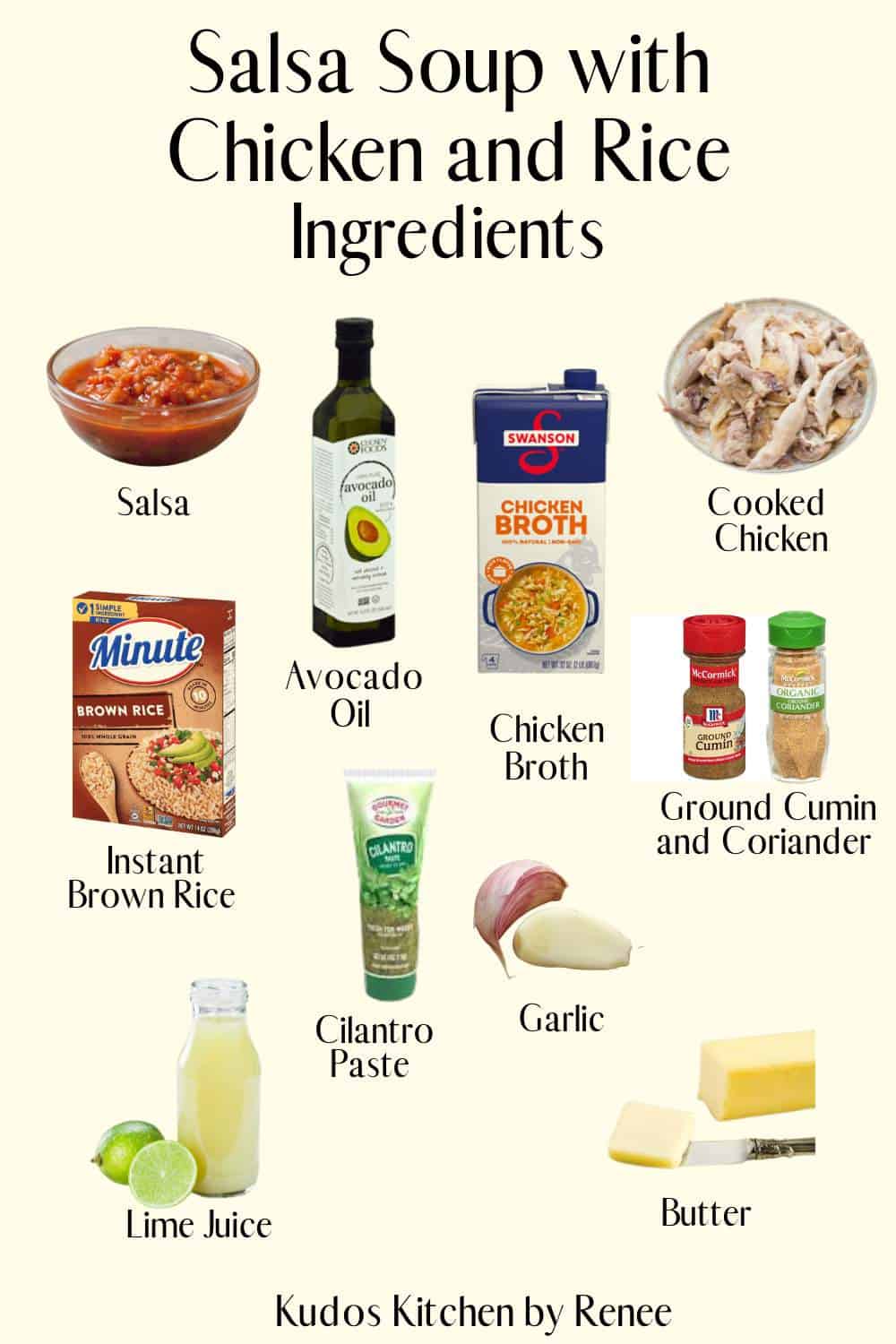 The above ingredient image was made using Canva Design. It's one of my very favorite design tools. You don't need to be a food blogger to use Canva. All you need to be is someone who loves designing graphics. Check them out if you're interested and a whole new world of artistic expression will be opened to you.
Ingredient savvy:
AVOCADO OIL - I love using avocado oil in as many recipes as possible, especially those with a Tex-Mex flair. Avocado oil is not essential in this recipe, but it does lend some vital health benefits that other oils don't.
SALSA - Feel free to use your favorite salsa in this recipe. Store-bought is excellent, but if you make your own, that's even better. I used a store-bought one with a medium heat level. If you like things hot and spicy, feel free to add a hot and spicy salsa. Mild salsa is your best bet if you like things on the milder side.
COOKED CHICKEN - Using already cooked chicken is the quickest way to get this dinner on the table in 20 minutes or less. You can either use leftover chicken, or rotisserie chicken purchased from the store. Roughly 3 cups of diced chicken is all you'll need for a hearty pot of soup that will make 8 - 10 servings.
GROUND CUMIN AND CORIANDER - These two spices will give your salsa soup the Tex-Mex flavor every one loves. The coriander adds a brightness to the completed dish, and the cumin add an earthy flavor that screams Mexican flavor!
LIME JUICE - Fresh is always best. To get the most juice from a fresh lime, make sure to roll it (with moderate pressure) on the counter before slicing and squeezing.
MINCED GARLIC - This ingredient is always subject to taste. I used two cloves of minced garlic in this quick-cooking chicken and tomato soup, but feel free to add more, or don't use any, if that is your preference.
BUTTER - I use salted butter in this recipe but feel free to use unsalted if that's what you have on hand. If using a European-style butter containing salt, reduce the amount of salt called for in this recipe to ½ teaspoon.
INSTANT BROWN RICE - Feel free to use your favorite brand, or feel free to use instant white rice if that's what you have on hand. It's all about bulking up the soup to make it heartier, and to give the spoon an additional gripping method of hanging onto the soup. You can forgo this ingredient altogether if you wish, or swap out some tiny cooked pasta, or even cooked quinoa.
CILANTRO PASTE - I like to use fresh cilantro in the summer because it grows so well in my garden. In the winter, however, when I purchase it fresh, I can't seem to use it quick enough, and it always spoils. Enter, cilantro paste. It keeps for months in the refrigerator and offers a fresh flavor that wins my approval as an ingredient whenever I'm in a pinch.
How this recipe came to be:
This recipe came about because my husband LOVES his chips and salsa. He eats them religiously while watching his beloved Bears play football on Sundays.
Because of this, we always seem to have half-eaten jars of salsa in the fridge. I devised a recipe to utilize those half-filled jars of salsa into a complete meal. The result is a deliciously quick soup I know you'll love as much as we do!
The easy instructions:
1. Heat the cooked chicken in a large stockpot (or Dutch oven) over medium heat, with avocado oil, garlic, ground cumin, and coriander.
2. Add 38 ounces of prepared (or homemade salsa).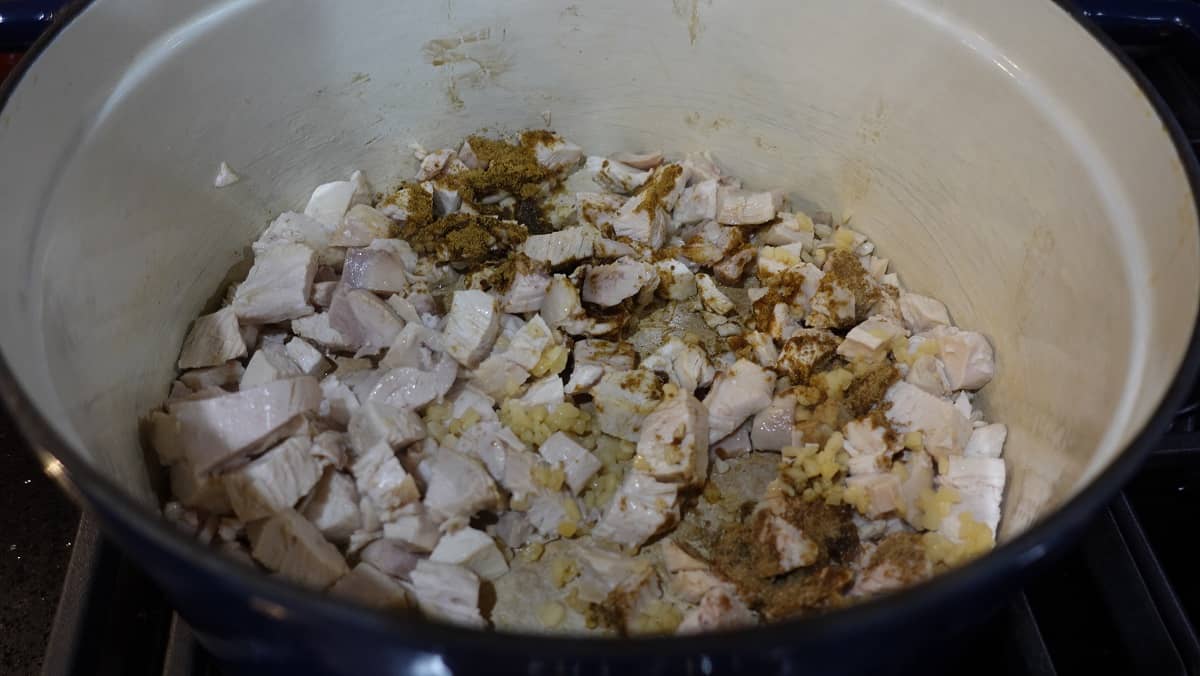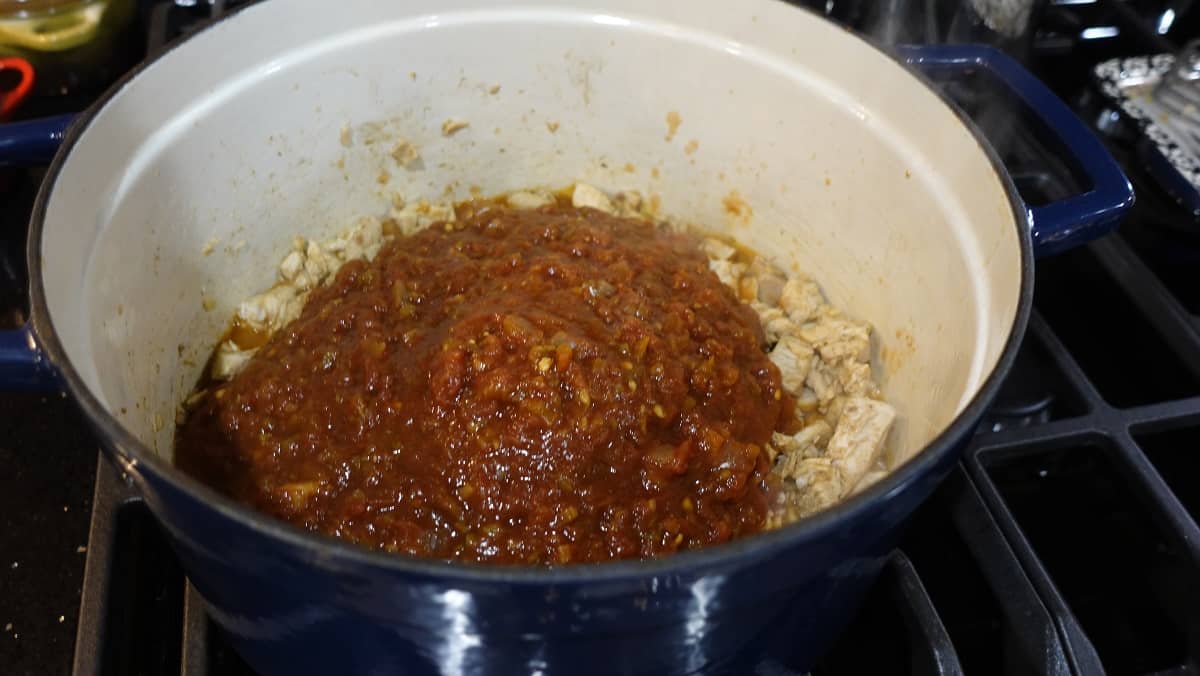 3. Add 2 cups of chicken broth,
4. and 2 tablespoons of butter (I use salted).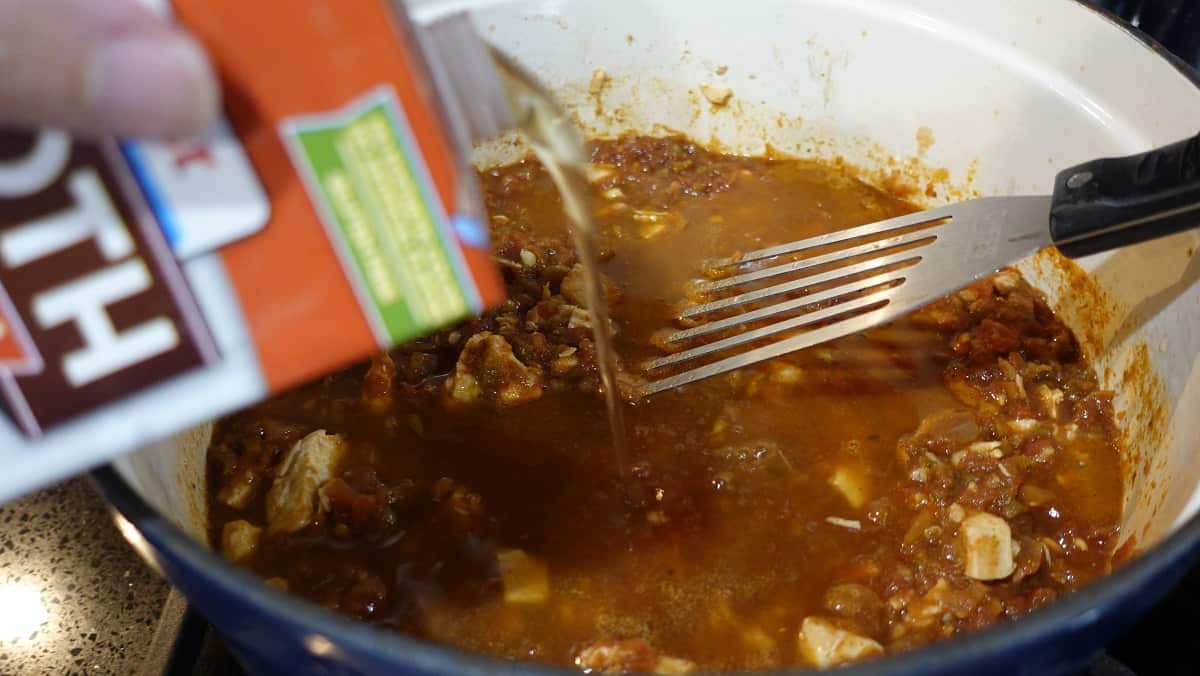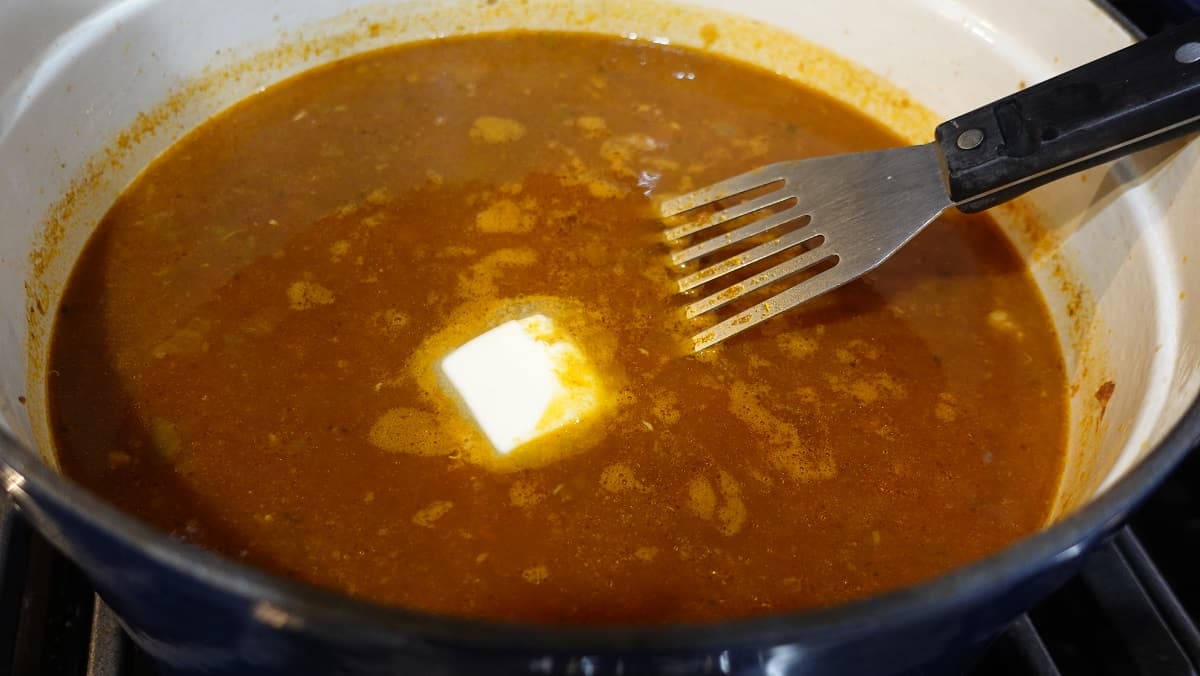 5. Time to add 1½ cups of instant brown rice,
6. 1 tablespoon of cilantro paste,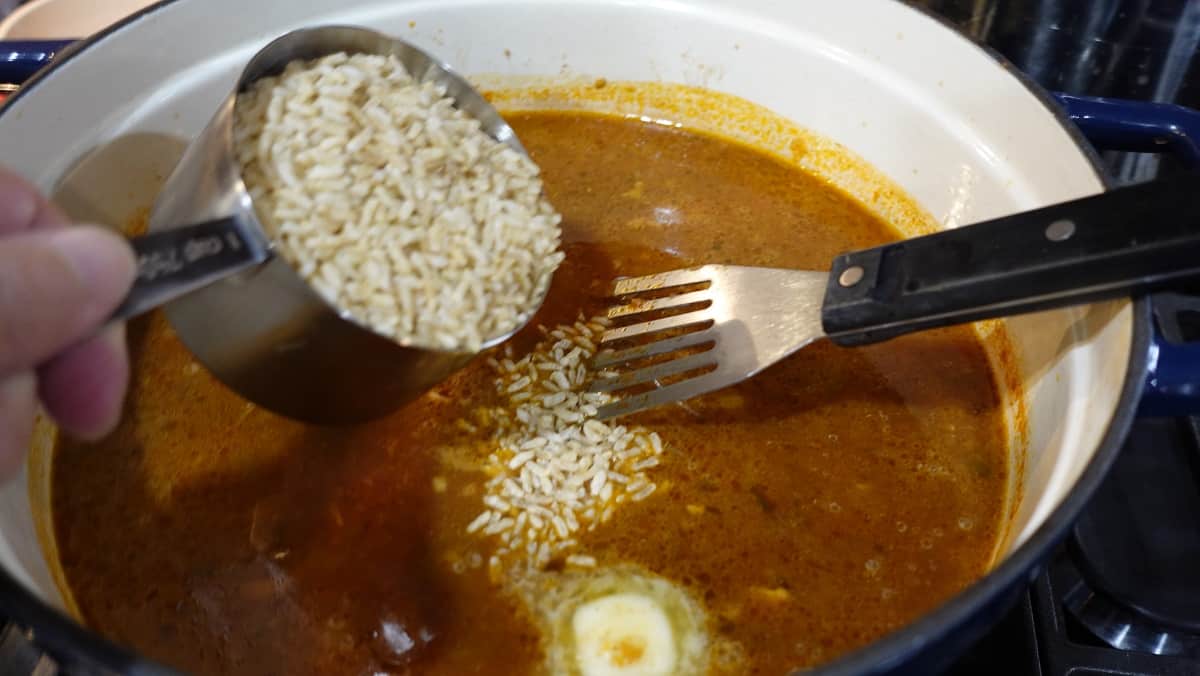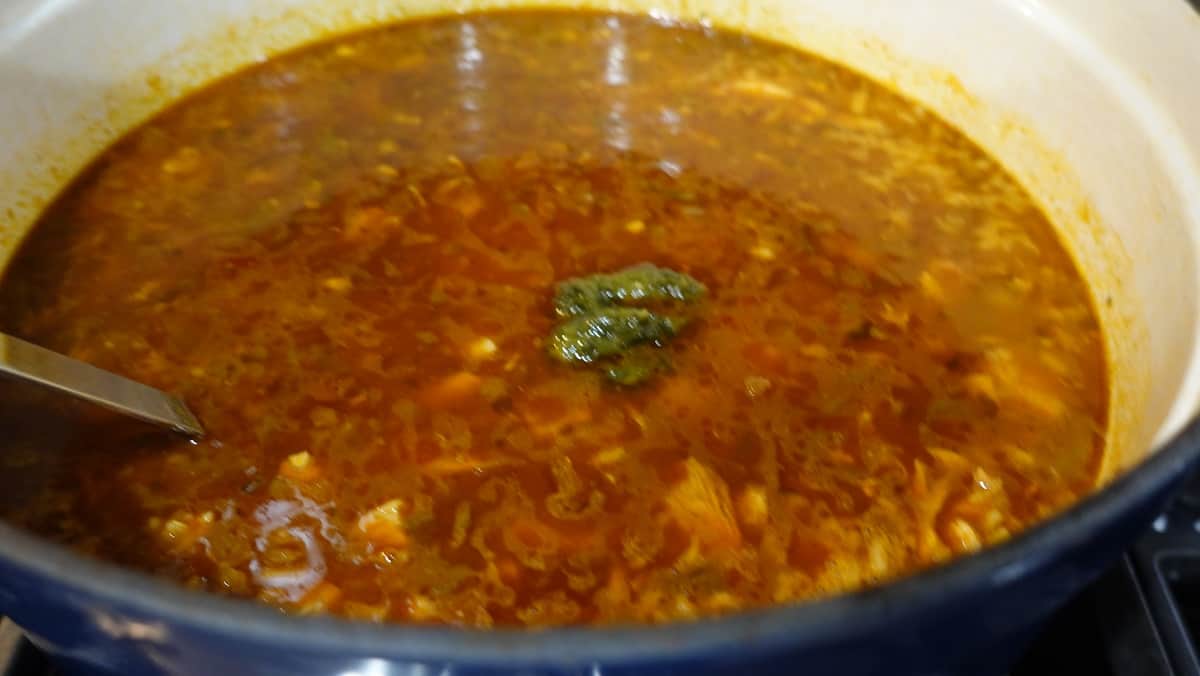 7. and 1 tablespoon of fresh lime juice. Stir well.
8. Cover and simmer for 10 minutes.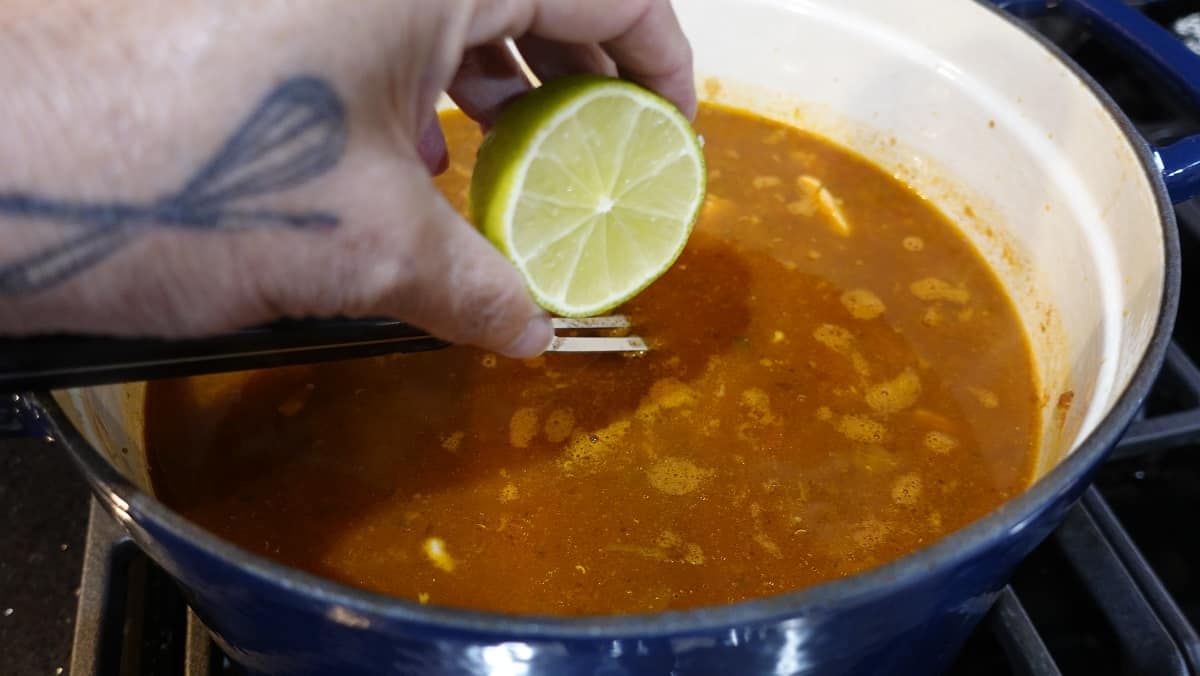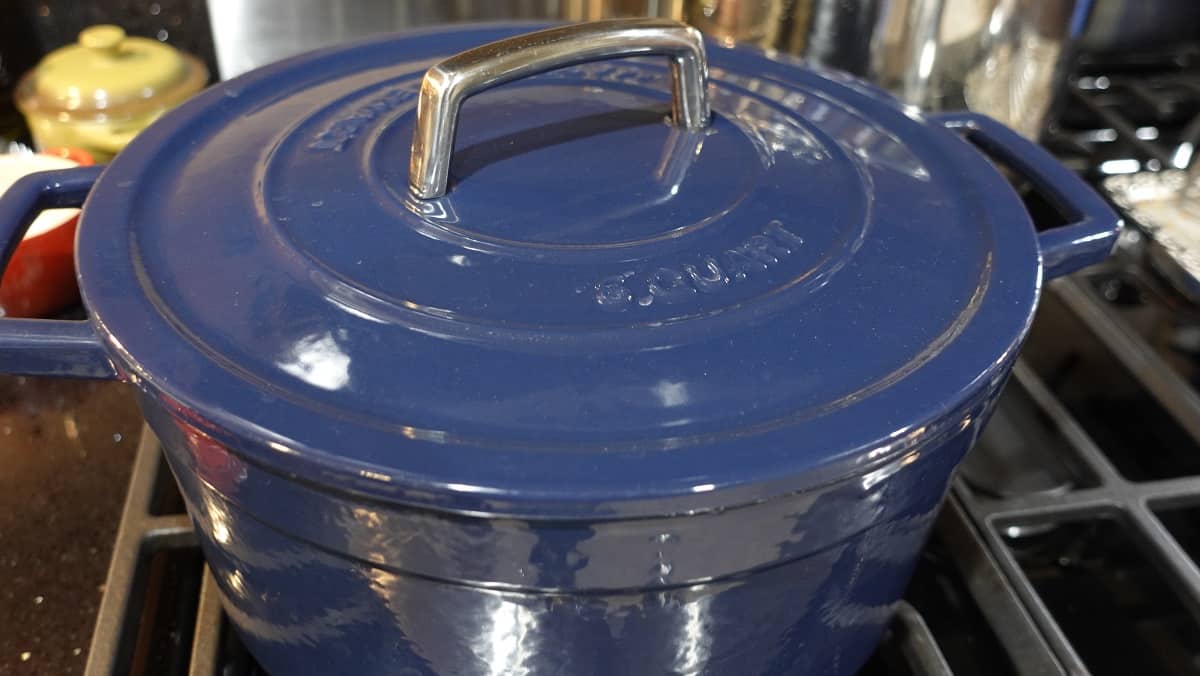 9. Ladle the soup into serving bowls.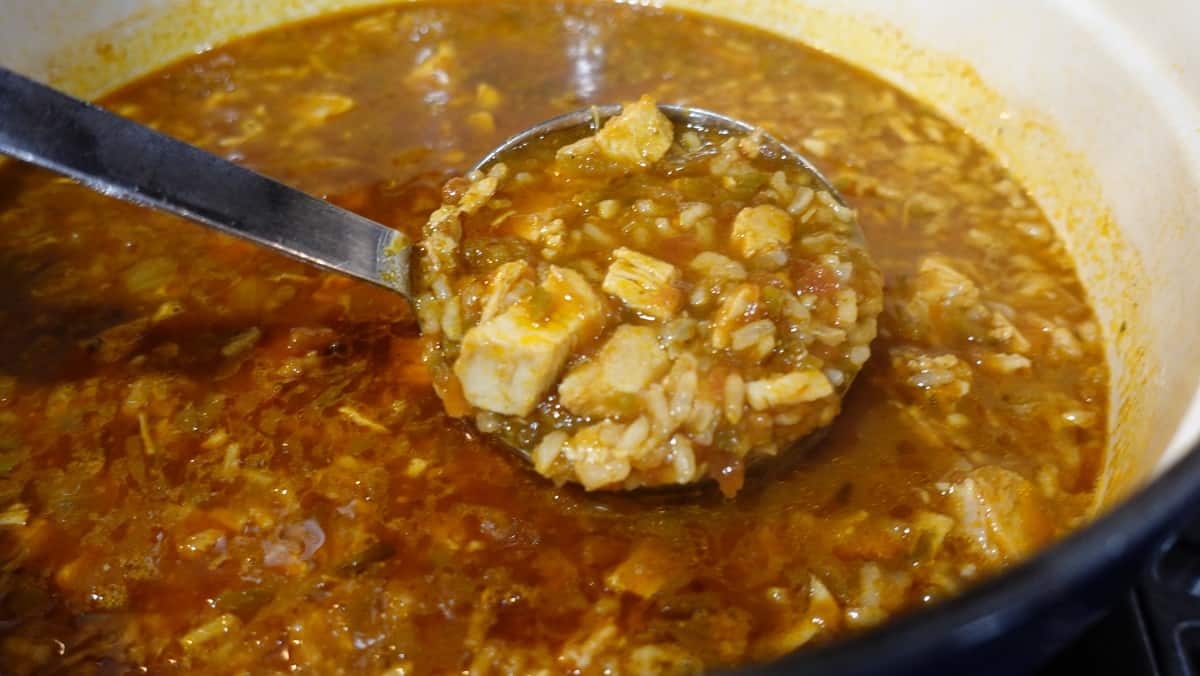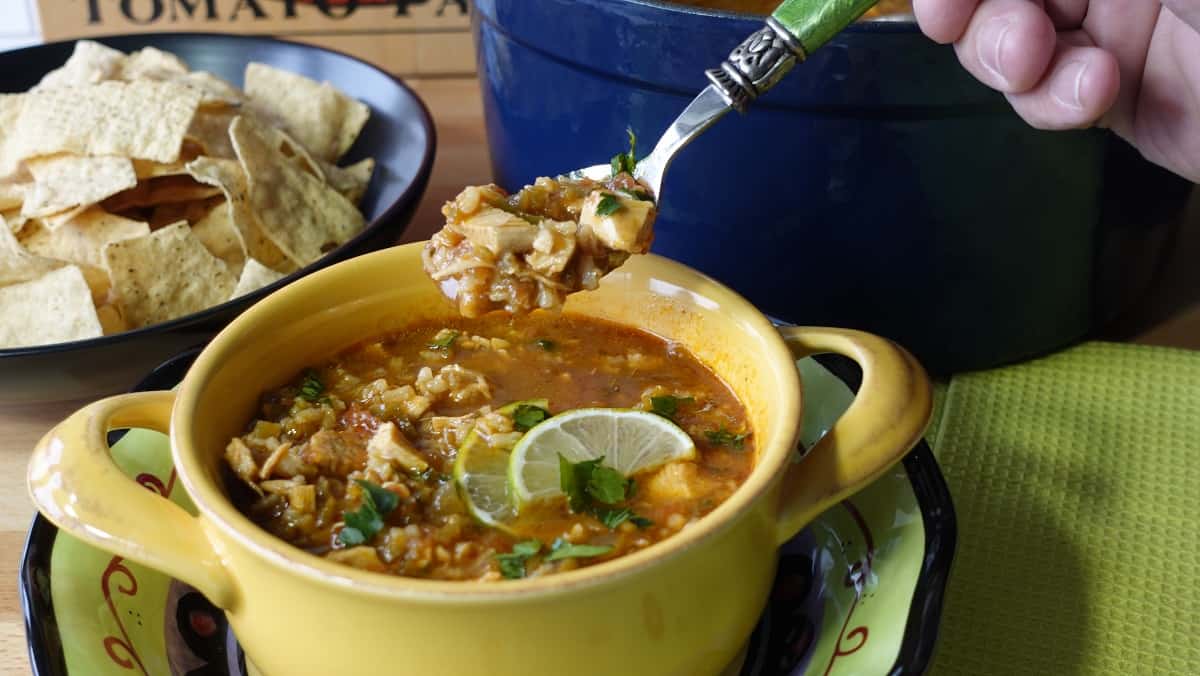 Swap out suggestions:
Don't want to add chicken? No problem. You can easily make this soup without any meat at all. To then make it a totally vegetarian meal, use vegetable broth in place of the chicken stock and enjoy!
Because this soup is meant to be quick to cook, I used instant rice. I enjoy brown rice but feel free to swap out white rice or even quinoa for an extra protein boost.
Don't have avocado oil? Not to worry. An olive oil or even a canola or vegetable oil will work. Avocado oil is basically used as a flavor and a heart-healthy nutritional booster. Only a little oil is used in this recipe.
Want to use ground beef instead of chicken? No problem. Brown lean the ground beef in the pot before adding the additional ingredients. Of course, the soup will take a little longer to make (and have extra calories), but the flavor will be delicious.
Cooked sausage would also be delicious. Be creative. It's your recipe now.
FAQs
Does this soup freeze well?
You bet! It freezes like a dream.

Add the cooled soup to an airtight freezer container and freeze for up to 4 months. Thaw in the refrigerator and reheat on the stovetop or in the microwave.
Can this soup be made vegetarian?
Yes. As mentioned above leave the cooked chicken out and swap out vegetable broth in place of the chicken broth.
Can this tomato salsa soup be made in a instant pot or slow cooker?
Yes, on both counts, but it's so quick to make on the stovetop that using an instant pot seems unnecessary.

To make it in a slow cooker, add all the ingredients, stir well and set the cooker to 2 hours on low or until the soup is hot.
How long can this soup be stored in the refrigerator?
If stored in an airtight container, this soup will last at least 5 days.
Topping suggestions:
diced avocado
sour cream
shredded cheese
corn chips
diced red onion
chopped scallions
tortilla strips
lime slices
chopped cilantro
chopped parsley
croutons
Make it a meal:
Buttermilk Green Chile Cornbread is always a huge hit because of its tender texture! It's slightly sweet, slightly smoky, and 100% delicious!
This Italian Herb Quick Bread comes together in a snap with only one bowl, one spoon, and no kneading required.
This Kale Salad with Berries is a deliciously healthy side dish that takes only minutes to prepare. It's chock full of Mother Nature's healthiest ingredients and then topped with a homemade vinaigrette which has just the right amount of tang to complement the hearty kale.
Golden Almond Cake with Fresh Blueberry Orange Compote is keto-friendly, gluten-free, sugar-free, and low-carb. It's simply delicious! Just ask my husband!
When you want to feel like you're indulging in something rich and sinful, but you're really not, then a Frozen Greek Yogurt Banana Split is where it's at!
Additional recipes featuring salsa:
This easy and delicious skillet Sloppy Joe recipe comes together quickly and with some pretty basic ingredients. If you love sloppy Joes, then you're going to go crazy for Salsa Sloppy Joe's.
Shredded Salsa Chicken made in an Instant Pot is a low-carb, fast, no-fuss dinner option that takes only moments to assemble and minutes to cook. Dinner will be on the table almost as fast as you can say "Winner, winner, shredded salsa chicken for dinner!
Serve this Black-Eyed Pea Salsa on New Year's day and your year ahead will be filled with good luck, good health, and great taste!
⭐If you've made this recipe, or are excited to make this recipe, I'd appreciate it if you'd take a moment to leave it a star rating on the recipe card, along with a comment of why you rated as you did.
Google loves ratings and will show my recipes to more people if they have them. Thank you. 🙂
Printable Recipe Card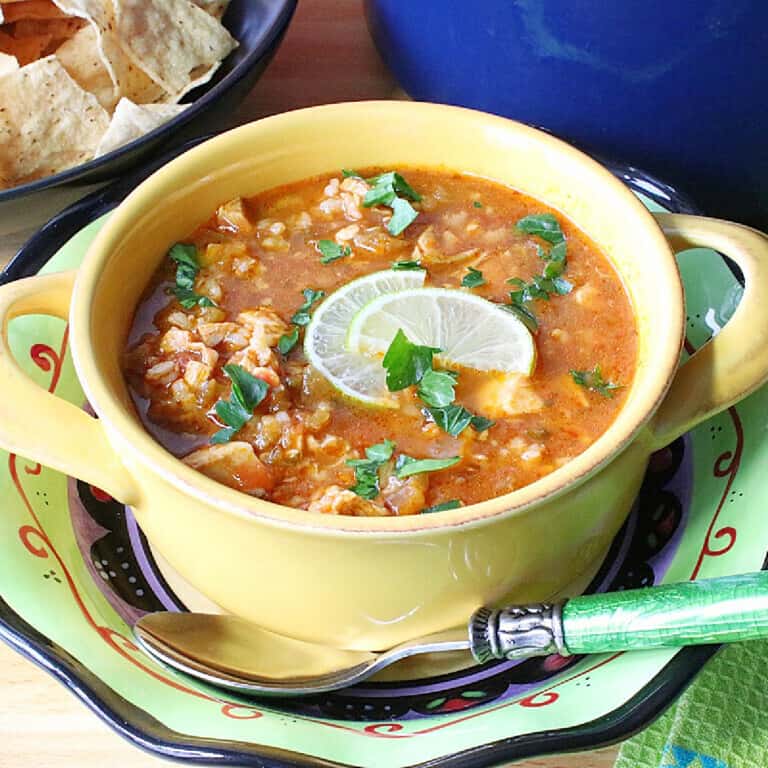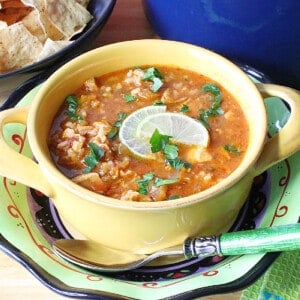 Salsa Soup with Chicken and Rice
When you want a hot, hearty, and healthy meal that takes less than 20 minutes to prepare and will satisfy the entire family, put on a pot of Salsa Soup, and set the table. It will be dinnertime soon!
Ingredients
1

tablespoon

avocado oil

3

cups

chicken, chopped

leftovers or rotisserie chicken works great

2

cloves

garlic

minced

1

teaspoon

ground cumin

1

teaspoon

ground coriander

1

teaspoon

kosher salt

38

ounces

salsa

store-bought or homemade

2

cups

chicken broth

low sodium preferred

1

tablespoon

lime juice

2

tablespoons

butter

1

tablespoon

cilantro paste

or fresh chopped cilantro

1½

cups

instant brown rice
Instructions
Add the avocado oil to a large soup pot or Dutch oven over medium heat. Add the chicken meat, salt, cumin, coriander, and garlic. Stir and cook for 1-2 minutes.

Add the salsa and chicken broth to the pot. Stir well to combine.

Add the lime juice, butter, cilantro paste and instant brown rice. Stir well.

Cover and simmer on the stovetop for 10 minutes.

Ladle into soup bowls and top with your favorite toppings.
Notes
Once cooled, store any leftovers in an airtight freezer container and freeze for up to 4 months.
Leftovers may be refrigerated for up to 5 days.
Reheat in the microwave or on the stovetop.
Nutrition
Serving:
1
serving
Calories:
559
kcal
Carbohydrates:
15
g
Protein:
2
g
Fat:
55
g
Saturated Fat:
17
g
Polyunsaturated Fat:
11
g
Monounsaturated Fat:
24
g
Trans Fat:
0.1
g
Cholesterol:
49
mg
Sodium:
945
mg
Potassium:
249
mg
Fiber:
2
g
Sugar:
4
g
Vitamin A:
496
IU
Vitamin C:
2
mg
Calcium:
33
mg
Iron:
1
mg
Thank you so much for visiting me today in my Kudos Kitchen. I hope you found something you'll love and that you'll come back and visit me often. There is always room for you around my table!
Should you have any questions or comments regarding anything you've seen here on my blog, please don't hesitate to reach out to me. It is always my distinct pleasure to respond to you just as soon as I possibly can.