Strawberry Sriracha BBQ Sauce is fruity with a touch of heat. It's perfect for pork, chicken, and even fish.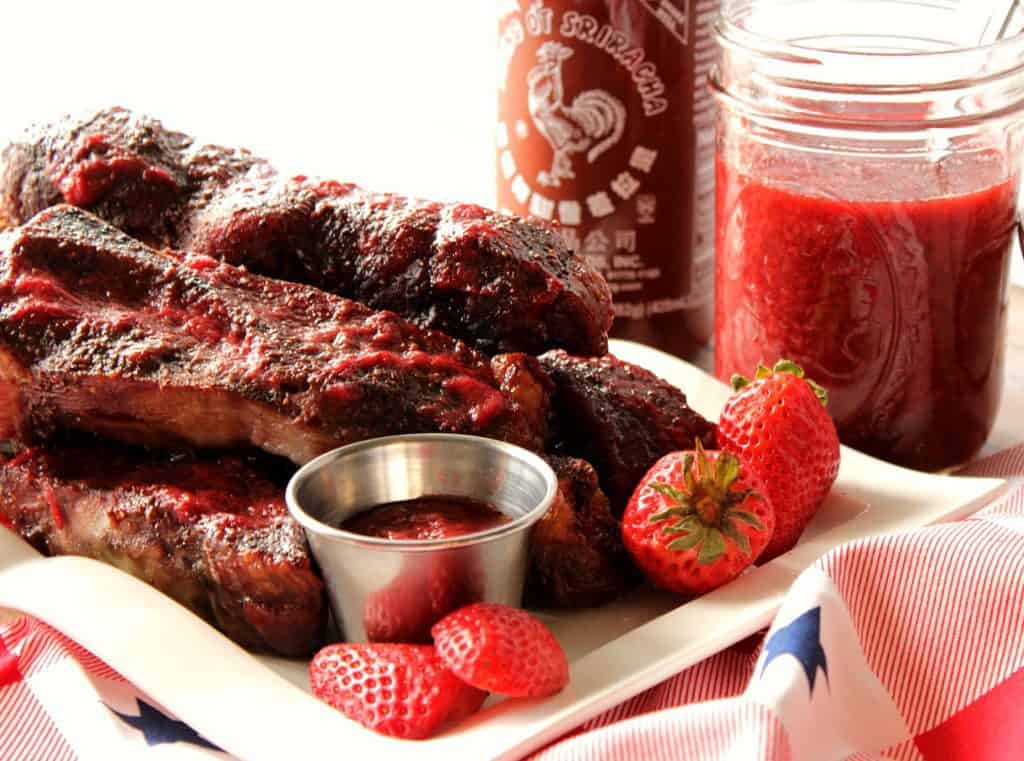 Welcome to day two of "Berry Week" here at Kudos Kitchen. The recipe for Strawberry Sriracha BBQ Sauce that I'm sharing with you today is one that was born out of necessity. The problem of having too many strawberries in the fridge and not knowing when they'd all get eaten without spoiling led me to this tasty brainstorm.
This is an updated post. The original date I shared this recipe was July of 2016. Since then (May of 2017) I've produced a new food video showing the process of making this Strawberry Sriracha BBQ Sauce. To be honest, this recipe has been on my mind ever since I first made this sauce because it is amazing! This time when I made it I added it to chicken and. let me tell you, it lives up to everything I said about it in the first place…only more!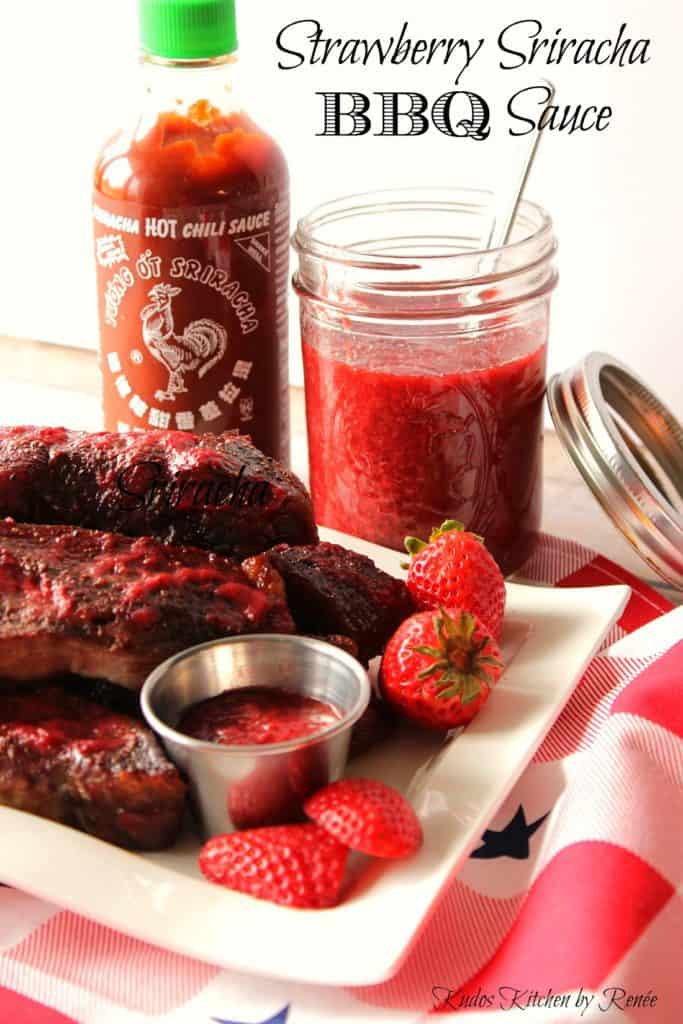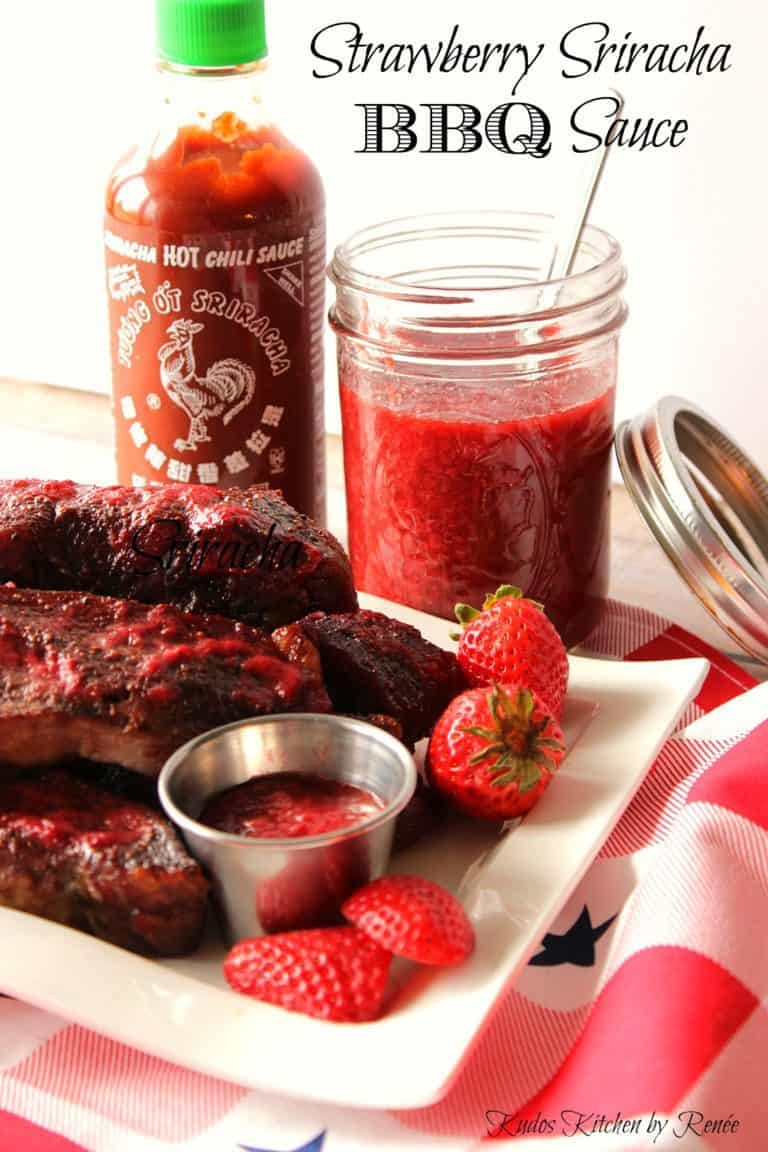 The day I made this sauce my mom was over for a visit. When I told her I was planning on making Strawberry BBQ sauce, I think she thought I was crazy. I thought I might be crazy too, but sometimes you just have to follow your gut and take a leap of faith.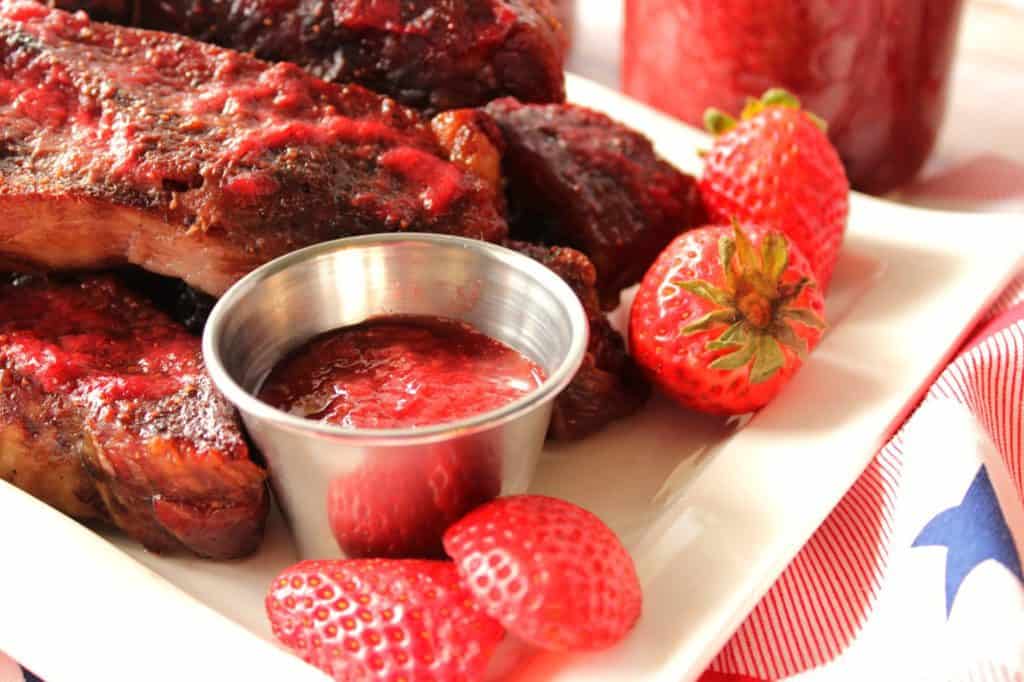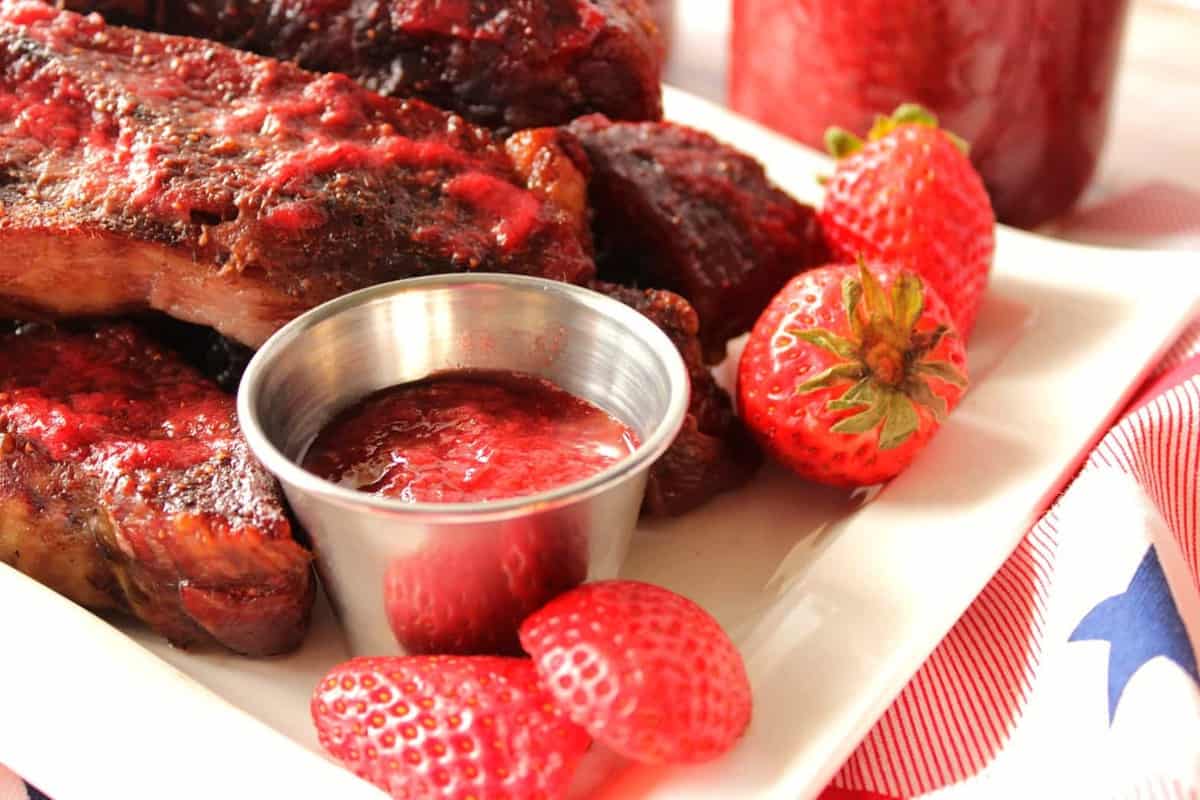 That day in the kitchen with my mom, the sauce came out good, but I knew it could be improved upon. A few short days later I purchased more strawberries and decided to play a little with the ingredients. Instead of using balsamic vinegar, I used apple cider vinegar. Instead of using honey, I used brown sugar. And, to punch up the flavor just a wee bit more, I squirted in a little sriracha to finish it off. Bingo! That's exactly what the sauce needed to take it from good to great, and just in time for grilling season!
Hull and chop 2 pounds of strawberries. Place them in a saucepan with a little water. Simmer on medium/low…
…until the strawberries are softened (about 15 minutes). Stir in the brown sugar and apple cider vinegar. Simmer for an additional 15 minutes for the sauce to thicken and reduce.
Remove from heat and mash the berries lightly to still leave a bit of consistency. Stir in the sriracha and cool slightly before adding it to a glass jar or bowl. Cover and refrigerate for up to 10 days.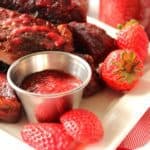 Fresh & Zippy Strawberry Sriracha BBQ Sauce Recipe & Video
Ingredients
2

quarts

fresh strawberries

washed, hulled and cut into halves and quarters

3

tablespoons

water

4

tablespoons

cider vinegar

4

tablespoons

packed brown sugar

pinch

salt

1

tablespoon

sriracha sauce

more if you like it really hot
Instructions
Place the cut strawberries into a medium saucepan.

Add water, vinegar, brown sugar and salt.

Simmer over medium heat for 20-25 minutes, stirring occasionally.

Add the sriracha sauce to the cooked down strawberries and mash to your desired consistency.

Cool the sauce and place in a jar with a tight fitting lid.

Use the sauce on beef, pork and even seafood.

Keep refrigerated for up to 10 days.
Recipe Notes
Tools and equipment:
medium saucepan
wooden spoon
cutting board and paring knife
measuring spoons
jar with lid
potato masher
When I made this sauce, I had pork ribs on my mind. However, I'm sure this would taste equally good on grilled chicken, and even fish. Don't be afraid to experiment. However, if you have any questions, don't be afraid to ask away in the comment section. I'm always here to answer any questions you may have, and I'm always happy to do so. 🙂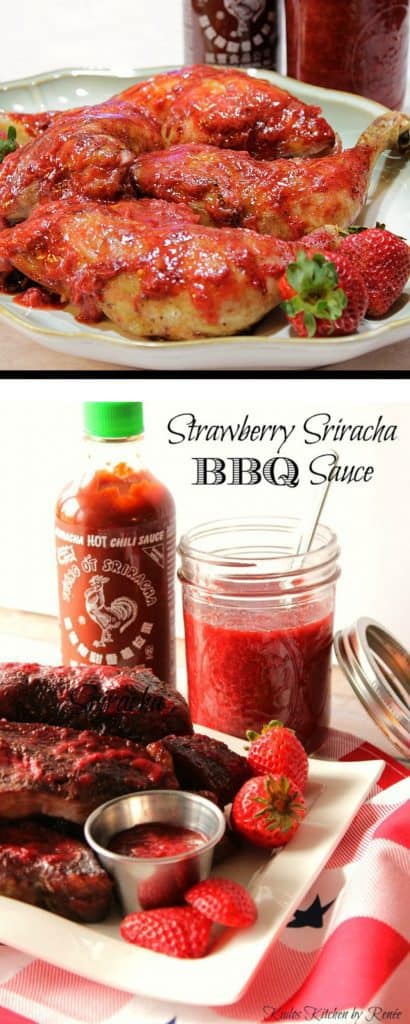 Cheers to a great Strawberry Sriracha BBQ sauce, and also to some really cute hand painted chocolate strawberry inspired champagne flutes. Think about using them for all sorts of celebrations (wedding season) when you want to toast your sweetheart with something special.
All of my hand painted glassware items are completely dishwasher and microwave safe, and non-toxic. However, with a glass a delicate as a champagne flute, please hand wash only. I love custom, special requests and always welcome them. If there is ever anything I can paint for you, please don't hesitate to contact me for a quote, or visit one of my shop : Wazala. I also paint fabrics (aprons and tea towels) which are totally machine washable and painted with bright, vivid colors. What can I paint for you?
Kudos Kitchen by Renée ~ Where food, art, and fun collide each and every day!
Until we eat again, I hope you have a delicious day!