Red, White, & Blue Dessert Nachos are a patriotic sweet treat your family and friends will rave about. Homemade cinnamon sugar tortilla chips are generously topped with red and blue seasonal berries, a white chocolate drizzle, and sweetened coconut.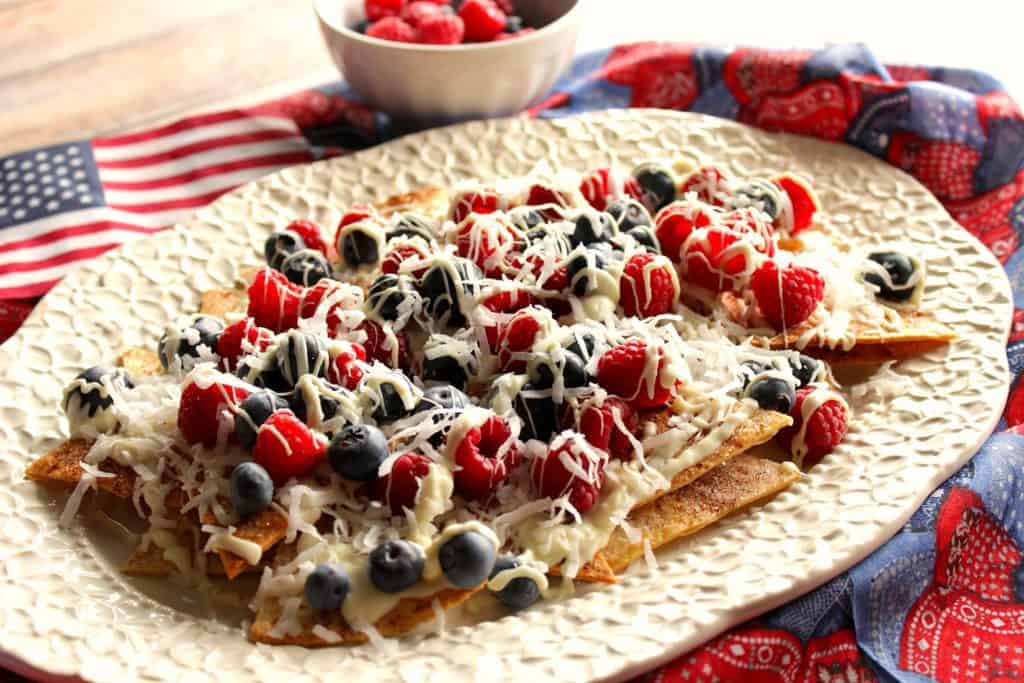 Welcome to day three of "Berry Week" here at Kudos Kitchen, and it's only fitting that I end the week on a sweet note with these Red, White, & Blue Dessert Nachos.
**Please Note – The printable recipe card with detailed instructions and complete ingredient measurements for making Patriotic Red, White, & Blue Dessert Nachos with Cinnamon Sugar is available near the end of this post.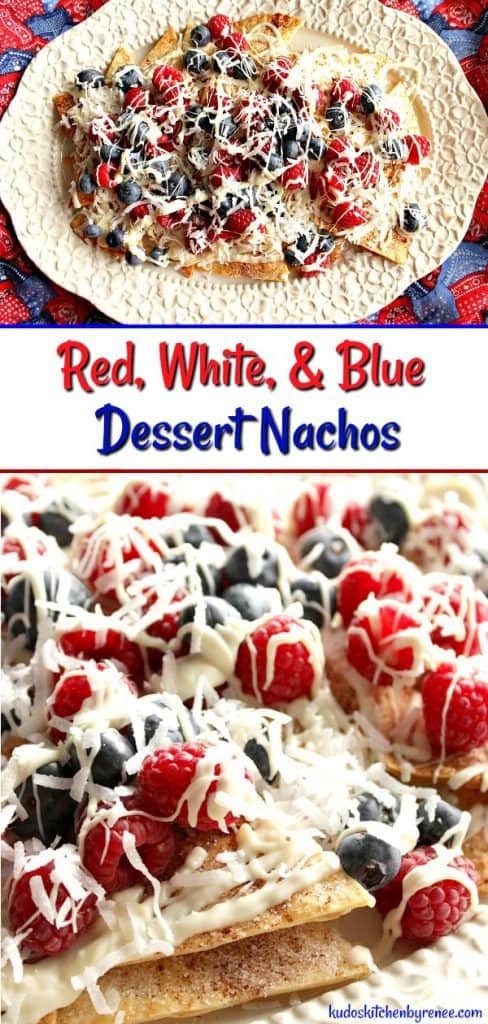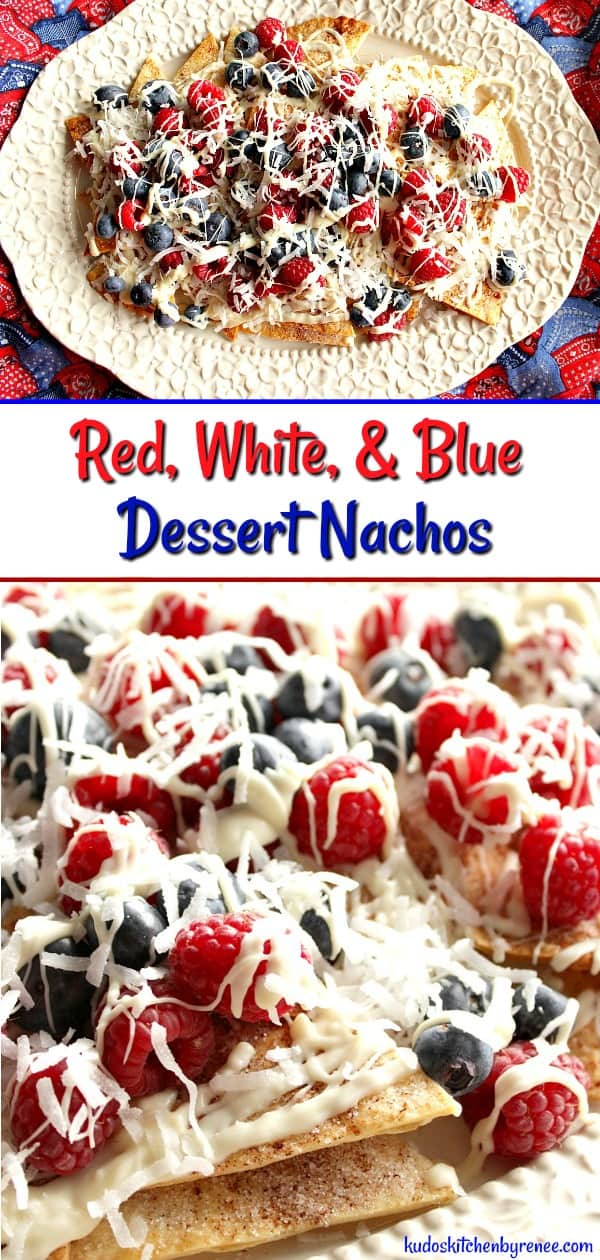 The ingredient list for making Red, White, & Blue Dessert Nachos;
Flour Tortillas
Coconut Spray
Cinnamon
Granulated Sugar
White Chocolate
Fresh Blueberries
Fresh Raspberries or Strawberries
Sweetened Flaked Coconut
This recipe idea for these festive and patriotic red, white, & blue dessert nachos came to me one night while I was laying in bed after waking from a sound sleep. While I was patiently waiting for the sandman to come and whisk me back off to dreamland, I had a lightbulb moment.
Some of my best ideas come to me in the middle of the night, so it's a good thing that I've learned to keep a notepad and pen on my nightstand so I can write things down when I think of them so I won't forget my ideas in the morning, and if there's one thing I'm certain of, these Patriotic Red, White, & Blue Dessert Nachos with Cinnamon Sugar are worth remembering!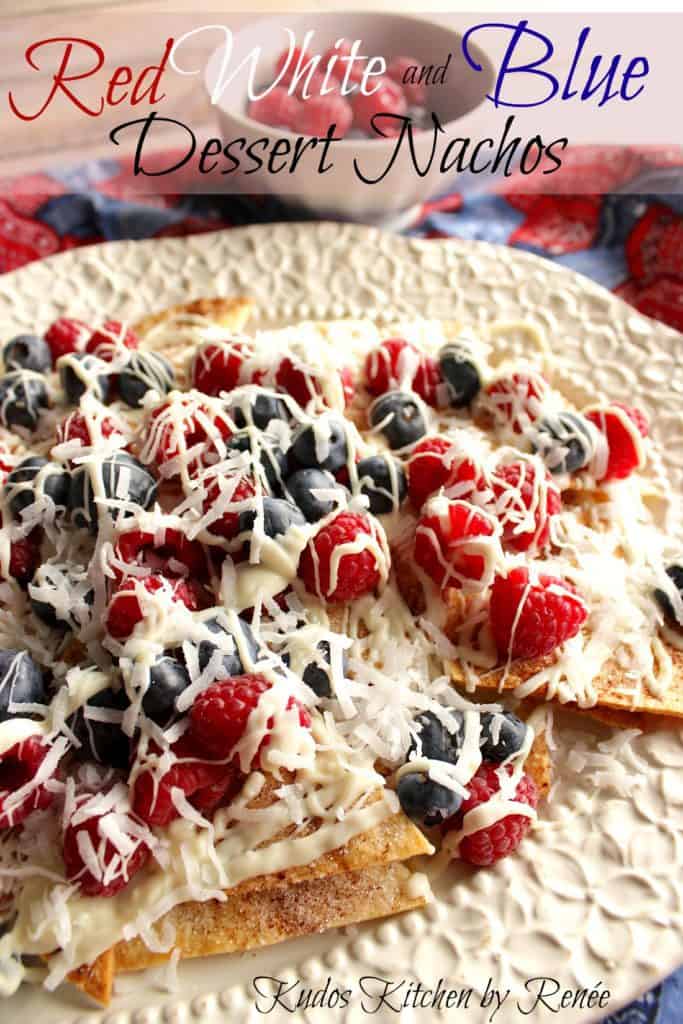 My favorite thing about these dessert nachos may be the homemade cinnamon sugar tortilla chips that are so, so easy to make and taste just like cinnamon toast crunch cereal. Of course, the white chocolate drizzle and fresh raspberries and blueberries don't hurt either. Not to mention the sweetened flaked coconut which tops these yummy nachos to perfection.
Serve these Red, White & Blue Dessert Nachos for Memorial Day and the 4th of July, and I promise you'll hear all the "oohs" and "aahs" from your family and friends, just as if they were watching fireworks in the night sky!
Making Red, White, & Blue Dessert Nachos is easy and quick. Let me show you how;
Place a rack in a baking sheet that has been lined aluminum foil or parchment paper.
Lay 6 flour tortillas on the rack and spray each side liberally with coconut oil spray.
Use a pair of kitchen shears to cut each tortilla into 6 triangle chips.

Lay the triangles evenly on the rack and bake them in a preheated 425-degree oven until the chips are crisp and golden.
Remove the chips from the oven and spray them once again with additional coconut oil spray.
Sprinkle each chip liberally with granulated sugar and ground cinnamon.

Pile the chips onto a serving platter.
Melt the white chocolate chips in the microwave on medium power until melted.
Drizzle the chocolate liberally over the chips and immediately add the berries over top.
Top the chips with the berries and drizzle again with remaining melted chocolate.
Top with the flaked coconut.
Serve and ENJOY!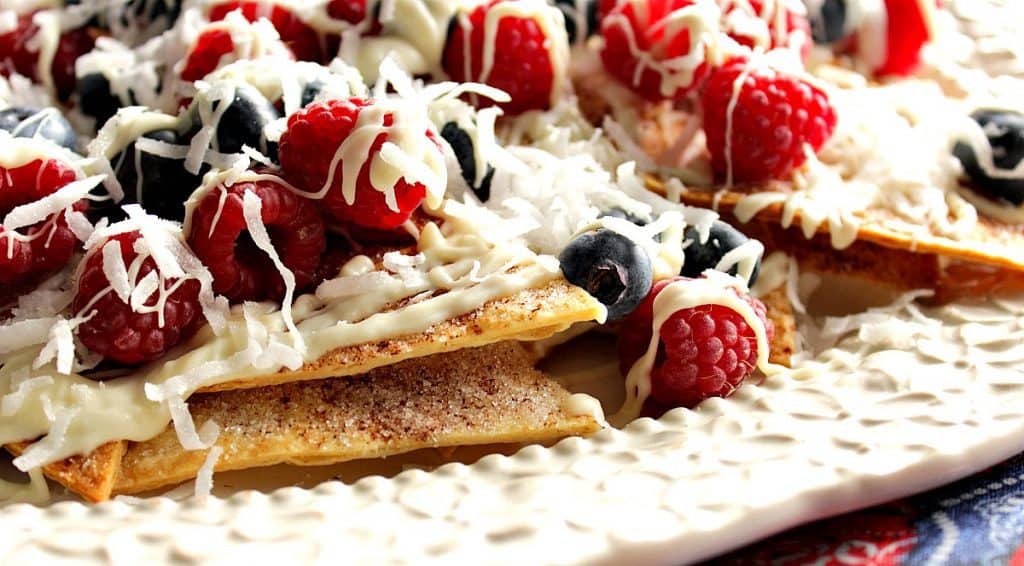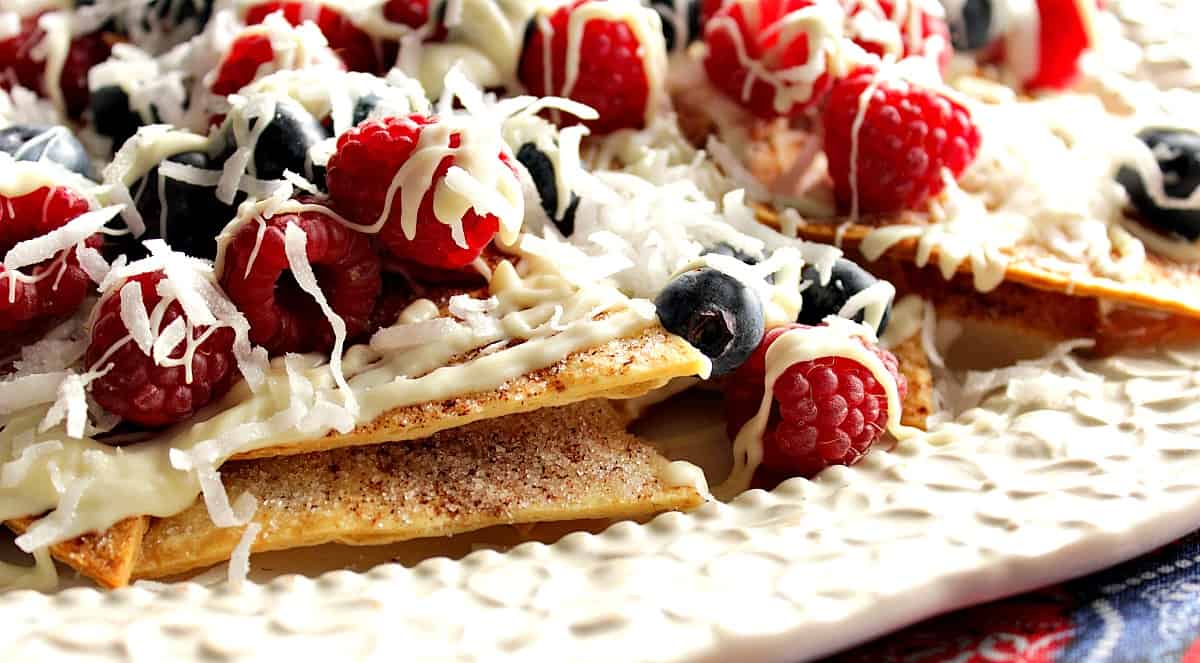 For other tasty and fun Red, White & Blue foods to serve for patriotic occasions, please click on the following titles for;
Below is the printable recipe card for today's Patriotic Red, White & Blue Cinnamon Sugar Dessert Nachos. If you've enjoyed this recipe, I'd appreciate if you'd take a moment to give this recipe some feedback by way of stars near the comment section at the end of this post, OR in the recipe card feature itself. 🙂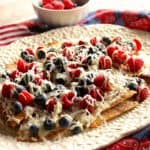 Red, White & Blue Dessert Nachos
Homemade cinnamon and sugar tortilla "chips" are generously drizzled with white chocolate, fresh raspberries and blueberries, and sweetened coconut.
Course:
Dessert, dessert nachos
Cuisine:
4th of July food, Memorial Day food
Keyword:
patriotic dessert nachos, rec, white, & blue dessert nachos
Ingredients
6

6"

flour tortillas

organic coconut oil spray

2

tablespoons

granulated sugar

2

teaspoons

ground cinnamon

½

cup

white chocolate chips

½

pint

fresh raspberries

½

pint

fresh blueberries

½

cup

sweetened flaked coconut,

optional
Instructions
Preheat oven to 425 degrees.

Add a baking rack into a baking sheet lined with aluminum foil or parchment paper.

Place 6 tortillas on the rack and spray each side liberally with the coconut oil.

Bake in a preheated oven for 10-12 minutes or until the chips are lightly browned.

Spray the chips again with the coconut oil and sprinkle them with the cinnamon and sugar.

Place the chips randomly on a serving plate.

Microwave the chocolate chips on medium power for 20-second intervals, stirring until completely melted.

Use a fork to drizzle half of the melted white chocolate evenly over the cinnamon sugar chips.

While the chocolate is still "wet" sprinkle the raspberries and blueberries randomly on the chips.

Drizzle the top of the berries with the remaining melted chocolate and sprinkle with coconut.

Serve and ENJOY!!!
Recipe Notes
A baking rack will keep the chips crispy. The coconut in this recipe may be omitted. Feel free to substitute chopped strawberries for the raspberries if preferred.
Tools and equipment: 
baking sheet, parchment paper (optional), or aluminum foil, medium microwave-safe bowl, baking rack, spoon or spatula, fork, measuring spoons, measuring cups, serving platter.
I sincerely hope you've enjoyed this recipe for Patriotic Red, White, & Blue Cinnamon Sugar Dessert Nachos as much as I've enjoyed bringing it to you!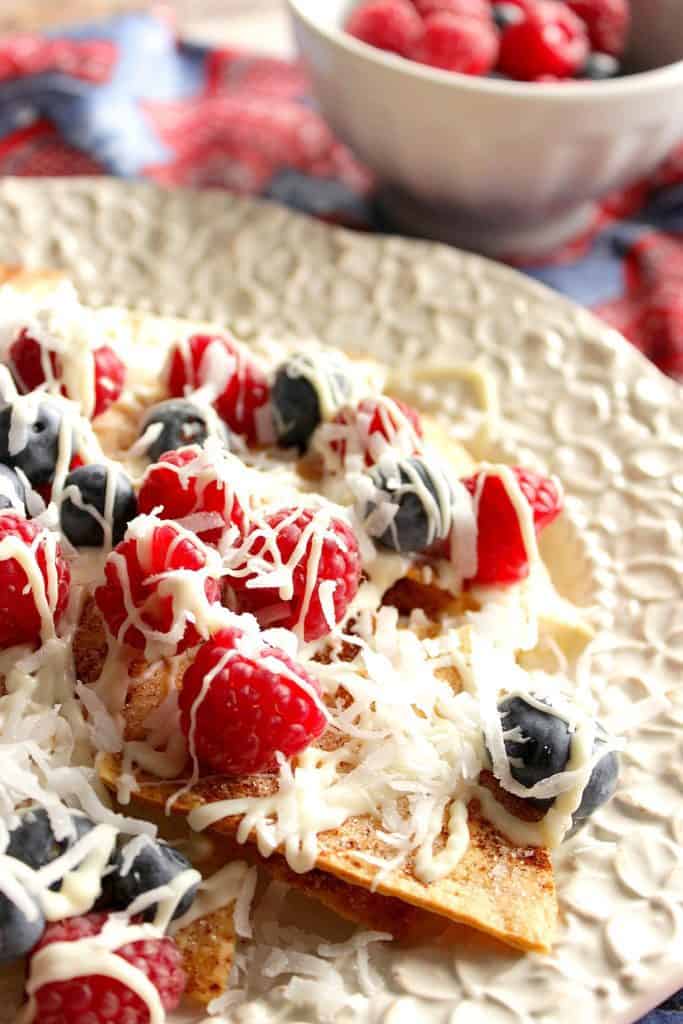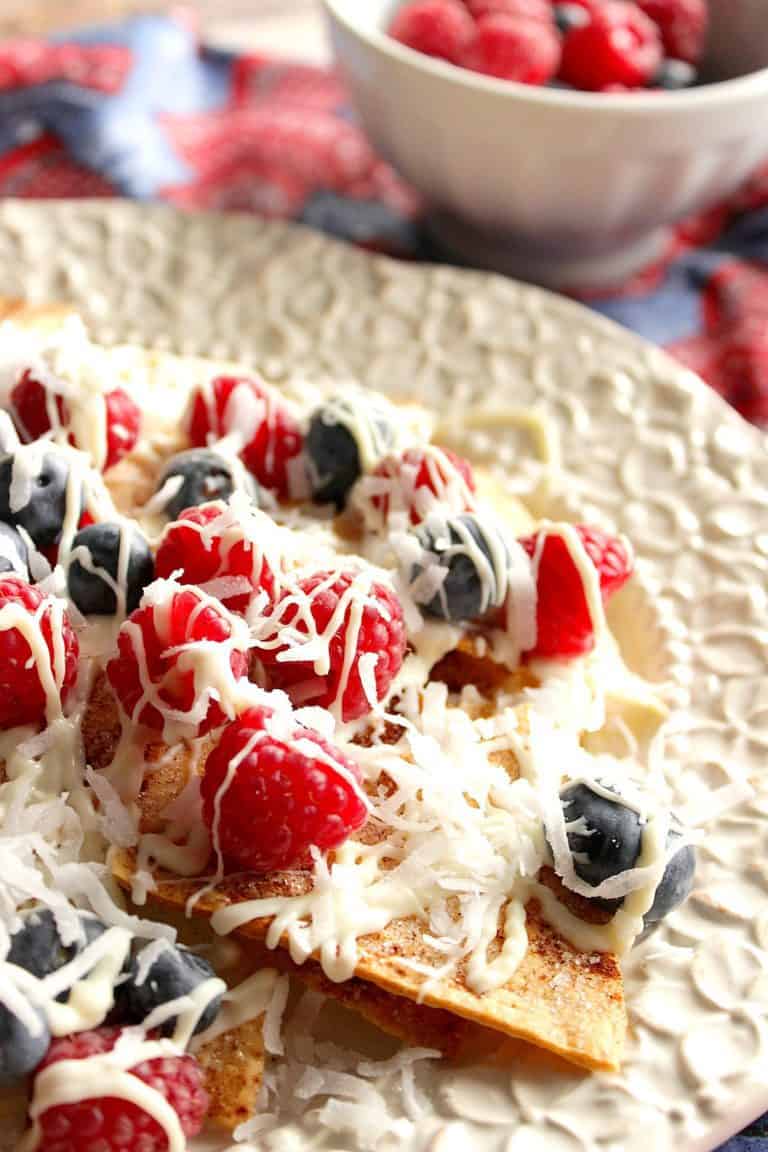 Since summertime is also picnic season, I've decided to coordinate this recipe with this fun set of hand-painted Picnic Ants champagne flutes and wine glasses that a customer ordered from me last year. I only wish I knew what they were going to do with all these ants, because I'll bet it was one heck of a party!
And I also couldn't close out a recipe post for Red, White and Blue Dessert Nachos that referrers to Memorial Day and the 4th of July without including some of my hand painted patriotic pilsners…BOOM!
Should you have any questions regarding this recipe, or anything else you've seen on my site, please don't hesitate to contact me directly or leave me a comment in the comment section below. It is always my distinct pleasure to get back to you with a reply just as soon as I possibly can!
For additional information regarding my Kudos Kitchen recipes, and/or my hand painted glassware or fabric items, please follow me on;
FACEBOOK, PINTEREST, INSTAGRAM, TWITTER, YOUTUBE
Kudos Kitchen by Renée ~ Cooking up artistically delicious family-friendly dishes from my Kudos Kitchen to yours!
Until we eat again, I hope you have a delicious day!