This Easy Lemon Ricotta Cake with Blueberries has a creamy texture, a light lemony flavor, and it takes advantage of springtime's bounty of beautiful blueberries.
One of the things I love most about springtime is the bounty of berries that are on sale in the market. From blackberries to raspberries, to blueberries and more, you can always find a great deal when purchasing produce in-season.
Baking this Easy Lemon Ricotta Cake with Blueberries is a great way to celebrate spring, and the beautiful, bountiful, economical little blueberry.
It takes me a long, long time to properly style, prepare, and edit the food photos you see on my blog. Sometimes it comes easily, like when I have a vision in my head before I even set up the table where I shoot my pictures.
Other times, it's like pulling teeth trying to get a good shot. And even then, some don't ever come out the way I wished they would have. Either the serving pieces aren't right, or my lighting is off, or for whatever reason, I'm just not feeling it.
Since I'm trying to learn and improve as I go, it's a lengthy process and one that keeps me on my toes.
That said, I'm especially pleased (and proud) with how these photos turned out because this is the first time that I've been able to use my late mother-in-law's China pieces.
My mother-in-law, Dorothy, served many a family meal on this set of rose patterned China, and with eight children it was well worn, well used, and well loved. I'm thrilled to now be able to use and display it proudly, with a cake that I know mom (Dorothy), would have enjoyed.
One of the practices I've grown fond of doing since starting this blog is in taking step-by-step photos of the process of making most of the recipes I share here.
Because I'm a visual learner, it's something that I consider valuable and hopefully something that you can appreciate and learn from as well.
Since the recent trend in recipes these days are short videos, I've really been enjoying stringing my step-by-step photos together into slideshow videos for you to watch.
Here's the one I made for this Easy Lemon Ricotta Cake with Blueberries. I think you'll see just how easy this cake is to make, and with only a few basic ingredients. Please enjoy…
Can I offer you a slice (maybe two) of this Easy Lemon Ricotta Cake with Blueberries?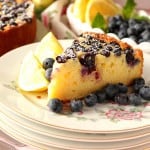 Lemon Ricotta Cake with Blueberries
A delicious Italian cheese cake with a light lemony flavor, and lots of fresh blueberries.
Ingredients
1½

cups

ricotta cheese

3

large eggs

1

teaspoon

pure vanilla extract

1½

tablespoons

lemon zest

from 2 lemons

½

cup

butter

1 stick melted, and cooled

1½

cups

all purpose flour

1

cup

granulated sugar

plus 2 tablespoons for topping

2

teaspoons

baking powder

1

teaspoon

salt

1½

pints

fresh blueberries

2

tablespoons

powdered sugar
Tools
baking spray

9

" round cake pan

whisk

spatula

2

large bowls

small bowl

2

large plates

cooling rack
Instructions
Preheat oven to 350 degrees.

Whisk together the ricotta cheese, eggs and vanilla in a large bowl.

Stir the lemon zest and the cooled melted butter into the cheese and egg mixture.

In another large bowl stir together the flour, 1 cup granulated sugar, baking powder, and salt.

Use a spatula to fold the flour mixture into the ricotta mixture until thoroughly blended.

Spoon the cake batter evenly into a cake pan that has been sprayed liberally with baking spray.

Top the cake batter evenly with the fresh blueberries and sprinkle the remaining 2 tablespoons of granulated sugar over the blueberries.

Bake in a preheated oven for 60 minutes, or until a toothpick inserted in the center of the cake comes out clean.

Remove the cake pan to a cooling rack and cool for 30 minutes.

Carefully invert the cake onto a large plate, and then invert the cake once again onto a serving plate so the blueberries are on top.

Cool the cake completely, and then sprinkle the top with powdered sugar before slicing and serving.
Recipe Notes
I don't recommend using frozen blueberries for this recipe because I think they'd bleed too much into the cake batter. Fresh berries will work best for this cake.
If you're hungry for additional spring and summertime fresh berry ideas, please check out my other recipes for:
Broccoli Slaw with Blueberries and Bacon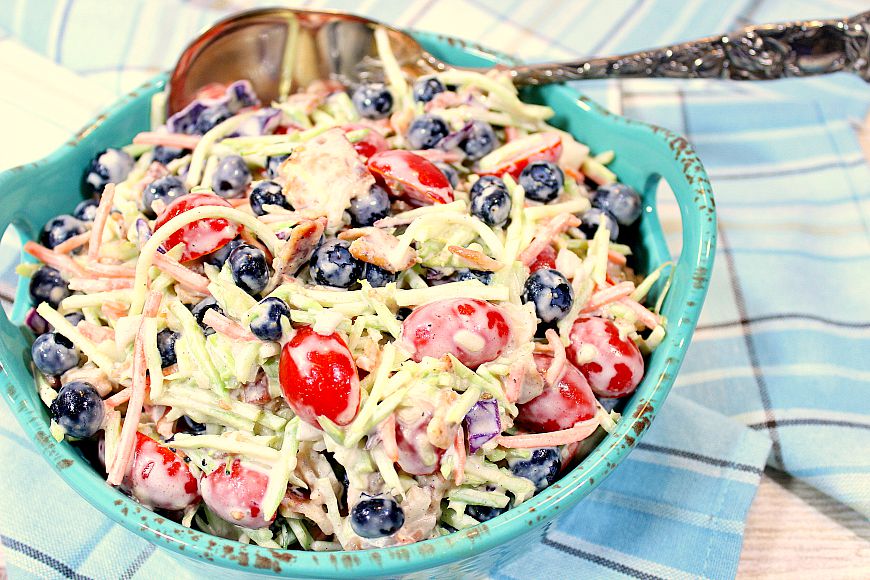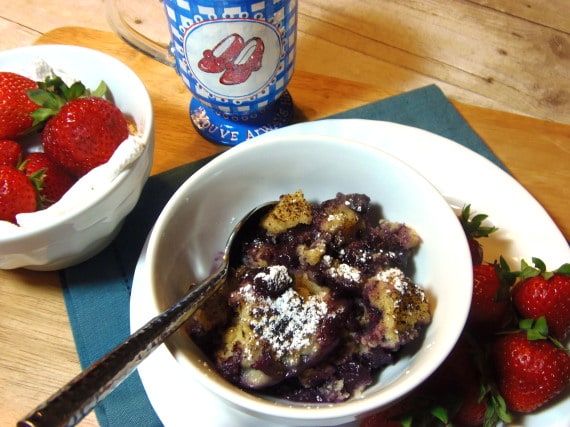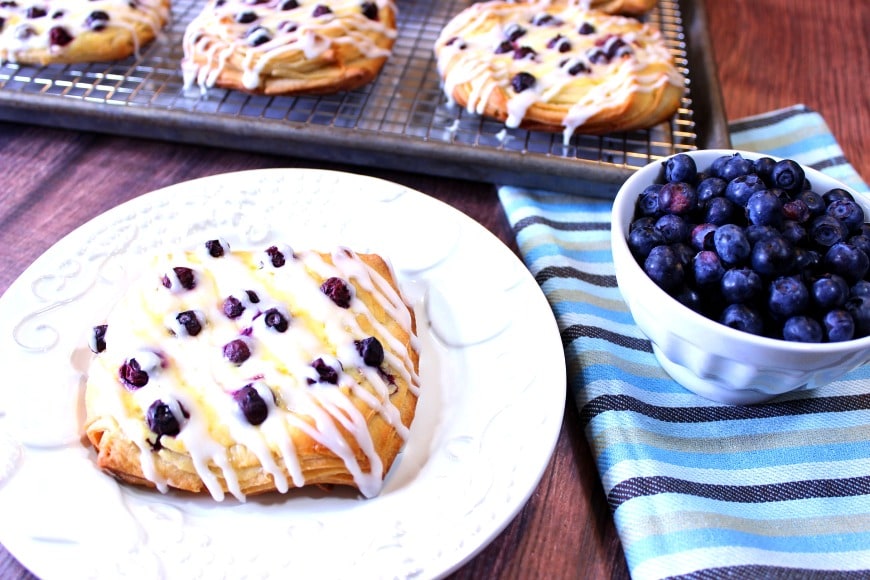 Slow Cooker Pumpkin Cake with Blueberries: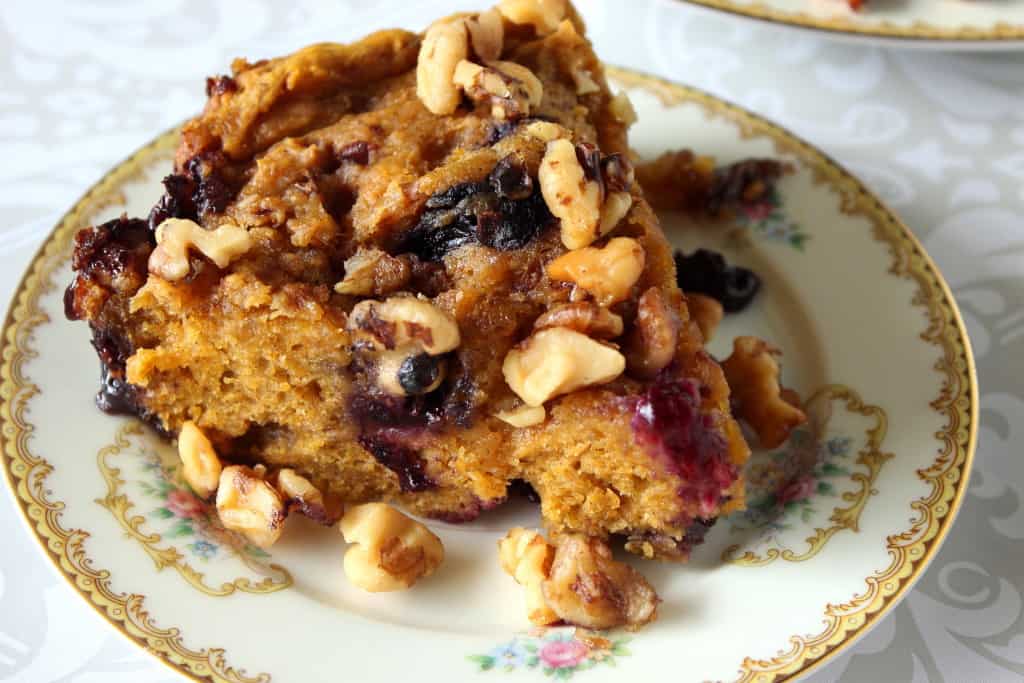 Avocado, Blueberry and Wild Rice Side Dish:
And, to cap everything off, how about these cute custom coffee cups I painted per a customer request awhile back? They seem like the perfect fit for a recipe involving fresh blueberries.
The photo shows the front and back of the set, and they were painted for someone named Peaches, who owned the "Itty Bitty Fruit Farm."
All my handpainted glassware items are completely dishwasher and microwave safe as well as being non-toxic. Each and every item comes in its own gift box, making them perfect for gift giving for anyone or any occasion.
I hope you've enjoyed this recipe for Lemon Ricotta Cake with Blueberries as much as I've enjoyed bringing it to you!
Should you have any questions regarding this, or anything else you see on my site, please don't hesitate to contact me directly, or leave me a comment in the comment section below. It is always my distinct pleasure to get back to you with a reply just as soon as I possibly can!
For additional information regarding my Kudos Kitchen recipes, and/or my hand painted glassware or fabric items, please follow me on;
FACEBOOK, PINTEREST, INSTAGRAM, TWITTER, YOUTUBE and MY PAINT SHOP
Kudos Kitchen by Renée ~ Cooking up artistically delicious family-friendly dishes from my Kudos Kitchen to yours!
Until we eat again, I hope you have a delicious day!