Surprise and delight all the goblins you know by serving up this easy to make freaky Frankenstein Rice Krispie Treat. Think he's too difficult to make? Think again! I'm sharing all my tips and TRICKS with an easy-to-follow step-by-step photo tutorial.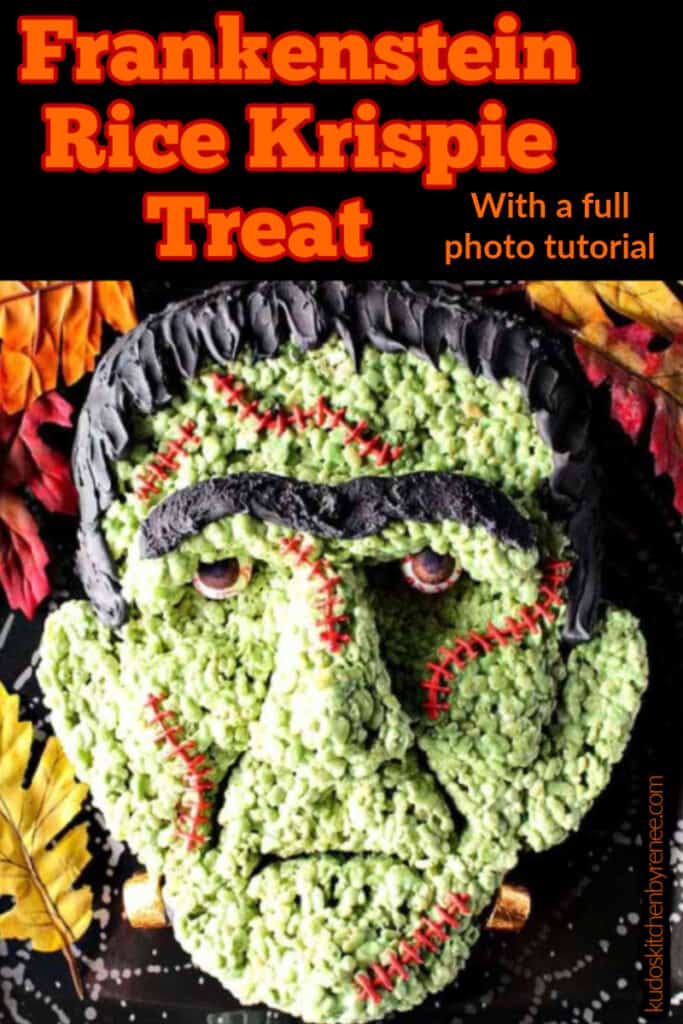 This recipe post and its contents may include affiliate links for your consideration. I may earn a commission from qualifying purchases, but your prices are never increased as a result. Thank you.
If you're intimidated or scared by the looks of this Frankenstein Rice Krispie Treat because you think you wouldn't have success making him yourself, I'm here to give you the evil eye (make that "eyes") and prove you wrong!
Stick with me (marshmallow humor) as I show you just how painless making this Frankenstein Rice Krispie Halloween Treat will be...
This recipe was originally shared in 2017. This post has been updated with additional information, including a recipe card and nutritional information, but the recipe itself has remained unchanged.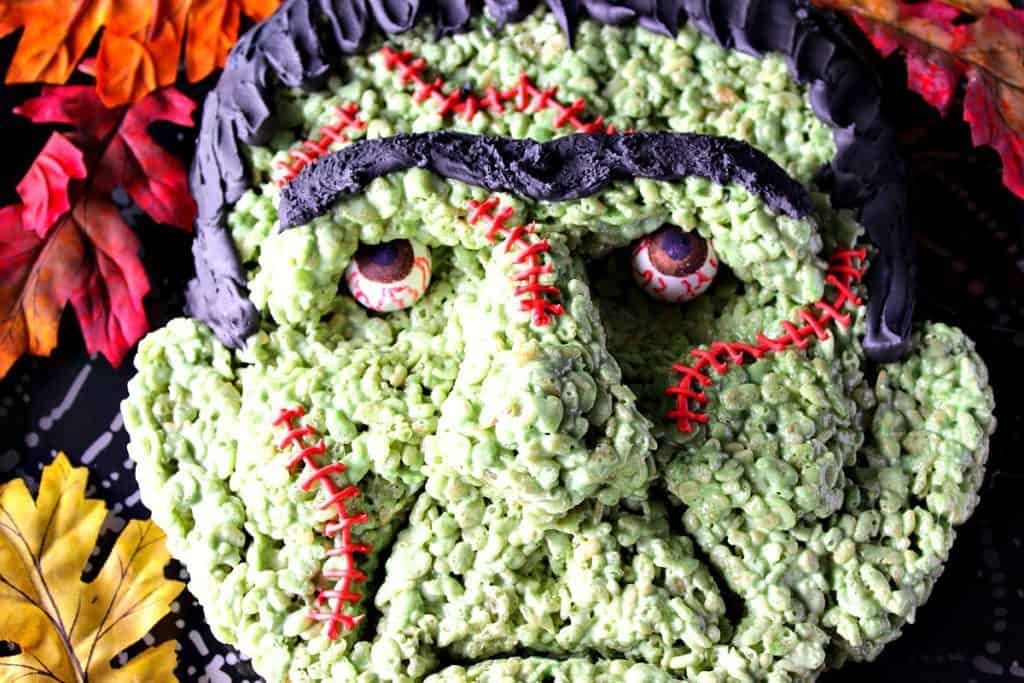 The ingredient list:
**Note - The following lists of ingredients plus kitchen tools and equipment contain affiliate links (highlighted in blue) for your consideration and shopping convenience. #CommissionsEarned
rice cereal
butter
marshmallows
confectioners sugar
light corn syrup
Kitchen tools and equipment needed:
spoons
zip-top bags
scissors
Can freaky Frank marshmallow treat be made in advance?
Yes!
Feel free to make him up to 3 days before you plan to serve him.
Cover him loosely with plastic wrap and keep him on the counter at room temperature.
Can the colors be altered from what's written in the recipe?
Of course.
These are only suggestions, and how I made him. Feel free to get as creative as you wish!
Helpful tips for making this realistic Frankenstein Rice Krispie Treat:
Tip #1:
The first tip I'm sharing (and probably the most important one) is to make the rice cereal marshmallow treat in a slow cooker!
Yes. That's right!
By making the rice cereal treat in a slow cooker it will keep the marshmallow cereal treat warm (not hot), and malleable enough to work with so you'll have time to push and pull Frank's facial features around until you're happy with the results.
Much like a mad scientist!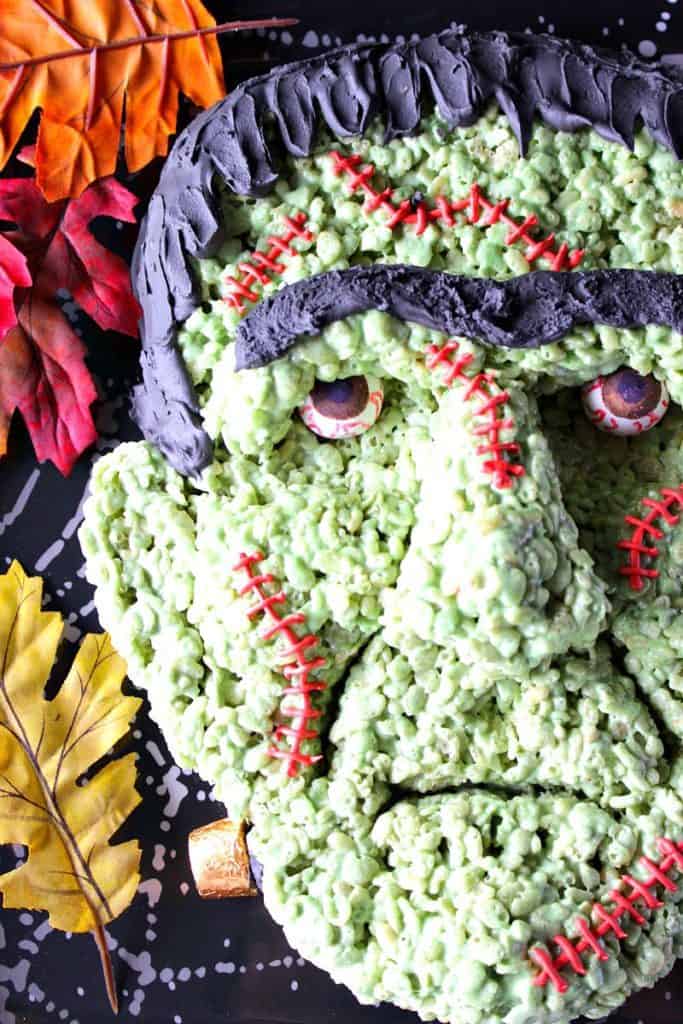 Tip #2:
My second tip for making a realistic-looking Frankenstein is to use white gumballs for his eyeballs and color them with edible food markers.
The edible writer colors I've used to make his eyes are Red, Black, and Brown, but feel free to use any colors you choose.
These edible food writers dry almost immediately and won't smear or streak, even when working on a slick surface of a gumball.
I chose to make my Frankenstein's eyes brown, but I urge you to use your own creativity and make his eyes any color you like.
But, whichever color eyeballs you choose to go with, don't forget to add lots and lots of red squiggly veins!
Tip #3:
The third tip I have for you when making this Frankenstein rice cereal Halloween treat is to have plenty of baking spray handy and use it liberally on your hands and spoons to keep the marshmallow Krispies from sticking to all the wrong places.
It will keep Frank from becoming a major mess, and you can even spray it directly onto your project if needed.
Let me tell you, that bit helped me tremendously!
Tip #4:
The fourth tip I have for you is in making the royal icing.
I used that for Frankenstein's hair, eyebrows, and stitches.
I also used it for the glue needed to hold the Rolo candy in place for Frank's neck bolts.
Royal icing can be made in advance (no refrigeration required) and thinned with water if needed.
Once royal icing comes in contact with air for a prolonged period of time, it hardens and becomes firm.
Royal icing is still perfectly edible after it firms, but it won't smear or wipe off as a buttercream icing would.
After you've made your royal icing, keep it covered well until you're ready to use it.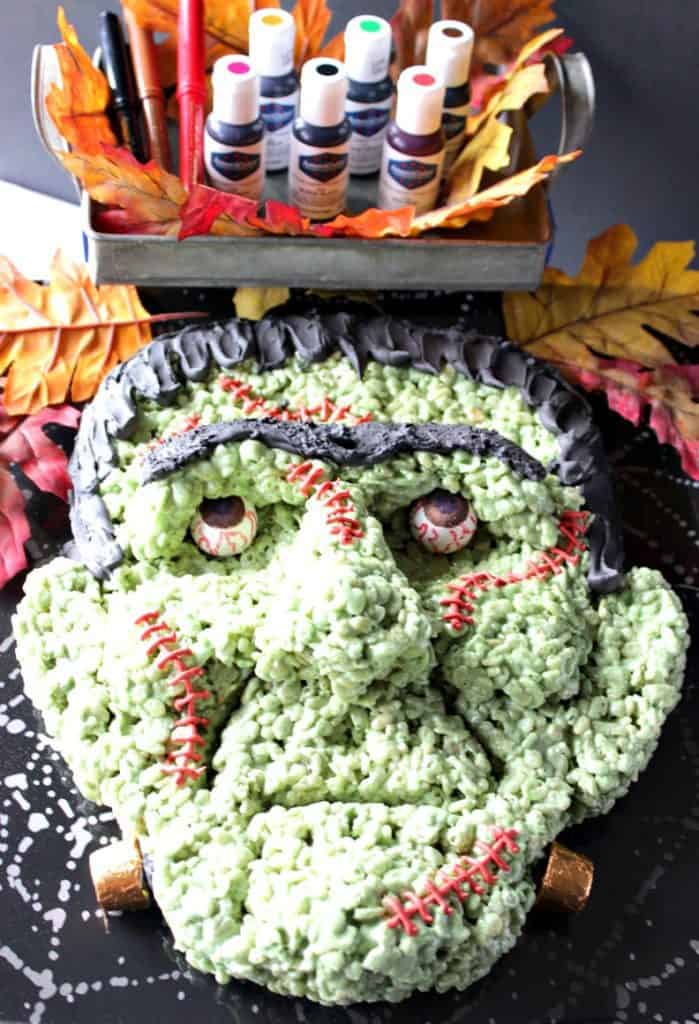 Tip #5
The fifth (and I believe final) tip I have for you in making this Frankenstein Rice Krispie Treat is to use plastic zip-top bags in place of parchment paper or piping bags.
Zip-top bags work just as well as piping bags as long as you make sure to get all of the icing into the bottom corner of the bag.
Once you do get the icing in the corner of the bag grip it as close to the icing as you can and twist the bag.
Use scissors to snip a piece of the corner tip (small snip for thin lines, larger snip for thick lines), and VIOLA! You now have a piping bag that works every bit as good as what the professionals use. See the photos below.
Tip #6:
WAIT! There's a sixth (and I promise), final tip for making this Frankenstein Rice Krispie Treat, and it's really THE BEST ONE OF ALL!
You can make the eyeballs and the royal icing IN ADVANCE so on the day you're ready to assemble freaky Frank, he'll go together in a snap!
How's that for making your party planning easier?!!
How to color royal icing with gel food color:
When coloring royal icing with Soft Gel Paste, I like to spoon an amount of white icing into smaller bowls and then drop bits of color into the icing and mix well.
Start with a small amount of color first, and add more if you desire a deeper color.
The complete directions are shown below.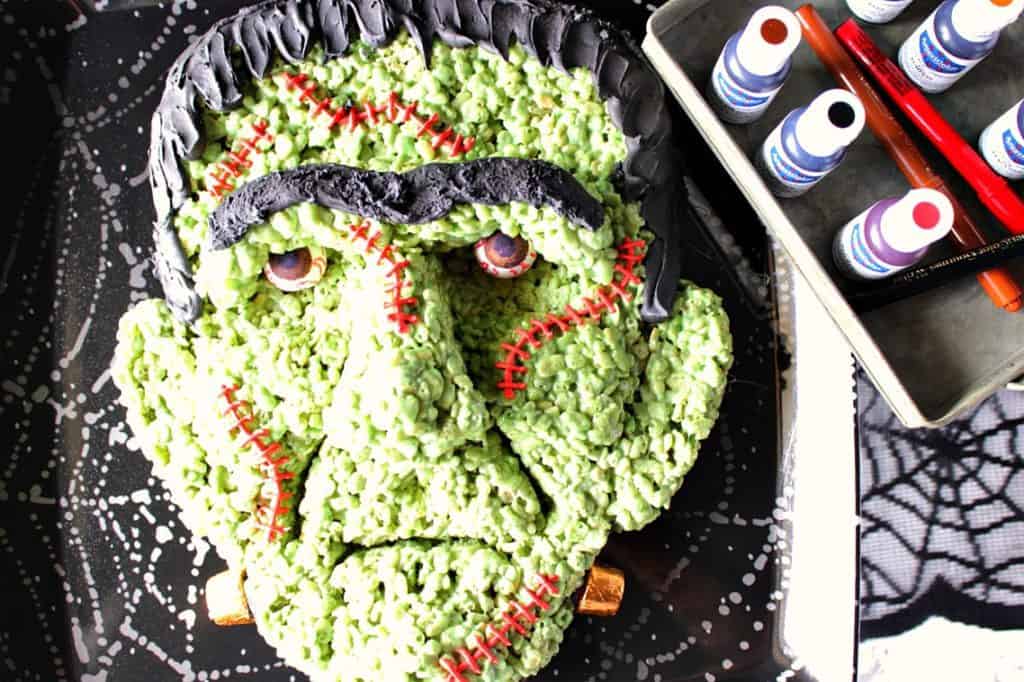 The photo instructions for making Frankenstein Rice Krispie Treat:
To make the eyeballs, use the edible writers to draw a circle in the center of a white gumball. Color the circle in.
You may want to do two to three coats of color for a deeper color.

Use the red writer to add the squiggly veins to each eyeball.
Use the black writer to add the black pupils to each eyeball.
Set the eyeballs aside until you're ready to insert them into Frank's head.

To make the royal icing, place 3 cups of confectioners sugar in a large bowl.
Add one teaspoon of pure almond extract and ¼ cup warm water to the bowl.

Add 1½ tablespoons of light corn syrup.
Blend with a hand mixer on low to medium to form a relatively firm icing but one that still flows evenly when dropped back into the bowl.
Add in three tablespoons of meringue powder to the icing.

Continue to beat on low speed for 1 - 2 minutes and the icing will thicken slightly. *Note - You're looking for a consistency a little looser than peanut butter.

Divide the icing into two bowls.
In a medium bowl, add approximately 1½ cups of icing along with several drops of black gel paste. Stir well.
If you prefer a darker hue, add additional drops of black gel color and mix until you achieve your desired color.

In a smaller bowl add the remaining white icing.
Stir in a few drops of red gel paste to the white icing, and a few drops of burgundy gel paste, and stir well to combine and make the color for Frank's stitches.
Again, you can add additional gel food color for a deeper, darker hue, if desired. *Note - Royal icing can be made in advance. Place the colored or white icing in covered containers and store at room temperature until ready to use.

Melt one stick of butter in a slow cooker over low heat. Add one bag of marshmallows and stir to coat all the marshmallows with the butter.

Once the marshmallows have started to melt, add a few drops of leaf green gel paste, and a drop or two of chocolate brown gel paste.

Stir well to combine, and thoroughly mix the color so no streaks remain.
Add the rice cereal and mix well with the green-tinted melted marshmallows.

To prevent massive sticking of the marshmallow treat cereal, spray your hands and work tools liberally with coconut oil or baking spray.
Place ⅔'s of the colored rice cereal treat onto a serving plate.
Use your sprayed hands to press the warm rice cereal treat into a modified rectangle, making Frank's forehead area slightly wider than his chin reign.
Frank's face dimensions are approximately 10" tall by 8" wide (without his ears).

Using the remaining warm rice cereal treat in the slow cooker fashion two ears and affix them on either side of Frank's head.
Also, make a triangle shaped nose and stick it in the center of his face, a little above the bottom of his ears. *Note - Remember to use the non-stick spray liberally. It will help you mold and sculpt the sticky rice cereal easily without excessive sticking to your hands and tools. The spray can be sprayed directly onto your project if needed.

Take your time working and molding Frank's features until you're happy with the results.
Add the gumball eyeballs to either side of Frank's face, next to the bridge of his nose, and press each eyeball gently to recess them slightly.
Use more warm rice cereal to fashion a thick snake-like piece for Frank's evil forehead brow line.

Gently work with Frank's brow line, pulling and pushing the warm marshmallow cereal over the tops of his eyes (to hood them and make them creepy), and also form his brow line around the sides of each eye slightly. (see photo below)
Then press the warm cereal area around and under each eyeball a bit to give his eyes a more sunken appearance. *Note -This step may be hard to tell from the photos, but doing this step gives him a lot of impact!
Take a bit more marshmallow treat and build up his chin to give Frank more of a "manly" appearance.
Use a paring knife sprayed liberally with non-stick spray and gently cut a slit for Frank's mouth that is turned ever so slightly down at both ends for his menacing frown.

Next, use the paring knife to add frown lines and wrinkle likes around his mouth to add character (see below).
Finally, build up Frank's cheekbones with some additional warm cereal (remaining in the slow cooker). *Note - This cheekbone step helps to finish off the contours of his face and give him a realistic appearance.

It's now time to put the finishing touches on Frank.
Use a large zip-top plastic bag and scoop the prepared black royal icing into the corner of the bag.
Push the icing into a bottom corner tip of the bag, twist, and snip off the corner to form a relatively large hole.
This will be used to pipe Frank's hair on top of his head, above his ears (as sideburns), and slightly over his forehead in a fringe-like fashion. (See photos below)

Apply firm and even pressure to pipe a jagged royal icing line of hair over Frank's forehead.
Use a spatula or knife to gently smooth his hair in place, if desired.
Use the same black icing to pipe Frank's unibrow.

Next, pipe a bit of royal icing onto two candy pieces (I used Rolo candy) and stick one on either side of Frank's chiseled jawline.
Finally, use a small zip-lock bag (or a piping bag, seen in the photo) and spoon in the red royal icing.
Snip off a small corner off the bottom corner of the bag (for piping thin lines), and carefully add as many stitches to Frank's face as you desire!
There you have him. Done!

This Frankenstein Rice Cereal Halloween Treat is sure to be a giant hit with your family and friends and will make you the talk of the town, in the very best way of course!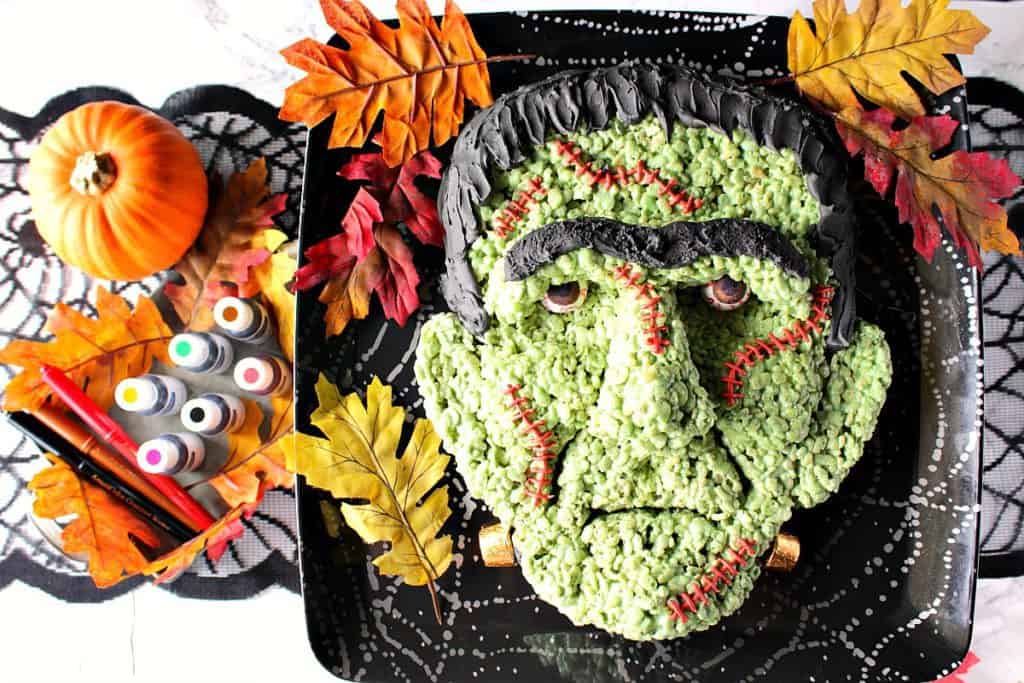 Additional Halloween treats:
Twice Baked Idaho Potato Graves
Halloween Treats Recipe Roundup
Don't look now, but somebody's watching you!! HAPPY HAUNTINGS!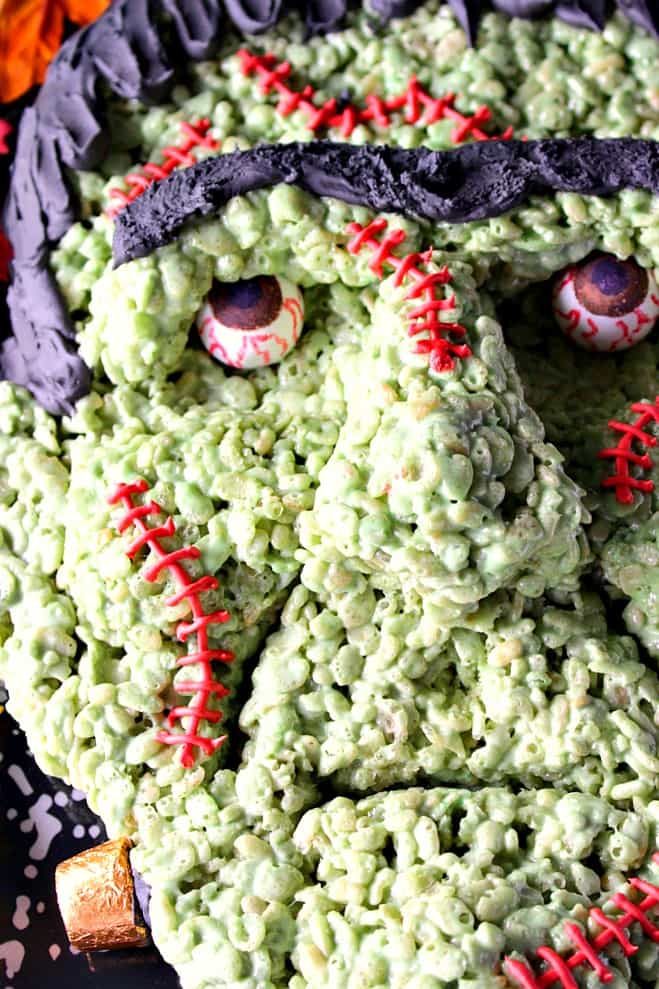 When you make this recipe, and I hope you do, I'd appreciate it if you'd take a moment to leave a star rating on the recipe card and briefly comment on why you rated it as you did. FYI - Google appreciates recipe ratings and, in turn, will share my recipes with more people. Thank you so much!!
Printable Recipe Card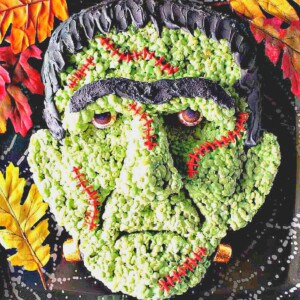 Frankenstein Rice Krispie Treat
Surprise and delight all the goblins you know at this year's Halloween party by serving up this easy to make Freaky Frankenstein Rice Krispie Treat.
Ingredients
To make the eyeballs:
2 -

white 1" gumballs

3

food writer pens. Red

Brown, Black
To make the royal icing:
3

cups

confectioner's sugar

1

teaspoon

pure almond extract

¼

cup

warm water

1½

tablespoons

light corn syrup

3

tablespoons

dry meringue powder

Gel food color. Red

Burgundy, and Ultra Black
To make the marshmallow rice cereal:
1

stick (8 tablespoons)

stick butter

6

cups

of crisp rice cereal

1

bag

marshmallows

regular size marshmallows

Gel food color. Leaf Green and Chocolate Brown
Instructions
To make the gumball eyeballs:
Draw and color in a circle on two gumballs to resemble an iris in size comparison to the gumball.

Use the red writer to draw squiggly lines to represent the veins.

Draw a black circle in the center of each iris to represent the pupil.

Set aside until ready to assemble Frankenstein.
To make the royal icing:
In a large bowl, use a hand blender to beat the sugar, almond extract, water, corn syrup, and meringue powder. The consistency will be that of loose peanut butter. Add additional water if needed.

Divide the royal icing into two bowls.

One bowl should have approximately 2 cups of the icing. Add several drops of Gel Paste Food Color to the bowl and stir well to thoroughly combine. Add more color if you prefer a darker color.

In a smaller bowl, add a few drops of red, and a few drops of burgundy Gel Paste Food Color to the remaining white royal icing and stir well to combine. Add more color if you prefer a darker color.

Cover both bowls well and store at room temperature if making the icing in advance. No need to refrigerate.
To make and shape the Frankenstein rice cereal treat:
Melt the butter in a slow cooker over medium heat.

Add the marshmallows to the cooker and stir until they're coated with the butter and starting to melt.

Add a few drops of Leaf Grean Gel Paste Food Color to the marshmallows along with a few drops of Chocolate Brown. Stir well to combine and until the marshmallows are completely melted and there are no streaks of color in the mix.

Stir in the crisp rice cereal and mix well to completely combine the marshmallows with the cereal.

Turn the cooker heat to low.

Use non-stick cooking spray on hands and utensils as you mold Frankenstein's face into place on a serving platter.

Press Frank's gumball eyes in place and recess them slightly.

Continue working the warm cereal to finish Frank's features. See blog post.

https://www.kudoskitchenbyrenee.com/frankenstein-rice-cereal-halloween-treat/

Pipe the black royal icing in place to form Frank's hair and unibrow.

Pipe red stitches in desired areas on Frank's face.

Add two candies (using the royal icing as glue) to the sides of Frank's jawline as his bolts.

Allow the royal icing to lightly dry before covering.

No need for refrigeration. Will keep for up to one week.

Serve and enjoy.
Notes
Tools and equipment:
Edible Food Writers, Gel Paste food color, Meringue Powder, serving tray, slow cooker, non-stick spray, wooden spoon, spatula, paring knife, zip-top bags, covered containers, large bowl, medium bowl, small bowls, hand mixer, scissors, spoons, butter knife or offset spatula
Nutrition
Serving:
1
serving
Calories:
142
kcal
Carbohydrates:
36
g
Protein:
1
g
Fat:
0.1
g
Saturated Fat:
0.1
g
Polyunsaturated Fat:
0.03
g
Monounsaturated Fat:
0.03
g
Trans Fat:
0.002
g
Cholesterol:
0.1
mg
Sodium:
13
mg
Potassium:
8
mg
Fiber:
0.1
g
Sugar:
27
g
Vitamin A:
1
IU
Calcium:
1
mg
Iron:
0.2
mg
I sincerely hope you've enjoyed my freaky Frankenstein Rice Krispie Treat as much as I've enjoyed bringing him to you!
Follow me across my social media platforms and join in on the conversation: FACEBOOK, INSTAGRAM, PINTEREST, TIKTOK, AND YOUTUBE.
Thank you so much for visiting me today in my Kudos Kitchen. I hope you found something you'll love and that you'll come back and visit me often. There is always room for you around my table!
Should you have any questions or comments regarding anything you've seen here on my blog, please don't hesitate to reach out to me. It is always my distinct pleasure to respond to you just as soon as I possibly can.
Until we eat again, I hope you have a delicious day!!