These easy-to-make Jack-O-Lantern Caramel Apples are sure to please all the kids this Halloween, including the kids-at-heart!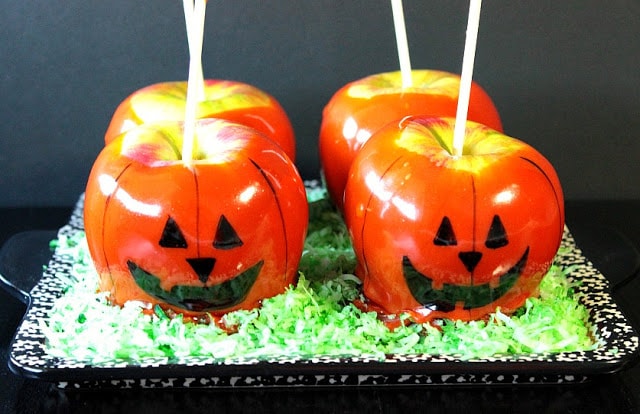 *Disclaimer - This recipe was originally published in 2015. I'm working hard to update all my older recipes with recipe cards, new photos, and additional recipe information. But, getting to all of them will take time. Please bear with me. In the meantime let me assure you that this recipe is still a winner and one I'm sure you'll be well pleased with when you make it at home.
Put away the candy thermometer because you won't need it to make these charming caramel apples. With only two bags of Werther's original chewy caramels, a bit of evaporated milk, and some food coloring you'll be rocking these Jack-O-Lantern Caramel Apples in no time.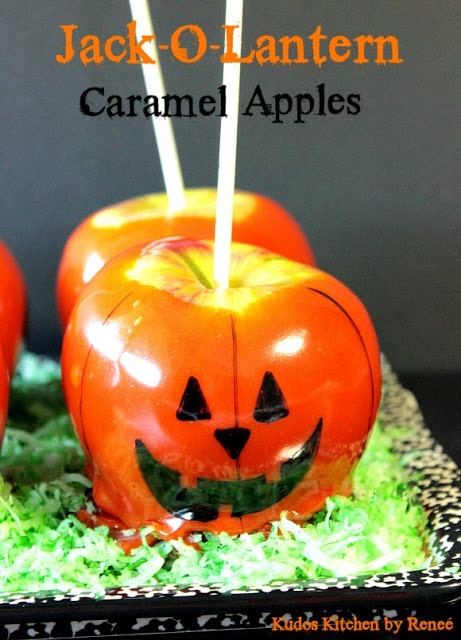 I can hardly believe that it's almost Halloween. I'm not especially a great lover of dressing in costume or in decorating our home with all sorts of spooky decorations. I decorate more for fall with corn stalks, pumpkins, and garden mums than with tombstones, ghosts, and witches. This way you get more bang for your buck because you can keep all the decorations out through Thanksgiving.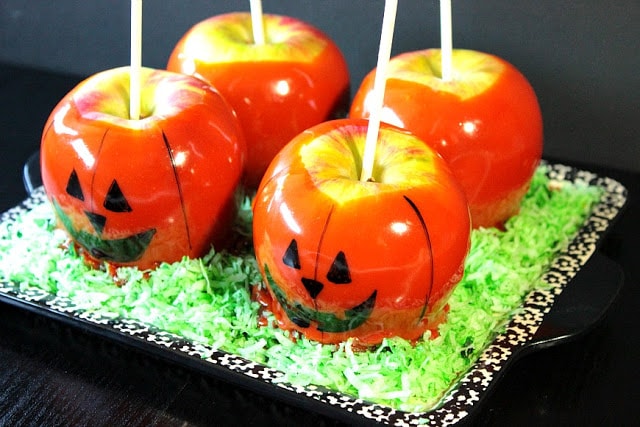 I'm also not especially a fan of gross and gory Halloween foods, even though you'd never suspect it from past Halloween recipes I've shared here on the blog. Recipes like...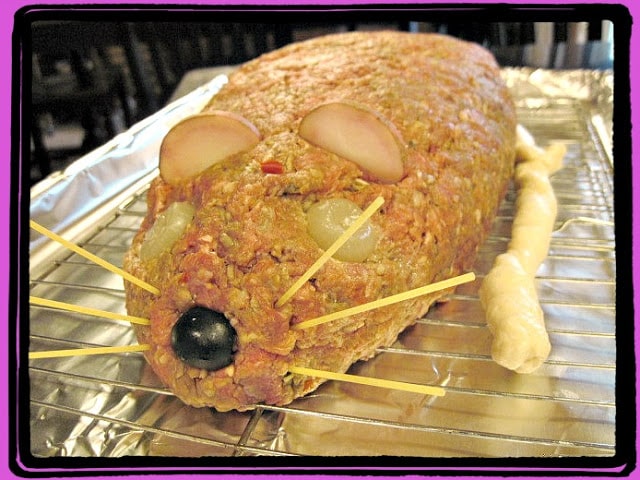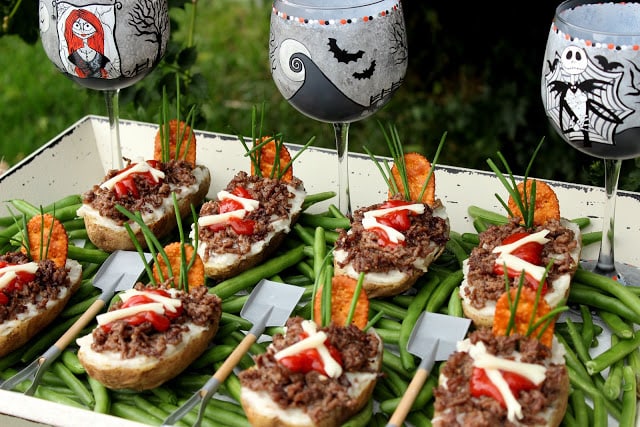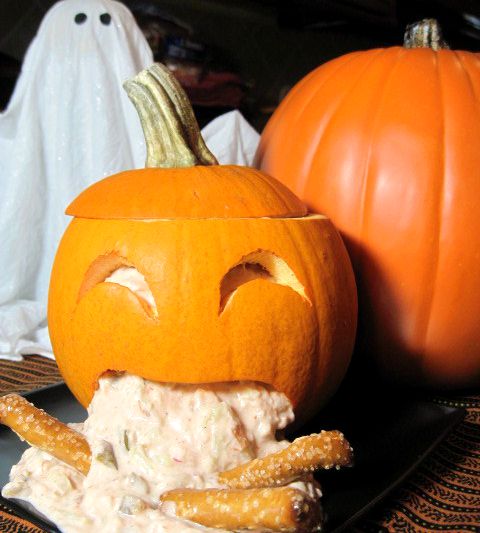 Or, I may throw you off just a bit with how I've edited my Facebook profile picture this year.
Get ready...
BOO!!!
HaHaHa. See? I'm more about cutesy! *insert evil laughter here* Yeah, right!
Well, at least these Jack-O-Lantern Caramel Apples are cute and really easy to make too. Here, let me show you how...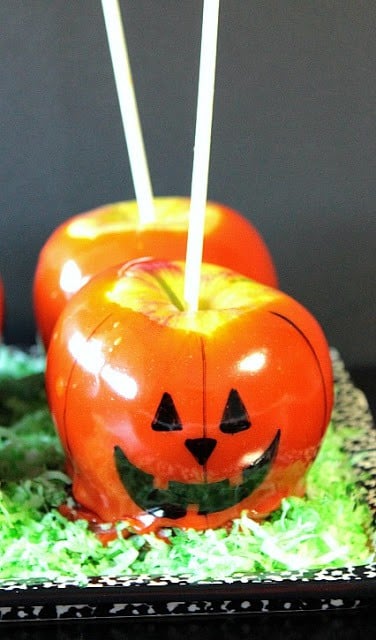 Yield: 4 caramel apples Hands-on Time: 30 minutes
4 large honey crisp apples (or your favorite variety)
2 packages of Werther's Original chewy caramels, unwrapped
2½ tablespoons evaporated milk
orange, black, and green food coloring
1 cup flaked coconut
4 long lollipop sticks
parchment paper
baking sheet
paintbrush for painting the faces
-Insert the lollipop sticks into the washed and dried apples. Set aside.
-In a small bowl, mix together the coconut with a few drops of green food coloring until you've reached your desired shade of green. Set aside.
-Place the caramels in a microwave-safe bowl along with the evaporated milk. Microwave on medium power for 1-2 minutes and stir until the caramels are smooth and melted. Stir in several drops of orange food color until you've reached your desired shade of orange.
-Dip the apples into the colored caramel, swirling to coat. Remove the apple from the caramel and allow the excess to drip off, and back into the bowl.
-Dip the bottom of the apple into the green coconut and place each dipped apple on a parchment-lined baking sheet to dry. Allow drying for 20 minutes.
-In a very small bowl, blend 1 drop of black food coloring with 1 tablespoon of water. Use a paintbrush and the diluted black food color to paint the jack-o-lantern faces on the caramel-coated apples. *Note - I found it easiest to paint on the caramel apples if you raise up the baking sheet or plate using several books instead of having to bend over.
-Place the painted apples on a platter with the remaining green coconut. Serve.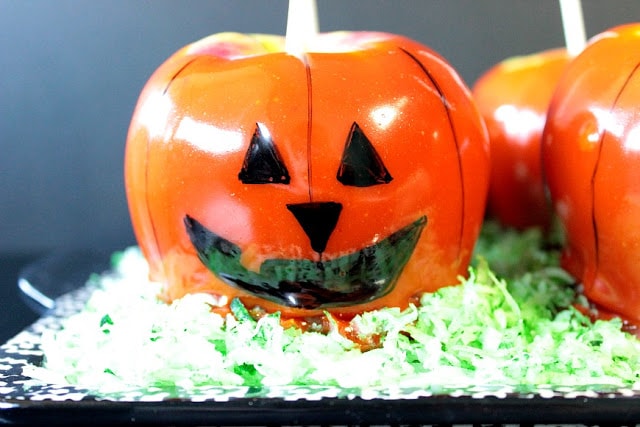 Thank you so much for visiting me today in my Kudos Kitchen. I hope you found something you'll love and that you'll come back and visit me often. There is always room for you around my table!
Should you have any questions or comments regarding anything you've seen here on my blog, please don't hesitate to reach out to me. It is always my distinct pleasure to respond to you just as soon as I possibly can.