EYE think you'll agree that making and using these homemade royal icing candy eyeballs for your Halloween sweets, snacks, that your freaky tricks and treats will never LOOK the same again!
Eye would be remiss if eye didn't share with you just how easy it is to make these candy eyeballs.
After all, you can't have a spooky Halloween treat (in my opinion) without some glaring eyeballs watching your every move!
Of course, you can always purchase candy eyeballs at the store, but those only come in one size and shape, as if one size really fits all. Ha!
By making your own candy eyeballs, you can tailor them to your specific needs and vision.
If hindsight really is 20/20, then I'm here to help you envision what's possible!
**Please Note – The printable recipe card with detailed instructions and complete ingredient measurements for making homemade royal icing eyeballs is available near the end of this post.
Jump to Recipe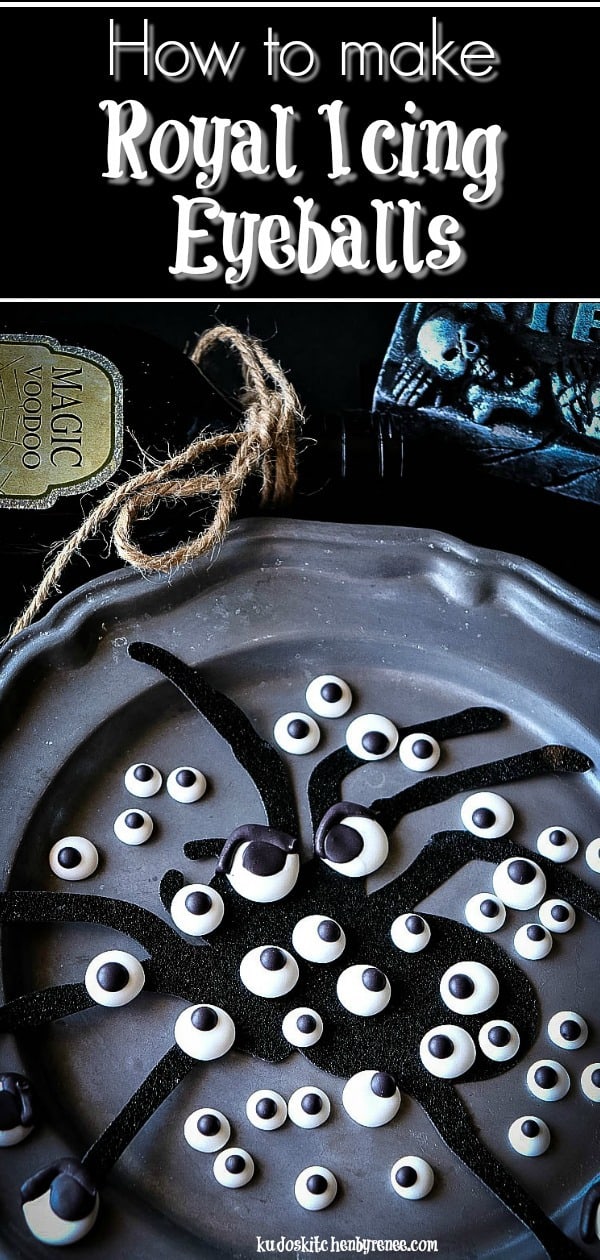 The ingredient list for making Royal Icing Eyeballs;
**Note – The following lists of ingredients plus kitchen tools and equipment contain affiliate links (highlighted in blue) for your consideration and shopping convenience.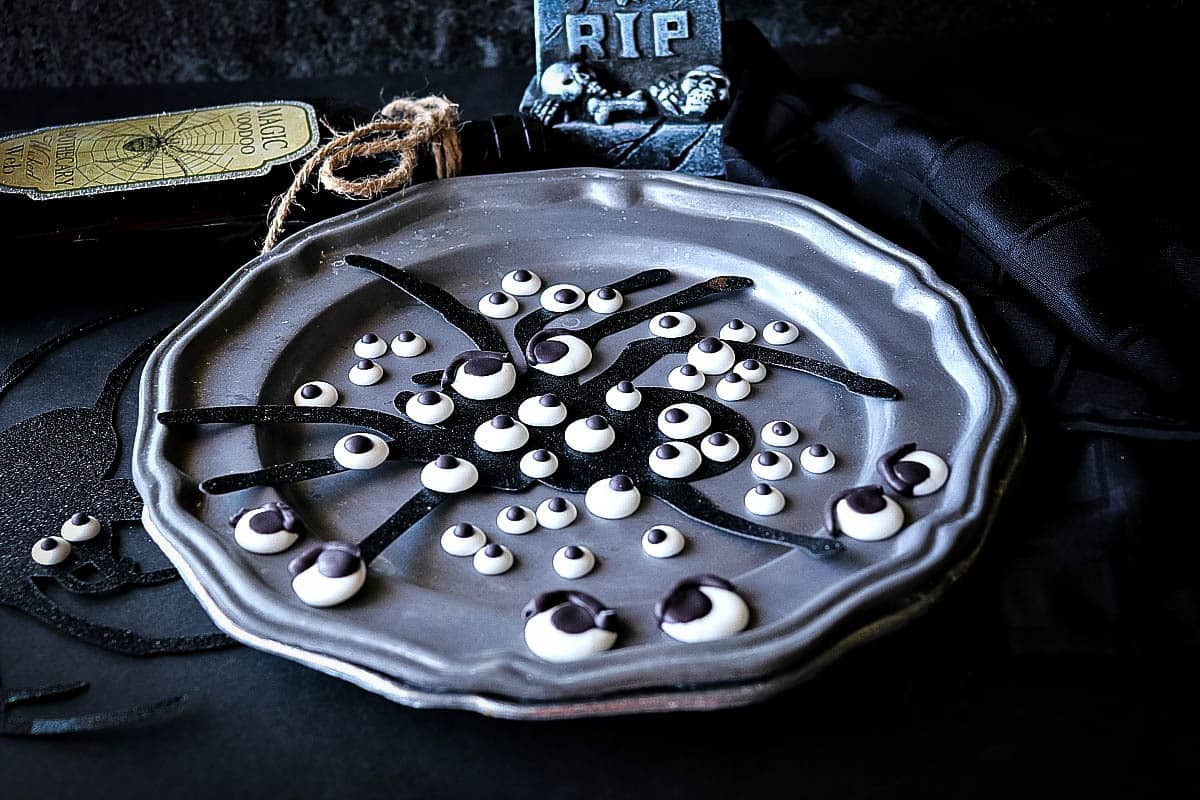 The tools and equipment for making candy eyeballs;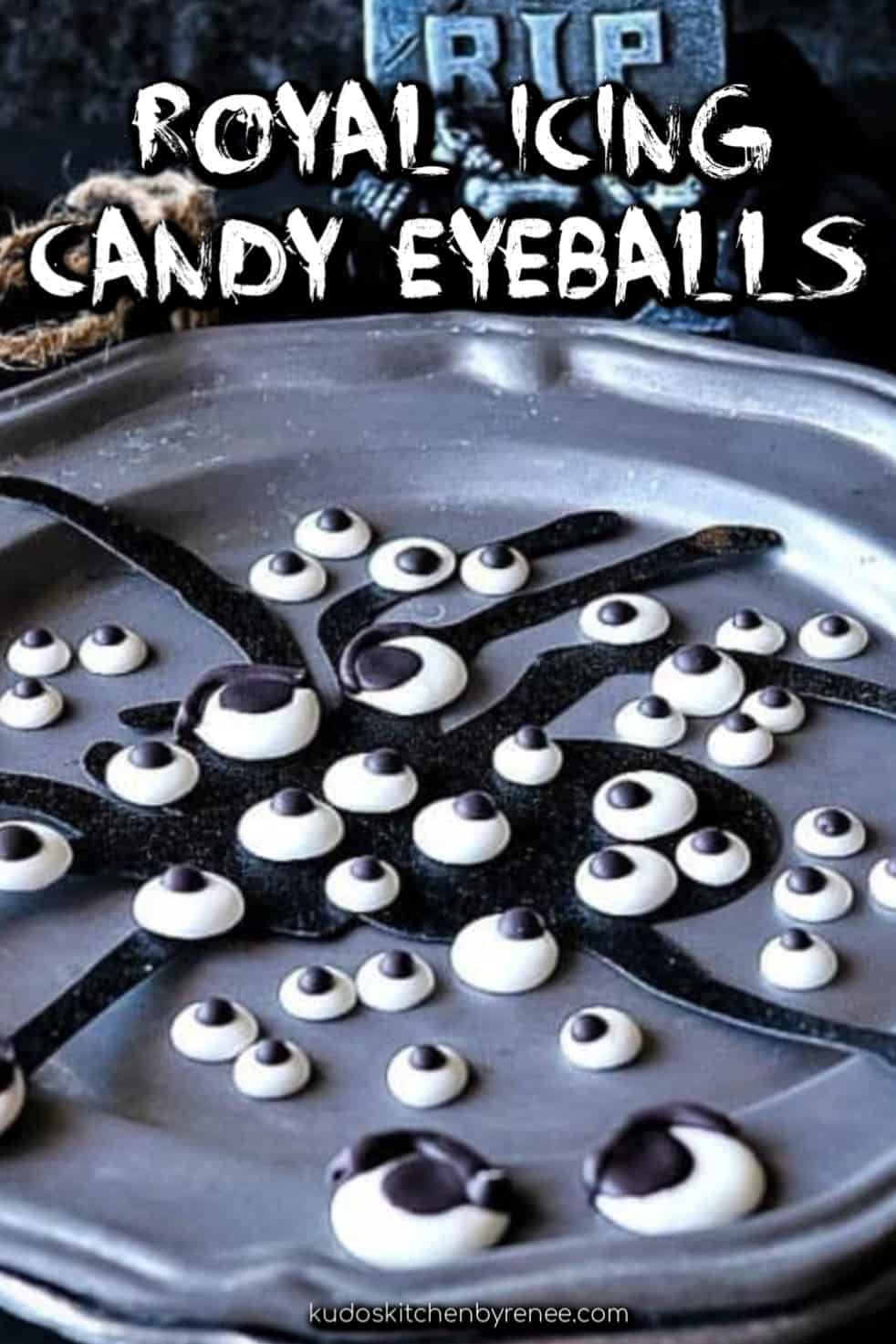 Eye'm (LOL, sorry) going to let you in on a little secret. Since you don't need a lot of homemade royal icing to make a google of oogling candy eyeballs, eye would suggest that you use a little leftover white royal icing you may have from another project (perhaps a cups-worth) and use that to make your candy eyeballs.
From only one cup of royal icing, depending on the size of the eyeballs you're making, you'll be able to make a gaggle of googling, oogling eyeballs.
How long can I store homemade royal icing candy eyeballs?
As long as you keep your eyeballs in a covered container away from moisture and humidity, these eyeballs can keep in your pantry indefinitely!
How's that for keeping your EYE on the prize?
What is meringue powder and why is it important?
Meringue powder is an egg white substitute which helps to harden the royal icing as it drys.
Why is meringue powder better than using fresh egg whites when it comes to this recipe?
Since this royal icing is not cooked, the meringue powder is a safer alternative than using raw egg whites.
Meringue powder is pasteurized and free from harmful bacteria.
How long can royal icing made with meringue powder be stored?
As long as the royal icing is stored in a cool, dry, airtight container, it can remain unrefrigerated for several weeks.
Always stir the royal icing before using and if you need to thin it, add a slight bit of warm water a little bit at a time until you reach your desired consistency.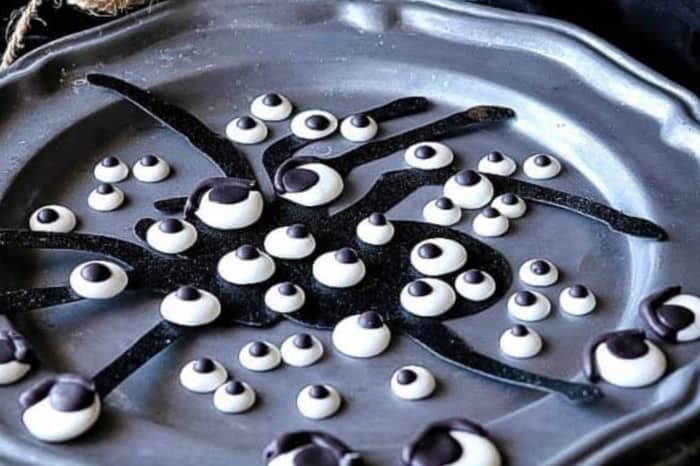 For other royal icing Halloween treats, please click on the following recipes for;
*Royal Icing Bat Wing Cupcakes (pictured below, shown with royal icing eyeballs)
"Take a bite out of these royal icing bat wing cupcakes before they take a bite out of you! You'll be glad you did because they're BATtastically delicious, and not at all threatening to make. Let me show you how."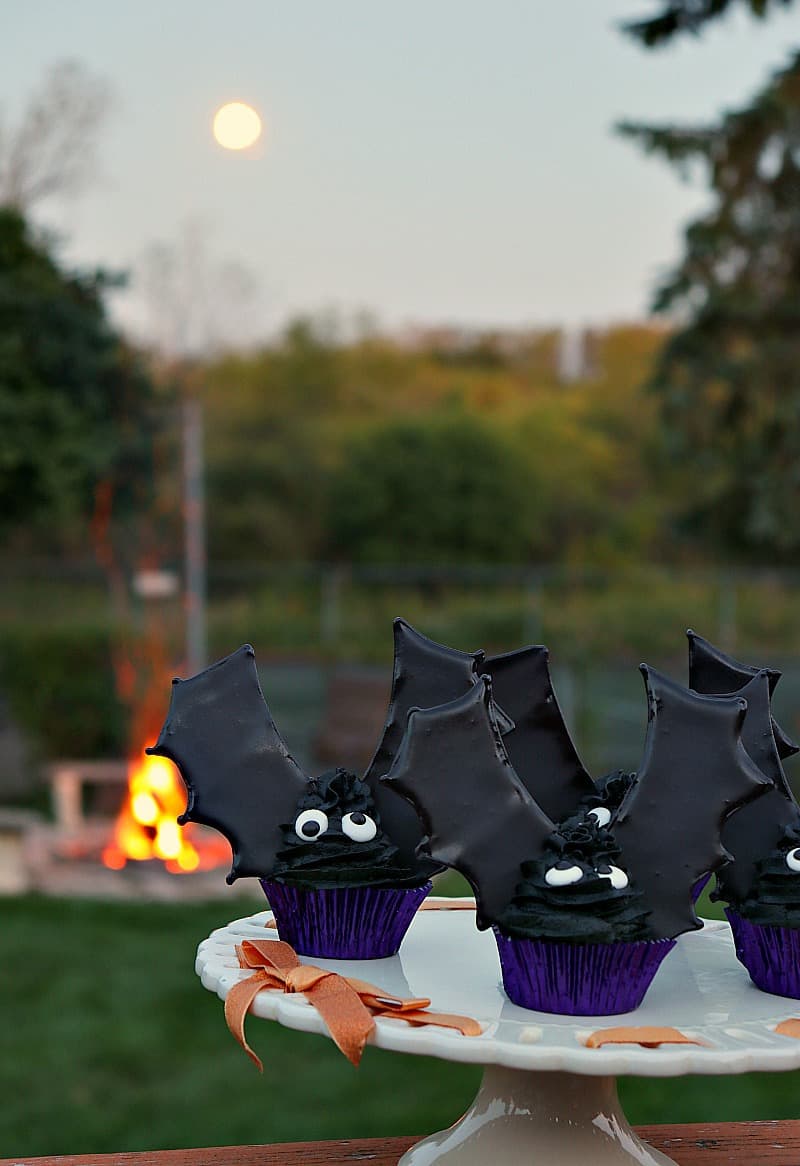 *Frankenstein Rice Cereal Treat (pictured below)
"Surprise and delight all the goblins you know at this year's Halloween party by serving up this easy to make Freaky Frankenstein Rice Cereal Halloween Treat. Think it's too difficult to make? Think again! I'll share with you my TIPS and TRICKS with an easy to follow step-by-step photo tutorial."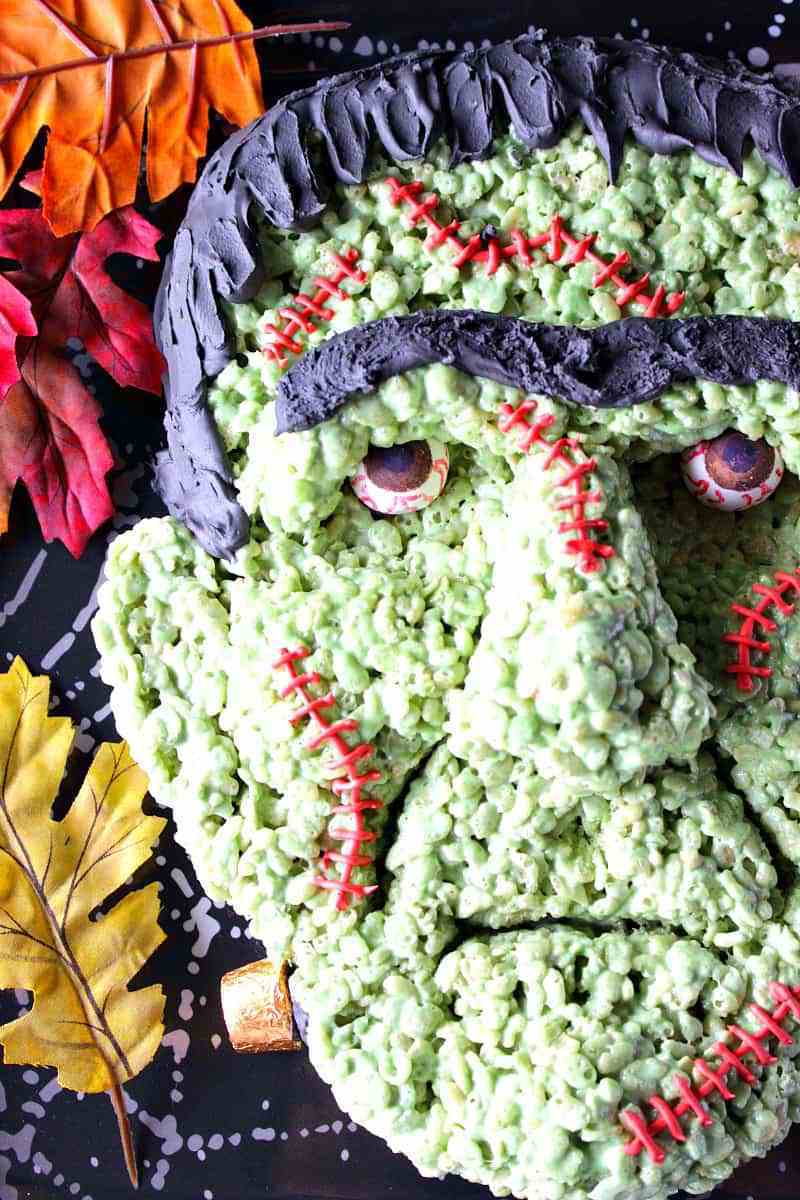 *Frozen Frankenstein Pudding Pops (pictured below)
"The kids will think you're the coolest mom around when you make them these Frozen Frankenstein Pudding Pops! Thank you scary much!!"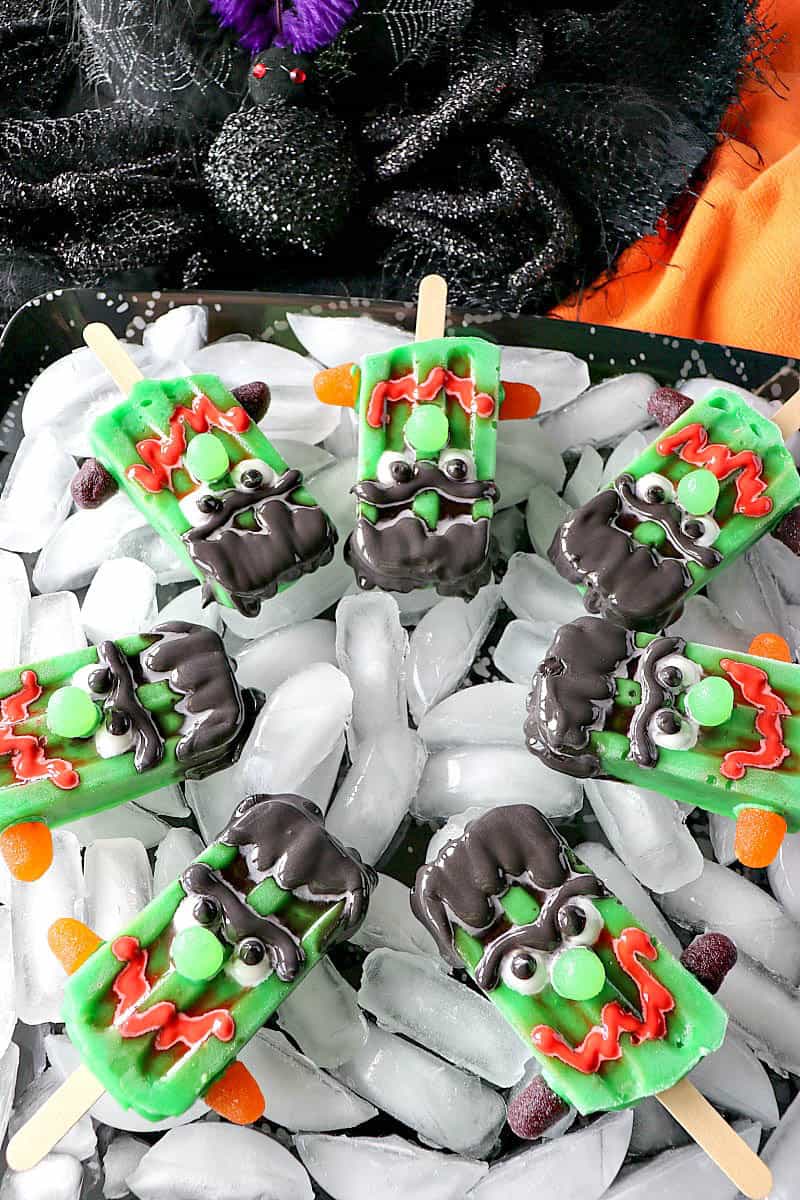 *Royal Icing Candy Eyeballs (pictured below) This is the place!!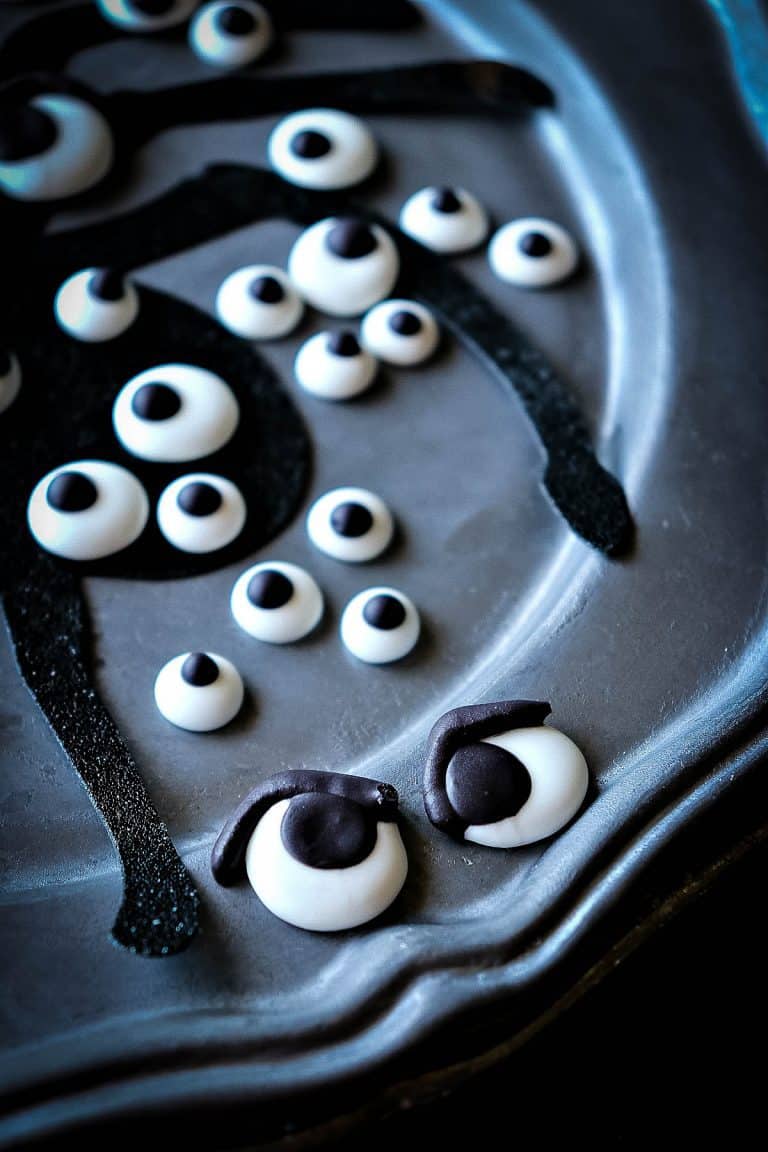 Below is the printable recipe card for today's Homemade Royal Icing Eyeballs.
If you've enjoyed this recipe and look forward to making it (or have already made it), I'd appreciate if you'd take a moment to give it some feedback by way of stars near the comment section at the end of this post. Thank you so much!
Homemade Royal Icing Eyeballs
Make your own creepy and fun royal icing eyeballs with only a handful of ingredients. EYE will show you how.
Course:
Dessert, Halloween dessert
Keyword:
candy eyeballs, how to make candy eyeballs, Royal Icing Eyeballs
Ingredients
3

cups

confectioners sugar

½

teaspoon

almond extract

1½

tablespoons

meringue powder

2

tablespoons

light corn syrup

warm water

black gel food color
Instructions
Add the sugar, meringue powder, almond extract, and corn syrup into a large bowl.

Add a few drops of warm water and blend with a mixer, adding additional warm water as needed, to form an icing that is smooth in consistency, but not too runny.

Pipe dots of white royal icing onto parchment paper. The size of your dots will vary depending on your project. Set aside.

Mix a few drops of black gel color into a small bowl with approximately 3 tablespoons of white royal icing. Spoon the black royal icing into a piping bag or zip top bag.

Pipe a small dot of black royal icing onto the white royal icing circle.

Set the eyeballs aside for 24 hours to dry completely.

These eyeballs may be stored in a zip-top bag or covered container in a cool, dry place for months.
Recipe Notes
These candy eyeballs will keep indefinitely if stored in a cool, dry, airtight container.
Nutrition Facts
Homemade Royal Icing Eyeballs
Amount Per Serving (2 g)
Calories 15
% Daily Value*
Carbohydrates 3g1%
* Percent Daily Values are based on a 2000 calorie diet.
EYE sincerely hope you've enjoyed today's recipe for homemade royal icing eyeballs as much as EYE have enjoyed bringing it to you!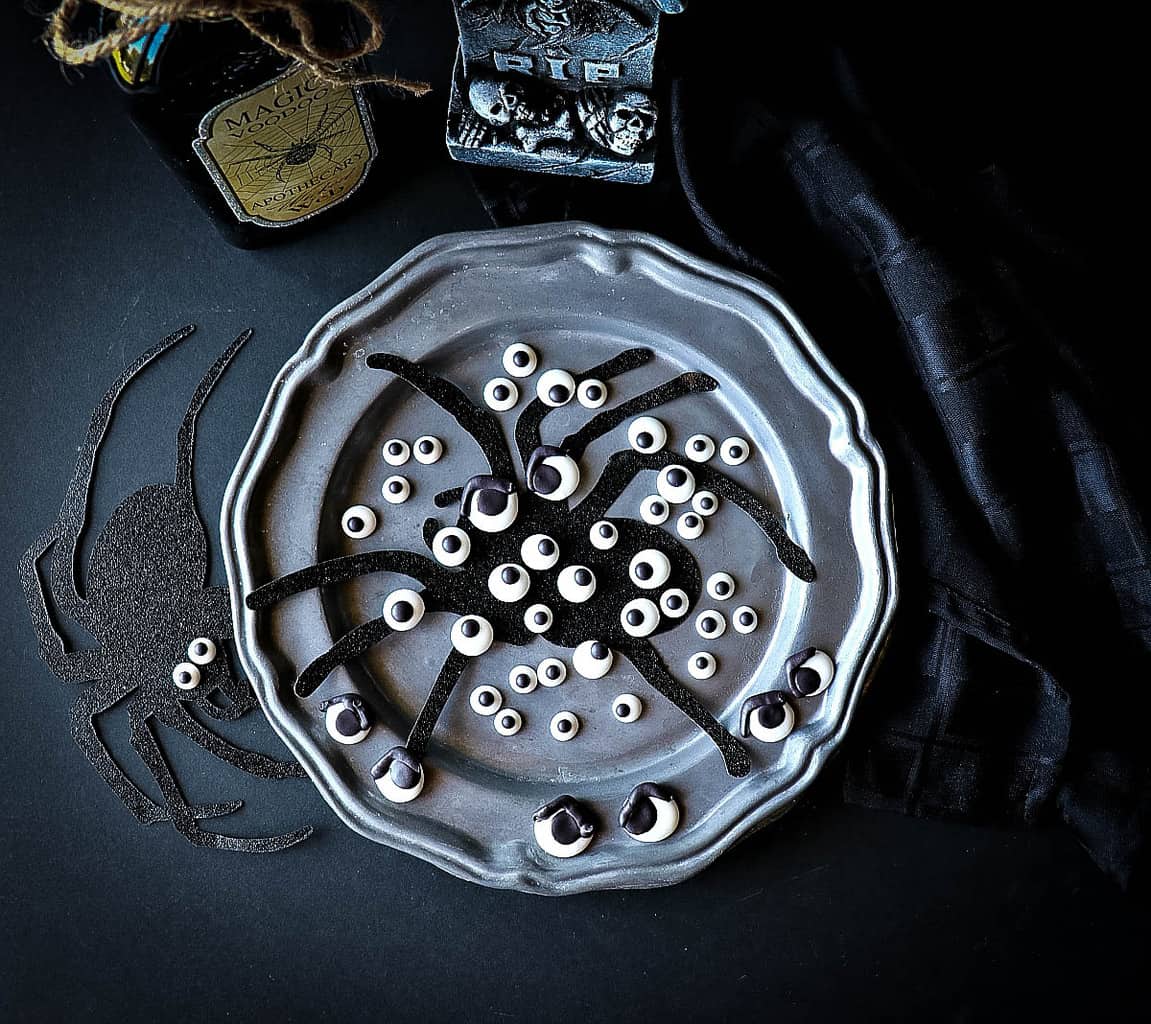 And NOW for a treat you didn't SEE coming…
MORE fun and spooky Halloween recipes by this year's group of Halloween food bloggers.
I'm also excited to be linking up this post with Pint Sized Baker. Thank you!
"When witches go riding, and black cats are seen, the moon laughs and whispers 'tis near Halloween."
Should you have any questions regarding the recipe I've shared today for royal icing eyeballs, or anything else you've seen on my site, please don't hesitate to contact me directly or leave me a comment in the comment section below.
It is always my distinct pleasure to get back to you with a reply just as soon as I possibly can!
**Note – The post above includes affiliate links. As always, I truly thank you for your support!
As an Amazon Associate, I earn from qualifying purchases. When I find a great product or service I like to share it with my readers. For additional information please view my privacy policy.