You'll totally DIG these Twice-Baked Halloween Potato Graves. With just a little bit of effort, this spooky yet easy-to-make dinner is to DIE for.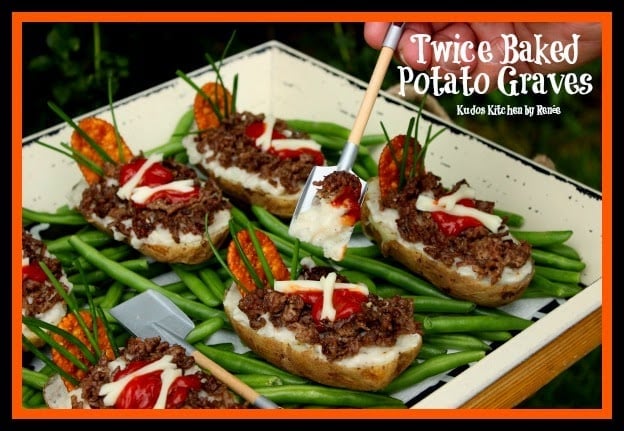 This recipe was originally published in 2014. I've since gone in and updated the post with additional information and a printable recipe card with nutritional information. The recipe itself has remained unchanged.
Jump to: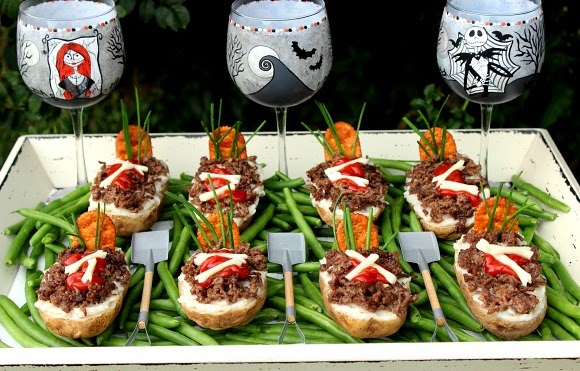 The ingredient list:
**Note - The following lists of ingredients plus kitchen tools and equipment contain affiliate links (highlighted in blue) for your consideration and shopping convenience. #CommissionsEarned
russet potatoes
ground beef
cream of mushroom soup
milk
ketchup
string cheese
crackers
chives
green beans (optional)
salt
pepper
garlic powder
shovel forks (optional)
How this recipe came to be (2014):
As I was brainstorming Halloween potato ideas with my husband, an idea jolted me like a lightning bolt coming down from the sky.
What about some Twice Baked Potato Graves that would allow some big, BOO-tiful, russet potatoes to be the star of this horror show???
"Life! Life, do you hear me?! Give my creation LIIIFFE!" - Dr. Frederick Frankenstein (Young Frankenstein).
From there, I let my extra twisted imagination run wild with ingredients like ground beef "dirt," a cracker tombstone (even corpses taste better when they sit on a…well, you know), some chive grasses, some string cheese bones, and of course an ooze or two of blood.
Then, what I consider to be a touch of brilliance (I know, my cockiness here is the really scary part) …I used little galvanized shovels to take the place of forks. Can you "dig" it? Get it? Potato AND Halloween grave humor all in one post! Egad!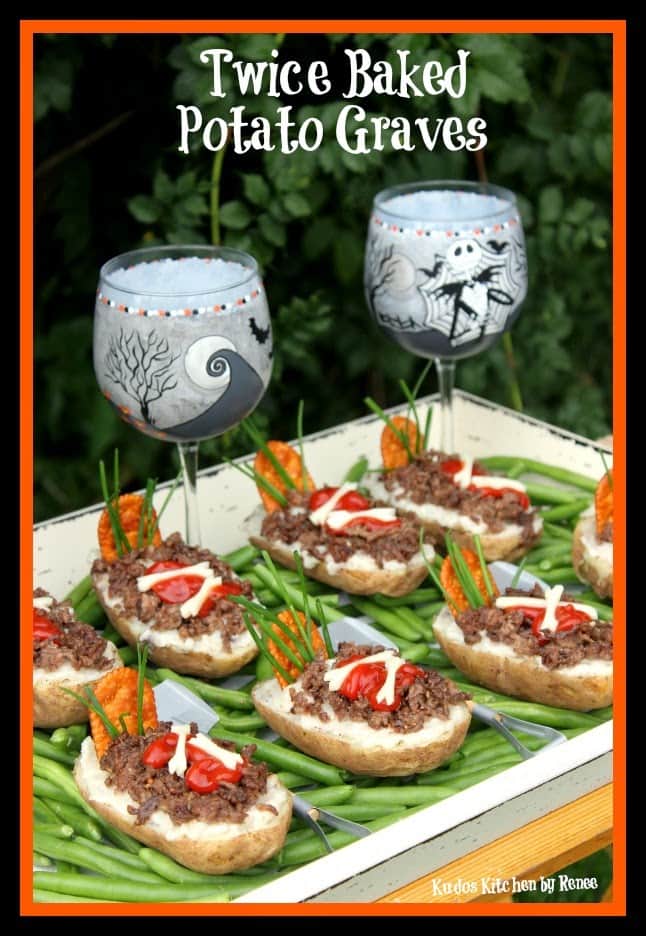 Why this recipe works:
Even though these Twice Baked Potato Graves may be cute (and a little spooky), make no BONES about it, they're super tasty and especially kid-friendly with all the flavors and ingredients they love. Just wait until you see how fast your little goblins gobble them up.
Don't be scared!
The recipe may seem quite involved with a lot of steps, but don't let that frighten you off.
You can do this and be the most admired ghoul on the block when you serve these at the neighborhood Halloween party.
How to make potato graves:
Pierce four russet potatoes with a paring knife and bake them in a microwave oven until soft.
Allow the potatoes to cool completely so you can handle them.
Cut the potatoes in half and use a spoon to scoop out the insides, making sure to leave a ¼" shell.
Season the shells with salt and pepper and place the scooped-out potato in a large bowl and mash lightly.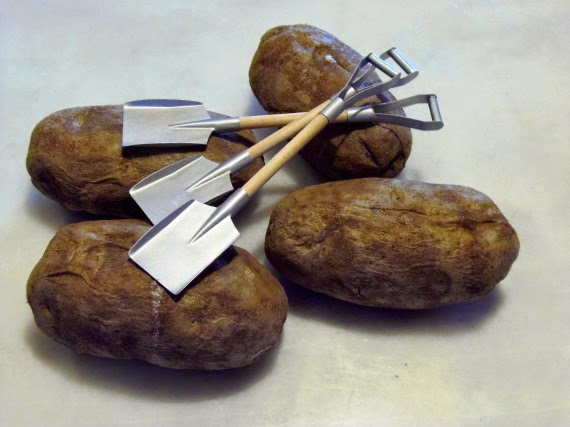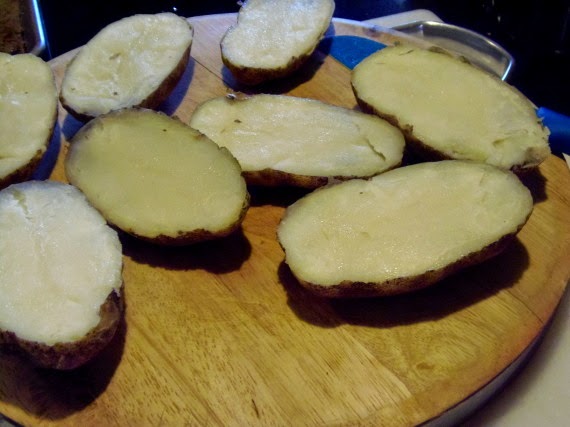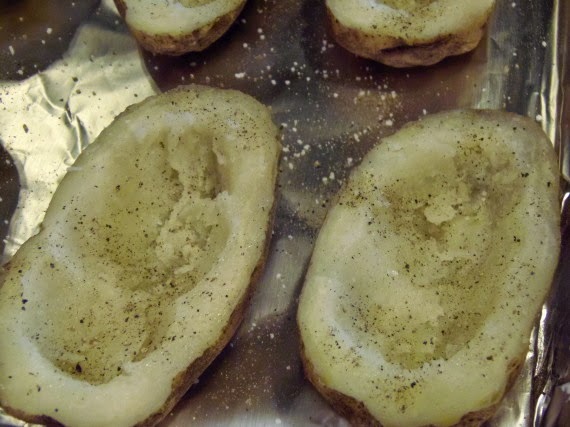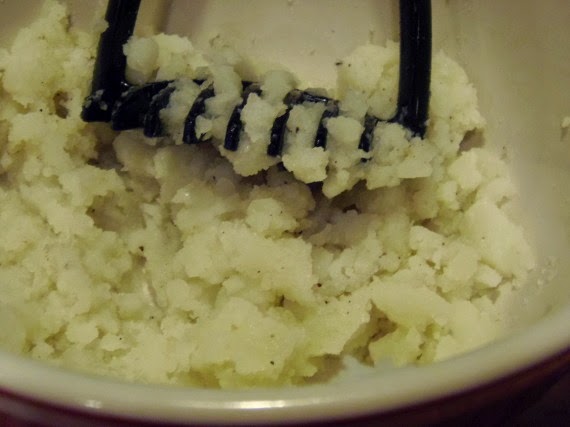 Heavily brown the ground beef in a large skillet.
Once browned allow to cool.
To the potatoes in the bowl, add the mushroom soup and milk mixture and the butter.
Mix until creamy.
Spoon the potato mash into the potato shells making sure to spread the mash to the edge of the shells.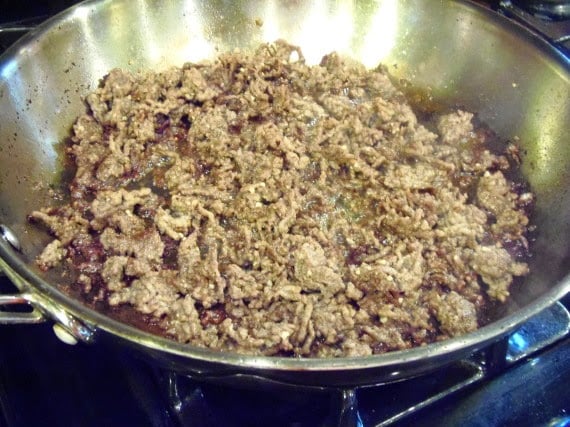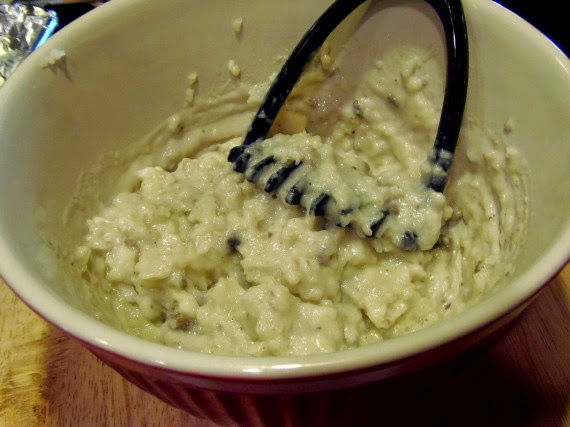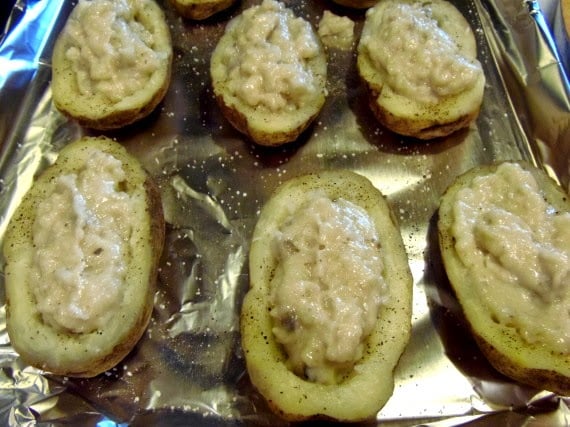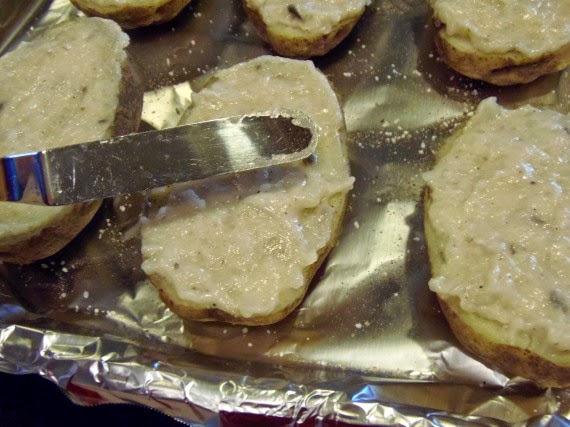 Spread the ground beef over the potato mash to resemble dirt, making sure to bring the ground beef all the way to the edges.
Wrap 5-6 chives around the bottom of a cracker and press the cracker firmly into the top of the grave to resemble a tombstone with grass.
Trim and adjust the chives as needed.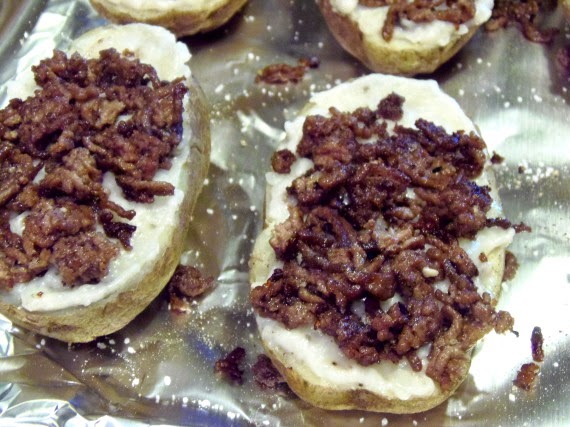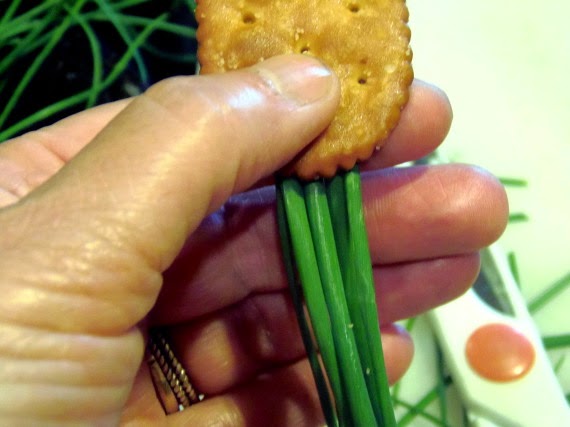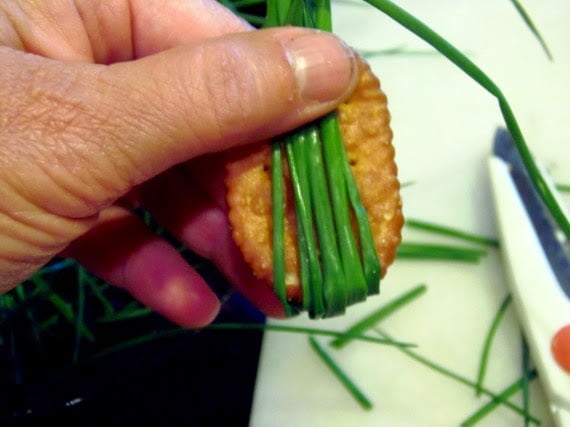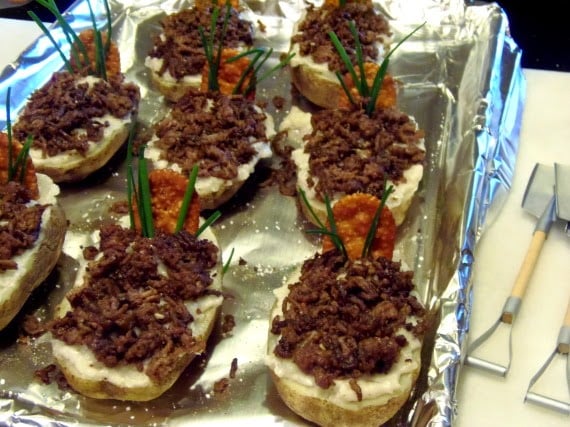 Cut room temperature sting cheeses into quarters and thirds (you can do some of both sizes) and then cut the cut pieces into quarters.
Using a paring knife cut a notch into the sides of the cut cheese.
Trim slightly to resemble the rounded knobs of the bones.
Use the paring knife to trim each side of each bone so the bone is thinner than the nob.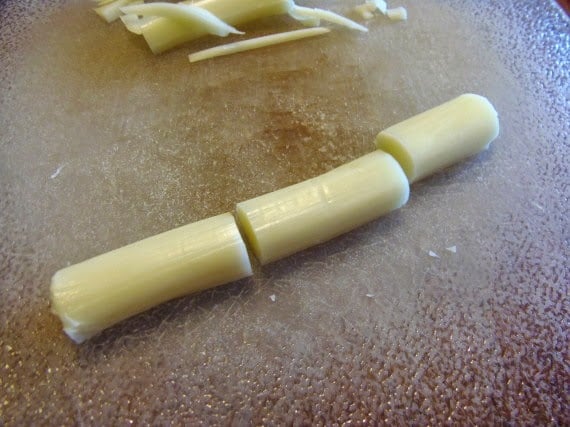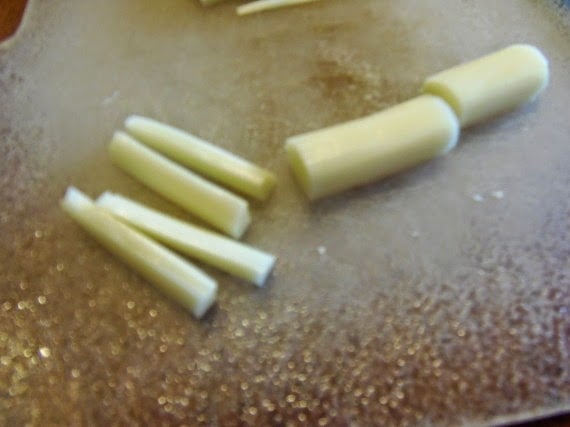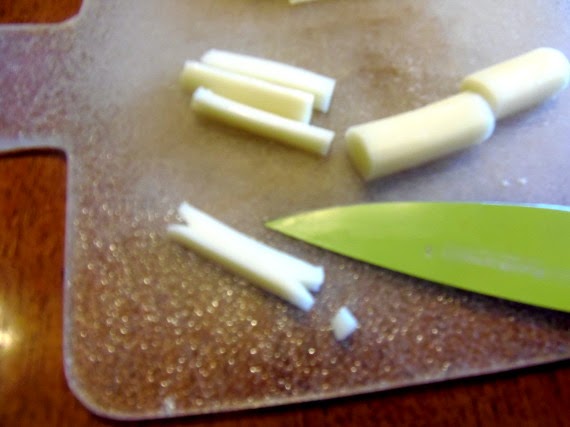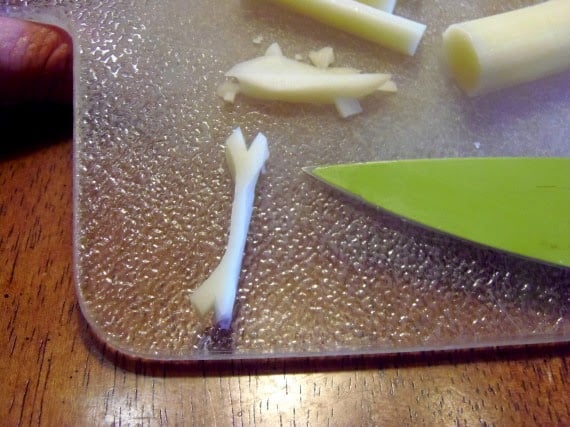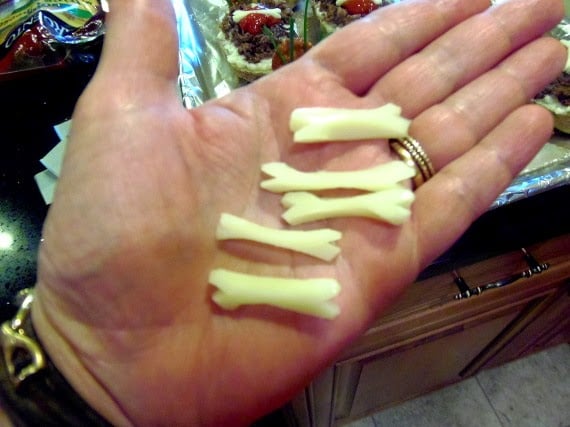 Squirt two blobs of ketchup onto each grave and then place a bone on top of the ketchup.
Warm the potato graves in a low oven (275 degrees) for 10-15 minutes and serve with a galvanized shovel fork (optional).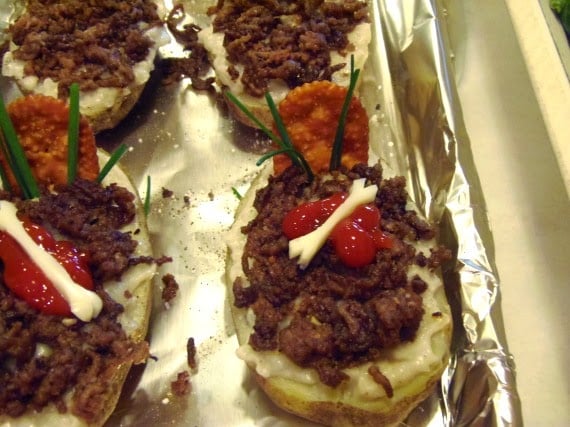 There you have it. Scary good and scary easy once you know how!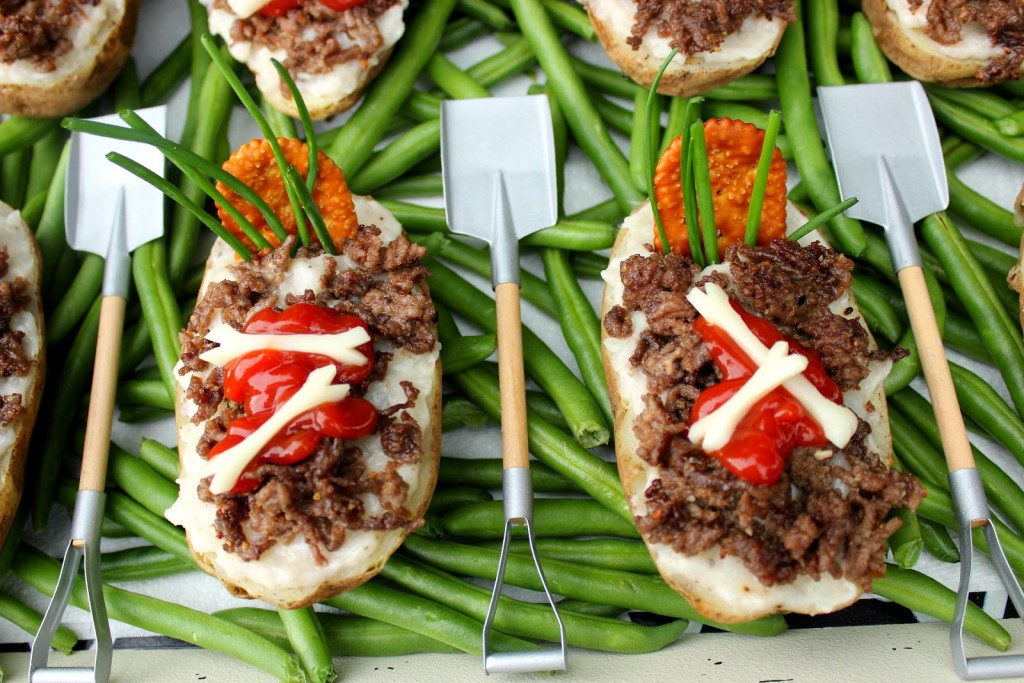 Additional Halloween recipes for you:
Melted Witch Candy is my fun wink and a nod to an iconic movie classic, and I'll bet you can easily guess "witch" movie I'm talking about.
Can you wrap your "head" around eating gory Brain Food Jello Salad for Halloween? Try not to "think" about it too much, and you'll be just fine.
Surprise and delight all the goblins you know by serving up this easy to make freaky Frankenstein Rice Krispie Treat. Think he's too difficult to make? Think again! I'm sharing all my tips and TRICKS with an easy-to-follow step-by-step photo tutorial.
When you make this recipe, and I hope you do, I'd appreciate it if you'd take a moment to leave a star rating on the recipe card and briefly comment on why you rated it as you did. FYI - Google appreciates recipe ratings and, in turn, will share my recipes with more people. Thank you so much!!
Printable Recipe Card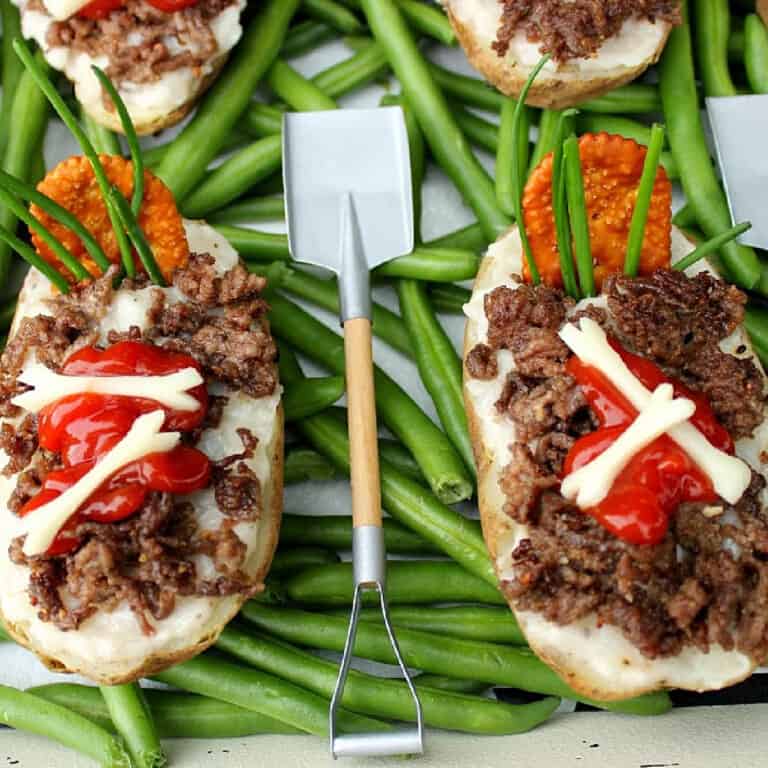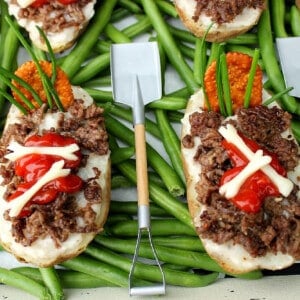 TWICE-BAKED POTATO GRAVES
You'll dig this deliciously fun Halloween dinner. Don't be scared. This dinner is to die for!!
Ingredients
4

large

russet potatoes

scrubbed

1

pound

ground beef

3

cloves

garlic

to keep the vampires away

1

teaspoon

salt

divided (plus an extra pinch to season the potato shells)

½

teaspoon

black pepper

divided (plus an extra pinch to season the potato shells)

2

tablespoons

butter

at room temperature

¾

cup

cream of mushroom soup

I used low sodium

¼

cup

milk

8

crackers

I used the ones with the pretzel on one side and cracker on the other

chives

3-4

string cheese

green beans for garnish

optional
Instructions
-Pierce the potatoes with a fork or paring knife and microwave them until cooked through (this took me about 15 minutes on full power). Allow them to cool until you can easily handle them.

-Meanwhile in a large skillet over medium/high heat, deeply brown the ground beef (remember your looking to replicate dirt).

-Reduce the heat to low and stir in the garlic. Season with ½ teaspoon salt and ¼ teaspoon pepper and cook for an additional 1-2 minutes. Remove from the heat and allow to cool.

-Cut the potatoes in half lengthwise and use a spoon to scoop out the center of the potato, making sure to leave about a ½" shell.

-Place the scooped potato into a large bowl and mash slightly with a potato masher.

-Place the potato shells onto a baking sheet and season each with a pinch of salt and pepper.

-In a small microwave-safe bowl, heat the cream of mushroom soup and the milk, being careful not to let it boil (approximately 1 minute on high power).

-Add the butter to the bowl of mashed potatoes and then pour the soup/milk mixture into the bowl.

-Mash the potatoes to form a creamy consistency and so the butter is melted throughout. Season with the additional ½ teaspoon salt and ¼ teaspoon black pepper.

-Spoon about ½ cup of the mashed potato mixture into each shell, making sure to spread the mixture to the entire rim of the shell (this is what will hold the ground beef "dirt" in place). *Note - once each shell has ½ cup of mashed potatoes, divide the remaining mash evenly between the shells and proceed with the spreading technique.

-Use a spoon (or your fingers) to evenly divide the cooled ground beef to the top of each potato grave.

-Fold about 5 or 6 chives around the short end of the cracker (short on one side and longer on the other) (see photo) and then insert the chive side of the cracker into the head end of the potato grave. Trim and gently adjust the chives as needed.

-Using a paring knife, trim the string cheese into bone shapes (see photos as to how to do this).

*Note - the string cheese is easier to cut when it's at room temperature.

-Place a squirt or two of ketchup onto the tops of each grave and place a bone or two on top of the blood.

-Once assembled, warm them in a low oven (275 degrees for 10-15 minutes).

-Serve with shovel forks and enjoy!
Notes
Store any leftovers in an airtight container in the refrigerator for up to 5 days.
Nutrition
Serving:
1
serving
Calories:
336
kcal
Carbohydrates:
38
g
Protein:
19
g
Fat:
12
g
Saturated Fat:
6
g
Polyunsaturated Fat:
1
g
Monounsaturated Fat:
4
g
Trans Fat:
1
g
Cholesterol:
52
mg
Sodium:
640
mg
Potassium:
1002
mg
Fiber:
3
g
Sugar:
2
g
Vitamin A:
99
IU
Vitamin C:
11
mg
Calcium:
56
mg
Iron:
3
mg
I sincerely hope you've enjoyed today's fun (and a little spooky) Halloween main course for Twice Baked Potato Graves as much as I've enjoyed bringing it to you!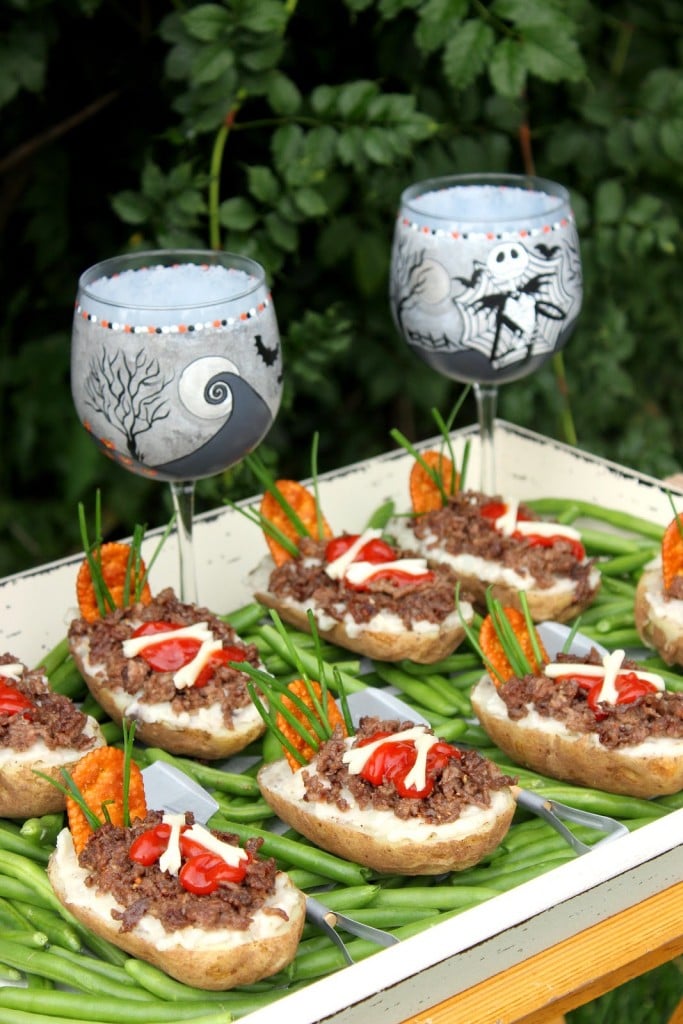 Follow me across my social media platforms and join in on the conversation: FACEBOOK, INSTAGRAM, PINTEREST, TIKTOK, AND YOUTUBE.
Thank you so much for visiting me today in my Kudos Kitchen. I hope you found something you'll love and that you'll come back and visit me often. There is always room for you around my table!
Should you have any questions or comments regarding anything you've seen here on my blog, please don't hesitate to reach out to me. It is always my distinct pleasure to respond to you just as soon as I possibly can.
Until we eat again, I hope you have a delicious day!!