With only two ingredients and a handful of basic supplies, you can make these Deliciously Easy White Chocolate Ghost Pops in only a matter of minutes. Let me show you how…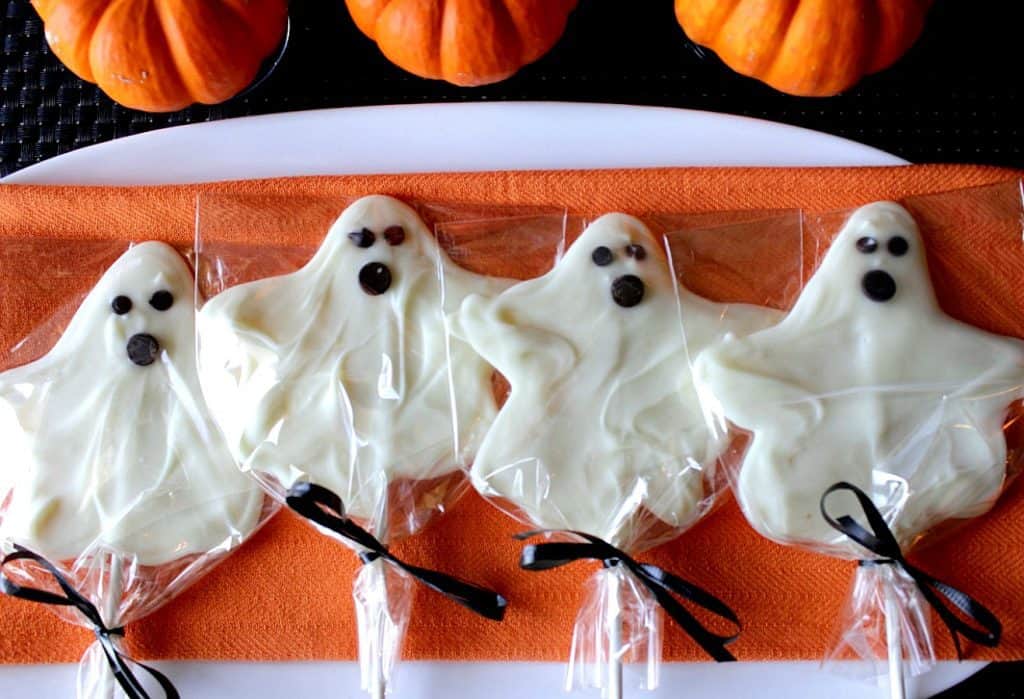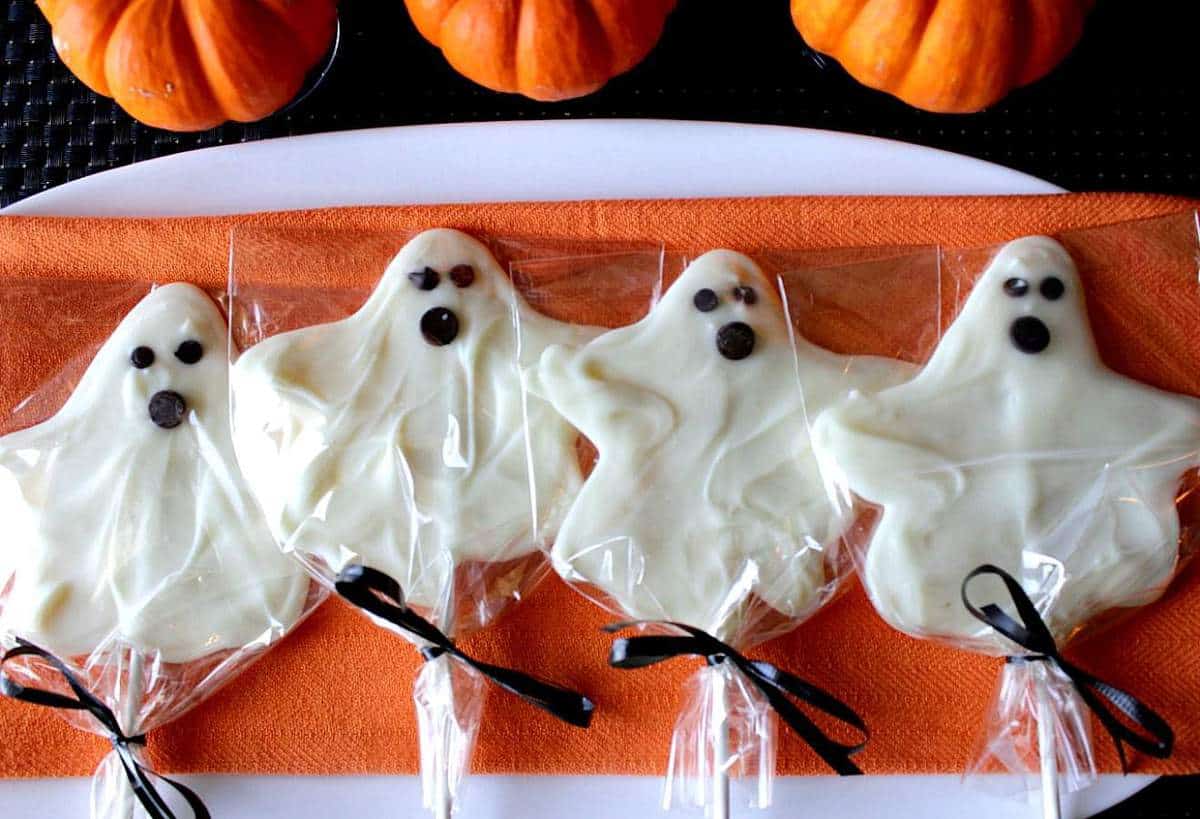 These White Chocolate Ghost Pops are so scary easy to make that even the kids (10 and up) can get into the act and make them for their friends.
Today is one of my favorite days of the year… because it is the first day of #Choctoberfest 2016!
#Choctoberfest is a virtual event put together by The PinterTest Kitchen. Bloggers from around the world will be posting their favorite chocolate recipes, and you'll get a chance to win some awesome prizes. What's not to love?
Thank you to the sponsors who make #Choctoberfest possible! This year, Imperial Sugar is back as our Gold Sponsor. They have been a trusted name in kitchens since 1843, and their website is home to thousands of sweet recipes tested in the Imperial Sugar Kitchen. You can find Imperial Sugar on Pinterest, Facebook, Instagram, Twitter, and Youtube, or join their Sweet Community so you can share your own recipes, save recipes to a virtual inbox, print Imperial Sugar coupons, and connect with other sugar lovers.
Imperial Sugar and our silver sponsors have banded together to offer a huge #Choctoberfest prize pack, which you can enter to win below! One lucky winner will be chosen at random to receive the following:
Enter now to win our #Choctoberfest 2016 prize pack! We'll be picking a winner at random winner on Saturday, Oct. 22, so enter by next Friday to make sure your name is in the drawing:
________________________________________________________________________________________________________________
I do hope you'll enter the giveaway for your chance to win the prize package mentioned above. It's all part of the fun! I'll be sharing additional #Choctoberfest information at the end of this post, along with the links of all the food blogger participants (and their tempting chocolate recipes), so please stay tuned… But, in the meantime, let's continue on with these Deliciously Easy White Chocolate Ghost Pops, shall we?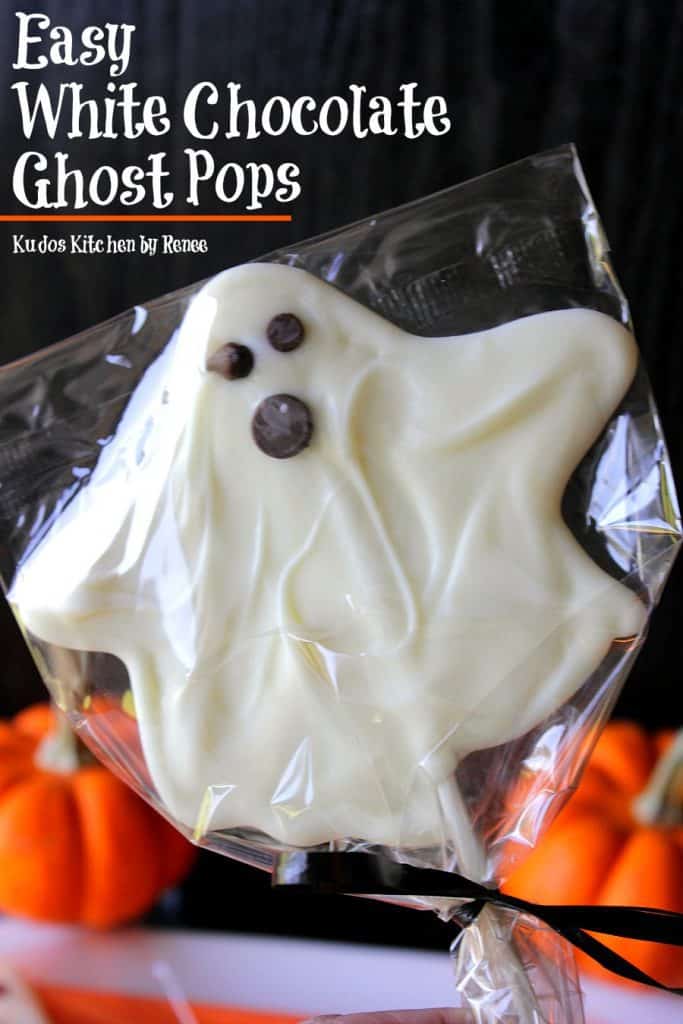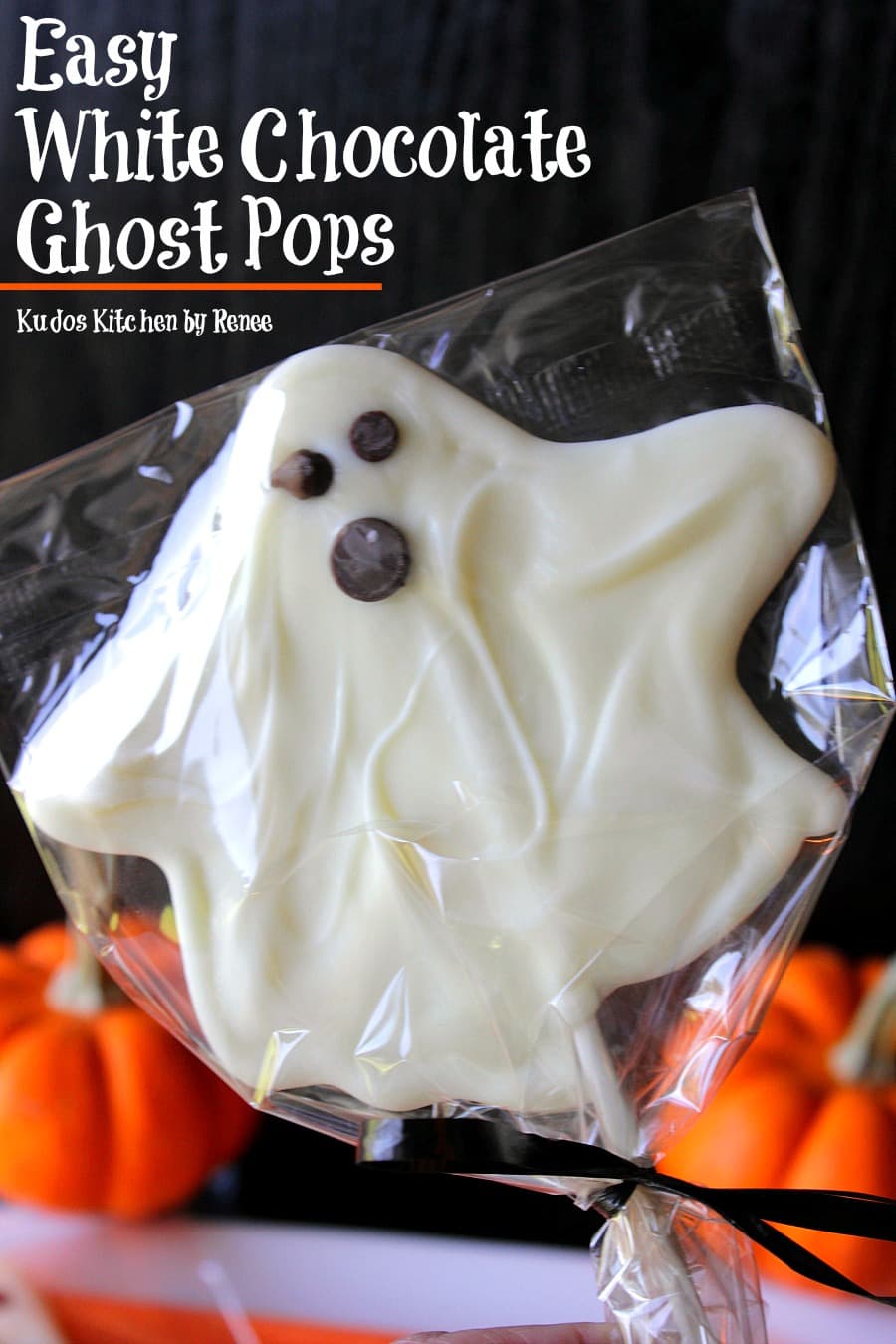 I developed this "recipe" in honor of #Choctoberfest 2016. I almost hesitate to call it a recipe because with only two ingredients, in all actuality it's more of a "method" than anything else. So here then is the "method to my madness." I do hope you enjoy my video as much as I enjoyed making it for you, along with these Deliciously Easy White Chocolate Ghost Pops! If you'd like to subscribe to my Youtube channel, please click HERE
*queue the evil laughter and creepy music*
There, that was easy don't you think? What I neglected to mention in the video is that each package of white chocolate makes 6 ghost pops, so if you need to make more than 6, please plan accordingly. Also, I'll leave the links to the cello bags and sucker sticks down below if you want to purchase them. The bags work great for packaging larger decorated sugar cookies too, so think ahead because as we all know Christmas is right around the corner. How's THAT for scary news?!!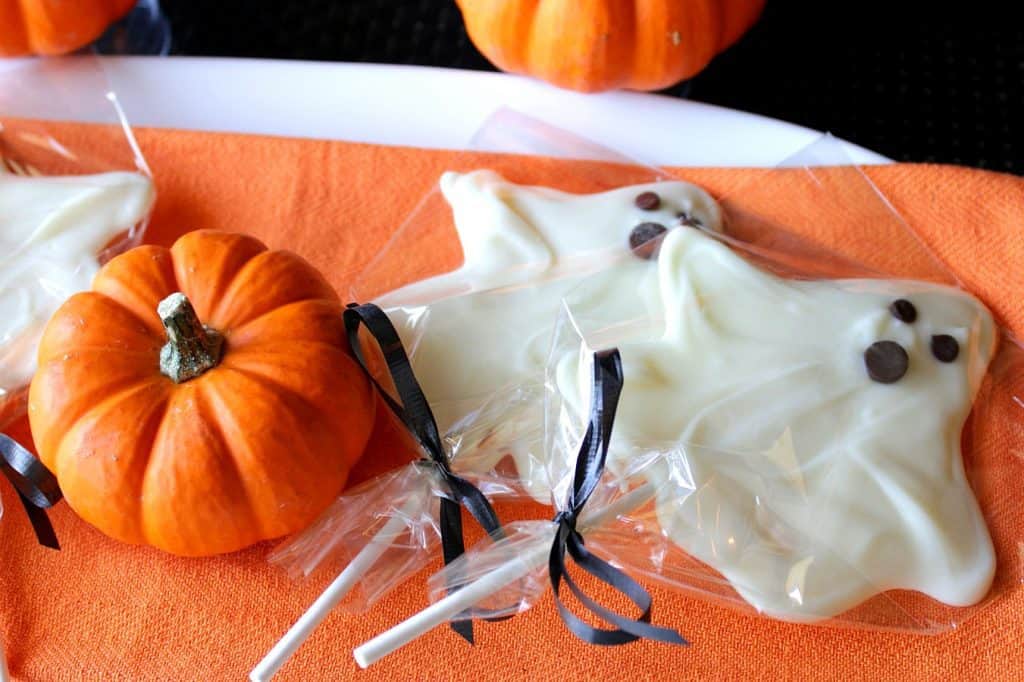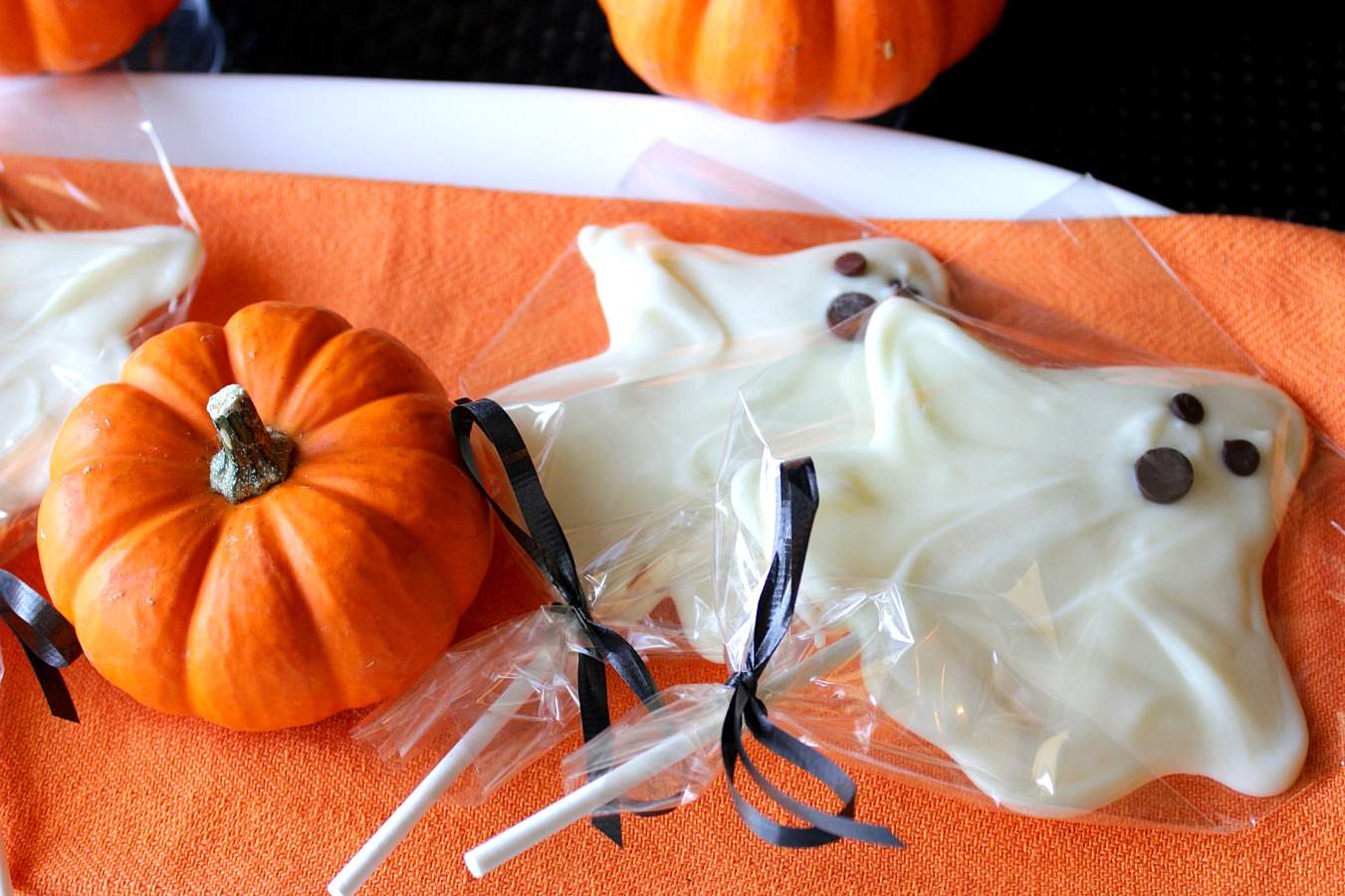 The following Amazon.com items are some suggested products I've chosen that will aid you in the making of and presentation of these White Chocolate Ghost Pops, if needed. By clicking on the item photo below, you'll be taken directly to Amazon.com if you're interested in purchasing any of these products. You are in no way required to do so, and you will not be charged in any way unless you decide to purchase a product through Amazon.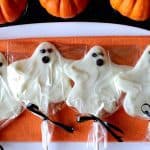 Deliciously Easy White Chocolate Ghost Pops #Choctoberfest
Ingredients
1

bag white chocolate chips

12

mini semi-sweet chocolate chips

6

standard size chocolate chips
Instructions
Microwave the white chocolate on medium power until smooth and creamy. NOT HOT!

*Note-Check and stir the chocolate often so the chocolate doesn't scorch.

Pour the melted chocolate into a large zip top bag and work the chocolate into the corner of the bag. Set aside.

Trace 6 ghost shapes onto copy paper (3" wide x 4" tall). Perfection isn't needed here.

Cut the ghosts shapes with a scissors and place them on a baking sheet.

Place a sheet of parchment paper on top of the ghosts on the baking sheet and add a sucker stick to each ghost (making sure you leave enough room for the stick to be flat and so that the ghosts don't touch each other)

**NOTE - TWO baking sheets and two pieces of parchment may be needed for making six of this size ghosts.

Use the scissors to snip the corner of the zip top bag and outline and fill the ghosts (and over the stick) liberally with the melted chocolate.

Use an offset spatula or butter knife to spread the chocolate smoothly over each ghost.

Place 2 mini semi-sweet chocolate chips for the eyes, and 1 regular semi-sweet chocolate chip for each ghost's mouth.

Place the baking sheet and ghosts on a level surface in the freezer for 30 minutes.

Once frozen, carefully add the ghosts to the cellophane bags and tie with ribbon (optional)
Recipe Notes
Tools and equipment:
baking sheets
parchment paper
copy paper
pen or pencil
scissors
2 medium microwave safe bowls
offset spatula or butter knife
spoon or spatula
sucker sticks or popsicle sticks
cellophane bags
ribbon

And now, without further ado, as I promised earlier here's a list of all of the bloggers participating in #Choctoberfest 2016. Visit any of their blogs to get delicious chocolate recipes throughout the next two weeks.
The PinterTest Kitchen • 2 Cookin' Mamas • A Kitchen Hoor's Adventures • addicted 2 recipes • Amy's Cooking Adventures • An Affair From The Heart • Balancing Motherhood • Body Rebooted • Bottom Left of the Mitten • By the Pounds • Canning and Cooking at Home • Coconut & Lime • Cook with 5 Kids • Cook's Hideout • Cookaholic Wife • Cooking with Carlee • CopyKat Recipes • Cricket's Confections • Crumbs in my Mustachio • Elisabeth Jean • Fairyburger • Faith, Hope, Love, & Luck Survive Despite a Whiskered Accomplice • Family Around the Table • Fantastical Sharing of Recipes • Feed Your Soul Too • Feeding Big • Frankly Entertaining • Full Belly Sisters • Get the Good Stuff • Grumpy's Honeybunch • Hezzi-D's Books and Cooks • Hostess At Heart • Ink and Sugar • Jane's Adventures in Dinner • Join Us, Pull Up a Chair • Karen's Kitchen Adventures • Kate's Recipe Box • Kudos Kitchen by Renee • Kylee Cooks • Letz Eat • Life Currents • Life on Food • Making Miracles • Monica's Table • Moore or Less Cooking Food Blog • My Catholic Kitchen • My Gluten Free Miami • Our Good Life • Palatable Pastime • Restless Chipotle • Seduction in The Kitchen • Sew You Think You Can Cook • Simple Food 365 • Southern With A Twist • Sumptuous Spoonfuls • Take Two Tapas • Tampa Cake Girl • Teaspoon of Goodness • That Recipe • The Crumby Cupcake • The Flavourista • The Food Hunter's Guide To Cuisine • The Freshman Cook • The Pajama Chef • The Redhead Baker • The Spiffy Cookie • Tramplingrose • Wildflour's Cottage Kitchen • Zesty South Indian Kitchen
I'm looking forward to seeing all of the yummy recipes posted on these blogs. Check them out throughout the next two weeks, and don't forget to follow our sponsors and bloggers using the Rafflecopter giveaway widget shown above for your chance to win our sweet prize pack.
"

"
**Are you a fellow food blogger who wants to get involved with events like #Choctoberfest? Sign up here to get notifications when they happen from The PinterTest Kitchen.
Wait, before you go I like to take a moment to coordinate this post with these fun and whimsical Nightmare Before Christmas Wine Glasses I painted for a customer two years ago. To this day, they're still some of my favorites! If you're interested in having me paint some wine glasses of this same design for you, I'd be happy to. Please hit the contact button located at the top of my blog and we can discuss what you're looking for. *Note – These items are not listed in my shops, but I will be happy to take special orders for one (or all) of them if you're interested.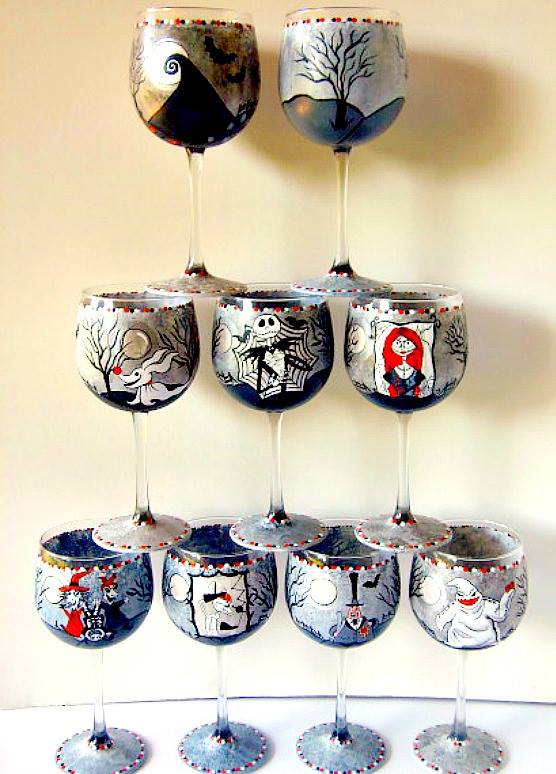 If there is ever anything I can paint for you, from glassware items to fabrics (aprons, tea towels, book bags), please don't hesitate to email me: info@kudoskitchenbyrenee.com or visit one of my shops: Etsy and Wazala. Custom orders are always welcome and I will happily paint and design from any idea, photo or description you send my way. All of my glassware items are dishwasher safe as well as being non-toxic, and all of my hand painted fabrics are machine washable, and dryable! Together we give the gifts that people remember!
Kudos Kitchen by Renée ~ Where food, art, and fun collide each and every day!
Until we eat again, I hope you have a delicious day!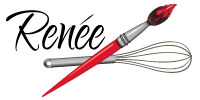 The post above includes affiliate links. When I find a great product or service, I like to share it with my readers. Sometimes I use affiliate links so I can earn commission for my recommendations. As always, I thank you for your support!